Vintage Orchestra - Smack Dab in the Middle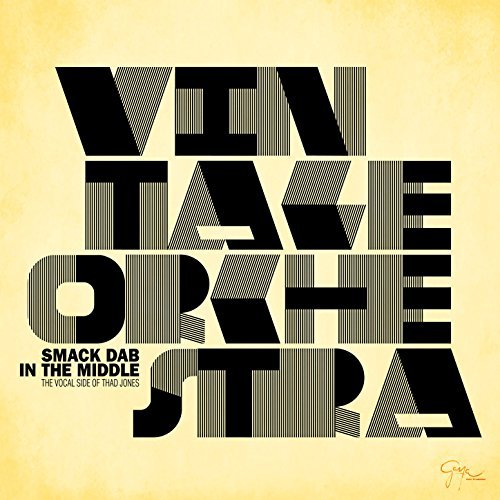 V
Gaya / Socadisc
Fondé il y a une quinzaine d'années, le Vintage Orchestra est un big band swing français dirigé par le saxophoniste Dominique Mandin: 4 trompettistes, parmi lesquels Fabien Mary et Yoann Loustalot; 4 trombonistes, 5 saxophonistes, une rythmique constituée de Florent Gac (p), Yoni Zelnik (cb) et Martin Berlugue (dm).
La référence majeure de ce big band n'est autre que Thad Jones, trompettiste qui a joué au sein du big band de Count Basie et fondé le légendaire Thad Jones-Mel Lewis Big Band.
Après un album de 2003 dédié aux compositions du trompettiste américain, voici un autre dédié à la musique vocale arrangée par Thad Jones: un répertoire qui s'étale des années 1965 à 1968, enregistré avec deux vocalistes.
D'une part, Ruth Brown, une vedette populaire du rhythm and blues, qui a débuté au sein de l'orchestre de Lucky Millinder. D'autre part, Joe Williams qui avait succédé à Jimmy Rushing au sein de l'orchestre de Count Basie.



Pour l'occasion, le Vintage Orchestra a convié deux vocalistes de premier plan.
D'un coté, l'Américaine Denise King, présente sur 4 titres: une parfaite autodidacte qui a forgé sa carrière au fil des rencontres. Parfaitement ancrée dans la tradition jazz et blues, on l'a entendue dernièrement au sein de l'Attica Blues Orchestra d'Archie Shepp (concerts au Middelheim et à Jazz à Liège). Elle a aussi enregistré No Tricks en 2010, avec le pianiste français Olivier Hutman et tourné en Belgique avec Ivan Paduart.
De l'autre, Walter Ricci, présent sur les 8 autres titres, un jeune chanteur d'origine napolitaine qui a débuté sa carrière à 14 ans, tourné avec Stefano Di Battista, joué avec les trompettistes Paolo Fresu et Fabrizio Bosso, a participé au concours Monk à Los Angeles et enregistré Express Europa avec le pianiste Jean-Pierre Como, aux côtés d'Hugh Coltman. Il a aussi fondé un quintet qui rend hommage à Frank Sinatra (album Nice & Easy).
Le répertoire reprend de grands classiques, comme Bye Bye Blackbird ou Yes sir that's my baby, deux compositions d'Ellington (Come Sunday et It don't mean a thing), Hallelujah I love her so de Ray Charles et d'autres standards. Une série de thèmes très swing classique comme Get out of my life, Evil Man Blues, Smack Dab in the middle, mais aussi des ballades, telles que Come Sunday ou Fine brown frame.
D'un côté, sur Yes sir that's my baby, Bye Bye Blackbird, Fine brown frame et I'm gonna move to the outskirts of town, la voix mature pleine d'énergie, sans fioriture de Denise King; de l'autre, la voix suave, très ancrée dans la tradition crooner de Ricci. Avec pour ma part, une nette préférence pour la voix de Denise King.
Enfin, en parallèle avec la puissance sonore de l'orchestre, une belle série de solos: le ténor de Thomas Savy sur Evil Man Blues, l'alto d'Olivier Zanot sur I'm gonna move, le trombone de Bastien Ballaz sur le thème titre et celui de Jerry Edwards sur How sweet it is.
Une album qui ravira les amateurs de big bands classiques avec crooner.
Claude Loxhay