Vansina Orchestra - Morning Forest aka Nose Up Bottom down (cl)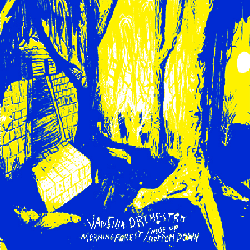 V
Rat records
Le saxophoniste Bruno Vansina est un des piliers du Flat Earth Society, mais il a aussi enregistré plusieurs albums personnels. D'abord en trio avec Gulli Gudmunsson (contrebasse) et Teun Verbruggen (batterie) : « Trio Music » (2004), « In Orbit » (2006) et « Tokio Quantize » (2007).
Puis, il nous a gratifiés, en 2012, d'un percutant « Stratocluster » (chroniqué ici), à la tête d'un quintet comprenant Bert Cools à la guitare, Jos Machtel à la contrebasse, Teun Verbruggen à la batterie et, en invité prestigieux, Steve Nelson, le vibraphoniste du quintet de Dave Holland.
Le voici à nouveau dans un projet ambitieux. Dans son quintet de base (sur les plages Morning Forest et Symphony Of The Fried Bananas avec d'évidents accents free), il retrouve Bert Cools et Teun Verbruggen; au piano, il accueille Christian Mendoza révélé, entre autres, par le trio 3/4 Peace en compagnie de Ben Sluijs et, à la contrebasse, Stefan Lievestro, un élève de Marc Johnson qui a beaucoup joué et enregistré avec Ivan Paduart et Diederik Wissels.
Pour les 5 autres plages (soit près de 60 minutes de musique intense), le quintet est rejoint par un ensemble de 12 musiciens : le flûtiste Magic Malik (déjà présent, comme invité, sur « In Orbit » et « Tokio Quantize »), trois ténors et clarinettes (John Ruocco, l'ancien professeur de Vansina au Conservatoire de La Haye, Steven Delannoye et Wieke Meys que Vansina a croisé au sein de Rebirth Collective), deux trompettes (le limbourgeois Carlo Nardozza et Jeroen Van Malderen du Brussels Jazz Orchestra), deux trombones (Frederik Heirman du BJO et Tom Verschoren), un percussionniste (Kobe Proesman) et, enfin, pour élargir encore la riche palette sonore de l'orchestre, à l'image de Gil Evans, hautbois, basson et cor.
Les sept thèmes de l'album ont été composés par Bruno Vansina et arrangés par lui et/ou par Dree Peremans, le tromboniste de Rebirth Collective. Les arrangements utilisent, avec un sens sophistiqué de l'orchestration, toute la palette sonore de la formation, avec cuivres, anches et bois (Dark Night). Tantôt, la musique peut prendre des allures latinos avec les percussions colorées de Kobe Proesman (Fiesta Festivo) ou, tantôt, se teindre de colorations plus ténébreuses (Groove Along). Bruno Vansina, avec sa sonorité tranchante à l'alto, reste le principal soliste avec Magic Malik (flûte et voix, notamment sur Ploink, Fiesta Festivo ou Groove Along), mais on peut aussi entendre de beaux solos de clarinette (John Ruocco sur Dark Night), de ténor et trompette (Fiesta Festivo). La guitare de Bert Cools, avec ses effets électro-acoustiques, donne de chatoyantes colorations à l'ensemble et Christian Mendoza montre toute sa fougue, en particulier sur Morning Forest et Bike Insprivation.
Bref, une belle réussite pour un projet original et ambitieux que l'on pourra découvrir en live au prochain Jazz Middelheim, le 15 août. A bon entendeur…
Claude Loxhay
Cet article a été publié sur jazzaroundmag.com