VKH-Jazz in de Schuur 1990 > 1997
These concerts were organized by Vriendenkring Kunst Houtland vzw - Tonesetters-vkh.
In 1997 Tonesetters became Jazz'halo. The venue was mostly the barn of the Wijnendale Castle. The concerts were supported by Stichting Kasteel Wijnendale.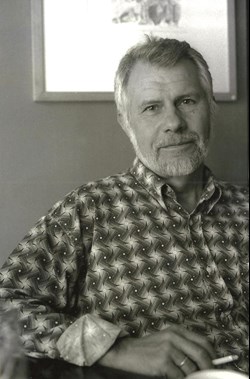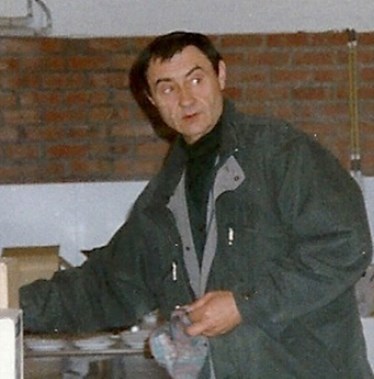 Fernand Laforce & Silvère Mansis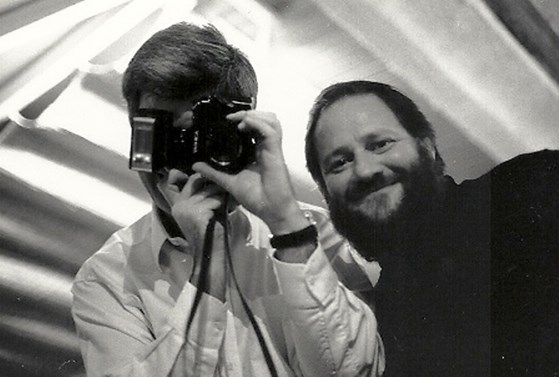 Emile Clemens & Jos Demol by Jacky Lepage

Most photography by Arnold Reyngoudt (except where mentioned)
Torhout, Schuur Kasteel Wijnendale, March 23, 1990: CHRIS JORIS / TARS LOOTENS QUARTET
Chris Joris, percussion
Tars Lootens, piano
Mark Van Garsse, double bass
Tony Gyselinck, drums
Torhout, Schuur Kasteel Wijnendale, September 15, 1990: JOHN RUOCCO TRIO
John Ruocco, tenor saxophone/clarinet
Jean-Louis Rassinfosse, double bass
Felix Simtaine, drums
Torhout, Schuur Kasteel Wijnendale, May 25, 1991: ISBIN / SZABO / MAJOR
Gilbert Isbin, guitar
Szandor Szabo, guitar/guitarvina
Balazs Major, percussion
Torhout, Schuur Kasteel Wijnendale, September 21, 1991: KD'S BASEMENT PARTY
Phil Abraham, trombone
Bart Defoort, tenor saxophone
Fabrizio Cassol, alto saxophone
Kris Defoort, keyboards
Michel Hatzigeorgiou, bass guitar
Stephane Galland, drums
Torhout, Schuur Kasteel Wijnendale, May 1, 1992: MAL WALDRON & PAUL VAN GYSEGEM
Mal Waldron, piano
Paul Van Gysegem, double bass
Torhout, Schuur Kasteel Wijnendale, June 6, 1992: HORACE TAPSCOTT QUARTET
Horace Tapscott  (April 6, 1934 – February 27, 1999), piano
Michael Session, soprano/alto/tenor saxophones
Roberto Miguel Miranda, double bass
Fritz L. Wise, drums
play list SET 1: Lino's Pad (Tapscott), One For Lately (Thurman Green), Bakai (Cal Massey), Little Africa (Linda Hill)

play list SET 2: Motherless Child (traditional), Bavarian Mist (Michael Session), Faith (Roberto Miranda), The Dark Tree (Tapscott)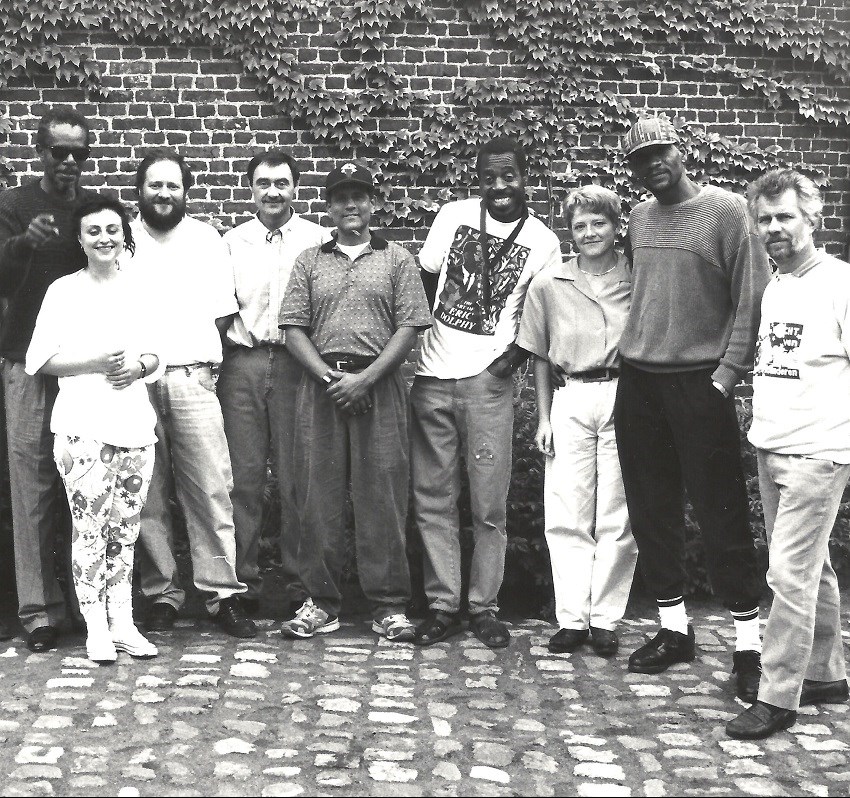 © Johan Sabbe
Torhout, Schuur Kasteel Wijnendale, October 10, 1992: CHEIKH TIDIANE FALL TRIO featuring CHRIS JORIS
Georges Edouard Nouel, piano
Raymond Doumba, bass guitar
Chris Joris, percussion/berimbau/bamboo flute
Cheikh Tidiane Fall, drums
Play list: Taxi Brousse (Fall) - Blue Bossa (Kenny Dorham) - Sister Sherryl (Tony Williams) - Improvisation (trio) - Gloup/Samba Zanza/Eau de Pluie (Fall) - Sosso Beat (Jo Maka) - Lël (Fall) - Femme Martinique Doux (trad.) - Hommage à Cheikh Anta Diop(Fall) - Improvision percussion (Fall) - Dream Drum (Fall) - Childhood (Jo Maka) - Song For My Father (Wayne Shorter)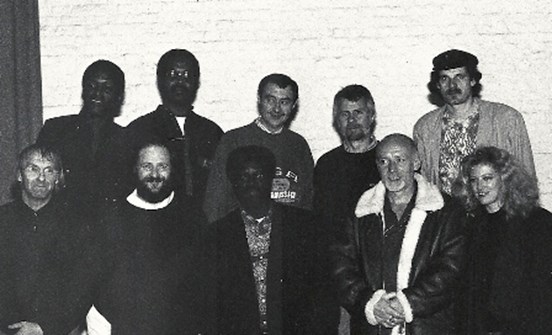 Cheikh Tidiane Fall, né en 1946 à Dakar dans une famille de musiciens, est un des vétérans de la musique africaine en Europe. Très jeune, il se passionne pour la musique et participe à un orchestre pour enfants où il explore le son des objets. Devenu étudiant, il s'installe à Paris pour suivre des études de Cinéma à l'ENPC Louis Lumière de la rue de Vaugirard, mais c'est au cours d'un séjour en Belgique que débute sa carrière musicales : il y rencontre Gérard Montrose et Paul Van Gijsegem avec qui il découvre les percussions.
Dès son retour à Paris, il monte Assum - son premier trio - avec Nana Vasconcellos et Agib Dieng, auquel se joindra par la suite le percussionniste Chris Joris. Il se produit au Volume 44 avec Louis Moholo, Johnny Dyani et Julien Sebothane Bahula, dans les jazz clubs de la capitale, à la Maison de la Radio où il donne de nombreux concerts, mais aussi en province, en Europe et aux Etats-Unis où vit son premier agent.
Très vite, au cours des années 70, Cheikh Tidiane s'impose comme le percussionniste majeur de la scène free & Be-bop. Particulièrement apprécié pour le caractère singulier de sa démarche et les mélanges qu'il opère en savant musicologue entre batterie, congas, tablas indiens, quidong, berimbau, etc., il accompagne Sunny Murray, Steve Lacy, Abbey Lincoln, Dexter Gordon, Don Cherry, Archie Shepp, Chico Freeman, Dollar Brand, Chris Mc Gregor, Don Moye, Philip Wilson, Kalaparusha Arha Difda, Malachi Favors, Pharoah Sanders, Mal Waldron, Art Ensemble of Chicago, Teddy Edwards, Jo Maka, Herbie Hancock, etc.
En tant que leader, après son premier trio Assum, il s'illustra en trio avec le saxophoniste guinéen Jo Maka et le pianiste Bobby Few, et plus tard, en quartet avec Frank Lowe (sax), Bernard Santacruz (cb) et Denis Charles (dr). Avec ces différentes formations, il jouera non seulement régulièrement en Europe, mais en Afrique, en Turquie et en Inde.
Parallèlement à ses concerts et enregistrements, Cheikh Tidiane Fall approfondit sa recherche musicale et organise de nombreuses master class en France et en Yougoslavie. Cette expérience lui permet d'élaborer une méthode pédagogique d'enseignement des percussions et de leur relation avec le corps et la voix.
C'est dans ce contexte qu'il initie le "corpo" : à savoir, le corps pris comme objet sonore, qu'il intègre comme un nouvel instrument. Il crée également son propre langage musical où il utilise comme matière le "kisoueli" et le "Pheul" (langues les plus répandues en Afrique) afin de toucher le plus large public africain, car pour Cheikh Tidiane, le jazz africain existe bien, et il n'est nul besoin d'aller ailleurs pour en écouter.
Par ailleurs, Cheikh Tidiane s'est montré fidèle à sa passion première : le cinéma, tantôt comme acteur - musicien en tournant dans "Je suis jazz, c'est ma vie" un film que Frank Cassenti réalisa en 1983 sur Archie Shepp, ou encore, dans "Autour de Minuit" de Bertrand Tavernier, tantôt comme compositeur, en collaborant aux musiques de films tels que "Yeleen" ou "La Lumière" de Souleymane Cissé avec Michel Portal ou encore "La passion Béatrice" de Bertrand Tavernier avec Ron Carter.
Ces dernières années, Cheikh Tidiane Fall a multiplié les collaborations avec un nombre de musiciens de jazz de la scène française actuelle telle que Carine Bonnefoy, Alain Jean-Marie, Franck Avitabile, Georges McIntosh, Jean-Jacques Avenel, Essiet Okun Essiet, Raymond Doumbé, Manou Marchez, Jean-Jacques Elangué, Toni Koffi, Ricky Ford, Stéphane Belmondo, Craig Harris, Itaro Oki, etc. qu'il invite régulièrement à jouer dans le cadre de son nouveau projet "African Roots in Jazz".
Source : http://www.africultures.com/php/?nav=personne&no=14386
Natif de la Martinique, le pianiste, arrangeur et compositeur associe son jazz à d'évidentes racines antillaises. Georges Edouard Nouel s'inscrit dans la lignée de Marius Cultier, Michel Sardaby et Alain Jean-Marie.
Il a collaboré avec quelques uns des plus grands : Rufus Harley, Pierre Vassiliu, Bernard Lubat, Max Cilla…
Son secret ?! Un doigté fameux, une subtilité face au langage musical… Et un insatiable appétit de création, de mélange et de rencontres !!!

Un jazz empreint d'universel.
https://www.facebook.com/georgesed.nouel
Raymond Doumbé est auteur, compositeur et un excellent bassiste camerounais. Raymond Doumbé affiche une passion pour le jazz et les musiques africaines (camerounaise, malienne, sud-africaine...).
Formé à vingt ans au sein de l'American School of Music de Paris, Raymond Doumbé apprend les subtilités de la basse auprès de Jo Tango, un autre camerounais, puis débute dans de petits groupes de rock.
Il croise la route de Pierre Vassiliu lors d'un show Télévisé et tourne bientôt avec Salif Keïta, Mory Kanté et les Américains de Paris Liz Mc Comb, Linda Hopkins et surtout le pianiste Bobby Few, son mentor.
Oscillant entre blues, jazz et musiques africaines, Raymond Doumbé affiche une véritable passion pour l'Afrique du Sud. « J'ai beaucoup travaillé avec Hugh Masekela et j'ai enregistré l'album "Homeland" de Myriam Makeba ». Ecoutant beaucoup de jazz pour travailler les accords, les harmonies, Raymond Doumbé n'est pas un fan des solos : « Je préfère bien me placer dans ce que je joue, bien groover, avoir un gros son, donner des couleurs et des phrasés ». Sa basse préférée ? La jazz Fender.
Source : Sylvie Clerfeuille, 8 mai 2007
Torhout, Schuur Kasteel Wijnendale, March 20, 1993 MIKE DEL FERRO TRIO featuring FRANK VAGANEE
Frank Vaganée, alto saxophone
Mike del Ferro, piano
Sal La Rocca, double bass
Hans van Oosterhout, drums

Play list: Blues Juice / I Want to Be Happy / Waltz Two (piano intro) - For Jan / Talk Holes #1 - Morning / Inspired by ... /

Mike del Ferro Frank Vaganée © Guy van de Poel
Torhout, Schuur Kasteel Wijnendale, May 29, 1993 KD'S BASEMENT PARTY
Michel Massot, tuba
Bart Defoort, tenor saxophone
Fabrizio Cassol, alto saxophone
Kris Defoort, piano
Michel Hatzigeorgiou, bass guitar
Stephane Galland, drums
Torhout, Schuur Kasteel Wijnendale, September 25, 1993 ISBIN / JACOBSON / VANDER BORGHT
Al Jacobson, trombone
Gilbert Isbin, guitars
Ivo Vander Borght, drums
Torhout, Schuur Kasteel Wijnendale, May 28, 1994 CHRIS JORIS' BIHOGO QUARTET
Pierre Vaïana, soprano saxophone
Chris Joris, piano/percussion
Chris Mentens, double bass
Michel Seba, percussion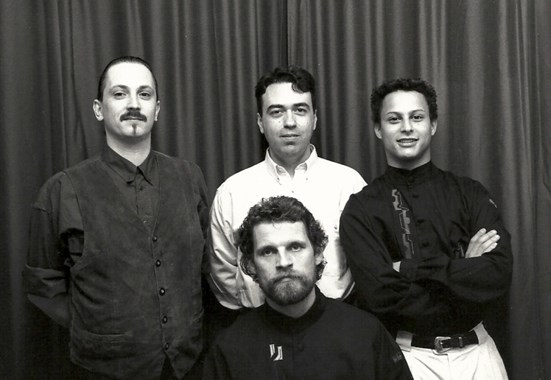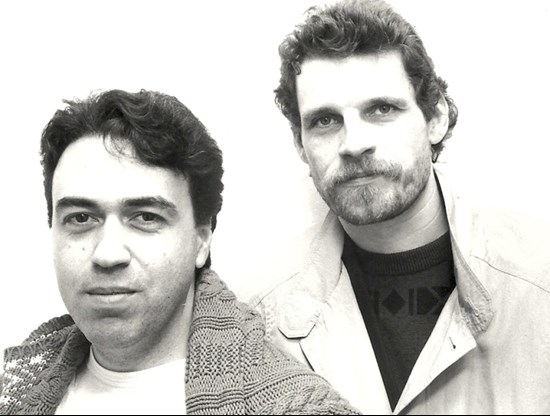 photography by Jacky Lepage
Torhout, Schuur Kasteel Wijnendale, October 1, 1994 WALTER LAMPE QUARTET
Felicity Provan, trumpet/vocals
Walter Lampe, piano
Jacko Schoonderwoerd, double bass
Steve Altenberg, drums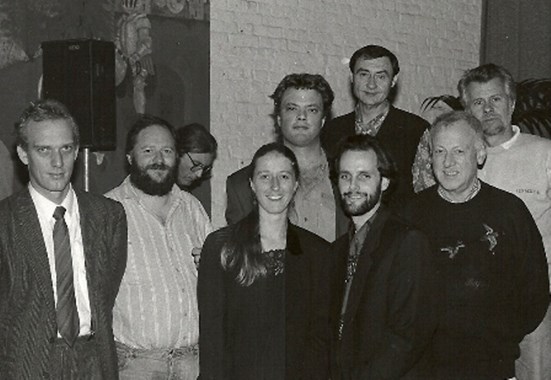 Torhout, KTA Wijkschool Revinze, November 18, 1994 DENIS COLIN TRIO
Denis Colin, bass clarinet
Didier Petit, cello
Pablo Cueca, percussion
Torhout, Schuur Kasteel Wijnendale, April 22, 1995 GREG MARVIN QUARTET
Greg Marvin, tenor saxophone
Bill Gerhardt, piano
Peter Bjornild, double bass
Joost van Schaaik, drums
Torhout, Schuur Kasteel Wijnendale, May 5, 1995 TRIO GRAEWE / REIJSEGER / HEMINGWAY
Georg Graewe, piano
Ernst Reijseger, cello
Gerry Hemingway, drums
Torhout, Schuur Kasteel Wijnendale, October 7, 1995 DUO NELLY POUGET / MICHELINE PELZER
Nelly Pouget, saxes
Micheline Pelzer, drums
Torhout, Schuur Kasteel Wijnendale, October 28, 1995 DUO FRED VAN HOVE / IVO VANDER BORGHT
Fred Van Hove, Bösendorfer grand piano/accordion
Ivo Vander Borght, drums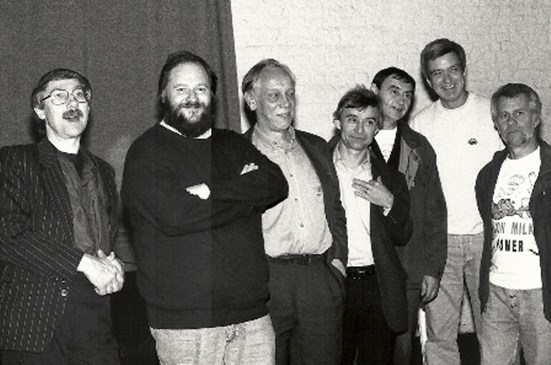 Torhout, Schuur Kasteel Wijnendale, May 10, 1996 GERRY HEMINGWAY, solo
Gerry Hemingway, drums/percussion/loops
Torhout, Schuur Kasteel Wijnendale, May 25, 1996 THINK OF ONE
THINK OF ONE - w/ Jan Peeters, winner "OMRON FUZZY AWARD 1995"

Jan Peeters, bariton saxophone
David Bovée, electric guitar
Eric Morel, alto saxophone/flutes
Tomas De Smet, double bass
Kobe Ploegmans (?), percussion
Roel Poriau, drums

Play list : Simple Cymbal Sample / Ida / Mamounyah / The Right Tool / Flee From Crowd / Loozin You /
Just Walkin' Dully Along / La Reine d'une Nuit / Lazarus / Mozes
Torhout, Schuur Kasteel Wijnendale, May 25, 1996 MODE FOR JOE
Peter Hertmans, guitars
Jeroen Van Herzeele, tenor saxophone
Sal la Rocca, double bass
Jan De Haas, drums

Play List : Afrocentric (Joe Henderson) / Black Narcissus (Joe Henderson) / Four By Five (McCoy Tyner) / ... ? ... (McCoy Tyner) / Contemplation (McCoy Tyner) /  Y Yo La Quiero (Joe Henderson) / Serenity (Joe Henderson)

 
Chiny-sur-Semois, Hôtel du Point de Vue, October 5, 1996 DUO COPUS / HERTMANS
Danielle Copus, vocals
Peter Hertmans, guitar
photography by Jacky Lepage
Torhout, Bistro Kraeybos Kasteel d'Aertrycke, March 22, 1997 ANDRE DONNI QUARTET
André Donni, reeds
Willy Donni, electric guitar
Mary Héhuat, double bass
Félix Simtaine, drums
Torhout, Schuur Kasteel Wijnendale, May 25, 1997 THE EUROPEAN DUO
Joëlle Léandre, double bass/voice
Giorgio Occhipinti, piano
Photography by Jean-Pierre Tillaert