There is more jazz than Jazz'halo and there is Jazz'halo because there is never enough jazz. Jazz musicians and jazz lovers are explorers, looking for 'things to happen' but we do not always know where and when it happens. May this site guide you and us in our pursuit...
 
Dankzij onze samenwerking met de Koning Boudewijnstichting zijn giften aan vzw Hnita vanaf 40 euro fiscaal aftrekbaar. Vzw Hnita wil op die manier graag 50.000 euro inzamelen voor de inrichting van haar concertzaal in de Hnita-Hoeve.
Leef je uit in onze ludieke steunshop om ons broodnodig materiaal te schenken! (Je aankoop is symbolisch.)

Je kan je gift ook rechtstreeks doneren via onze pagina op de website van de Koning Boudewijnstichting:

Of stort je gift rechtstreeks op het rekeningnummer van de Koning Boudewijnstichting:
IBAN BE10 0000 0000 0404 (BIC BPOTBEB1)
Structurele mededeling 128/3267/00068
Enkel giften met deze structurele mededeling komen bij je favoriete jazzclub terecht. Voor giften vanaf 40 euro ontvang je van de Koning Boudewijnstichting een fiscaal attest in februari van het jaar volgend op het jaar van je gift.
Alvast bedankt!


Word aandeelhouder
Draag je de Hnita Jazz Club een warm hart toe en wil je dat engagement financieel en feitelijk in daden omzetten? Dan kan je aandeelhouder worden van de Coöperatieve Vennootschap Hnita Jazz Club. Een aandeel is 1000 Euro waard en kan je verkrijgen door dit bedrag of een veelvoud hiervan te storten aan Hnita Jazz Club CV op rekeningnummer BE30 7340 4457 1711. Je wordt als eerste op de hoogte gebracht van aankomende concerten, besloten voorstellingen en try-outs. Je bent welkom op onze algemene vergadering en krijgt (indien gewenst) een naamsvermelding in de vernieuwde Hoeve.
We betrekken je graag bij ons project!
Contacteer ons op hnitajazzclub@gmail.com


Word lid

Hnitaleden krijgen gemiddeld 2 euro korting per concert. Het lidmaatschap kost 20 euro en geldt steeds tot het einde van het kalenderjaar. Je wordt op de hoogte gehouden van alle concerten en activiteiten die uitgaan van de Hnita Jazz Club, ook van besloten voorstellingen en try-outs.
Wens je lid te worden?
Schrijf dan 20 € over op BE63 7310 4589 4008 (Hnita vzw) met vermelding "lidmaatschap en je naam".


---


photos © Jacky Lepage
Jazz'halo.be wants to let the light shine on interesting concerts, projects and albums for which there is no space in the newspapers and weeklies. Completeness is not our ambition and we depend on the information supplied to us by the clubs, musicians, organizers and by you. All contributions are welcomed and we will select the most interesting news for publication.
We choose English as the basic language for Jazz'halo.be but contributions in Dutch, French and German will be published as such.
Jazz'halo stands for contemporary, adventurous, new, boundless. Have a look at the Archives section and you will understand.
Let's connect !
About
The CD label
The 25 albums so far produced by Jazz'halo.
The Musician's files
Biographical notes on jazz people who don't have a personal website. The others are listed in the Links section.
The Calendar
Lists mainly concerts in Belgium and will never be complete but we want to support initiatives that deserve attention.
The Archives
Jazz'halo was launched in 1997 with a lot of ambition and a good sponsor who made it possible to start up the print magazine, the CD label, the website and the Jazz'halo Music Days. The first Jazz'halo Music Days in November 1997 featured bass player Cameron Brown and his band 'The Hear and Know' with Sheila Jordan, the Joe Fonda Trio, the Gerry Hemingway Quartet and Belgian jazz bands such as the Peter Hertmans Quartet and the Phil Abraham Quartet. The following years we brought a whole range of interesting musicians on the Belgian stages such as Joëlle Léandre, Beñat Achiary, Greg Marvin, Raúl Barboza, Renaud Garcia-Fons, Vinny Golia and many others. More about the past in the Archives section.

Jos Demol & Emile Clemens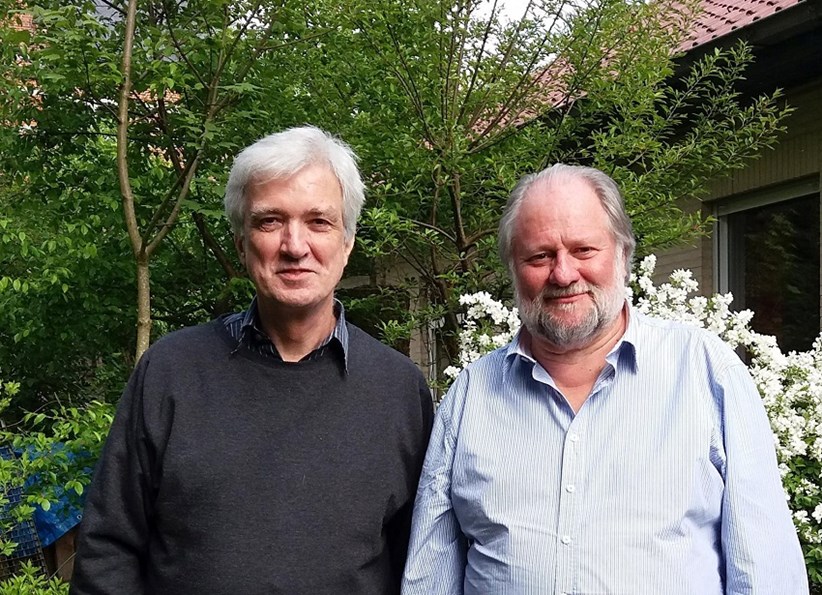 © Jazz'halo


PRIVACY