There is more jazz than Jazz'halo and there is Jazz'halo because there is never enough jazz. Jazz musicians and jazz lovers are explorers, looking for 'things to happen' but we do not always know where and when it happens. May this site guide you and us in our pursuit.


photos © Jacky Lepage
Jazz'halo.be wants to let the light shine on interesting concerts, projects and albums for which there is no space in the newspapers and weeklies. Completeness is not our ambition and we depend on the information supplied to us by the clubs, musicians, organizers and by you. All contributions are welcomed and we will select the most interesting news for publication.
We choose English as the basic language for Jazz'halo.be but contributions in Dutch, French and German will be published as such.
Jazz'halo stands for contemporary, adventurous, new, boundless. Have a look at the Archives section and you will understand.
Let's connect !
About
The CD label
The 25 albums so far produced by Jazz'halo.
The Musician's files
Biographical notes on jazz people who don't have a personal website. The others are listed in the Links section.
The Calendar
Lists mainly concerts in Belgium and will never be complete but we want to support initiatives that deserve attention.
The Archives
Jazz'halo was launched in 1997 with a lot of ambition and a good sponsor who made it possible to start up the print magazine, the CD label, the website and the Jazz'halo Music Days. The first Jazz'halo Music Days in November 1997 featured bass player Cameron Brown and his band 'The Hear and Know' with Sheila Jordan, the Joe Fonda Trio, the Gerry Hemingway Quartet and Belgian jazz bands such as the Peter Hertmans Quartet and the Phil Abraham Quartet. The following years we brought a whole range of interesting musicians on the Belgian stages such as Joëlle Léandre, Beñat Achiary, Greg Marvin, Raúl Barboza, Renaud Garcia-Fons, Vinny Golia and many others. More about the past in the Archives section.

Jos Demol & Emile Clemens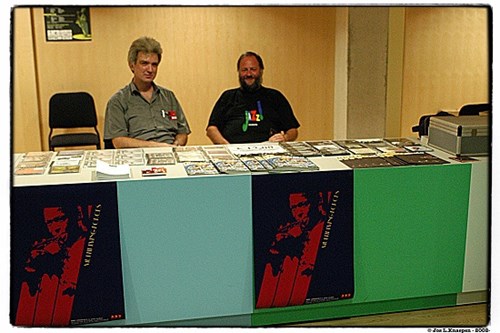 PRIVACY

At Jazz'halo we give priority to your privacy. We treat your personal data with care and wish to let you know here which data we collect and what use we make of them. Collecting and handling of these data is done in accordance with the new privacy regulations AVG (Algemene Verordening Gegevensbescherming) better known as GDPR (General Data Protection Regulation).
We only use your personal data to inform you of new articles, interviews, reviews and, eventually, extra activities. You can withdraw you acceptance at any moment. With every e-mail we send you there is a link that allows you to remove you from the list. We shall not pass your date to third parties without you consent.
We take all necessary measures  to  protect your data. You can always contact us to check, change or remove your data via info@jazzhalo.be.


Bij Jazz'halo is uw privacy onze prioriteit. Wij gaan zorgvuldig om met uw persoonsgegevens. Via deze lijnen willen wij u informeren over de gegevens die wij verzamelen en wat wij hiermee doen. Het verzamelen en verwerken van gegevens gebeurt in overeenstemming met de nieuwe privacywetgeving AVG (Algemene Verordening Gegevensbescherming), in de media beter gekend als GDPR (General Data Protection Regulation).
Wij houden alleen uw persoonsgegevens bij om u op de hoogte te houden van nieuwe artikels, interviews, recensies en eventueel bijhorende activiteiten. Uw toestemming daarvoor kan u ten allen tijde intrekken. Bij elke e-mail die wij sturen kan u een link volgen om uzelf uit te schrijven. Wij zullen uw gegevens niet doorgeven aan derden zonder uw toestemming.
Wij nemen de gepaste maatregelen om uw gegevens zo goed mogelijk te beschermen. U kan ons ook steeds contacteren om uw gegevens in te kijken, te laten aanpassen of te wissen via info@jazzhalo.be.