Francesco Branciamore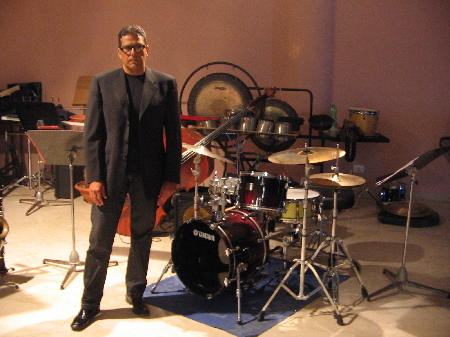 Sicilian composer/drummer Francesco Branciamore (° Siracusa, 03/03/1956) studied with Tawny Biriaco, Andrea Centazzo, Pierre Favre, and Tony Oxley. Since 1979 he's active at jazz stages all over the world. In 1986 he participated in the Ray Mantilla Percusion Unit. In 1987 he's playing at the LP from Italian singer Carlo Moratori "Afrodite" (RCA). The following year he released his first quartet record "Flash in Four" (Splasc(h) Records) with Carlo Actis Dato as a special guest. Two years later he started the December Thirty Jazz Trio with pianist Giorgio Occhipinti and double bassist Giuseppe Guarrella. They released their first CD "The Street One Year After" (Splas(h) Records) in 1991, followed by "Concert For Ibla" (Splas(h) Records) that same year with Pino Minafra as a special guest. In 1992 they recorded "The New Street in Old City" (CMC Records) and appear at the "Sicilian Jazz Collection – volume 1" (Splas(h) Records). In 1995 Francesco participated in the live recording for CMC Records from the Giuseppe Guarrella Project CD "Live at Festival Ibleo Jazz". In 1996 he's at the CD "Pancali" (Aleph Records) from saxophone player Carlo Cattano. In 1997 Caligola Records released his solo project (electronics and percussion) "Meloritmoarmonica". A year later Pentaflowers Records (in association with RAI Trade) produced his "Nomade Quartetto" CD. In 2000 "Improvisations of the Four Seasons", his CD with Trade d'Union – the late Paul Rutherford (trombone), Michel Godard (tuba, serpent) and Guido Mazon (trumpet) – was out on Caligola Records. That same year Jazz'halo released the second CD of the Giorgio Occhipinti Hereo Nonetto. The same label also produced "Free for Three" (December Thirty Jazz Trio) and "Francesco Branciamore Perfect Quartet". In the past years he collaborated with Lee Konitz, Evan Parker, Barre Philips, Keith Tippett, Jean-Marc Montera, Wim Mertens, Arkady Shilkloper, Enrico Rava, Gianluigi Trovesi, Paolo Fresu, Gianni Gebbia, Giancarlo Schiaffini, Salvatore Bonafede, Vinny Golia, a.m.o. …
Currently Francesco Branciamore is teaching analysis of compositional forms and arrangements of jazz technique and jazz composition at the Conservatory "N. Piccinni" of Bari (for the Biennium of Jazz) and Jazz drum & percussions in Venice.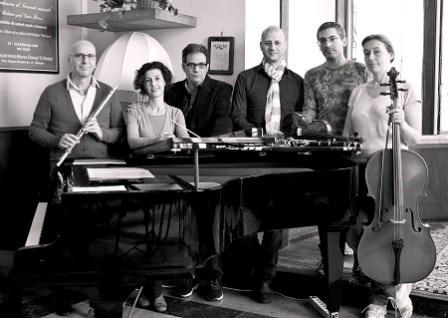 In 2014 his new project is dedicated to the music of the legendary jazz pianist Bill Evans. It's performed his Crossover Ensemble (flute, clarinet, violin, cello, double bass, piano) and entitled "Remembering B.E." After analyzing the different influences of the great pianist (a.o. Chopin, Ravel, Debussy, Satie), he works out a chamber music sound that is highlighting the various nuances of Bill Evans' rich musical heritage. His Crossover Ensemble brings exciting though intimate music.
The last project experimenting with Bill Evans music dates from 20 years ago: Kronos Quartet with Eddy Gomes.
Compositions "Remembering B.E.":
Prologue (F. Branciamore)
Remembering B.E.(F. Branciamore)
Autmn Leaves (standard music by J. Kosma words J. Prevert)
How my heart sings (by Earl Zindars)
Minority( by Gigi Gryce)
My foolish heart (words e music N.Washington & V.Young)
Oleo (by Sonny Rollins)
Quiet Now (by Denny Zeitlin)
Peace piece (by Bill Evans)
Peau douce (by Steve Swallow)
Peri's scope ( by Bill Evans)
Two lonely people (by Bill Evans)
Time remembered (by Bill Evans)
Waltz for Debby (by Bill Evans)
Epilogue (by Bill Evans)
Early 2013, Francesco Branciamore and double bassist Giuseppe Guarrella also formed a the Summer's End Trio with pianist Fabio Puglisi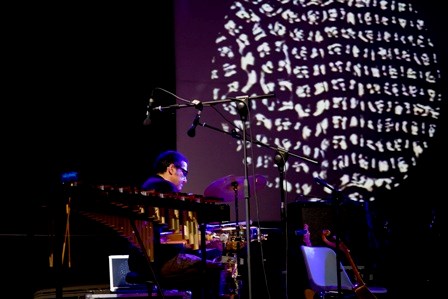 Water Music © Francesco Branciamore
Forme di relazione e Jazz. L'arte visiva e la ricerca musicale di FRANCESCO BRANCIAMORE di Giuseppe Carrubba
DISCOGRAPHY
Carlo Muratori – "Afrodite" RCA 1987
Francesco Branciamore Quartet - "Flash In Four" Splasc(h) Records 1988
December Thirty Jazz Trio - "The Street One Year After" Splasc(h) Records 1991
December Thirty Jazz Trio feat. Pino Minafra - "Concert For Ibla" Splasc(h) Records 1991
December Thirty Jazz Trio - "The New Street In Old City" CMC Records 1992
December Thirty Jazz Trio - "Sicilian Jazz Collection Volume 1" Splasc(h) Records 1992
Giuseppe Guarrella Project - "Live at Festival Ibleo del Jazz" CMC Records 1995
Carlo Cattano - "Pancali" Aleph Records 1996
Francesco Branciamore - "Meloritmoarmonico" Caligola Records 1997
Francesco Branciamore Quartetto - "Nomade Quartetto" Pentaflowers Records & RAI Trade 1998
Francesco Branciamore Trade D'Union - "Improvisation of the four seasons" Caligola Records 2000
Giorgio Occhipinti Hereo Nonetto & Cello Sequences - "Global Music And Circular Thought, Suite In Eight Movements: Dances And Sequences For Cellos And Nonet" Jazz'halo 2000
Francesco Branciamore - "Perfect Quartet" Jazz'halo 2002
December Thirty Jazz Trio - "Free For 3" jazz'halo 2002
Francesco Branciamore Perfect Quartet - "Jumping" Splasc(h) Records 2005
Queen Mary Quartet - "Sicilian Jazz Collection" Asmj Records 2007
Francesco Branciamore - "Trium" Caligola Records 2007
Francesco Branciamore - "ANTHEM" ACP Records 2008
Claudio Giglio Quartet - "Scenes In The Night" Splasc(h) Records 2009
Francesco Branciamore Perfect Quintet - "Keep Up The Dialogue" Caligola Records 2010
Francesco Branciamore - "Drums: Italy In Jazz" ACK Records 2011
Francesco Branciamore & Elio Amato - "Two For Three" ACK Records 2015
Francesco Branciamore - "Lisistrata Ensemble Compositions" ACK Records 2016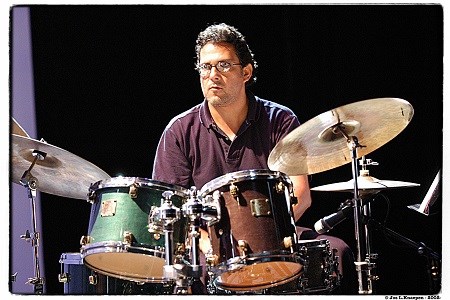 Francesco Branciamore Jazz!Brugge 2002 © Jos L. Knaepen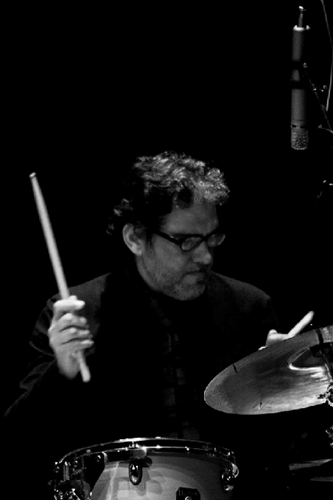 © Francesco Branciamore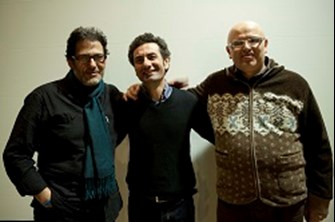 © December Thirty Jazz Trio
The December Thirty Jazz Trio started in 1988 as a duo (Occhipinti / Guarrella). Early 1989 drummer Francesco Branciamore joined Giorgio Occhipinti (piano) and Giuseppe Guarrella (double bass). From 1989 to 1991 the group performed in various Italian jazz clubs. In October 1989 they were touring with Lee Konitz, and played at festivals in Catania (Brass Group) and Salerno (Campania Jazz festival).
In 1991 their first CD "The Street One Year After" was released on Splasch Records. Meanwhile the trio collaborated with artists of different musical styles: Paolo Fresu, Flavio Boltro, Pino Minafra, Eugenio Colombo. Still in 1991 they recorded a second CD "Concert For Ibla". It's a recording from the concert at the Checco Durante Theatre in the beautiful baroque quarter of Ragusa. Special guest was Pino Minafra.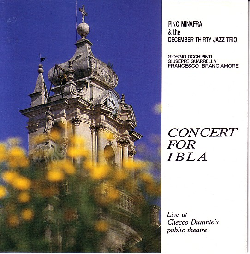 In 1993 you can find the trio at two CD's, with the composition "Via Blond" on "Sicilian Jazz Collection Vol.1" (Splasch Records) and "The New Street In Old City" (Cmc Records), their third album.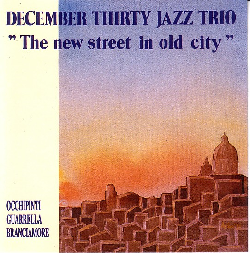 In 1993 the December Thirty Jazz Trio played at the Festival Ibleo del Jazz in Ragusa Ibla. That year was a key moment for the members of the trio. In fact, while in the previous period the trio had the possibility to work out a new sound and its own artistic thought, from 1993 on there was the possibility to develop different ideas and projects. Hence the birth of new groups with Occhipinti, Guarrella and Branciamore as leaders and composers. Giorgio participated in the Pino Minafra Quintet, Colombo/Occhipinti/Guarrella/Branciamore (at the Catania Jazz Festival), there was the Triple project of Occhipinti/Guarrella/Colombo (performing at the festivals of S. Giovanni Rotondo "Made in Italy", Ruvo di Puglia "Talos Festival", Ragusa Ibla "Festival Ibleo del Jazz"), Francesco Branciamore solo (he played at the Festival Ibleo del Jazz, and Radiotre Suite), the Giuseppe Guarrella Sicilian Quartet with Gianni Gebbia Giorgio Occhipinti and Vittorio Villa, the Giorgio Occhipinti Hereo Nonetto and the Hereo Ensemble with 18 members (a.o. Evan Parker, Jean-Marc Monterà, Barre Phillips, two lyric singers and an actor, Francesco Branciamore Trait d'Union with Guido Mazzon, Paul Rutherford and Michel Godard (playing at the Ibleo del Jazz festival and Siena Jazz), the Francesco Branciamore Perfect Quartet (festival Jazz!Brugge 2002 and CD for Jazz'halo), Francesco Branciamore Solo Performance for live electronics and drum set "Fireworks 2162002" (festival for contemporary Music of Mestre 2002), Giorgio Occhipinti and Giuseppe Guarrella "Tribù" with Arkady Schilkloper, Paul Rutherford, Michel Godard, Myriam Palma, Maurizio Maiorana, Francesco Branciamore, Antonio Moncada, The European Duo (Giorgio Occhipinti with Joëlle Léandre) played at the festivals Ibleo del Jazz, Jazz'halo Music Days and Jazz!Brugge) and the duo Occhipinti-Monterà (festival "Border Line" in Quarrata - Pistoia), Giorgio Occhipinti Global Music Nonetto ( festival MusiconMusic Vienna - 2001 and festival Jazz à Luz 2002; CD "Histoire" for the German label Between The Lines), Giorgio Occhipinti Dodici Mottetti for alto sax, strings sextet and reciting voice and all the works of Occhipinti for strings.
In September 2001 the trio played at the Jazz'halo Music Days in Brussels, Mons and Brugge (Belgium). Jean-Marc Foussat recorded these concerts. A selection was released at "Free For 3" (Jazz'halo label). In October 2002 the trio invited Vinny Golia as special guest for their concert at the Extramoenia Festival in Noto (Sicily).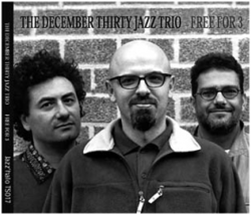 Elio Amato/Francesco Branciamore - Two for Three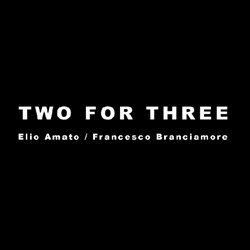 Scritto da Aldo Del Noce
Domenica 04 Ottobre 2015
Elio Amato/Francesco Branciamore - Two for Three
ACK Records - ACK02 - 2015
Elio Amato: trombone, pianoforte
Francesco Branciamore: batteria, pianoforte

Due veterani, ma nemmeno troppo stagionati, del jazz dell'isola a tre punte, cui non è mancato di cimentarsi su uno scenario almeno continentale, come testimoniato dagli intensi percorsi concertistici e dalle già numerose, rispettive prove discografiche e nel caso presente orientati ad affrontare una nucleare interazione a due, leggibile (e da vivere) quale momento di intima concentrazione e messa a nudo del talento.
Della loro vitalità concertistica si propone su disco una sintesi di poco inferiore ai quaranta minuti, ma che con sveltezza e "sonore" argomentazioni abborda una rinnovata via espressiva, sposando morfologie che, se non paleo-jazz, certamente risuonano impregnate dei decenni fondativi del genere (Divertissement Blues, Second Line), a sancire dinamicamente un rinnovato legame con «la radice del jazz di tradizione e alla cultura europea, con citazioni a figure iconoclaste quali Monk e Coleman» - non mancando, in Jarrett fantasy, un più aggiornato, e piuttosto letterale tributo alle più recenti, quanto sedimentate vedute.
Dal proprio elemento strumentale, i due s'incontrano anche alternandosi al pianoforte, offrendo in via originale un'alternanza idiomatica sulla tastiera: il trombone di tempra evocativa e severa è sostenuto dal pianoforte di Branciamore, impressionista e percussivo - come è poi nella natura sia dell'uomo che dello strumento - ma capace di grande slancio lirico come nell'appassionante Suddenly one morning (a propria firma); quest'ultimo del proprio elettivo strumento conferma la versatile padronanza e la conoscenza sfaccettata, spesso facendo dimenticare per le densità ritmiche i limiti della loro formazione "bass-less", incalzando talvolta il pianismo del partner, che vi si esplicita eloquente e scultoreo.
Dalla millenaria città di Archimede, geometrie, formule e logiche al servizio di una comunicativa vivace e di una musicalità argomentata da parte di sperimentati professionisti, convincenti nello spendersi su un terreno di gioco percorso dal doppio carattere del proprio duo, ludico e colto.
http://www.jazzconvention.net/
Mark Dresser (contrabass), Elio Amato (trombone,piano), Davide Barbarino (sax), Alessandro Vicard (contrabass, piano) Francesco Branciamore (drums) in Palazzolo Acreide (Siracusa, Sicily):