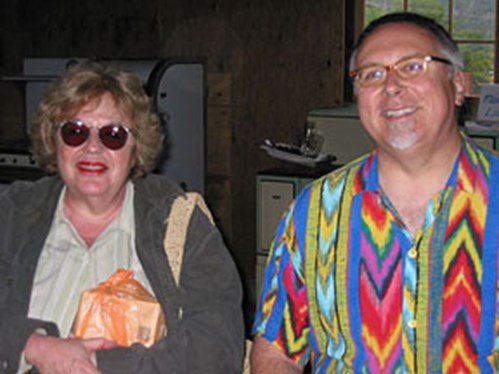 © Michael Vlatkovich

MICHAEL VLATKOVICH / DOROTHEA GROSSMAN PROJECT

Dorothea Grossman and Michael Vlatkovich present poetry and creative new music in a unique "call and response" format. The late Allen Ginsberg called Dorothea (Dottie) Grossman's poetry, "clear, odd, personal, funny or wild-weird, curious and lucid."
The award-winning poet lives, works and writes in Los Angeles. Her work has appeared in Blue Unicorn, Southern Poetry Review, The Christian Science Monitor, Gypsy Anthology, Poetry Motel, Zuzu's Petal Quarterly, The Poet's Band Company, Raw Dog Press, Pearl, The California Quarterly of the California State Poetry Society, The IMP Irregular, ArtLife and Rhino. Her book, "Cuttings: Selected Poetry 1978-1988 was published by Tango Press in 1996. "Poems From Cave 17 was published in 1996, and "Museum of Rain waspublished by Take Out Publications in 2001.
The "call and response" format in which Ms. Grossman and Vlatkovich perform was born in Albuquerque, NM, when both were guests on a jazz radio program. This format solves the problem of one medium overshadowing the other, plus, says Grossman, "it avoids the old jazz and poetry, trap, with its cliché-ridden stereotype of angry, beret-wearing, bongo-playing bohemians."

From L.A. Citybeat, Jan. 8-14, 2004: DOTTIE GROSSMAN AND MIKE VLATKOVICH
When Philadelphia poet Dottie Grossman came to Los Angeles in the late 1970's, she found the town liberating for her work. Her now-deceased husband, improvisational pianist Richard Grossman, was already artistically mature. The L.A. experience pared her work down to its wry essence; she titled Richard's recordings ("Moon, Tap-Dancing Outside"), and produced observational epigrams that are small gems. Four years ago, she shared radio space with trombonist Mike Vlatkovich on Mark Weber's KUNM jazz show in Albuquerque. Weber suggested they perform together and, despite Grossman's objections (she's old enough to remember the crimes committed in the name of Poetry and Jazz), she acquiesced and enjoyed it. For his part, Vlatkovich relishes the creative demands of their "call and response" mode. She reads and he responds in a way that skirts the obvious and the literal. Instead, he finds an emotional point in Grossman's work from which to spontaneously compose. Only a player with Vlatkovich's compositional and improvisational depth could pull it off so gracefully. They're working this weekend in a new series of music and spoken word curated by saxophonist Richard Wood, which he calls "Godot's Ear." (Wood and his own ensemble are also part of the bill.) Grossman could have been talking about the series when she wrote, "A new house is rising/like a miracle, on baby feet."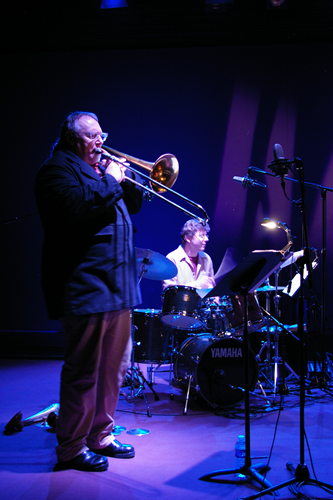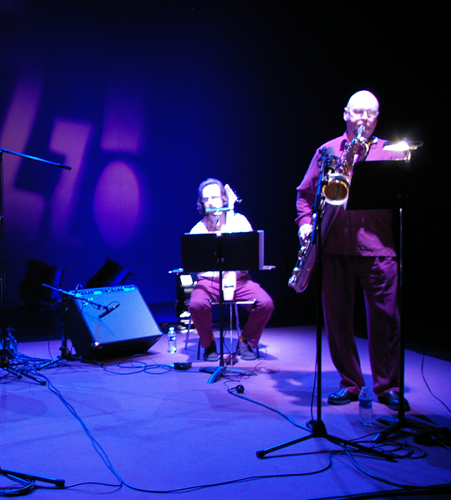 Michael Vlatkovich Quartet, Brugge De Werf, 2009 © Elise Alaimo

THE MICHAEL VLATKOVICH QUARTET
Michael Vlatkovich - trombone, compositions
David Mott - baritone saxophone
Jonathan Golove - electric cello
Christopher Garcia or John Bacon - drums, percussion

THE REVIEWS:
"Michael Vlatkovich isn't your average trombonist. He squeaks, soars, and sears and tears sonic pieces of paper much like a saxophonist. Quite simply, and with all due respect to players like Jed Bishop, Joe Fiedler, Masahiko Kono, Steve Swell, and even my all-time favorite Roswell Rudd, Vlatkovich is the finest trombonist improvising today. While this music isn't exactly "out there," it is far from the "mainstream." There isn't a "blow out" or antagonistic section on this disc and yet all of the cuts have a smidgen of unpredictability that makes them challenging. In the end, it doesn't matter as this music shines in or outside of any context."
JAZZREVIEW.COM
 
"A commanding improvisational trombonist, Vlatkovich is also a devisor of challenging structures for his bandmates. Vlatkovich loves using word and numerical games to determine compositional structures. There are seldom "themes" as such but, rather, motifs collectively essayed. Around these guideposts, Vlatkovich leaves lot of room in which soloists can navigate. The raucous assembled horn passages have ancestral ties to early New Orleans jazz and Vlatkovich often writes short, concentrated ensemble bursts that hit like sound grenades."
JAZZIZ
 
"Michael Vlatkovich is coming to town to blow your mind. Michael Pierre Vlatkovich may not be a household name.... yet he still manages to be one of the most extraordinary improvising trombonists in this country as well as overseas. Also a gifted composer and arranger, Vlatkovich is one of the leading talents among Los Angeles improvisational players. Working from the Left Coast since 1973, he is well known for tireless touring, bringing his music all over the United States, Canada, and Europe. A daring and emotionally charged performer, Vlatkovich takes delight in blending a broad variety of jazz and world music styles into his own brand of engaging and unpredictable music. His approach manages to express a raw power and beauty within a minimally structured format that allows extensive group improvisations to lead the way."
ARTVOICE
 
"Vlatkovich is an arresting writer who works with many different forms - numerical compositions, tangos, waltzes, big band swingers, and more. He also assembles musicians accomplished enough to interpret his pieces with verve and imagination."
L.A. NEW TIMES
 
"Trombonist Michael Vlatkovich served up a more animated mix of gutbucket grooves and extended form at his Knitting Factory set...His multi-theme pieces flow in ways that feel right to the ear, so they don't feel like patchwork or even suite-like. They also leave lots of room for broad brush blowing."
CODA
 
"Maybe its the similarity to the slide whistle, but something about the trombone seems to attract musicians who, despite their amazing virtuosity, still retain a mischievous sense of humor. Vlatkovich and his ensemble play thoughtful, melodic free jazz with a wry air.....a little marvel of joyous, minimalist improvisation - consistently swinging but never confined by time"
SEATTLE WEEKLY
 
"With its blustery, swaggering and bluesy Mingus -like rag-tag amalgam of structure (including interesting support for soloists) and open-ended improvisation, buoyed by periodic rock rhythm underpinning which, amazingly enough, avoids any concession to fusion or pop, and odd striking percussion textures, it's a sprawling, spirited freewheeling set."
CADENCE JAZZ MAGAZINE
 
"The band is notable for its unusual instrumentation, encouraging pallet, repertoire of originals, and its good intentions...Vlatkovich's resourceful writing provided a framework fro his gritty, muffled-toned trombone."
LOS ANGELES TIMES

"The Michael Vlatkovich Quartet, specializes in tautly constructed group improvisations that provide lost of nourishing food for musical thought; their combinded sounds swing effortlessly yet solidly. From '20's style gutbucket testifying to '60's like "outside" musings and beyond, most of the passing century's musical innovations are encompassed. Blend in a healthy dose of humor and a bit of underlying irreverence and you've the makings of an enthralling evening.
SANTA FE REPORTER
 
"Trombonist/composer Michel Vlatkovich has a knack for leaving just the right loose ends loose and weaving others into knots that are almost impossible to unravel. His arrangements are characteristically sparse - sometimes startingly so- but the depths of his imagination are so densely packed with the new and the fresh that listening to Vlatkovich blow is to hear improvisational jazz for the first time, every time.
The St. Louis born, musician is considered among the top musical and compositional minds on the Left Coast. That's at least in part because Vlatkovich, is almost entirely fearless when it comes to stretching the limits of jazz well beyond the accepted stratosphere of improvisation. Never timid, shy or subtle, Vlatkovich wrings melodies out of his trombone with brute force, nailing together a wide variety of jazz styles to miscellaneous scraps of world music and jackhammer rhythms. His music is brash, bold and exciting-the way improv ought to be.
THE WEEKLY ALIBI
 
"The skeletal compositions generate an organized spontaniety that is quite striking because the music is allowed to develop in an atmosphere of considerable freedom"
JAZZ FORUM
 
"In the spirit of Ornette Coleman, Vlatkovich compositions are often jagged and humorous...Vlatkovich's trombone ranges over as wide a terrain as his tunes, progressing form funky bop to slippery high register pranks to walking bass lines to frog-like croaks"
"With its blustery, swaggering and bluesy Mingus-like rag tag amalgam of structure(including interesting support for soloists) and open-ended improvisations, buoyed by periodic rock rhythm underpinning which, amazingly enough, avoids any concession to fusion or pop, and odd striking percussion textures, it's a sprawling, spirited,free-wheeling set."
THE NEWS AND OBSERVER



THE MUSICIENS:

Christopher Garcia - drumset, percussion

Chris was born, raised, and still resides in East L.A. (Never to be confused with West L.A.). His background includes performances in a wide variety of musical settings including progressive jazz, rock, world music, traditional Mexican music, percussion ensemble, soundtracks, and cartoon music.
He attributes his musical growth to his studies with Professor John Bergamo, Pandit Tarnath Rao, Swapan Chadhouri and Leonice Shinemann where he studied tabla, while attending California Institute of the Arts on a full scholarship.
Chris was also a member of the award winning Cal Arts Percussion Ensemble in 1979.
He attributes his "style"(?) to Listening to EVERYTHING, logging in thousands of hours, practicing, rehearsing, performing and touring constantly with musicians interested in stretching and reinventing themselves. Chris' drumming is unusual in that it incorporates not only the standard rhythms and their permutations, but also a fluency with odd time signatures and sonic textures, which he seamlessly incorporates into his playing. He has toured extensively throughout the United States, Canada and Asia.
He has consistently held the drummer/percussionist chair in several Vlatkovich ensembles since 1992.
He has also been the drummer/percussionist of several critically acclaimed ensembles including: Continuum - fusion for the 21st Century, Quarteto Nuevo - a world music improvising chamber ensemble, The Michael Vlatkovich Trio, Quartet, Quintet & Sextet - Avant trombonist, The Jihad Racy, Roberto Miguel Miranda, Christopher Garcia - world music trio, the World Music Percussion Quartet with Gustavo Aguilar, Park Je Chun, Takinojo Mochizuki, The Grandmothers - Ex Mother Of Invention - Don Preston, Roy Estrada, Bunk Gardner, Napoleon Murphy Brock, and duets with Drummer/percussionist Alex Cline, guitarist Nels Cline and multi woodwinds master Vinny Golia.
 
Selected Discography:
Continuum - Passages
Continuum - Continuum
Live at the Gewendhaus - The Grand Mothers - Napoleon Murphy Brock, Roy Estrada, Bunk Gardner, Don Preston
The Moscow Symphony - Outcast
Quarteto Nuevo - El Musico
Michael Vlatkovich Sextet - Live In Toronto
Michael Vlatkovich Trio - No Zee Two S
Michael Vlatkovich Quintet - Why Don't You See Me?
Obligatos For Terpsichorean Dipsomaniacs - Mark Weber

REVIEWS with MICHAEL PIERRE VLATKOVICH:

"Garcia's playing is vibrant and alive with passion, humor and a good deal of technical prowess, not to mention the breadth of vision necessary to effectively translate such an unpredictable stream of music. And the fact that the trio seem perfectly at home with unpredictably and the endless world of musical possibilities it presents makes them perhaps"
The Weekly Alibi
 
"Vlatkovich's concepts start with the very aggressive Elvin Jones-muscular beat of drummer Chris Garcia. From this foundation, the piano-less band shifts pattern and time, not in sharp angles but sure-footed movements. They hop from blues to tangos and marches, all the time the trombones are vocalizing, articulating, and encouraging discourse."
ALL ABOUT JAZZ
 

PERFORMANCE CREDITS:

He has performed with under their name:
John Bergamo, Cal Arts Percussion Ensemble, Alex Cline/C Garcia Duo, Alex Cline Ensemble, Nels Cline/C Garcia Duo , Collage Dance Theater, Continuum, Lukas Foss, Arthur Jarvinen, Bill Plake Trio, Steuart Liebig, Roberto Miguel Miranda, Patrick Moraz, The Moscow Symphony, The Northern Lights Ensemble, Quarteto Nuevo, Ali Jihad Racy, G.E. Stinson, Luis Villegas, Michael Pierre Vlatkovich, Mark Weber, World Percussion Quartet featuring Gustavo Aguilar - percussion from the Americas, Park Je Chun- percussion from Korea, Mochizuki Takinojo- percussion from Japan, World Jazz Ensemble, & others

He also performed with both sidemen for live performances and/or recording projects:
Abhiman, Airto, Nick Ariondo, Michael Bisio, Rob Blakeslee, Jimmy Branley, Bob Fernandez, Ramon Flores, Bruce Fowler, Steve Fowler, Craig Fundyga, Vinny Golia, Jonothan Golove, Michael Jacobsen, Eric Jorgensen, John Klemmer, Daniel Lozano, George McMullen, David Mott, Bill Plake, Bill Roper, Ken Rosser, Joe Rotondy, Harry Scorzo, Aaron Serfaty, Ramon Stagnaro, Andy Suzuki, Anders Swanson, Dean Taba, Arturo Velasco, Tom Walsh



John Bacon - drumset, percussion

John Bacon, percussionist and composer, has performed with Lester Bowie, Roswell Rudd, Bobby Previte, the Buffalo Philharmonic Orchestra, Bobby Militello and as a leader in a variety of ensembles.
He teaches percussion at UB University of Buffalo and is head of Jazz at Villa Maria College in Buffalo, NY.  He holds a PhD. in Music Composition from SUNY at Buffalo.
His diverse skills as a percussionist, trap drummer and vibe player have been featured with a wide range of groups including the Slee Sinfonietta, Maelstrom Percussion Ensemble, and the Genkin Philharmonic. His music has been performed by an eclectic collection of musicians, including The Amherst Saxophone Quartet, Leroy Jenkins, the New Jazz Orchestra of Buffalo, the New York New Music Ensemble, Amanda Deboer and the Colorfield Ensemble, Duo Cuentista, Ensemble Laboratorium, Wooden Cities and the UB Percussion Ensemble.
He has toured in England, Italy, Canada, and the US. In 2009, at De Werf Brugge, he was substitute for Christopher Garcia in the Vlatkovich Quartet.
He has recorded with Paul Bley, Roswell Rudd, Don Menza and George Caldwell. Recent CD releases featuring his music include "Pausa Live" with the New Buffalo Jazz Octet on Cadence Records and "Migration" by resAUnance with vocalist Esin Gunduz, cellist Jonathan Golove and pianist Michael McNeil, on FMR records.
John is a 2013 New York Foundation for the Arts Fellowship Award recipient in Music/Sound and a New York State Council on the Arts Individual Artist Composer Commission with Christopher Jentsch 2015. 
John was voted Jazz Musician, Jazz Educator and Jazz Drummer of the year 2015 and 2016 by JazzBuffalo.



Jonathan Golove - electric cello

Jonathan Golove is a native of Los Angeles, California and a resident of Buffalo, New York. He currently serves as Lecturer in the Music Department of the State University of New York at Buffalo, where he received a Ph.D. in musical composition as a Woodburn Fellow. His principal composition teachers have been David Felder and Donald Erb, and he has studied computer music with Cort Lippe. He has worked with or participated in master classes given by composers including Marc-Andre Dalbavie, Philippe Manoury, Lukas Foss, Roger Reynolds, Gerhard Staebler, and Walter Zimmermann.
Mr. Golove's works have been performed in a variety of locations in the North America and Europe, by such ensembles as the Ensemble Court Circuit, the Amherst Saxophone Quartet, Maelstrom Percussion Ensemble, and The Instrumental Factor. He has received commissions, awards and grants for his works from organizations including the European Academy of Music/International Festival of Lyric Art of Aix-en-Provence, VOXNOVA, ASCAP, the Yvar Mikhashoff Trust for New Music, Meet the Composer, and the Darius Milhaud Society.
He has written for a variety of ensembles, often in combination with live electronic processing, including (Max's 24 Hours) Pray-O-Mat for two cellos and the IRCAM Signal Processing Workstation, which was performed at the 1996 Sonic Circuits Festival in Toronto. In 1995, Mr. Golove was the first winner of the ASCAP Foundations Leo Kaplan award. His winning composition, Shreds of Evidence, is scored for two pianos, electronically processed spoken text, and video, and was premiered at the North American New Music Festival in February, 1995. A version of Shreds for piano duo was subsequently premiered at the June In Buffalo Festival. Here and There, a work for female voice and percussion quartet, has been recorded by the Maelstrom Percussion Ensemble on its CD release Whirled Music.
Mr. Golove is also an accomplished cellist, having been a student of Siegfried Palm and Ronald Leonard. In 1997 he was featured as soloist in Morton Feldman's Cello and Orchestra with the Buffalo Philharmonic Orchestra, and will perform Gubaidulina's Detto II for cello and ensemble with the Slee Sinfonietta in April 1999. He is active, as well, in the field of improvised music, appearing on a number of recordings with noted composer/performer Vinny Golia.
Mr. Golove has been a founder and co-director of chamber ensembles dedicated to the performance of new music including The Instrumental Factor (Buffalo), Just Like It Sounds (San Francisco), Arc-en-Ciel (Berkeley), and the Three-in-the-Time-of-Two Festival, which had its debut in Cleveland in 1994. He has performed in or composed works for summer music festivals including the Pacific Music Festival, the Rome Festival, and the Sarasota Music Festival. He was a founding member of the Elisha String Quartet, a group which served as the Apprentice Quartet at The Cleveland Institute of Music and participated in the 1993 Julliard Quartet Seminar. In addition, he has performed in the June In Buffalo String Quartet, the Roycroft Festival, and with the Cleveland Octet, a group made up of members of the Cleveland Orchestra.



David Mott - baritone saxophone

David Mott is a graduate of Berklee College of Music and holds the degrees of Master of Music, Master of Musical Arts and Doctor of Musical Arts from the Yale University School of Music, where he also taught graduate composition and directed the Yale Jazz Ensemble. He has been an Associate Professor at York University in Toronto since 1978.
The earliest of his compositions date from 1964, and include chamber works in a style the composer describes as "contemporary western art music", pieces for both small and large jazz ensembles, and compositions demonstrating his spectacular mastery of his own instrument, the baritone saxophone, either by itself, with electroacoustic elements, or in conjunction with his colleagues in the Toronto-based saxophone quartet, 40 fingers.
Mott maintains an enthusiastic interest in the cultures of Tibet, China, Korea and Japan. Many of his compositions bear evocative titles that reflect an Eastern-inspired concern with nature and its ways, or relate to the explicitly Buddhist approach to music defined in his article, Towards a New Mind/Body Music, first published in the journal Musicworks over the course of four issues from 1982 to 1983. His music is recorded on Music Gallery Editions, Opus One Records, Hamagi Records and Unity Records.
Selected Discography:
INTREPID EAR - 1E002 - Reunion Live (With Gerry Hemingway and Mark Dresser) Intrepid Ear
CHANDOS - 9748 - Whale Spirit Rising. Solo baritone with I Musici de Montreal
ARTIFACT ART - 017 - Live Fingers. (With 40 fingers saxophone quartet)
YFA00596 - The Sky Ringing in an Empty Bell. Solo baritone repertoire.
VICTO CD038 - International Baritone Conspiracy. (with Charles Papasoff) Includes Composition God's Clothes for Shaman Bobbi.
ART 013 - Blue Quilt. (with 40 fingers saxophone quartet) Includes composition River of Eyes. Artifact
Unity UTY -150 - Double Feature. (With Chelsea Bridge)
AURCD 1003 - NOJO. (As conductor of the Neufeld/Occhipinti Jazz Orchestra)
Unity UTY 133 - The Standard Line. (With David Lopato) Includes four compositions.
MV008 - Thankyou Records Toronto Live. (With Michael Vlatkovich)
CRI CD 628 - Bang On A Can Live. (performance on Evan Ziporyn's Luv Time)
Sound Aspects Outerbridge Crossing. (With Gerry Hemingway Quintet)
Pressure Points (With Sound Pressure Ensemble) Includes composition Oh!
Mysterious Magnum ¬ Such
Magenta Vintage. Soundprint 9301
Regarding Starlight. Performances on Regarding Starlight and Tiger Running... Nearer Breathing.