Jazz'halo Music Days
Jazz'halo Music Days 1997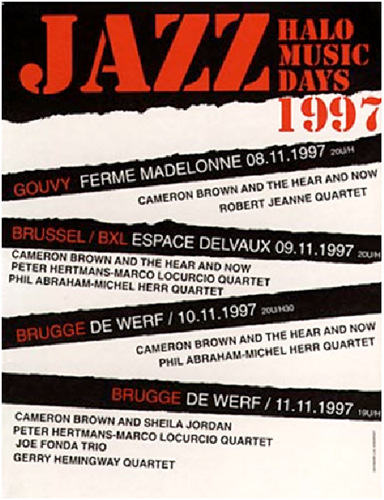 In 1997 Jazz'halo asked Cameron Brown to form a band of his own. He agreed and was joined by the legendary Sheila Jordan (voice), Dewey Redman (tenor saxophone), Leon Parker (percussion) and, a discovery, trumpet and flugelhorn player Dave Ballou. Cameron Brown and the Hear and Now was born.
We invited them for a couple of concerts in Belgium in November that same year. All Belgian performances were recorded by the sound magician David Baker. David was known for his extraordinary skills, and he worked with David Murray, Ben Allison's Medicine Wheel, Medeski, Martin and Wood, and many others.



Dave Ballou, Dewey Redman, Sheila Jordan and Cameron Brown © Jos L. Knaepen

After two try outs, one in Köln and the other at the Amsterdam Bimhuis, the band arrived at the wonderful Ferme Madelonne in Gouvy. This club is run for decades by jazz fanatic Claude Lenz. It's the only concert Dewey played. Unfortunately he had to leave the tour due to health problems.



Dave Ballou, Dewey Redman, Sheila Jordan, Cameron Brown and Leon Parker © Jos L. Knaepen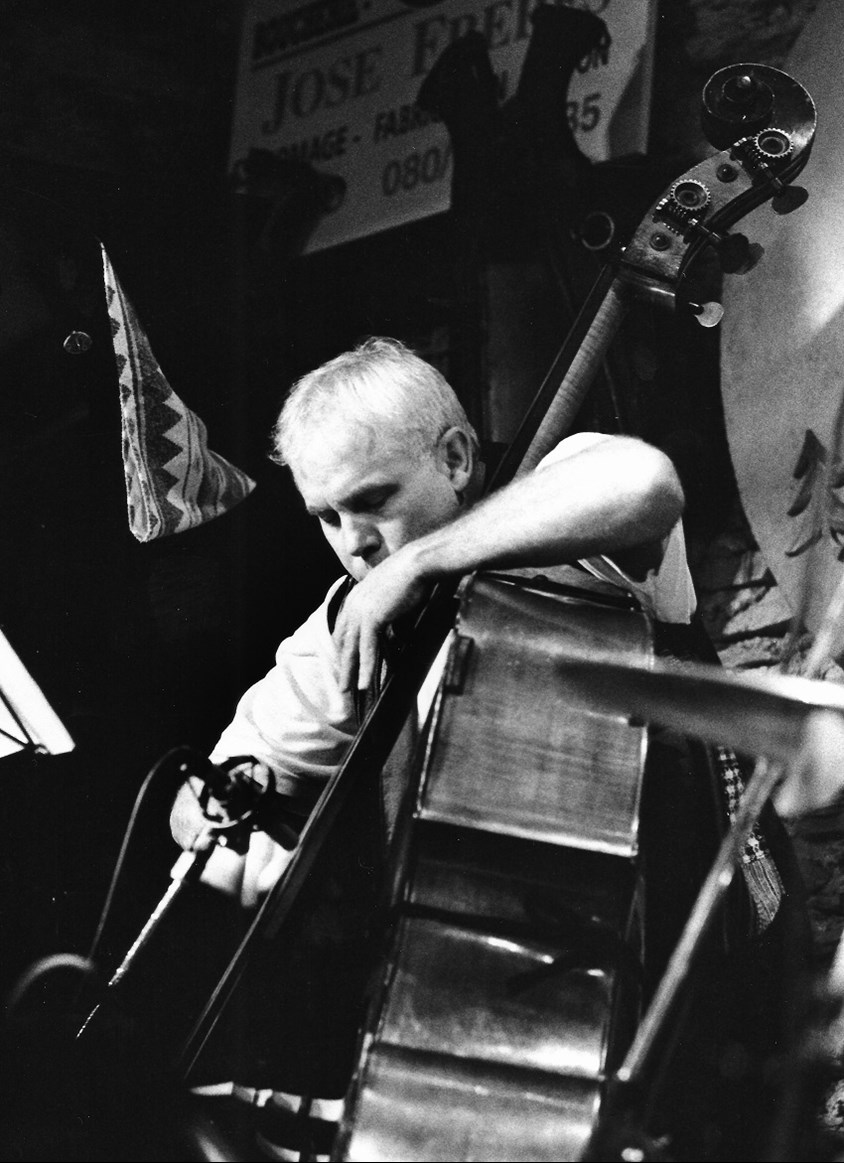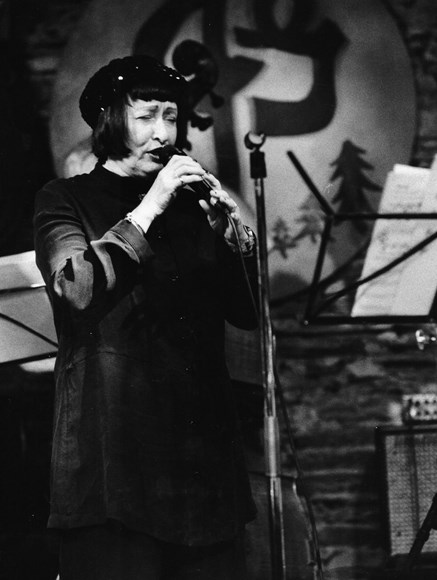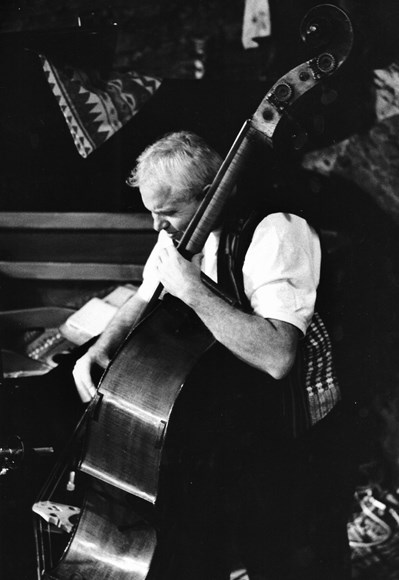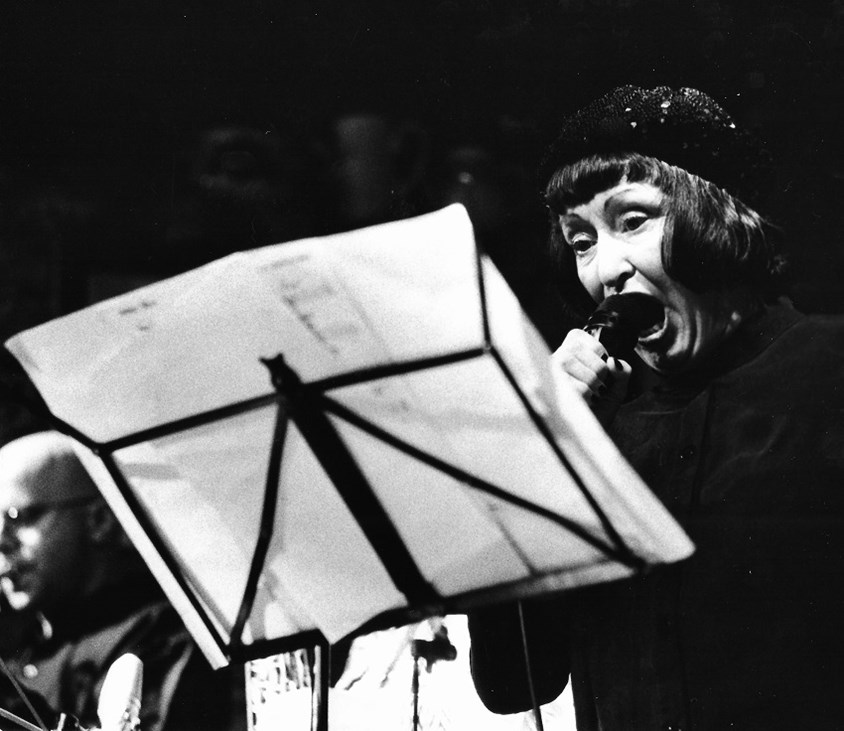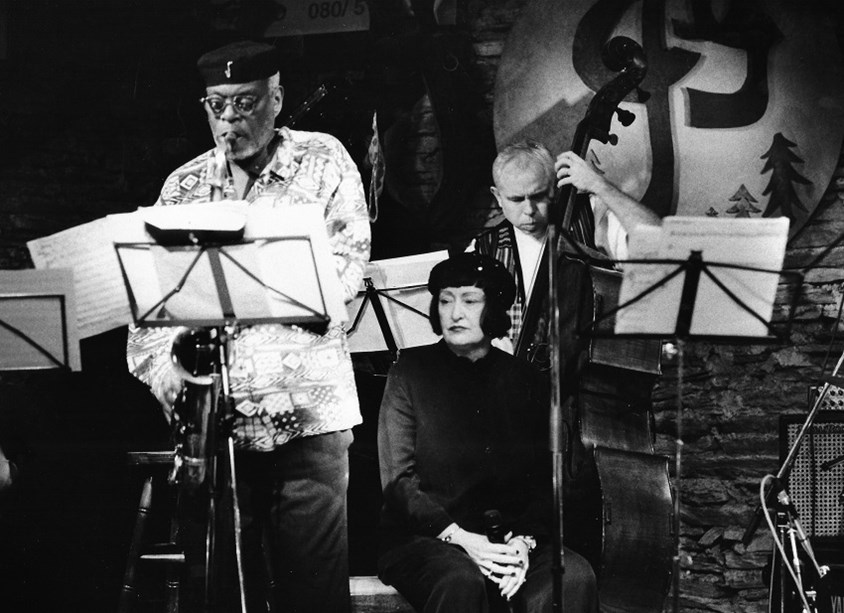 © Jos L. Knaepen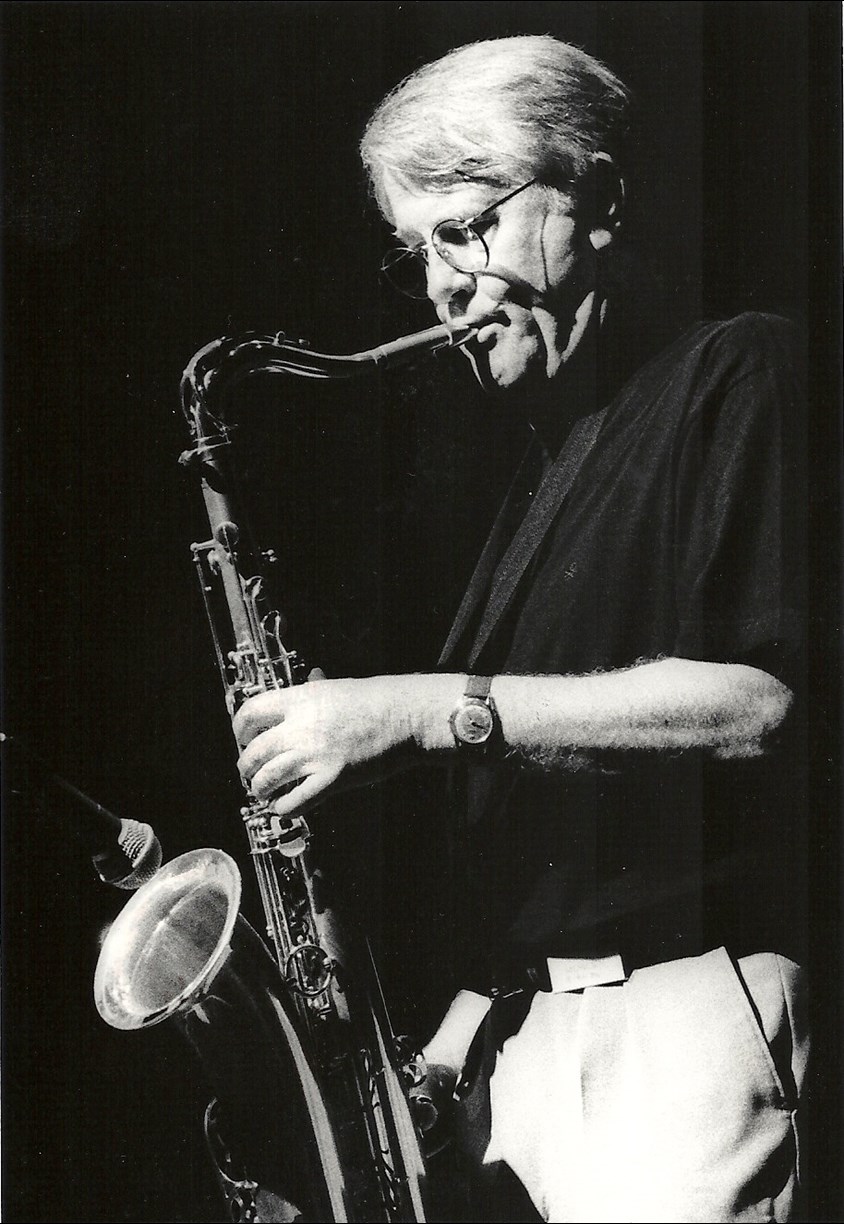 Robert Jeanne © Guy Van de Poel

The evening was closed by the Robert Jeanne Quartet with Robert Jeanne on tenor saxophone, Erik Vermeulen (piano), Piet Verbiest (double bass) and drummer Stéphane Kremer.


The next evening 'Hear and Now' opened in Brussels as a quartet.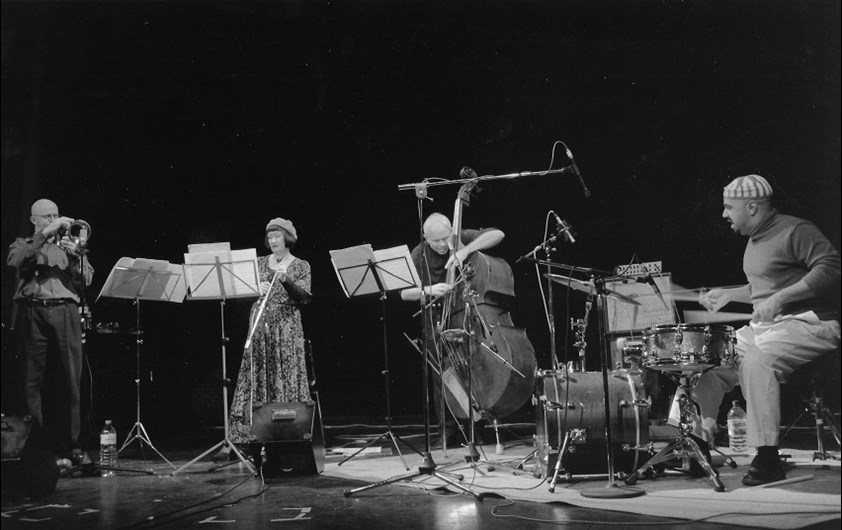 © Jacky Lepage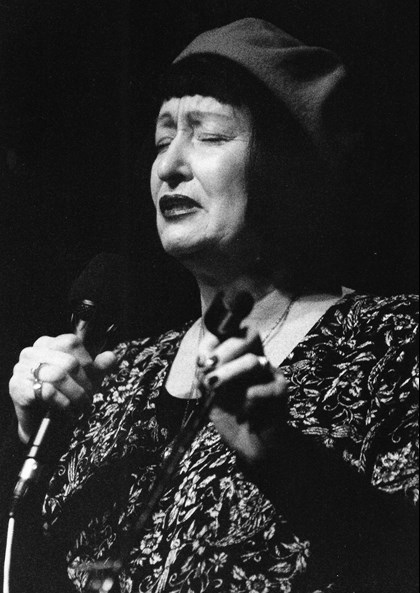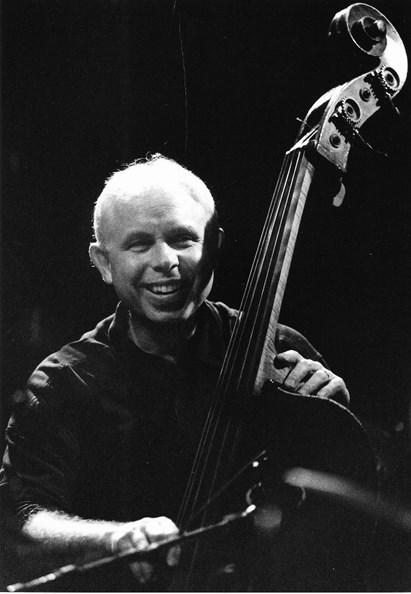 Sheila Jordan & Cameron Brown © Christian Deblanc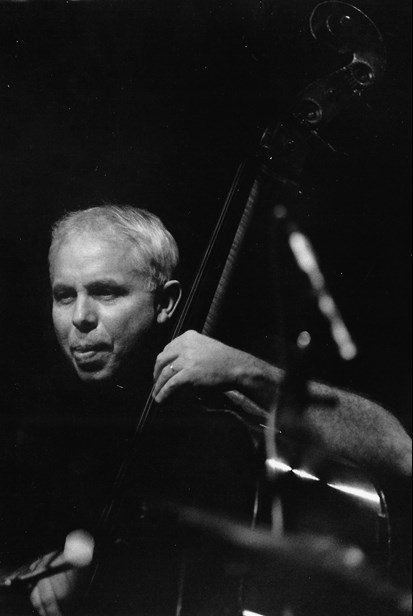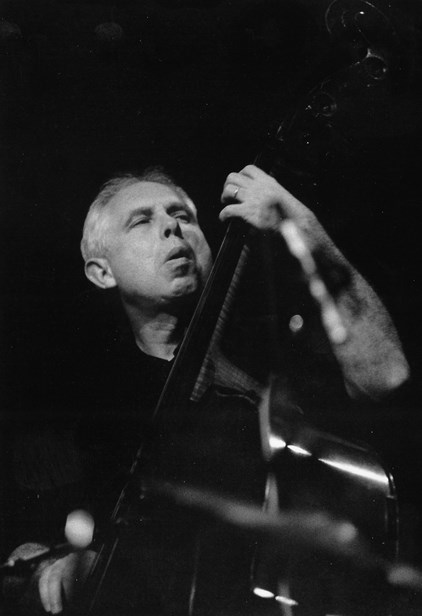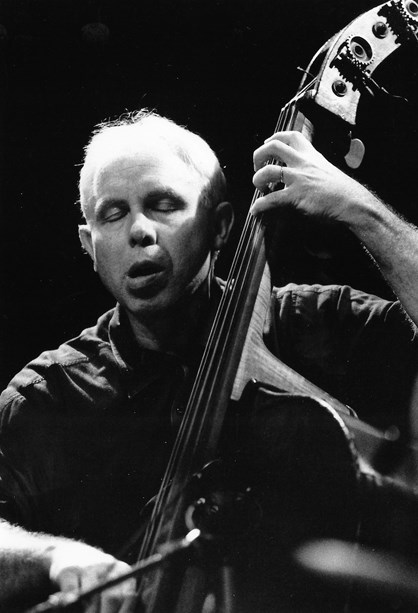 © Christian Deblanc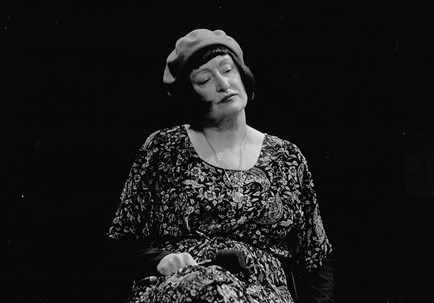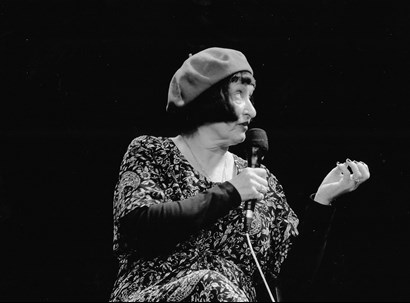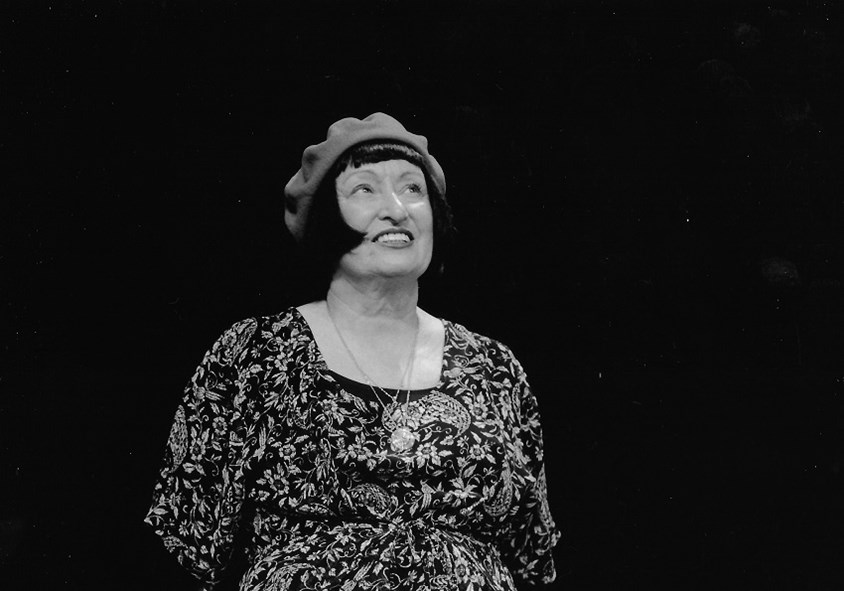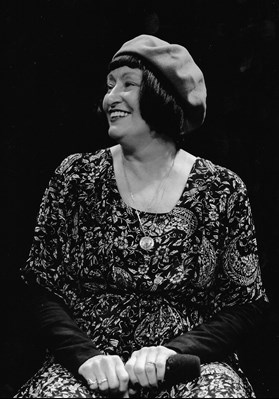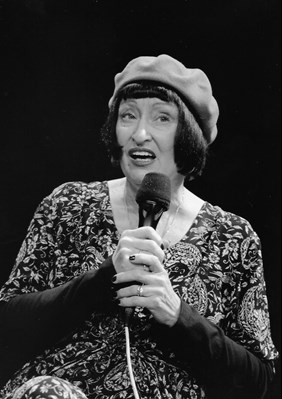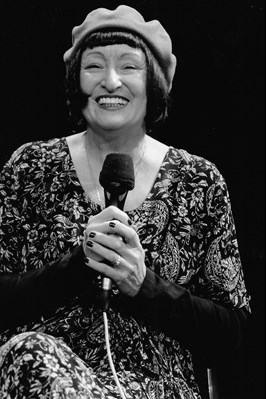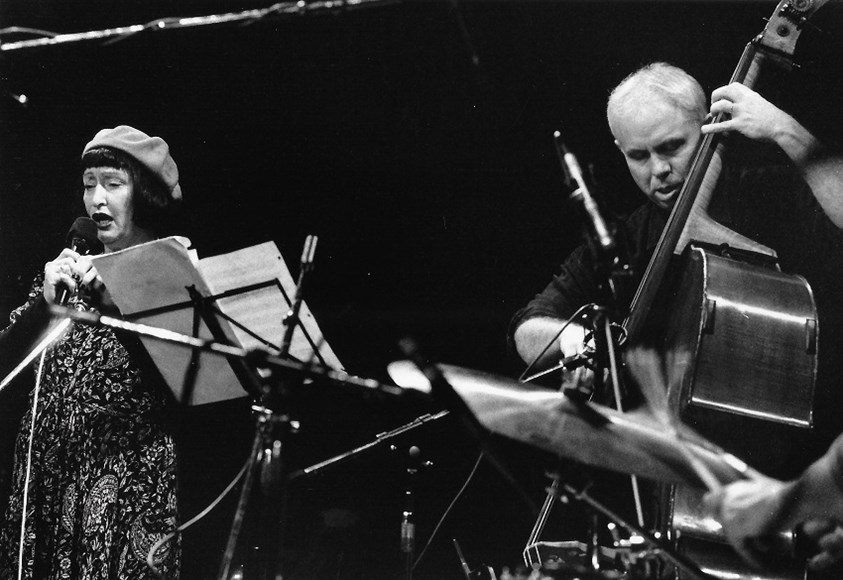 © Jacky Lepage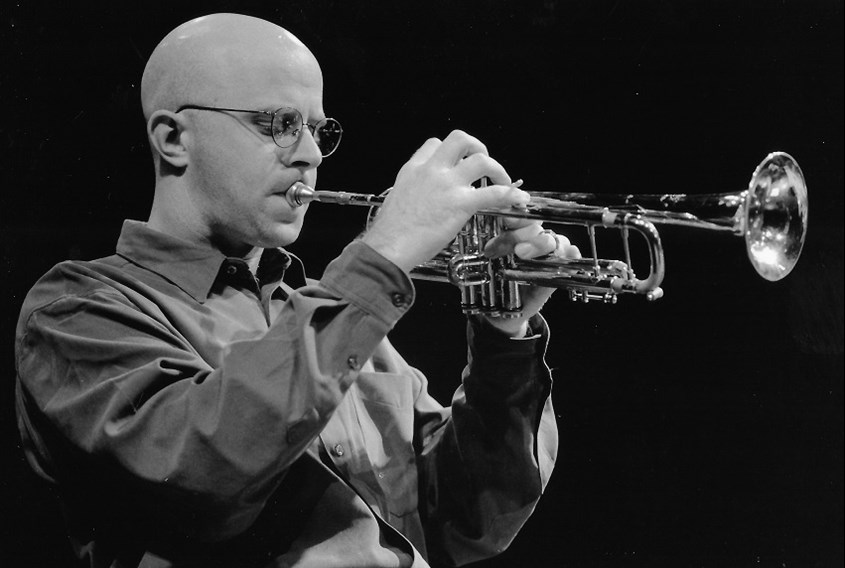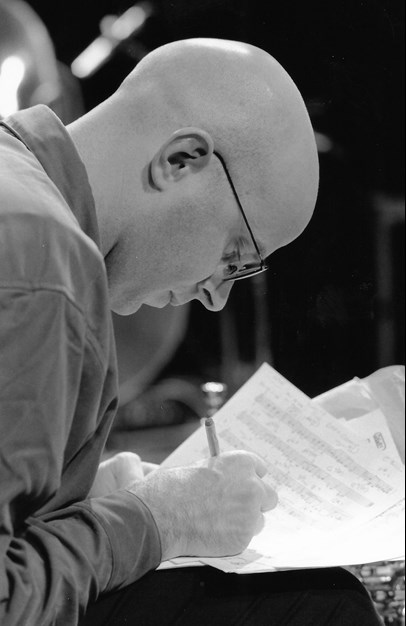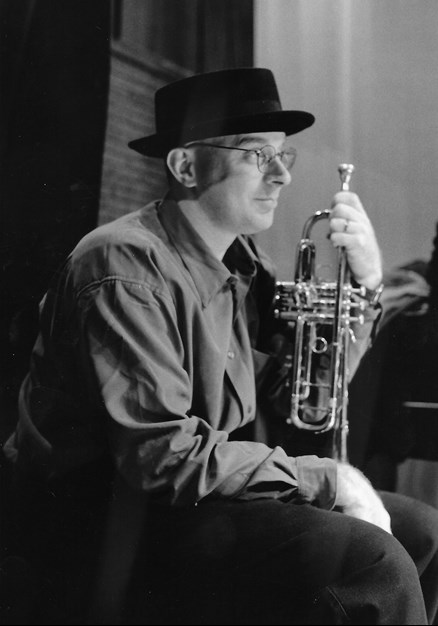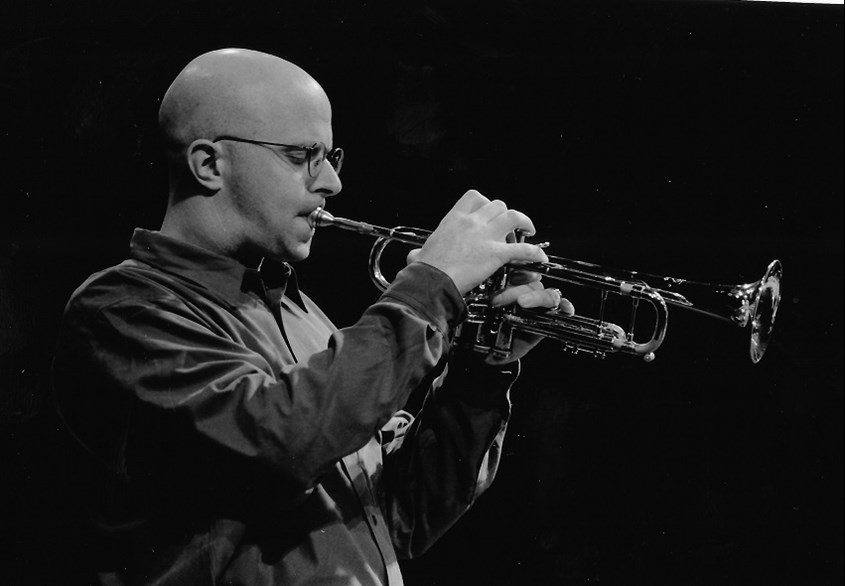 Dave Ballou © Jacky Lepage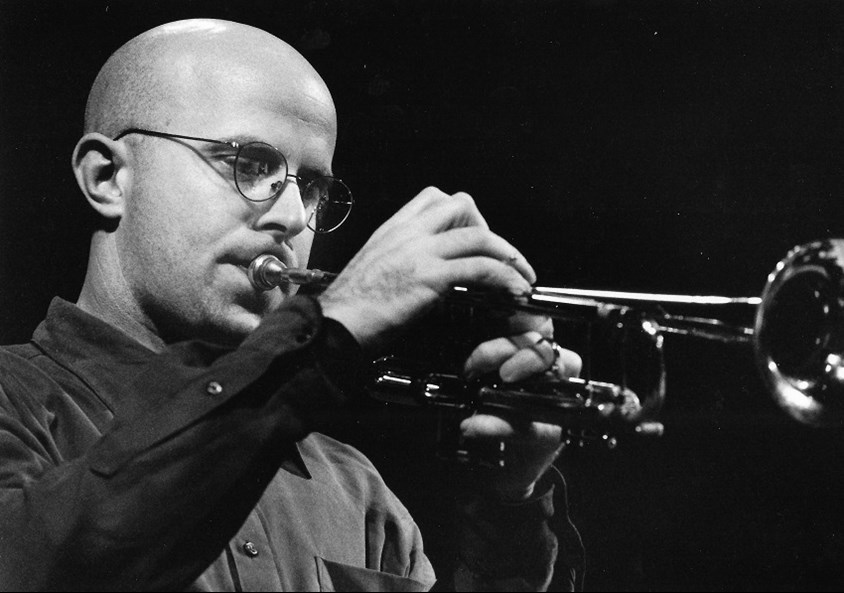 Dave Ballou © Christian Deblanc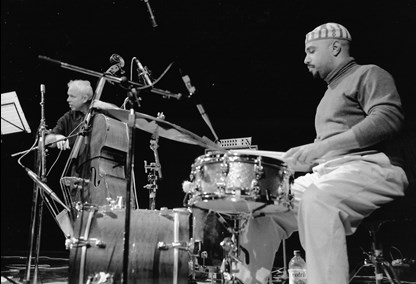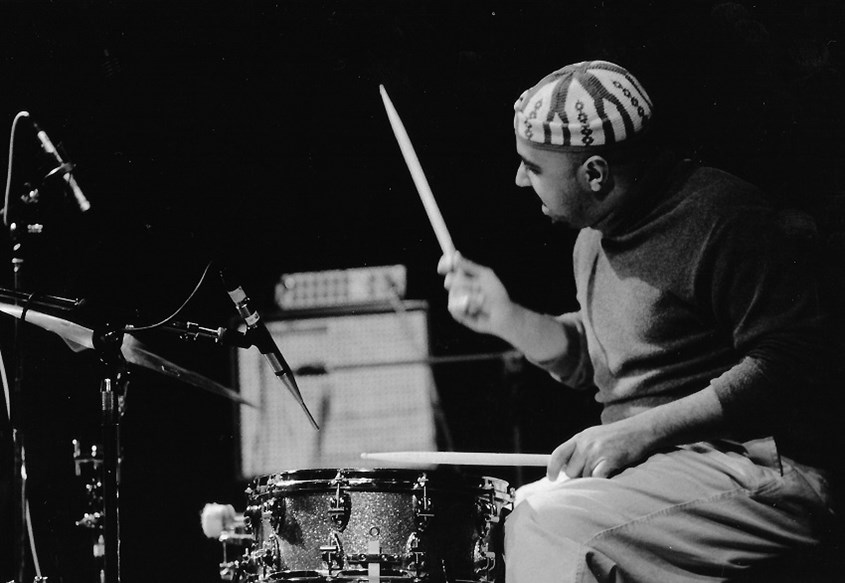 Leon Parker © Jacky Lepage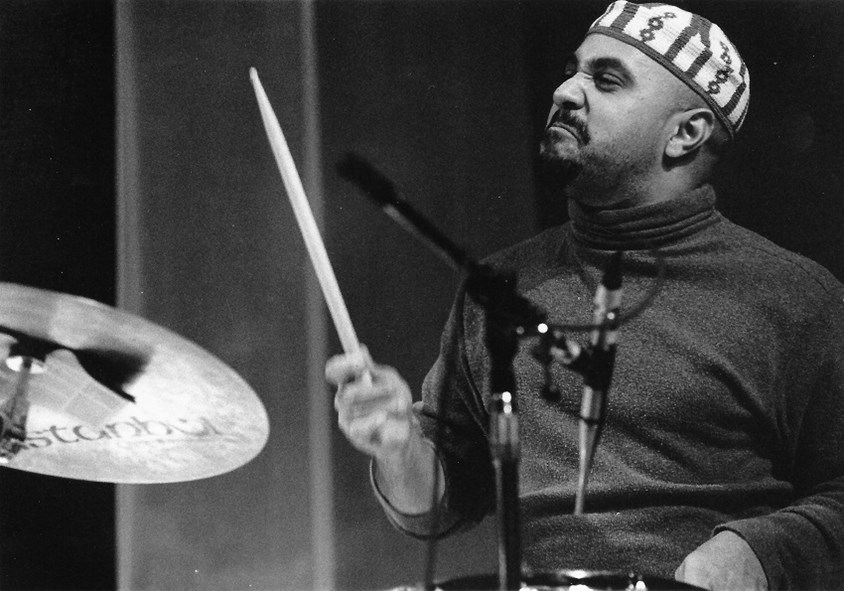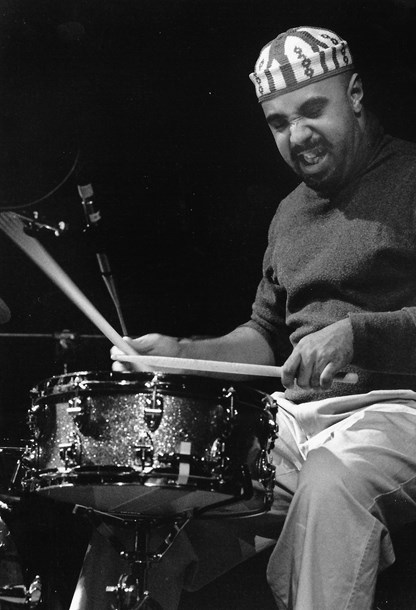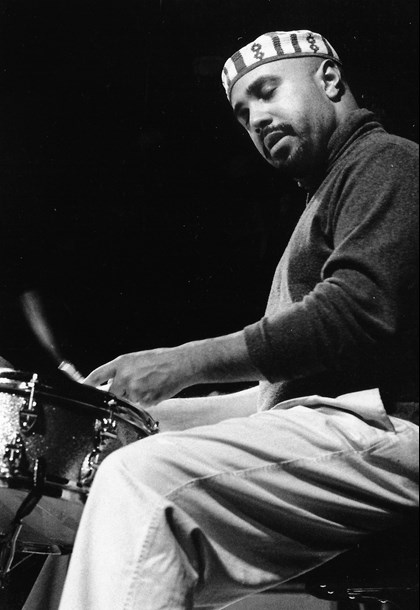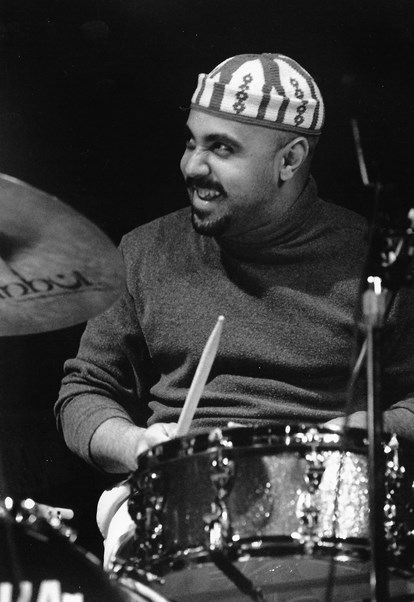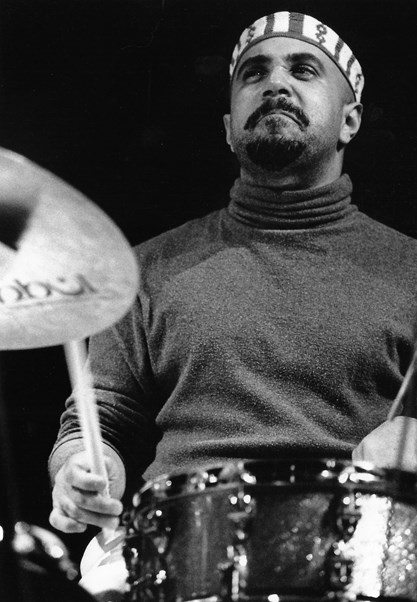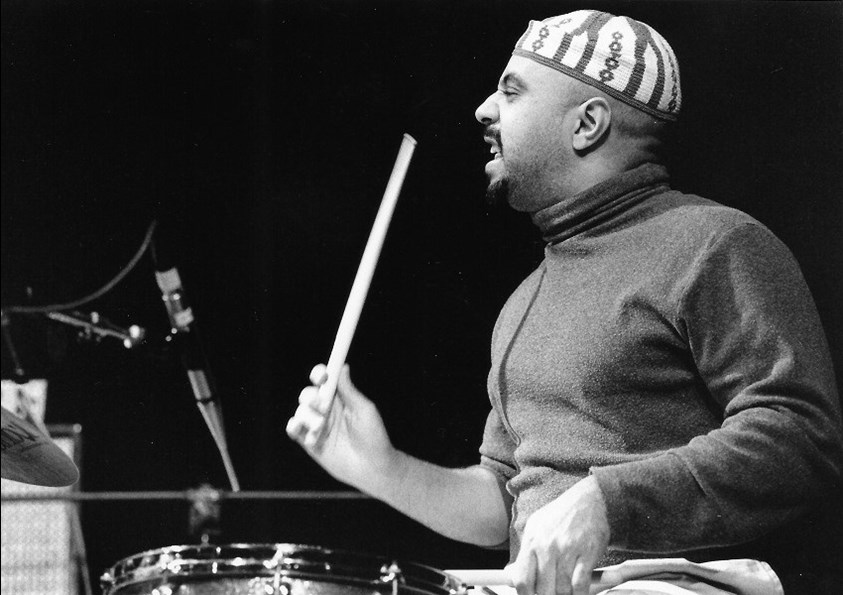 © Christian Deblanc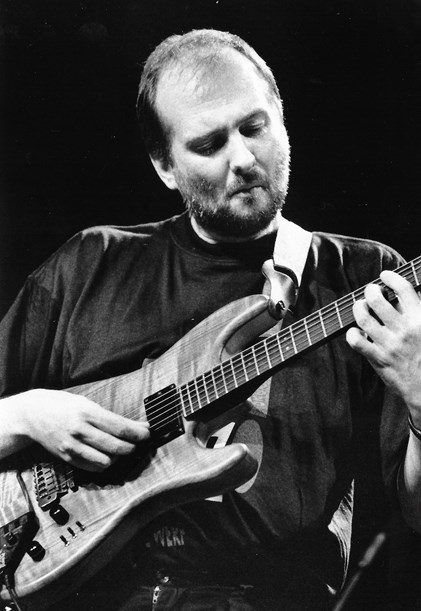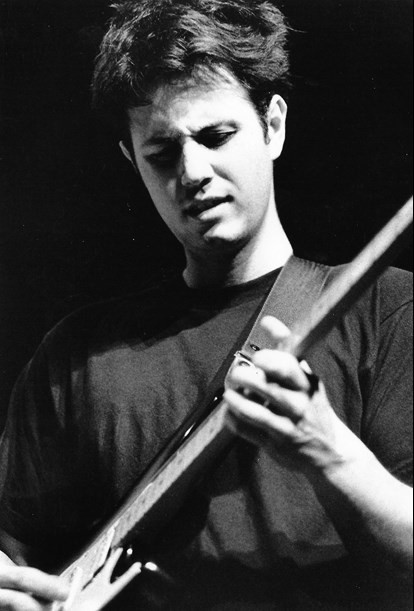 Peter Hertmans & Marco Locurcio © Christian Deblanc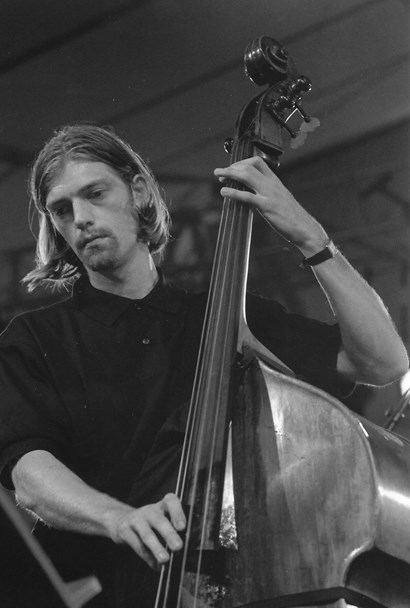 Nicolas Thys © Jacky Lepage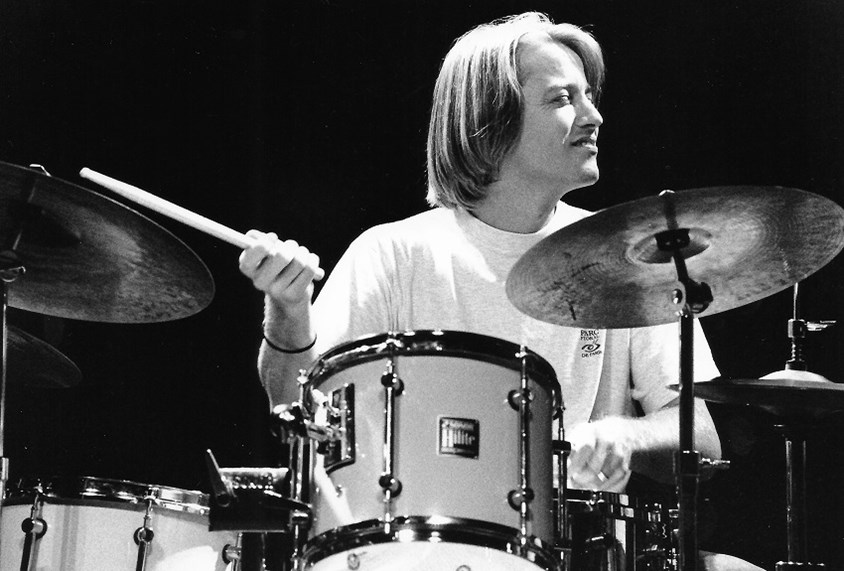 Hans Van Oosterhout © Christian Deblanc

Then the Peter Hertmans/Marco Locurcio Quartet promoted their new Jazz'halo release "Buddies" at the Espace Delvaux. Both guitarists, Hertmans and Locurcio, were joined by bassist Nicolas Thys and drummer Hans Van Oosterhout.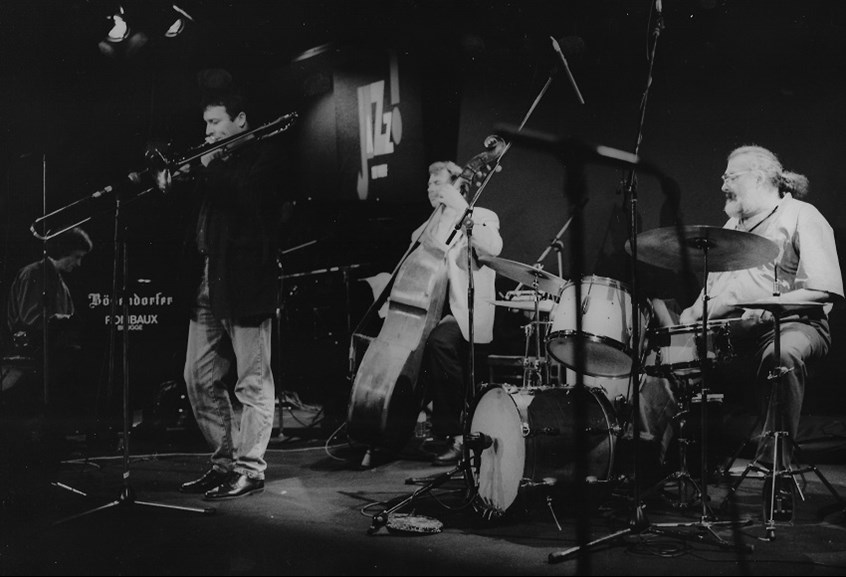 Phil Abraham/Michel Herr Quartet © Jean-Pierre Tillaert
The Phil Abraham/Michel Herr Quartet with Jean-Louis Rassinfosse (double bass) and Félix Simtaine (drums) closed.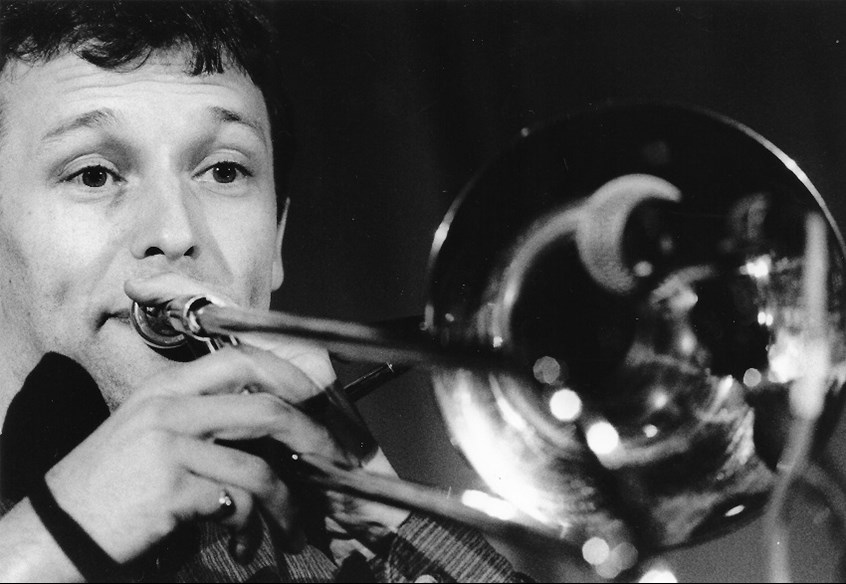 Phil Abraham © Guy Van de Poel

In Brugge Cameron Brown and the Hear and Now and the Phil Abraham/Michel Herr Quartet played on the first night.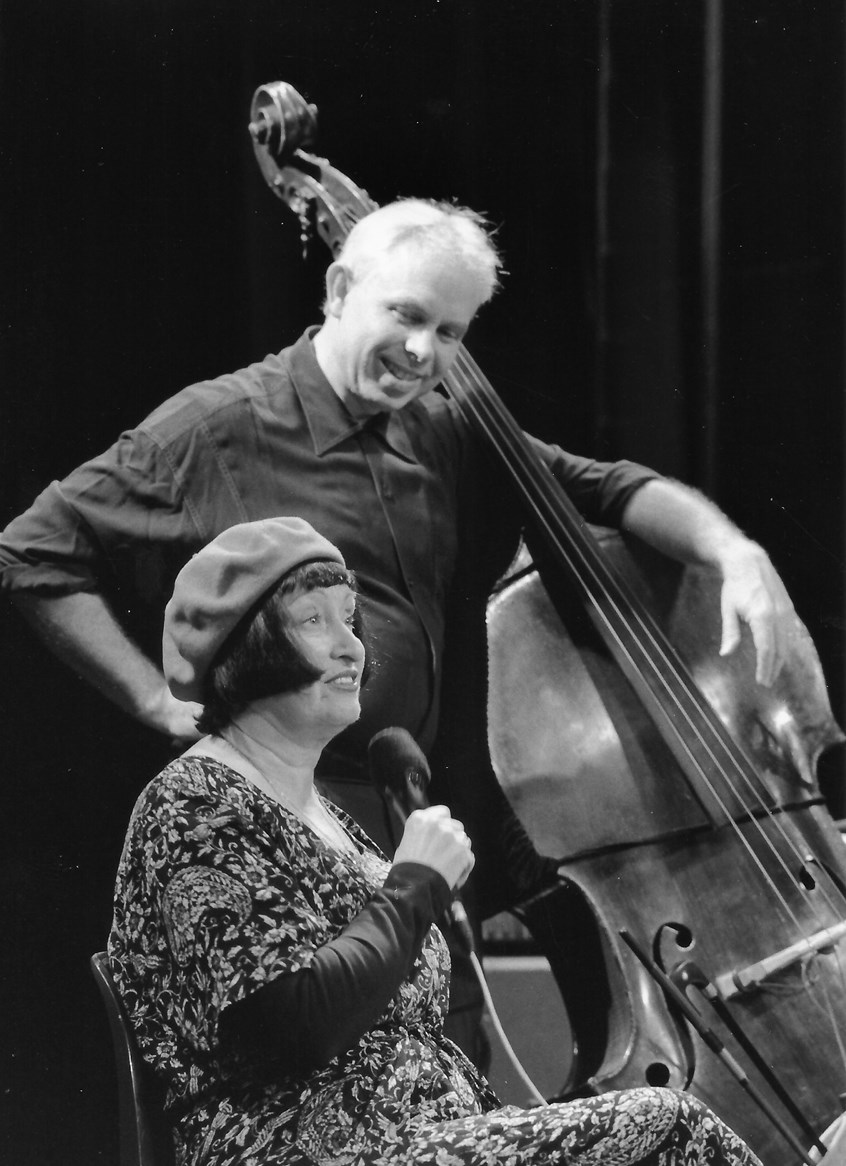 Sheila Jordan and Cameron Brown  © Jacky Lepage

The next day Sheila Jordan and Cameron Brown formed a duo.
Ken Dryden wrote these lines: "The concert can be listened at on the joint Jazz'halo/Highnote production "I've Grown Accustomed to the Bass". The concert at De Werf Brugge from 11.11.1997 marked the first time that vocalist Sheila Jordan and bassist Cameron Brown had performed live as a duo. Nerves aside, they had their Belgian audience captivated from the opening of the set. Jordan improvises much like a horn with her interesting choices of notes as she sings the lyrics to standards like "The Very Thought of You," while Brown is also a superb musician, comping perfectly for her and launching on inventive solo flights of his own. Jordan scats an introduction to the playful "Better Than Anything" (a good song that is often subjected to lackluster interpretations), adding a few interesting twists of her own as they take it into new musical territory. "Dat Dere" sounds even better in a vocal/bass setting; Jordan's humorous interpretation proves to be infectious. One unusual part of this performance is her series of medleys that are connected without interruption, blending her originals with standards and favorite jazz compositions into a stunning tour de force. The duo wraps the session with "I've Grown Accustomed to the Bass," with Jordan wryly altering the lyrics to "I've Grown Accustomed to Her Face" to craft a fitting tribute to her duo partner."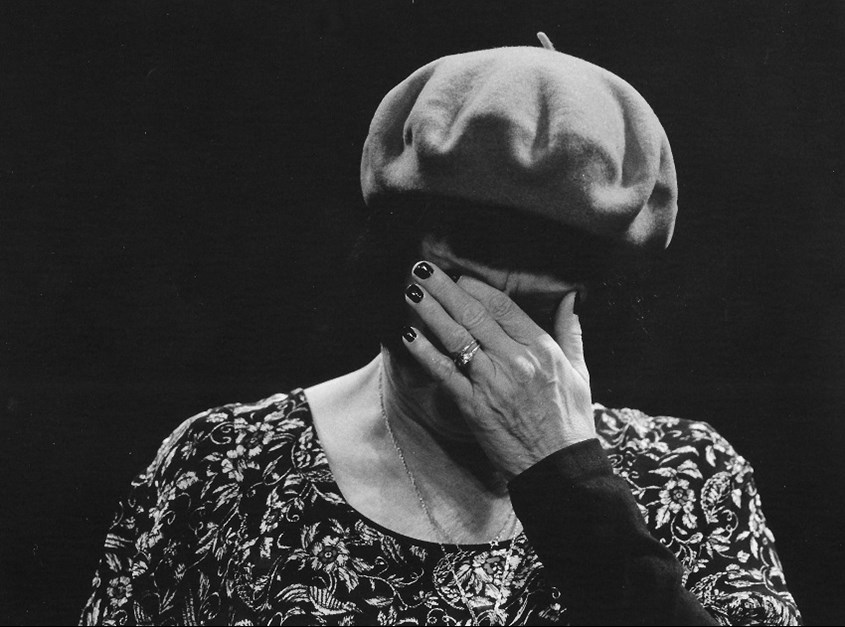 Sheila Jordan, Brussels © Jacky Lepage

At that marathon night there were also performances by the Peter Hertmans/Marco Locurcio Quartet (with Bart Denolf on bass instead of Nicolas Thys), Trio Joe Fonda (double bass), Carlo Morena (piano) Jeff Hirshfield (drums) and the extraordinary Gerry Hemingway Quartet with Robin Eubanks (trombone), Ellery Eskelin (tenor saxophone) and Mark Dresser (double bass).



Marco Locurcio © Christian Deblanc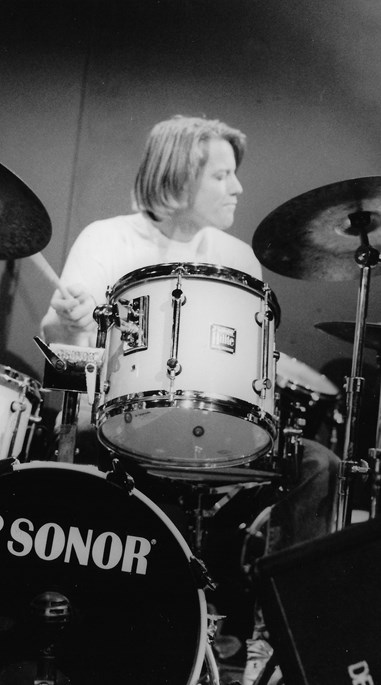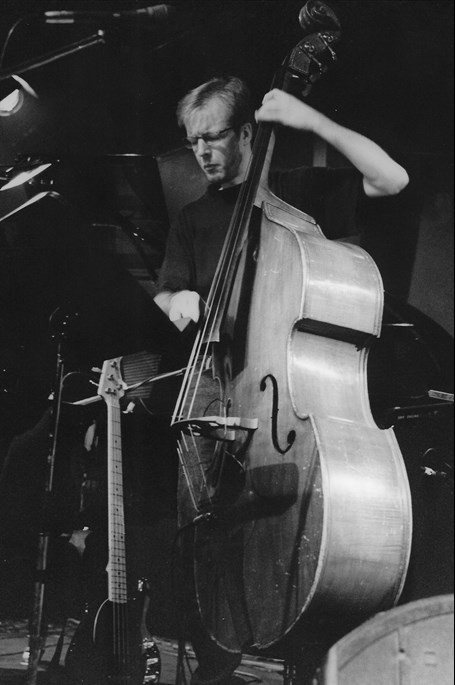 Hans Van Oosterhout & Bart Denolf © Jean-Pierre Tillaert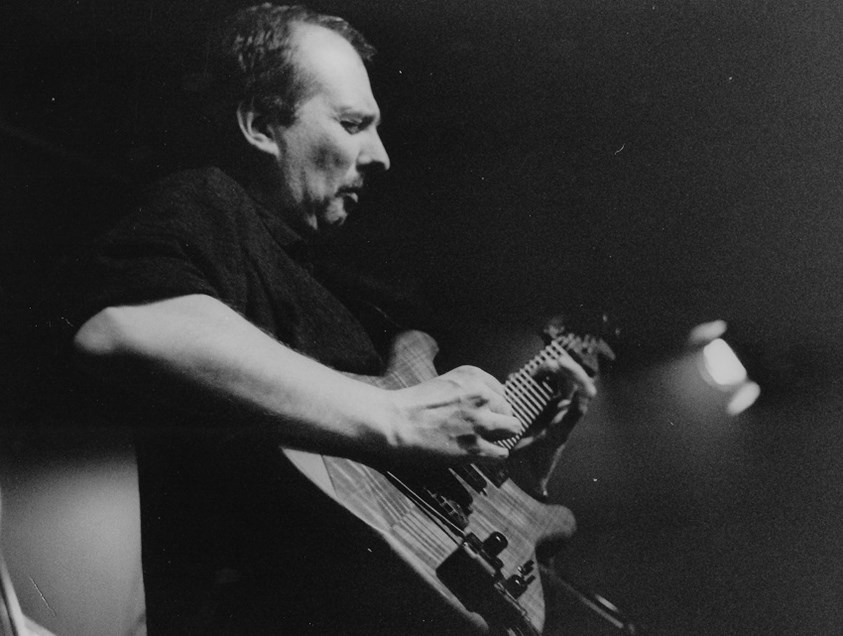 Peter Hertmans © Jean-Pierre Tillaert


Joe Fonda Trio © Rozanne Levine 1996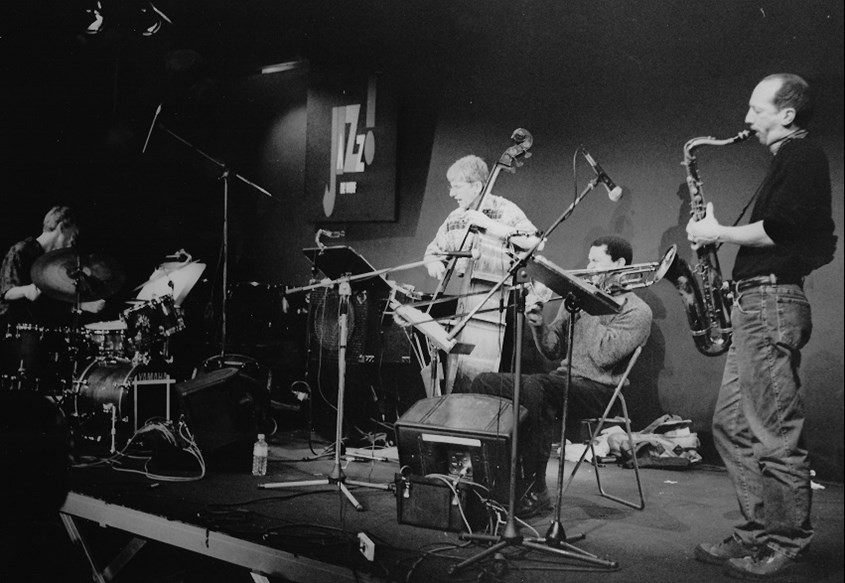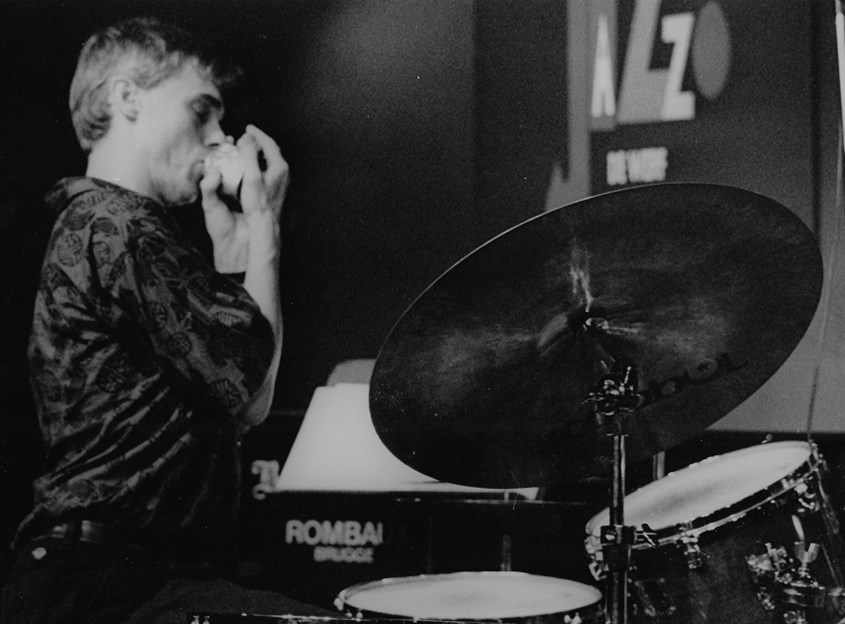 Gerry Hemingway Quartet © Jean-Pierre Tillaert

The concerts from Cameron Brown and the Hear and Now were released on two CD's that Jazz'halo produced in association with Frank Tafuri's Omnitone Records.
Recording Cameron Brown and the Hear and Now
All the concerts of Cameron Brown's new ensemble were recorded by David Baker. David was not only an extraordinary sound engineer, he also was a great and funny guy and a real gourmet.

These photos Jacky Lepage took before the Brussels concert.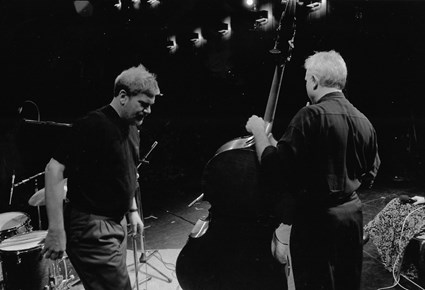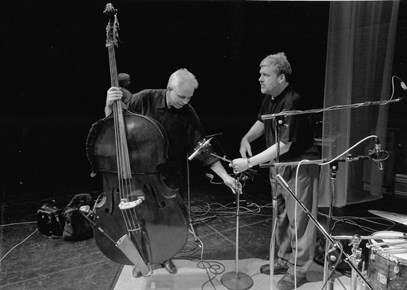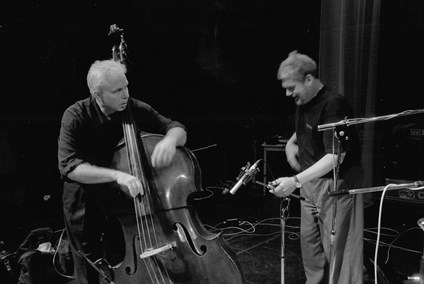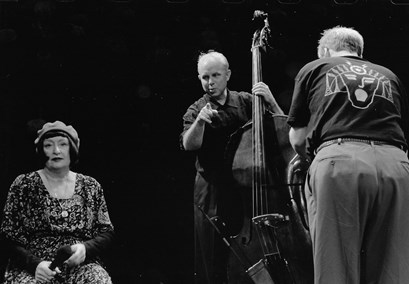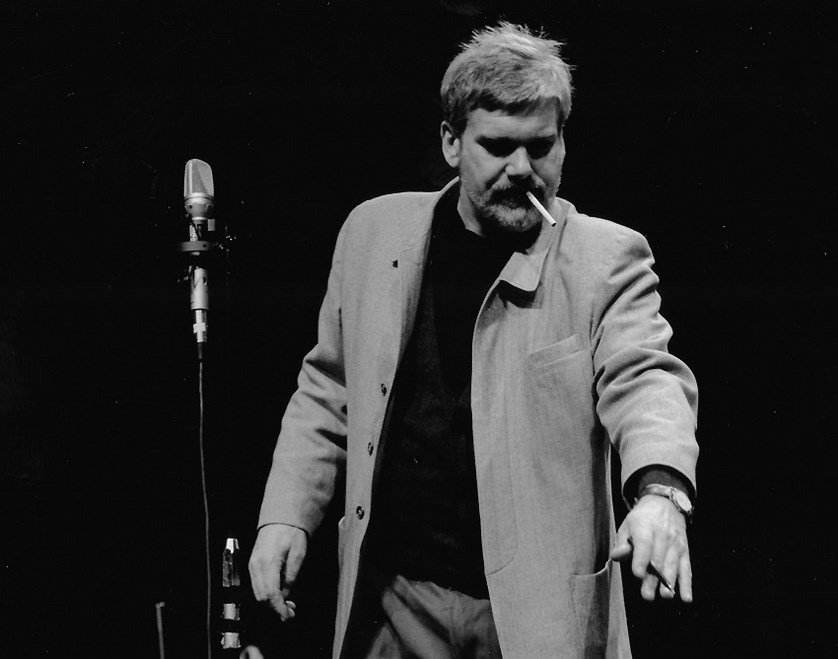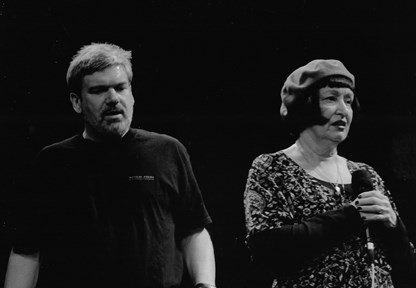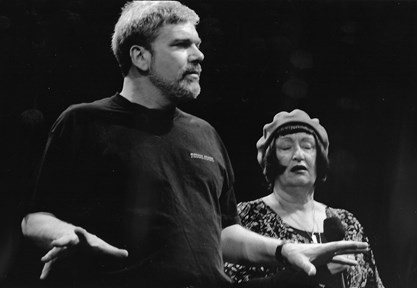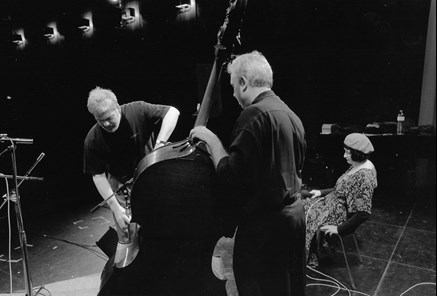 Jazz'halo Music Days 1998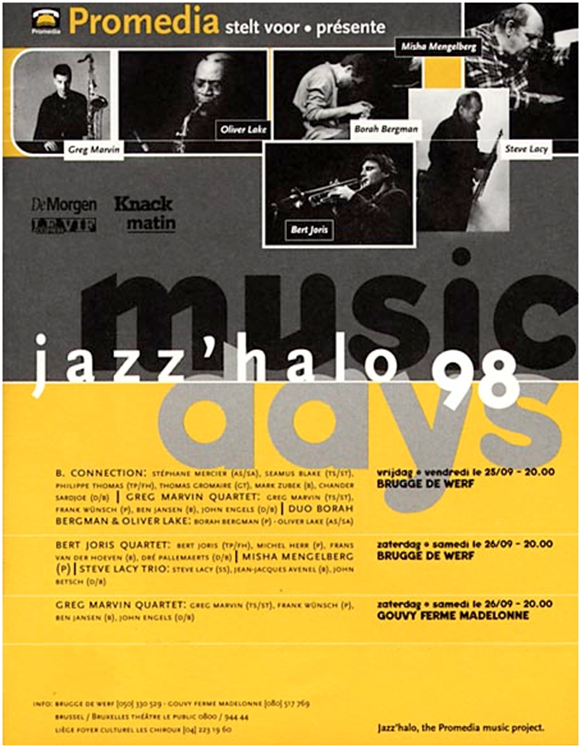 Since 1998 we organized the Jazz'halo Music Days twice a year.


#1: September 25th & 26th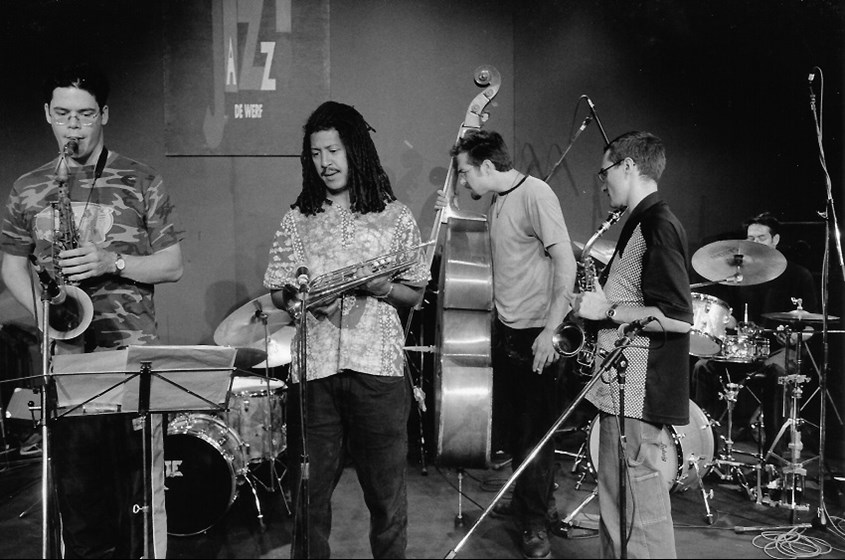 B. Connection © Jacky Lepage

Stéphane Mercier's B. Connection (the B stands for Boston, where he studied at the Berklee School of Music) overwhelmed the audience at De Werf Brugge with their dazzling performance. This remarkable musician was joined by Seamus Blake (ts), Philippe Thomas (t), Thomas Gromaire (g), Mark Zubek (b), and drummer Chander Sardjoe.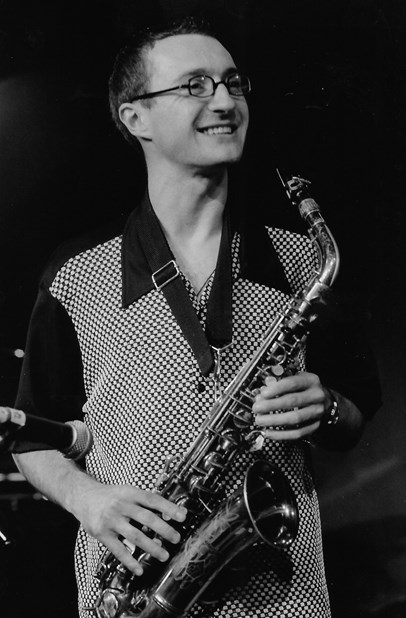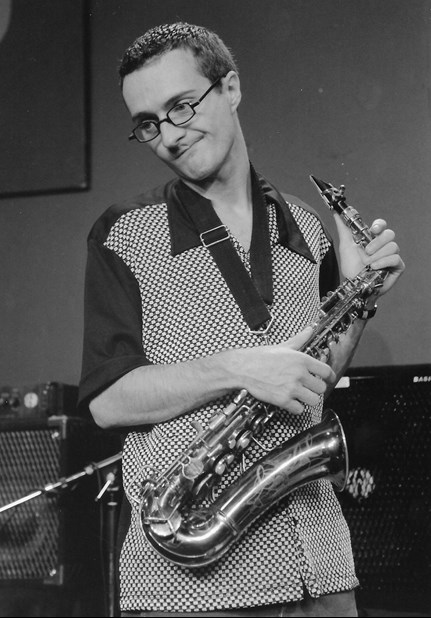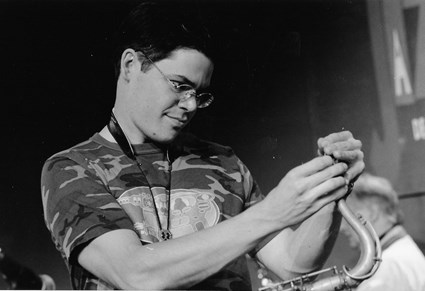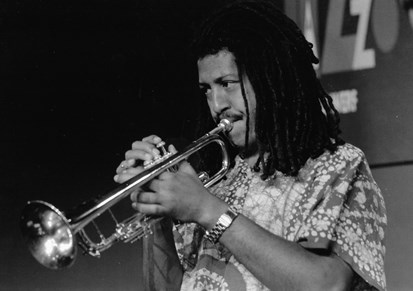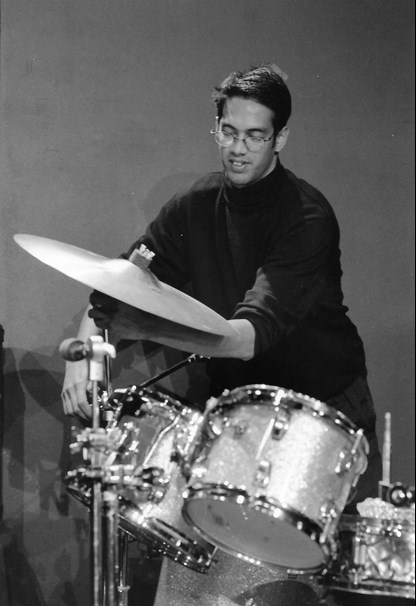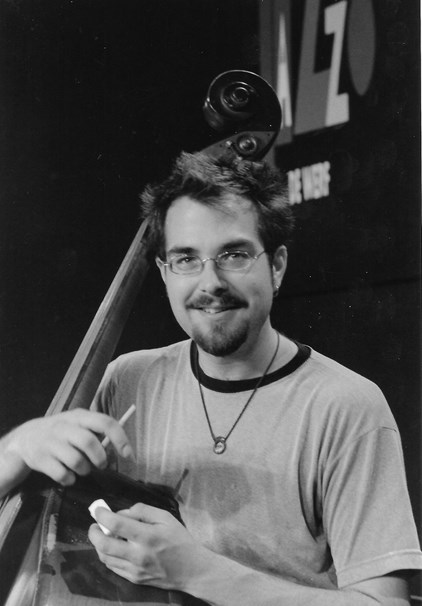 © Jacky Lepage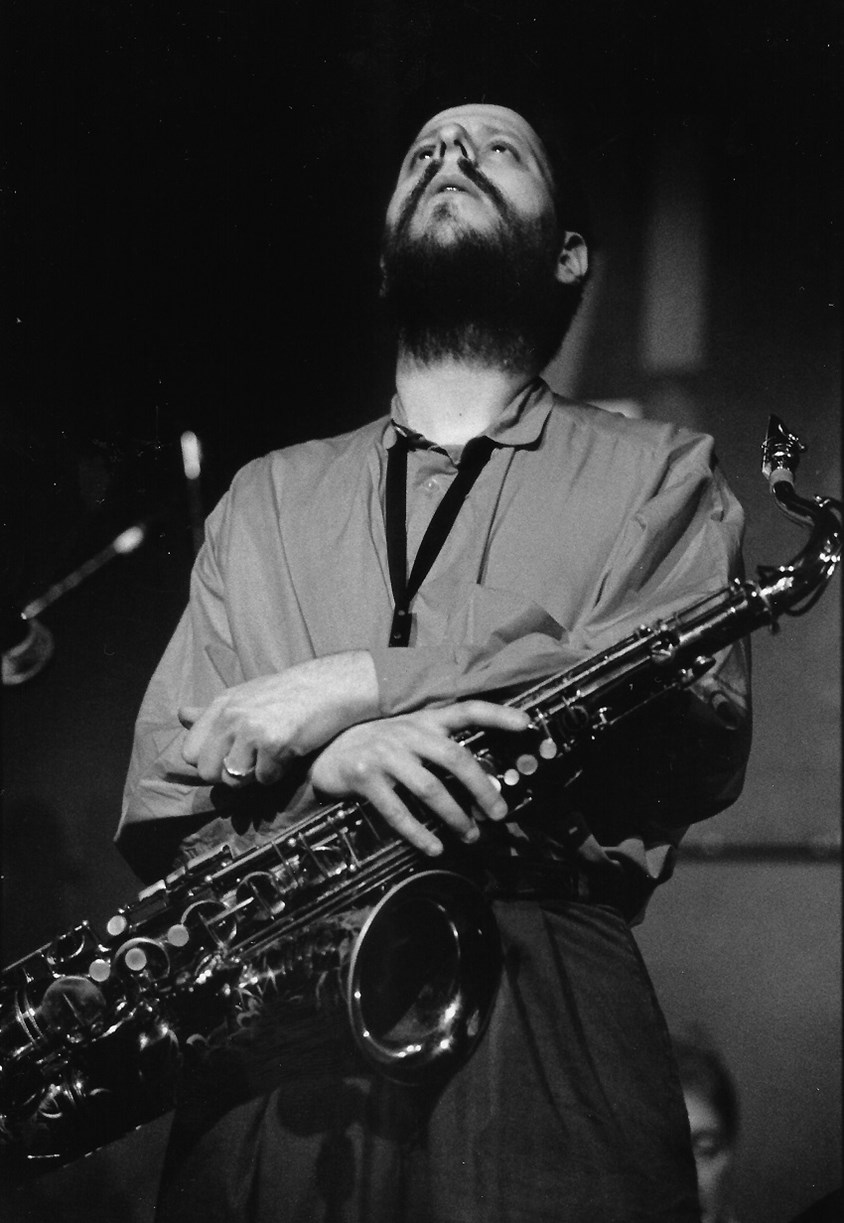 Greg Marvin © Christian Deblanc

Tenor saxophonist Greg Marvin worked with Hank Jones, Tom Harrell, Billy Higgins, George Mraz, Mel Lewis, Kenny Barron, Lewis Nash, James Williams, Kenny Washington, George Cables, and many others. At De Werf he played with Frank Wünsch (p), Ben Jansen (b), and the legendary drummer John Engels.
Paul Evoskevich (Saxophone Journal): "Greg Marvin has a very distinct sound and approach to playing the tenor saxophone that took me a little while to get used to. Now that I'm used to his playing I think it's great. One thing that's very unique about his playing is the lack of articulation. He slurs long passages of eighth-notes throughout his solos which in and by itself sets his playing apart from most other saxophonists. This lack of articulation gives his playing a very unique style that probably wouldn't work for many saxophonists, but he is able to use this practice in a very musical way. Greg has studied with Lenny Tristano and Warne Marsh and their influences can be heard in his playing."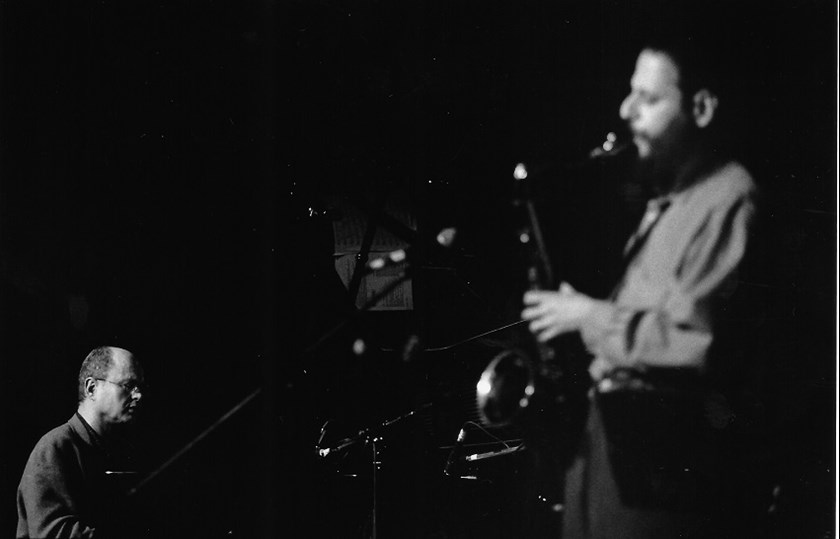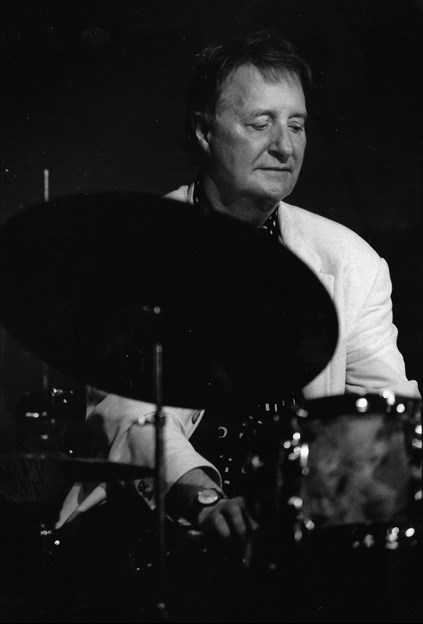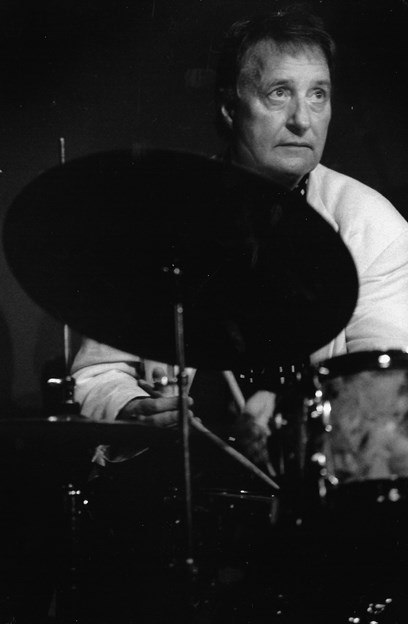 © Christian Deblanc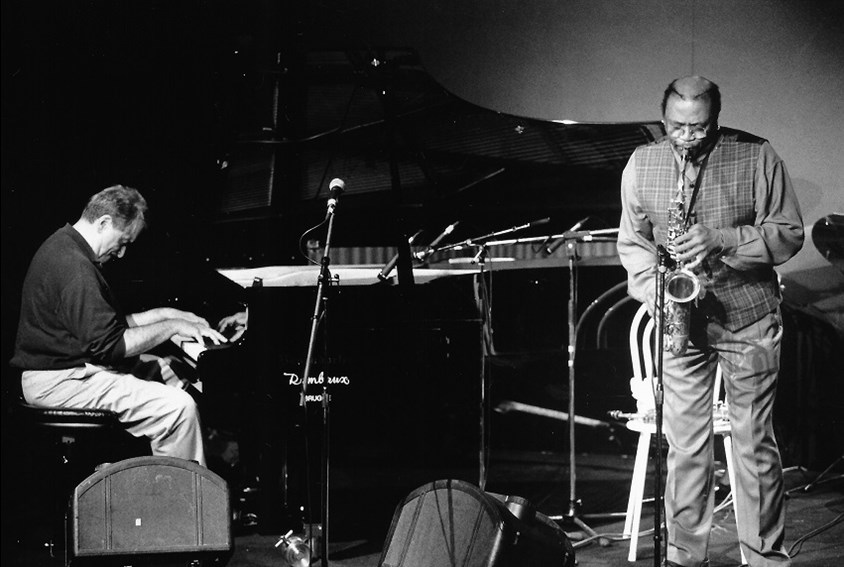 © Christian Deblanc
Then the legendary Borah Bergman and Oliver Lake dialogued in a distinguished way. Duck Baker once wrote: "Lake has devoted himself to a wide range of black music styles since his mid-'70s arrival, some of which, like his reggae-jazz fusion efforts, have seemed less rewarding than his early work. On this duo with Jewish pianist Bergman, Lake's at his blackest best. His blues-drenched sound cuts through the dense clusters that Bergman throws out as the two men continually push things to a near-frenetic, yet always controlled, pace. Bergman's playing is a revelation for listeners who haven't caught up with him yet. Completely comfortable operating in the post-Taylor tradition, he has his own extensions of the vocabulary and new directions as well. There are moments of calm but the tension never abates and the duo interplay is extremely impressive throughout this richly rewarding release."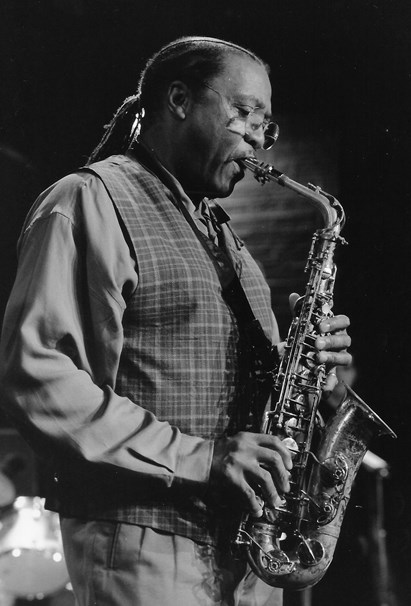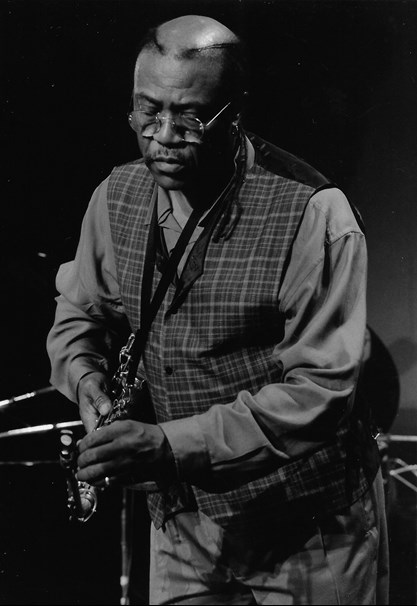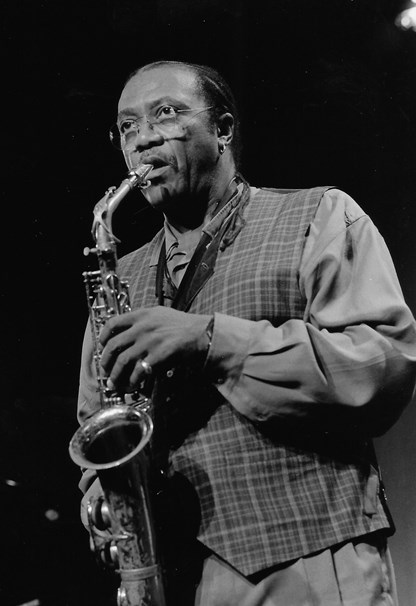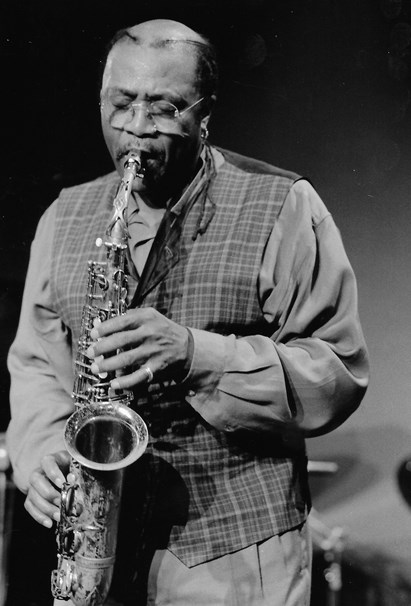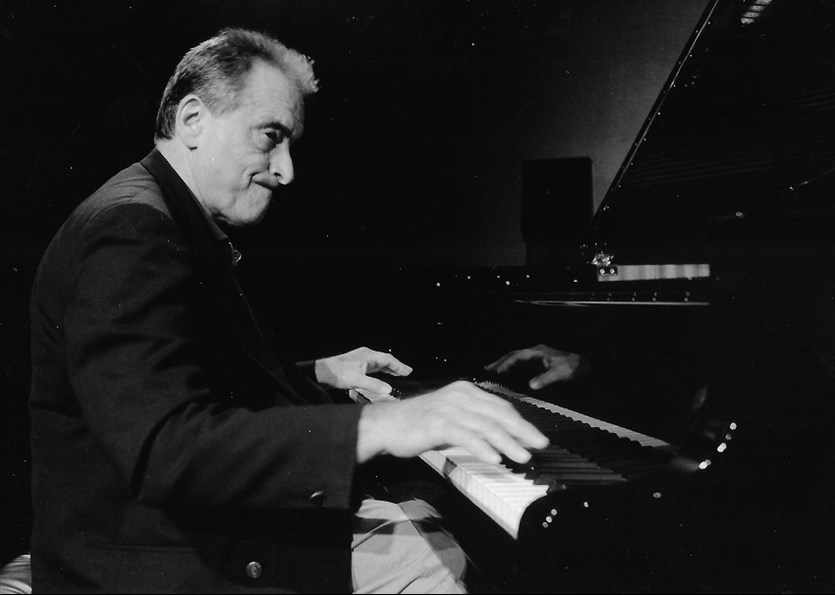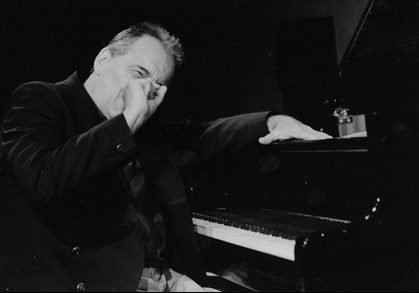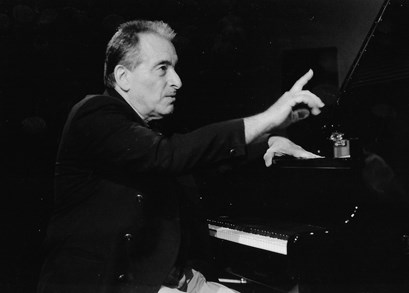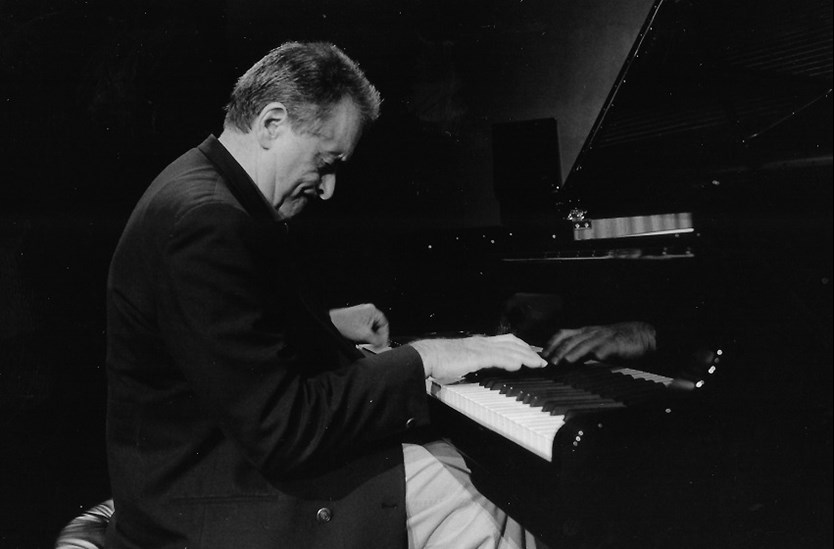 Oliver Lake & Borah Bergman © Jacky Lepage

The Greg Marvin Quartet also played the next day in Gouvy at Ferme Madelonne.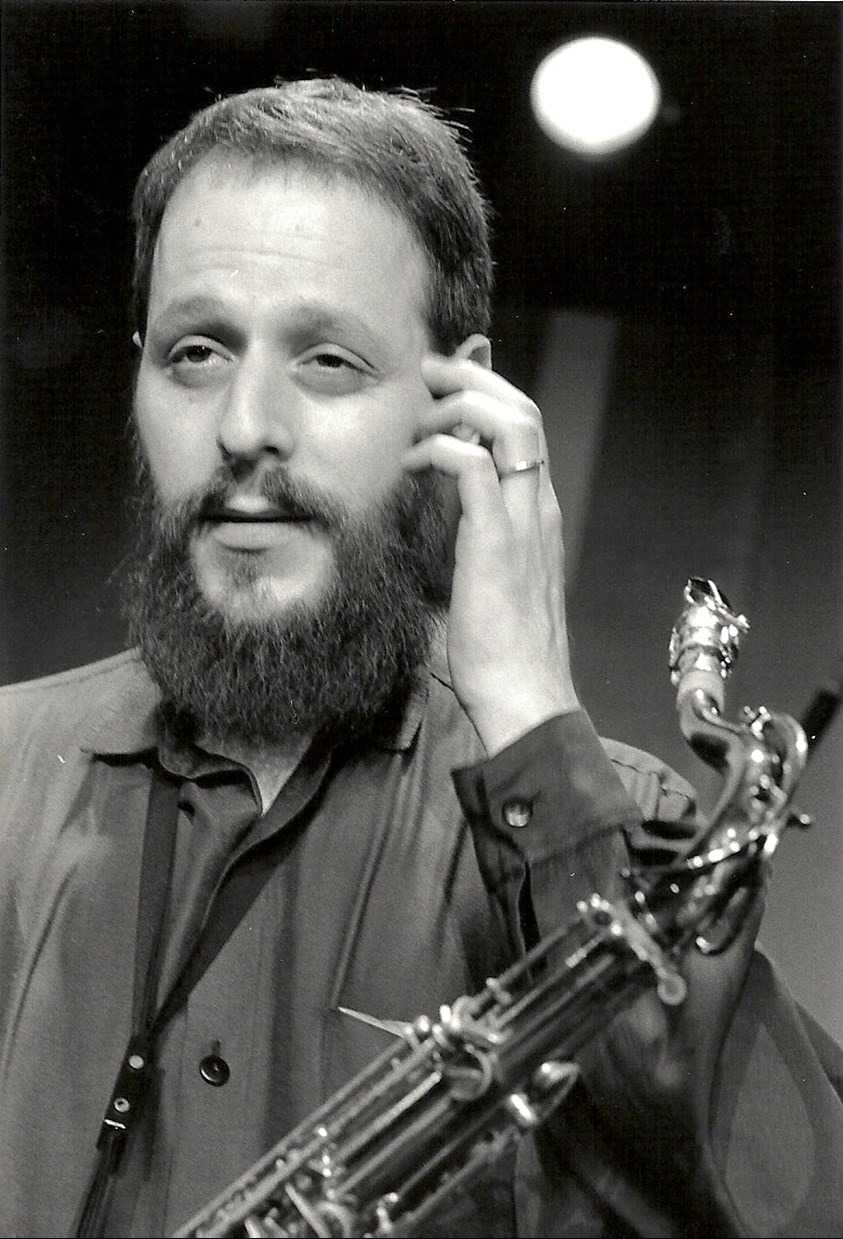 Greg Marvin © Jacky Lepage

That same day the Bert Joris Quartet, with Michel Herr (p), Frans Van Der Hoeven (b) and Dré Pallemaerts (d) proved the high quality of Belgian jazz. At Bert Joris's website we read: "Jazz trumpet player Bert Joris (Belgium, 1957) put Flemish/Belgian jazz on the map and his name is bracketed with other national jazz legends like Toots Thielemans and Philip Catherine as well as other well-known contemporary trumpet players. Joris has not only built up a solid reputation as an improviser but also as a composer, arranger and teacher. His compositions are played by orchestras from all over the world and the name Bert Joris has become a style and a brand. A big part of the recognition for his work he owes to his receptiveness towards other expressions of art. Though his film scores and works for symphony orchestras are of an exceptionally high level, Bert Joris remains himself: recognizable, personal and always with a blue note."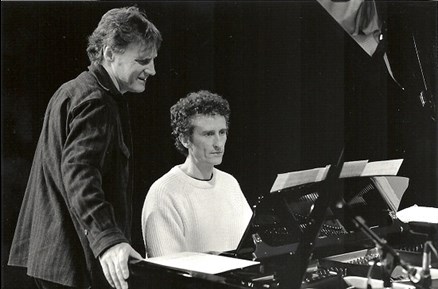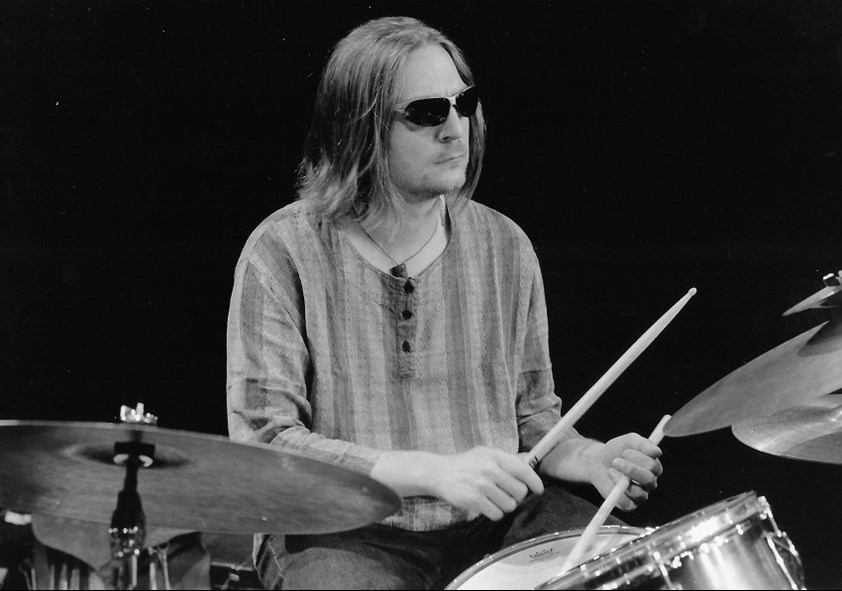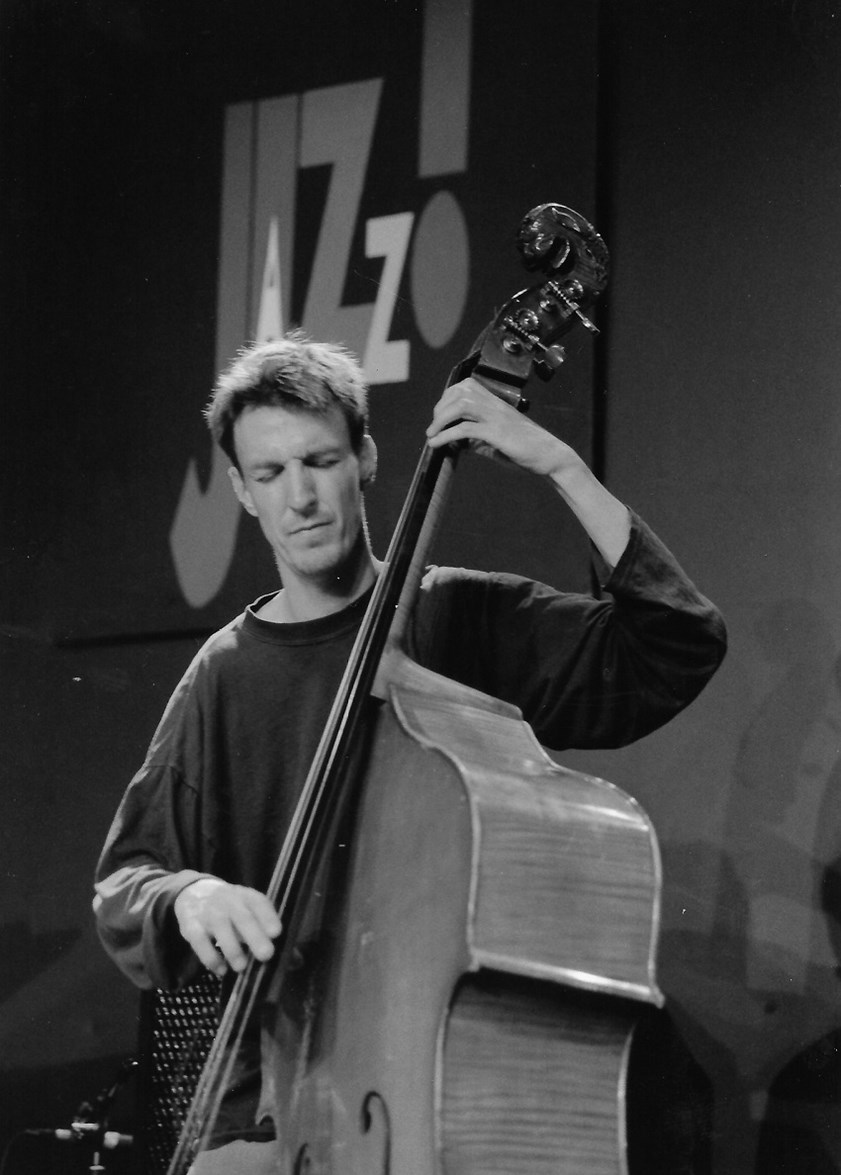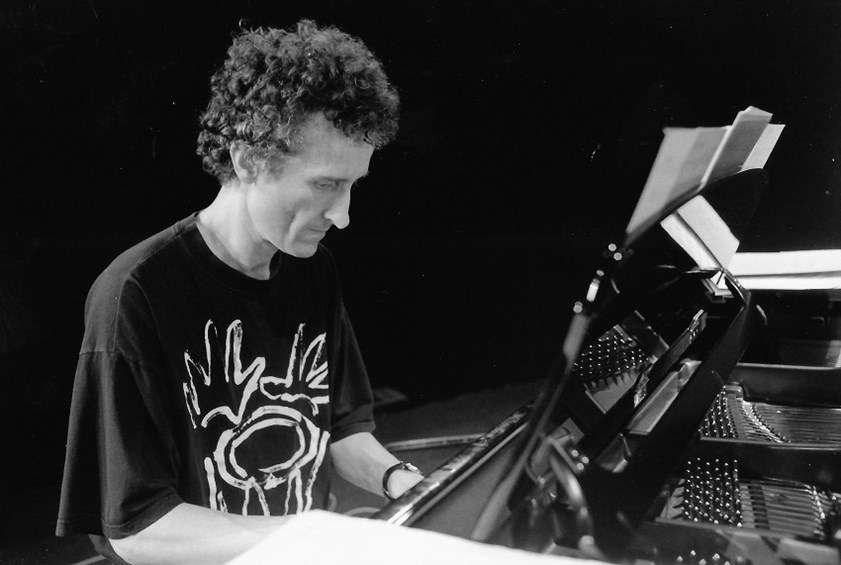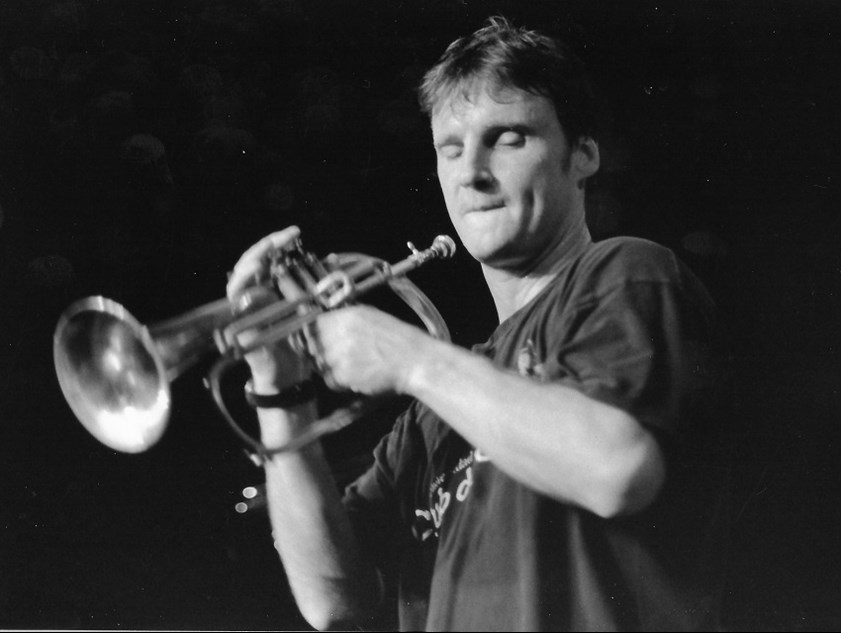 Bert Joris/Michel Herr Quartet © Jacky Lepage


Then we invited a living legend, the great Misha Mengelberg. The Kiev-born piano player is without a doubt the figurehead of the Dutch Jazz scene. As a young piano player his love went out to composers like Monk and Ellington. Later on also John Cage and Herbie Nichols had a crucial influence on his work. Together with Hank Bennink and Willem Breuker he erected the Instant Composers Pool (ICP), a milestone in the Dutch improvisation. Mengelberg is a musical thinker, not a copycat of styles. Interpretation and adaptation are his work methods, which form the base for his pleasantly deluded universe. His solo-performances was unpredictable but utterly fascinating. He wanders between improvised jazz and improvised classical forms.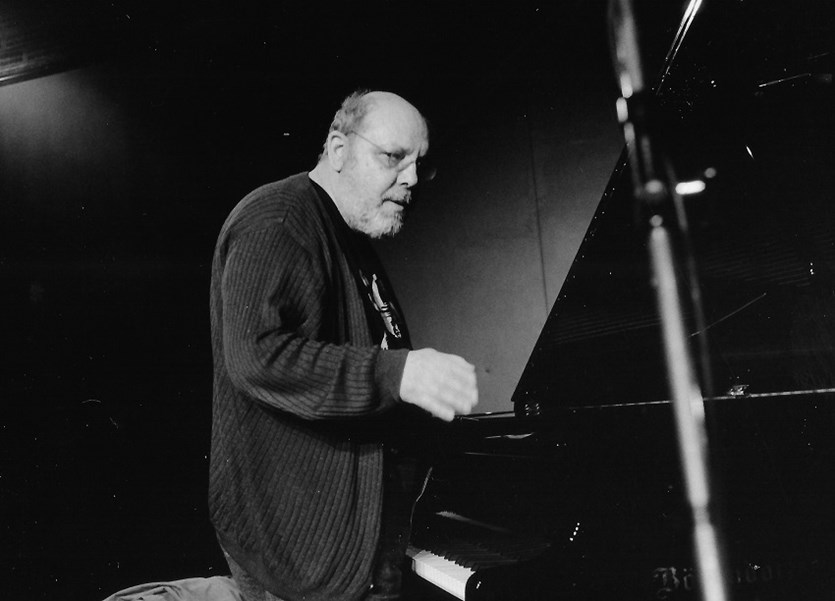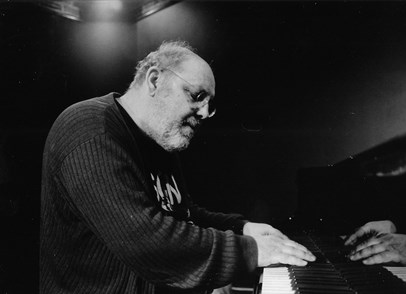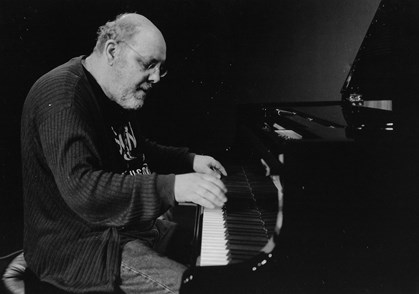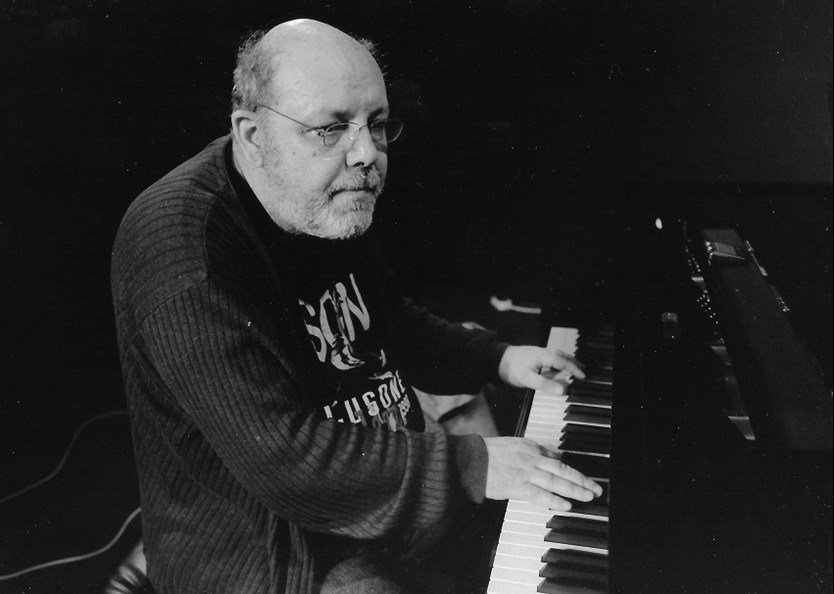 Misha Mengelberg © Jacky Lepage

The Steve Lacy Trio, with double bassist Jean-Jacques Avenel and drummer John Betsch, closed the festival. Steve Lacy (July 23, 1934 – June 4, 2004), born Steven Norman Lackritz, is recognized as one of the important players on the soprano saxophone of all time (ranking up there with Sidney Bechet and John Coltrane). Lacy played with Cecil Taylor, Thelonious Monk, Enrico Rava, Roswell Rudd, Misha Mengelberg, Mal Waldron, Gil Evans, ... The trio with Avenel and Betsch was probably one of his best. There's coherent and adventurous playing. An extraordinary concert!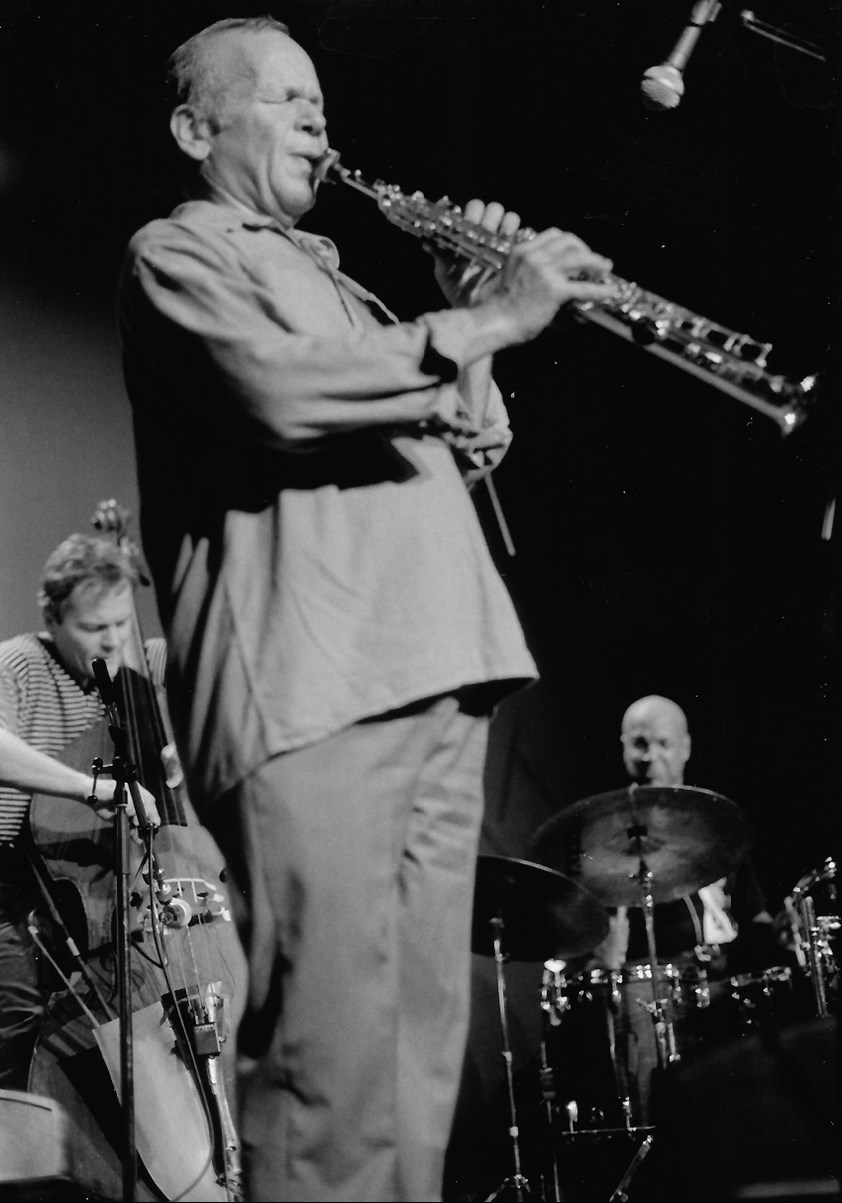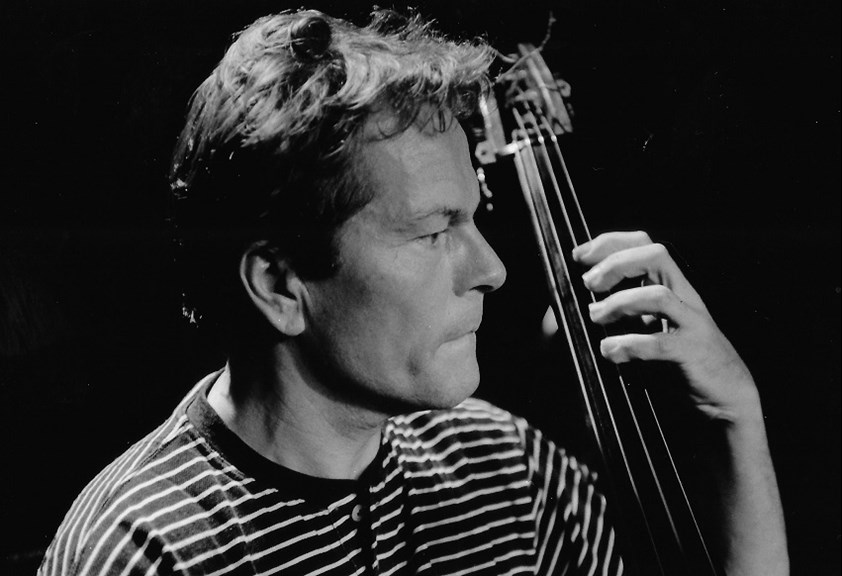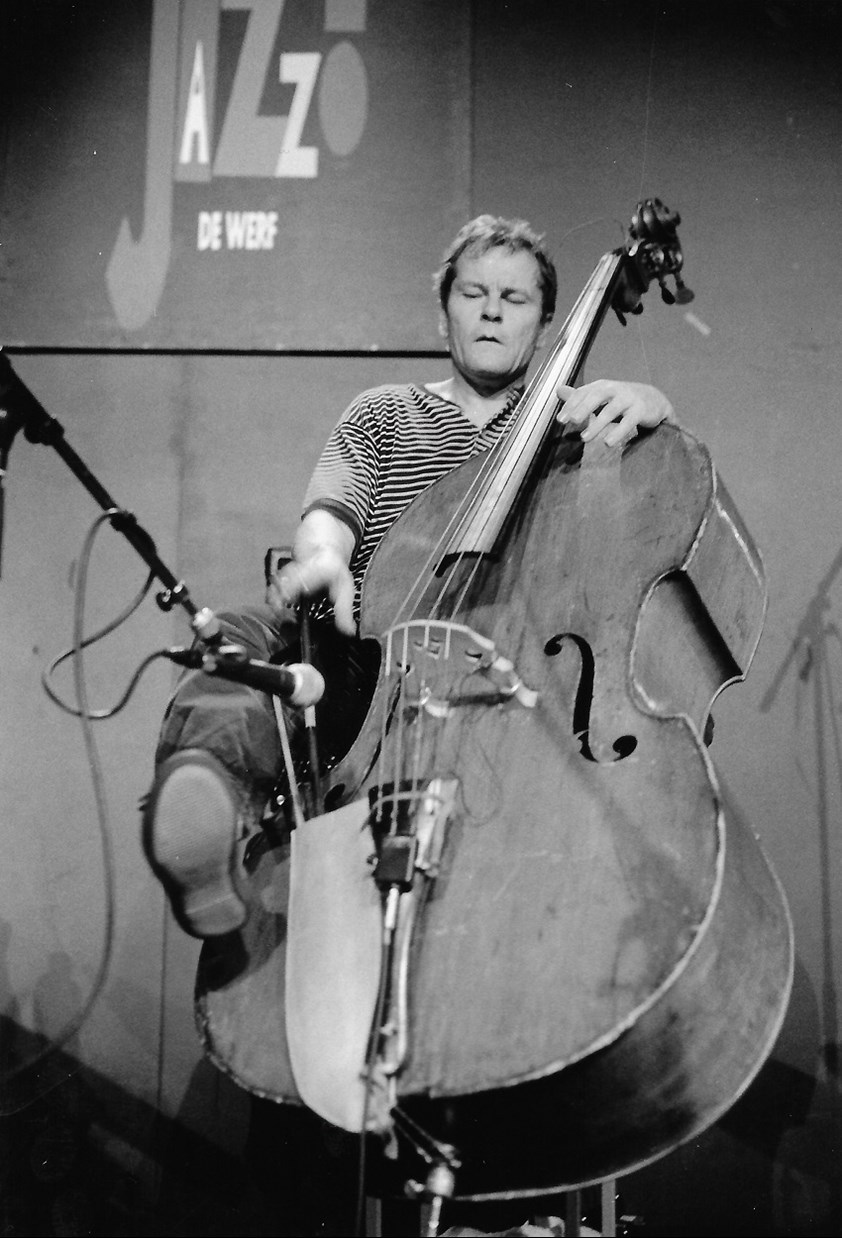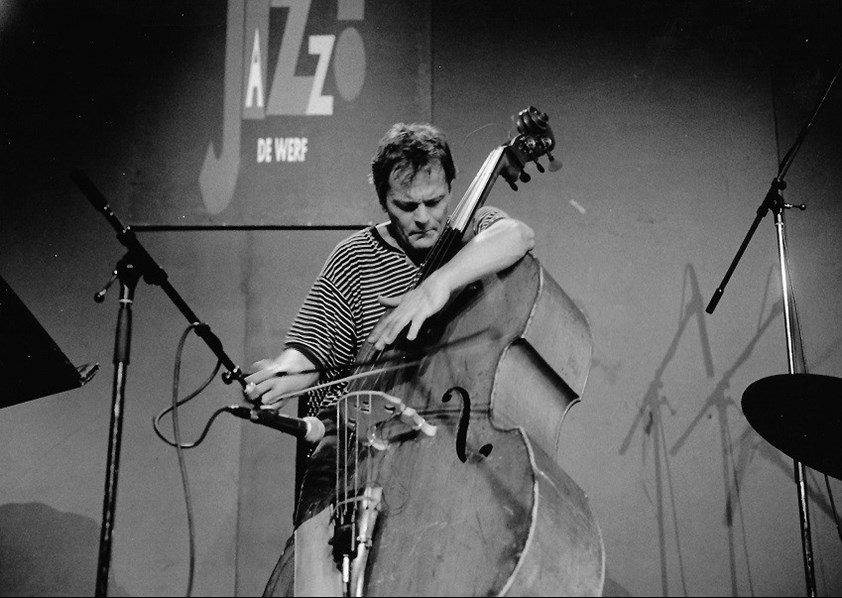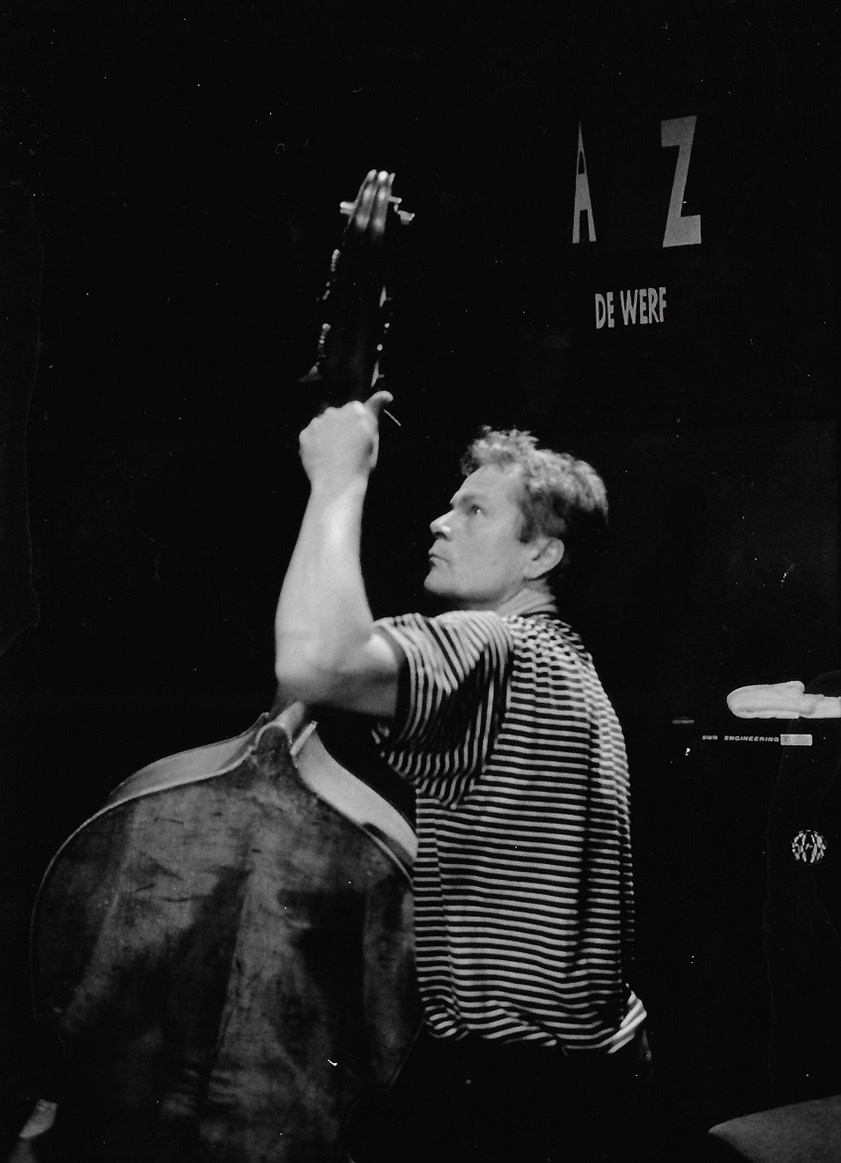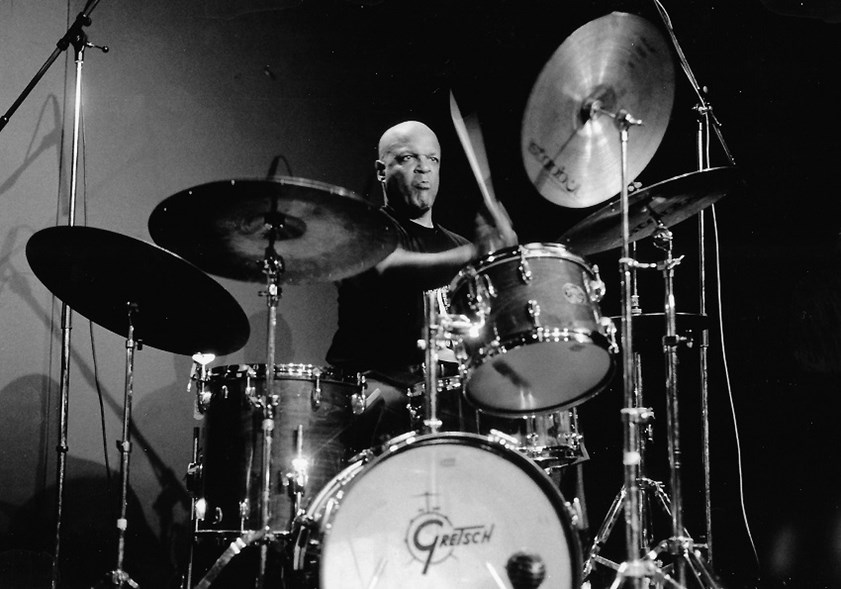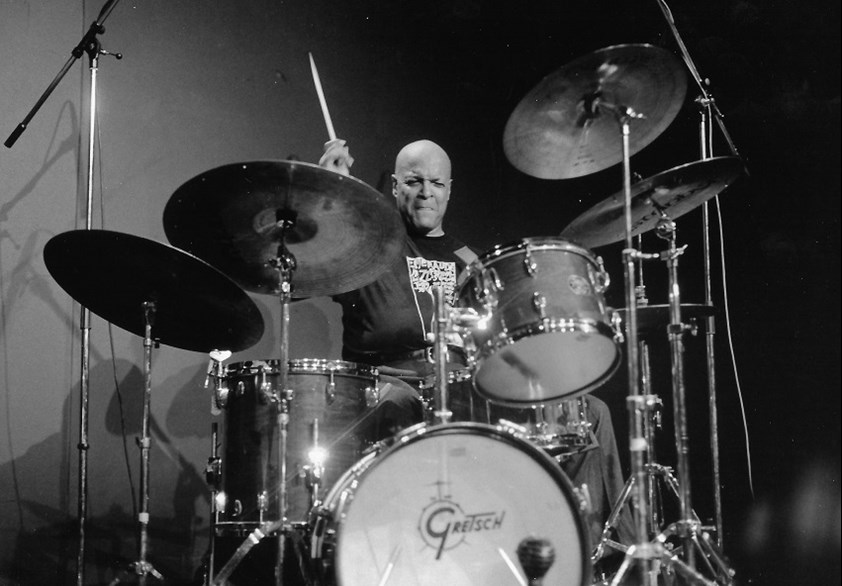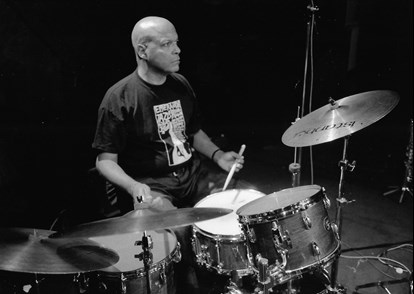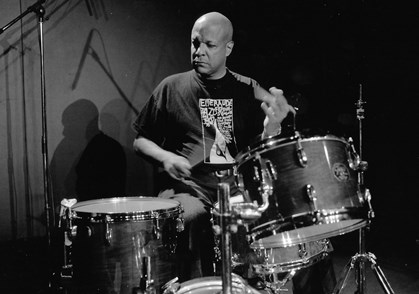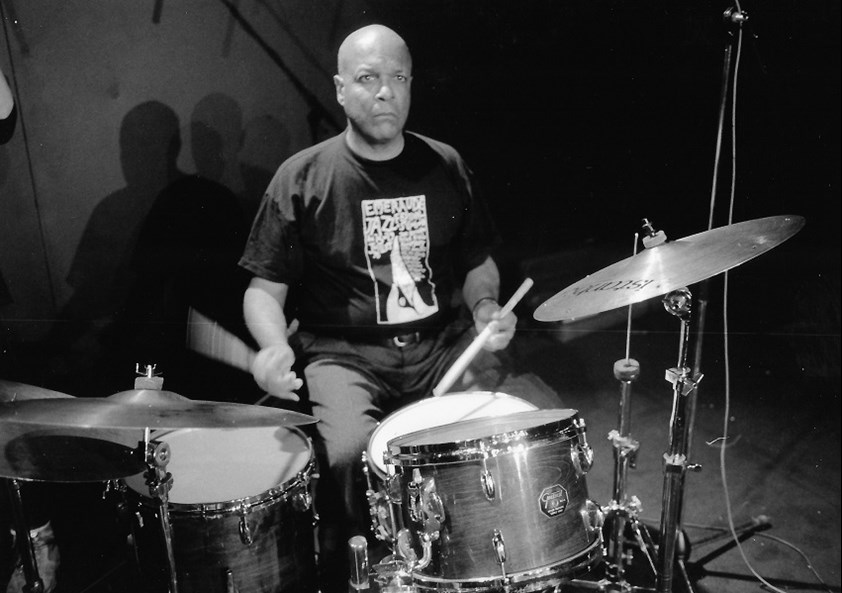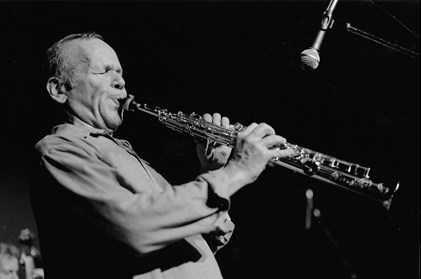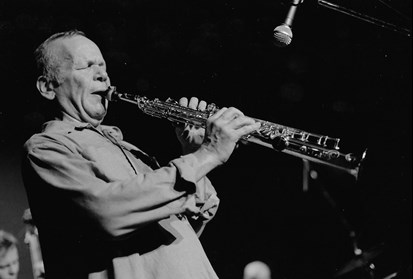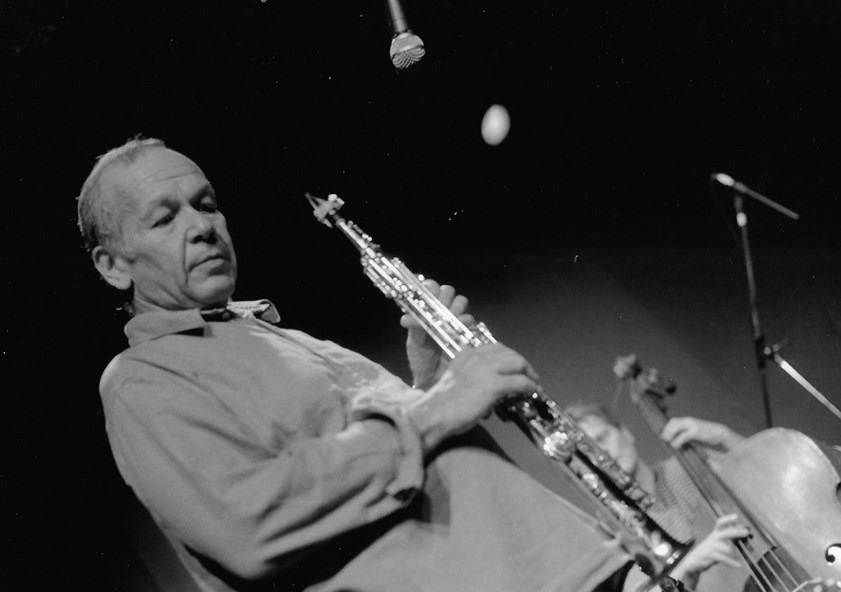 Steve Lacy trio © Jacky Lepage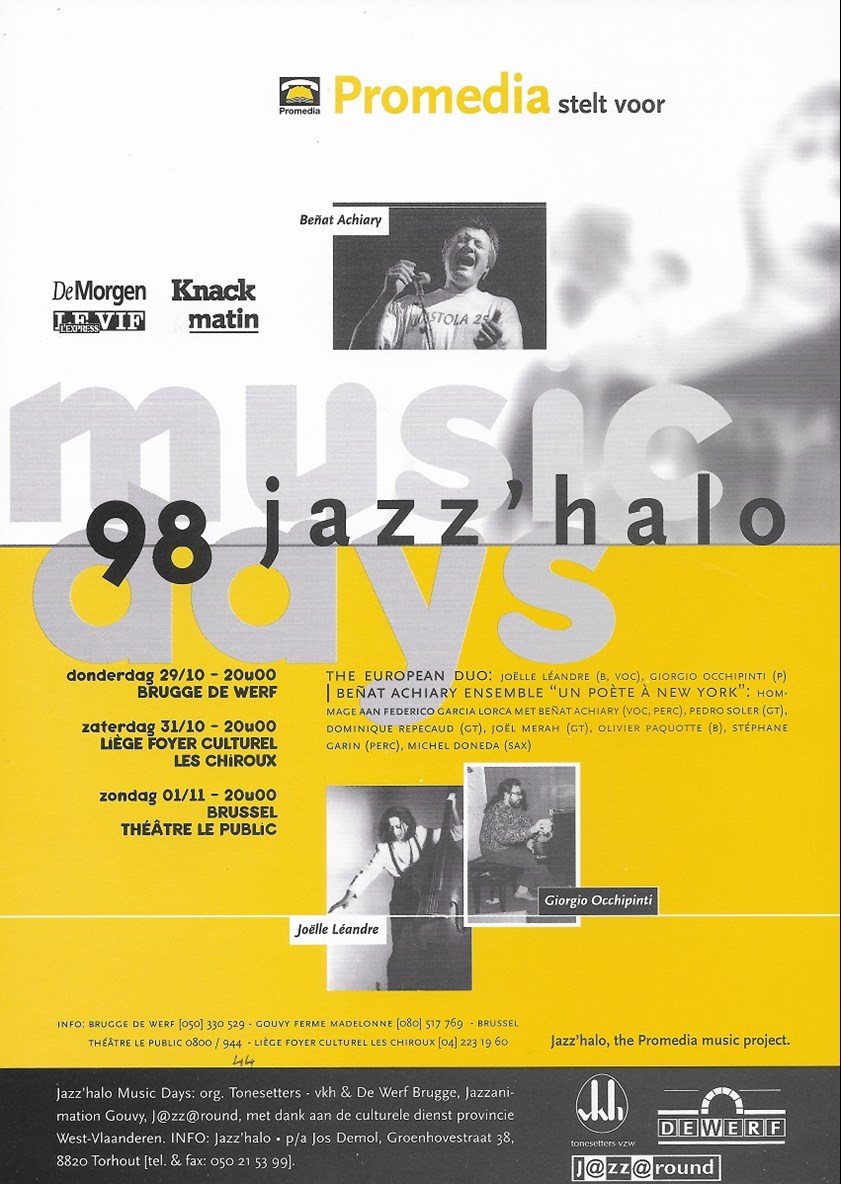 #2: October 29th & 31st - November 1st

End October we invited The European Duo, Joëlle Léandre (bass, voice) and Giorgio Occhipinti (piano), to promote their Jazz'halo CD "Incandescences". In the second part of these evenings the Basque singer Beñat Achiary presented his "Poête à New York" Ensemble, a tribute to the late Federico Garcia Lorca.
On the subject of European contemporary jazz and artists who principally contribute(d) to its development and maturation, one can't omit mentioning Joëlle Léandre. An amazing artistic path, plenty of encounters and collaborations with significant composers/performers, a remarkable discography over thirty years, make her an absolute protagonist of the innovation in music.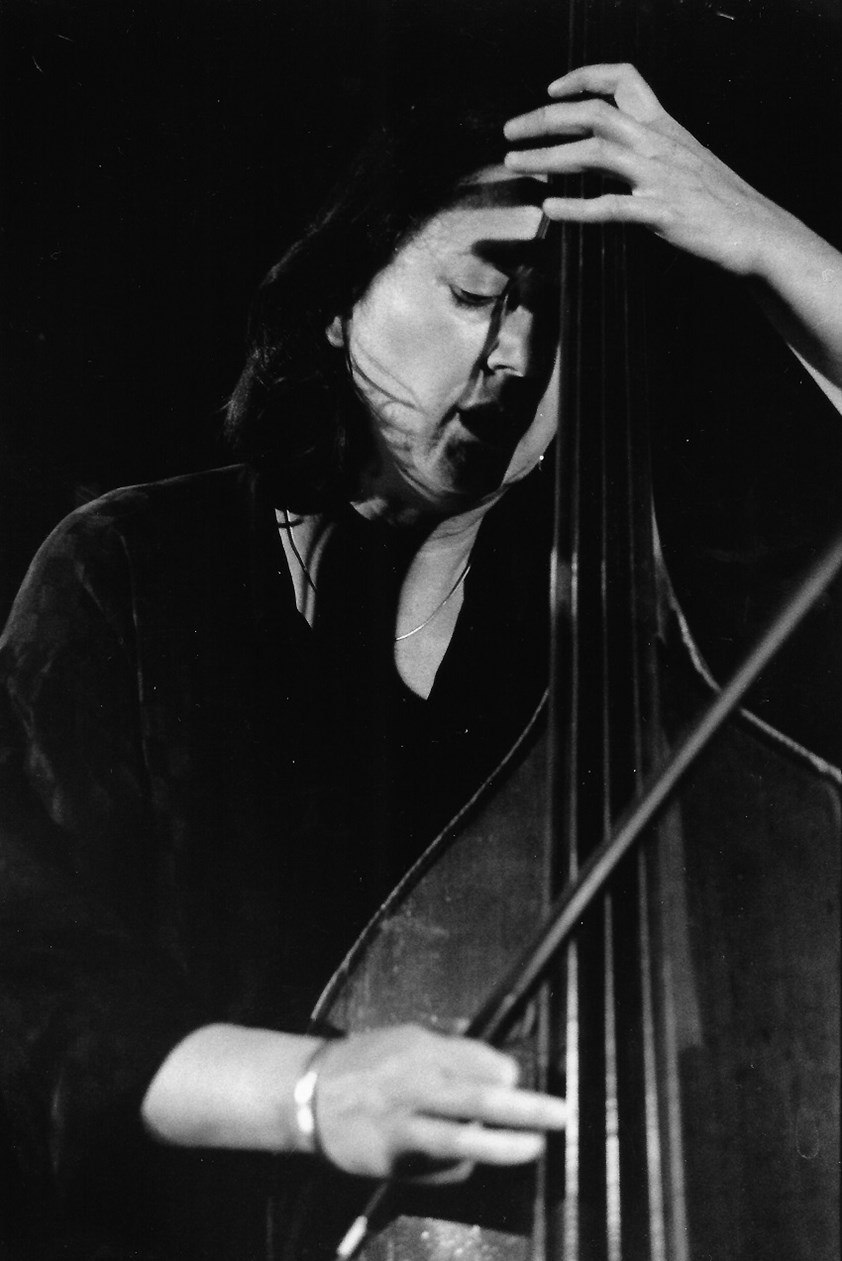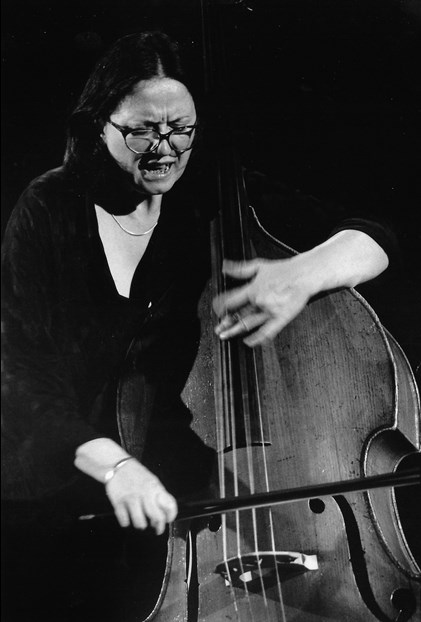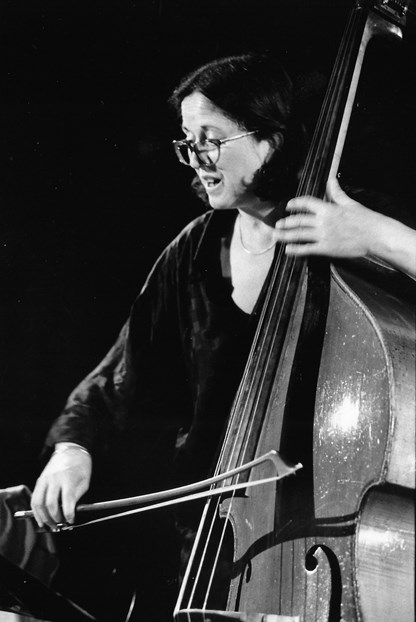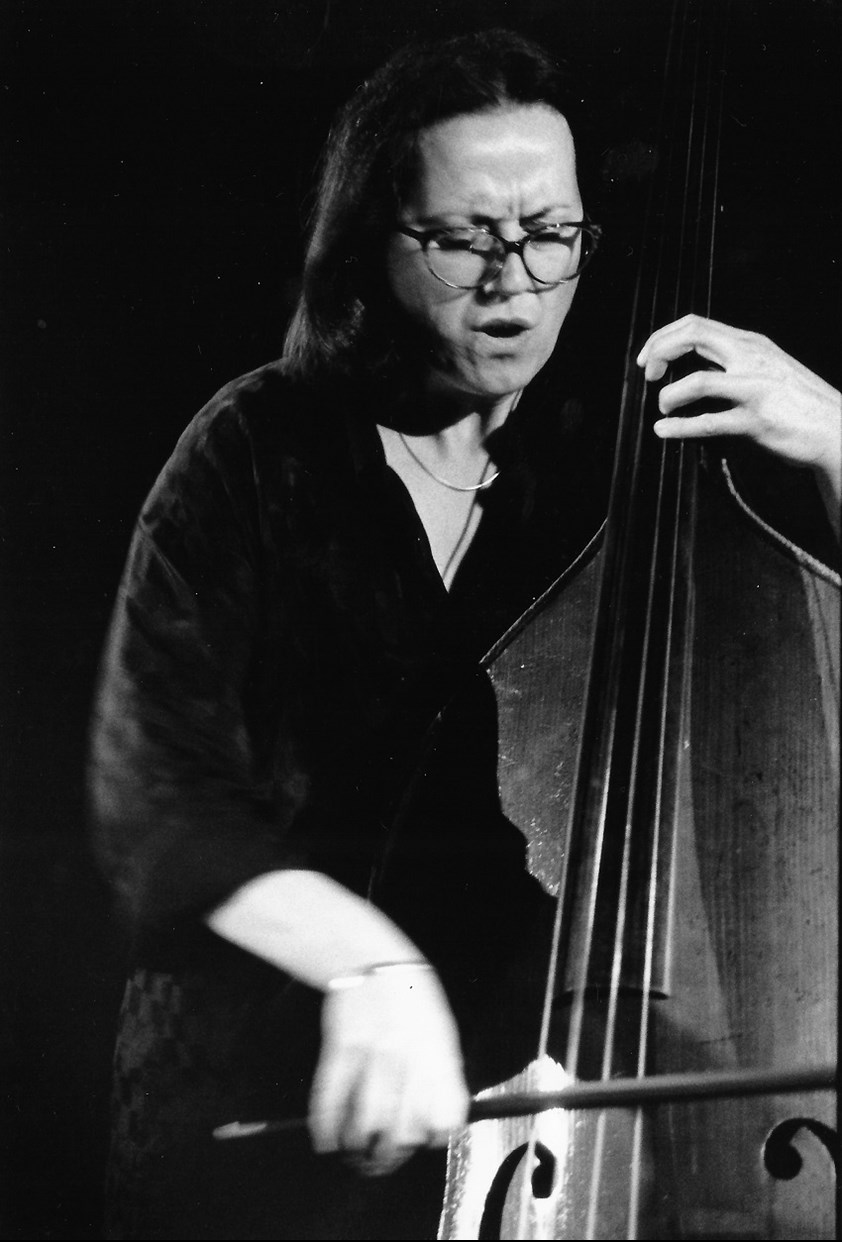 Joëlle Léandre © Christian Deblanc

Joëlle Léandre (° September 12, 1951, Aix-en-Provence, France) started playing recorder but quickly moved to piano and from the age of 9 to 14 studied both piano and double bass in her home town of Aix-en-Provence. Her double bass teacher, Pierre Delescluse, encouraged her to apply to the Conservatoire National Superieur de Musique de Paris where she won first prize for double bass. In 1976 she received a scholarship to the Center for Creative and Performing Arts in Buffalo, a time that was to prove particularly influential due to encounters with Morton Feldman, and the music of Earl Brown, John Cage and Giacinto Scelsi. At the same time, she was able to experience the downtown New York music scene and continue her involvement in improvised music.
Joëlle has continued to be involved with contemporary 'straight' music, not only as a member of contemporary music ensembles such as 2E2M, Itinéraire and l'Ensemble Intercontemporain but particularly through the works of Cage and Scelsi, several of which have been recorded by her. Of Cage, she told Machart (1994): "He will always be my spiritual father. I had already read For the birds before meeting him. It is an important book. John made me listen to the world around me: 'Let sound be what it is'. He opened up a field of possibilities; he gave me confidence; he cooked for me (he was a very good cook), with his friend Cunningham; he was good. A friend. He was the first to smile when I played my piece Taxi in the hall at Columbia University - I can still remember it!"
And, to the same interviewer on Scelsi: "Another meeting; as important as meeting Cage; he respected the freedom of my actions; there was almost a feminine intimacy between us. His music overwhelmed me; it is one of the truest, because it speaks to us of our conscience, of our human condition. When I listen to this music it affects me most deeply. There isn't a 'geography' to it; there are waves which we make vibrate. I love to play his several pieces for double bass because they provide me with a complete sound world. This music is paradoxical because it is at once complex and simple. I have known Scelsi since 1978, in Rome, after a stay at Buffalo University where I discovered Okanagon, one of his most extraordinary pieces. We rapidly became friends. Ten years later, I was there, on the 8 August 1988, at his death. It was as if he just faded away."
After listening to jazz (Mingus, Cecil Taylor, Monk, Dolphy), "I quickly got into the free, improvised realm where, for me, Derek Bailey is extremely important, also George Lewis and Irène Schweizer, and for sure, Anthony Braxton. Meeting Derek in New York several years ago had nearly the same impact on me as meeting Cage" (Kanach, 1991). Léandre recorded with Bailey on Les douze sons and on the Company disc Trios, and has worked with a wide range of improvisers, for example: Maggie Nicols, Lindsay Cooper, Irène Schweizer, Fred Frith, Evan Parker, Eric Watson, Lol Coxhill, Peter Kowald, William Parker (described by Morris (1991)), and Barre Philips. She is a member of the European Women's Improvising Group (recorded on Intakt 002). She has recorded one of the weirdest records (even by free improvising standards) in Les Domestiques with Jon Rose - a collection of domestic noises set to musical effect - and more recently has formed The Canvas Trio with long-term associates Rüdiger Carl and Carlos Zingaro
In 1994 Joëlle Léandre was the DAAD (Deutscher Akademischer Austauschdienst) artist in residence in the city of Berlin; from November 1997 to June 1998 she took up a residence in Metz, north-east France teaching and giving master classes at academic institutions in the region and playing concerts with a range of improvisers that included Eric Watson, Lauren Newton, Carlos Zingaro and Paul Lovens. From September to December 2002 she was invited as visiting professor for improvisation and composition at Mills College, Oakland, California and this was repeated from September to December 2004 when she was visiting Darius Milhaud professor for composition and improvisation at Mills.
(© European Free Improvisation - Joëlle Léandre's webpage)
Please read more on Joëlle at http://www.joelle-leandre.com.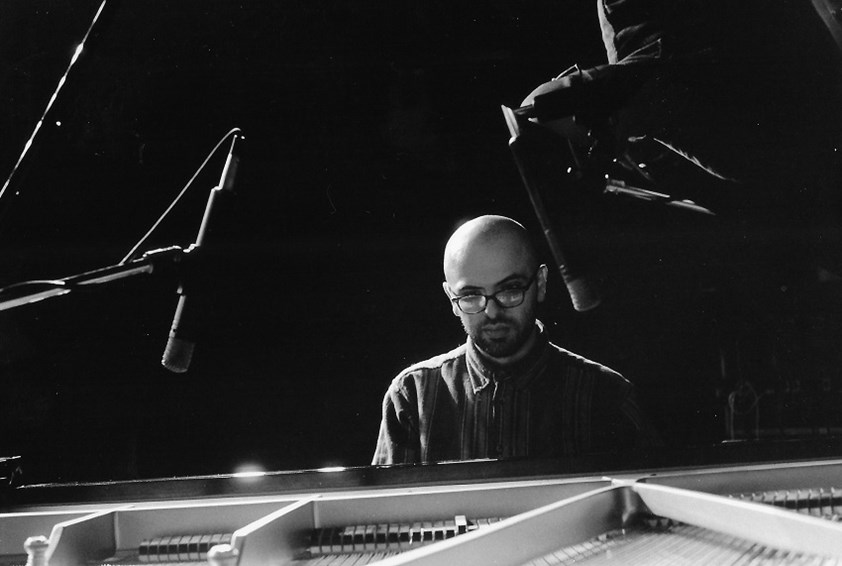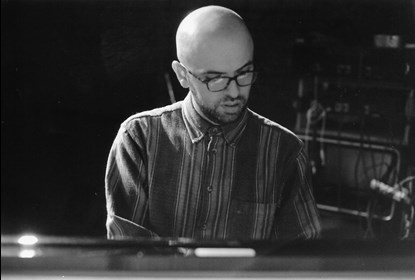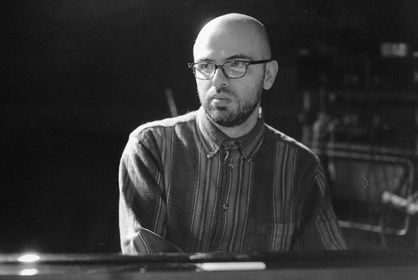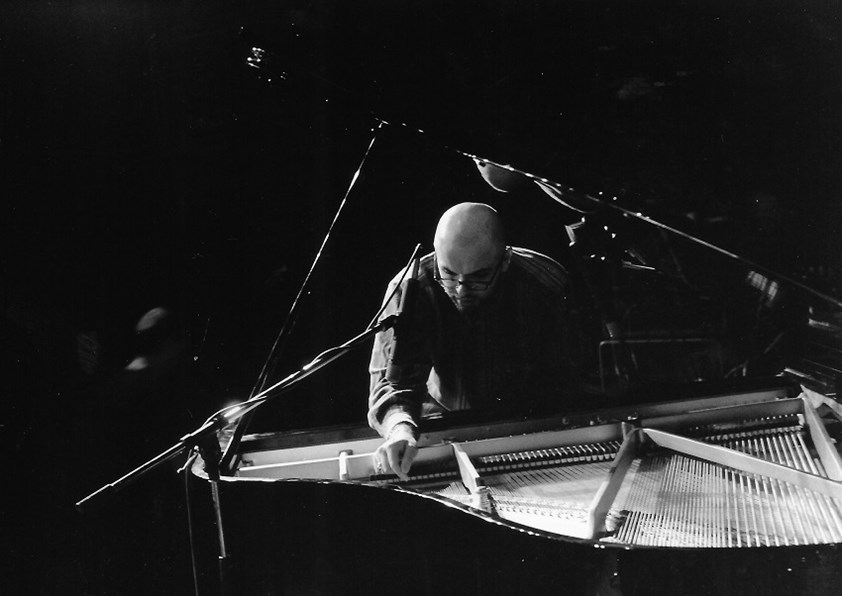 Giorgio Occhipinti © Jacky Lepage


Since he was a little child Giorgio Occhipinti (° June 1969 in Ragusa, Sicily) devoted himself to the study of the piano and he played drums and flute in a band. He also played together with his father, a trumpet player. In October 1989 he went at the Festival Jazz of Paris to participate in the "International competition for Piano jazz" dedicated to Martial Solal.
He worked together with the actress Lidya Alfonsi, and he composed the sound basis of some of her recitals. In 1989 he founded the December Thirty Jazz Trio together with double bass player Giuseppe Guarrella and drummer Francesco Branciamore. Since January 1992 he has been a member of one of the most important Italian groups: the Pino Minafra Sud Ensemble, many times voted as the best group and recording on CD (Top Jazz in "Musica Jazz" and in France the CD "Sudori" was voted best CD of the year 1996). In 1993, together with Giuseppe Guarrella, he organized the Festival Ibleo del Jazz. In the same year he founded the Giorgio Occhipinti Hereo Nonetto (also octet, orchestra, ensemble).
In 1994 he took part in one special group together with saxophonist Eugenio Colombo and Giuseppe Guarrella: the Triple Project. In March 2000 he was in Paris with the "Banlieues Bleues Special Quartet" with Pino Minafra, Sandro Satta and Vincenzo Mazzone. In 1995 he has been voted by Italian critics in the referendum "Top Jazz" organised by Musica Jazz magazine as the second New and Best Talent of the year. That same year he founded the European duo with Joelle Léandre . The CD "Global Music and circular Thought" (Giorgio Occhipinti Hereo Nonetto plus Cellos Sequences – Jazz'halo) was chosen the best CD of the 2001 by "Jazz Review" (UK).
He wrote music for orchestra and quintet of strings "I Muri A Secco" edited by an important Swiss publishing house (T.G.E. Edizioni Musicali) after the same composition was duly pointed out in an important competition dedicated to E. Bloch. In 1999 he joined clarinettist Olivia Bignardi for a duo. In September 1999 he's participating in the FAUST GROUP with singer Miriam Palma, singer/clarinettist Maurizio Maiorana, bassists Domenico Sciajno and Giuseppe Guarrella. From June 2001 on he's a member of the "Concerto Dantesco" with the actors Galatea Renzi and Marco Andriolo. He also wrote sequences for cellos duo and for string quartet (1999/2000) and he wrote music for string sextet plus alto sax commissioned from Vittorino Curci: "Sedici Mottetti". He recorded a double CD of this compositions with a Giorgio Occhipinti Sedici Mottetti. In October 2001 he's working with the Giorgio Occhipinti Global Music Nonetto in Wien. They released the suite Revolution (five compositions for strings quintet, two clarinets, piano, drums & kettledrums: 3 dances, 1 cantata, 1 sequence) on Between The Lines. In June 2004 he founded the quartet Less Of Five with Olivia Bignardi, Giuseppe Guarrella and Antonio Moncada (CD on Nine Winds) and in 2006 the Know's Quartet with Stefano Maltese, Giuseppe Guarrella and Emanuele Primavera. He's also a member of Francesco Branciamore's Perfect Quintet.
Please read more on Giorgio at http://www.giorgioocchipinti.com.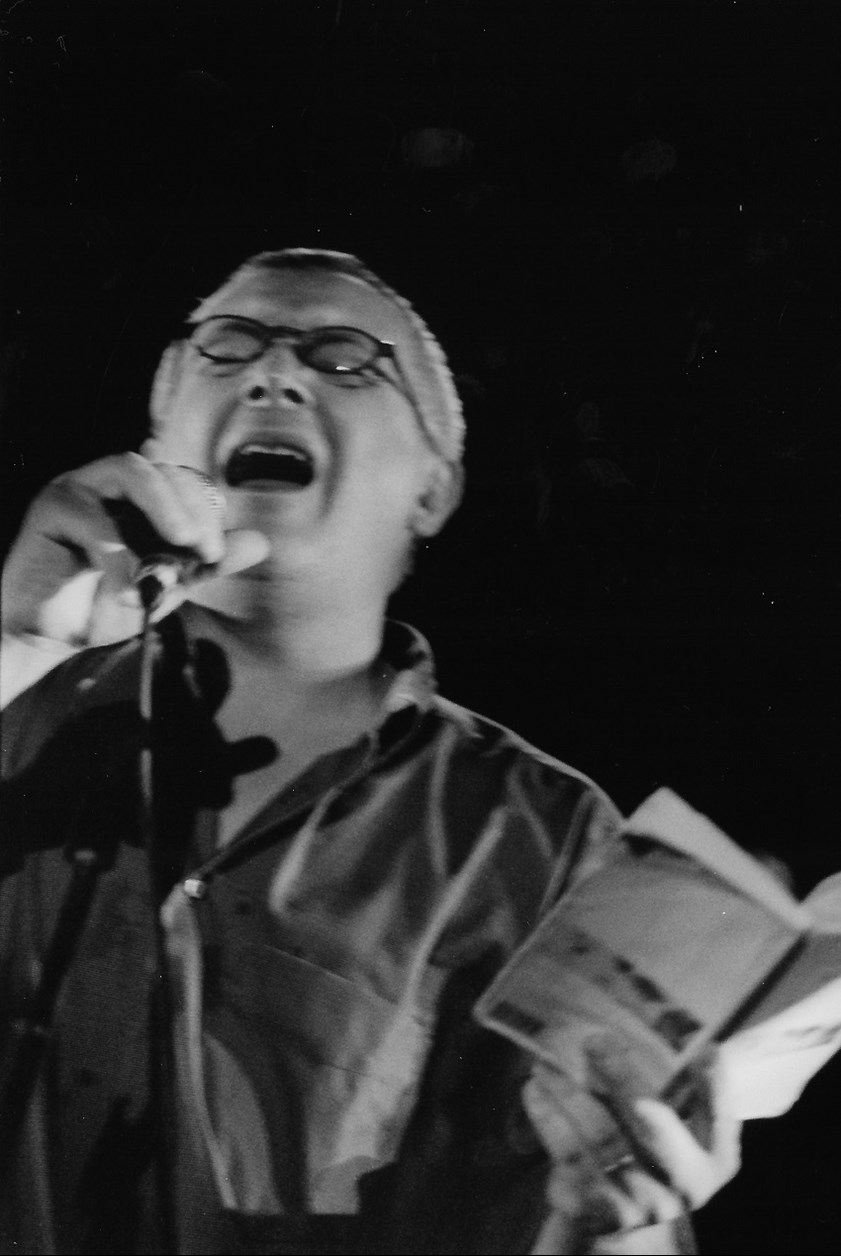 Beñat Achiary © Christian Deblanc

Beñat Achiary (° 1947) is one of France's most creative vocalists. Although he's recorded several solo albums, including Basque Music of Today and "Arronoa," Achiary's most impressive work has come with his improvised collaborations with soprano saxophonist Michael Doneda, who he met while working with Tour de France, an ensemble organized by Louis Salves, in the late 1980s. In 1990, Achiary and Doneda formed a trio with avant-garde violinist Alexander Balanescu and a quartet, Terra, with percussionist Lê Quan Ninh and hurdy gurdy player Dominique Regef. Achiary and Doneda have continued to work together. Their most recent album, Temps Couche was recorded with Kazue Sawai and released in 1997.
Craig Harris, All Music Guide



Please also read http://www.users.globalnet.co.uk/~rneckmag/achiary.html
Selected discography

- Beñat ACHIARY : "CITE INVISIBLE : RENCONTRE A CASABLANCA"
- Beñat ACHIARY : "ENE KANTU FERDE TA URDINAK - MES CHANTS VERTS ET BLEUS"
- Beñat ACHIARY : "LILI PURPREA"
- Beñat ACHIARY : "PAYS BASQUE : "ARRANOA"
- Beñat ACHIARY : "LEITZA LARREA"
- Beñat ACHIARY : "SEVEN CIRCLES" [DEDICATED TO PETER KOWALD}
- Beñat ACHIARY & CHOEUR AMA-LUR : "VOIX BASQUES"
- Beñat ACHIARY & ETAGE 34 : "BEÑAT ACHIARY & ETAGE 34"
- Beñat ACHIARY/CARTER/HOLMES : "ACHIARY, CARTER, HOLMES"
- Beñat ACHIARY & Pedro SOLER : "PRÈS DU COEUR SAUVAGE"
- Michel DONEDA/Beñat ACHIARY/Kazue SAWAI: "TEMPS COUCHÉ"
- ACHIARY/LOPEZ/DE EZCURRA : "AVRIL"
- KANTUZ [ACHIARY/GUMPERT/HOLMES} : "KANTUZ"
- Didier LASSERRE & ACHIARY Beñat : "HORS CIEL"
- Beñat ACHIARY & Jean SCHWARZ : "GONY'KO ZALDU"
- Beñat ACHIARY/MICHEL DONEDA : "CE N'EST POURTANT... "
- Ramón LOPEZ QUARTE : "SONGS OF THE SPANISH CIVIL WAR"
- Ramon LOPEZ "DUETS 2 : RAHSAAN ROLAND KIRK"
- Jean-Marie MACHADO : "EVE LEVE MUITO LEVE"
- Jean-François PAUVROS : "LE CORPS EST UN MENTEUR"
- ETAGE 34 : "X"
- QUATUOR CASSINI & Beñat ACHIARY : "LE PEUPLE DES FALAISES"
- SAKYA & Beñat ACHIARY : "PRÉ"


At the Jazz'halo Music Days audiences Beñat presented his latest project at that time, a tribute to the poet Federico Garcia Lorca, "Un Poête à New York". He was joined by flamenco guitarist Pedro Soler, soprano saxophonist Michel Doneda, electric guitarists Joel Merah and Dominique Répécaud, Olivier Paquotte (electric bass guitar) and drummer Stéphane Garin.
This project was, with a new ensemble, on tour in 2011 (a.o. Banlieues Bleues, …). Beñat Achiary and Pedro Soler were joined then by pianist Michel Queuille, Beñat's son Julen Achiary and Kahil El' Zabar on percussion.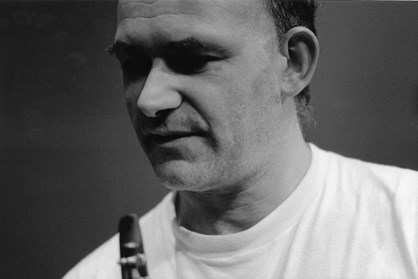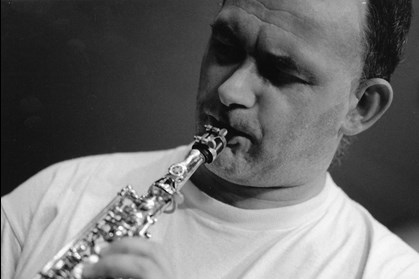 Michel Doneda © Jacky Lepage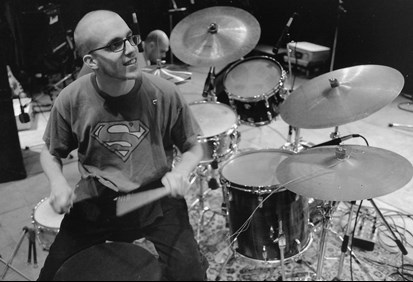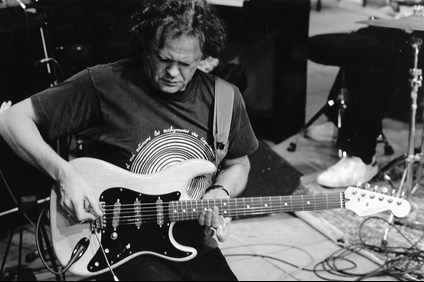 Stéphane Garin and Dominique Répécaud © Jacky Lepage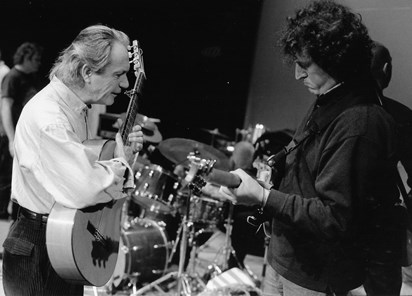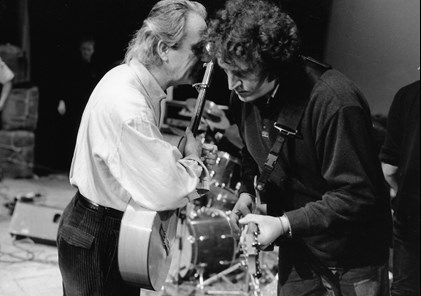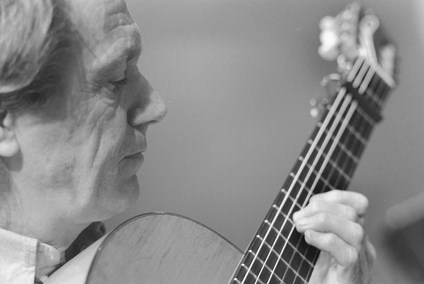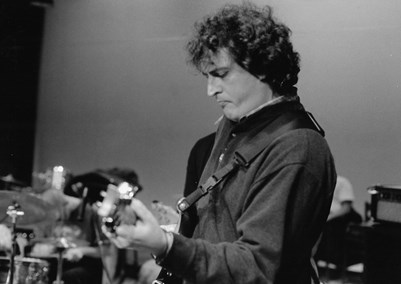 Pedro Soler and Joel Merah © Jacky Lepage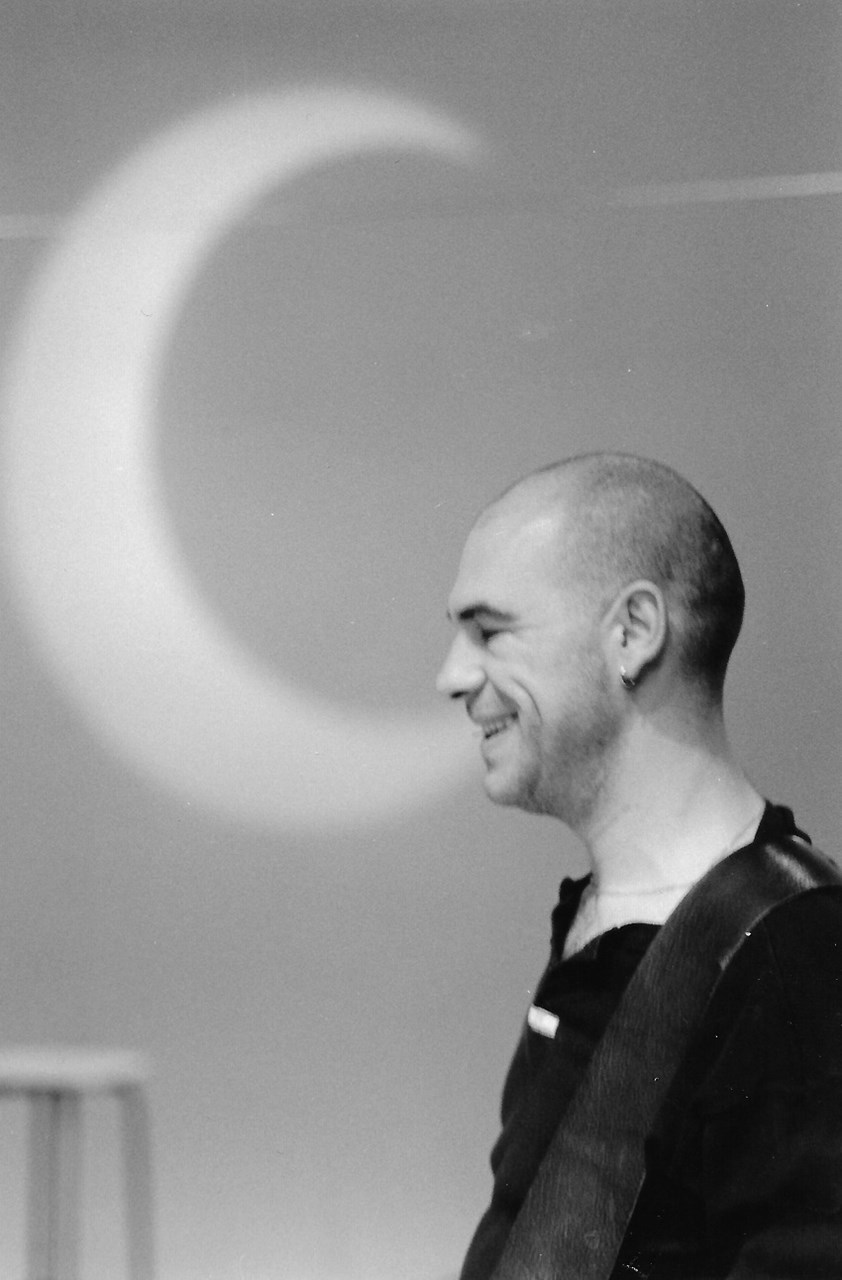 Olivier Paquotte © Jacky Lepage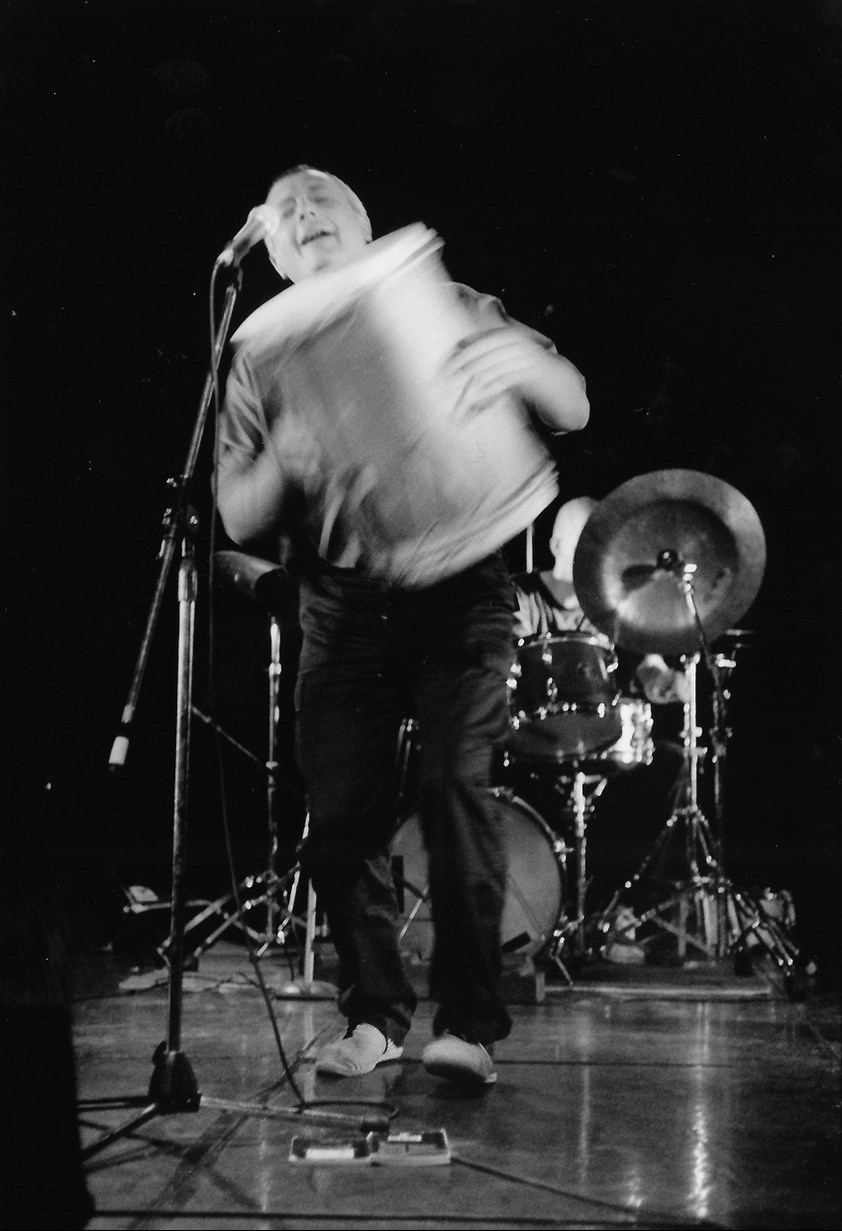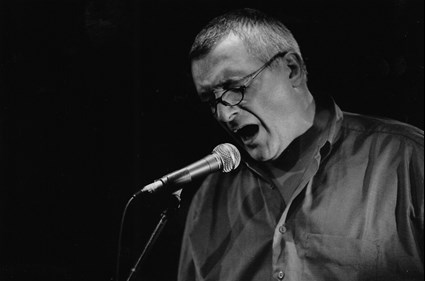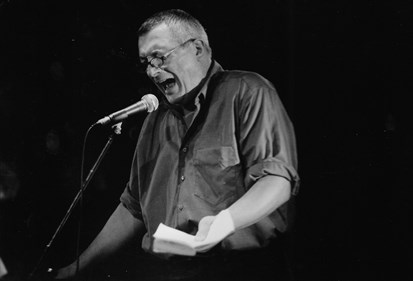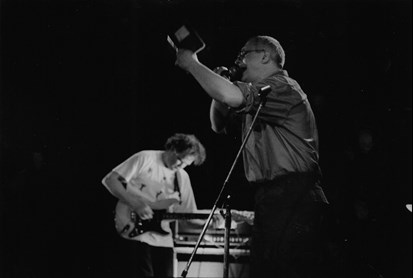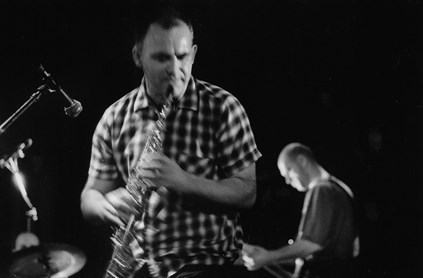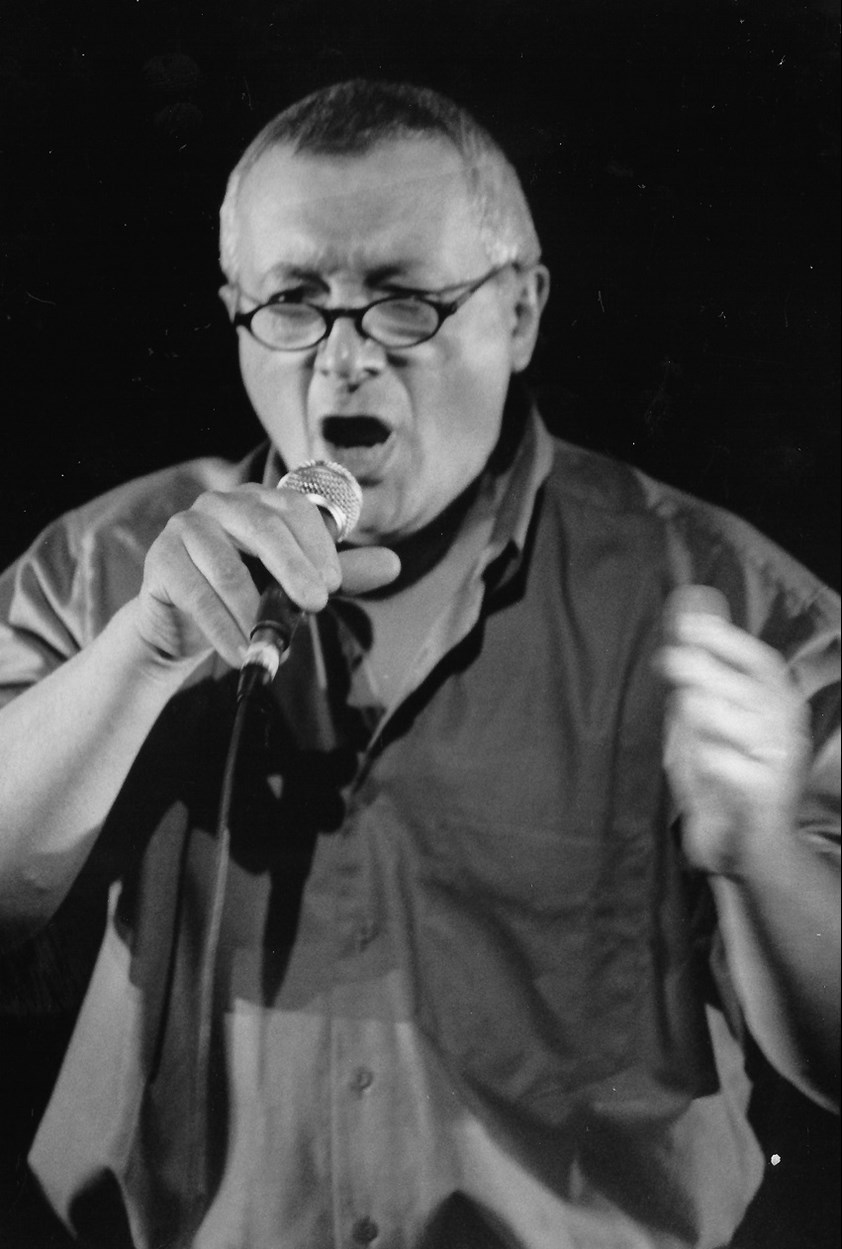 © Christian Deblanc



Jazz'halo Music Days 1999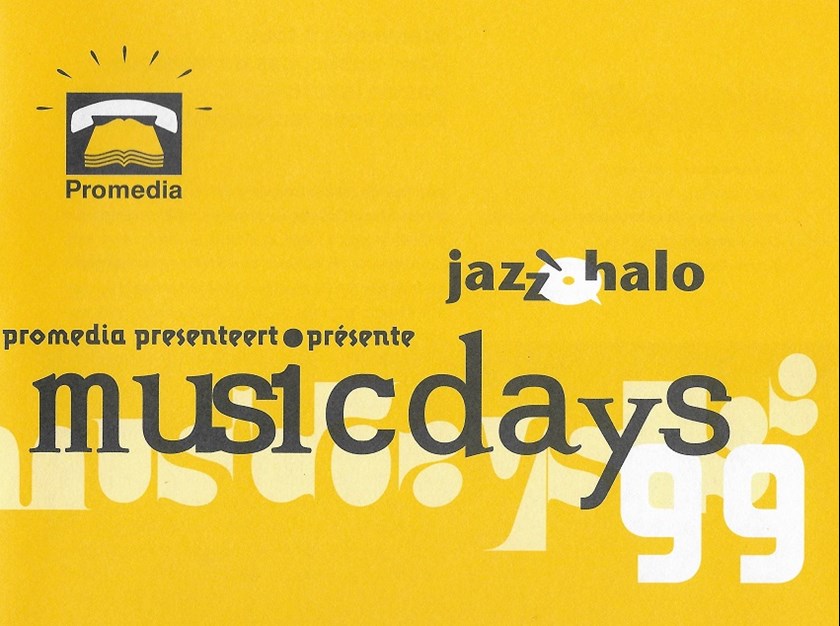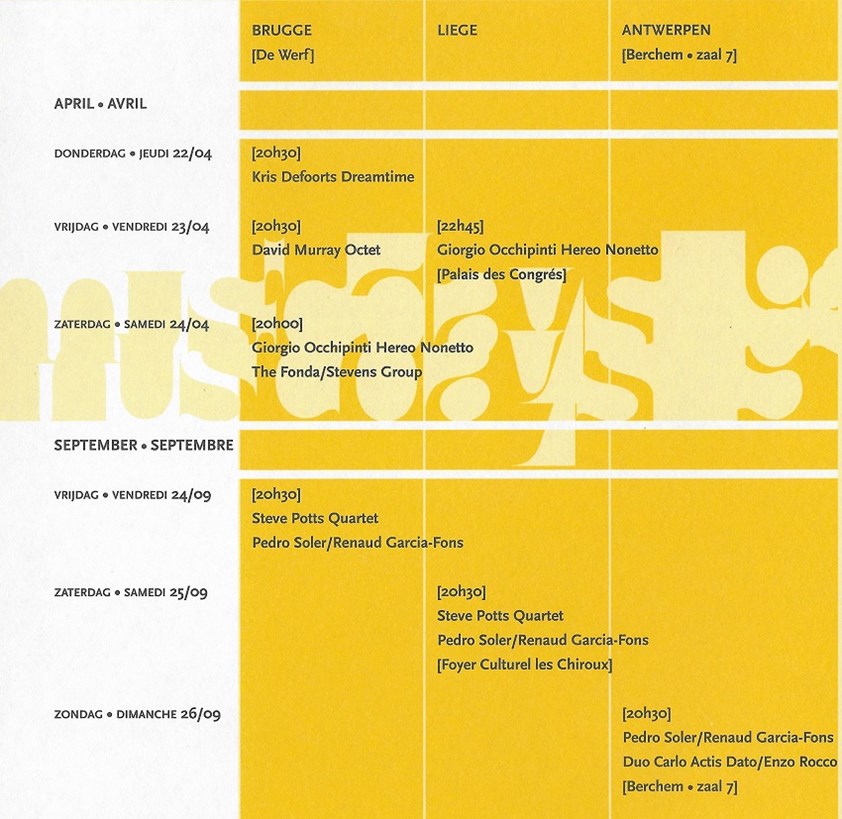 #1: April 22nd, 23rd & 24th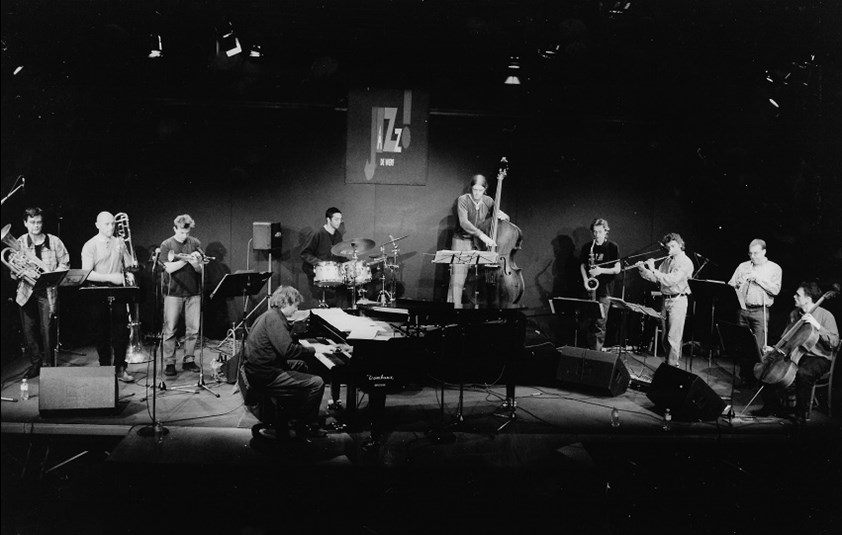 Kris Defoort & Dreamtime © Jean-Pierre Tillaert
In the Spring we invited large ensembles at De Werf Brugge. In Liège the Hereo Nonetto played at the Palais des Congrès on Saturday 24/04.
Kris Defoort & Dreamtime is a tentet with composer/pianist Defoort, Jeroen Van Herzeele (ts), Pierre Bernard (f), Joost Gils (ob), Jan Kuijken (clo), Laurent Blondiau (t), Geoffroy de Masure (tb), Michel Massot (tb), Chander Sardjoe (d), and Nicolas Thys (cb).

Kris Defoort (°1959) studied recorder and early music at the Antwerp Conservatory (Barthold Kuijken, Koen Dieltiens, Jos Van Immerseel, Balderick Deerenberg) and jazz piano, composition and free improvisation at the Liège Conservatory (Dennis Luxion, Frederic Rzewsky, Garrett List, Philippe Boesmans).
Between 1987 and 1990 Kris Defoort lived in New York. He followed master classes with Fred Hersh, David Berger and Paul Bley, but his main activity was as a jazz pianist. He performed with the Lionel Hampton Big Band (guest Dizzy Gillespie), Jack de Johnette, Adam Nussbaum, Reggie Workman, Mike Formanek, Barry Altschul, Vince Herring, Judy Niemack, Tito Puento, Lee Konitz, Hannibal Peterson, and many others.
After his return to Belgium he continued on his musical odyssey, as a composer, pianist and improviser, and leader of the sextet KD's Basement Party, his trio KD's Decade, Octurn, Dreamtime and more recently Sound Plaza (with Mark Turner, Jim Black and Nicolas Thys). Partly thanks to the support of the arts centre De Werf (Brugge), lots of his projects were issued on CD.
Kris Defoort also worked with performers and ensembles in the contemporary jazz scene (Jim Black, mark Turner, AKA Moon, Vegetable Beauty, Garrett List, Paul Rodgers, Han Benninck etc.)
Since 1998 Kris Defoort is a resident composer at LOD (Gent), a production house for contemporary music theatre. Together with Fatou Traoré he created the dance piece Passages (2001) which was performed at several leading European festivals (Festival d'Avignon, Salzburg, Charleroi Danse, etc.)
At the end of 2001 Kris Defoort was commissioned by LOD Gent, Ro Theater Rotterdam, deSingel Antwerpen, La Monnaie Brussels and others, to compose the opera The Woman Who Walked into Doors, based on Roddy Doyle's book of the same name. This opera, directed by Guy Cassiers, toured impressively in Europe (Duisburg, Ruhrtriennale, Paris, Strassbourg, Brussels, Dublin, Zürich, Amsterdam, Rotterdam, Antwerp,…) and was received with great enthusiasm by both press and public.
In 2002 Kris Defoort created Conversations with the Past, a work for wind instruments, piano, harp, double bass and percussion, commissioned by the Filharmonie (Antwerp). In the same year he presented Sound Plaza, a new jazz cd with saxophonist Mark Turner, bass player Nic Thys and drummer Jim Black
In 2003 he created his String quartet n°1 together with ConVerSations/ConSerVations, a project based on Renaissance music. Together with soprano Claron McFadden, Dreamtime and Quatuor Danel, Kris Defoort sought once again a synthesis between old and new, classical and jazz.
Since 2005 Kris Defoort has worked on various projects. As an artist in residence at the arts centre BOZAR Brussels in the 2006-2007 season, every aspect of his musicianship has been shown: as an improvising pianist and a composer. For example, Jan Michiels created his piano cycle Dedicatio (nine musical letters)in December 2006. Kris Defoort also has been commissioned by the 2007 Queen Elizabeth Competition to write the compulsory contest piece for solo piano: Dedicatio 6; Treasure of Emotions (to Keith Jarrett)
On the 8th of May 2009 the world premiere of his second opera House of the Sleeping Beauties (production LOD, Toneelhuis, la Monnaie), directed by Guy Cassiers, took place at La Monnaie Brussels.
In 2010 Kris Defoort is working on Brodsky Concerts, a piece based on the writings by Joseph Brodsky, in which he will be on stage together with the actor Dirk Roofthooft.
Commissioned by Festival d'Aix-en-Provence and LOD, Kris Defoort is also preparing a new opera together with writer/stage director Wajdi Mouawad. The premiere will take place in July 2013. Meanwhile, Kris Defoort keeps performing as an improviser/pianist meeting various artists, and is touring with his own trio (Nicolas Thys/bass, Lander Gyselinck/drums).
Kris Defoort teaches composition, arrangement and free improvisation at the Brussels Royal Music Conservatory.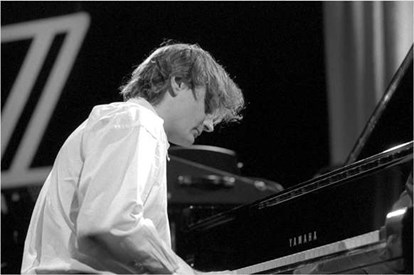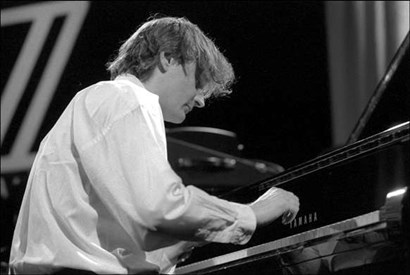 Kris Defoort © Jacky Lepage
Text from his website http://www.krisdefoort.com


The next day Giorgio Occhipinti's Hereo Nonetto arrived in Liège where they performed at the Jazz à Liège festival.

 

At de Werf Brugge we had the David Murray Octet. With this ensemble Murray played the music of John Coltrane.



© Jean-Pierre Tillaert

He was joined by Rasul Siddick (t), Craig Harris (tb), James Spaulding (as, fl), Ravi Best (t), D. D. Jackson (p), Mark Johnson (d) and Jaribu Shahid (b).
They had just released a CD with this music and on http://www.allaboutjazz.com Andrew Hovan (July 1, 2000) reviewed it like this:
"So, here we have another Coltrane tribute. But wait a minute, wasn't Murray part of another Trane project of several years back? Oh well, it doesn't really matter because Murray and the Octet are working on a level here that magnificently transcends the typical "copycat" forms of homage. This is just as much a message about Murray as a writer and player as it is a reminder of the spirit of adventure that characterized Coltrane's wildest inventions. Although Africa/Brass proved to be the only large ensemble recording that Coltrane would assemble, the opening strains of Murray's arra
ngement of "Giant Steps" makes one wonder how interesting it might have sounded to hear Trane front a big band on more than the one occasion. Taking his original solo and orchestrating it for the entire group, Murray manages a concoction that is at once modern and at the same time sounds like an updating of the swing charts of Fletcher Henderson . The hell with the fancy descriptions; it just works so well! Same goes for the boppish stride of "Lazy Bird." More on the mellow side, "Naima" retains all of its inherent beauty, with D.D. Jackson 's luxuriant piano ushering in Murray's blustery tenor; further color added underneath by the flute work of James Spaulding . "India" by contrast proves to be less tumultuous then in its original form. A slow simmer is maintained by what sounds like drummer Mark Johnson 's use of tabla drums, Jaribu Shahid's bowed bass and Spaulding's alto flute. Murray then comes on with bass clarinet in hand, an instrument that he has made his own over the years. Making it sputter and then scream at times, the bass clarinet shows up again on "The Crossing," a funky Murray original that fits into the program quite well. Filling out a generous program, there's the lengthy take on the first part of "A Love Supreme" which concludes the disc and manages to turn into a healthy backbeat groove that allows everyone to get in a solo spot or two. But then, it's really all very heady stuff that ranks with Murray's best and certainly his finest hour of recent vintage."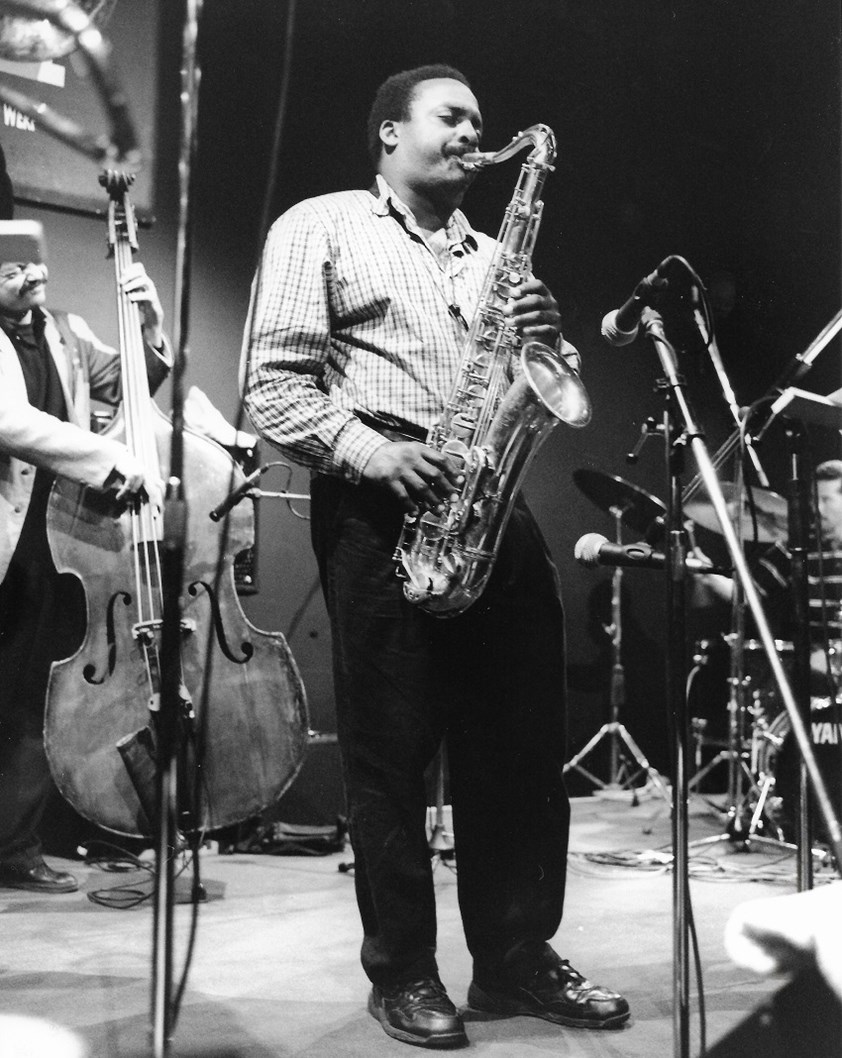 David Murray © Jean-Pierre Tillaert


On Saturday both Giorgio Occhipinti's Hereo Nonetto and The Fonda/Stevens Group were scheduled at De Werf Brugge.
Occhipinti's adventurous music can be heard on the Jazz'halo CD "Global Music And Circular Thought - Suite in eight movements: dances and sequences for cellos and nonet" (TS012).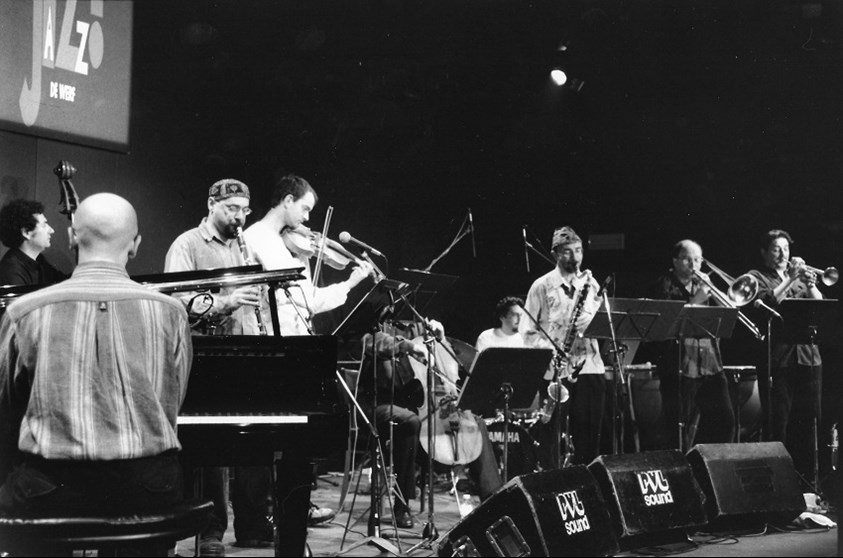 © Jan Vernieuwe

The band: Giorgio Occhipinti (piano, conductor), Vito Amatulli (cello), Paolo Botti (viola), Giuseppe Guarrella (double bass), Carlo Actis Dato (bass clarinet), Lauro Rossi (trombone), Maurizio Maiorana (voice, clarinet), Luca Calabrese (trumpet/ flugelhorn), and Francesco Branciamore (drums, kettledrums).
More about the music can be read on our CD page.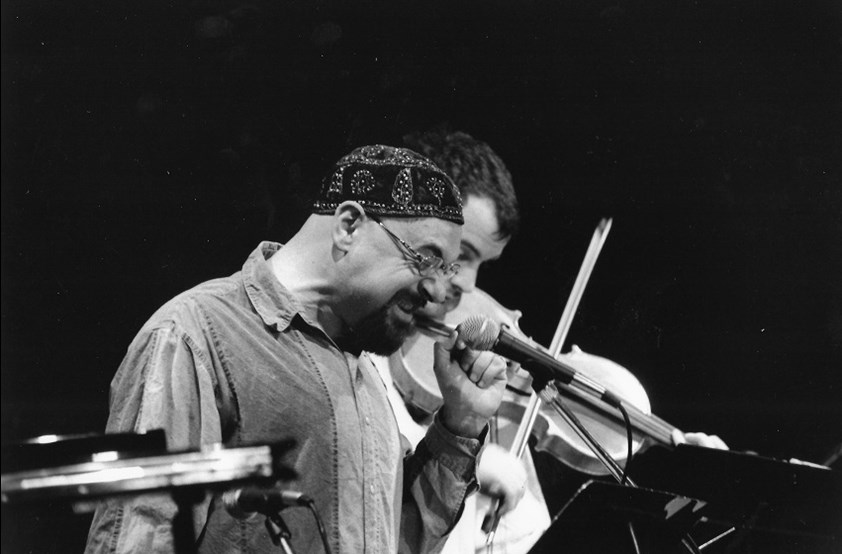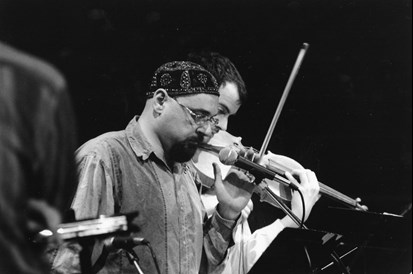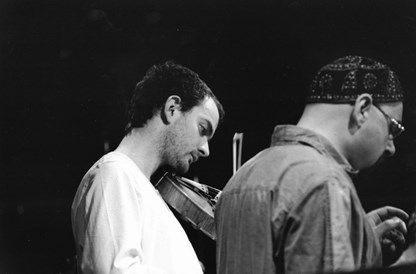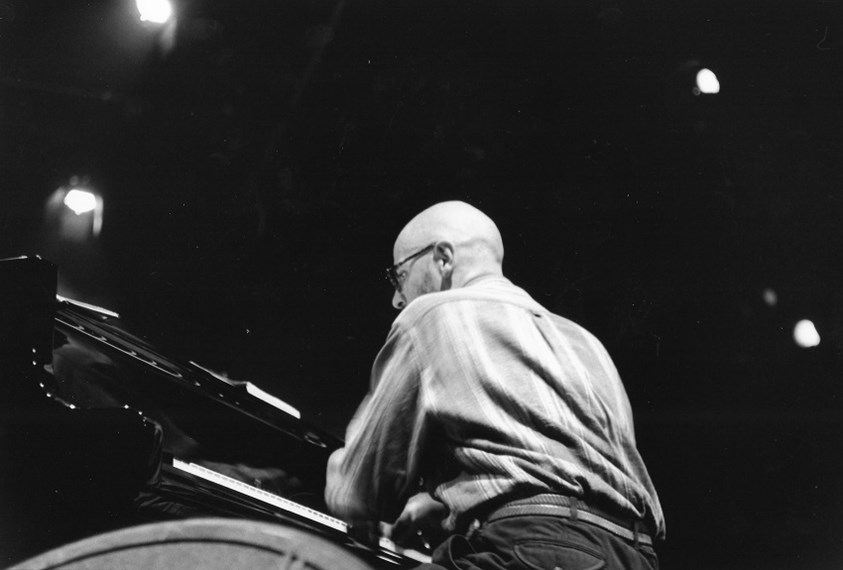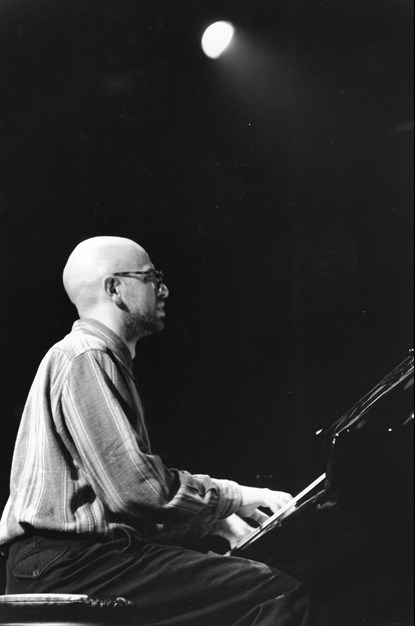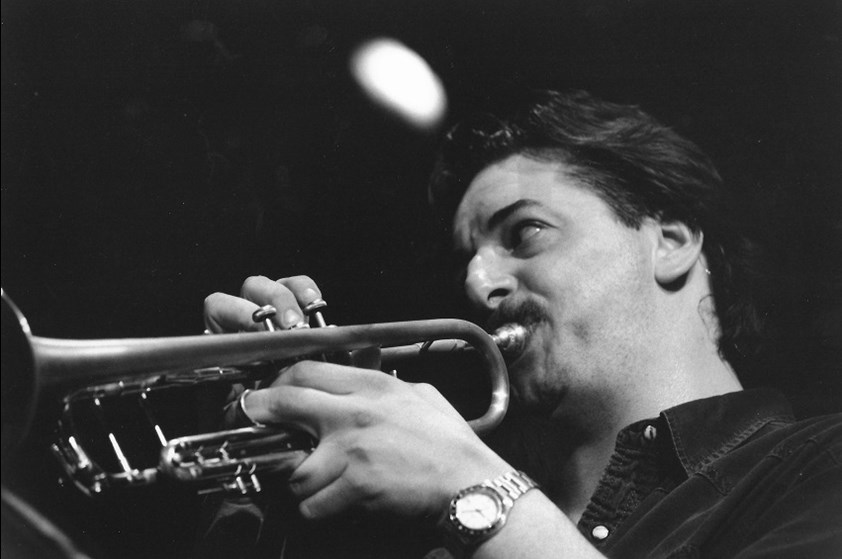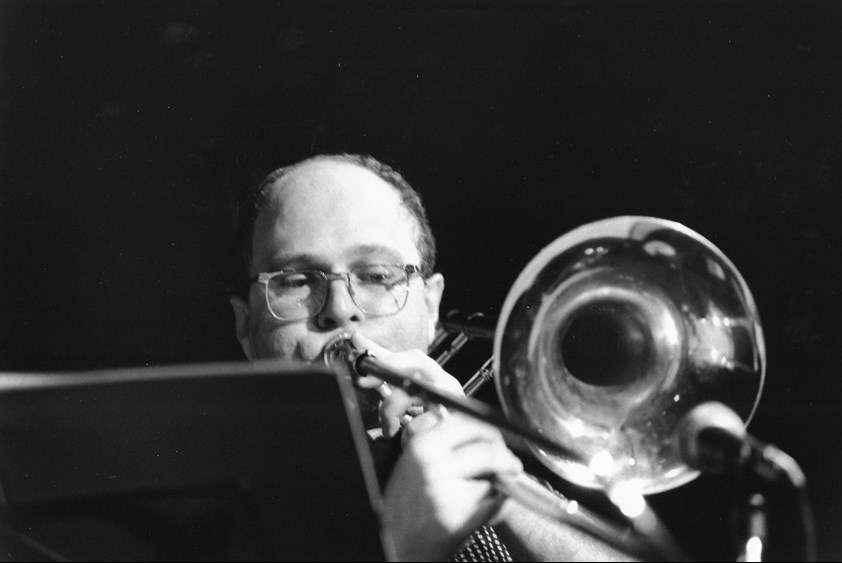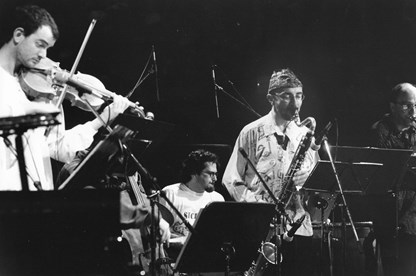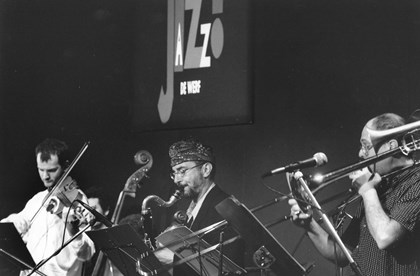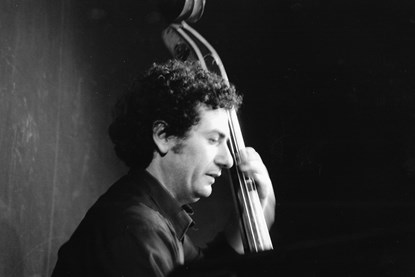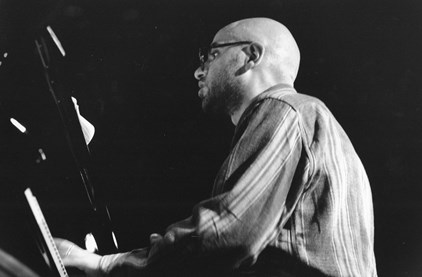 © Jan Vernieuwe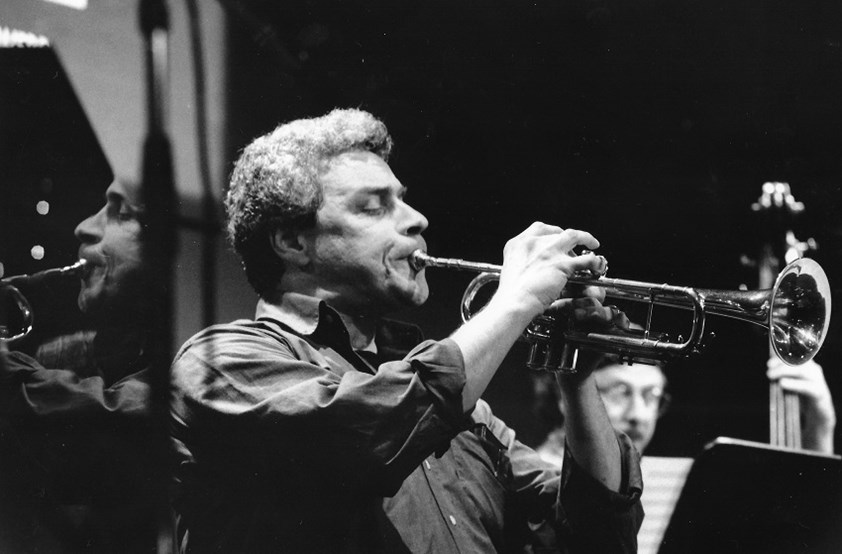 © Jan Vernieuwe
It was the second concert at De Werf Brugge for the Fonda/Stevens Group. Michael Jefry Stevens (p), Herb Robertson (t), Joe Fonda (b) and Harvey Sorgen (d) recorded "Live From Brugge" in 1997 for the W.E.R.F. label.
With over 25 years of performing together in various ensembles, this powerful acoustic NYC based jazz ensemble features the music of bassist Joe Fonda and pianist Michael Jefry Stevens performing with master percussionist Harvey Sorgen and the brilliant modern jazz trumpet legend Herb Robertson. In addition, the group also performs as the F/S Group Trio with occasioinal guest artists. Past guest artists have included Daunik Lazro, Szilard Mezei, Maciej Obara and Ireneusz Wojtczak.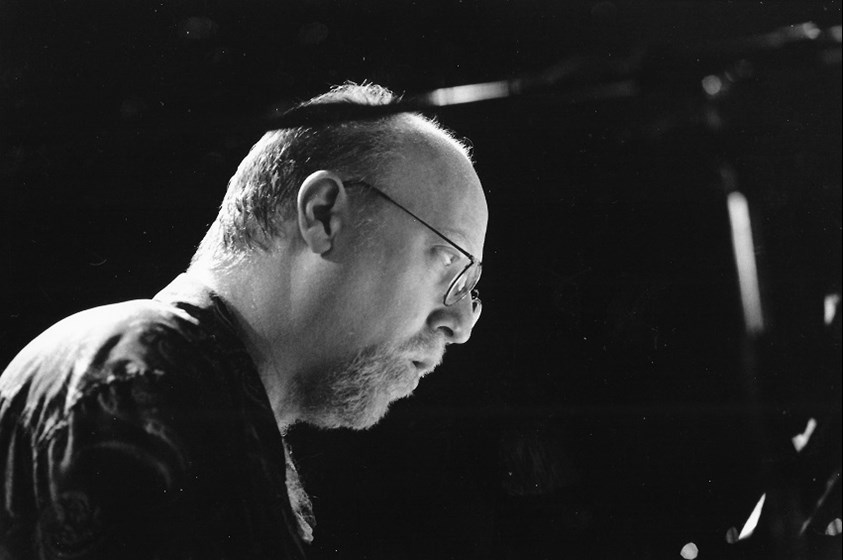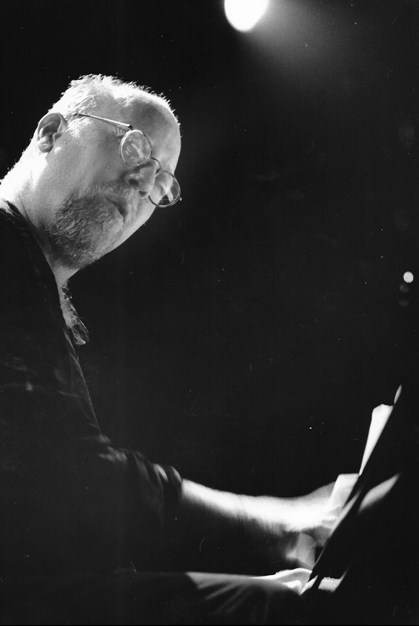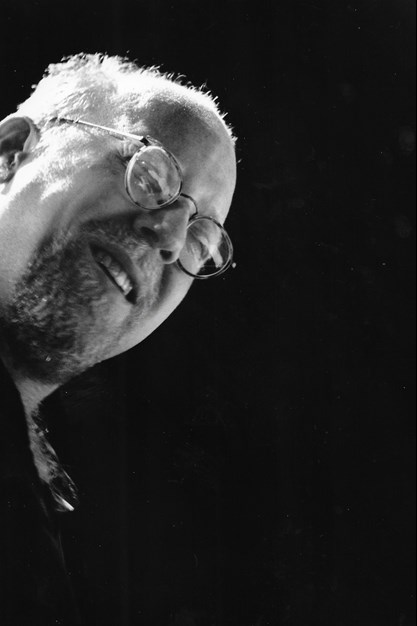 Michael Jefry Stevens © Jan Vernieuwe
The group has performed over 25 European tours in the past 13 years (1997 - 2010) including radio broadcasts for BRTN (Belgium), Saarbrücken Radio (Germany), WDR Radio Köln (Germany), Radio Bremen (Germany), Radio Zurich (Switzerland), Radio Nürnberg (Germany) VPRO Radio Amsterdam (Holland) and has been featured artist at the Ottawa International Jazz Festival (Canada), Jazz'halo Music Days (Brugge, Belgium), Jazzmeille Thuringen (Weimer, Germany), Westfalisches Musikfest (Munster, Germany), Edgefest (Ann Arbor, MI), the Cerkno Jazz Festival in Slovenia in May 2007, the Jazz Goes to Town Festival in Hradec Kralove (Czech Republic) in 2008 and most recently performed at the "Are You Free" Festival in Slovakia and the Sibiu Jazz Festival in Romania!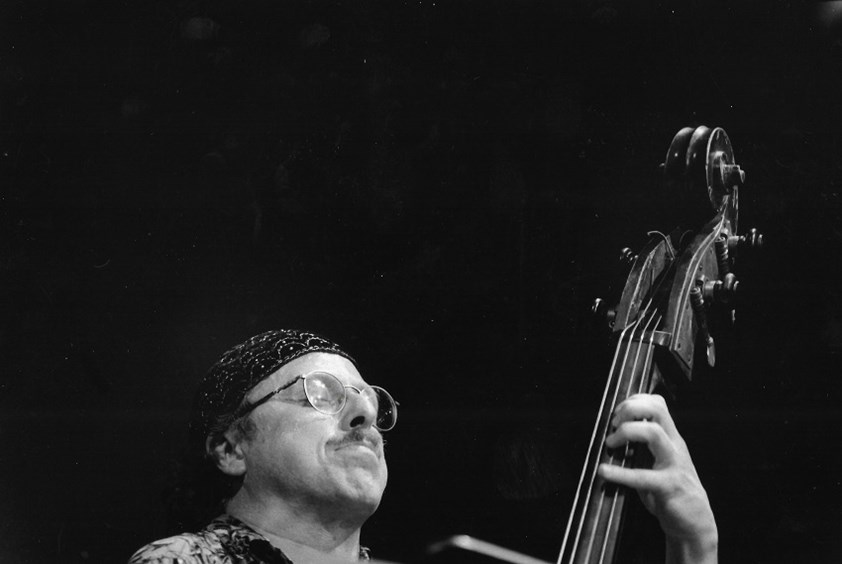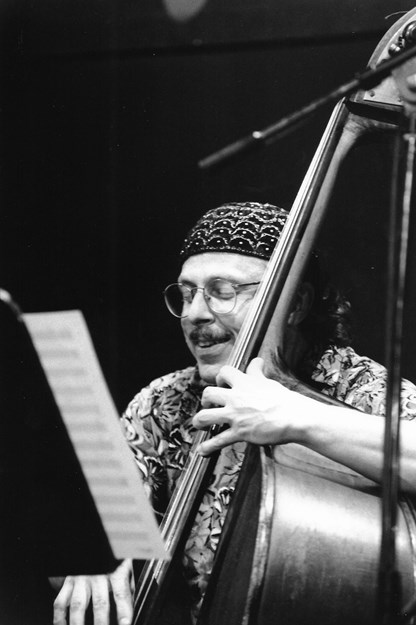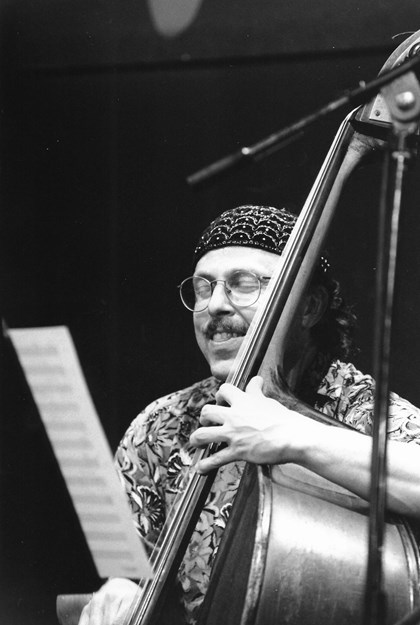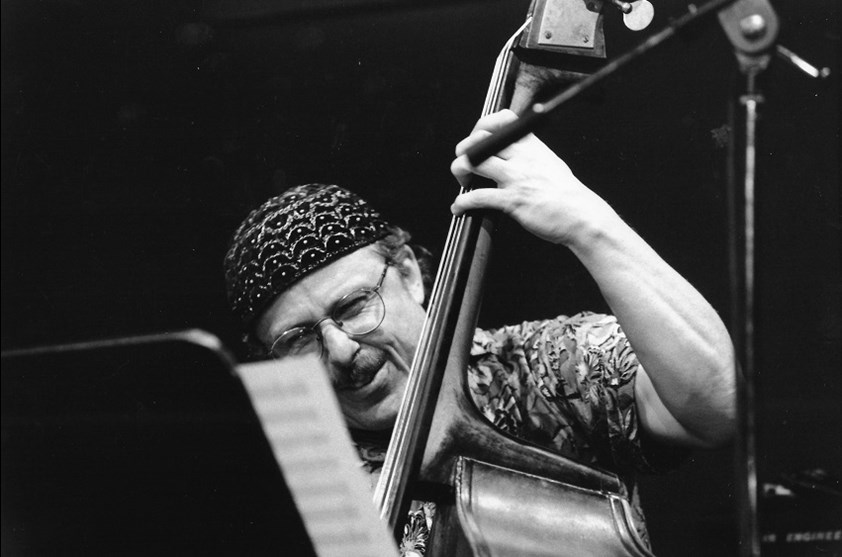 Joe Fonda © Jan Vernieuwe
"Over the past fifteen years and the course of ten CD's, the Fonda/Stevens Group has evolved into one of Jazz/improvised music's most accomplished ensembles. Straddling the line between post-bob and free, they have come up with consistently satisfying albums. What's impressive is how these four create a cohesive unit without grandstanding egos getting in the way."
Cadence Magazine

"Michael - You and your band are awesome. Several people came up to tell me how your concert last week was one of the most enjoyable events they've ever experienced at the Vermont Jazz Center; the music conveyed a deep sense of purpose, humor and warmth, plus it was delivered with a superb sense of musicianship and communication. Thank you for the gift!"
Eugene Uman, Artistic and Educational Director, Vermont Jazz Center, April 4, 2008,

"You guys' music is still reverberating here in Brandon. Many thanks. It was a smash. What brilliant musicians and music."
Fran Bull, Gallery In the Field, Brandon, VT, April 4, 2008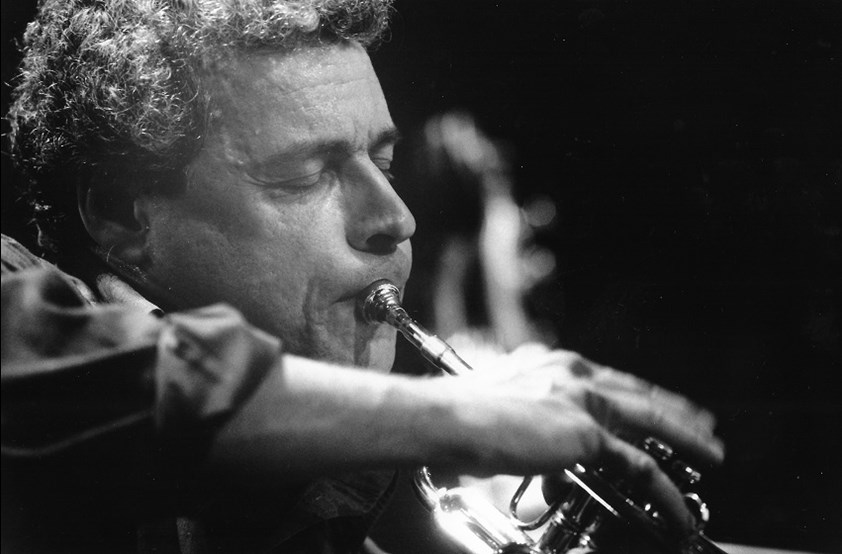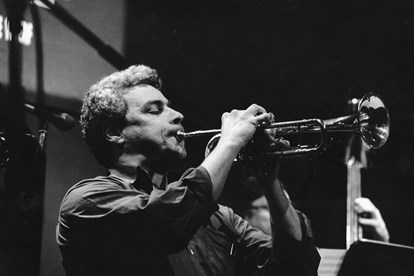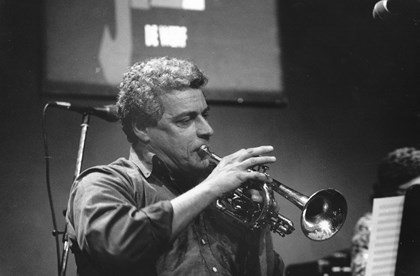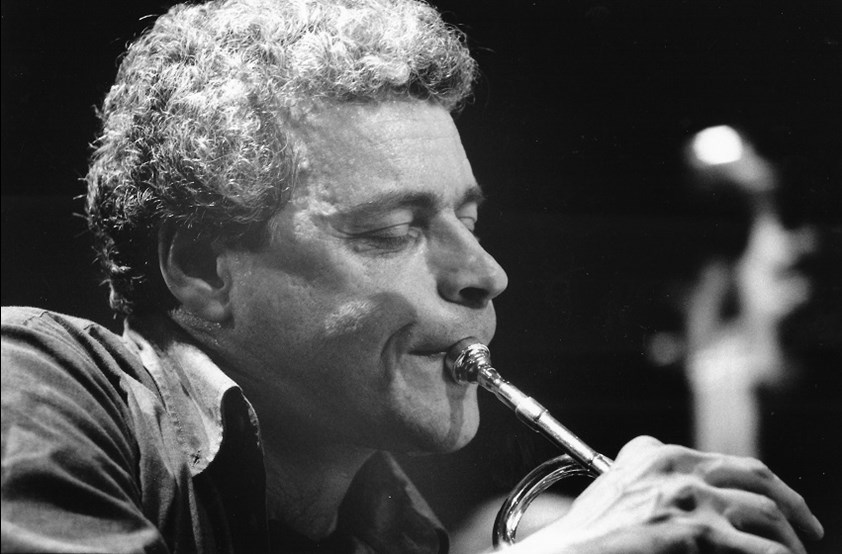 Herb Robertson © Jan Vernieuwe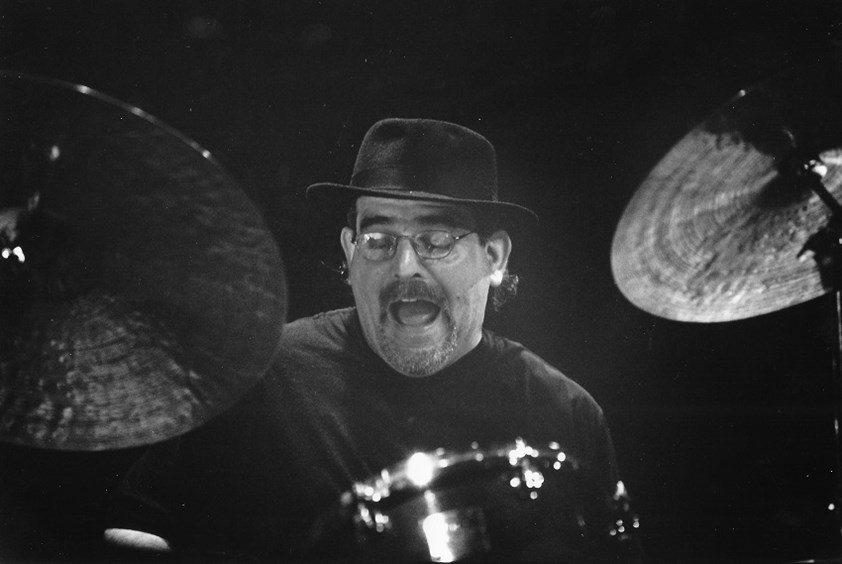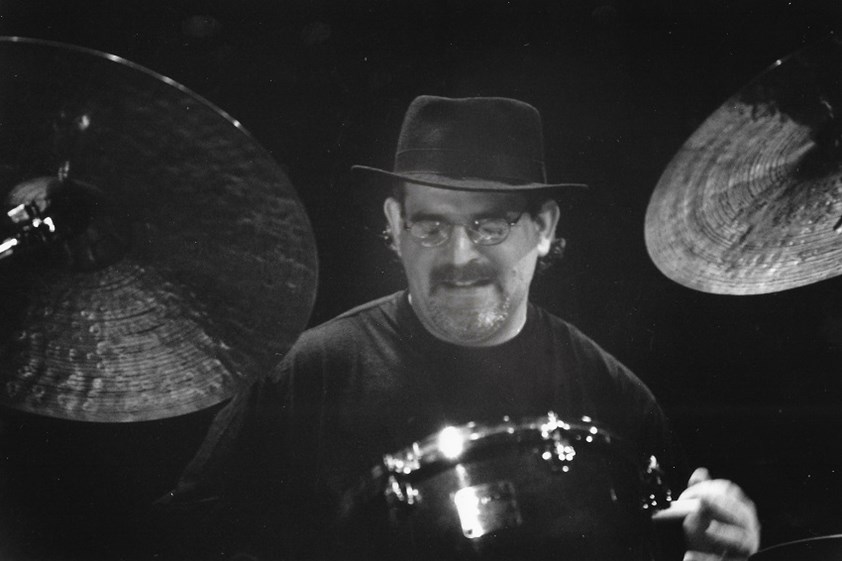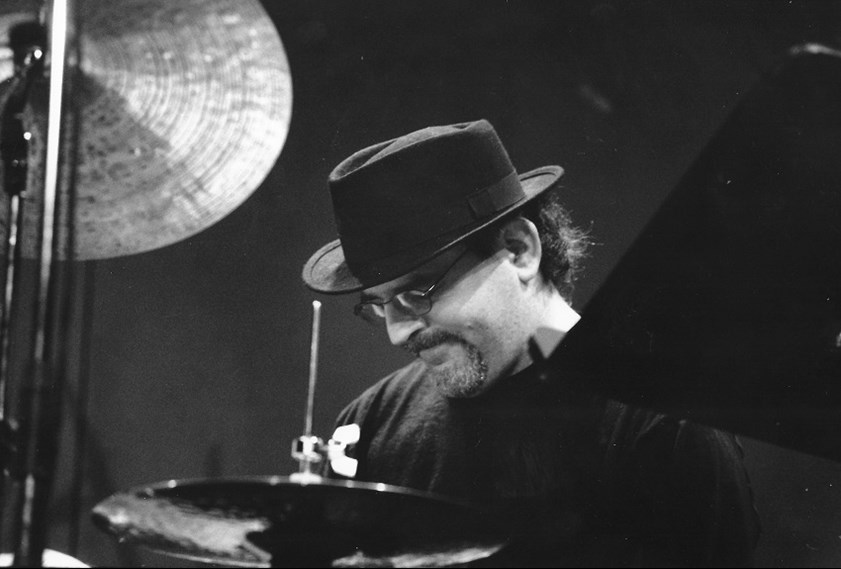 Harvey Sorgen © Jan Vernieuwe
#2: September 24th, 25th & 26th

In September we organized the Fall edition of our festival. In Brugge and Liège the Steve Potts Quartet and the Duo Pedro Soler/Renaud Garcia-Fons were performing.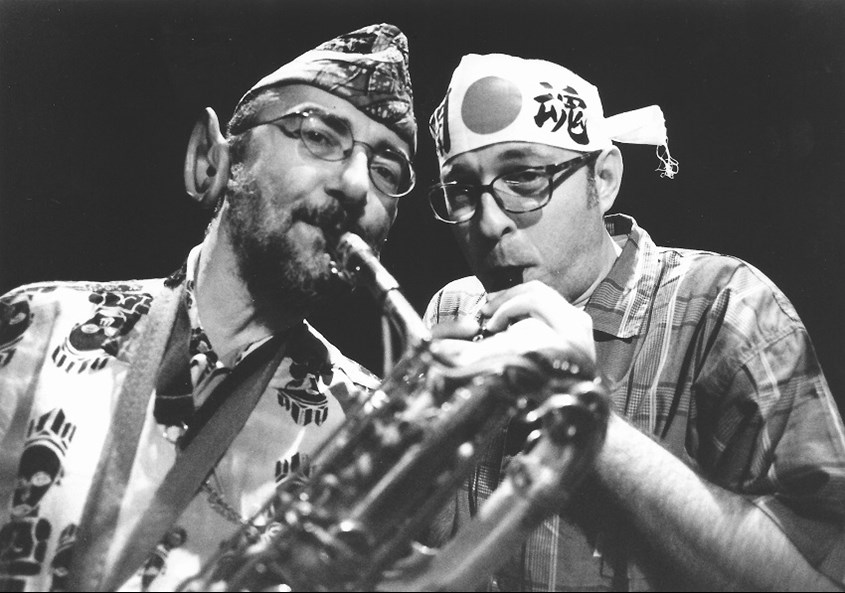 Duo Carlo Actis Dato & Enzo Rocco © Antonin Siragusa
In Berchem (Antwerpen) the Duo Carlo Actis Dato/Enzo Rocco opened the evening.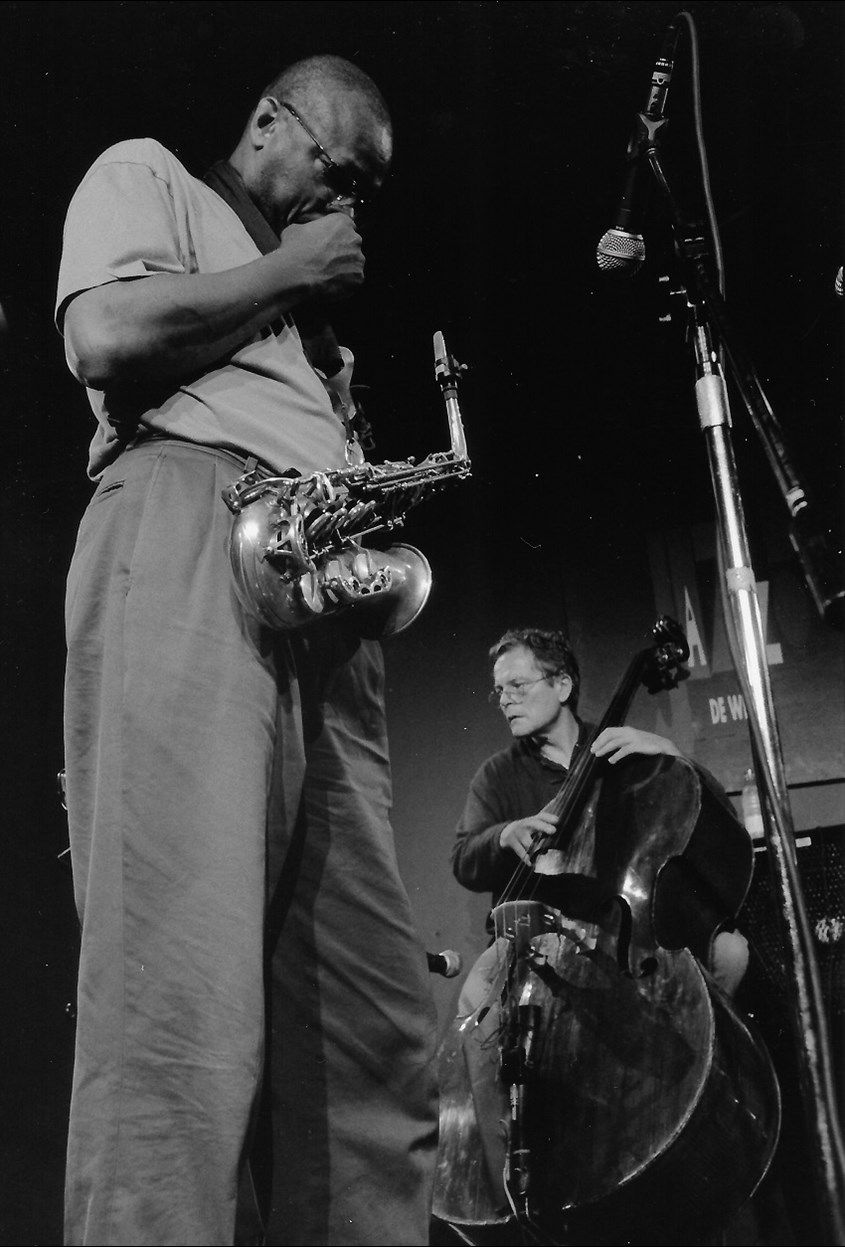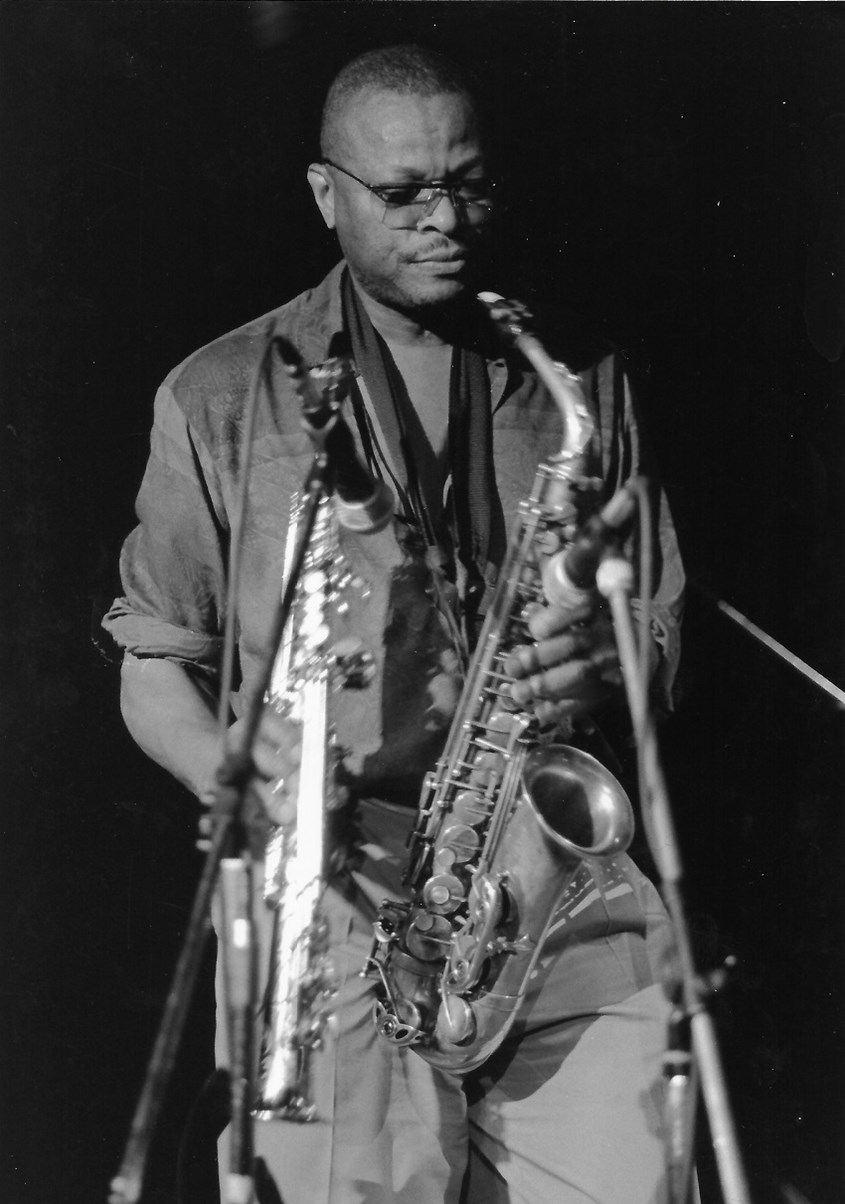 © Jacky Lepage
Born January 21 1943 in Columbus, Ohio, Steve Potts comes from a musical family. At a very early age, he was fascinated by the saxophone after having heard his cousin, Buddy Tate, play sax in Count Basie's orchestra. While simultaneously studying architecture in Los Angeles, he also studied music with Charles Lloyd. But he dedicated himself to music after that by moving to New York to study with Eric Dolphy. He became friends with Ron Carter and frequented Coltrane, Tony Williams, Jimmy Garrison, Herbie Hancock, Chick Corea, Larry Coryell and Wayne Shorter. He played with Roy Ayers, Richard Davis, Joe Henderson, Reggie Workman and Chico Hamilton, the latter of whom he worked with for four years.
In 1970, leaving behind his New York life, Steve left to launch himself in Europe. He landed in Paris, and immediately started working with Brigitte Fontaine and performing with Dexter Gordon, Johnny Griffin, Mal Waldron, Ben Webster and Hal Singer with whom he enjoys a continuing musical and personal relationship ... not to mention the Art Ensemble of Chicago and other American and French groups.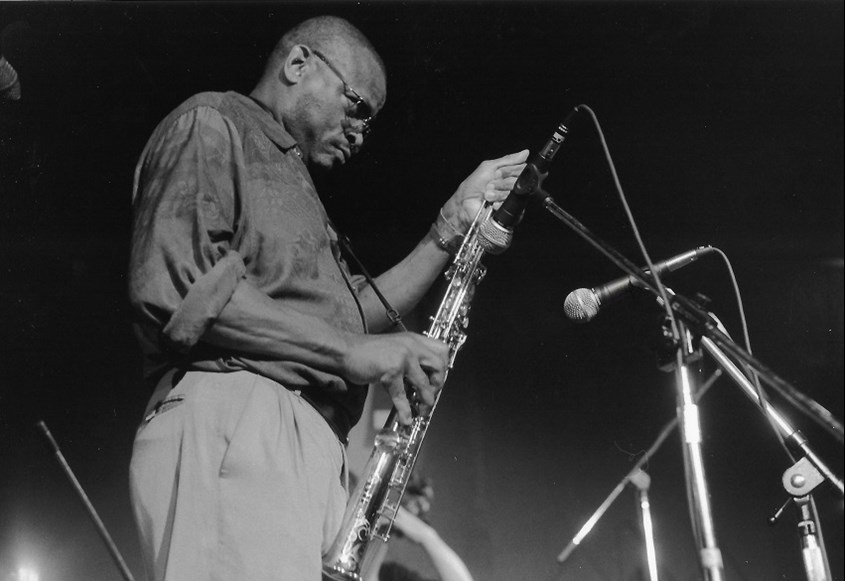 © Jacky Lepage

He formed his own group in 1973 with Christian Escoudé, Boulou Ferré, Oliver Johnson and Gus Nemeth. He also met Steve Lacy at this time. They traveled the world performing together for over 23 years and recorded over 25 albums. This did not prevent Steve Potts from leading other projects such as accompanying Jessye Norman in 1982, or working with the African group Ghetto Blaster in 1986, or composing film music. He created a new group in 1990 and recorded the CD " Pearl " with Richard Galliano, Jean-Jacques Avenel and Bertrand Renaudin. As eclectic as ever he also recorded with Imaran a group of Touareg musicians and in 2000 released "Wet Spot" with a new quartet consisting of Michael Felberbaum, Stéphane Persiani, Richard Portier.
Also about this time, Potts started a very rich period performing regularly at the Sept Lézards club, where over a period of eight years it was possible fo invite more than 70 musicians such as Alain Jean-Marie, John Betsch, François Ripoche, François Théberge, Stéphane Belmondo, Médéric Collignon, Stéphane Guillaume, Olivier Ker Orio, Jérôme Rateau, Morena Fattorini, Romain Clerc-Renaud, to play with his three regular groups: Stevie and the Boogah Band (George-Edouard Nouel, Stéphane Persiani, Jean-Claude Montredon), the Institute of Advanced Harmony (Michael Felberbaum, Michel Edelin, Thomas Savy, Stephen Kerecki, Richard Portier) and Steve Potts and Family (Michel Edelin, Sophia Domancich, Jean-Jacques Avenel, Simon Goubert).
At the same time, Steve Potts started an improvization workshop, the Menilmontant Street Band which he participates at the Ateliers du Chaudron.
For the present, Potts is contemplating his next recording project, continuing to tour a bit, especially in Italy where he performs with pianist Gianni Lenoci and musicians around him, and preparing a surprise project which will be announced in the near future.

Steve was joined by guitarist Michael Felberbaum and the classic Steve Lacy trio rhythm section, Jean-Jacques Avenel (b) and John Betsch (d).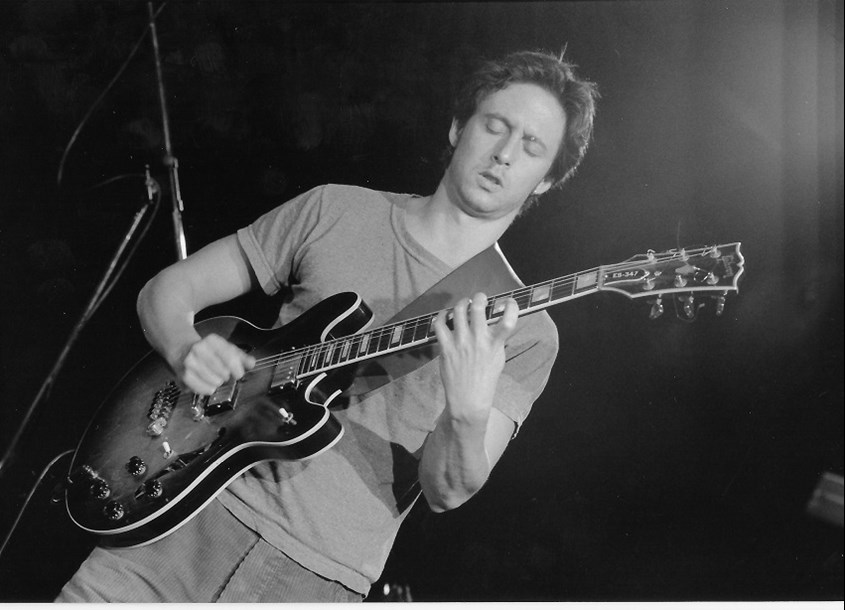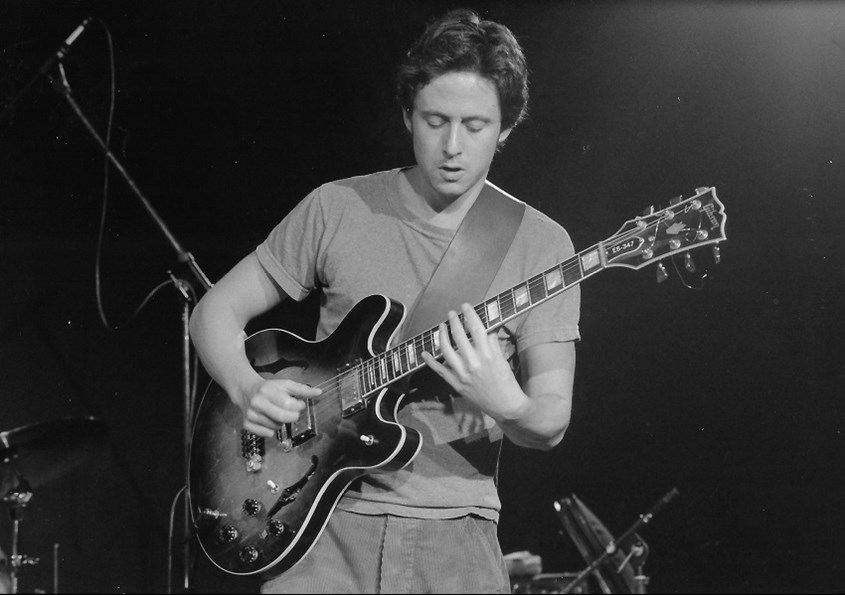 © Jacky Lepage

Since he moved to Paris in 1990, guitarist and composer Michael Felberbaum has been collaborating with numerous jazz musicians, contributing to decisive projects, the most recent including a duo with trombonist Daniel Casimir, « Ilium » with Pierre De Bethmann, the Toufic Farroukh Absolut Orkestra, Manu Dibango, Steve Lehman, Stéphane Persiani, Steve Potts, Sylvain Beuf, François Theberge, and also a trio with Emmanuel Bex and Aldo Romano. More recently he is back as a leader with his second album featuring Pierre De Bethmann, Darryl Hall and Karl Jannuska.

"...Michael Felberbaum asserts himself as a tremendous composer." - Jean-Baptiste Olivier - Le Monde de la Musique

"... the guitar's radiant wisdom and melodic depth at times evoke Bill Frisell..." - Jérôme Plasseraud - Jazz Magazine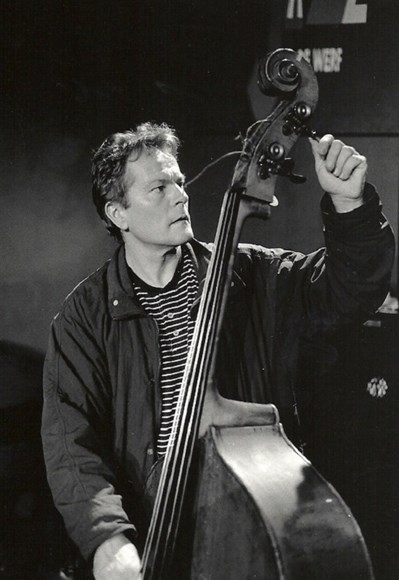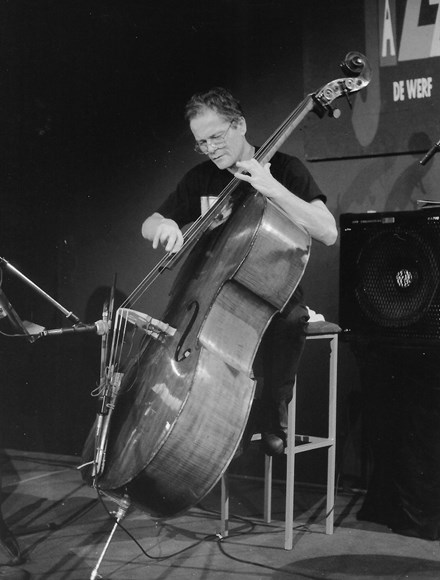 Jean-Jacques Avenel © Jacky Lepage
Jean-Jacques Avenel is a self taught double bass player. He started his professional career in 1972 with singer Colette Magny and the American guitarist Steve Waring. He frequented the free jazz movement of Paris and worked with Noah Howard, the Frank Wright Quartet and pianist François Tusques' Intercommunal Free Dance Music Orchestra. End '70 he played and recorded with saxophonist Daunik Lazro and since 1981, when he replaced Kent Carter in the Steve Lacy Quintet, he recorded over 20 CD's with Lacy. In the eighties he also performed and recorded with Butch Morris, Tristan Honsinger and in the nineties with David Murray. He also worked with Don Cherry, Richard Galliano, George Lewis, Pharoah Sanders, Archie Shepp, Dino Saluzzi, and Paul Bley. Avenel is also a skilled kora player.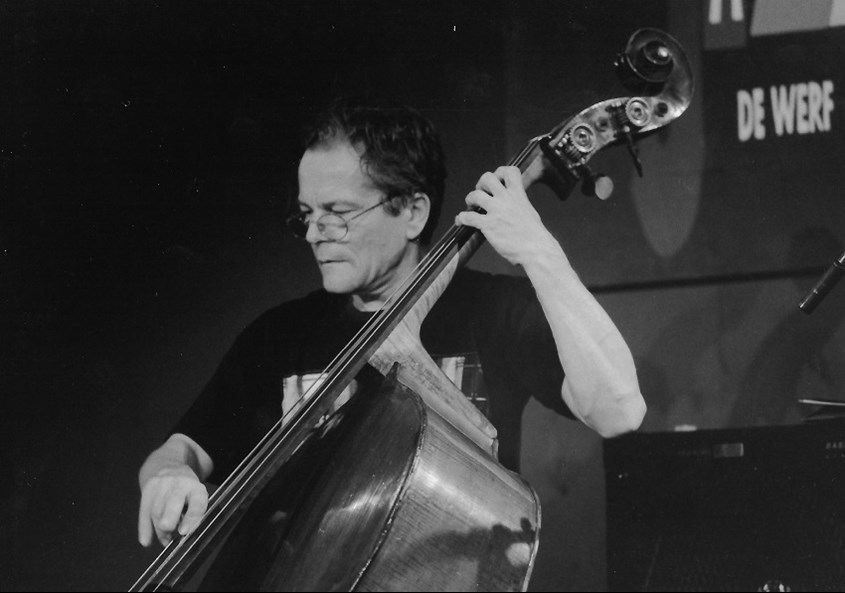 © Jacky Lepage

John Betsch was born in Jacksonville, Florida in 1945 and presently lives in Paris. His mother was a church organist and pianist and his sister a dramatic soprano singer. John began playing drums at age nine and started playing professionally at 18 while a student at Fisk University. He continued his studies at the Berklee School of Music and the University of Massachusetts, Amherst under Max Roach and Archie Shepp; John also taught at U. Mass. and in state prison education programs.
Moving to New York City in '75, he played drums with the Ted Daniel Big Band, Jeanne Lee, Abbey Lincoln, Dewey Redman , and others. John has toured extensively in the U.S., Canada, Europe, and Africa, notably with Max Roach (Newport, '74), Kalaparush Maurice McIntyre ('76), Abdullah Ibrahim and Dewey Redman ('79), and Steve Lacy (for many years, up until Mr. Lacy's passing).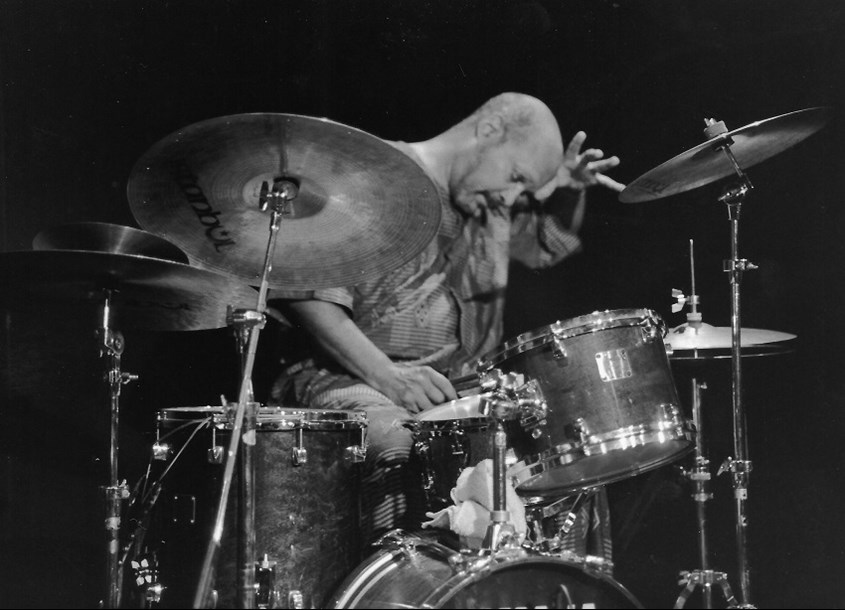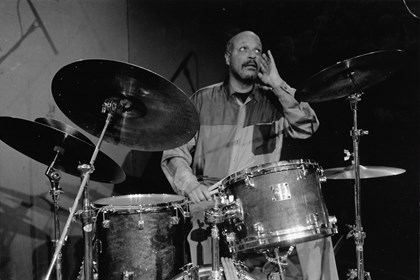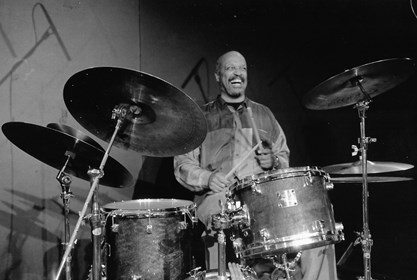 John Betsch © Jacky Lepage
A partial John Betsch discography includes more than 3O recordings with Billy Bang, the John Betsch Society, Dollar Brand (Abdullah Ibrahim), Marilyn Crispell, Steve Lacy, Kalaparush Maurice McIntyre, Jim Pepper, Archie Shepp, Henry Threadgill, Mal Waldron, and others, on labels including Chiaroscuro, Enja, RCA Novus, Sackville, Soul Note, Strata East, and Verve.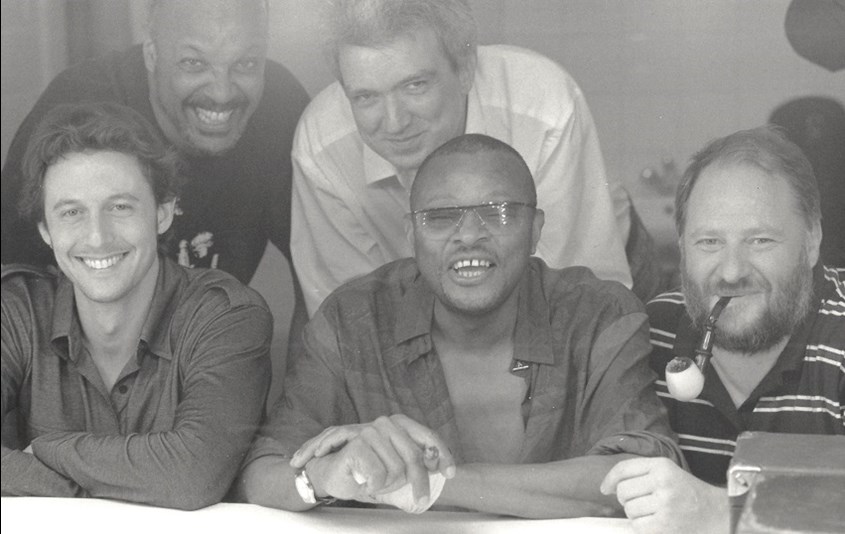 Looking in the mirror © Jacky Lepage:
Michael Felberbaum, John Betsch, Emile Clemens, Steve Potts and Jos Demol


We first met Pedro Soler at the Jazz'halo Music Days 1998 when he participated in Beñat Achiary's "Poète à New York"-ensemble. We asked him to come back with a duo of his choice. He invited 'the Paganini of the double bass', Renaud Garcia-Fons to play the music from their CD "Suite Andalouse" (Al Sur). They gave us three heavenly concerts.
For more information about Pedro Soler you can consult this link.
Here's more about Renaud Garcia-Fons: http://www.renaudgarciafons.com.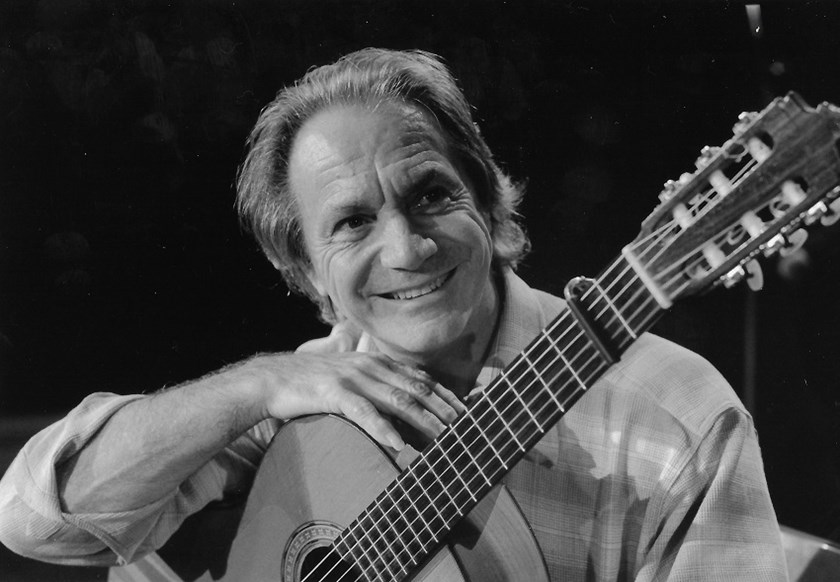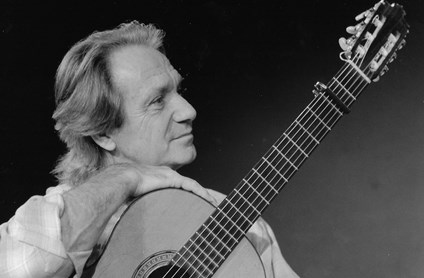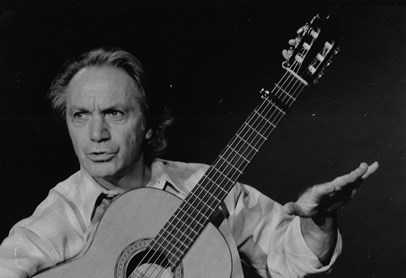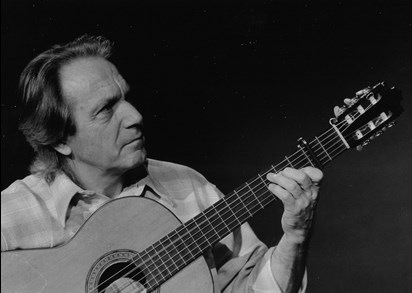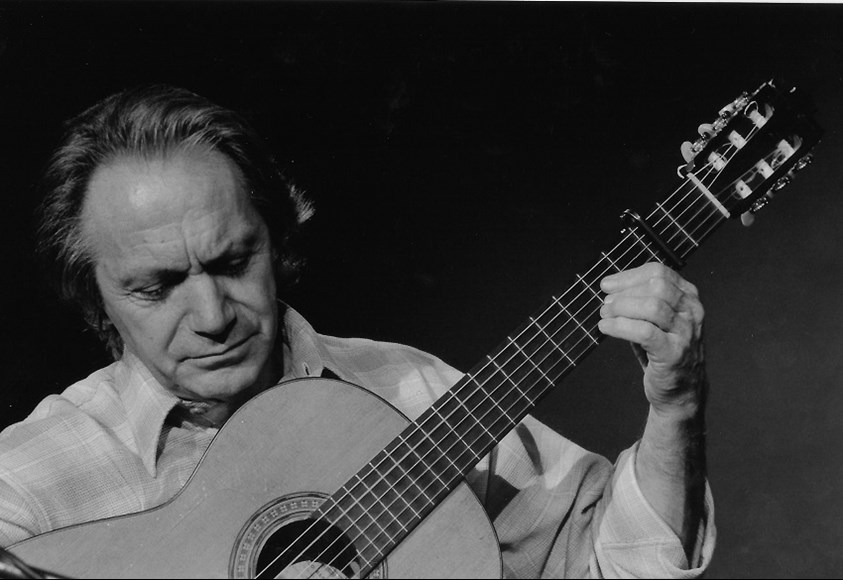 © Jacky Lepage
Arguably the most amazing double bass player in the world, Renaud Garcia-Fons is known for his overwhelming virtuosity, his Mediterranean melodic sense and his viola-like con-arco sound. A former private student of the legendary Syrian bassist François Rabbath, Garcia-Fons is not only influenced by jazz and classical music, but also by flamenco, new musette, tango, Celtic, Andalusian, African, Latin American, Arabic and Indian traditions. His unique artistry led to many exciting and successful collaborations with other open-minded players like Rabih Abou-Khalil, Michael Riessler, Dhafer Youssef, Nguyên Lê, Gérard Marais, Pedro Soler, Cheb Mami and Michel Godard.
Garcia-Fons was born in the Paris region in 1962 into an artistic household. Yet being of Catalonian origin, Garcia-Fons' affinity for Spanish and oriental culture is understandable. In the early 80s he enrolled at the Conservatoire de la Ville de Paris, where he studied with Jean-Pierre Logerrot. From 1987 to 1993 he was part of the unique French all-bass ensemble L'Orchestre de Contrebasses before starting his journey as a soloist that led to his instrument's full emancipation. "I have developed a new language for it," says Garcia-Fons, "so it appears to be a Spanish guitar by imitating the rasgueado in one moment, then sounding like the guembri, the bass instrument of the Berbers, or again it can sing like a viola or a Persian violin."

Andy Kaufman of U.S magazine "Rhythm" wrote: "Repeated listening only affirms that Garcia-Fons' command of orchestration, expert musical penmanship and profound skills as an instrumentalist place him in an echelon truly deserving of the accolade 'genius.'"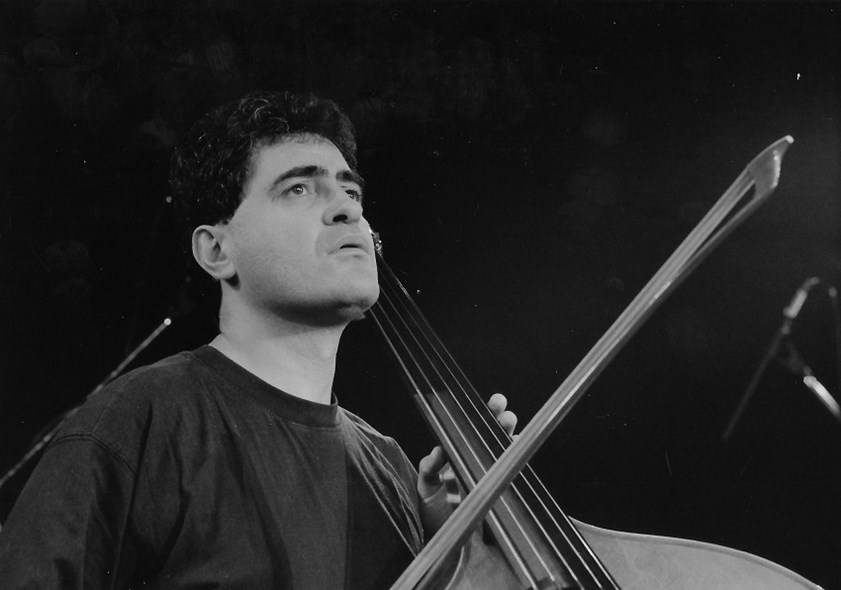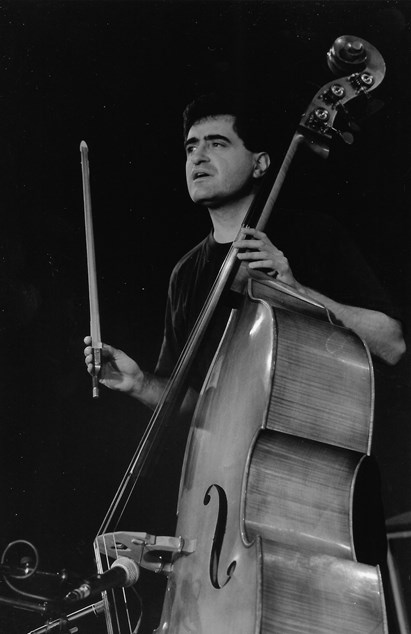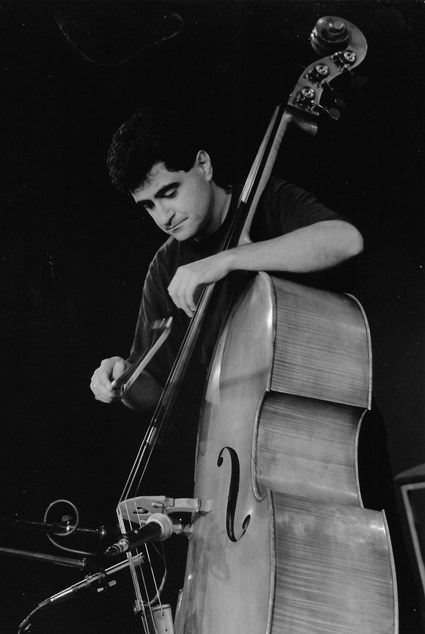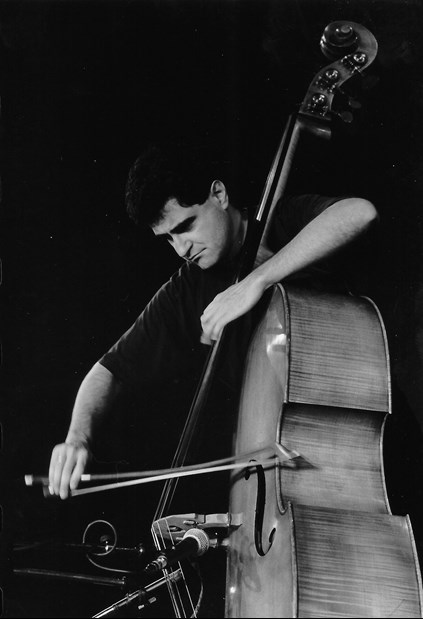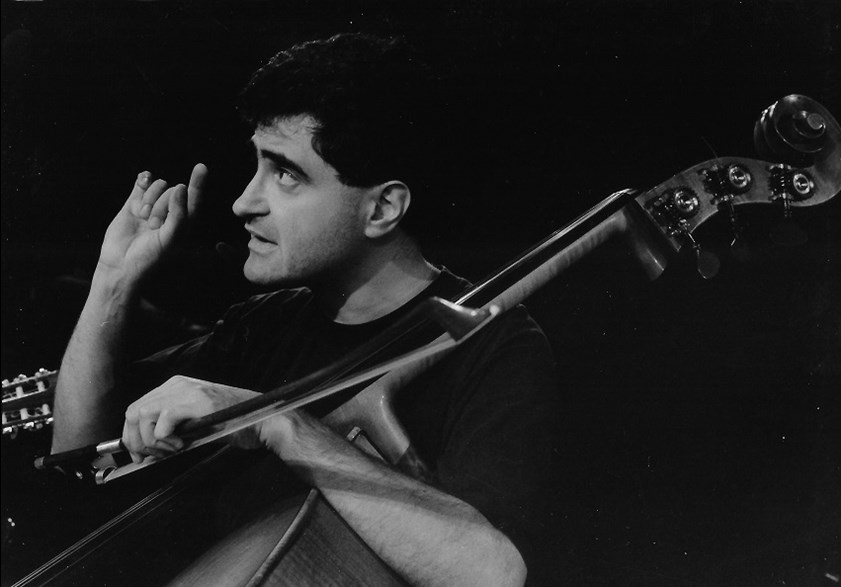 © Jacky Lepage
Jazz'halo Music Days 2000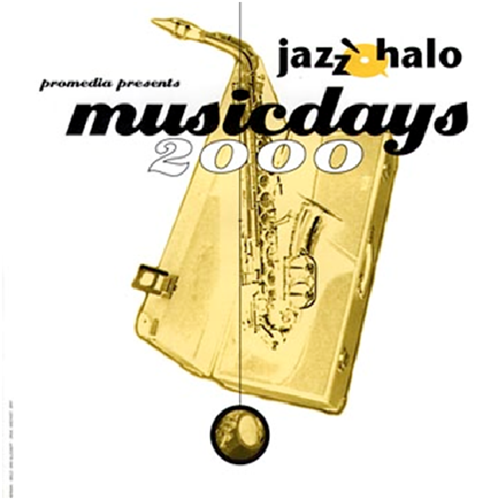 In 1991 we first invited guitarist Gilbert Isbin with his Hungarian friends Sándor Szabó (g) and Balázs Major (udu clay drums) with whom he recorded the album "The Clear Perception of Provenance Within" in 1987. Since then we became friends and released many of his projects on our label. In 1999 the Traurige Tropen label released the CD "Gilbert Isbin Plays Nick Drake", an amazing album.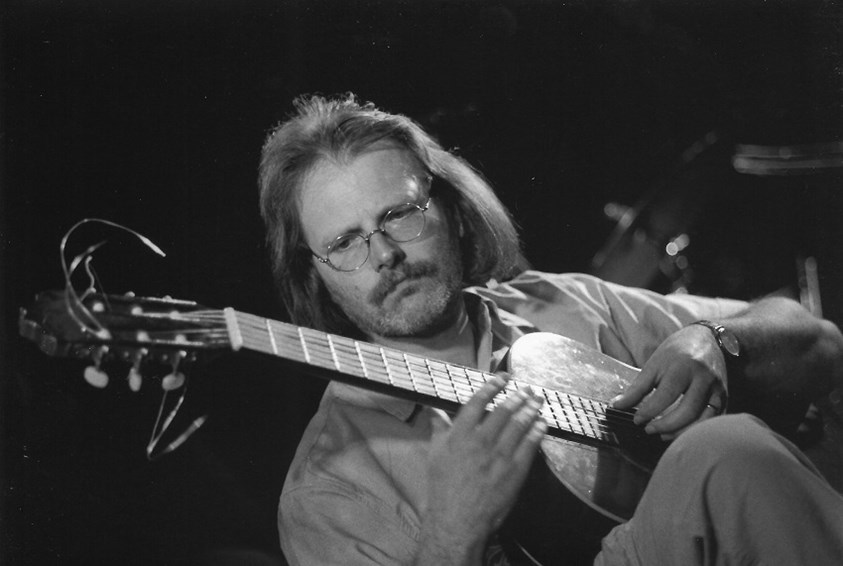 Gilbert Isbin © Jacky Lepage

Guitarist Gilbert Isbin describes his approach: "When I first heard the music of Nick Drake I was touched, as a guitar player and composer, by his exceptional talent for writing simple yet haunting melodies, accompanied by rich, colorful chord voicings full of clusters, and his technically impressive fingerstyle technique. A Nick Drake melody never starts at the beat that you would expect. Mostly he begins and ends somewhere in the middle of the measure, which gives it a floating, ethereal quality, but which makes it very difficult to write down rhythmically correctly. Moreover, he uses highly unusual tunings. This extensive use of alternate tunings made it possible for him to create a unique chord palette full of soft dissonances. And then there were these unorthodox, brilliantly executed picking patterns -- Nick was certainly an original artist. As it has nevertheless never been my aim to copy Nick, I arranged some of his compositions in my own stylistic approach. Hope you'll love them."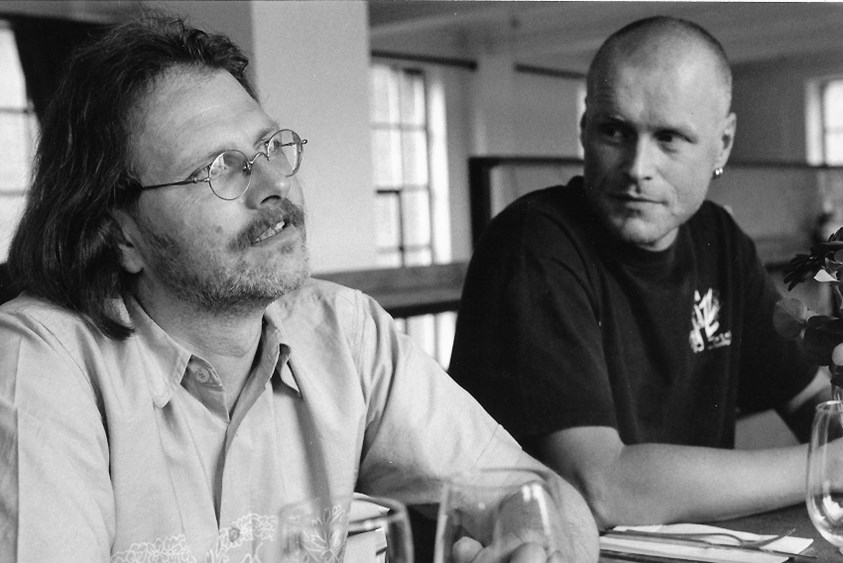 Gilbert Isbin & Gebhard Ullmann, Liège © Jacky Lepage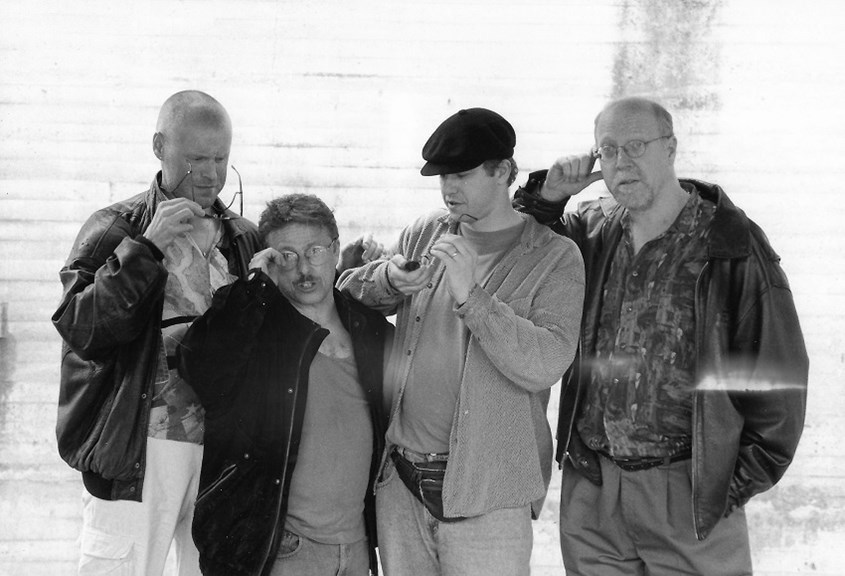 Conference Call © Jacky Lepage


After this great appetizer we programmed the first version of Conference Call. It's the band with Gebhard Ullmann (ts, b cl), Michael Jefry Stevens (p), Joe Fonda (b) and the amazing drummer Matt Wilson. They played in Liège and Brugge. Since then they had several drummers: Han Bennink, Gerry Hemingway, George Schuller and Dieter Ulrich.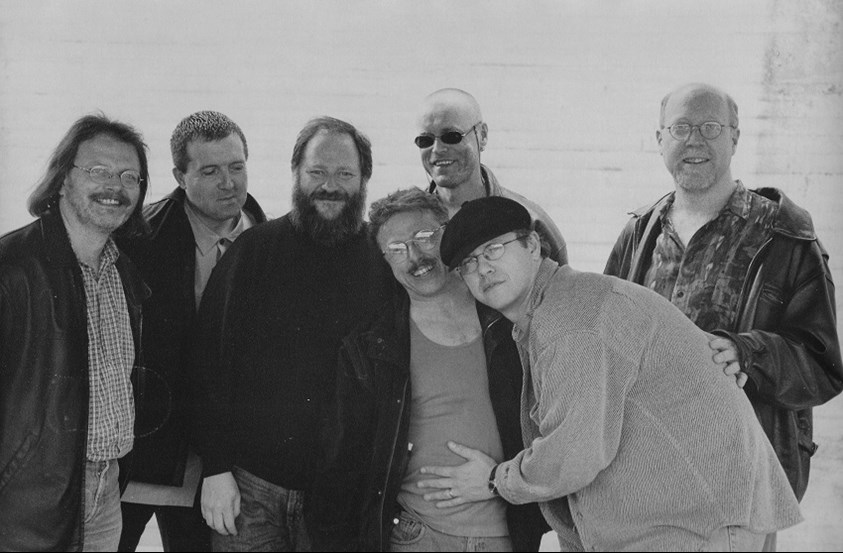 Gilbert Isbin, Philippe Schoonbrood, Jos Demol, Joe Fonda,
Gebhard Ulmann, Matt Wilson and Michael Jefry Stevens © Jacky Lepage

Thom Jurek reviewed their CD "Final Answer" (Soul Note) for www.allmusic.com:
"Conference Call is a quartet made up of reed and woodwind master Gebhard Ullmann, bassist Joe Fonda, the criminally under-recorded pianist Michael Jefry Stevens, and drummer Matt Wilson.
This date is not a session by a group of musicians who've adopted a moniker, but a full-on working band who rehearses, composes, and plays together as often as it can since each member is a working soloist in his own right. The prime directive here is, not unexpectedly, Ullmann's intense and fluid sense of off-kilter lyricism. His seamless approach to the horn and staggered sense of open harmonics and tonal structuralism are ever-present. What is surprising is his pairing with Stevens on the front line. Stevens is a knotty pianist whose influences are Cecil Taylor, Bill Evans, Andrew Hill, McCoy Tyner and Horace Silver. His stunning architectural renderings of vast, previously unshaped chords; minor shadings; and furious ostinato are tremendous solo gifts, but in this ensemble, they create a wide and deep floor for not only Ullmann as a soloist, but for the rhythm section as well. What's more, Stevens provides the necessary punch and clamor for the band to swing unencumbered by their considerably complex improvisational style, which is often slipped inside a scored section or bridge. A fine example is "Could This Be a Polka," an effortless series of off-minor piano phrases strung together by the bassline and loped into a melody by Ullmann's gorgeous restraint and willingness to turn the harmony inside out in an even exchange with the impressionistically beautiful melody. Elsewhere, the band's theme, written by Ullmann, features all of the band's intensity and tension in a furiously paced, yet wonderfully rendered melodic architecture of tonal inquiry and multi-scalar invention. But it is Stevens' shimmering balladry on "Liquid Cage" that brings all of the band's influences into play. There is the sense of silence and tension as compositional elements à la Morton Feldman, the notion of tonality itself as a construct of not only sonic dimension, but metaphysical space as well. The idea that rhythm can exist in a melody this intricate and subtle is revolutionary, but Fonda and Wilson carve out a space in inner space and inform and extend the improvisational structures that emanate from the heart of Stevens' gloriously restrained pianism. This is a remarkable record with a surprise at the end that will leave the listener wondering why this band isn't headlining festivals all over the world."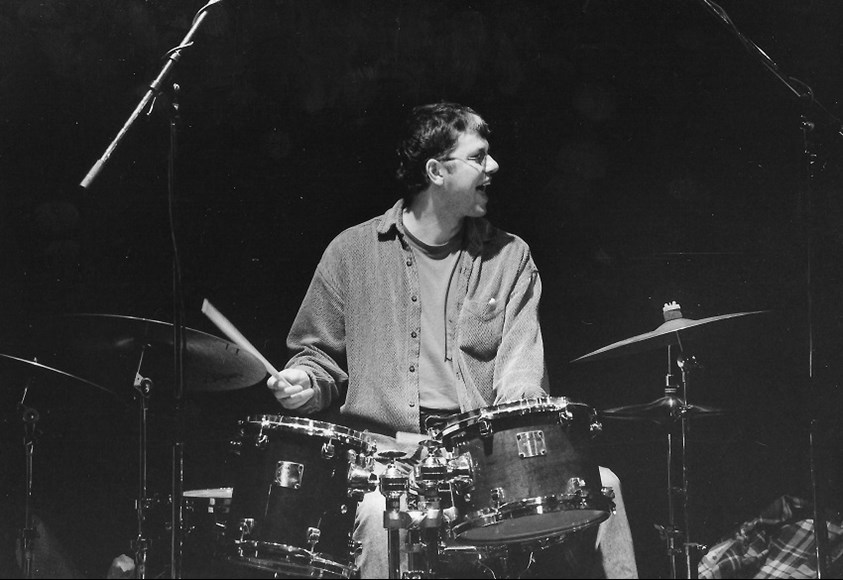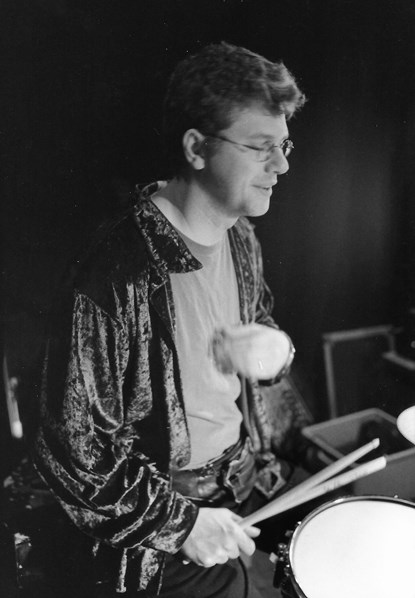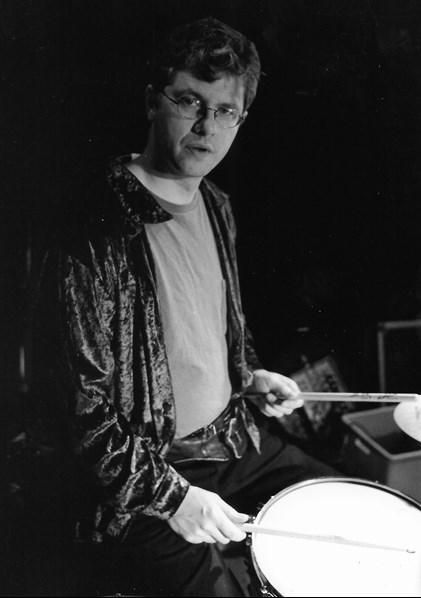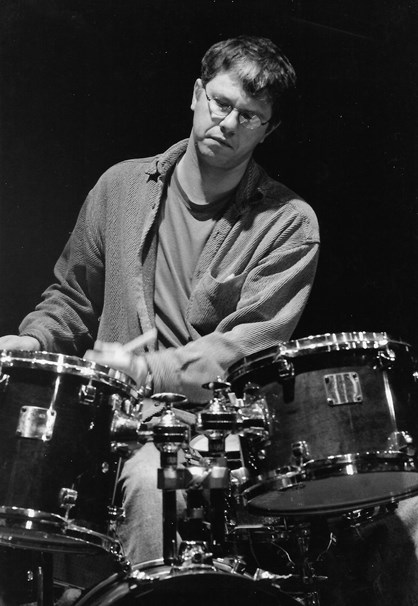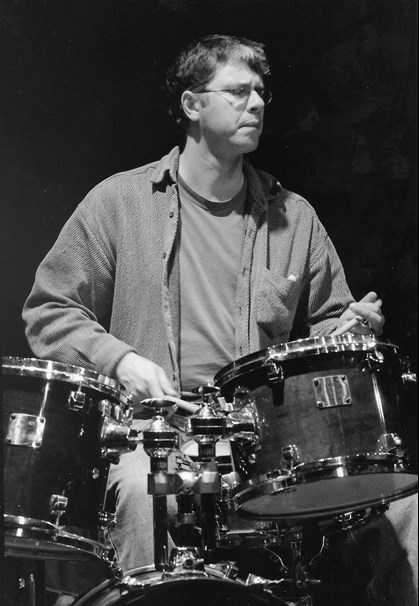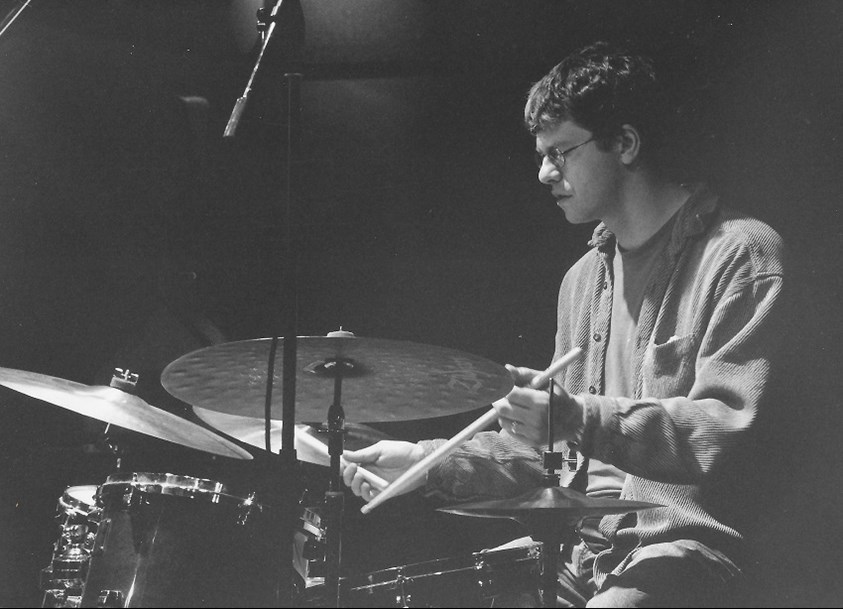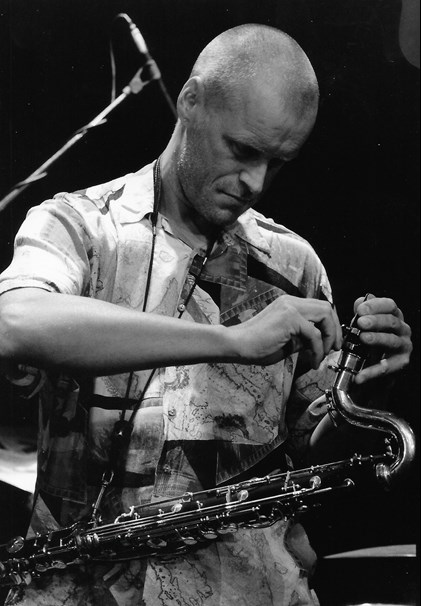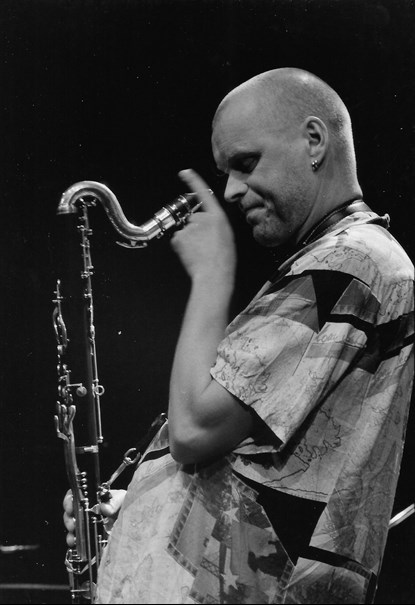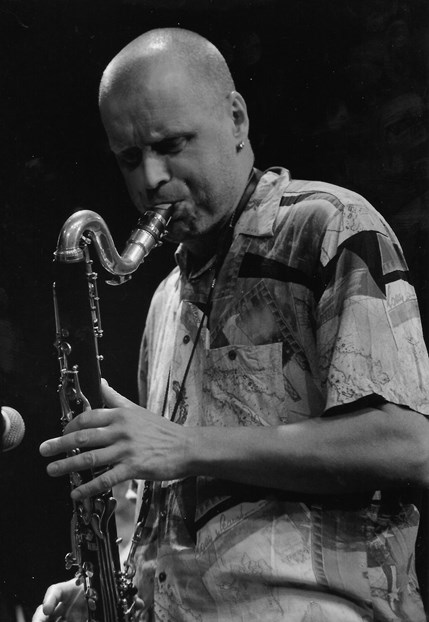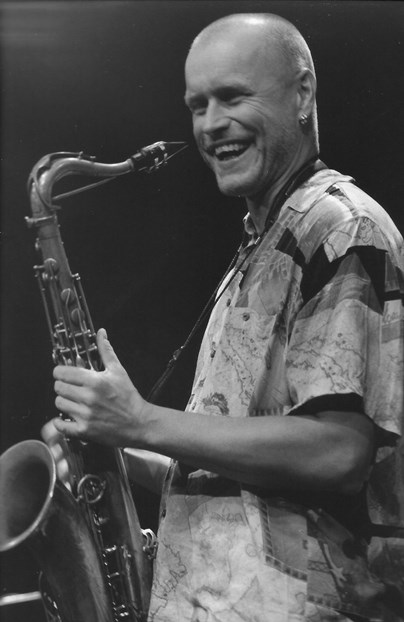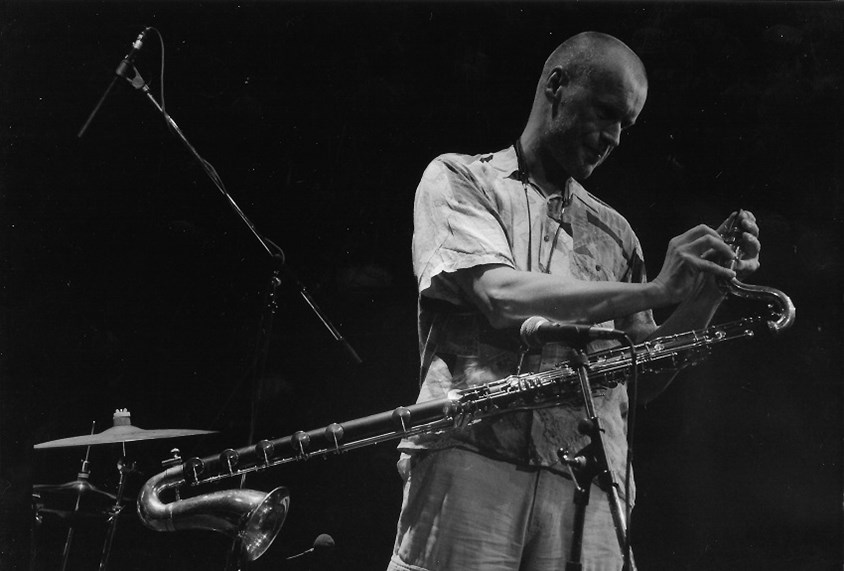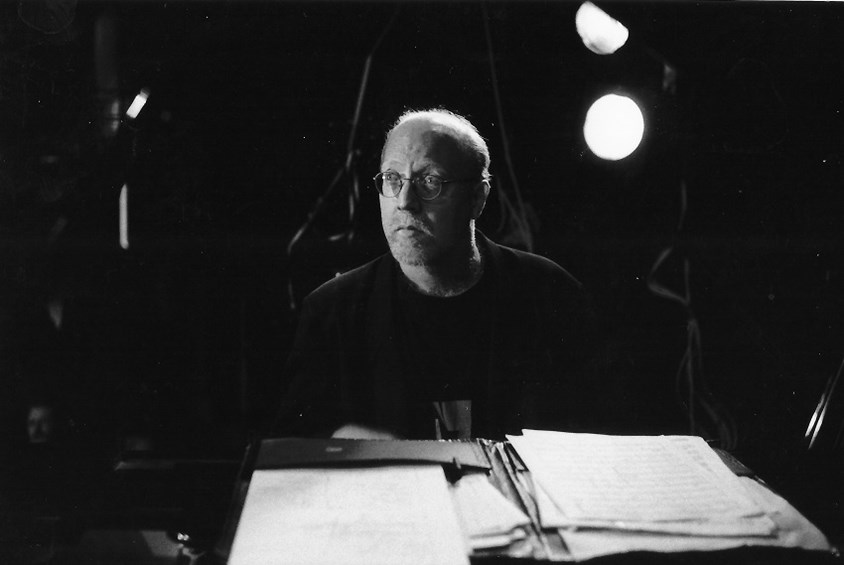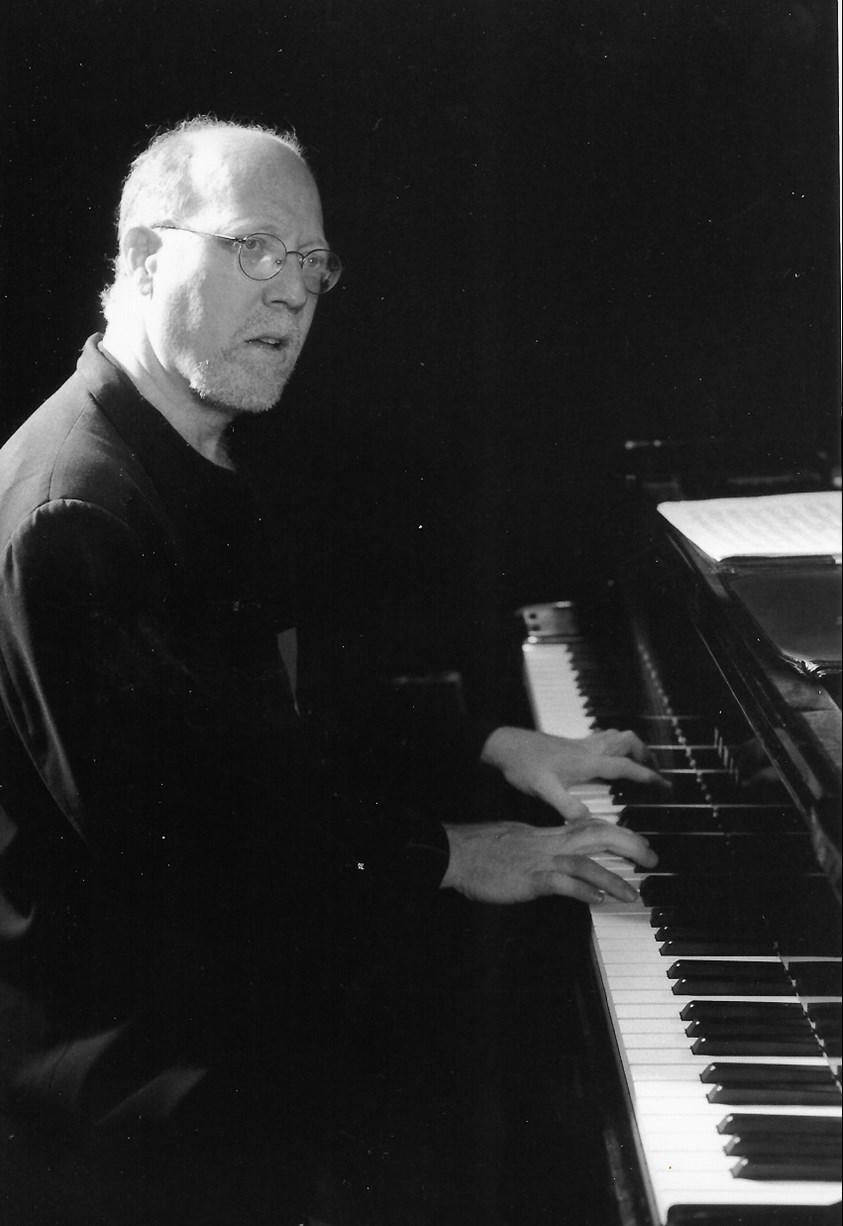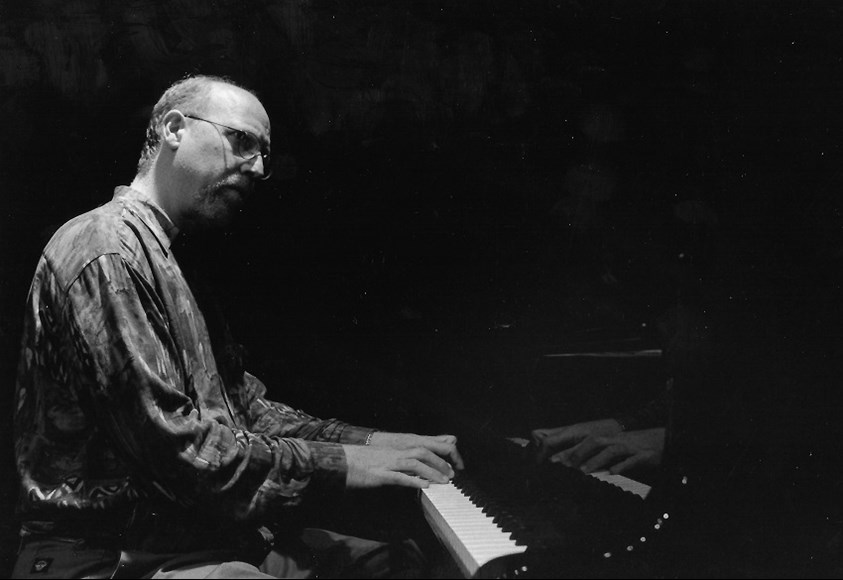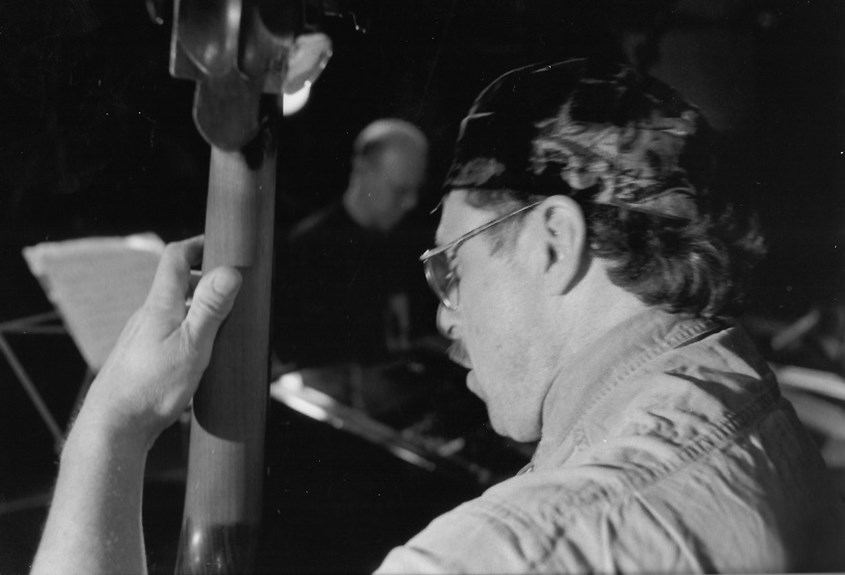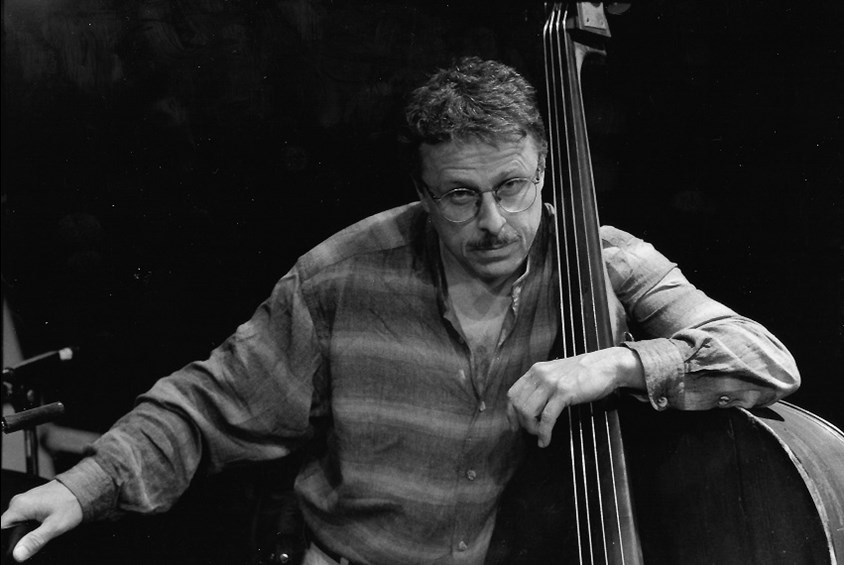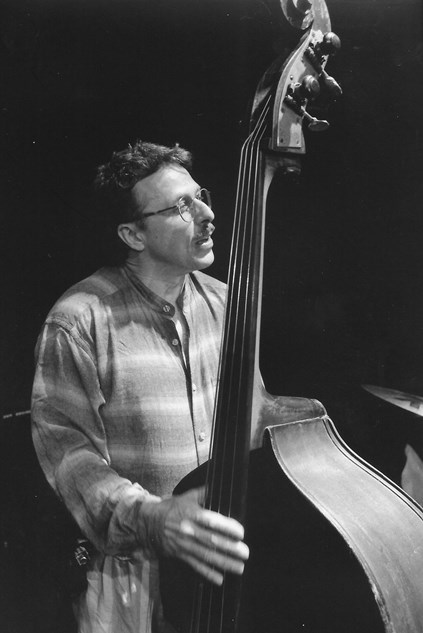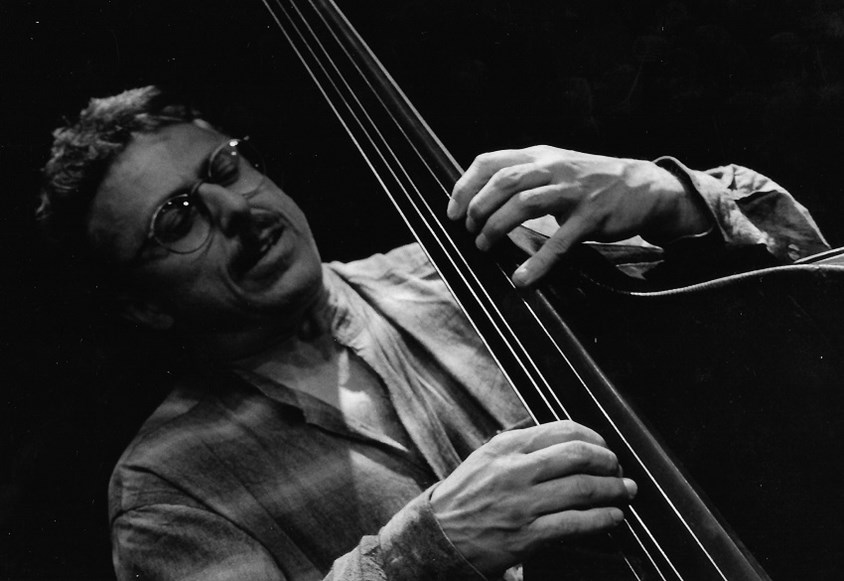 © Jacky Lepage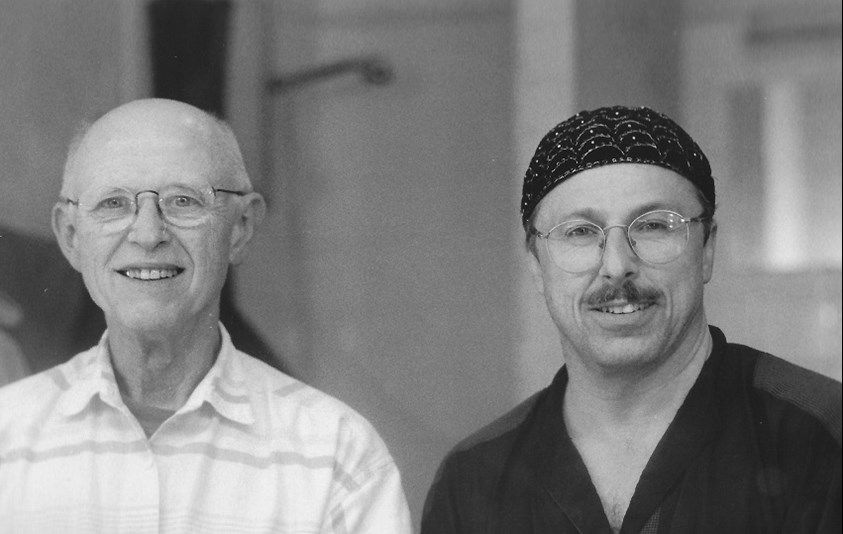 © Jacky Lepage

In Brugge the Trio Barre Phillips (b), Urs Leimgruber (saxophone) and Jacques Demierre (p) opened the evening with a remarkable set.
Evan Parker says that this group continues the tradition of the drummerless trio in improvised music and that, with Phillips present, the continuity extends all the way back to the legendary Jimmy Giuffre Trio. In fact, this trio's instrumentation of sax plus piano and bass mirrors that of the Giuffre, Paul Bley and Steve Swallow version that recorded Free Fall (Columbia, 1962)—not a bad point of comparison, although this trio is not as restrained or quiet as that Giuffre trio.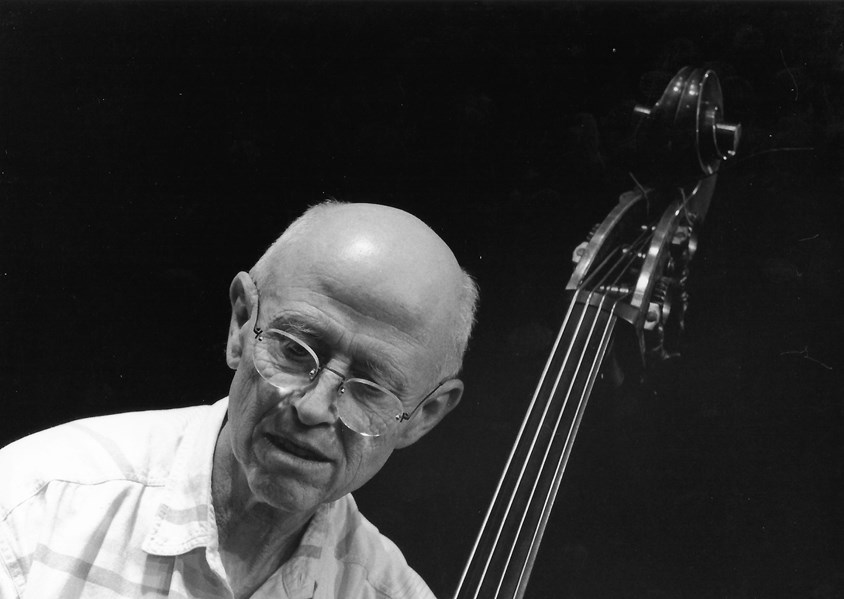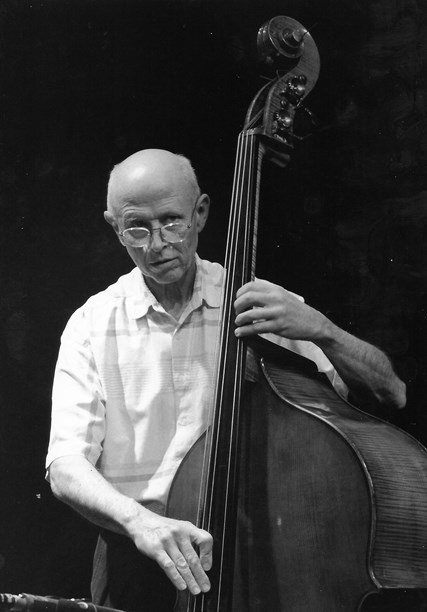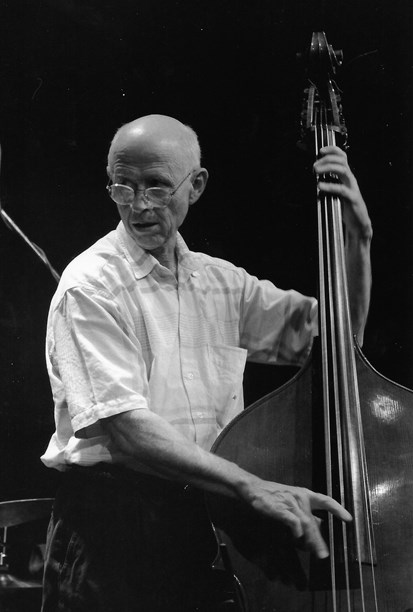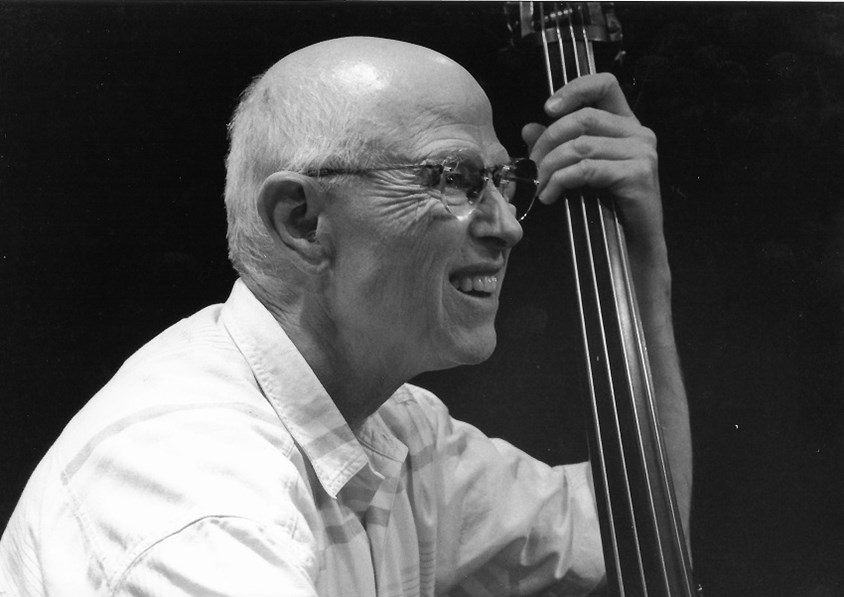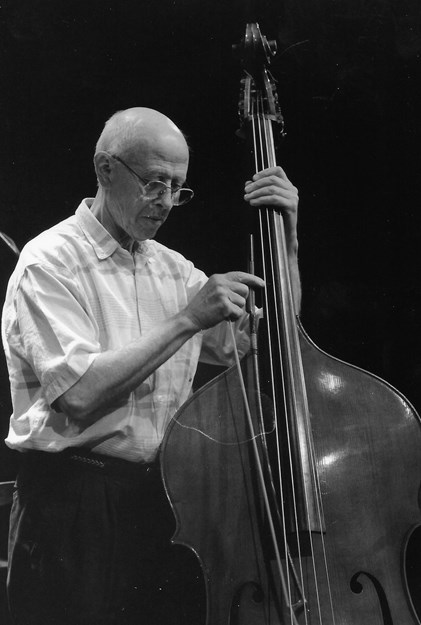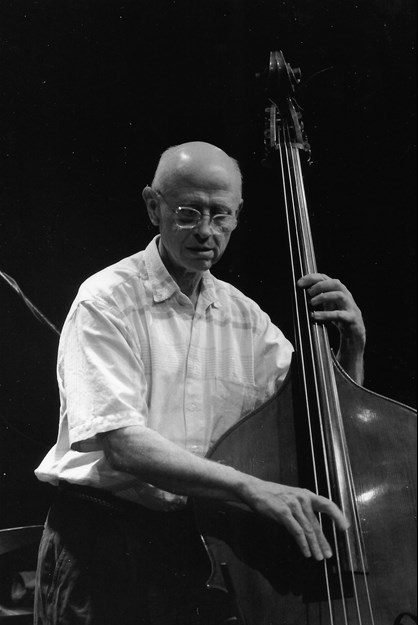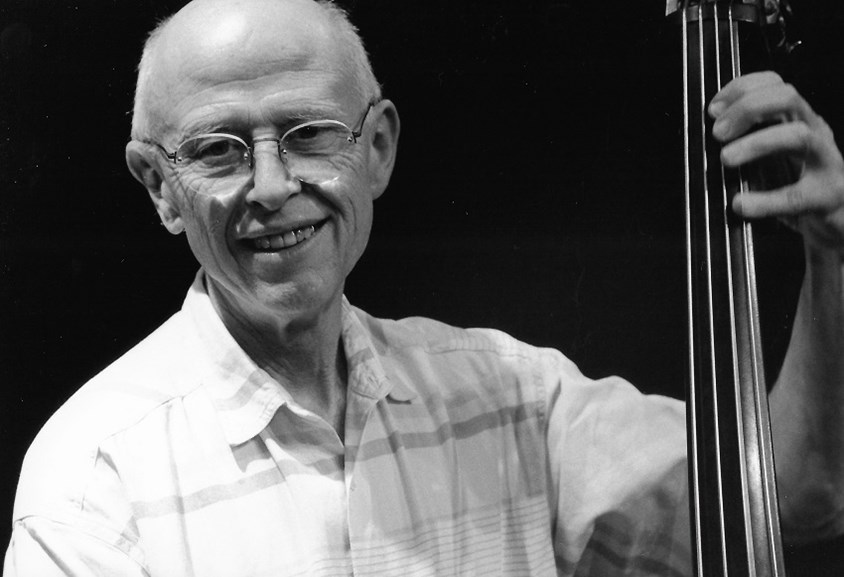 © Jacky Lepage

Leimgruber's sax is the main focus, and Demierre comes close to acting as a support player. But even when he is adding chords as coloration and punctuation, there is always a sense that he will burst into life, like a volcano erupting.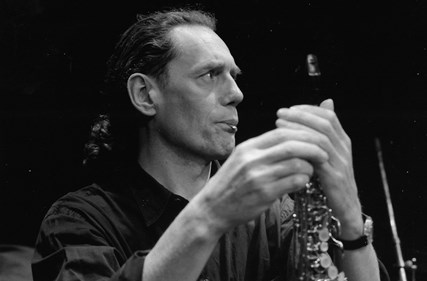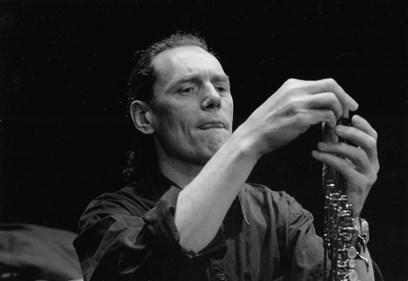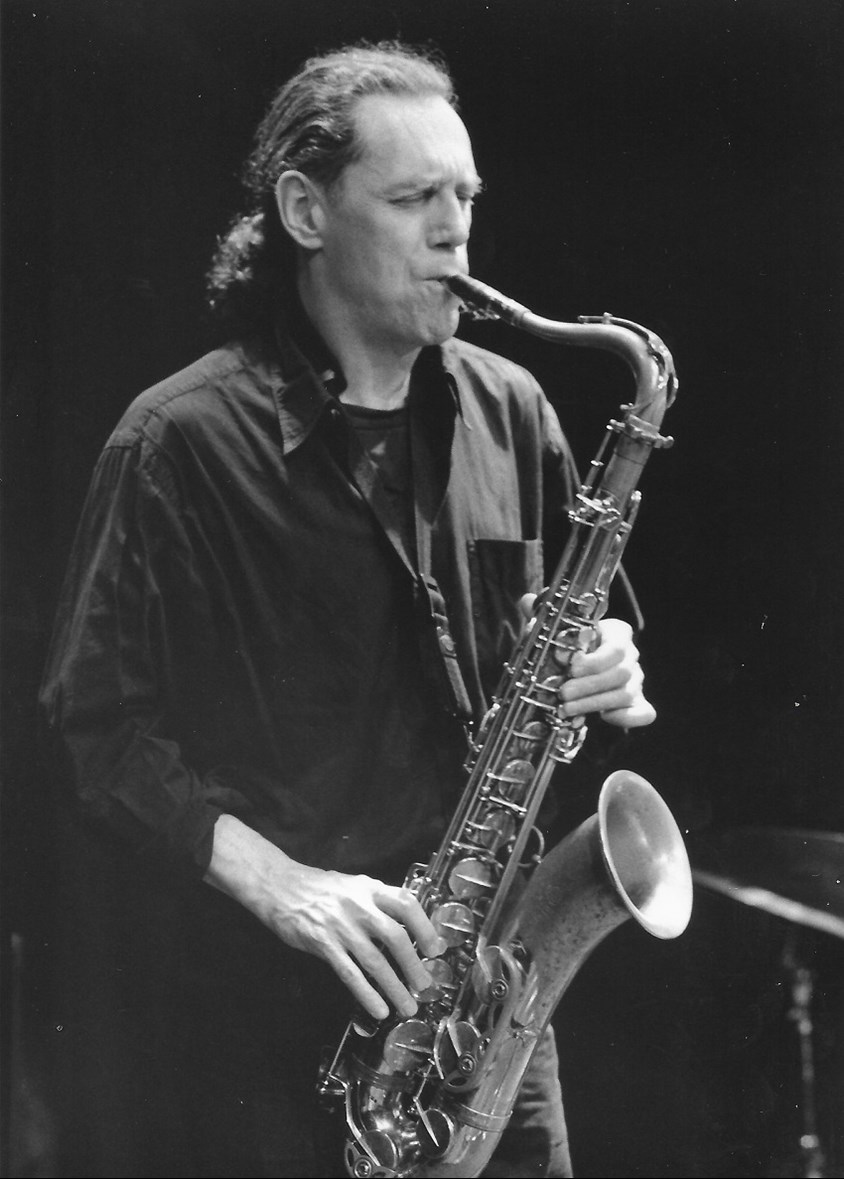 © Jacky Lepage

Peter Margasak writes in the Chicago reader (2001): "The notion that communal creation requires musicians to surrender their individual selves to the group for the good of the music is one you hear a lot in free-improv circles, but few combos put that ideal into practice like the European trio of reedist Urs Leimgruber, pianist Jacques Demierre, and bassist Barre Phillips. The group's sole album, the superb Wing Vane (Victo, 2001), sounds like a thoroughly collective endeavor--the empathy between these musicians is astounding, as evidenced by the way Leimgruber's squeaks fill in the spaces between the thwacks of Phillips's bass and Demierre's piano phrases. Whether crawling at a glacial pace, scrabbling about hectically, or indulging in one of their rare noise eruptions, these three seem able to consistently move as one even when they don't know where they're going. These vets occasionally employ some of free improv's trademark sounds and techniques--the reedist's overblowing, the bassist's scraping, the pianist's inside-the-instrument tinkering--but in surprising ways. I can never anticipate when a crescendo will suddenly drop away to silence, or when an assortment of seemingly unrelated puffs and whinnies will coalesce into a burst of richly textured color, but once they do I can't imagine things having turned out any other way."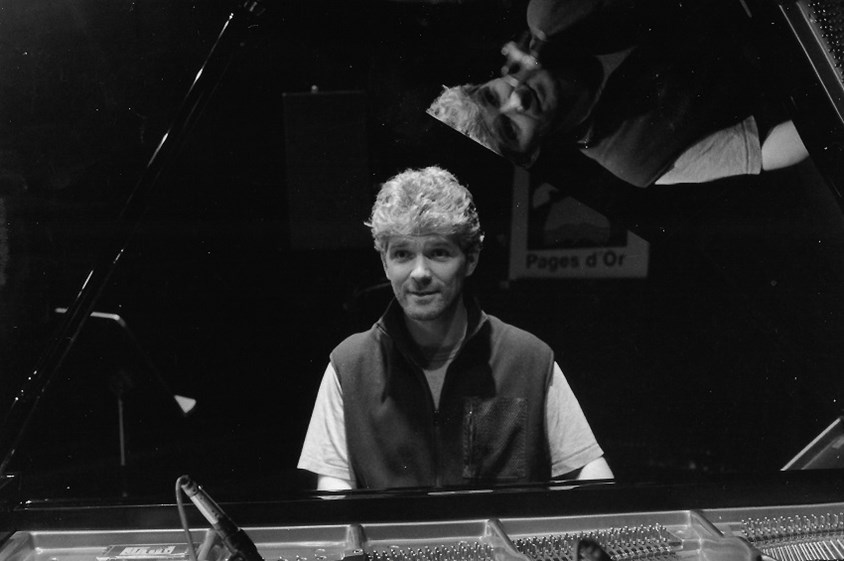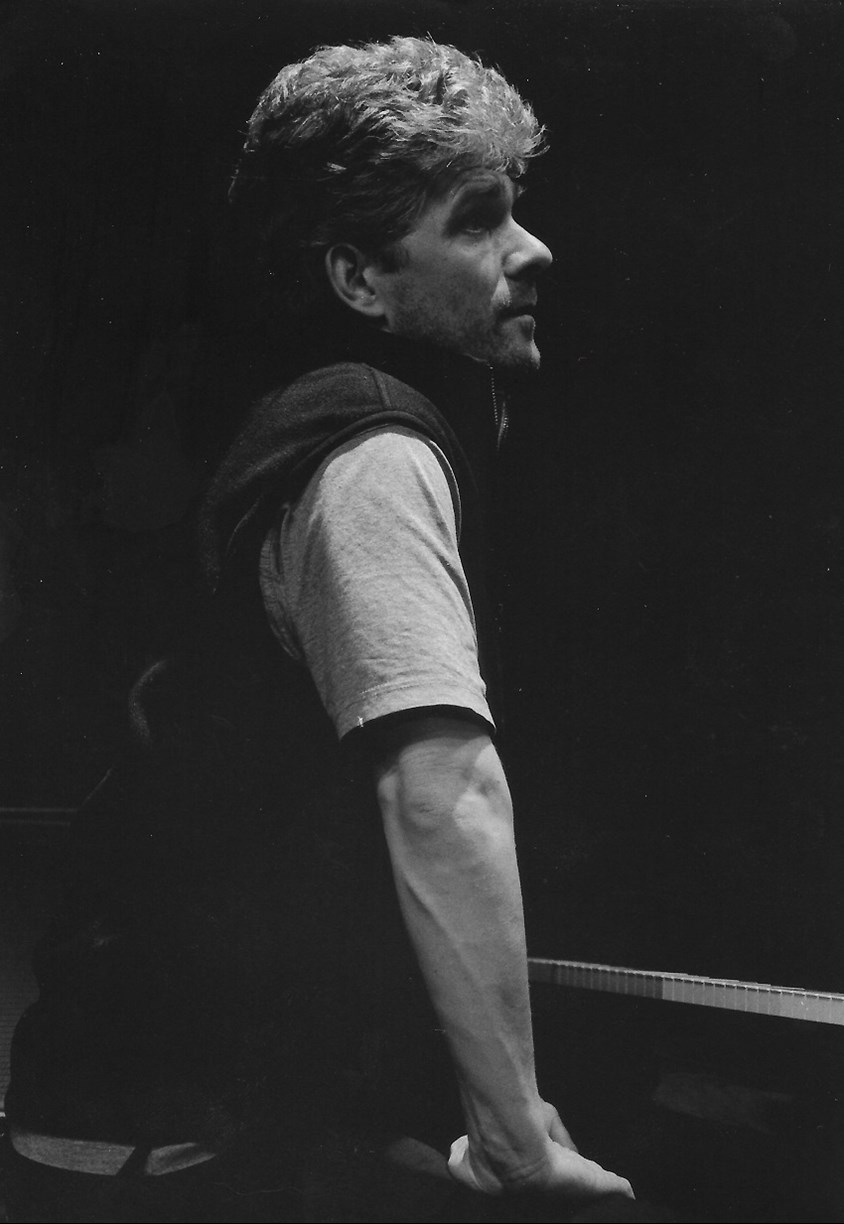 © Jacky Lepage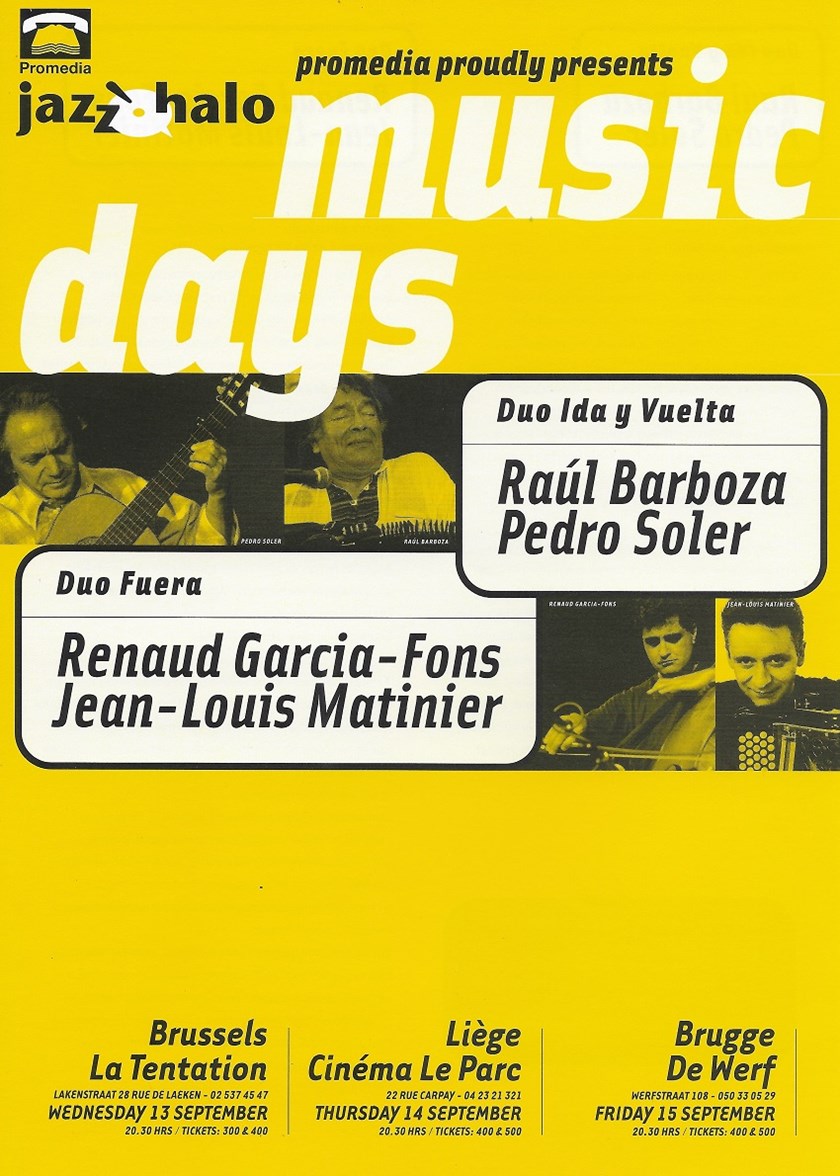 Jazz'halo Music Days 2000  #2
The fall edition was focusing on the accordion. Two living legends, two totally different styles, two masters: the ambassador of the chamamé, Raúl Barboza and Jean Louis Matinier. They were joined by Pedro Soler (flamenco guitar) and Renaud Garcia-Fons (double bass). Six superb concerts!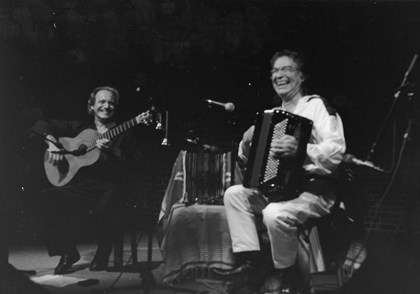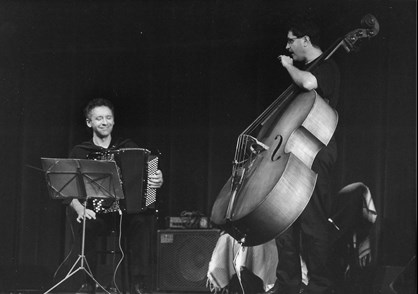 © Jacky Lepage

Raúl Barboza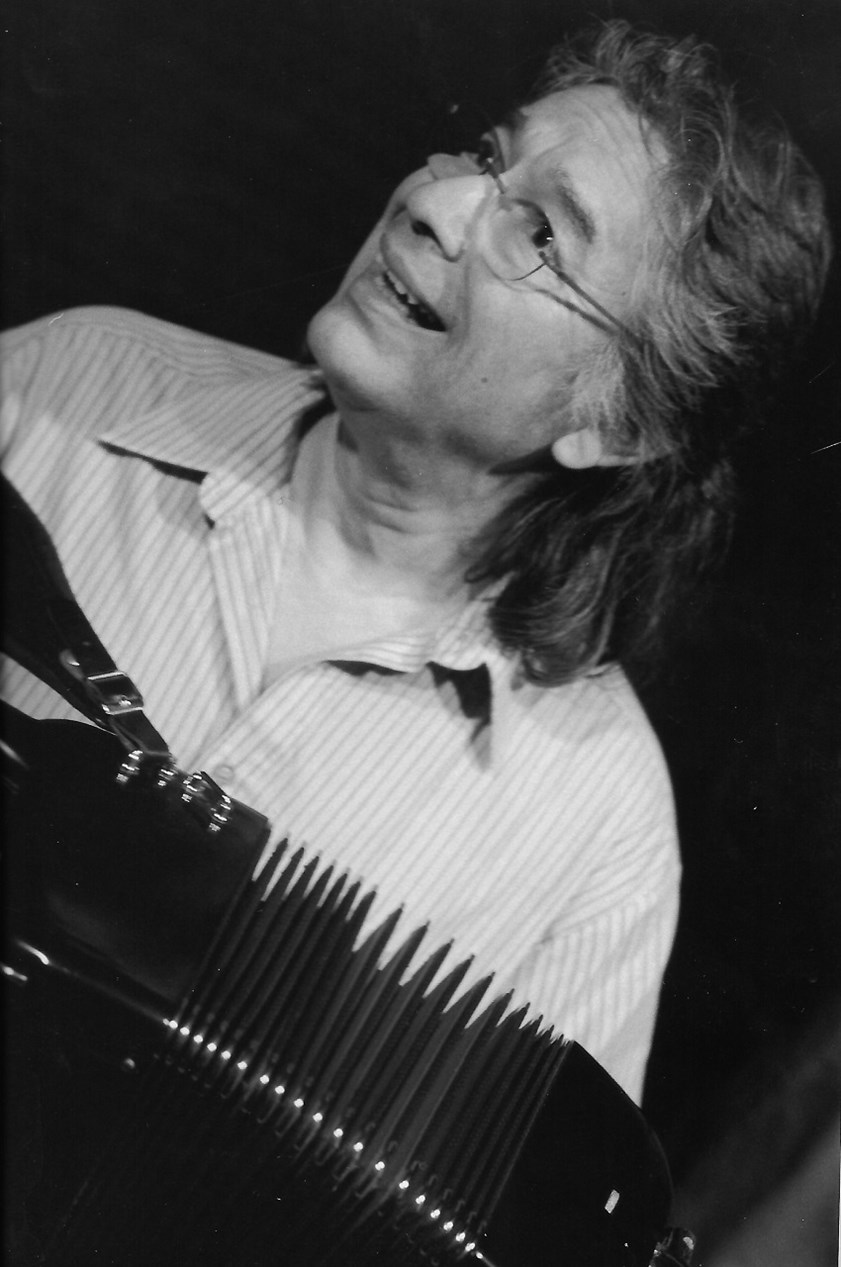 © Jacky Lepage

"Each time notes come out of my accordion, it is not only a melody, but it is like the beginning of a tale, a moment of silence is like taking a breath of air. From my ancestors I learnt how to make the accordion an extension of my spirit, which does not need words to express itself. I also learnt from my ancestors how to listen to the voices of nature - the singing of birds, the galloping of animals, the whispering wind. All that is 'Life' which appears before us with its joy and sadness, hunger and injustice, luxury and poverty. Each time I play a tune on my accordion, I want to tell a true story."

You find everything about Raúl on his website: http://mapage.noos.fr/raulbarboza//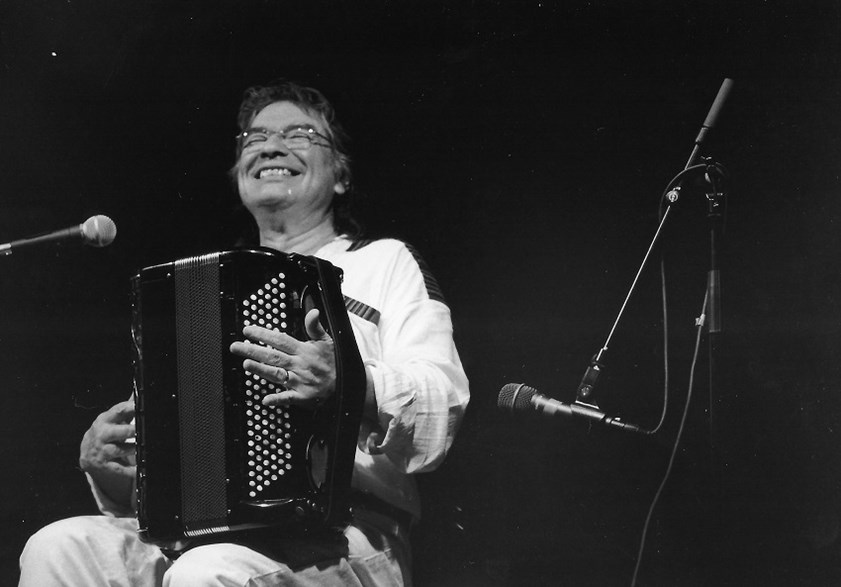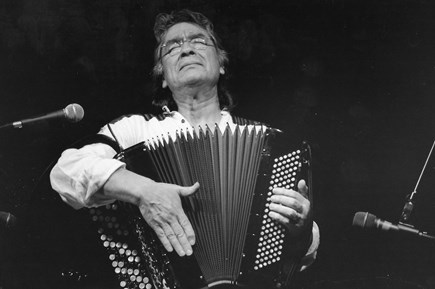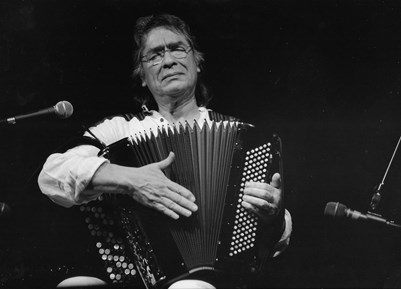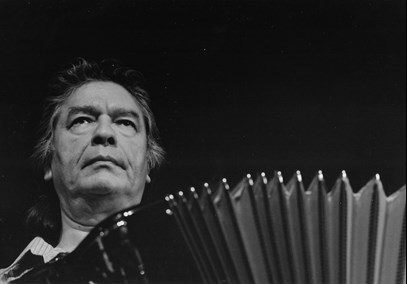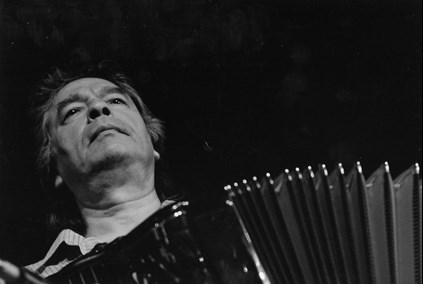 © Jacky Lepage
Raúl Barboza is a great poet of the Chamame music tradition and performed with Pedro Soler under the name "Duo Ida Y Vuelta".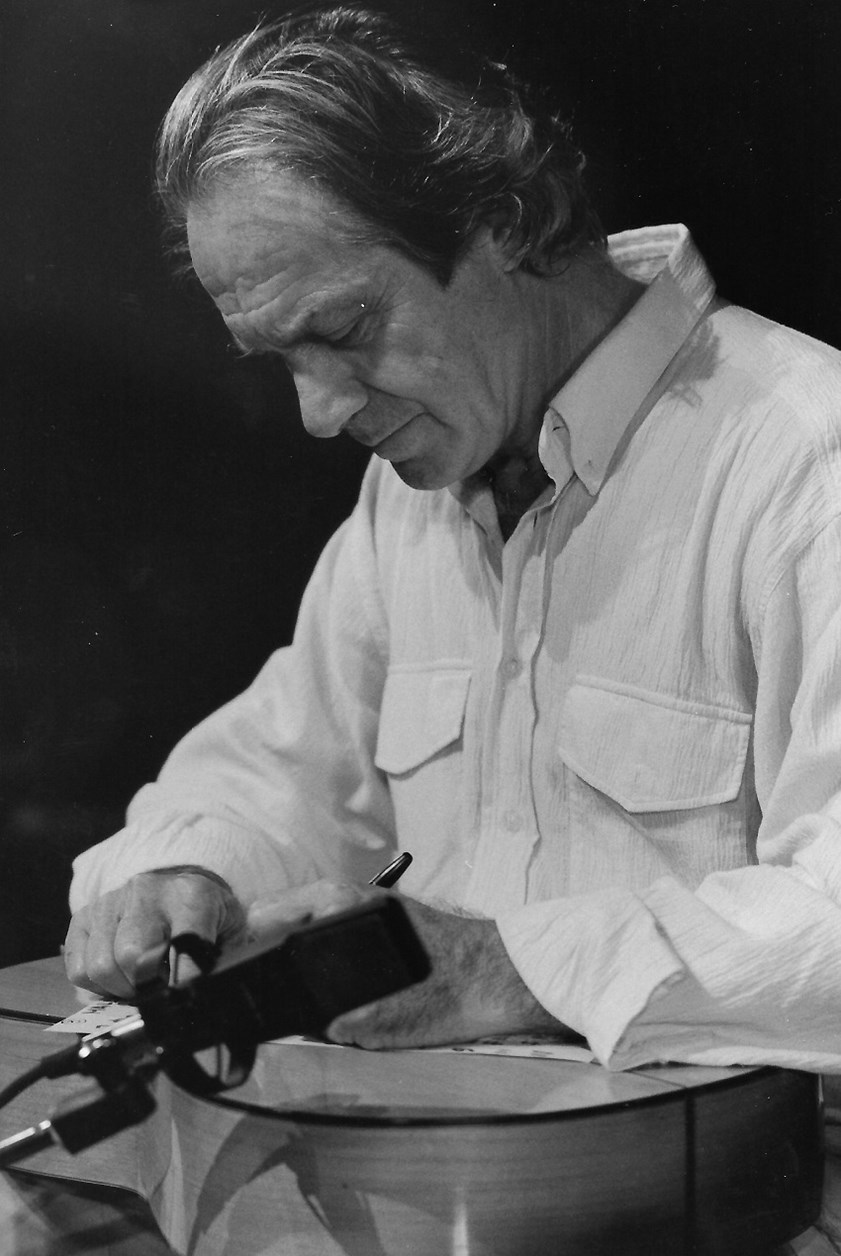 © Jacky Lepage
You can read almost everything about Pedro Soler HERE.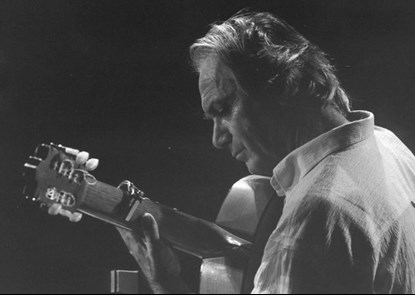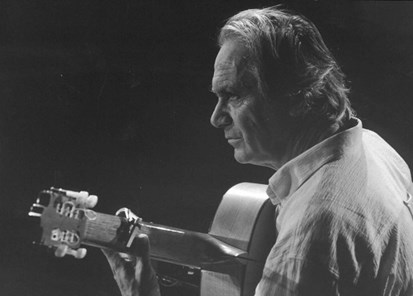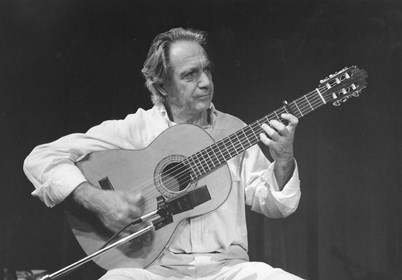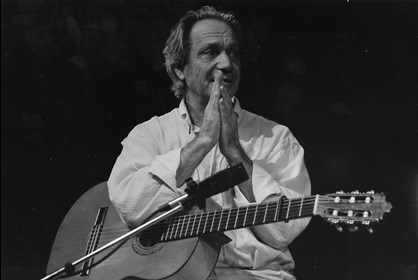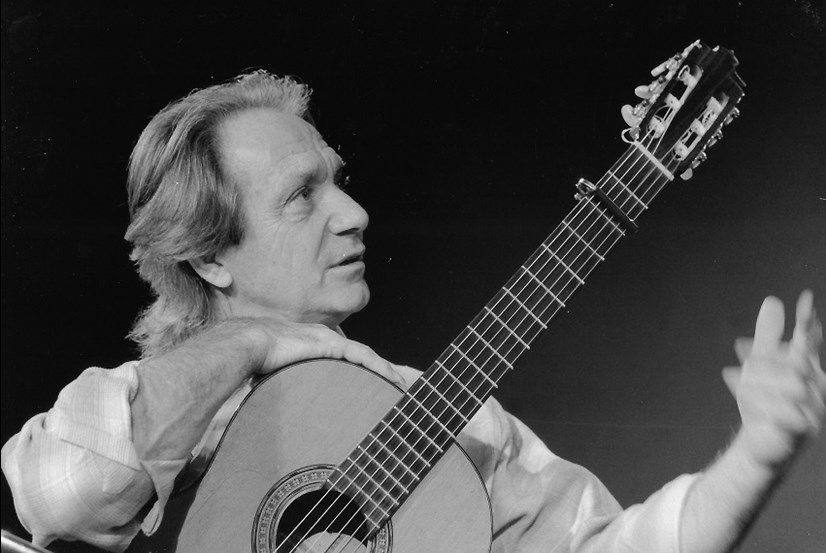 © Jacky Lepage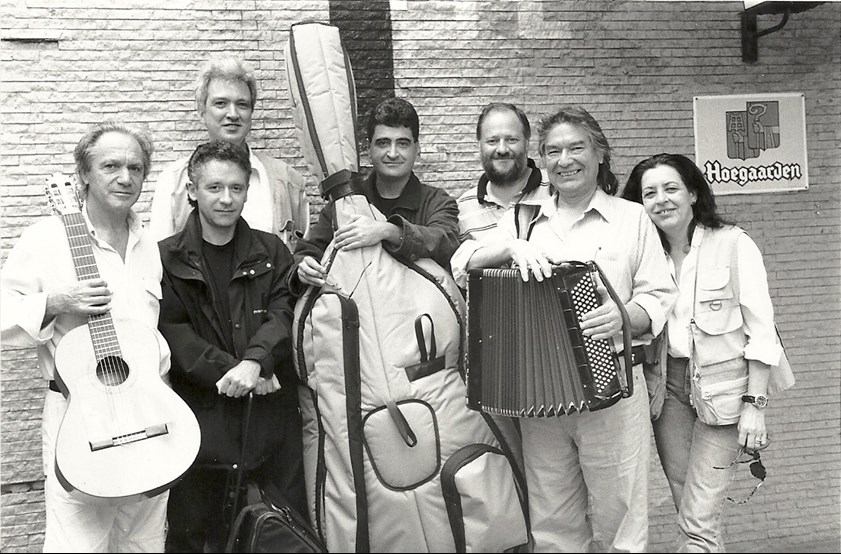 Pedro Soler, Jean-Louis Matinier, Emile Clemens, Renaud Garcia-Fons, Jos Demol, Raúl & Olga Barboza
© Jacky Lepage

Each night was opened by the Duo Fuera.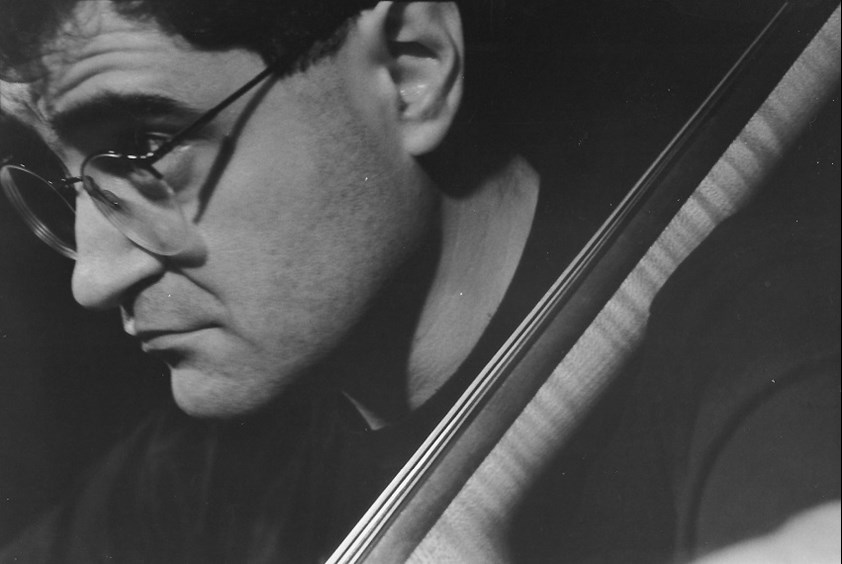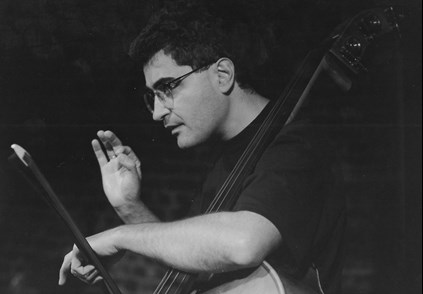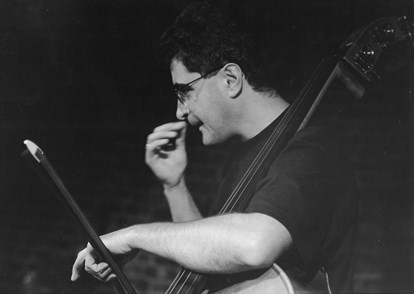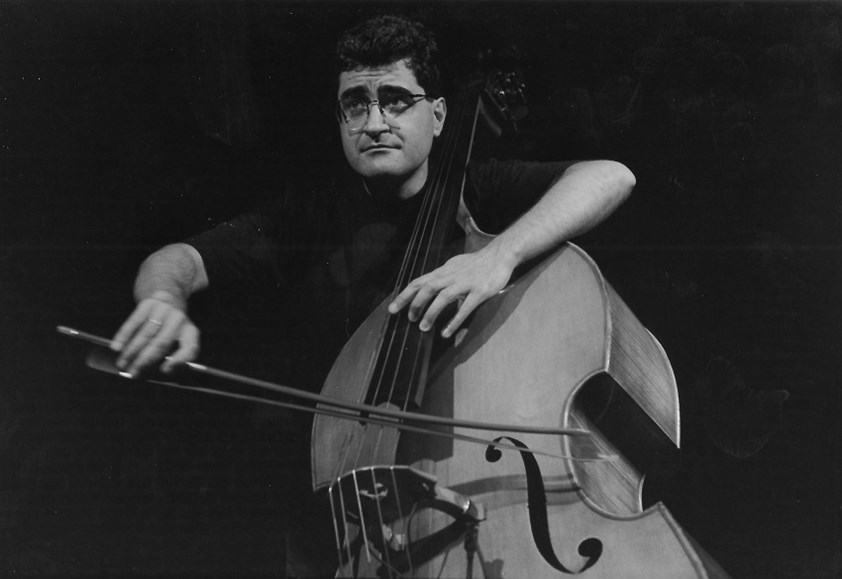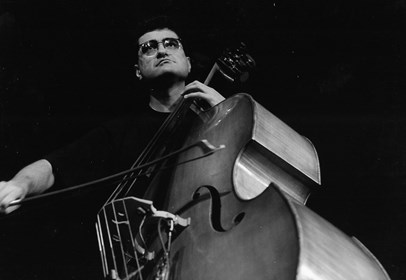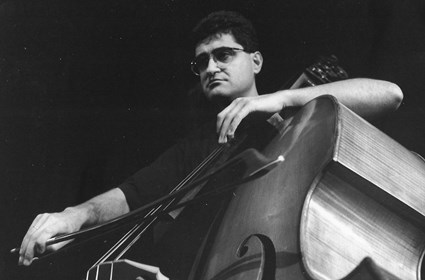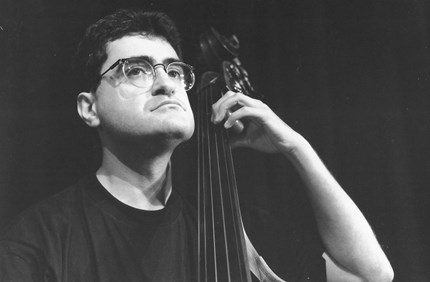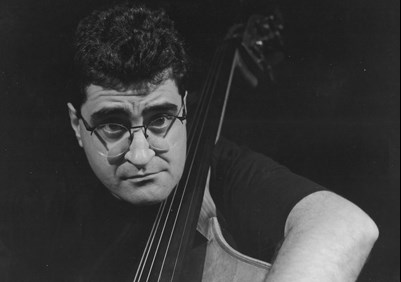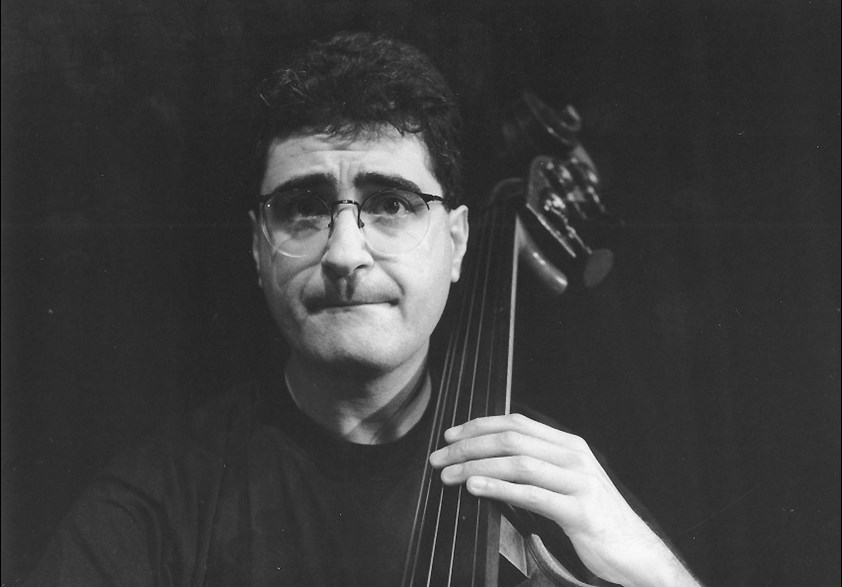 © Jacky Lepage

The most astonishing bass player of our times, Renaud Garcia-Fons has been impressing audiences with his viola-like con arco sound and his original stylistic concept that includes elements out of flamenco, new musette, tango, Andalusian, African, Latin American and Indian traditions. His bestselling ensemble album "Oriental Bass" (released in fall 1997) is among the most compelling and visionary works of the jazz/world music stream. Garcia-Fons' duo partner, Parisian accordion master Jean-Louis Matinier, is arguably the most adventurous and open-minded virtuoso of his instrument. Like Garcia-Fons, he studied classical music but soon turned towards jazz and other improvised music. In his playing he easily crosses the borders between ethnic traditions, swinging grooves and daring innovations in the new classical vein. Back in their childhood, Renaud Garcia-Fons and Jean-Louis Matinier lived in the same neighborhood and occasionally met for musical sessions. Many years later, they came together again in French Orchestre National de Jazz and started a solid cooperation that led to Garcia-Fons' earlier albums "Alboreá" and "Oriental Bass". They also played together in ensembles led by Michael Riessler, Gianluigi Trovesi and Michel Godard.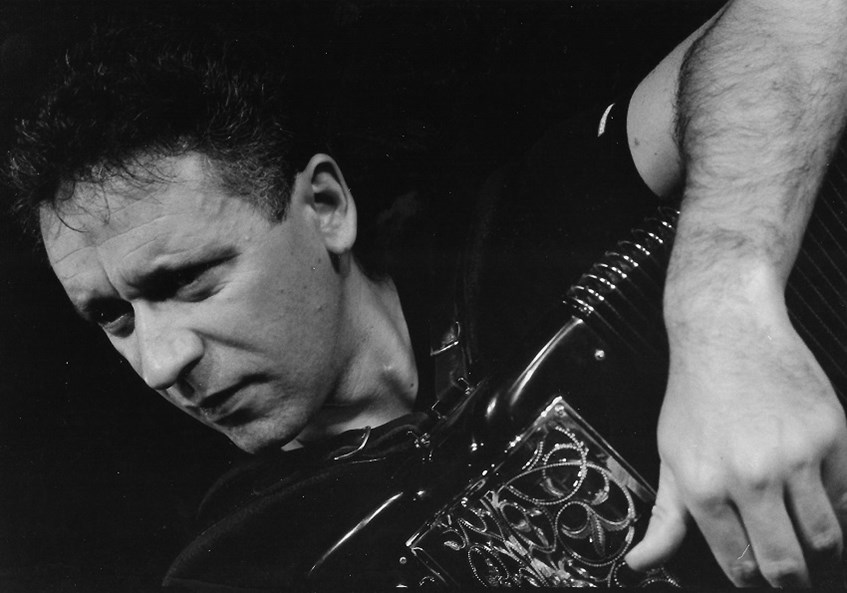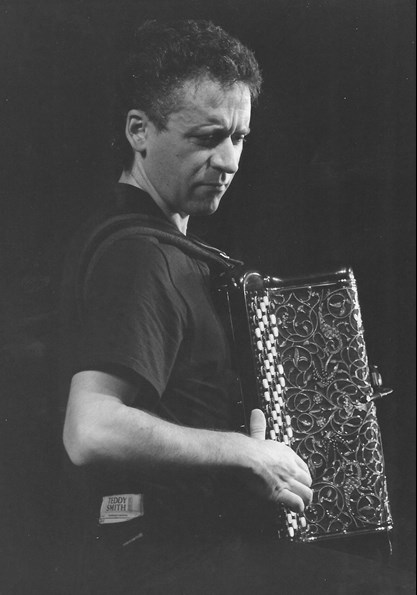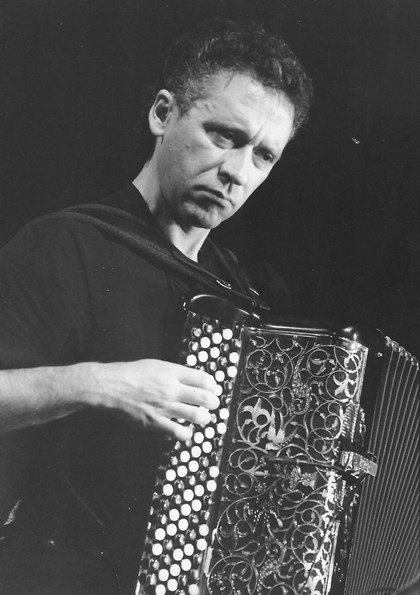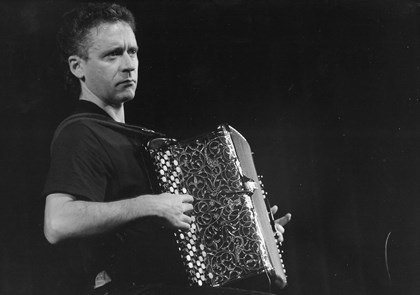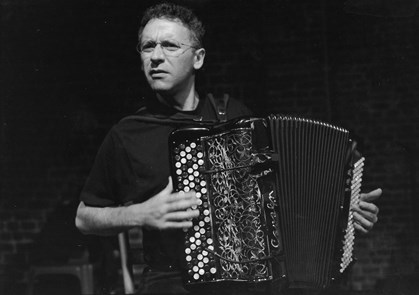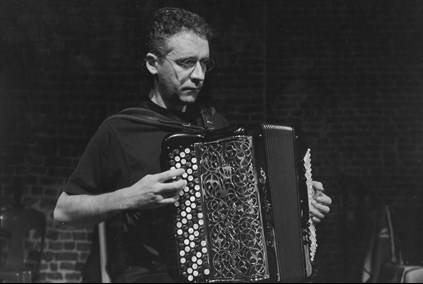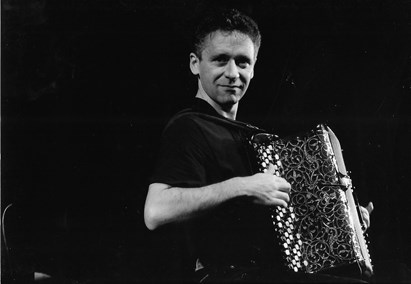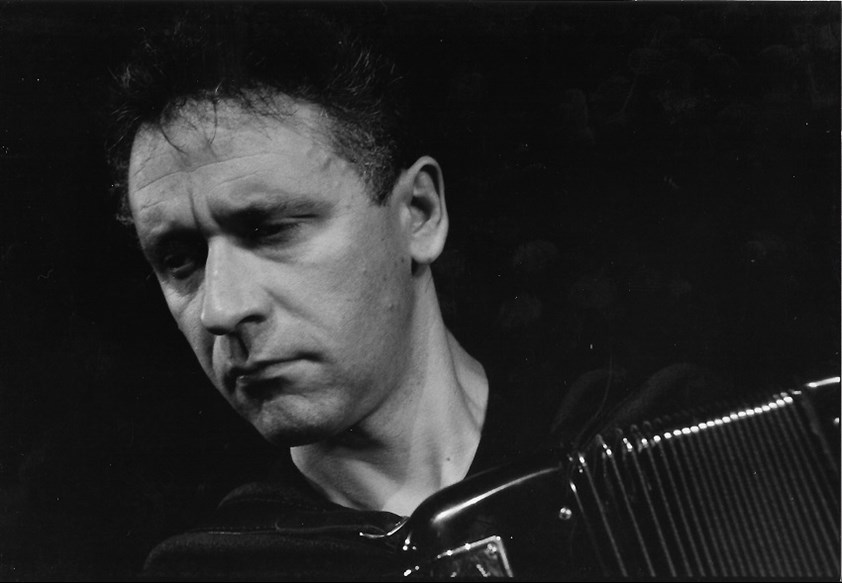 © Jacky Lepage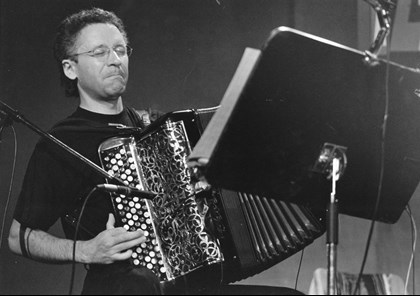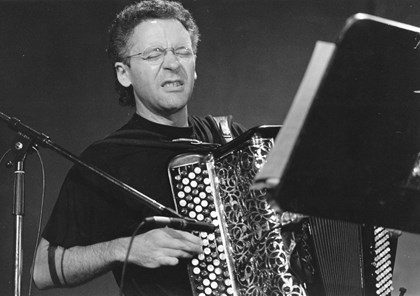 © Jos L. Knaepen
The duo Garcia-Fons & Matinier emerged from an informal improvisation session ten years ago, and it has conquered a wide range of musical styles and expression since. Says Renaud: "For us the duo is a symphonic orchestra - with thousands of instruments hidden in the heart of the bow and the bellows. Each composition is particularly orchestrated so that it evokes certain emotions and moods." With some help from master engineer Walter Quintus, Renaud's singing bass and Jean-Louis' many-sided accordion make up for a virtuoso tour de force through Mediterranean moods, Oriental scales, advanced composing, rocking grooves, and fascinating sound scapes. Melodically rich and rhythmically adventurous, this music is full of surprise and challenge and will appeal to jazz fans, world music lovers and classical listeners alike.



Jazz'halo Music Days 2001

DUO CAVALERI/AMATULLI
Plays Giorgio Occhipinti's Cello Sequenzas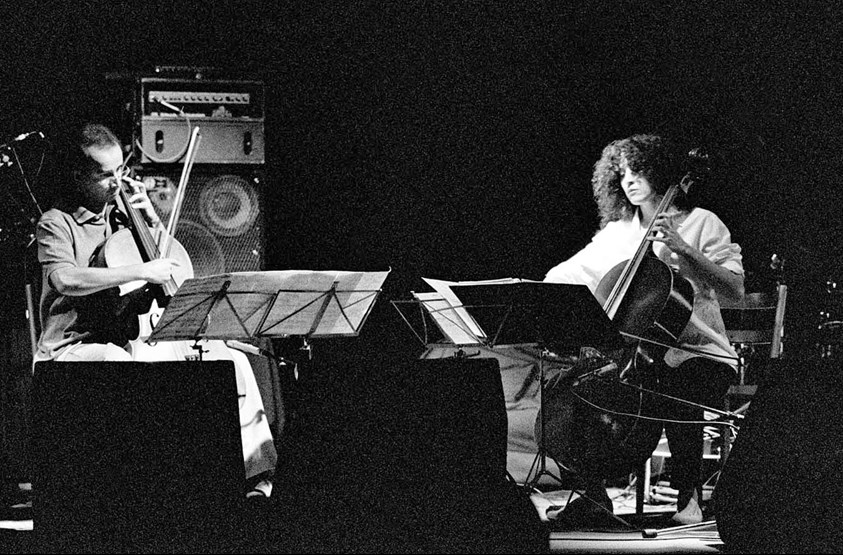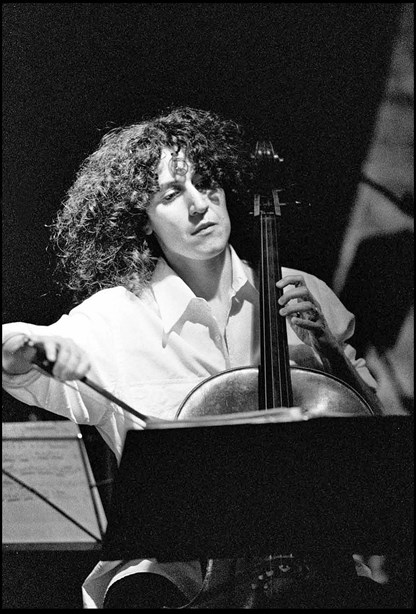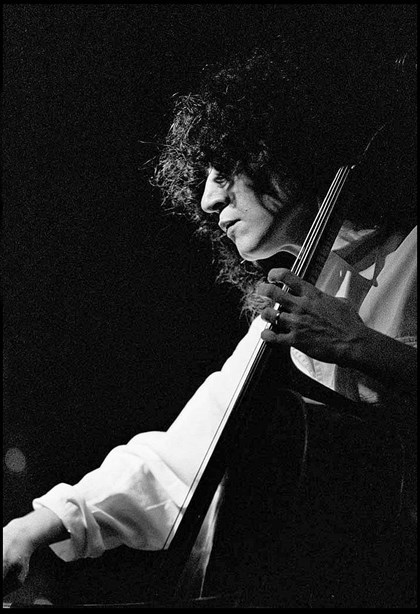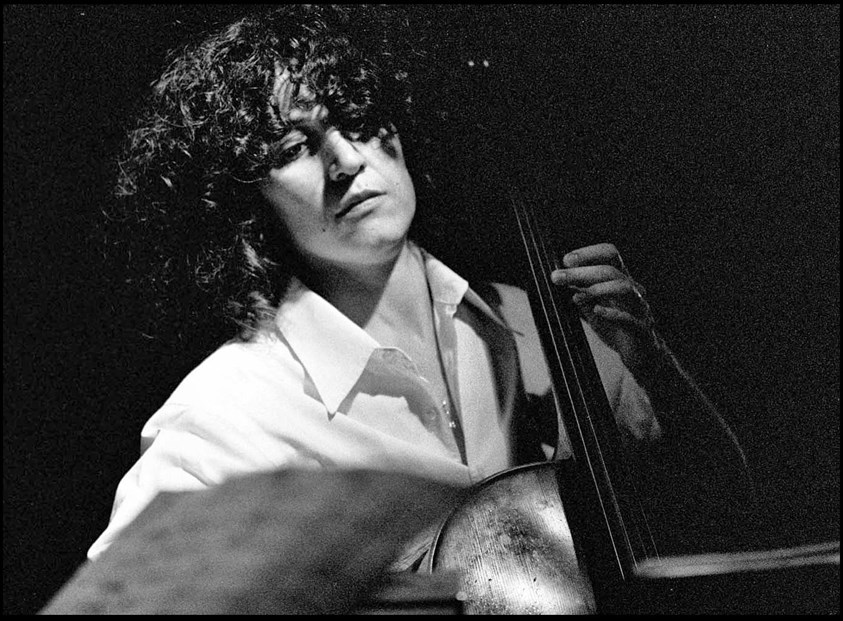 © Jacky Lepage


Tiziana Cavaleri has graduated in cello at the Conservatory of Catania (Sicily). From 1986 until 1995 she was a member of the Orchestra of the "V. Bellini" Theatre, and in the Orchestra Filarmonica Italiana. She also worked with Carmen Consoli and Mario Venuti, two pop artists. Since 1999 she's playing the music of Occhipinti.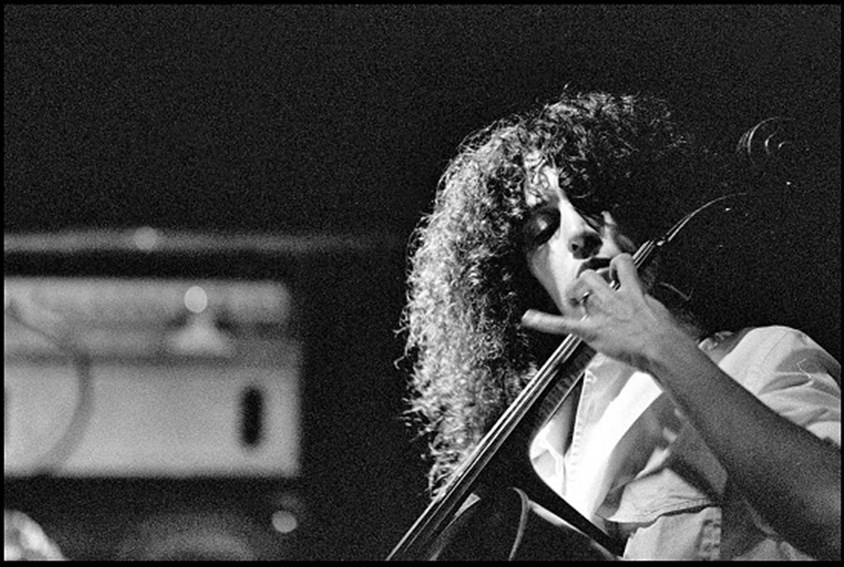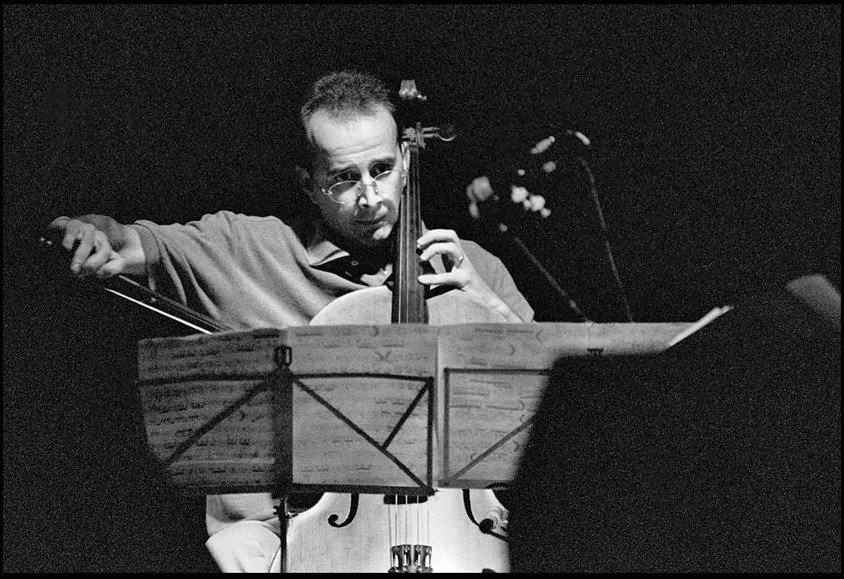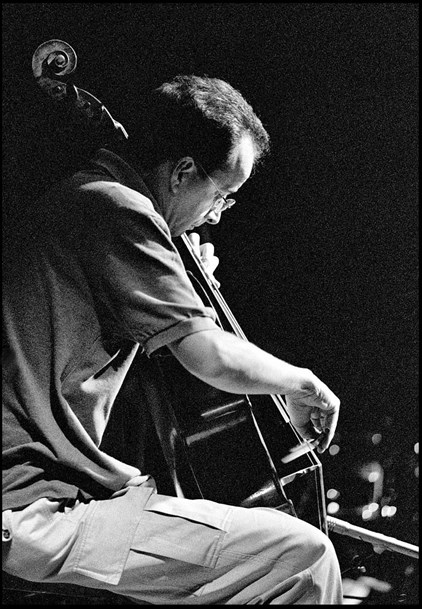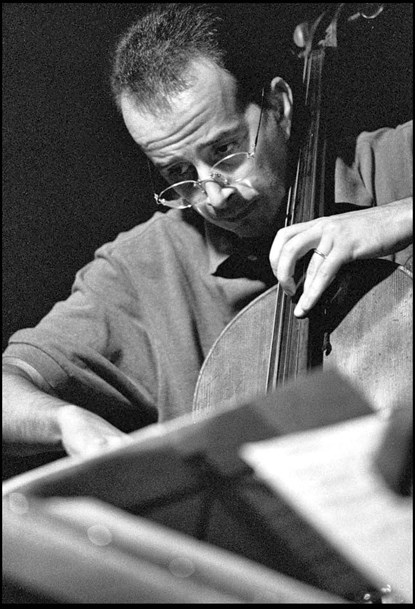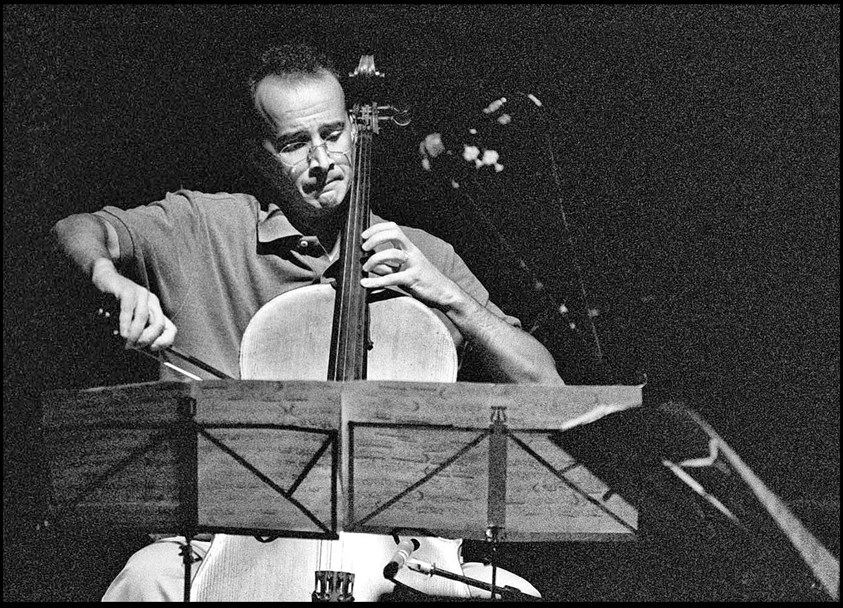 © Jacky Lepage

Vito Amatulli has graduated at the Conservatory of Monopoli. He collaborates with symphonic orchestras and with several groups of Bruno Tommaso. Since 1995 he's a member of Occhipinti's Hereo Ensemble "Alberòmino", Hereo Ottetto, Nonetto and Tentet.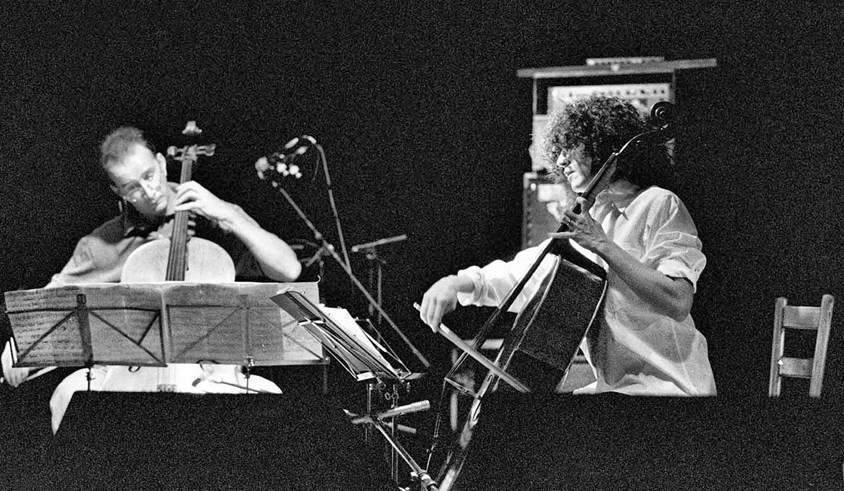 © Jacky Lepage
DECEMBER THIRTY JAZZ TRIO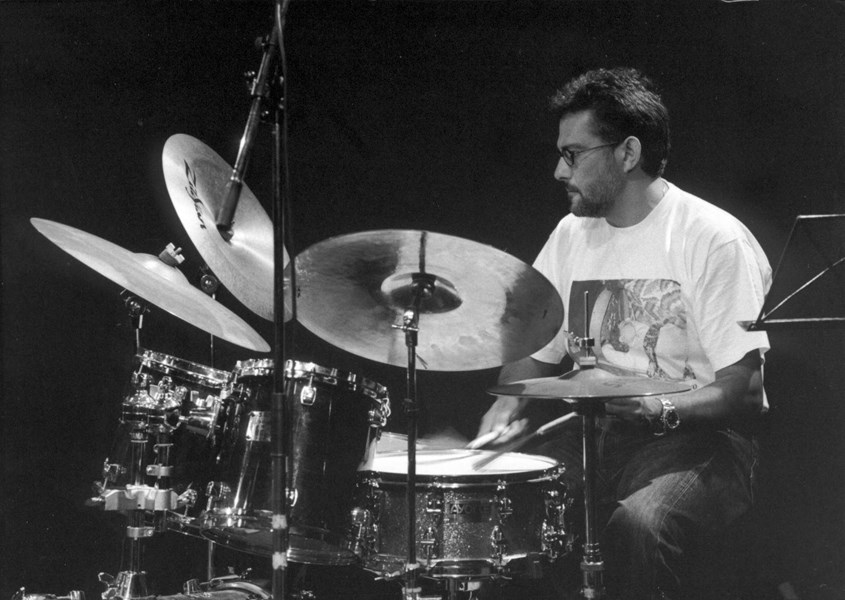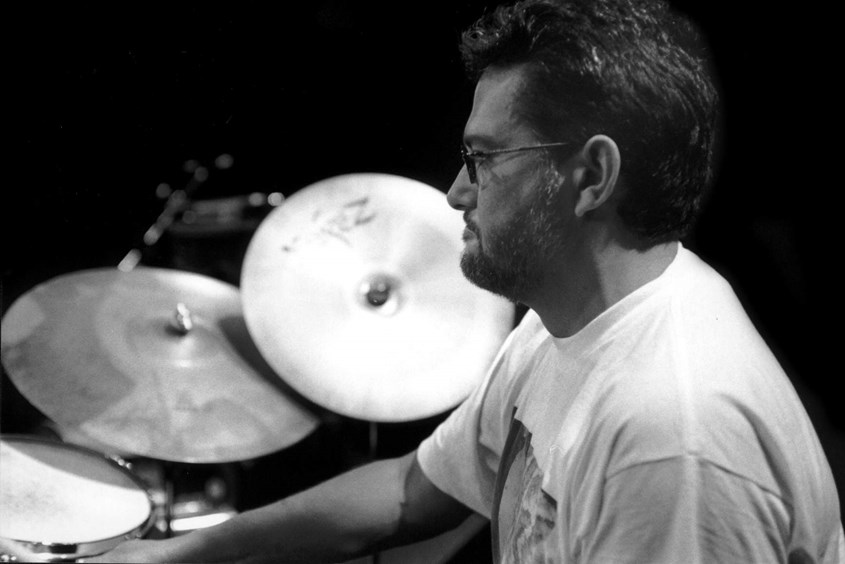 © Jacky Lepage
It's appropriate that the trio is democratically named, for this is genuine group-music, a highly accomplished and detailed mixture of form and improvisation, touching on jazz and avant-garde elements alike. The key player is, in many ways, Francesco Branciamore whose propulsive and momentous playing suggests an orchestral concept and who never lets the music settle into random doodling. Besides his work with this trio he also is leading Trade D'Union (with Mazzon, Rutherford and Godard). He recorded different CD's with the December Thirty Jazz Trio, with his quartet (Flash in Four) and as a solo artist (Meloritmoarmonico). During the years he worked with musicians s.a. Enrico Rava, Gianluigi Trovesi, Keith Tippett, Lee Konitz, Barre Phillips, Evan Parker, Ray Mantilla, and Pierre Favre. He also composed theatre music for Coefore of Eschilo (National Institute of the Ancient Play), for Talent of B. Tirri, and for the theatrical version "La Lupa" from Giovanni Verga.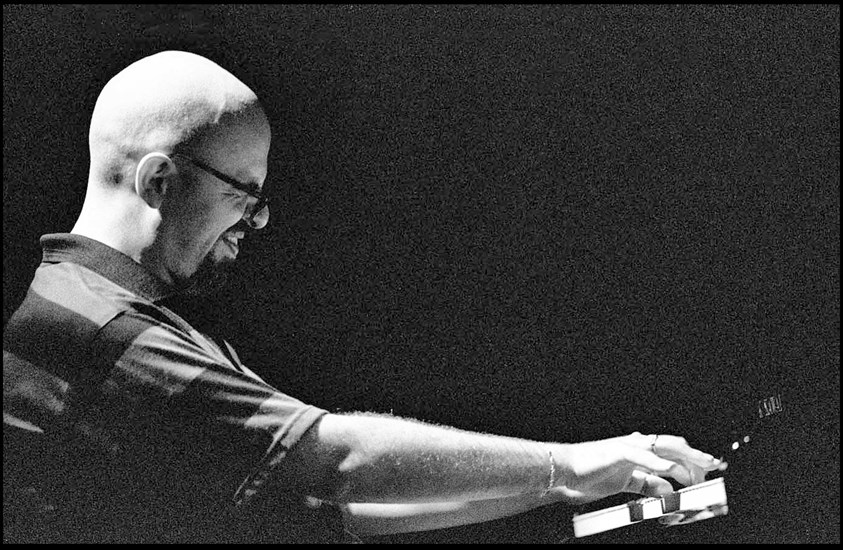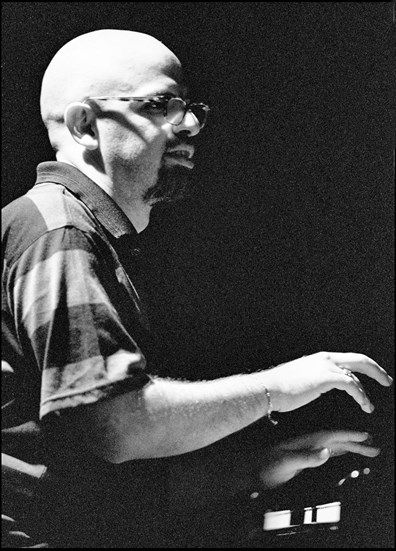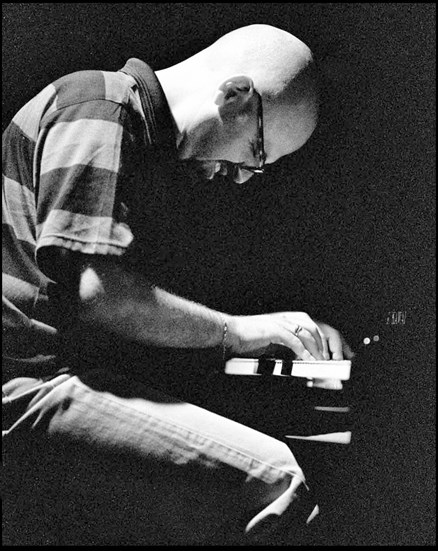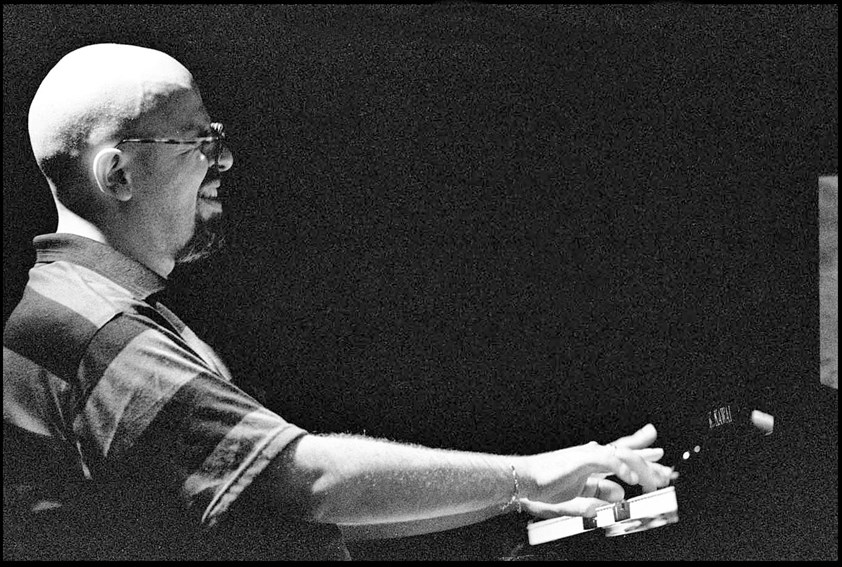 © Jacky Lepage
Giorgio Occhipinti varies his contributions from locked- hands passages to long, meandering lines, but seldom seems at a loss for an idea, even over some very long pieces. His style is difficult to pin down – which is probably a good thing. Occhipinti's charisma and musical personality oozes from every note and he anchors the music from the piano with colossal energy and drive.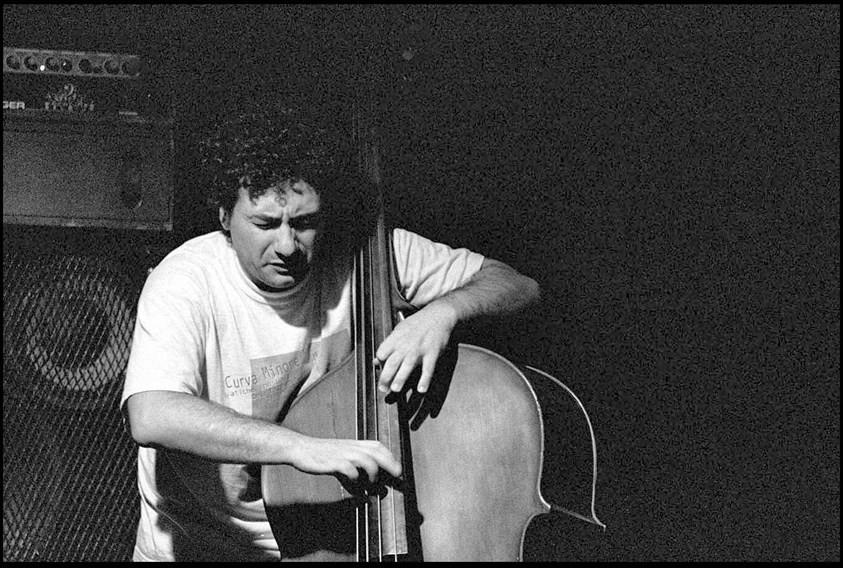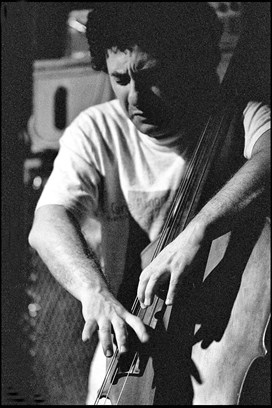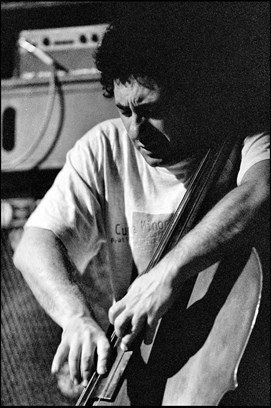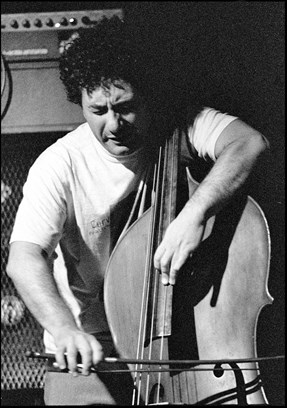 © Jacky Lepage
Giuseppe Guarrella plays with unassuming virtuosity. He played with several symphonic orchestras and chamber music groups. He's also leader of the Sicilian Quartet and co-leader of the Furious Quartet (with Joëlle Léandre, Barre Phillips and Lelio Giannetto. He's also a member of Maltese's Sikilli Ensemble and Sombra del Sur Orchestra. He collaborated with Evan Parker, Konrad Bauer, Ludwig Petrowsky, Paul Rutherford, Michel Godard, Lee Konitz, Miriam Palma, Pino Minafra, Paolo Fresu, Roberto Ottaviano, and Arkady Schilkloper.


VINNY GOLIA QUINTET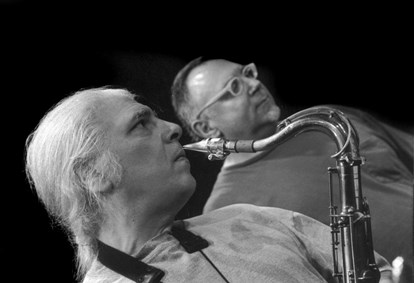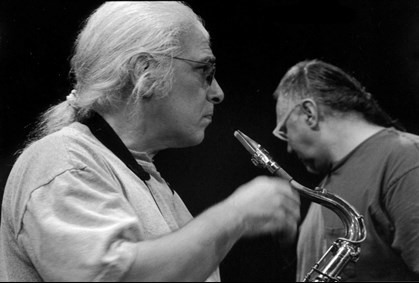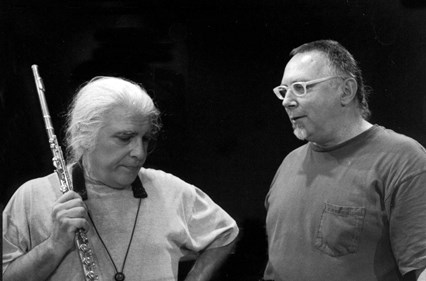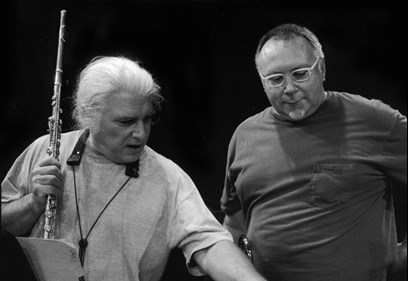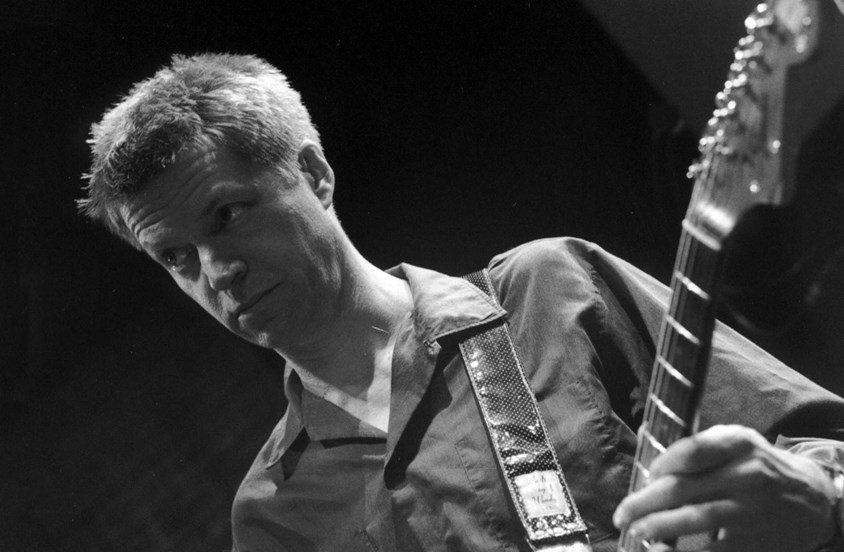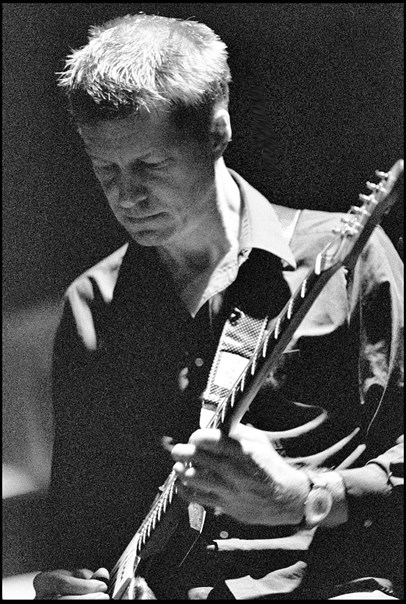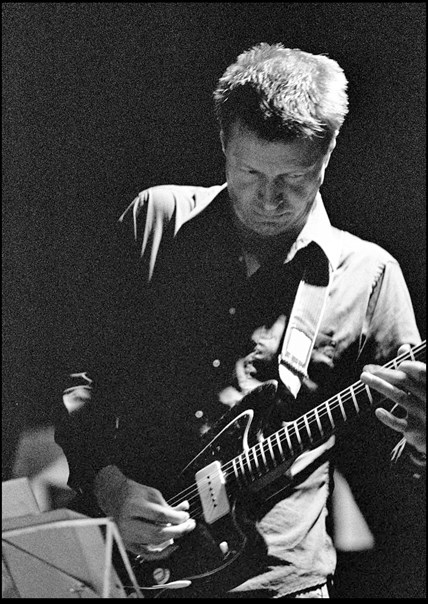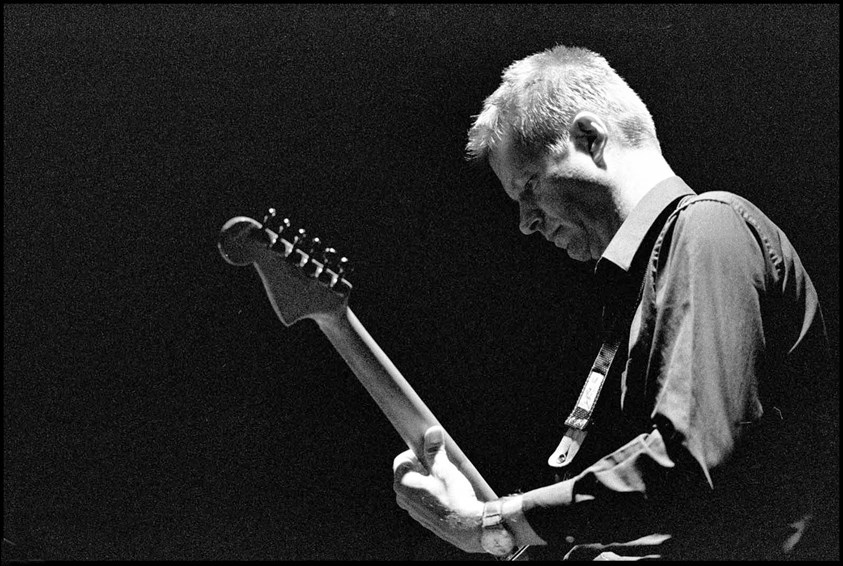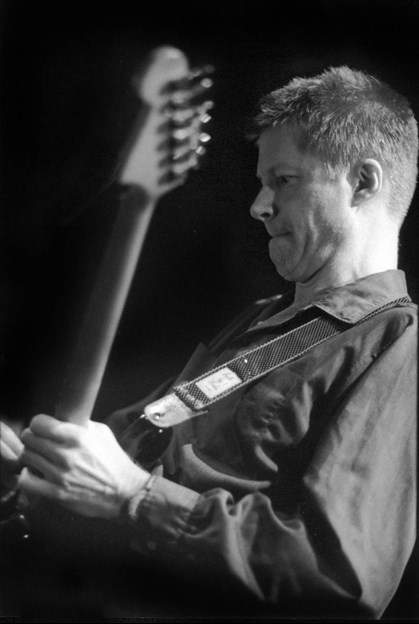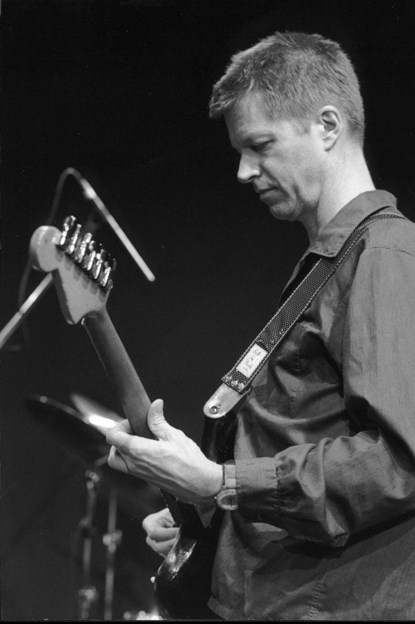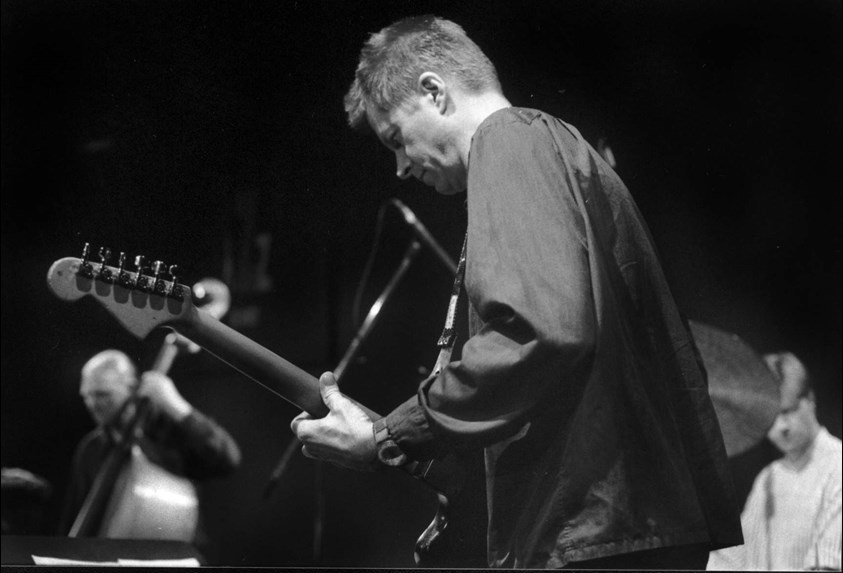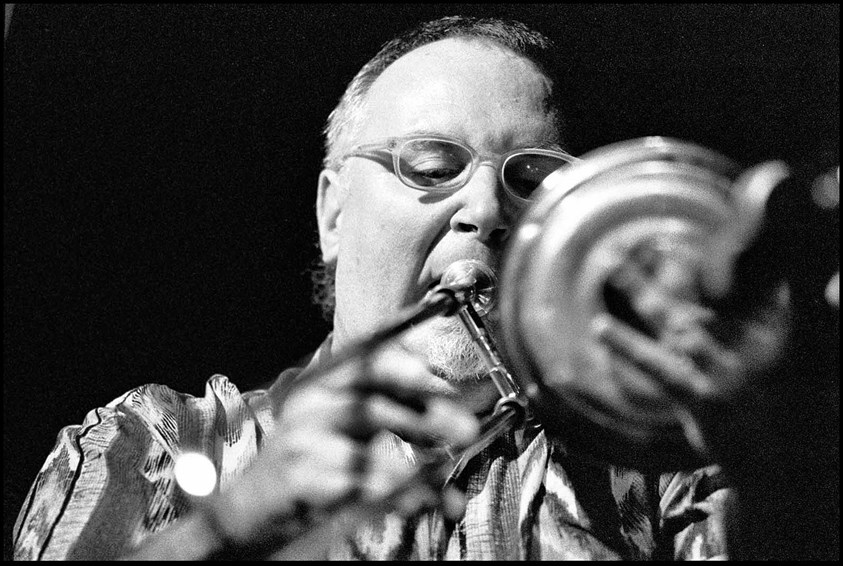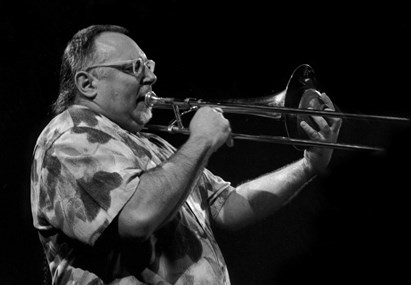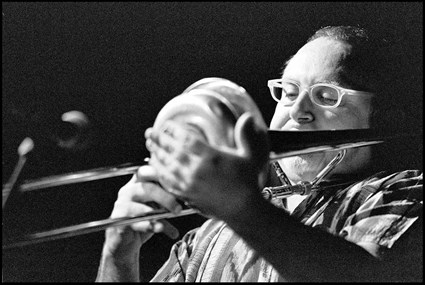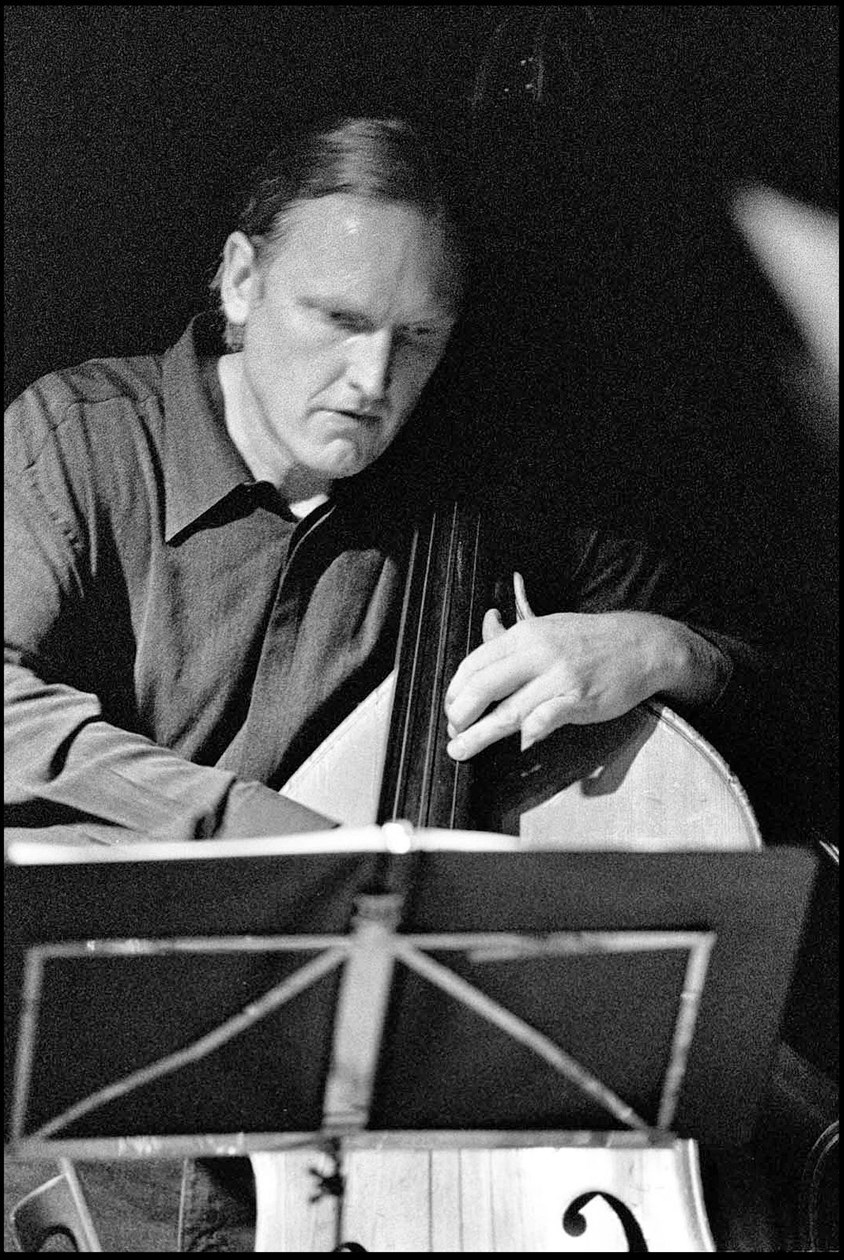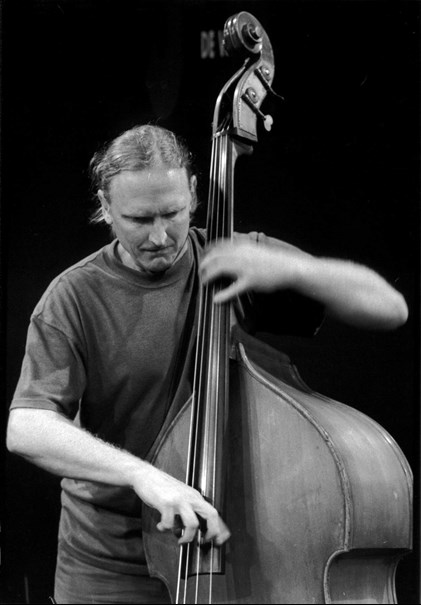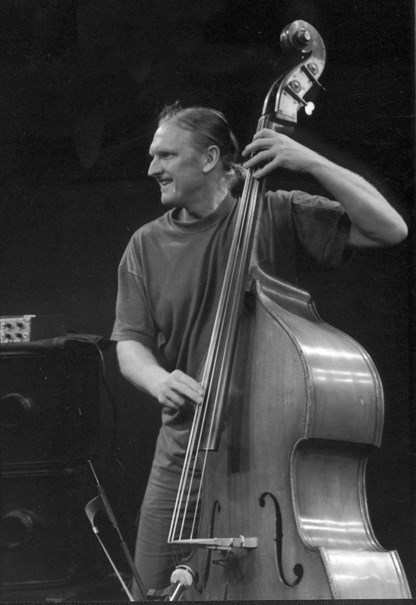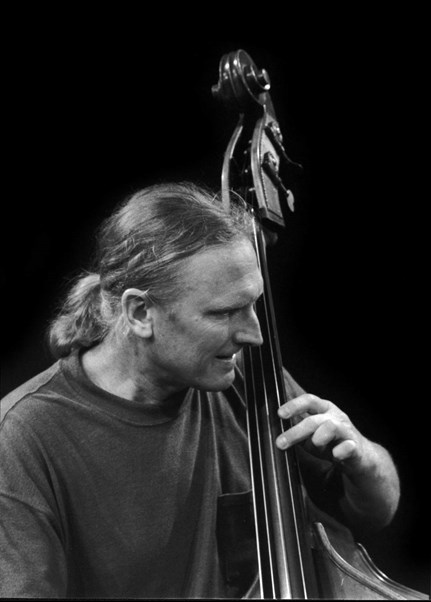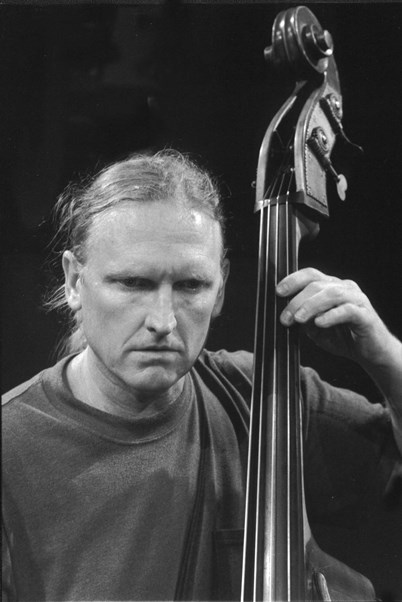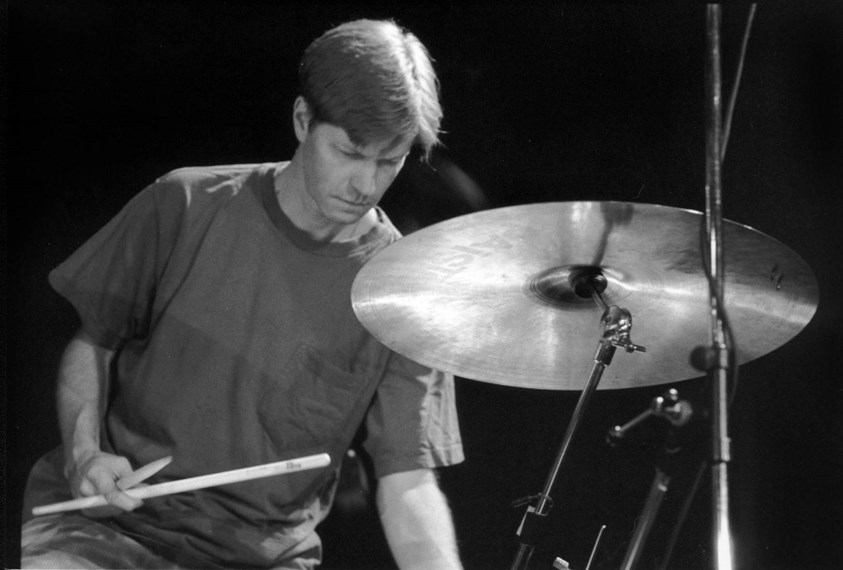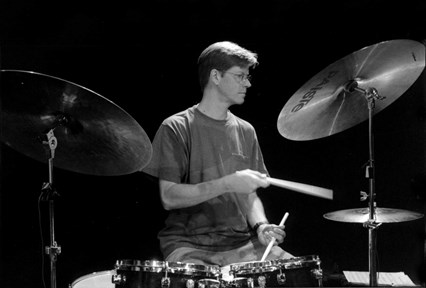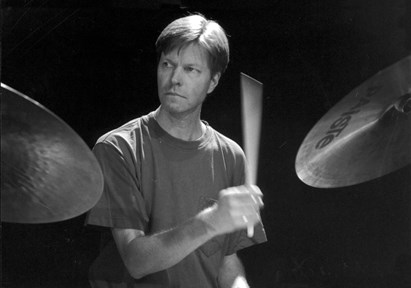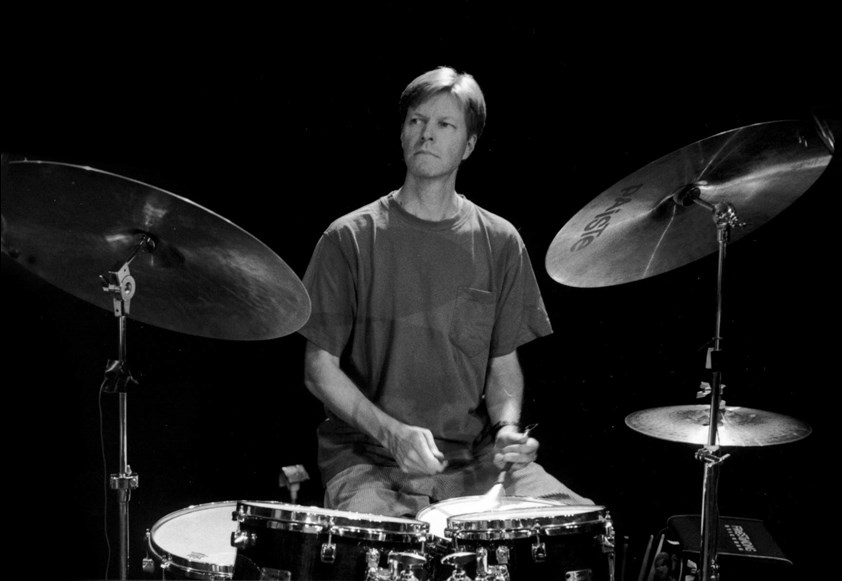 © Jacky Lepage

Vinny Golia has been a central figure in the West Coast avant-garde for many years, and with his Nine Winds label he's been undertaking virtually a one-man documentation of the improvising underground of California – far less 'fashionable' than anything in New York, but no less significant in the grain of American free jazz. By himself, in the small-group context, Golia reveals an obsession with doubling on numerous instruments: he plays 11 different woodwinds, changing the weave with each different reed. The concerts at the Jazz'halo Music Days will be recorded for later release on our label.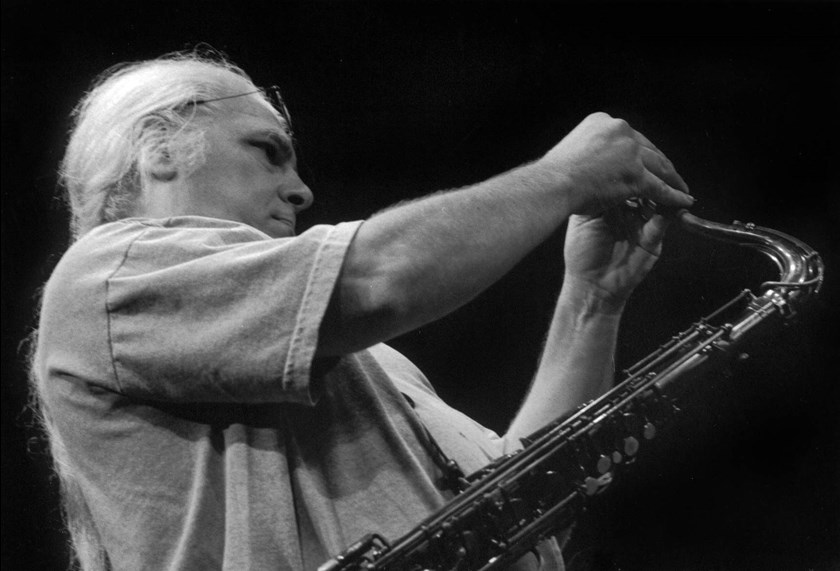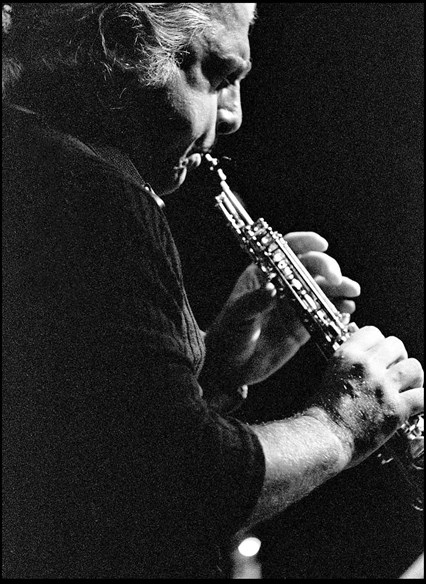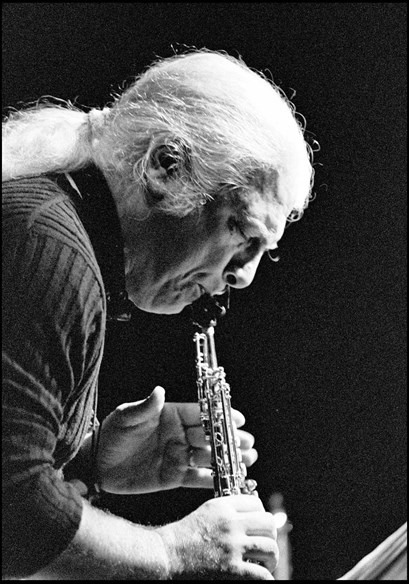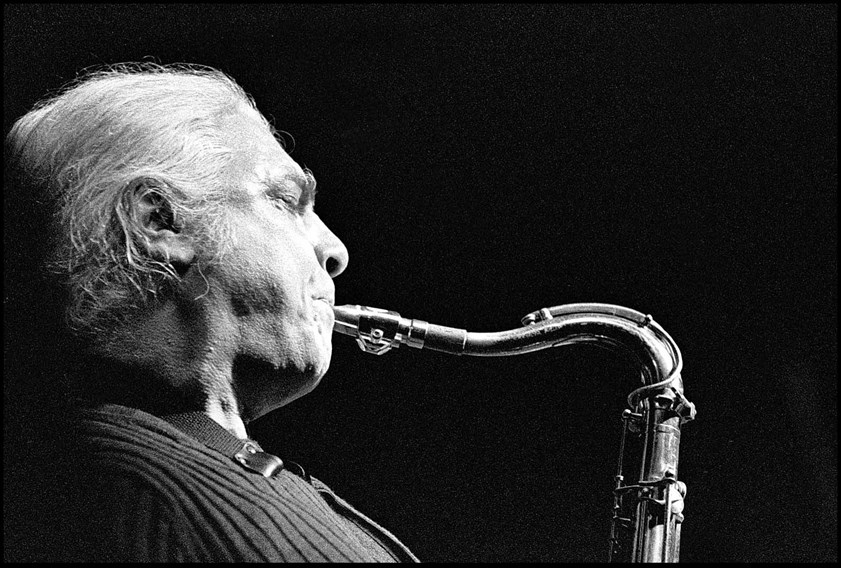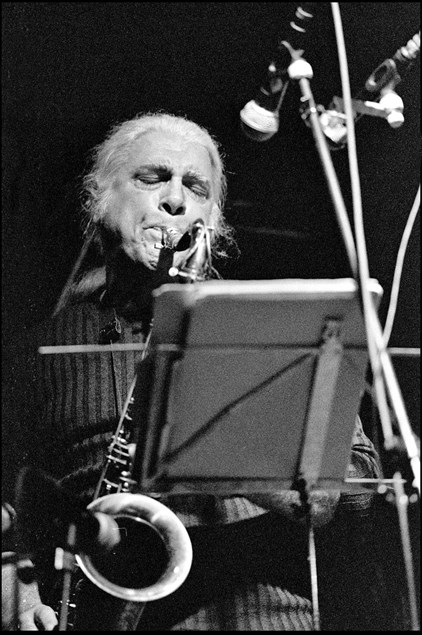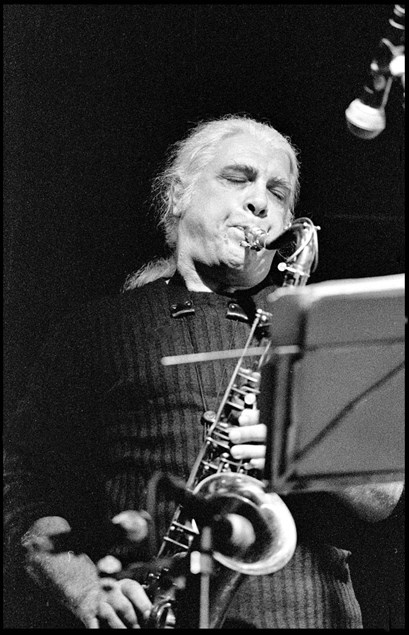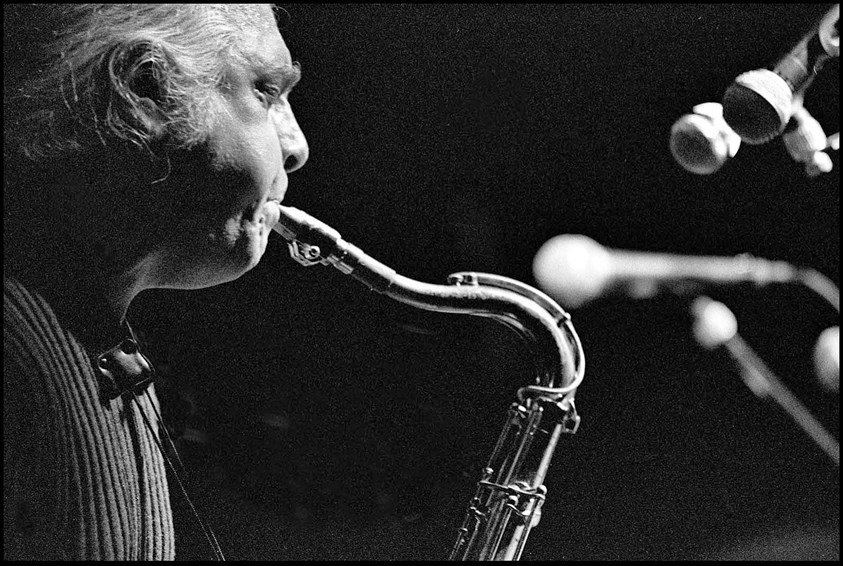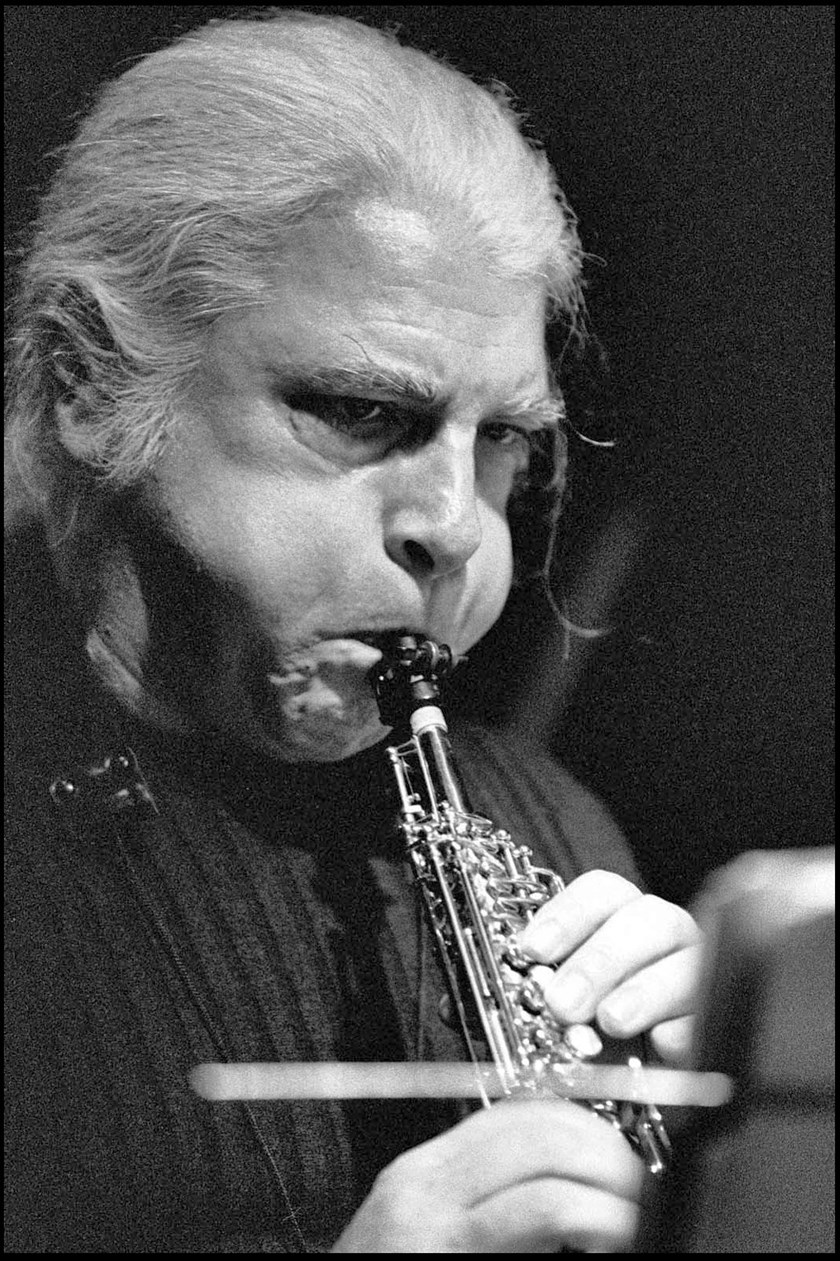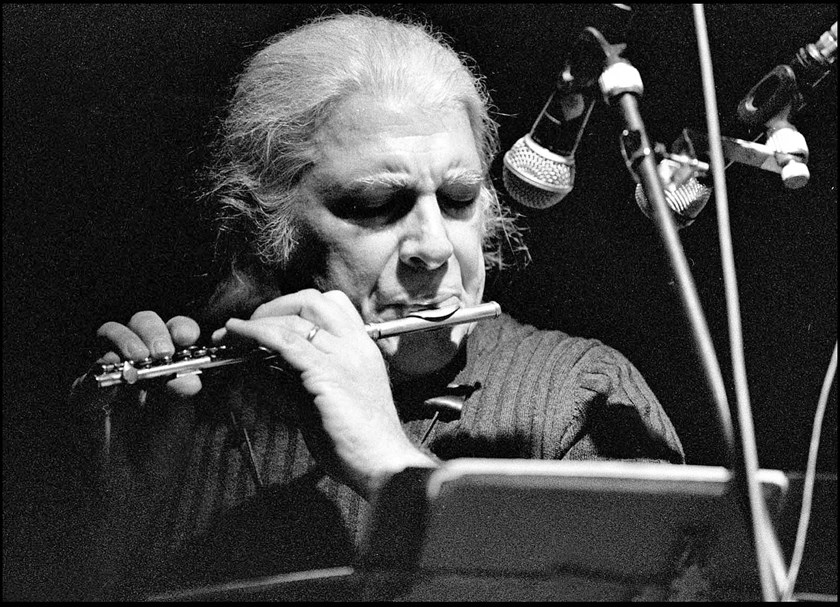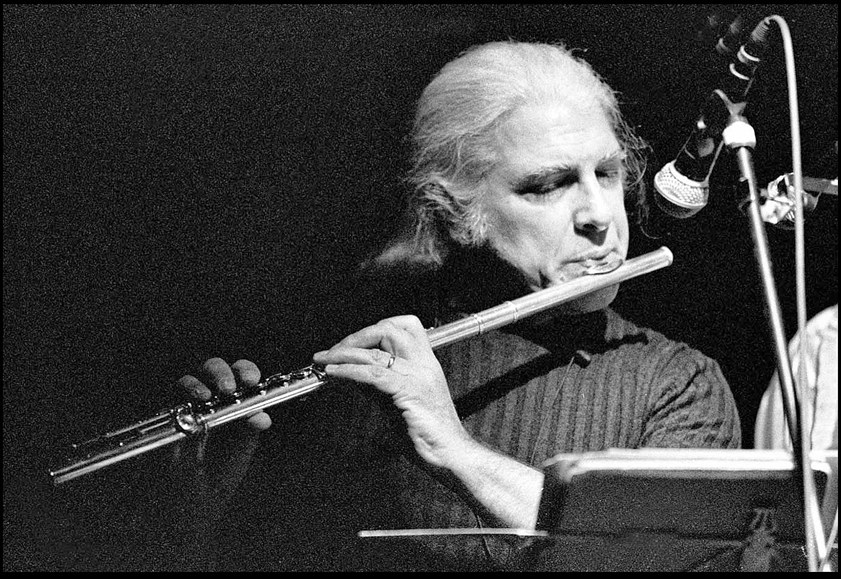 The tour …
Here's what happened. We had just landed in Belgium after our plane had been delayed in NY for a while; yes we were on the runway for a little bit before we took off on September 11th, and got out before the all action and terror started. I had to be told we were stuck on the runway for a bit because I was sleeping at the time; Alex has a harder time sleeping on airplanes than I do so he was awake and watching the rain.
Anyway, we landed in Belgium in the morning, got on a train and got out of the station and almost immediately Nels turned his ankle so hard I thought he broke it. There was just a big snap sound, we turned around and Nels was on the ground writhing in pain, it was startling! Jos got us to the hotel and called a doctor who took care of everything, then we turned on the TV and saw what had happened at home.
Things weren't starting out so well for us. The choice was to try to get home or finish the concerts we set out to do. Jos and the Jazz'halo organization was very understanding and if we wanted to try to get home they would help in anyway possible. We all decided to stay and play because it would show the spirit of what our music and our country is all about. The music performed on this CD is the result of this tour and these circumstances. We want to thank Jos, Marijke, Emile and all the people involved with Jazz'halo for supporting our efforts and being so sympathetic to our music.


About the music …
The compositions were picked and written specially for the instrumentation of this quintet. Originally John Fumo was to have played trumpet & flugelhorn on the tour but family obligations kept him at home, so at the last minute I changed the tunes and orchestration of the group. John's replacement is almost always Mike Vlatkovich, a trombonist who I've been performing with since 1981.
Come to think of it Scott Walton would be the newest member of the group clocking in at about 5 years. The Clines, Alex & Nels, I have been playing with since I met them in 1976, that's a little more time than I care to think about.
A quintet has been my touring unit since 1981; it's a comfortable platform to explore composition, improvisation and orchestration. I wanted to bring tunes for the unit that had not been recorded and also to play tunes that would open up our sound yet still use a variety of instrumentation, as I had brought with me piccolo, C & alto flutes, sopranino, soprano and tenor saxophones also an A clarinet and an ocarina. Mike uses a fair amount of mutes (at my consistent prodding) so there are a myriad of colors at our disposal.
So what I am getting to is that many of the compositions are new but some are from the older book but that's not what is important. What is important is the interaction and exploration of the quintet and how the players improvise, using these compositions as a platform for artistic expression.
Vinny Golia
Los Angeles, California 2003



Jazz'halo Music Days 2002

proudly presents
THE JAZZ'HALO MUSIC DAYS 2002 #1
BRUGGE DE WERF (+ 32 50 33 05 29)
April 23th, 2002 
CHICO FREEMAN Y GUATACA
Chico Freeman – tenor & soprano saxophone
Hilton Ruiz – piano  /  Wayne Batchelor – bass
Pibo Marquez – percussion  /  Mark D. Colenburg – drums
April 24th, 2002
DUO BEN SLUIJS / ERIK VERMEULEN
GILBERT ISBIN
DUO BEÑAT ACHIARY / PEDRO SOLER


AMSTERDAM BIMHUIS (+ 31 206 231 361)
April 25th, 2002
DUO BEN SLUIJS / ERIK VERMEULEN
GILBERT ISBIN
DUO BEÑAT ACHIARY / PEDRO SOLER


TOURCOING Théâtre Municipal
Jazz Diffusion +33 (0)3 20 13 74 12 
L'agitée +33 (0)3 20 67 20 17
April 26th, 2002
DUO BEN SLUIJS / ERIK VERMEULEN
GILBERT ISBIN
DUO BEÑAT ACHIARY / PEDRO SOLER


CHICO FREEMAN Y GUATACA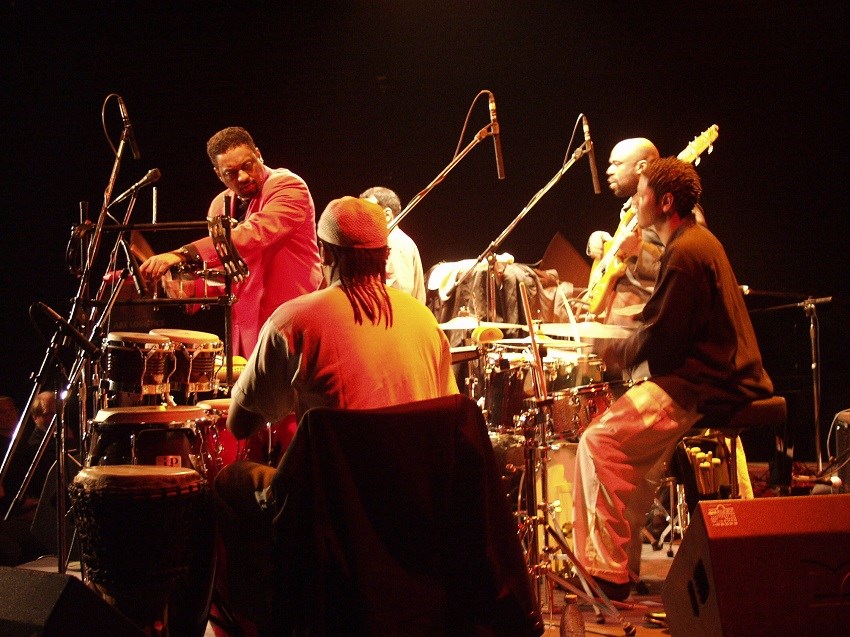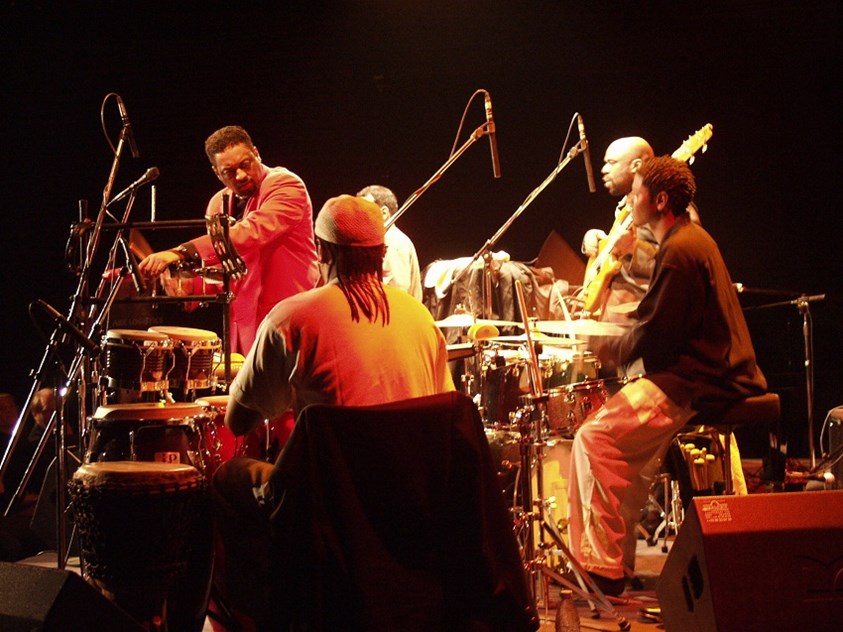 © Jacky Lepage

Chico Freeman Y Guataca synergize African rhythmic structures through an exploration of Afro-Cuban, African-American and Middle Eastern jazz elements, overlaid with other rhythms: creating a soul-stirring experience that entraps the listener in multi-layered sound.
The music opens its audience to a journey that transcends time and space like the sharp earth-opening blade of the Cuban hoe from which Guataca takes its name. The Guataca is often used as a musical instrument; it reproduces the ringing sound of a cowbell. In the parlance of the street Guataca describes one with "big ears:" on who spiritually hears, immediately, and knows his place within the music.
Chico Freenam was inspired to develop Guataca following several years of working with Afro-Latin greats such as Machito, Tito Puente, Chucho Valdez and Irakere, Eddie Palmiere, Willie Colon and Ray Barretto. And such African-American Jazz legends as McCoy Tyner, Elvis Jones, Roy Haynes, Don Pullen, Jack DeJohnette, Charles Mingus and Dizzy Gillespie. Chico Freeman and Guataca are the epitome of synergy in motion.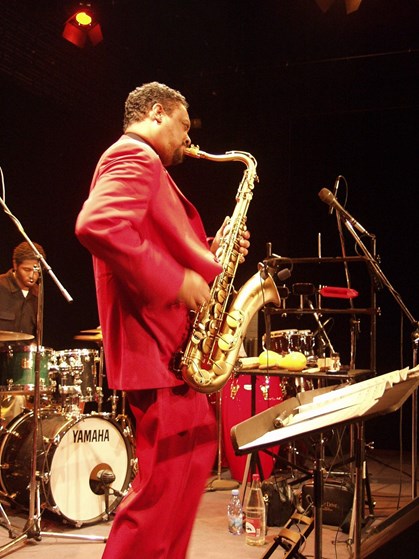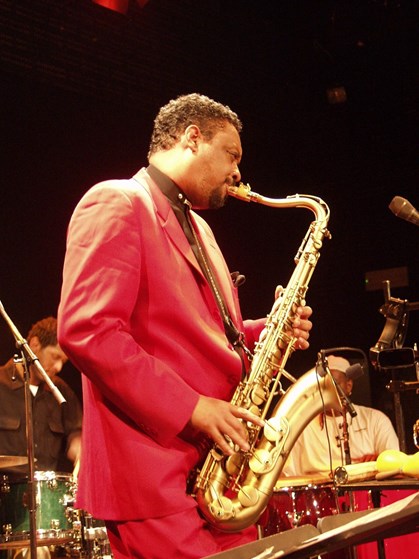 © Jacky Lepage
The multi-reedman, keyboard artist, composer and producer embodies the intent of jazz by finding new avenues of expression that embrace the heritage and tradition of the music. Many critics have compared him to the greats in jazz history, but the proof, beyond arguable opinions, is in the fact that he has played and recorded with some of the most innovative musicians in the world. Few artists can equal his list of musical associations: Dizzy Gillespie, McCoy Tyner, Elvin Jones, Charles Mingus, Jack DeJohnette, Art Blakey, Wynton Marsalis, Branford Marsalis, Hank Jones, Freddie Cole, Joe Henderson, Bobby Hutcherson, Roy Haynes, Von Freeman, Arthur Blythe, Billy Hart Lester Bowie, Famadou Don Moye, Cecil McBee, Kirk Lightsey, John Hicks, Mal Waldron, Earth, Wind & Fire, The Eurythmics, The Temptations, The Four Tops, and many others. From South American to Puerto Rico, Cuba, and the Dominican Republic, Freeman has performed and recorded with such Latin greats as Tito Puente, Machito, Irakere, Arturo Sandoval, Celia Cruz, Giovanni Hidalgo, Paulinho DaCosta, Nana Vasconcelos, Ray Barretto, Eddi Palmieri and Puerto Rico's famous El Gran Combo.
Born into a musical family, his father Von Freeman is the legendary tenor saxophone player, and his uncles George and Bruz play guitar and drums respectively. Freeman earned a mathematics scholarship to Northwestern University, and played trumpet in the school jazz band. He quickly learned that his heart was elsewhere, and eventually studied the tenor saxophone 8 to 10 hours a day until confident enough to challenge the sax section. He switched to a music major, and a great tenor player was born. Her graduated with a degree in music with proficiencies in saxophone, trumpet, and piano.
Following studies in advanced composition and theory, he began teaching elementary and intermediate courses at the Chicago-based AACM (Association for the Advancement of Creative Musicians) School of Music. While completing a Masters Degree in Composition and Theory at Governors State University, his memorable performance at the Intercollegiate Jazz Festival in South Bend, Indiana, with the Governors State's Jazz Band won Freeman awards as "Best Soloist", "Best Saxophonist", and a tour of Brazil with the winning group.
Although jazz was the first music Freeman was exposed to, many of his early professional gigs were at Chicago clubs with such blues artists as Memphis Slim, and Lucky Carmichael. Freeman went on to play with pop and R & B greats The Temptations, The Four Tops, Jackie Wilson, The Dells, The Isley Brothers, and The Eurythmics.
After arriving in New York in the 70's, he immediately bean working with Jeanne Lee, Mickey Bass, John Stubblefield, and Cecil McBee. Through apprenticeships in New York and abroad with such innovators as Elvin Jones, Don Pullen, Sam Rivers, Sun Ra, and Jack DeJohnette, Freeman developed his own group and rapidly rose to prominence with his energetic and exploratory style.
A legendary concert at Lincoln Center in June 1982, by The Young Lions, a group critics hailed as the brightest hopes of jazz in the 1980's – Chico Freeman, Wynton Marsalis, Paquito D'Rivera, Kevin Eubanks, Anthony Davis, and others – produced an album on which Freeman plays nearly every cut. His 14-minute composition "Whatever Happened To the Dream Deferred" was called "one of the best of the album" by the New York Times.


Line up:
Chico Freeman, tenor saxophone
Hilton Ruiz, piano/percussion
Pibo Marquez, percussion
Wayne Batchelor, bass guitar
Mark D. Colenburg, drums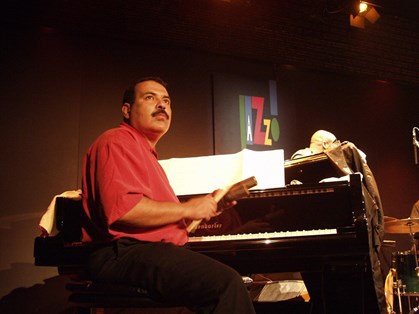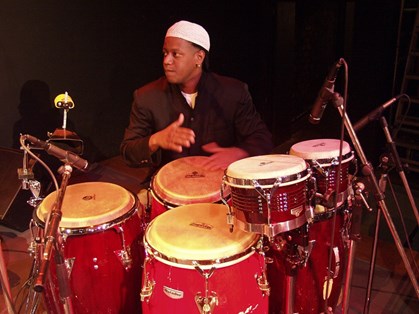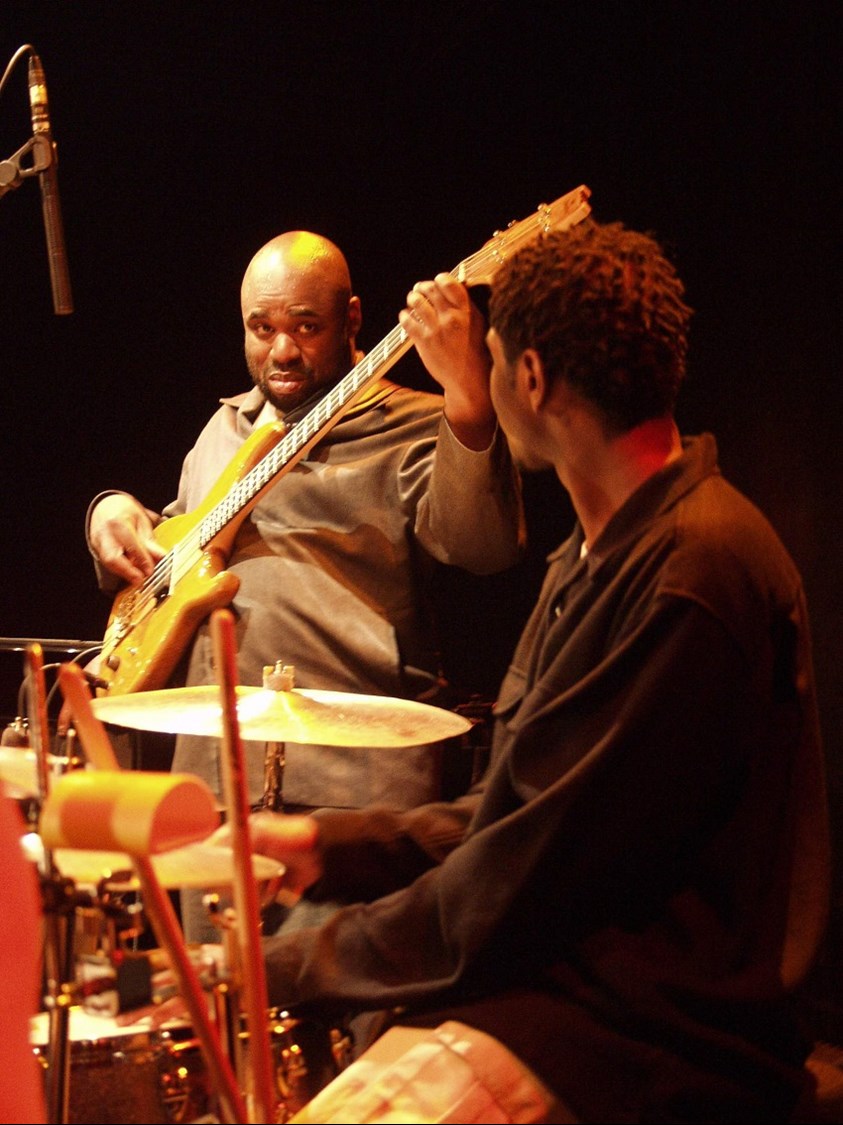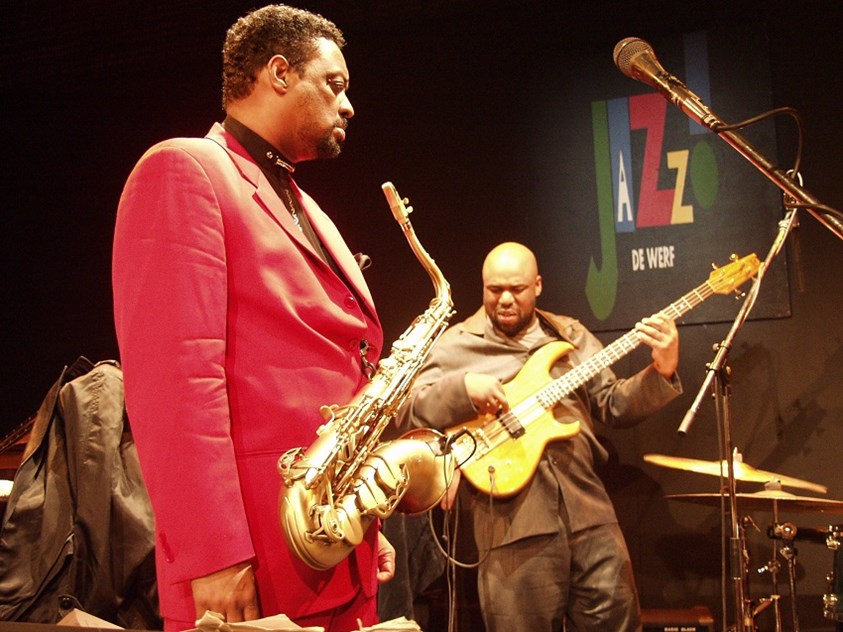 © Jacky Lepage

DUO BEN SLUIJS & ERIK VERMEULEN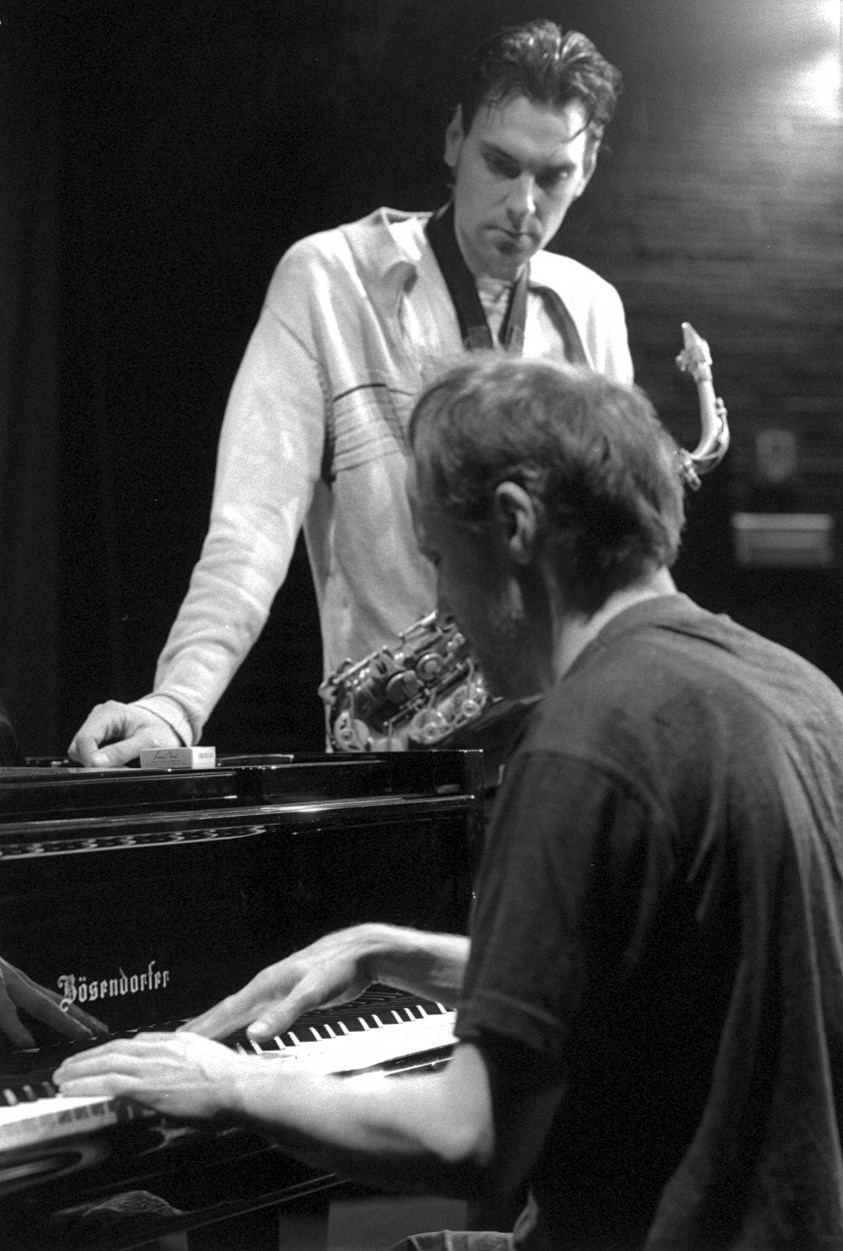 © Jacky Lepage
Ben Sluijs is born in Antwerp (1967), living in Brussels, playing where jazz leads him. "Jazz is jazz, full stop. It feels at home wherever jazz is loved, where emotions take over from words, where contents are more important than containers," he says on the cover of his recent album Seasounds (W.E.R.F. 024).
Ben Sluijs took classical saxophone lessons at the academy for five years while he was still in secondary school and graduated with great distinction and a certificate of excellence. Thereafter he studied four more years at the Jazz Studio in Antwerp with John Ruocco and one year with Steve Houben at the Brussels Conservatory. From then on, he played in different bands such as the Jan Mues Septet, the Brussels Jazz Orchestra, the Yellow City Big Band and others. He records a first album with Stacy Rowles, Dré Pallemaerts and Stefan Lievestro.
His talent takes him to a number of famous festivals and clubs such as Jazz Middelheim, the Knitting Factory in New York, the Festival of Montreal, North Sea Jazz Festival. Ben is a member of the group Octurn, Myriam Alter Quintet, Chris Joris Experience, Ivan Paduart Septet, Paolo Radoni Quartet, Loet Van Der Lee Quintet and played with some of the great names in jazz such as Philippe Catherine, Toots Thielemans, Bert Joris, … .
The Ben Sluijs Quartet, with Erik Vermeulen (piano), Piet Verbist (bass) and Eric Thielemans (drums) was founded in 1995 and has so far recorded several albums.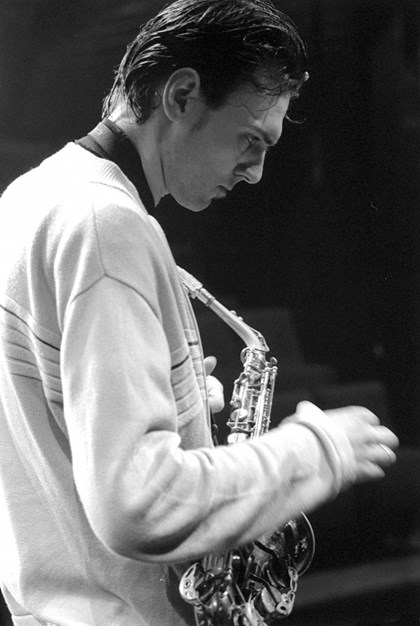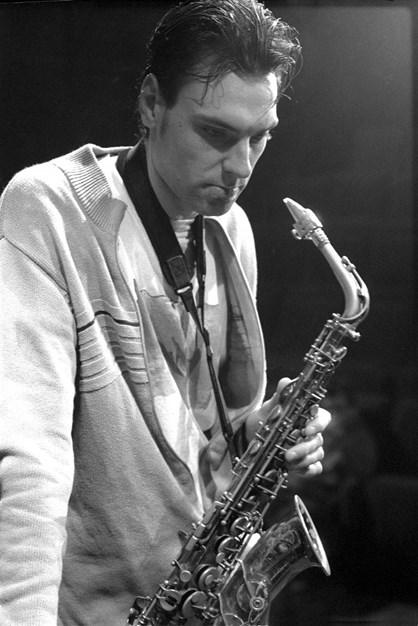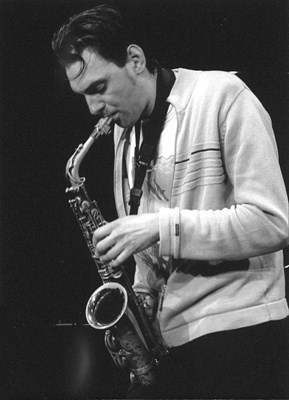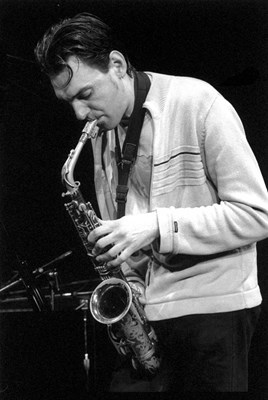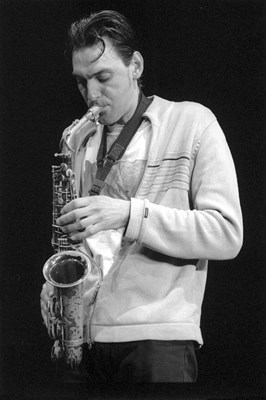 © Jacky Lepage

For more information please check out http://www.bensluijs.be


At a very young age, Erik Vermeulen (° 1959) began learning to play the cello but he turned to the piano. At the age of twenty-three he regularly performed as a jazz-pianist and founds the Erik Vermeulen Trio with Hein van De Geijn (bass) and Dré Pallemaerts (drums). From that period on, he plays in different formations in Belgium and abroad with Bert Joris, Erwin Vann, Jack Pelzer, Richard Rousselet, Deborah Brown, Joe Lovano, Steve Grossman, Clark Terry, John Ruocco, Slide Hampton, … He also worked with the BRT Jazz Orchestra and was a member of "De Frisse Wind".
In recent years he recorded and performed with Bart Defoort Quartet, Manu Hernia Quartet, Marta Mus and others. Today, Erik Vermeulen is a member of the Ben Sluijs Quartet and is a much in demand pianist and teacher at the School of Music in Gent and Antwerp.
The album Songs of Minutes (W.E.R.F. 025) of the Erik Vermeulen Trio with Sal La Rocca (bass) and Jan de Haas (drums), was recorded in April 2000 but only released in March 2001. It shows the great pianist Erik Vermeulen in his own compositions as well as in the adaptations of pieces written by others like Thelonious Monk (Evidence, Monk's Dream, Misterioso, …) which he manages to give his own, very personal touch.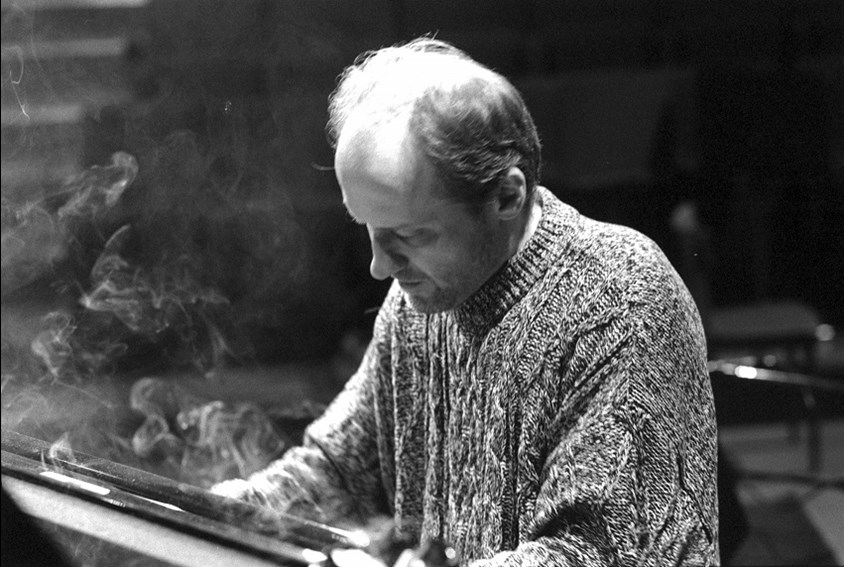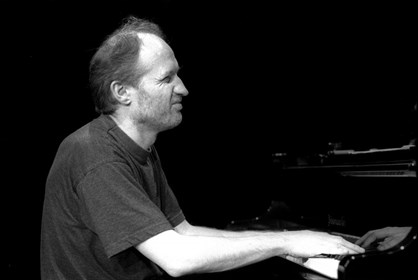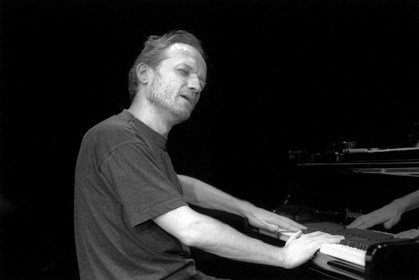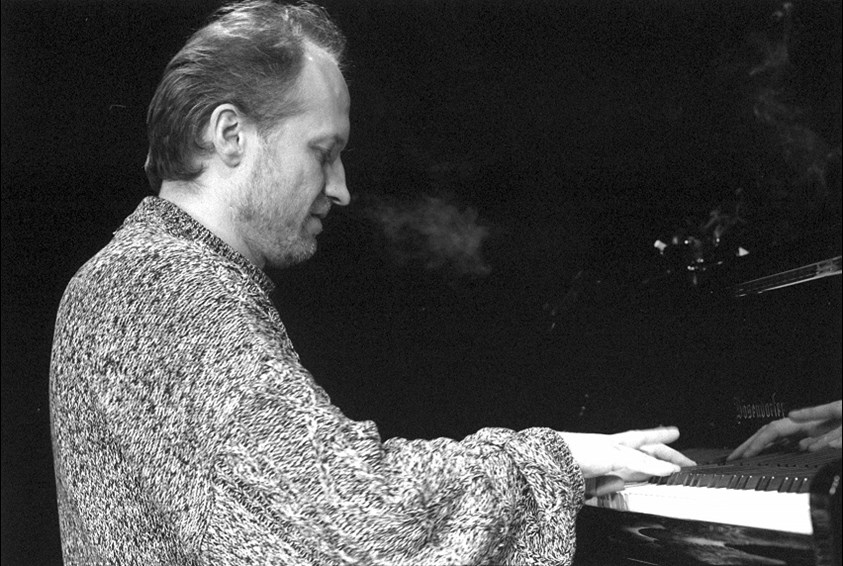 © Jacky Lepage

GILBERT ISBIN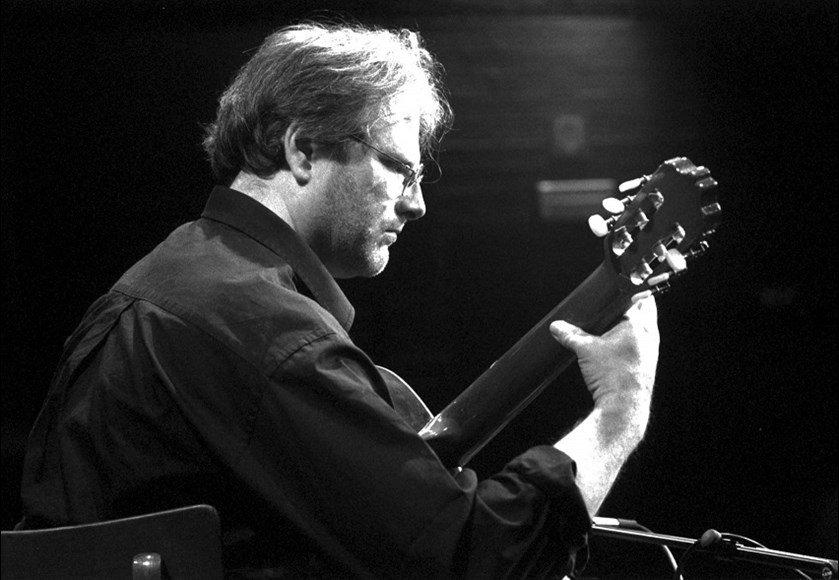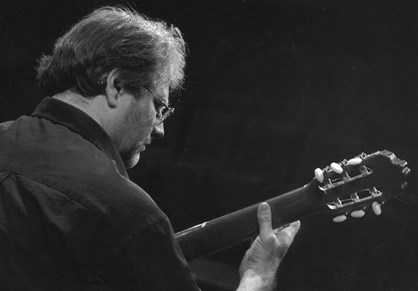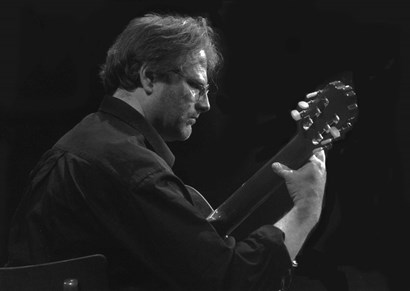 © Jacky Lepage


Gilbert Isbin was born in Brugge, Belgium in 1953. After playing lute and baroque music for quite a while, his love for composing and performing contemporary guitar music prevailed. His style blends jazz, a variety of ethnic idioms, and forms from the modern classical tradition. The improvisational technique and harmonic language of contemporary jazz, raga forms, polyrhythms, irregular meters, avant rock and Brazilian music are just a few of the flavors that seep into his work.
He has recorded ten albums, which have been highly acclaimed by the international music press and which are worldwide distributed. He has collaborated in concert and/or recorded with American and European players, such as Cameron Brown, Joe Fonda, Ernst Reijseger, Michel Godard, Jaap Blonk, Fred Van Hove, John Ruocco, Alex Van De Meulebroecke, Rudy de Sutter, Sandor Szabo, Philippe Deschepper, Geert Verbeke,...
Gilbert has written music for documentary films, has published his original guitar music and is a guest column writer for Guitar9.com, Omniguitar.com, The Online Guitar Magazine(UK) and Acoustic Guitar Workshop
He performs solo or in small settings. His performances, within the live environment, establishing a communication between both artist and audience, is an essential ingredient in the realization of his creative ideas.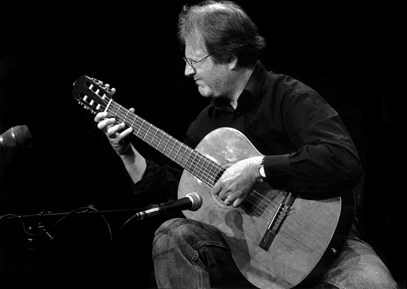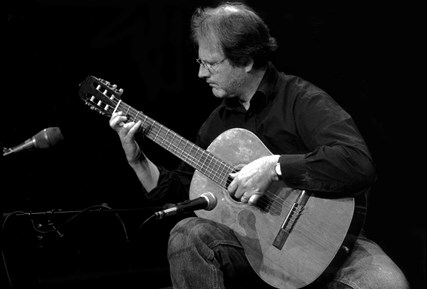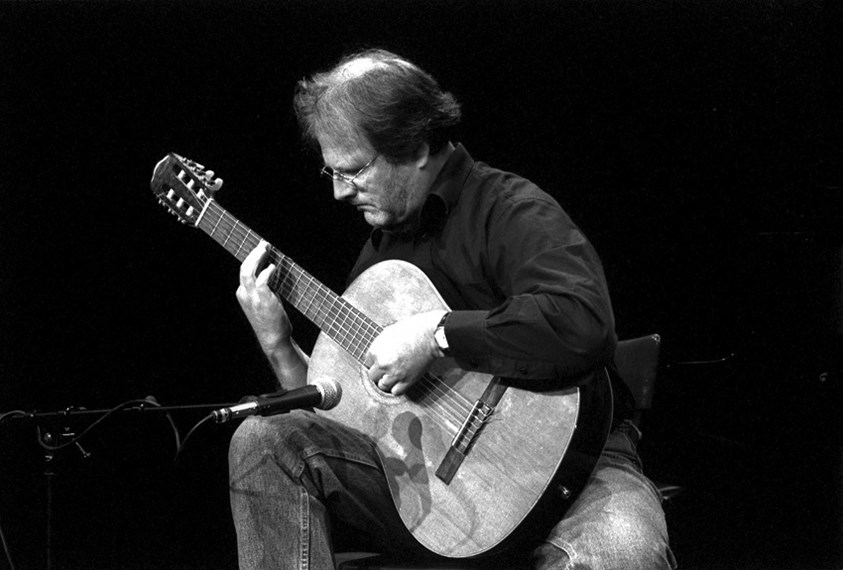 © Jacky Lepage

DUO PEDRO SOLER & BEÑAT ACHIARY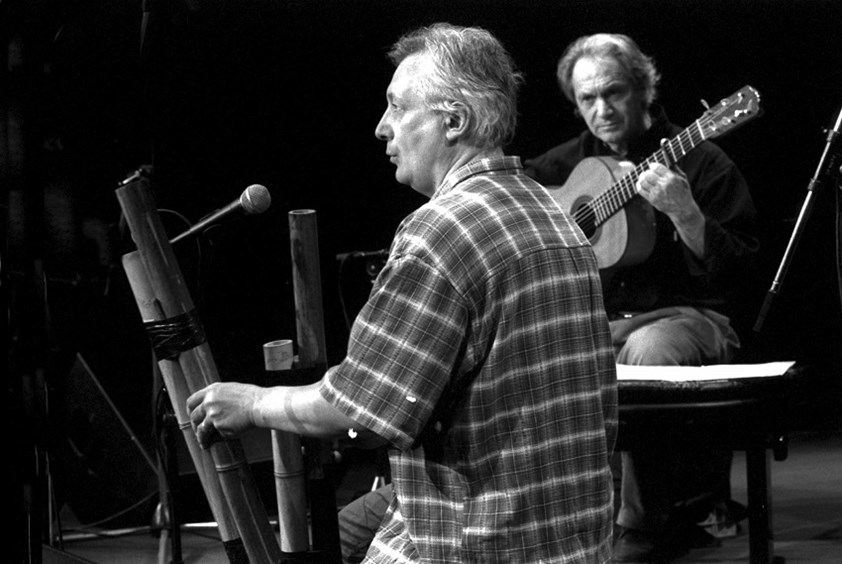 © Jacky Lepage

Flamenco is the encounter of joy and sorrow in rhythm; and Pedro Soler truly understands the art of expressing these emotions. The Catalan guitarist remains true to the tradition of Flamenco, not showing off in technical tours de force, but playing with remarkable finesse, not least in the silky, extraordinarily melodious Milonga or in the fast, lively rhythms of the Bulerias. Flamenco is not written music, and Pedro has learned his art by playing: his most important teacher was the Flamenco master Pepe de Badajoz, though his style has also some of the character of Pedro del Lunar the elder.
The art of Flamenco guitar is acquired above all through accompanying song and dance. For the one, Soler was shown the secrets of song accompaniment by the singer Jacinto Almadén during long Spanish and European tours with his group "Sonidos Negros"; and as to the other, Soler has accompanied various dancers (Carmen Amaya, La Chunga), but it was above all with "La Joselito" that he learned the dance styles from the golden age of Flamenco. He became her regular guitarist, as well as accompanying such famous singers as Juan Varea and master Pepe de la Matrona – and nowadays Miguel Vargas and Enrique Morente also. His purity of style and his amazing sonority rapidly made him well known and he started on a career as a soloist; he has now performed in most European countries, in America and Africa, the Soviet Union and Japan.
Pedro Soler is passionately interested in all forms of music; among other ventures, he has played with the Brazilian guitarist Nonato Luis; he has collaborated with Germaine Montero in putting the poems of Gimenez and Lorca to music; and the poetry of Antonio Machadol likewise, with Maria Cassarès; and he has performed in the world's most famous concert halls alongside Atahualpa Yupanqui and Oscar Caceres. His duet work with the Indian singer/percussionist/flautist Ravi Prasad, with the French contrabassist Renaud Garcia-Fons, with the Basque singer/percussionist Beñat Achiary, with Bernard Lubat, with the French saxophonist Michel Doneda and with the accordion player Raúl Barboza clearly illustrate the versatility of this natural artist.
https://www.jazzhalo.be/musicians-files/pedro-soler/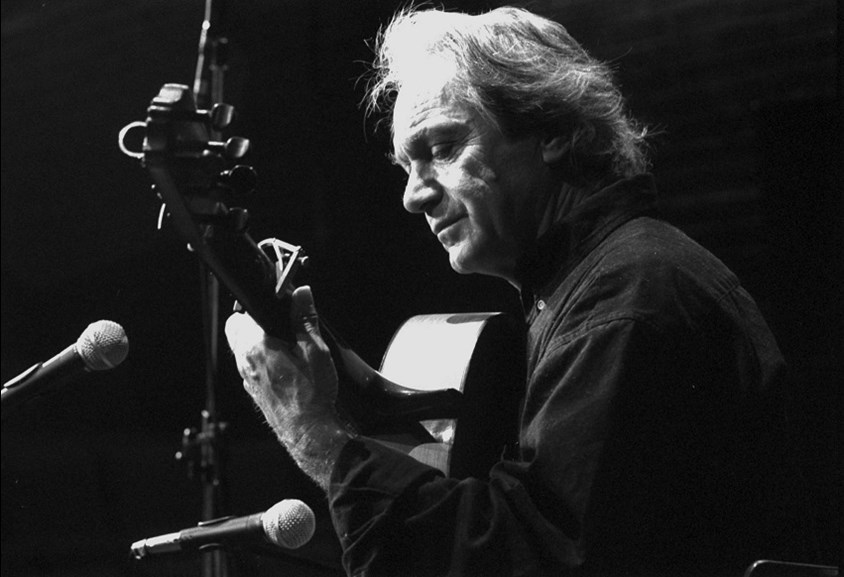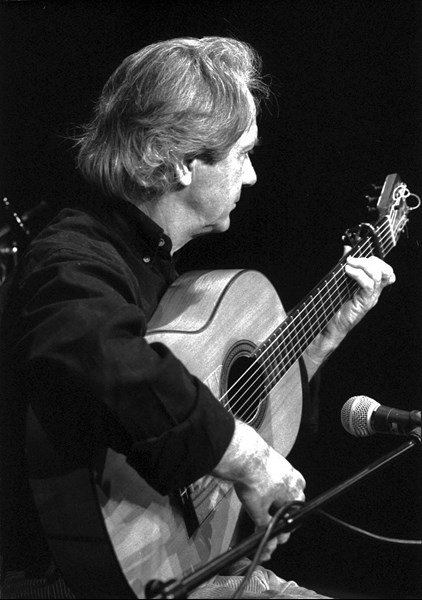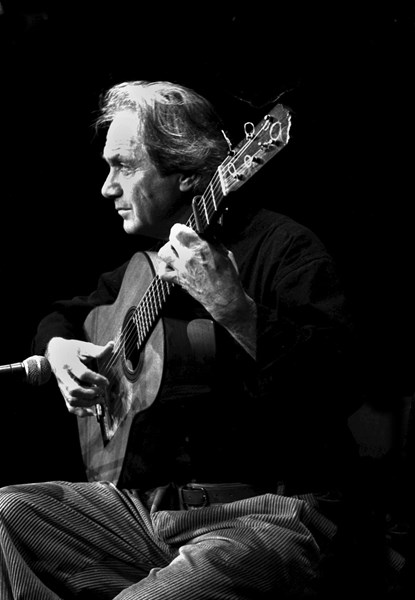 © Jacky Lepage

Beñat Achiary: "For me everything sings, and everything is capable of singing - a sculpture or an animate being could be a song, as could a tree shaken by the wind or the minuscule dance of an insect. The first thing to sing to me was my homeland. It was and is my teacher. Its vital breath would leave me all aquiver and in constant wonder of the music of singing. I was born after all in the Basque Country, where the love of singing is all-pervading. I have been singing since the day I was born and, as for all Basque people, singing for me has been a central point of all of life's events: celebrations, worship, solitary moments, work. We sing all the time whether alone, with friends or in a group. The singers whom I have most admired and who prompted me to start this singing adventure are Billie Holiday, Arabarco, Extarmendi and most of all Junes Chübürü whose songs I continue to sing. As a teenager the sound of gospel music and old blues numbers used to send shivers through me, and at night, by the green light of my dad's FM radio, I used to listen to tango music and the incredible voice of a crazy singer called Dario Moreno.
The lyrics of the greatest Basque songs are steeped in the highest form of meditative poetry. These lyrics can take the form and style of epic, tragic or comic poetry and sometimes even the extremely subtle style of Occitan troubadour poetry. Its poetical phrasing is quite free and impregnates the songs and music with a sense of desire and profound knowledge. The meaning changes constantly with only the last line bringing illumination. "Meaning, which is the son of sound, constantly sheds light on itself"(Octavio Paz). Basque poets work not only on the phrasing but also on the resonance (meaning) of the words, which in turn are incorporated into sumptuous phrases. The best example of this today is the poetry of Joseau Artze. There are also examples of psalmody which are closely related to important texts and which can be characterised by their short, impertinent forms (Xikitoak), improvised forms (Bertsu) and other examples whose resonance can be 'perforated' by their meaning in the third dimension.
One needs to understand two things in order to comprehend what we as artists are trying to achieve. Artistic creation in the current climate of the Basque Country has to feed on the research of etymologists, linguistic historians and the innovative work of other artists (traditional games, fine art in which our country excels, poetry, etc). Our perpetual quest for identity can only be achieved through creation, meditation and through naive but carefully researched innovation where what is most important is one's experience of all things sensual and the spark of poetic inspiration. Few people have chosen to ally research, reflection and spiritual nourishment with innovation, real life experience and with corporeal pleasures. The forms and the means are of little importance. For instance, in the work of certain electro-acousticians whom we admire - Jean Pallandre, Métamkine, Marc Pichelin, etc - we can instantly feel their proximity to space, to nature and to the very pulse of life.
The free improvisation in my work has several sources, the first of which is my creative interpretation of traditional songs. This occurs at a point of harmony between past and present experiences, when that moment which gave birth to the traditional song and that which prompts the performer to sing in present time become one. Ideally, it is the performer's innate instinct - and the advantage of experience - which allows him/her to choose this precise moment in time and to personify the song. Such an act often produces a feeling of 'eternity' in the performer. It is the artist's body and soul which enable the song to be personified.
The Basque cultural heritage also provides the artist with numerous other sources of inspiration for improvisation - carnival Maskaradak, celebrations, Bertsu and Xikitoak. Finally, it was my encounter with poets and poetry which has inspired me the most. I was hungry for new sources, but this encounter enabled me to appease my hunger, with each new revelation helping me to discover others. You can see that the possibilities are infinite and that the combination of experience, naivety and memory allow for a constant renewal of sources.
The final sentence which Lorca pronounced in his conference on the "duende" may help shed new light on this subject: "The 'duende' where is the 'duende'? A spiritual wind blows through the empty arch, persistently sweeping away the skulls of those who came in search of new countries and unheard-of voices; a wind which possesses the sweet smell of children's saliva, freshly-cut grass and the veil of Medusa, and which proclaims the perpetual baptism of things newly created."

The entire interview was published as "Beñat Achiary: Sound Carver - interview by Chris Blackford" in Rubberneck #29, June 1999
Rubberneck: http://www.btinternet.com/~rubberneck/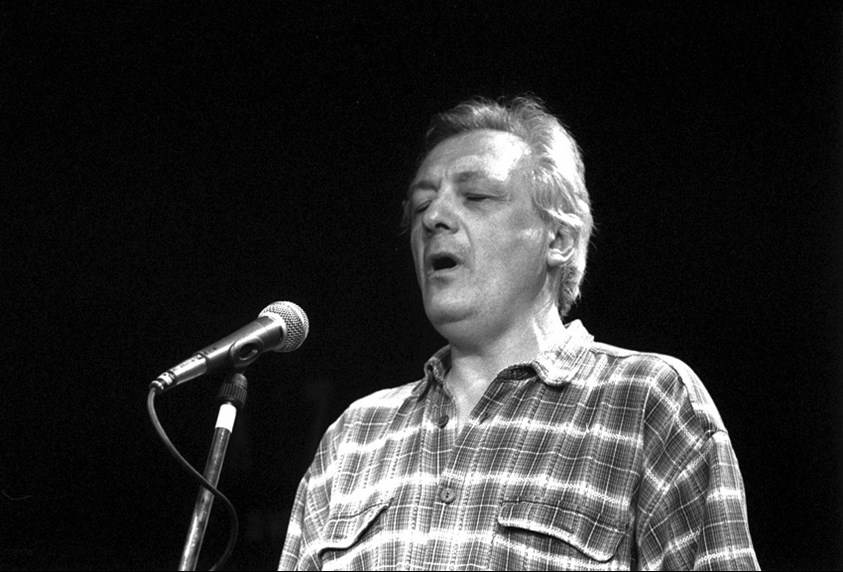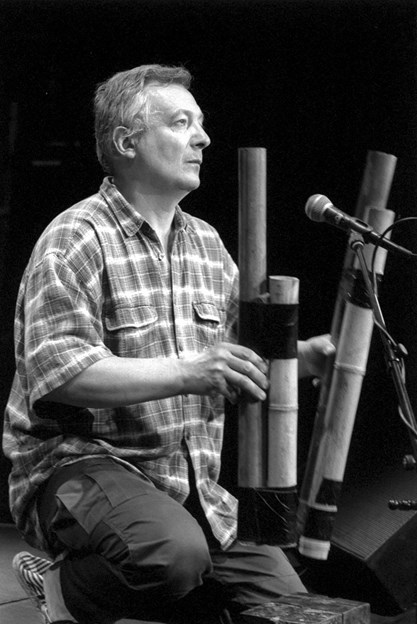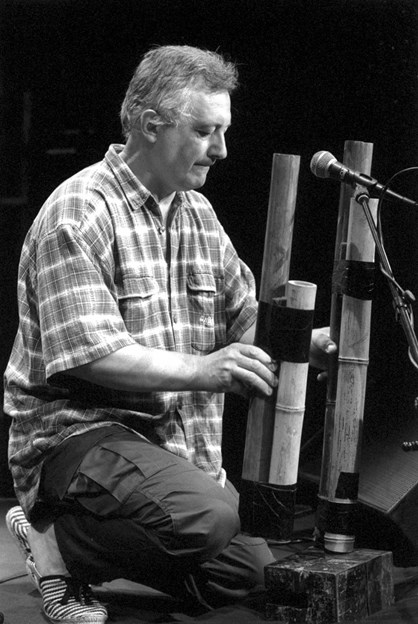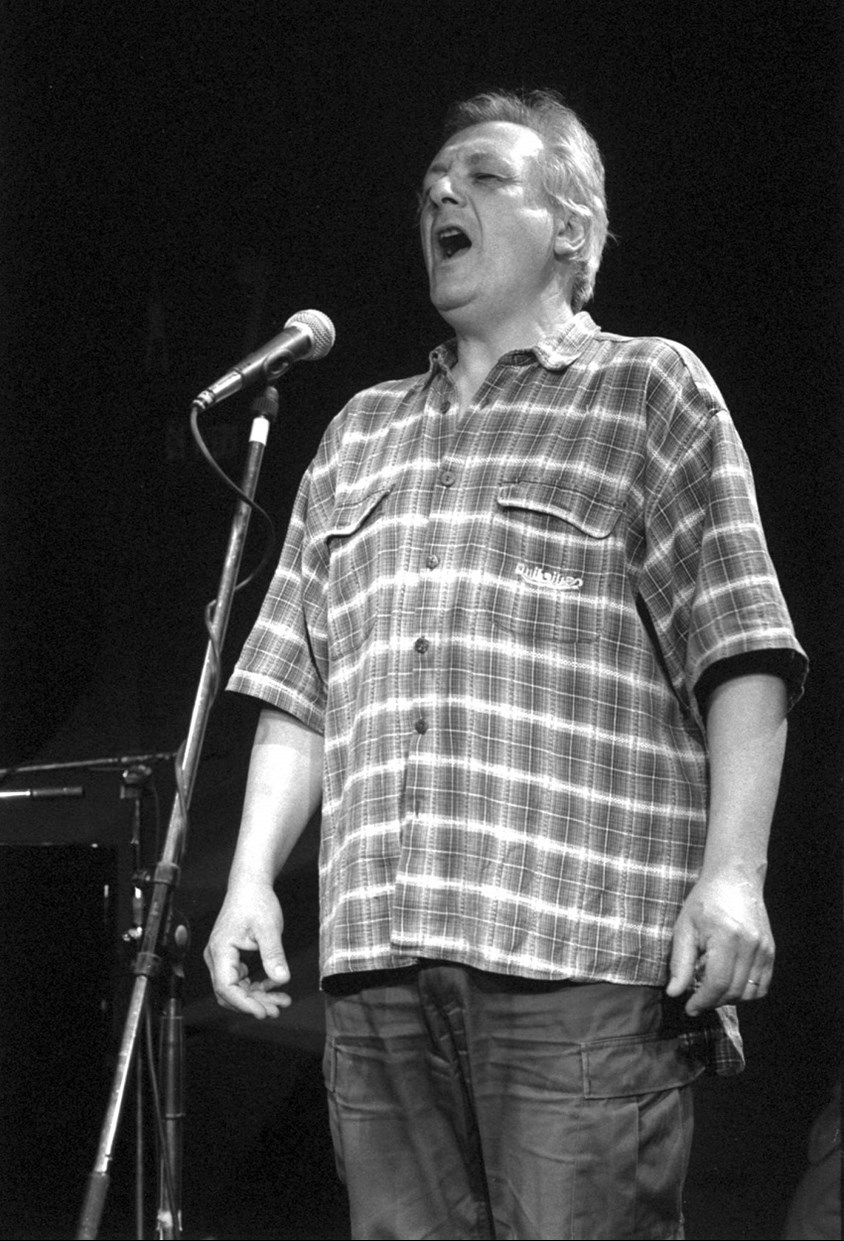 © Jacky Lepage

proudly presents
THE MUSIC DAYS 2002 #2
November 7th - 9th
---
MARIO PAVONE / MICHAEL MUSILLAMI QUARTET
Mario Pavone, double bass
Michael Musillami, electric guitar
Peter Madsen, piano
Michael Sarin, drums
DUO SHEILA JORDAN / CAMERON BROWN
Sheila Jordan, voice
Cameron Brown, double bass
---
AMSTERDAM BIM HUIS (+ 31 206 231 361)
November 7th 2002 at 21.00 hrs


BRUGGE DE WERF (+ 32 50 33 05 29)
November 8th 2002 at 20.30 hrs


MARIO PAVONE / MICHAEL MUSILLAMI QUARTET


Mario Pavone, double bass
Michael Musillami, electric guitar
Peter Madsen, piano
Michael Sarin, drums

This is a quartet co-led by Michael Musillami and long time associate Mario Pavone. The musicians in the group are at the top of their craft. They have all played in the standard jazz setting and enjoy it, but Mario's compositions call for a different response than a standard jazz composition. "You have to reach very deep in your bag of tricks to perform his music, it's an incredible challenge." Michael Musillami said.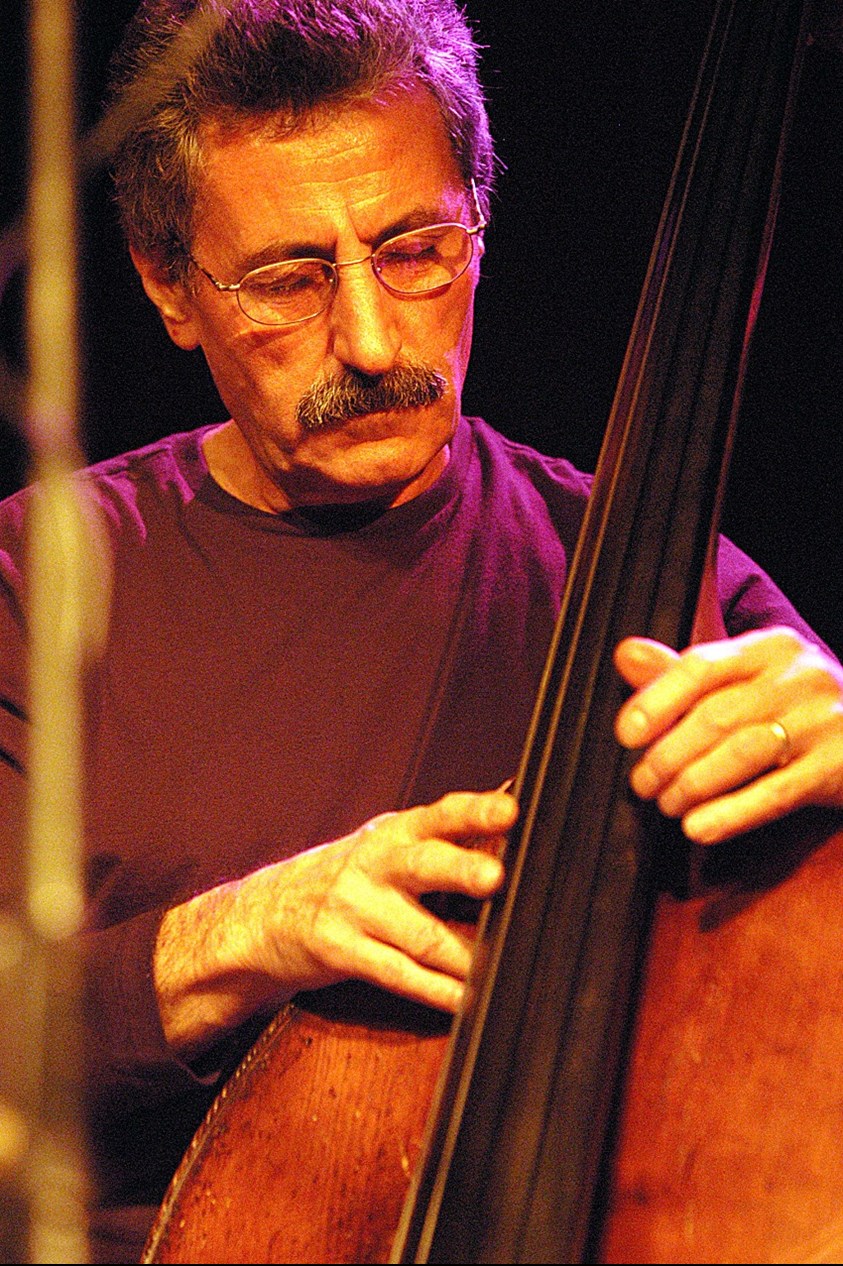 © Jos L. Knaepen

Mario Pavone (°1939 in Connecticut) has been on the NY scene for almost forty years. Pavone didn't begin playing bass until he was 24 (took lessons from Bertram Turetzky), when he was encouraged by his friend guitarist Joe Diorio. Mario was an industrial engineer who played jazz on the side until the late 1960s when he decided to dedicate himself to music. In 1964 after obtaining engineering degree from the University of Connecticut, joined a European tour with pianist Paul Bley. Attending the funeral of John Coltrane in 1967 led Pavone to pursue music.
He played on the New York City loft scene, though his free jazz influences also include the more ensemble-oriented sounds of the AACM, and established himself in groups led by Paul Bley, Bill Dixon, Thomas Chapin, Steve Johns and Anthony Braxton (Countercurrents, 1994, prod. Marty Ehrlich). Pavone's avant-garde experience lends his intricate compositions an angular, unsettling character even though they're mostly tonal. In the 70's Mario formed his own record company called Alarca following in the footsteps of one of his heroes Charles Mingus. He worked extensively in the late 70's and 80's in the New Haven, Connecticut area, which was full of incredible musicians at the time, studying at Yale or Wesleyan including Jane Ira Bloom, Ray Anderson, Anthony Davis, Gerry Hemingway, Mark Helias, Pheroan Ak Laff, Leo Smith and many others. It was also in the eighties that Mario reconnected with the brilliant trumpeter Bill Dixon and recorded a number of albums with him for Soul Note.
It was soon after this that Mario became the powerful anchor of the Thomas Chapin trio, recording seven amazing CD's with him over a ten-year period. An eight CD box set of all of their recordings (the additional CD is from an unreleased live concert recording) is due to be released very soon on the Knitting Factory label. I saw the test pressing and I must say it's the most beautiful box set that I've ever seen. Mario has been composing music for his own groups for many years. His compositions are very earthy and full of bass vamps and hip lines. They sometimes swing and sometimes float and sometimes groove hard enough to knock the roof off. He leaves plenty of room for open improvisation sometimes with chord changes and often without. I think Mario is one of the finest writers around and you can hear evidence of this if you check out either of his CD's on the New World label. The first is called 'Toulon Days' and has a very young Joshua Redman as part of the ensemble and the second is one that I recorded on called 'song for (septet)'. Both received great reviews from critics all over the world. Another highly regarded CD of Mario's, showing off his amazing skills as a composer and player, is his Knitting Factory release entitled 'Dancers Tales' and don't forget 'Nu Trio - Remembering Thomas'.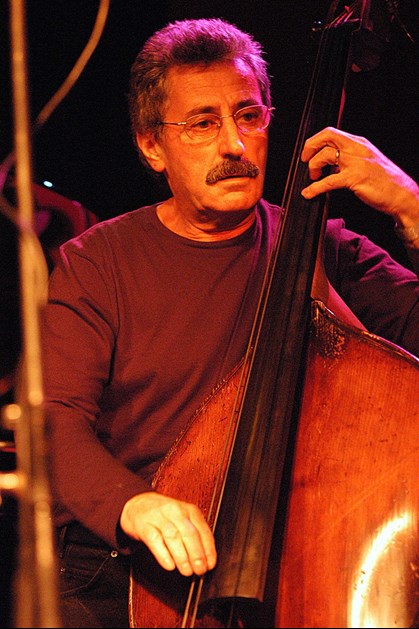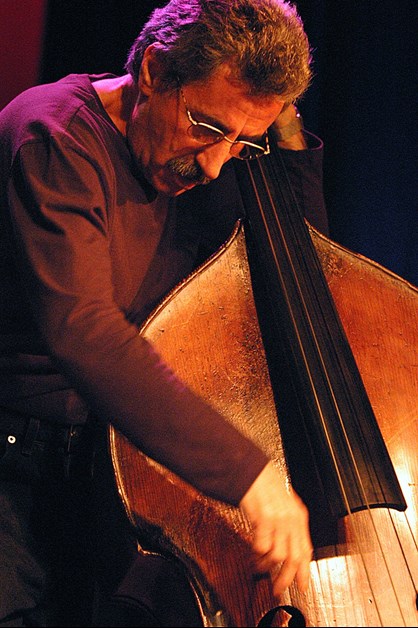 © Jos L. Knaepen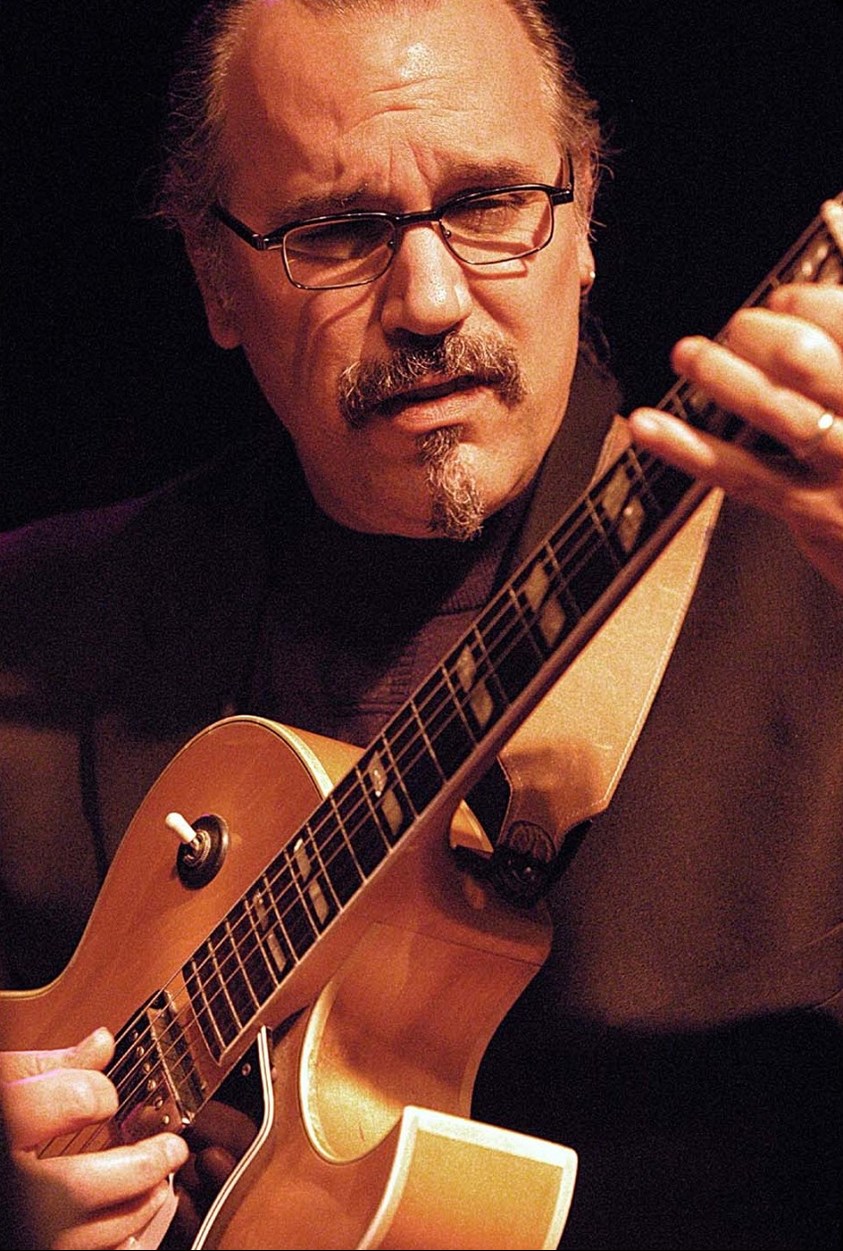 © Jos L. Knaepen

Guitarist/Composer Michael Musillami relocated to the East Coast from California in the early 1980s. Musillami gained recognition playing with organ combos, before stepping out on these sessions. His approach is a mix of Wes Montgomery meets John Scofield while channelling Kenny Burrell. For the most part these three discs are post-bop workouts, but there is a clever updating of this most 1960s sound. All discs share a common lineup of Musillami, Chapin, Ken Hewitt (piano), and Steve Johns (drums). Jazz organists, Richard "Groove" Holmes and Bobby Buster, just two journeymen who employed his talents.
Since his arrival he has performed with such greats as Bill Barron, Thomas Chapin, Carter Jefferson, Dewey Redman, and Michael Moore to name just a few. Michael Musillami has 4 releases as a leader. Bagg's Flight Home; with master bassist Michael Moore; Archives..With Thomas Chapin & Nat Reeves....Mar's Bars; with Ray Drummond, Randy Brecker and Thomas Chapin...and Groove Teacher; with Ralph Moore, Claudio Roditi, Thomas Chapin. Michael Musillami recorded three sessions with Thomas Chapin between 1990 and 1994. Chapin was an extraordinary human being and musician who died of leukemia in 1998 at age 40. His high level of energy and imagination permeates throughout these recordings and it is a blessing they have been released on Playscape Recordings.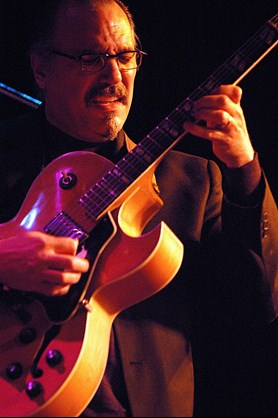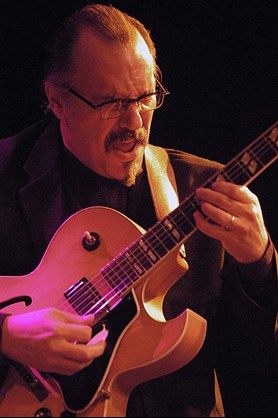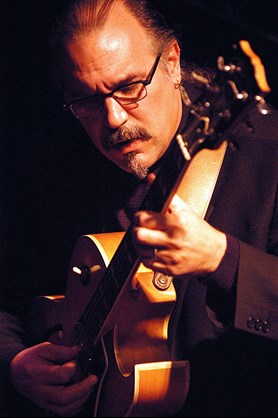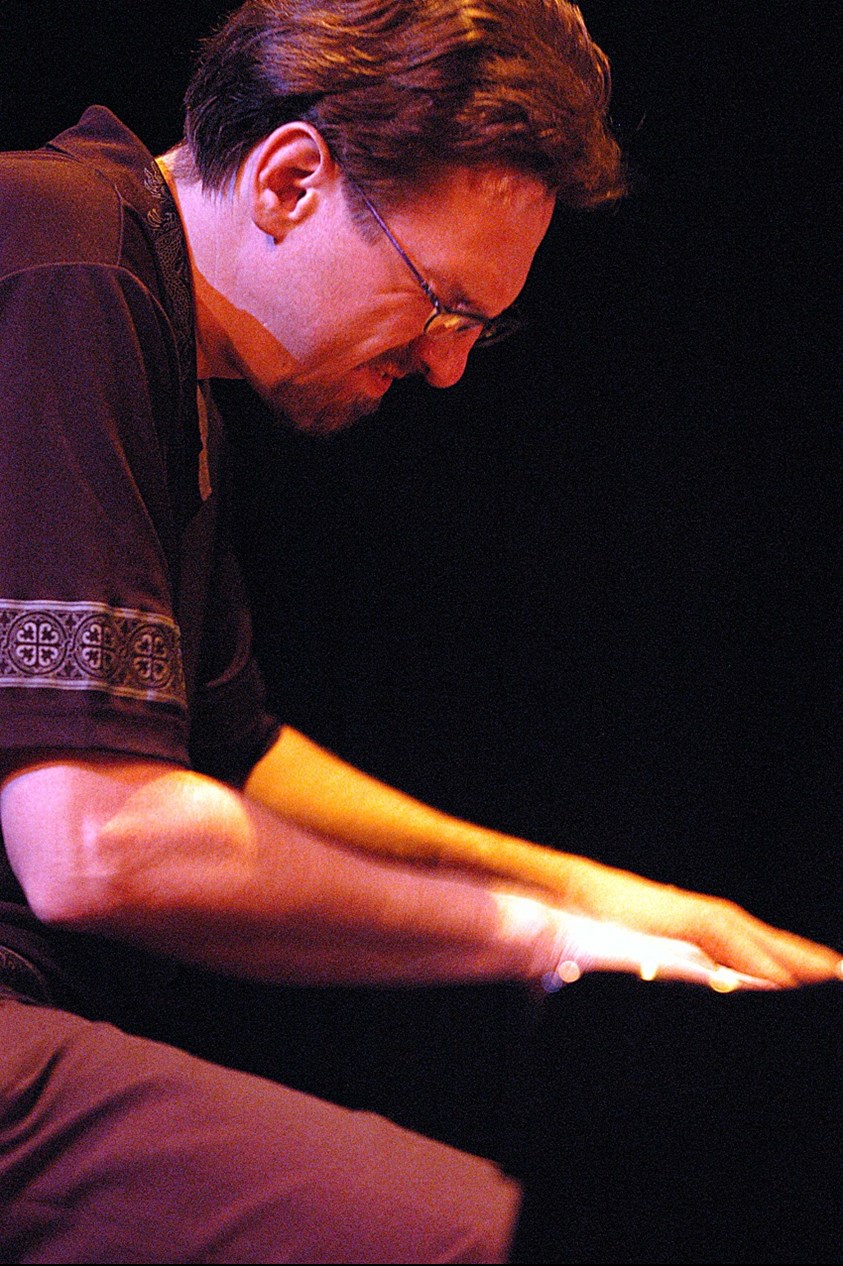 © Jos L. Knaepen

It all began thirty-seven years ago when Peter Madsen's mother sent him for the preverbal weekly piano lessons. She had heard that studying the piano would raise your IQ and she figured he needed all the help he could get. He began studying classical piano at age eight; double bass at age eleven; and jazz on both instruments at age thirteen. He played his first professional gig three years later. He graduated with a degree in music from the University of Wisconsin - Eau Claire and shortly after moved to New York City where he still lives twenty years later. He worked with a diverse array of jazz-stars young and old including to name just a few: Stan Getz, George Coleman, Oscar Brown Jr., Sonny Fortune, Arthur Blythe, Ravi Coltrane, Vincent Herring, Bill Frisell, Mick Goodrick, Dave Liebman, Eddie Henderson, Greg Osby, Warne Marsh, Ralph Moore, Rick Margitza, Rufus Reid, Ray Drummond, Cecil McBee, Ben Riley, Jeff Watts, Mel Lewis, Smitty Smith, the Mingus Big Band and many others. He also recorded about fifty albums with many other greats including: Stanley Turrentine, Benny Golson, Joe Lovano, Kenny Garrett, Don Cherry, Lew Tabakin, Fred Wesley, Maceo Parker, Thomas Chapin, Tom Harrell, Marty Ehrlich, Chris Potter, Anthony Cox, Toninho Horta, Billy Hart, Victor Lewis, Lewis Nash and many others. He has recorded his own albums for a German record company called Minor Music. He also composed and has written over 200 pieces, many of which have been recorded.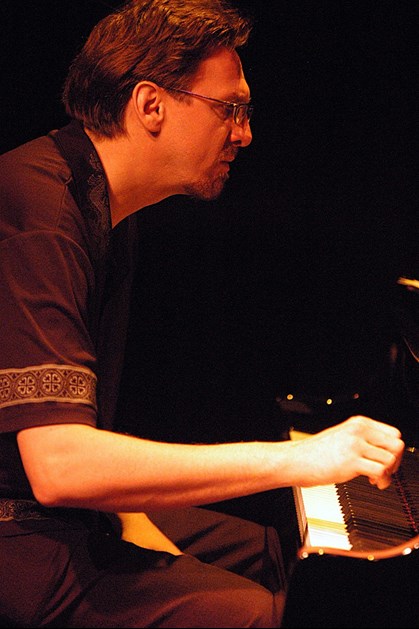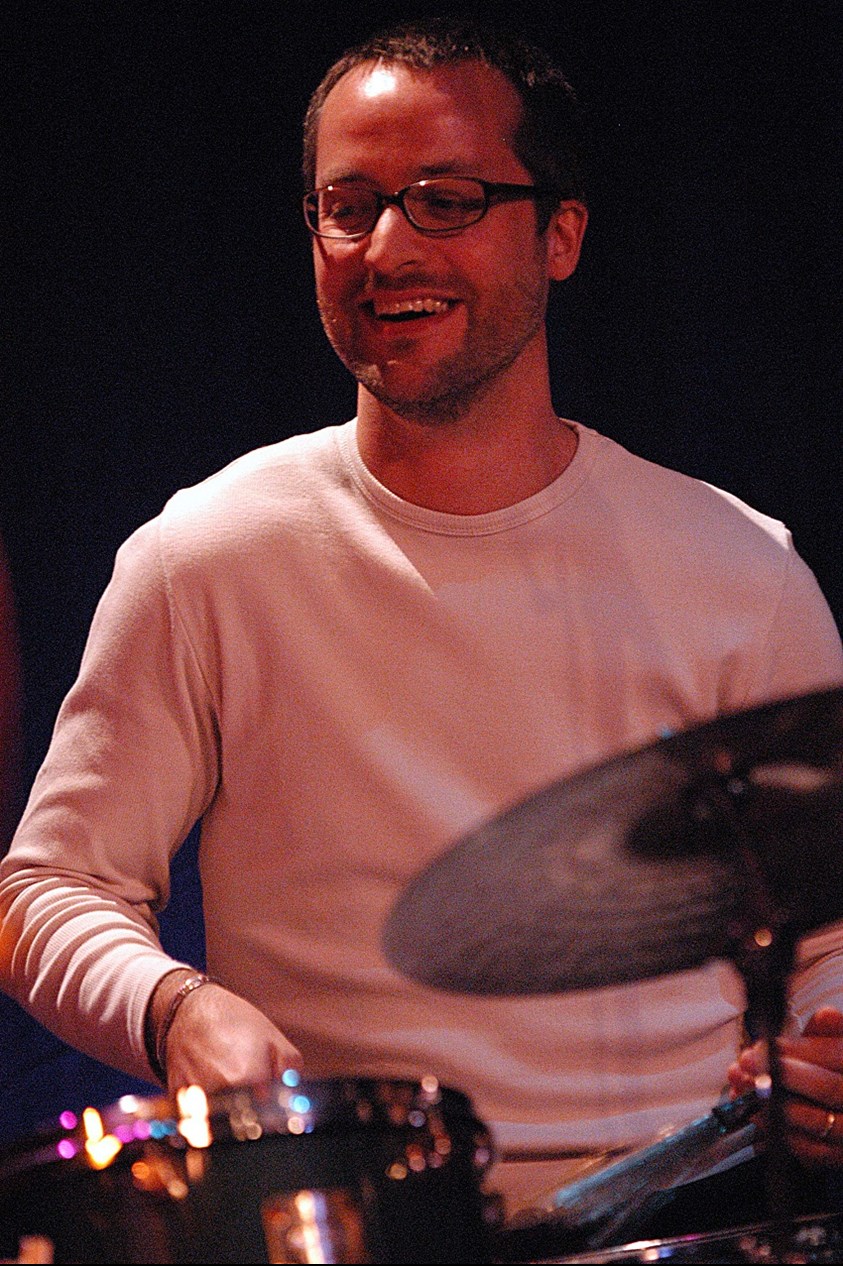 © Jos L. Knaepen

Drummer Michael Sarin is originally from Seattle, WA (USA), where he began his formal music education with drummer Dave Coleman, Sr. He continued his education at the University of Washington, studying with percussionist, Tom Collier, and later with drummer Jerry Granelli at The Cornish Institute of the Arts. Since moving to New York, he has performed, toured, and recorded with musicians Ray Anderson, Tim Berne, Thomas Chapin, Marty Ehrlich, Mark Helias, Lee Konitz, Bobby Previte, Ned Rothenberg, John Zorn, Ben Allison's Medicine Wheel and The Herbie Nichols Project. He was also touring and recording with Anthony Coleman's "Sephardic Tinge," the Dave Douglas String Group, Myra Melford's "The Same River, Twice," and Brad Shepik.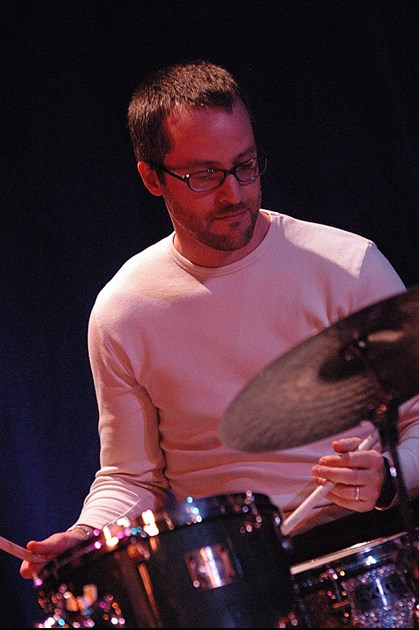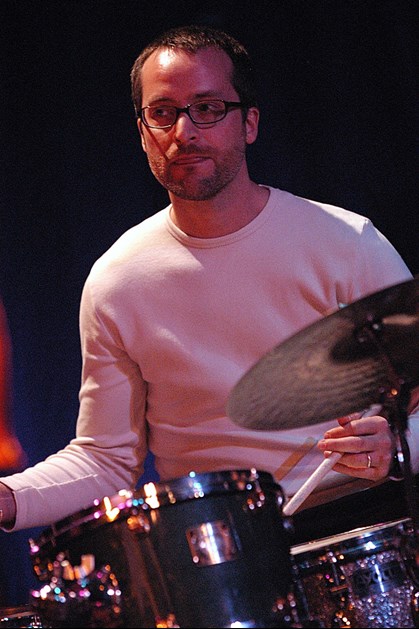 © Jos L. Knaepen


DUO SHEILA JORDAN / CAMERON BROWN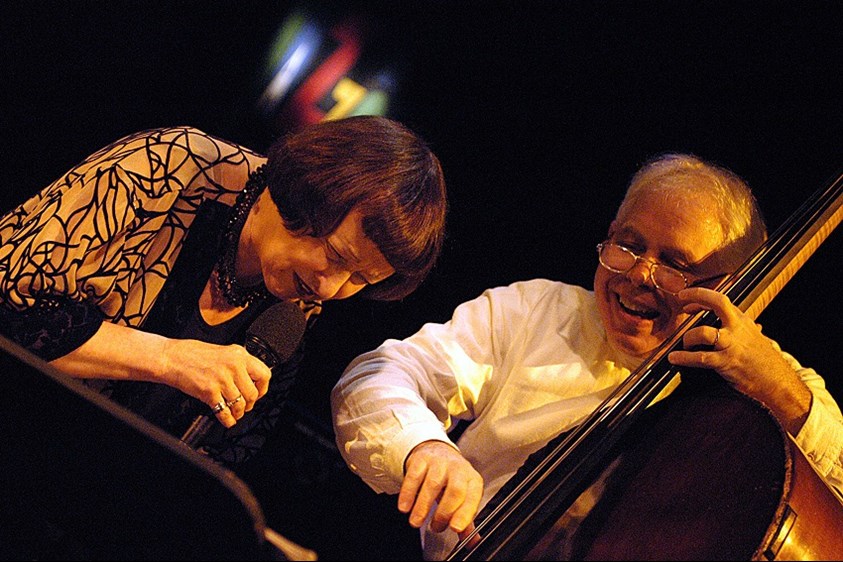 © Jos L. Knaepen

Knitting Factory—26 November 2001
It was Sheila Jordan's 70th birthday celebration at the Knitting Factory Main Space. The unamplified richness of Cameron Brown's bass was her eloquent partner. Together they turned the awkward room for once into a beautifully intimate singing party. Sheila Jordan's life in songs were dancing with the deep, responsive strings, a musical story that filled everyone's ears with an easy grace, swinging, bopping and real.
As is the case with most noteworthy jazz musicians, Sheila Jordan remains uniquely recognizable. Her dramatic voice, at once inventive and challenging, with unexpected turns of phrase, takes on instrumental proportions not, unfortunately, appreciated by many. Through the Belgian organization Jazz'halo, this duo performance with bassist Cameron Brown (out of George Russell, Archie Shepp, Don Pullen) is her first public appearance in this format to be recorded. As Cameron states: "Voice and bass is exacting. If you make a mistake, there's no place to hide"; yet the combination allows both "...so much freedom and spontaneity." The chosen material Sheila had been singing for years, and the receptive audience "...understood everything, even improvised lyrics". It's a wonderful journey, from the bitter sweet to spontaneous laughter, that satisfies both musicians and those in attendance.
Highly recommended. JS (www.jazzcanadiana.on.ca)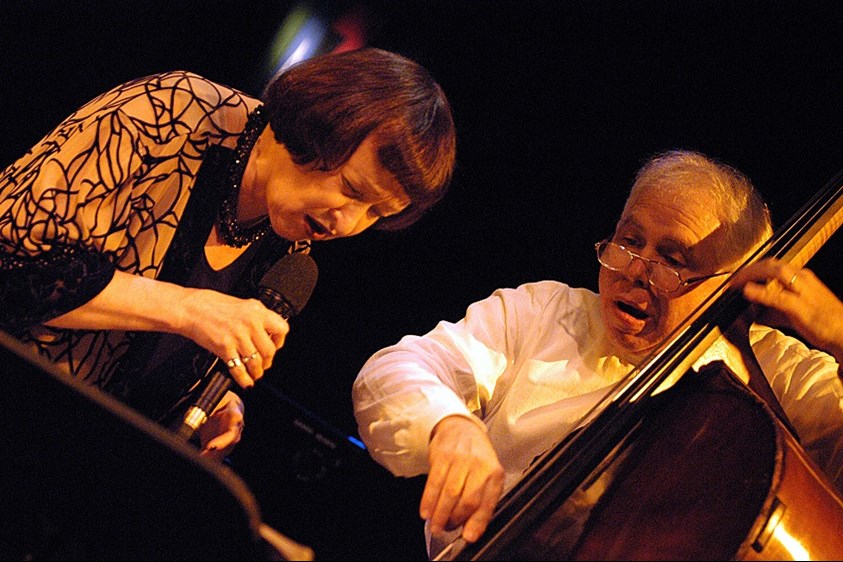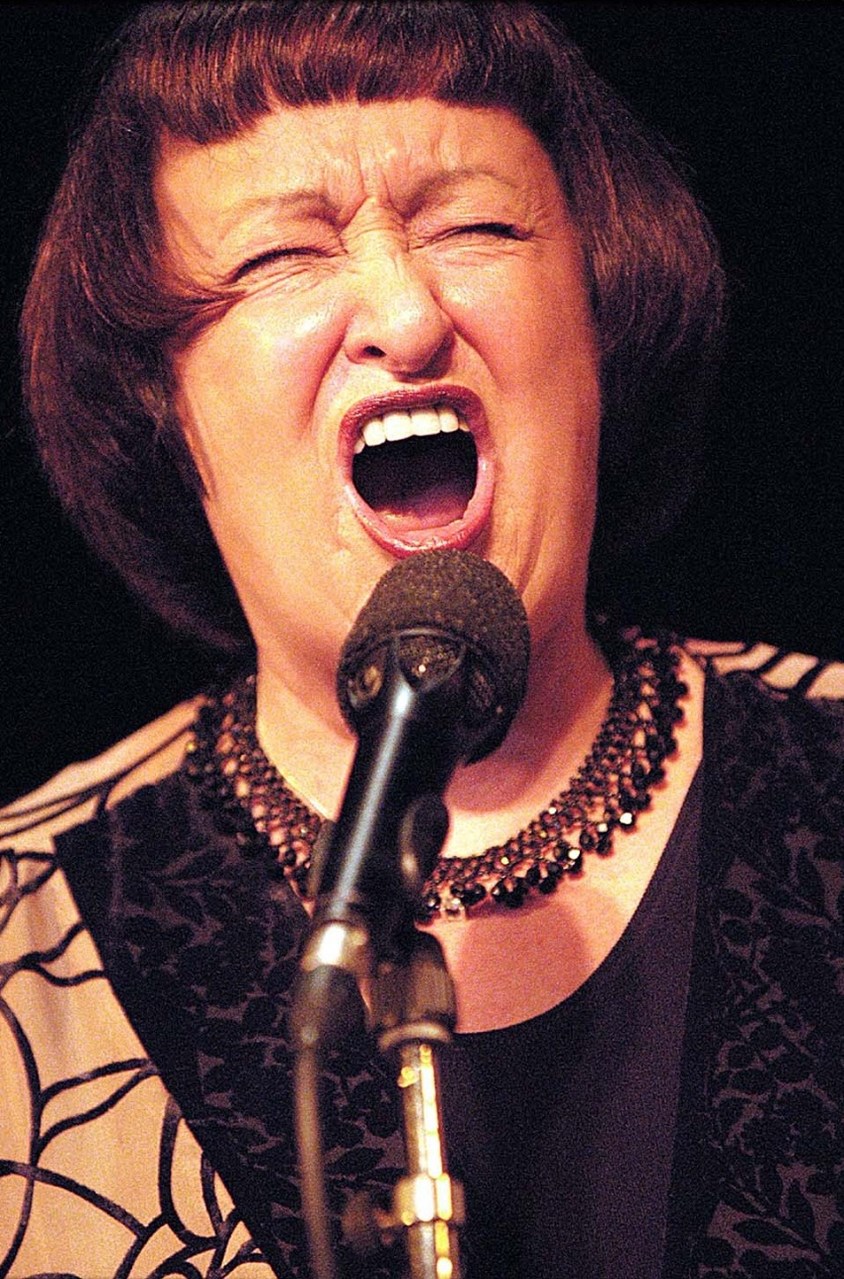 © Jos L. Knaepen

Born : Sheila Jeanette Dawson, 18 November 1928, Detroit, Michigan, USA. Raised in poverty in Pennsylvania's coal-mining country, Sheila Jordan began singing as a child and by the time she was in her early teens was working semi-professionally in Detroit clubs. Her first great influence was Charlie Parker and, indeed, most of her influences have been instrumentalists rather than singers.
Working chiefly with black musicians, she met with disapproval from the white community but persisted with her career. She was a member of a vocal trio, Skeeter, Mitch And Jean (she was Jean), who sang versions of Parker's solos in a manner akin to that of the later Lambert, Hendricks And Ross. After moving to New York in the early 50s, she married Parker's pianist, Duke Jordan, and studied with Charles Mingus and Lennie Tristano, but it was not until the early 60s that she made her first recordings. One of these was under her own name, the other was The Outer View with George Russell, which featured a famous 10-minute version of "You Are My Sunshine".
In the mid-60s her work encompassed jazz liturgies sung in churches and extensive club work, but her appeal was narrow even within the confines of jazz. By the late 70s jazz audiences had begun to understand her uncompromising style a little more and her popularity increased - as did her appearances on record, which included albums with pianist Steve Kuhn, whose quartet she joined, and an album, Home, comprising a selection of Robert Creeley's poems set to music and arranged by Steve Swallow. A 1983 duo set with bassist Harvie Swartz, Old Time Feeling, comprises several of the standards Jordan regularly features in her live repertoire, while 1990's Lost And Found pays tribute to her bebop roots. Both sets display her unique musical trademarks, such as the frequent and unexpected sweeping changes of pitch which still tend to confound an uninitiated audience.
Entirely non-derivative, Jordan is one of only a tiny handful of jazz singers who fully deserve the appellation and for whom no other term will do.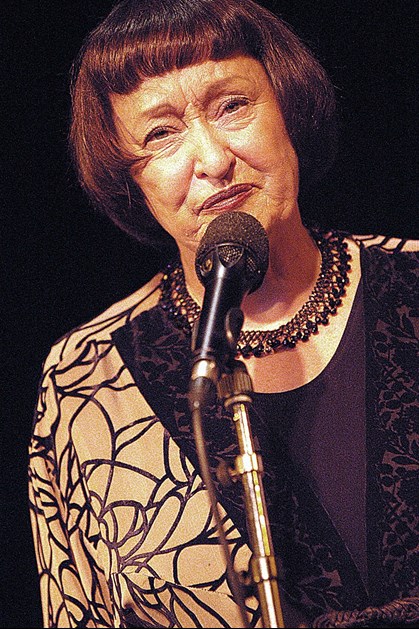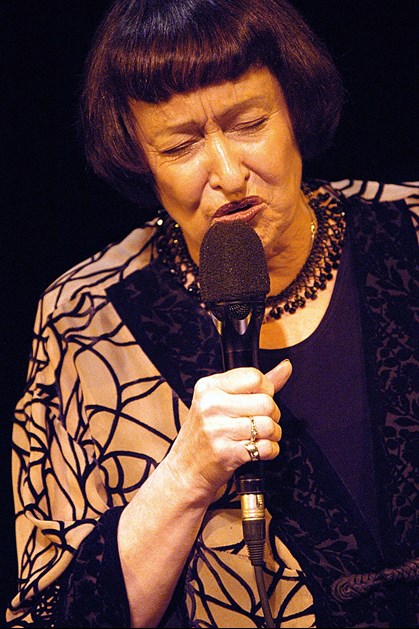 © Jos L. Knaepen

AMG All Music Guide
"One of the most consistently creative of all jazz singers, Sheila Jordan has a relatively small voice but has done the maximum with her instrument. She is one of the few vocalists who can improvise logical lyrics (which often rhyme!), she is a superb scat singer and is also an emotional interpreter of ballads.
Yet despite her talents, Jordan spent much of the 1960s and '70s working at a conventional day job! She studied piano when she was 11 and early on sang vocalese in a vocal group. Jordan moved to New York in the 1950s, was married to Duke Jordan (1952-62), studied with Lennie Tristano and worked in New York clubs. George Russell used her on an unusual recording of "You Are My Sunshine" and she became one of the few singers to lead her own Blue Note album (1962).
However it would be a decade before she appeared on records again, working with Carla Bley, Roswell Rudd and co-leading a group with Steve Kuhn in the late '70s Jordan recorded a memorable duet album with bassist Arild Andersen for SteepleChase in 1977 and has since teamed up with bassist Harvie Swartz on many occasions. By the 1980s Sheila Jordan was finally performing jazz on a fulltime basis and gaining the recognition she deserved 20 years earlier. She recorded as a leader (in addition to the Blue Note session) for East Wind, Grapevine, SteepleChase, Palo Alto, Blackhawk and Muse, resurfacing in 1999 with Jazz Child. From the Heart followed a year later."
Scott Yanow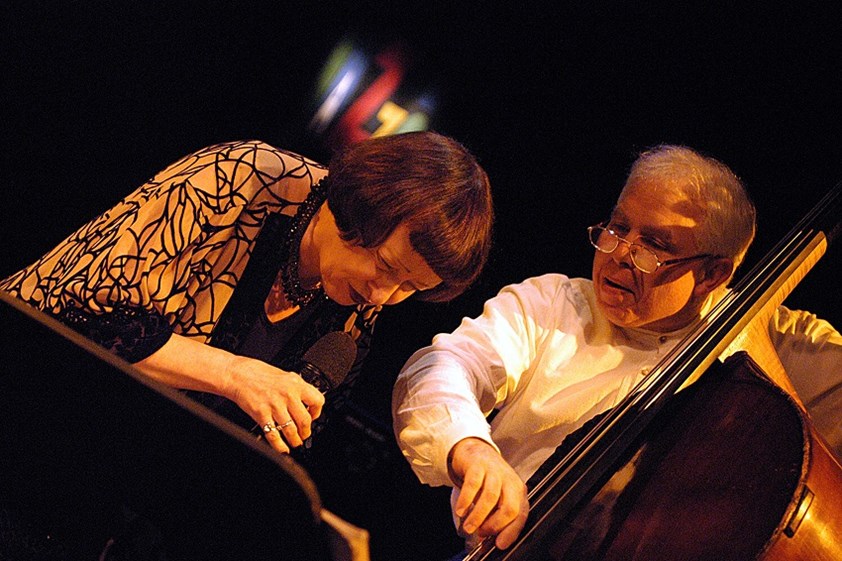 © Jos L. Knaepen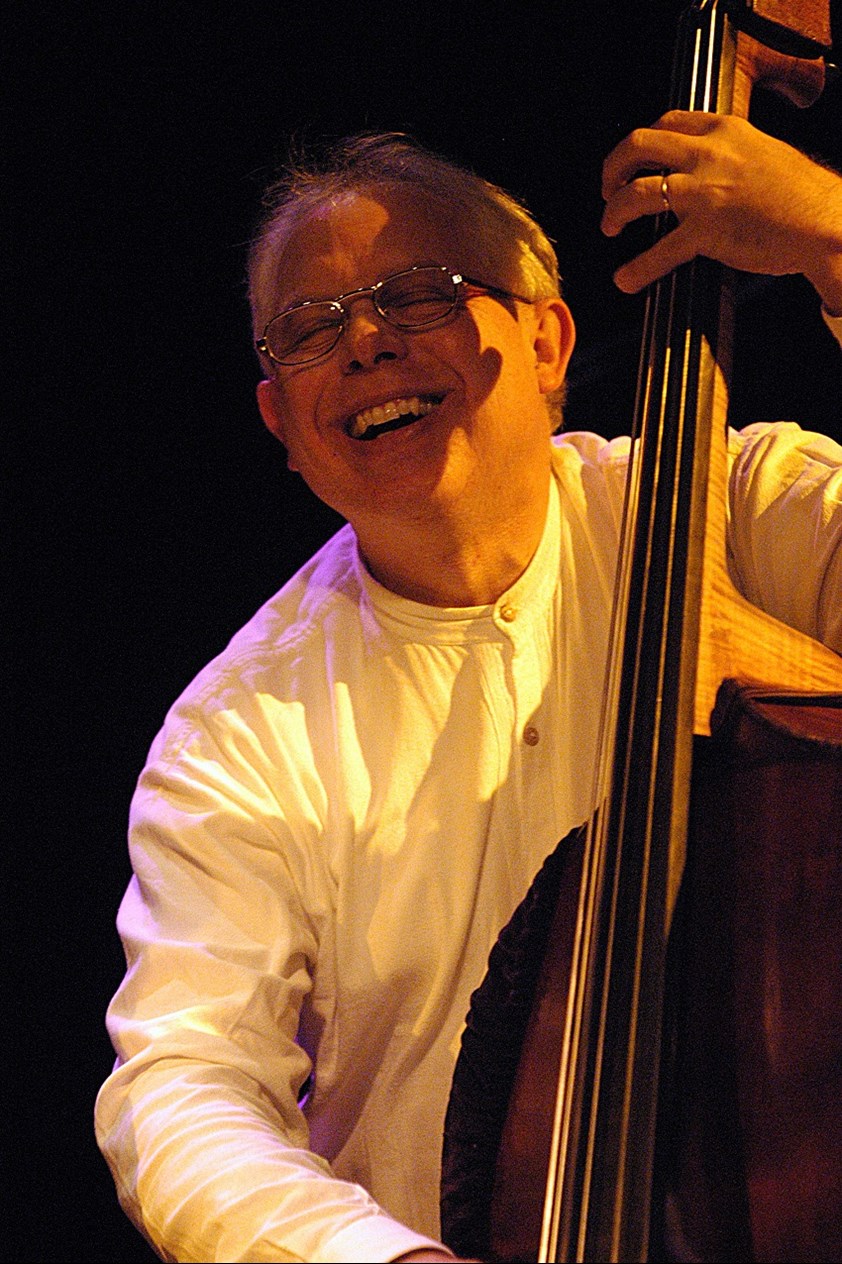 © Jos L. Knaepen

Jazz bassist, composer and educator Cameron Brown began his career in the mid-sixties, recording in Europe with George Russell and Don Cherry. These two wonderful musicians remain life-long influences and inspirations.

He graduated at Columbia College of City of N.Y., 1969 (B.A. in Sociology). He studied privately with Frank Sinco (Detroit Symphony), Ron Carter, Dave Holland and Diane Mizelle.
Cameron anchored some of the most important groups of the seventies, eighties and nineties, beginning in 1975. Sheila Jordan, Roswell Rudd, Archie Shepp and Beaver Harris were his mentors and bandleaders then. He has enjoyed special relationships with master drummers: Art Blakey, Dannie Richmond, Philly Joe Jones, Edward Blackwell, Idris Muhammad and Joe Chambers, as well as Beaver Harris. The Don Pullen/George Adams Quartet, featuring Dannie Richmond, developed into an intense and rewarding partnership, which lasted nearly ten years. In addition to this quartet, Beaver Harris's 360 Degree Music Experience, Art Blakey's Jazz Messengers, the Sextet and Big Bands of George Russell, and various groups led by Archie Shepp, Don Cherry, Roswell Rudd and Dannie Richmond, Cameron Brown has performed and/or recorded with Donald Byrd, Booker Ervin, Ted Curson, Lee Konitz, Dewey Redman, Chet Baker, Terumasa Hino, Betty Carter and the John Hicks Trio, and Jane Ira Bloom.
He's helped young people around the world to nurture their interest in and passion for jazz from North Carolina to Norway, to New York, to Hong Kong and Taiwan, and, most recently, on the faculty of the summer workshop near Venice, Italy cosponsored by the Manhattan School of Music.
At present, in addition to freelance work, Cameron performs and/or records with Joe Lovano, Sheila Jordan, Archie Shepp, Dave Ballou, the Cartwright/Oppenheim Quintet, Lou Donaldson, Houston Person and Etta Jones, Marc Copland and Salvatore Bonafede, as well as his own ensemble, Cameron Brown and the Hear and Now. He has appeared on more than eighty recordings.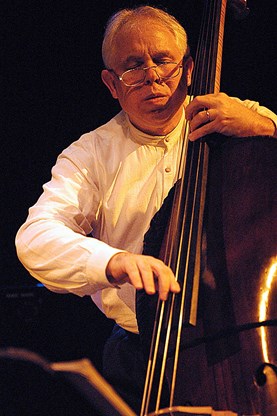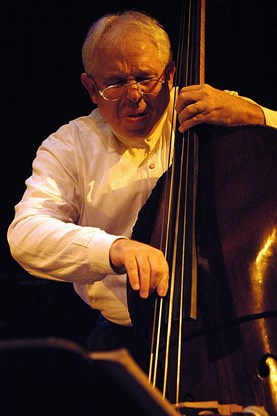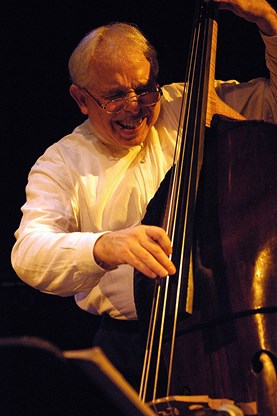 © Jos L. Knaepen


"Brown exhibited a very individual melodic mind and superb technique in his delightful solo. He was so impressive that the bulk of the audience (a group usually indifferent to bass solos) literally cried for more."  -  Michael Cuscuna, Downbeat

"… Brown, a bassist of stunning tone, exemplary time and taste …"  -  Richard Sudhalter, New York Post

"… Widely recognized as one of the finest bassists on the current jazz scene …"  -  Citizen's Voice, Wilkes-Barre, PA

"… Cameron Brown plays bass with confident authority …"  -  Robert Palmer, New York Times

"Brown, an inventive bassist who never rests on simple walking lines or fluttery clichés, added level after level of fascinating rhythm to the multi-layered music."  -  Derek Richardson, The San Francisco Bay Guardian

"In fact, between Dannie Richmond and the prodigiously skilled Cameron Brown on bass, it all seems to be happening with the rhythm section …"  -  Anthony Hopkins, Times of London

"… and Cameron Brown proved again that he may be the city's most underrecognized bassist, his thick sound and authoritative lines recalling Dave Holland. The quartet swung hard as nails …"  -  Steve Futterman, Village Voice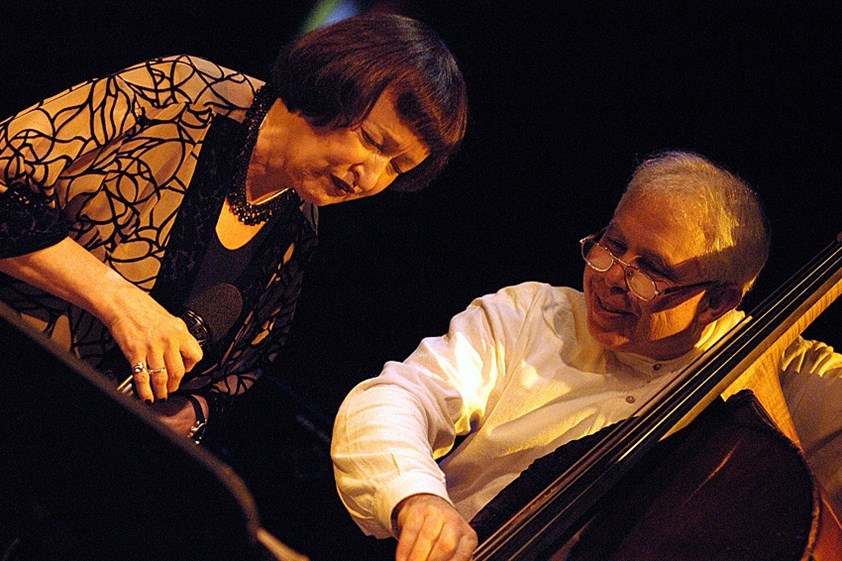 © Jos L. Knaepen



Jazz'halo Music Days 2003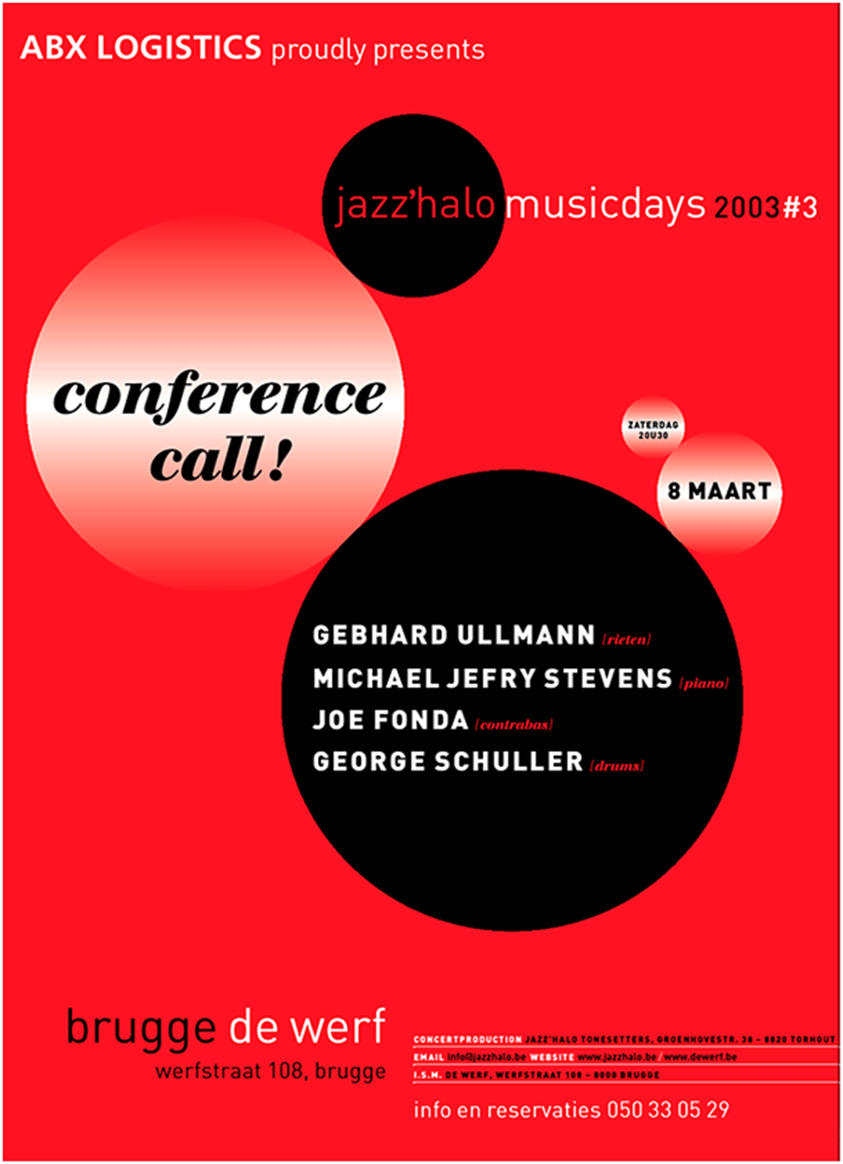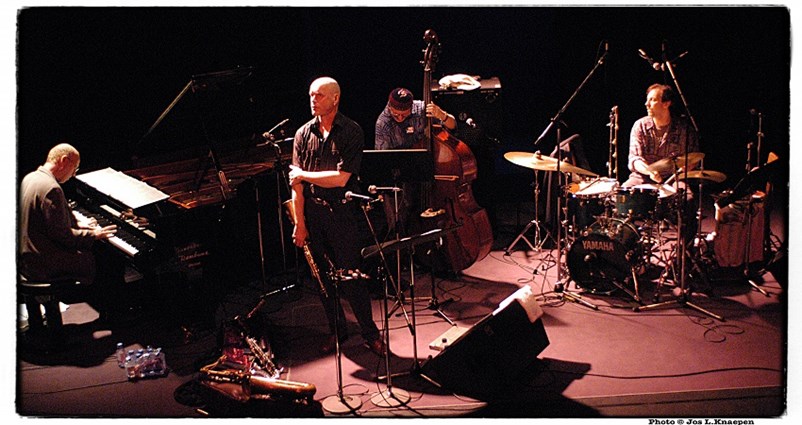 GEBHARD ULLMANN
saxophones, bass clarinet, composer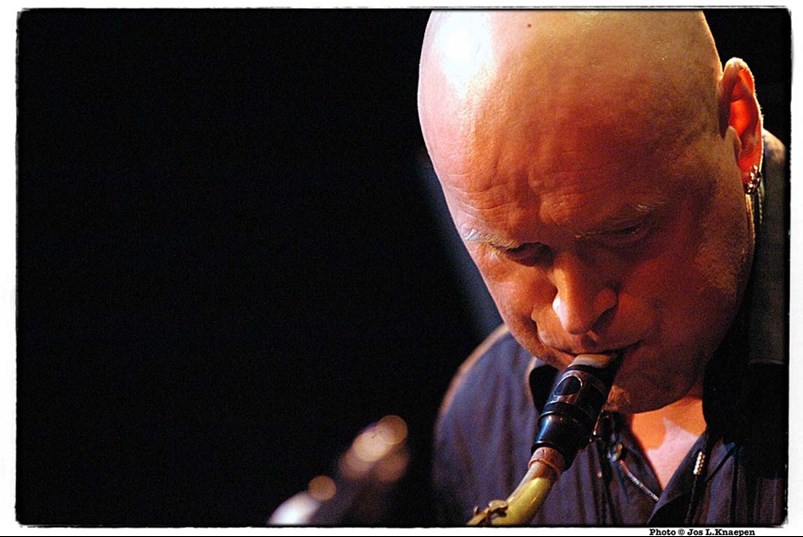 "Gebhard Ullmann is one of the finest improvising artists in the world today"
Paul Bley

Born in 1957 Ullmann has recorded more than 20 CD's including Final Answer, Kreuzberg Park east and Basement Research (Soul Note), Translucent Tones, Vancouver Concert and Clarinet Trio, Oct 1, '98 (Leo Records), Essencia (Between The Lines) and Tá Lam (Songlines Recordings) (nominated best jazz CD of the year by the German Schallplattenkritik).
He received several awards for his work i.e. The "Julius Hemphill composition award" ('99), the Deutsche Phonoakademie Award ('83), one of the first SWF Jazz Awards ('87), several awards from the city of Berlin ('90's) and toured with his music Europe as well as Africa, Australia, New Zealand, the U.S.A., South East Asia, Canada, Mexico ...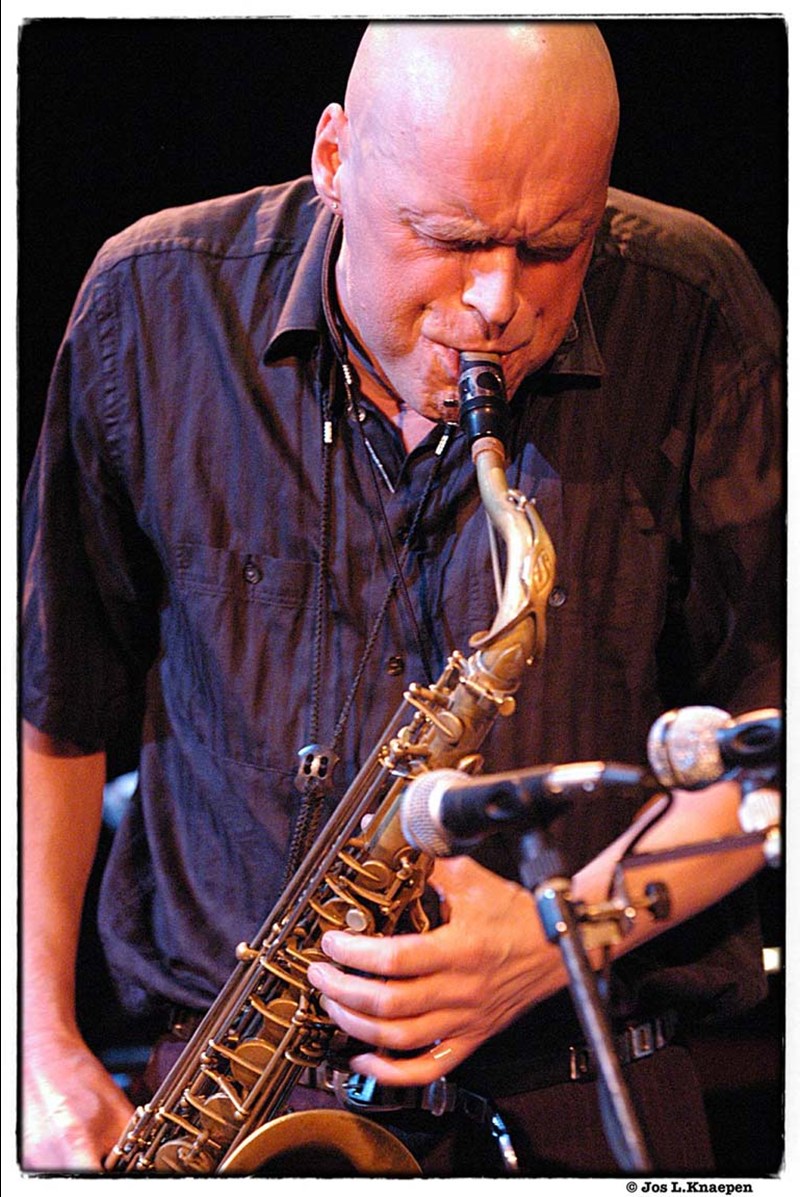 Since 1993 Gebhard Ullmann is a recording artist for Soul Note and commutes between New York and Berlin. His releases for Soul Note, Leo Records, Songlines and Between The Lines have been widely critically acclaimed on both sides of the Atlantic ocean and have all been listed in the US-college-radio-jazz-charts.
Ullmann's working bands are: the New York Quartet Basement Research (with Tony Malaby, Drew Gress, Phil Haynes), the Berlin woodwind / accordion ten-piece project Tá Lam Zehn, the cooperative band Conference Call (with Michael 'Jefry' Stevens, Joe Fonda, Han Bennink/Matt Wilson/George Schuller), The Clarinet Trio (with Juergen Kupke and Theo Nabicht), the trio Essencia (with Carlos Bica and Sylvie Courvoisier) and The Transitional Erasers (with Herb Robertson and Frank Moebus). He is also a member of the Günter Lenz Springtime and does appear in several programs with the actor Otto Sander.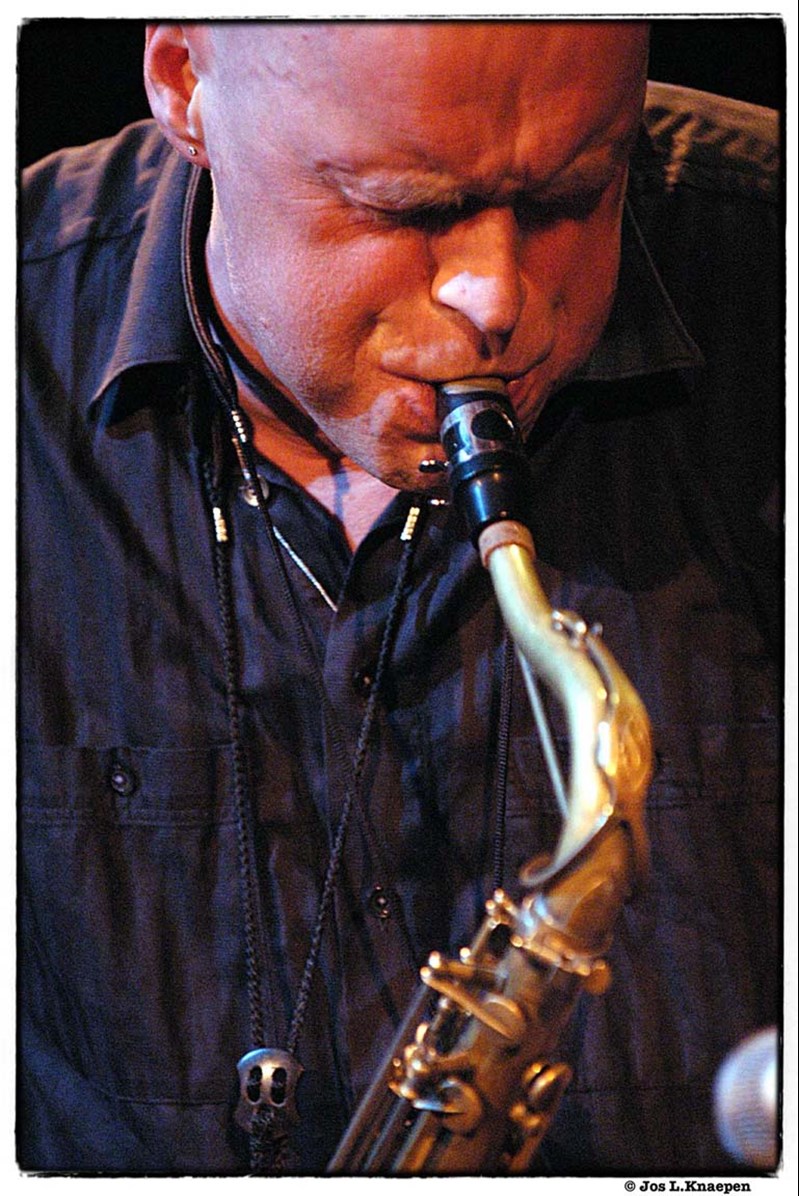 Ullmann worked together With Paul Bley, Andy Emler, Han Bennink, Satoko Fujii, Marvin 'Smitty' Smith, Laurent Cugny, Ellery Eskelin, Bob Moses, Keith Tippett, Tiger Okoshi, Bobby Previte, Ernst Ludwig Petrowsky, Glen Moore, Trilok Gurtu, Kevin Norton, Lauren Newton, Steve Argueelles, Lee Konitz, Alexander V. Schlippenbach, Hans Hassler, Willem Breuker, Tom Rainey, Enrico Rava, Michael Riessler, Rita Marcotulli, Michael Moore, Bob Stewart, Dieter Glawischnig, The Ensemble "Percussion De Guinée", The European Radio Orchestra and many others.
Please also check http://www.gebhard-ullmann.com/




MICHAEL JEFRY STEVENS
piano, composer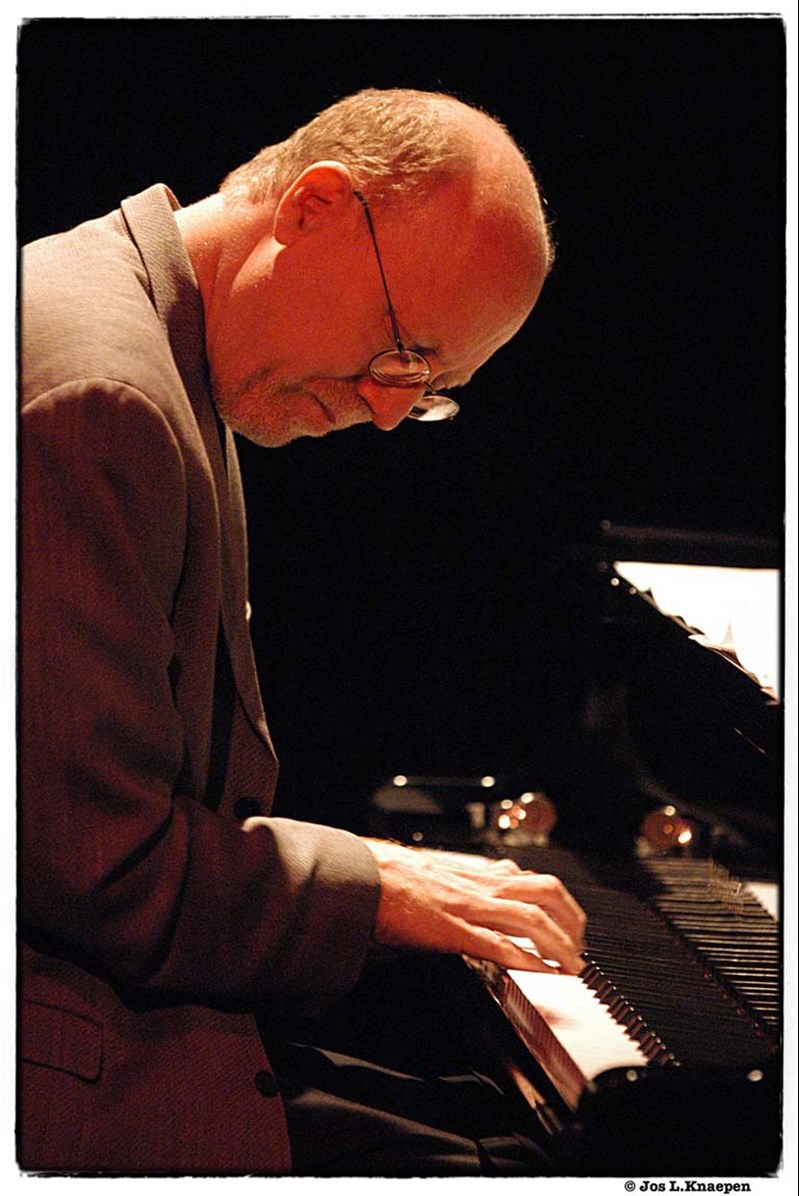 Over the past 20 years pianist/composer Michael Jefry Stevens has been associated with some of the most important figures in modern jazz. Beginning with his first CD release in 1991 as a member of Mark Whitecage's Liquid Time Group Mr. Stevens has been in the forefront of the NYC improvised music scene. Between 1988-1990 he co-led the now legendary "Mosaic Sextet" with Dave Douglas. This group included Mark Feldman on violin, Michael Rabinowitz on bassoon and the rhythm section of Harvey Sorgen on drums and Joe Fonda on bass. Their Today This Moment CD release on Konnex Records and re-release on GM Recordings is considered one of the classic modern jazz recordings of the last 20 years.
This rhythm section went on to become the nucleus for Mr. Stevens working quartet the Fonda/Stevens Group which originally began as a quintet with Mark Whitecage on sax and Herb Robertson on trumpet and has now evolved into a quartet featuring Herb Robertson. Since its inception in 1993 this group has released 6 CD's, toured Europe countless times and is one of the premier working modern jazz groups on the international scene.
Mr. Stevens also began a very fruitful and fulfilling relationship with Leo Records with his duo Haiku CD release in 1994 featuring Mark Feldman on violin. These piano/violin improvisations proved to be a pivotal link between Mr. Stevens work in both the composed and improvised music worlds. His 2nd Leo Records release Elements featured group improvisations with bassist Dominic Duval, drummer Jay Rosen, Mark Whitecage and guitarist Dom Minasi, all of whom have now become world recognized improvisers.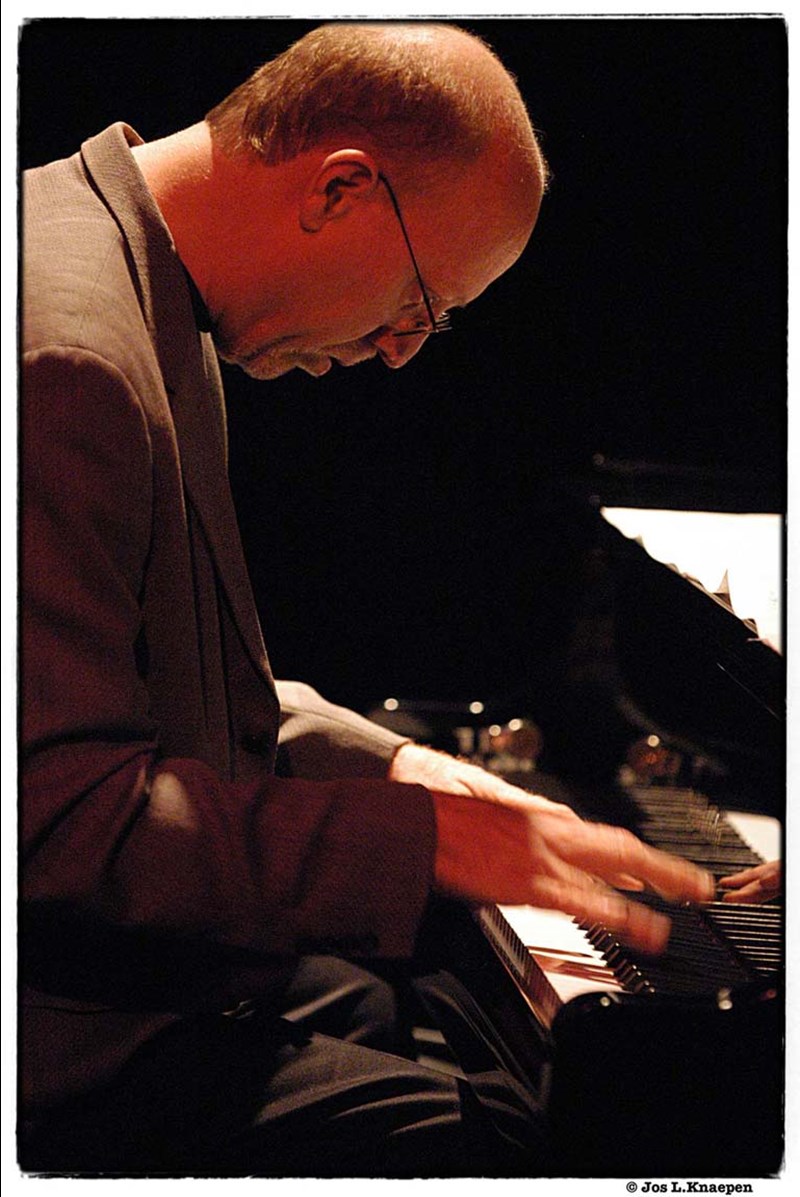 In the last several years Mr. Stevens began several new projects including the Conference Call quartet featuring his partner of many years bassist Joe Fonda in collaboration with German saxophonist Gebhard Ullmann and originally Matt Wilson on drums (Han Bennink and George Schuller have also performed with the group). This quartet released their debut CD in 2002 on Soul Note records and have already toured the USA and Europe several times. Additionally, Michael Jefry Stevens performed his first solo piano European tour in march 2001 to celebrate his 50th birthday. A live CD from this tour is released on Jazz'halo Records in Belgium.
A proponent of the philosophy that there are only 2 kinds of music "good and bad", Mr. Stevens has also been working in a standard jazz piano trio setting for the past 12 years. His collaborative trio Stevens, Siegel & Ferguson has released 4 CD's on imaginary jazz and toured Europe and the United States continuously for the past 12 years. They have worked with such jazz luminaries as Steve Turre, Cecil Bridgewater and Valery Ponamerev and continue to expand and evolve the tradition of the jazz piano trio. Several years ago Mr. Stevens began a new project called Songbook. This group features original vocal compositions by Michael Jefry Stevens in collaboration with the wonderful young NYC vocalist Miles Griffith.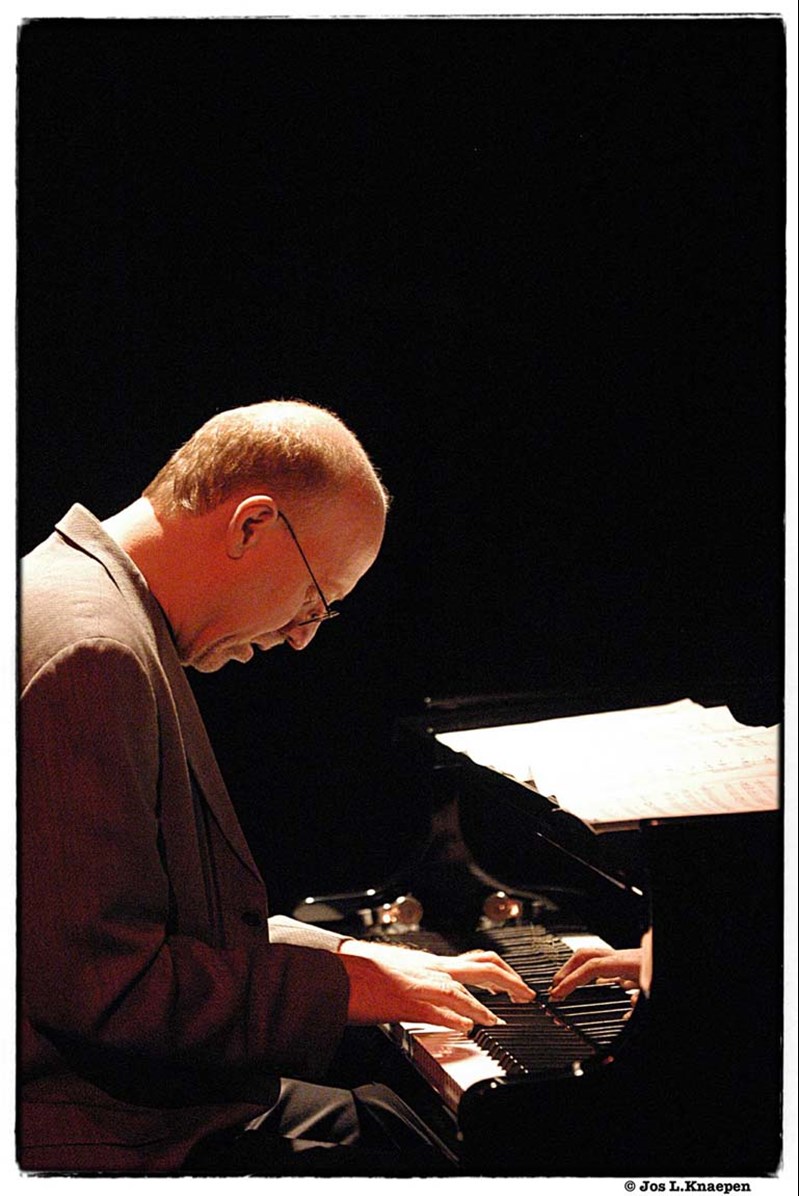 Michael Jefry Stevens continues to explore new musical avenues and associations. During a recent European tour in France Mr. Stevens recorded a series of free improvisations with French saxophonist Duanik Lazro in collaboration with the Fonda/Stevens Group. He is also scheduled to record with several prominent Swiss improvisors and will be touring Denmark in the company of some wonderful Danish improvisers. Mr. Stevens is truly a believer in the global music community and a vocal exponent of a truly international improvised music.


JOE FONDA
double bass, composer



Joe Fonda is a composer, bassist, recording artist, interdisciplinary performer and producer. An accomplished international artist, Fonda has performed as a leader in his own ensembles throughout the United States and Europe, and as a sideman with Archie Shepp, Ken McIntyre, Lou Donaldson, Bill and Kenny Barron, Leo Smith, Perry Robinson, Dave Douglas, Curtis Fuller, Mark Whitecage, Marion Brown and Bill Dixon.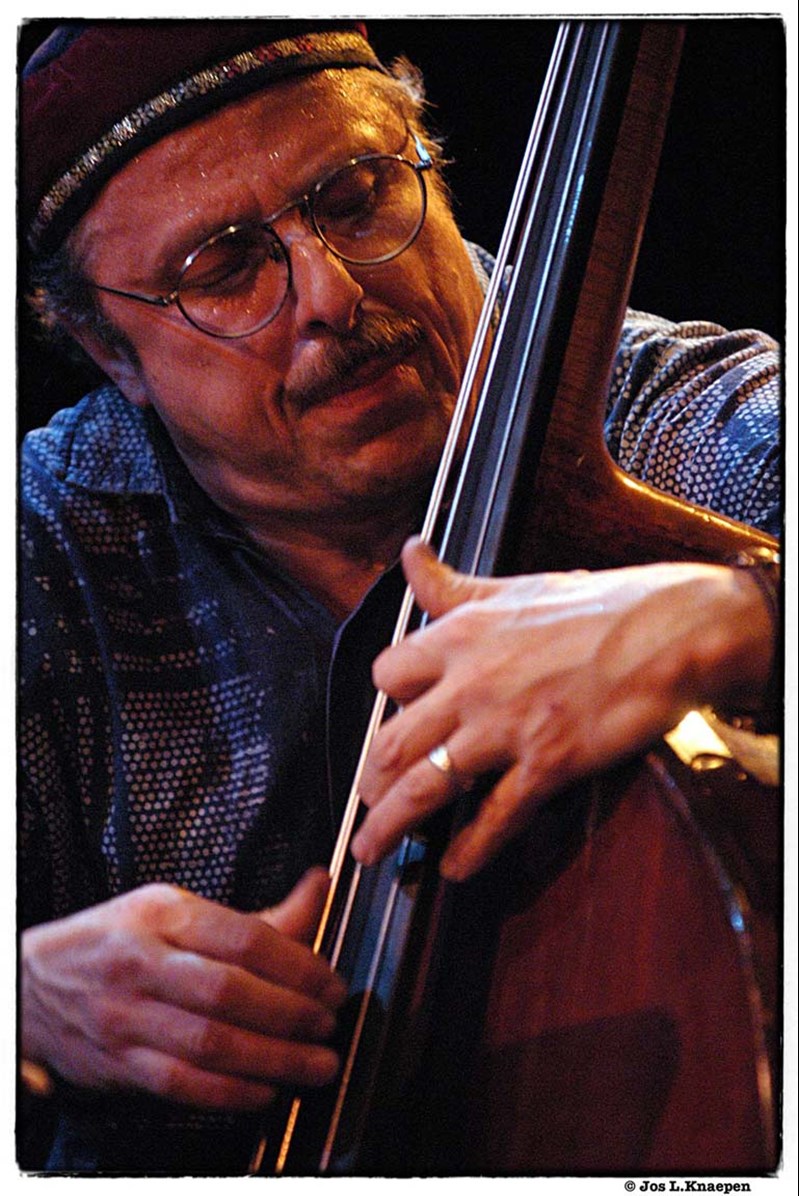 Fonda was the bassist with the renowned Anthony Braxton sextet, octet tentet from 1984 through 1999 and was the President from 1997- 1999 of the newly formed Tri-Centric Foundation. He has also performed with the 38-piece Tri-Centric orchestra under the direction of Anthony Braxton, and was the bassist for the premiere performance of Anthony Braxton's opera, Shalla Fears for the Poor, performed at the John Jay theater in New York, New York.
As a composer for his own ensemble, Fonda has been the recipient of numerous grants and commissions and has released five recordings under his own name. Fonda was also a member of the Creative Musicians Improvisers Forum and Orchestra directed by Leo Smith, and was bassist with the American Tap Dance Orchestra in New York City directed by world renowned tap dancer, Brenda Bufalino.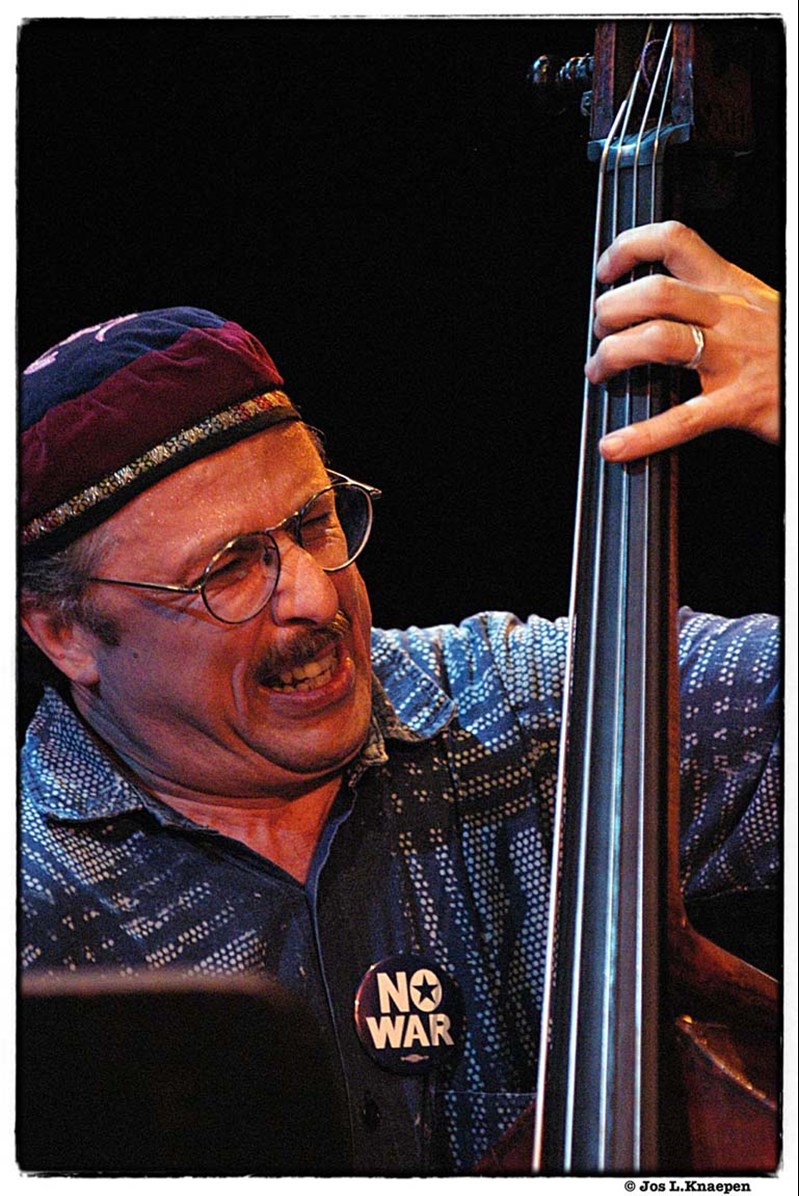 In 1989 Fonda performed with Fred Ho's Jazz and Peking Opera in its world premier at Brooklyn Academy of Music. From 1982- 1986, Fonda was the bassist and a dancer with the Sonomama Dance Company. An independent producer since 1978, Fonda is the founding director and president of Kaleidoscope Arts and Kaleidoscope Interdisciplinary Performance Ensemble. Currently Fonda has been recording and touring extensively with the Fonda-Stevens Group. They have released five CDs and have had seven European tours since 1997 performances at the Bim huis in Amsterdam, Holland, the Prague Jazz Festival, Czech Republic, the jazz Halo Festival, Belgium, Jazz Thurinsen, Weimar, Germany. Fonda's most recent project is a group that incorporates the tap dancing and poetry of Brenda Bufalino and the healing arts of Vicky Dodd and four jazz musicians. The group has released their first CD entitled Joe Fonda and From the Source on Konnex Records.

GEORGE SCHULLER
drums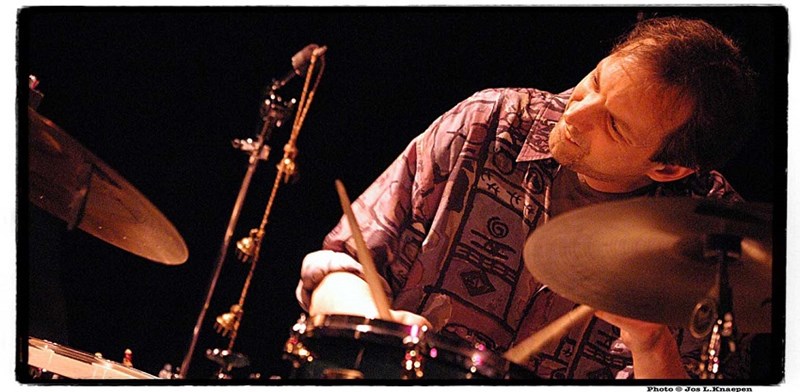 A native of New York City, moved to Boston in 1967 where George Schuller was raised and educated, and later received a bachelor's degree in Jazz Performance at the New England Conservatory of Music in 1982. For the next twelve years, Schuller was a fixture on the Boston area jazz scene performing with Herb Pomeroy, Jaki Byard, Jerry Bergonzi, George Garzone, Mick Goodrick, John Lockwood, Ran Blake, Billy Pierce, Bruce Gertz, John LaPorta and Hal Crook.
In 1984, he co-founded the twelve-piece ensemble Orange Then Blue which has recorded several acclaimed albums, including the most recent release:Hold The Elevator: Live in Europe and Other Haunts on GM Recordings. The group has toured extensively in the US, Canada, Middle East and Europe. Schuller has also released several albums as a leader including Lookin Up From Down Below (GM) and Tenor Tantrums with the Schulldogs on New World Records. His latest recording is another Schulldogs offering entitled Hellbent released in Dec. 2002 on Playscape Recordings featuring Tim Berne, Tony Malaby and Ed Schuller.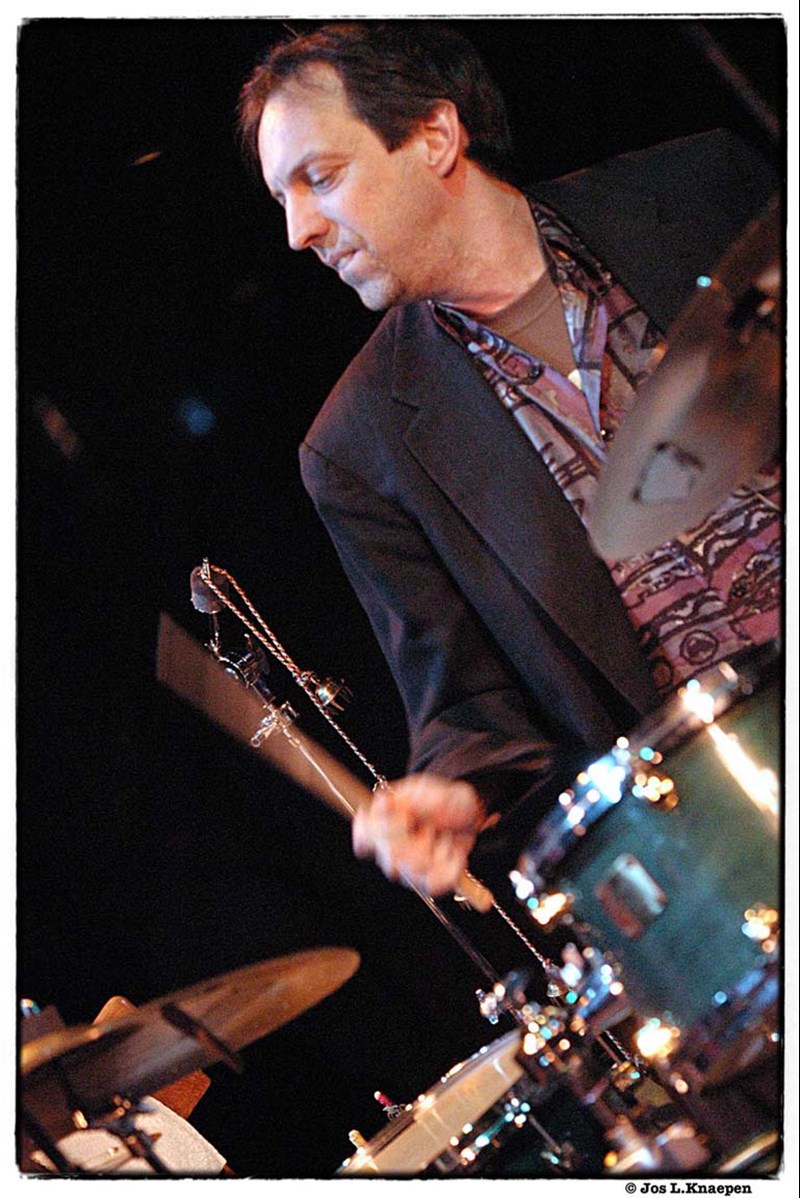 In 1995 Schuller appeared on Joe Lovano's critically acclaimed album Rush Hour with compositions and arrangements by Gunther Schuller. It was voted "Album of the Year" by Down Beat magazine. Schuller has also performed with Joe Lovano and Gunther Schuller at Jazz at Lincoln Center (with artistic director Wynton Marsalis), and in Linz, Austria during a week-long festival of Gunther Schuller's compositional works. In addition, Schuller has performed and/or recorded with many of today's leading musicians including Joe Wilder, Britt Woodman, Mose Allison, Dee Dee Bridgewater, Lee Konitz, Nnenna Freelon, Danilo Perez, Joey Calderazzo, Kenny Werner, Bill DeArango, George Adams, Fred Hersch, Tom Varner, Mark Helias, Tony Malaby, Dave Douglas and The Smithsonian Jazz Masterworks Orchestra.
Schuller has found himself on the other side of the glass producing several albums including recordings by Orange Then Blue, Luciana Souza, Ed Schuller, Heather Bennett, Jazz Composers Alliance, Ballin' The Jack, Mili Bermejo and Lisa Thorson. His compositions and arrangements have been recorded by Orange Then Blue, Ed Schuller, Mike Metheny, Ballin' The Jack,, Your Neighborhood Sax Quartet, Wilder/Woodman/LaPorta Sextet, Mili Bermejo and Lisa Thorson. Festival appearances include Montreux/Detroit Jazz Festival, Ravinia Jazz Festival, Sedonna Jazz on the Rocks, Discover Jazz Festival, Jazz But Jazz Festival in Munich, Festival of Music at Sandpoint, Boston Globe Jazz Festival, Lake George Jazz Weekend and major festivals in Montreal, Vancouver, Toronto, Edmonton, Calgary, Ottawa, Rimouski and Saskatoon. He has received several composition awards including a Massachusetts Artist Foundation Fellowship for Music Composition (1987), NEA Composition Grant (1995) as well as The Julius Hemphill Composition Award (2000).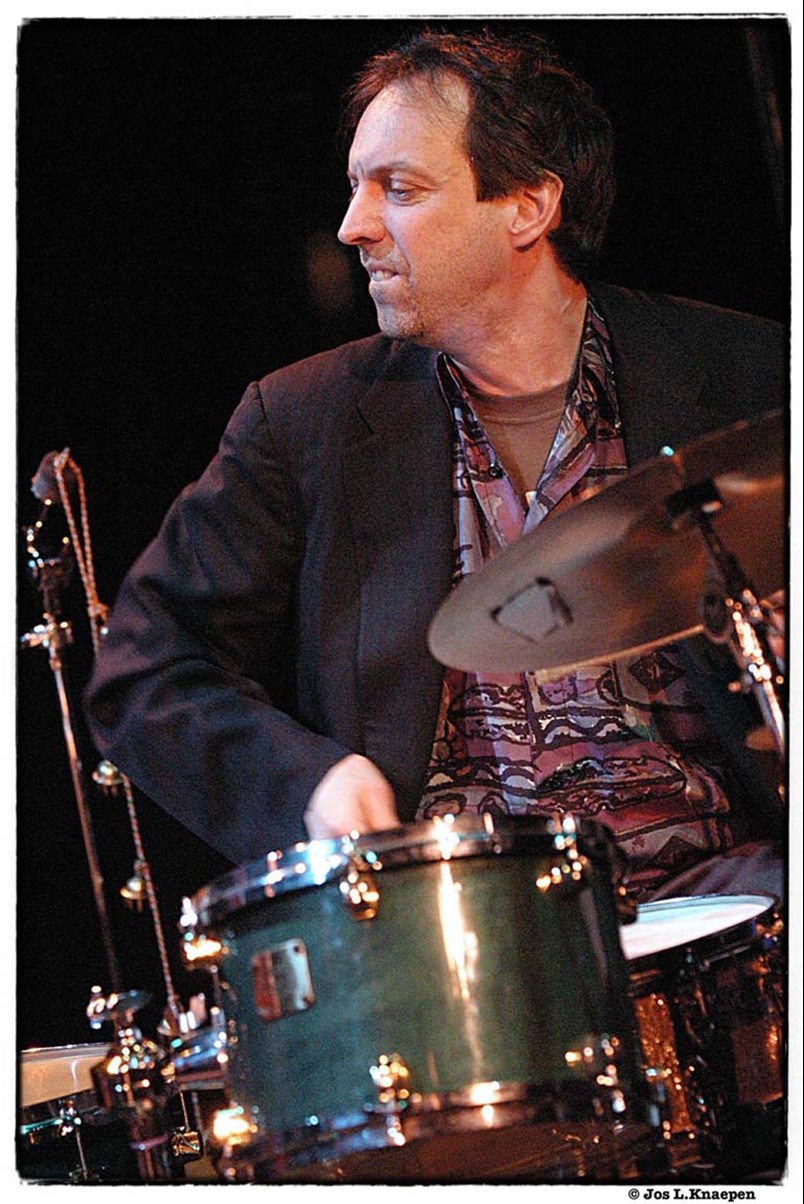 Schuller presently resides in Brooklyn (since 1994) where he freelances in the New York City area performing with Matt Darriau's Ballin' The Jack, Michael Musillami/Mario Pavone Quintet, Mili Bermejo Octet, Lisa Thorson & Co., Free Range Rat, Conference Call w/ Michael Jefry Stevens/Joe Fonda/Gebhard Ullmann, Trio Dharma w/ Christine Correa/Pete McCann, Miles Donahue, and the Tom Beckham Qt in addition to leading his own groups including The Schulldogs, Chump Change, Jigsaw, and Orange Then Blue.



____________________________________________________________________________________________________________________________________________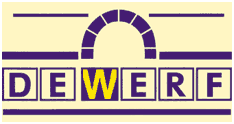 proudly present


CARLOS BARRETTO QUARTET
Carlos Barretto double bass
José Salgueiro drums/percussion
Màrio Delgado electric guitar
François Corneloup soprano and baritone saxophones


Thursday December 18th, 2003
SINT-NIKLAAS FOYER DE SPIEGEL (03 776 11 98)

Friday December 19th, 2003
BRUGGE DE WERF (050 33 05 29)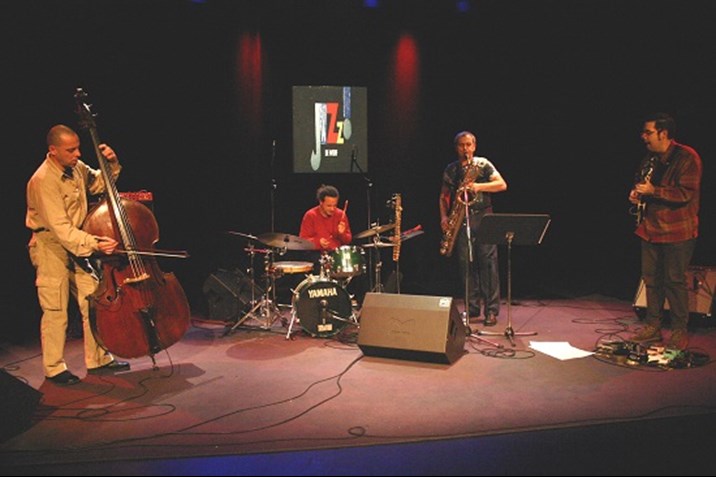 Courtesy De Werf Brugge
© Other photos are by Jos L. Knaepen from Jazz!Brugge 2002



CARLOS BARRETTO
double bass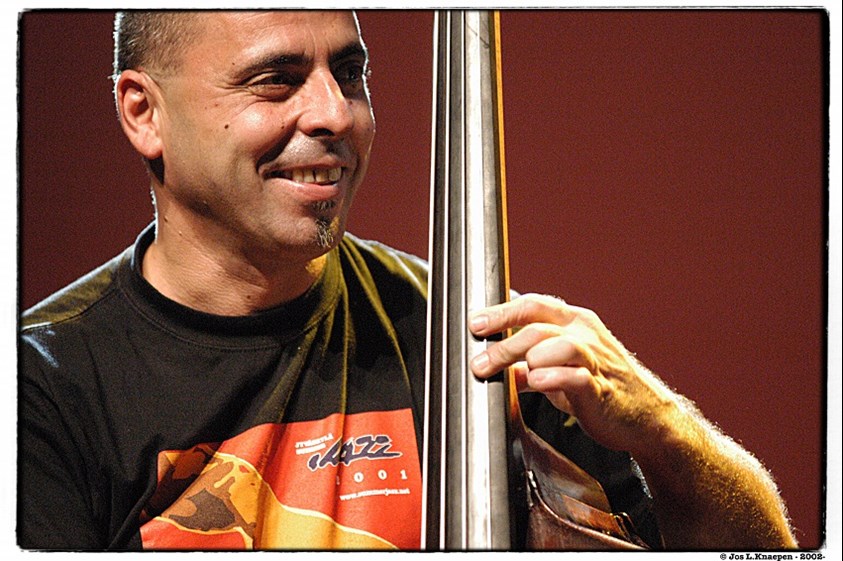 Carlos Barretto has been cited as being a jazzman who plays in an Afro-American style , so called Neo-Bop. This expression has a very good raison d'être, as testified by a listen to the releases by his quintets (Impressões- Groove/Movieplay and Going Up- Challenge/Dargil). In a constant search for new horizons, but above all reasons of cultural identity (being Portuguese, Southern European, Latino), Carlos Barretto felt the need to create a different musical universe, other rhythms, other colours, something which would meet the notion of a certain type of Portuguese characteristic, of a Southern European feel.
Through the Arab and Celtic heritage, and also (and why not?) by letting himself be influenced by Fado, Rock or contemporary music. After all, it´s all about improvising on bases which mean something to us, Europeans. No sooner said than done, Barretto dedicated himself to composing tunes using the electric guitar, double bass and drums or percussion instruments.
Mário Delgado and José Salgueiro were natural choices. They are two musicians who have been fully trained in Jazz, but are equally at ease in areas different as ethnic and Traditional Portuguese Music, music from other Portuguese- speaking countries, contemporary, pop or rock. This was vital to the leader's musical project. In 1997 the Trio started out on its adventure, practising and performing live culminating in the recording of the CD Suite da Terra, 1998. That year, they performed live concerts throughout the country, playing several times in Expo 98, and travelled to Macau for a string of concerts.
Since 1999, the group has gone in a more experimental, bold and abstract direction, where the aesthetic solutions put into practice are more geared towards spontaneous improvisation. The result is extremely interesting and the public´s curiosity for the Trio´s music has been growing daily. The Trio has released a new record – Silêncios - in last November, considered by specialist critics as one of the best jazz records of 2000. This year they represent Portugal in the Latin Jazz Festival, in Lisbon, and «Exploratory music from Portugal», in London.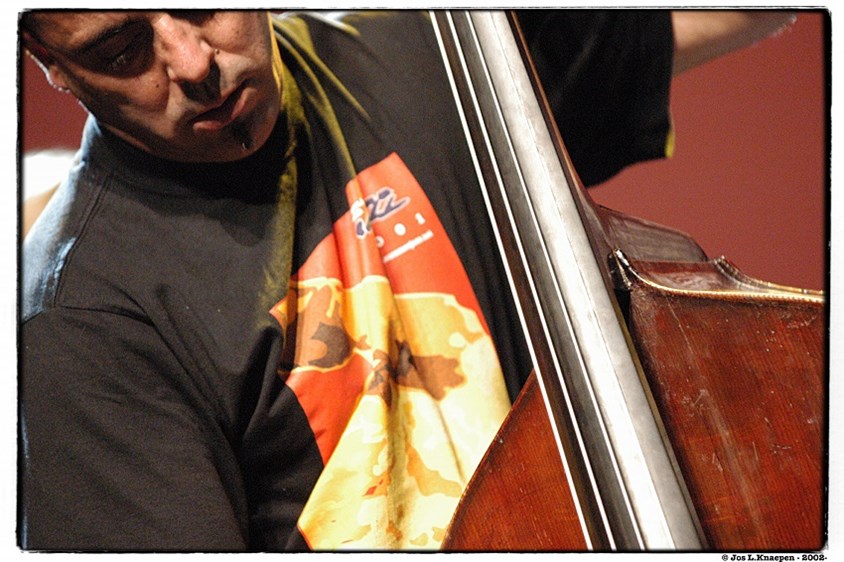 Carlos Barretto began his musical training at the age of eight, starting with guitar and piano, and opting later for the double bass. He graduated from the Lisbon National Conservatory in 1979, with maximum grades in double bass, theory of music and harmony. He then studied with Ludwig Streicher at the Higher Academy of Music in Vienna, Austria (1980-1982). It was during this period that he made his first incursions into jazz, and had the opportunity of playing with Fritz Pauer (pianist with Art Farmer) and members of the Vienna Art Orchestra . On his return to Lisbon he joined the RDP Symphony Orchestra, while also playing with a number of Portuguese jazz groups. A sense of artistic frustration led him to move to Paris in 1984 and to dedicate himself both professionally and personally to improvised music. In Paris he found a much larger market for jazz, and played at the city's leading clubs, such as New Morning, Magnetic Terasse, Petit Journal Montparnasse, La Villa, Bilboquet, Dunois, etc., appearing alongside established artists such as Steve Grossman, Steve Potts, Barry Altschul, Aldo Romano, Hal Singer, Alain Jean Marie, George Brown, Michel Graillier and many others. He has played at countless festivals in France, most notably at Coutances (Jazz sous les Pommiers), Jazz à Vienne, Jazz à Marciac, Radio France (Paris, Montpellier), the Calvi Festival (Corsica), Banlieues Bleues (Paris), Nantes, Perpignan, Limoges, etc., alongside leading musicians such as Horace Parlan, Tony Scott, Lee Konitz, Glenn Ferris and Siegfried Kessler . In 1990 he recorded a CD with Mal Waldron live in Belgium, following this with a series of concerts in Amsterdam, Rotterdam, Metz, Le Havre, Nantes and Paris. He has also appeared on radio and television, playing on Radio-France (live and recorded concerts) with Mal Waldron, Richard Raux, François Chassagnite and Jeff Sicard, on France-Inter with Lee Konitz and the Carlos Barretto Quartet. He has appeared on television (TV-M6) with Horace Parlan, Tony Scott and John Betsch. While living in France he was also invited to play with groups in other countries, including Switzerland, Holland, Spain, Germany, Belgium, Andorra, Italy, Hungary and Austria.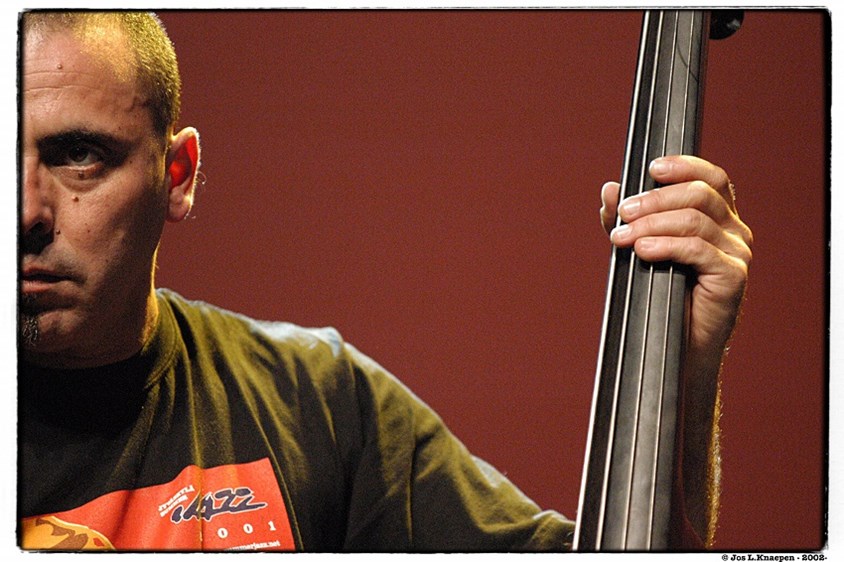 He returned to Portugal in 1993 and was invited to teach at the Jazz School of the Hot Club de Portugal, as well as appearing at the country's main jazz festivals. He has accompanied leading artists at the Hot Club, including Lee Konitz, John Stubblefield, George Cables, Lynne Arriale, Cindy Blackman and Karl Berger, amongst others.
He has formed the Carlos Barretto Quintet, with Perico Sambeat, François Théberge, Bernardo Sassetti and Philippe Soirat, and recorded his first CD for Movieplay as band leader and composer, praised by the specialist press as the best Portuguese jazz record, and distributed in Portugal, Japan, Taiwan and Brazil. They have played concerts in mainland Portugal, Madeira, the Azores, Angola, Cape Verde, Spain, France, Switzerland and Argentina. Carlos Barretto and his quintet have appeared on radio and television in Portugal, Spain and France. As a free-lance player, Carlos Barretto has been invited to accompany leading musicians such as Art Farmer, Gary Bartz, Brad Mehldau, Gerard Presencer, Kirk Lightsey, Don Moye, Gary Bartz, Joe Chambers and many others. With Bob Sands, Perico Sambeat, Albert Bover and Philippe Soirat, in 1996, recorded «Going Up» (Challenge – Dargil), praised as the best jazz year's Portuguese record and the Luís Villas-Boas Prize. Recorded also Carlos Martins's «Passagem» (Enja) with Cindy Blackman and Bernardo Sassetti.He has found his Trio, with Mário Delgado and José Salgueiro in 1997. They recorded new CD's - «Suite da Terra» (1998) and «Silêncios» (2000), and his Quartet, with Bernardo Sassetti, Perico Sambeat, Mário Barreiros - «Olhar» (1999). With these groups he appeared at the country's main jazz festivals. In 2000 he began new projects as soloist – Solo Pictóriko - displays his own paintings and each one of them corresponds to a theme being played on the double bass, live and in absolute solo.

Read the "Lokomotiv" review in Dutch HERE.


DISCOGRAPHY

Mal Waldron / Thierry Bruneau Quartet – "Serene" (Serene)
Carlos Barretto Quintet – "Impressões" (Groove / Moveeplay)
Georges Cables Trio – "Alone Together" (Groove / Movieplay)
Pedro Jóia Sepet – "Guadiano" (Farol)
Carlos Barretto Quintet – "Going Up" (Challenge)
Carlos Martins Quartet – "Passagem" (Enja)
Carlos Barretto Trio – "Suite da Terra" (BAB /Dargil)
Bob Sands Quartet – "Jumpstart" (Fresh Sound)
Carlos Martins – "Sempre" (EMI /VC)
Carlos Martins – "Passagem" (EMI /VC)
Arminho – "Fado"
Carlos Barretto Quartet – "Olhar" (Up Beat)
Carlos Barretto Trio – "Silêncios" (Foco Musical)
Carlos Barretto Trio & Louis Sclavis – "Radio Song" (Clean Feed)
Carlos Barretto Quartet (w/ François Corneloup) – "Lokomotiv" (Clean Feed)
Carlos Barretto Lokomotiv – "Labirintos" (Clean Feed)
Mario Delgado – "Filactera" (Clean Feed)
Bernardo Sassetti – "Nocturno" (Clean Feed)
Bernardo Sassetti – "Motion" (Clean Feed)
Misia – "Tanto Menos Tanto Mais"
Ala – "Dos Namorados"

PRIZES

• Luís Villas-Boas (Câmara Municipal de Cascais / Estoril Jazz) - Best jazz CD, 1996 (Going Up)
• "5 Minutos de Jazz" of José Duarte – Best CD, 1996 (Going Up)
• 13ª Gala of Leiria's Rádio Clube – Best concerts of the year, 1996 (Going Up)
• Jazzosfera (Rui Neves) – Best CD, 1996 (Going Up)
• Magazine A Capital (José Duarte) – Best CD, 1999 (Olhar)
• Luís Villas Boas – Best Jazz CD, 1999 (Olhar)
• JazzPortugal, net – Best CD, 2000 (Silêncios)


MÁRIO DELGADO
electric guitar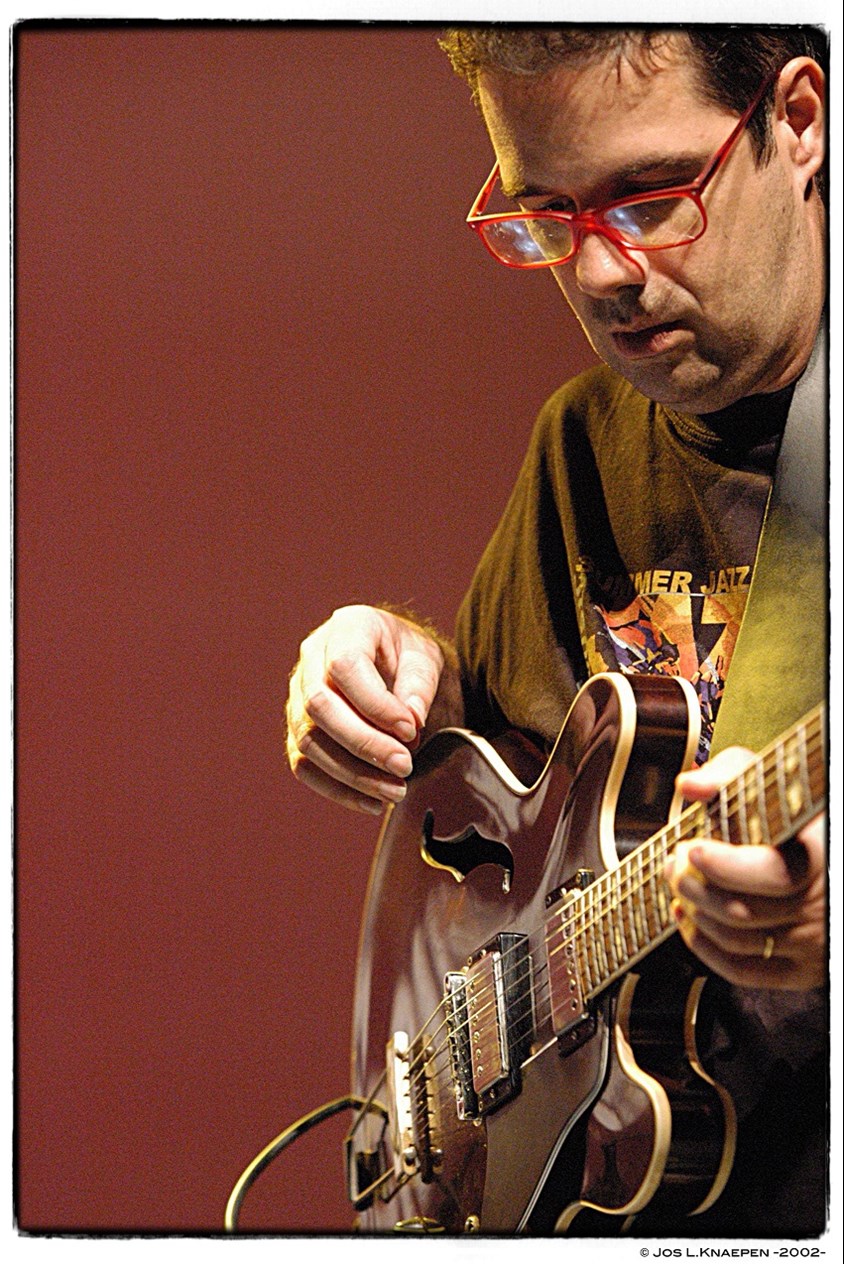 Mário Delgado was born in 1962. He started his musical education at Escola de Jazz do Hot Clube de Portugal. Later on, dedicated himself to the classical guitar by studying with José Peixoto and Piñero Nagy at the Academia de Amadores de Música Lisboa. At the same time, joined in several projects and groups with Carlos Martins, Maria João and Nana Sousa Dias. Mário was frequently invited to play with foreign musicians, that came over to our country. Has participated in various seminars and workshops namely with; Atila Zoller, Bill Frisel, John Abercrombie, Barney Kessel, Kenny Burrel, Gary Burton, David Liebman, Jimmy Giuffre, Steve Lacy, Hans benink, Derek Bailey, José Eduardo, Paul Motian, Red Mitchel, Joe Lovano and Hal Galper.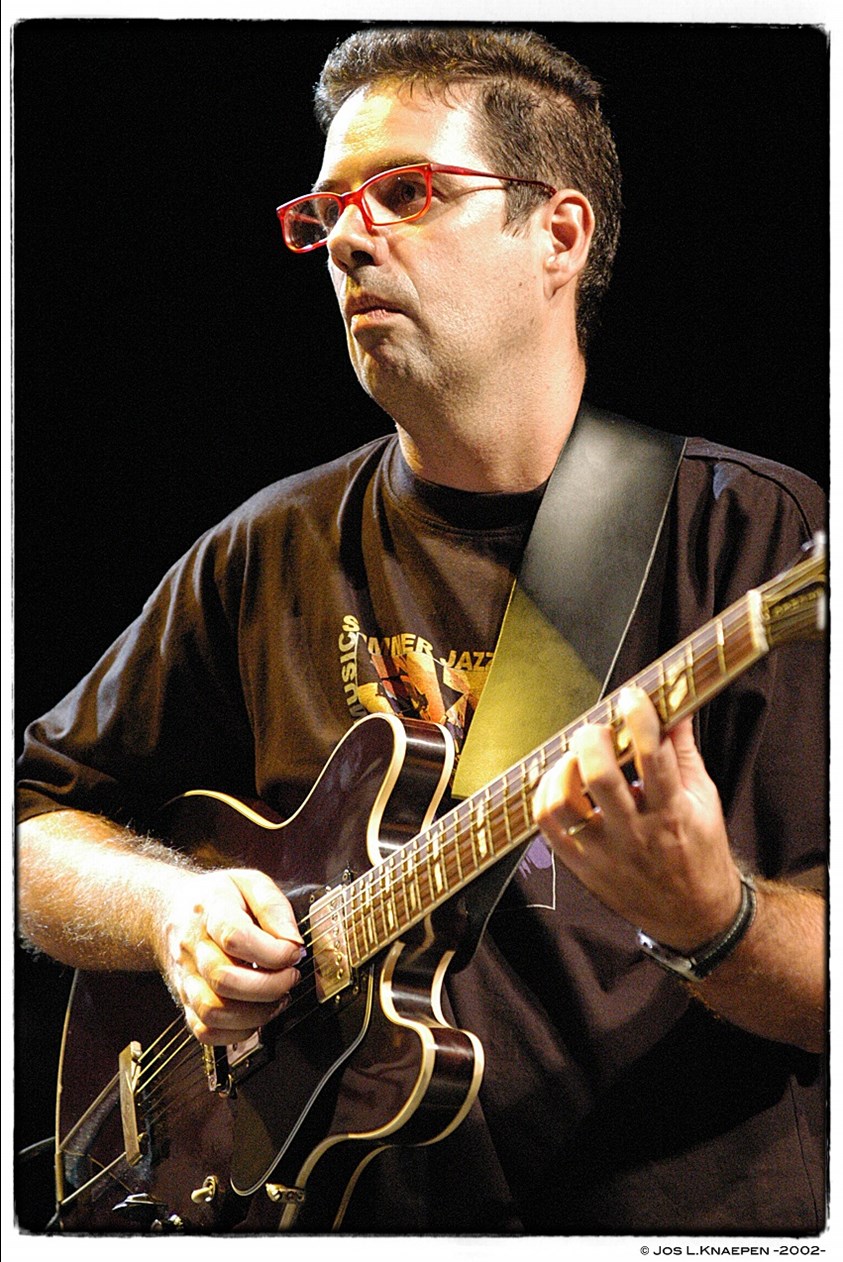 In 1992, forms an instrumental music Trio with the guitarist José Peixoto and percusionist José Salgueiro. In March 1993 he recorded the CD "Taifa" with this group. In 1996 he recorded with Laurent Filipe's Orchestra Som do Mundo, the CD "Ad Lib(itum)". Still in September and October, 1996 he participated in the digression of the Quartet dances de Maria joão e Mário Laginha, throughout Switzerland, Austria and Germany, whereby he performed in Jazz Festivals with Willisau, Leverkusener and Viersen. In 1997 starts participating in the Carlos Barretto and José Salgueiro´s Trio, with whom he recorded "Suite da Terra" and "Silêncios" CD's. "Phylactery" is his own last quintet project.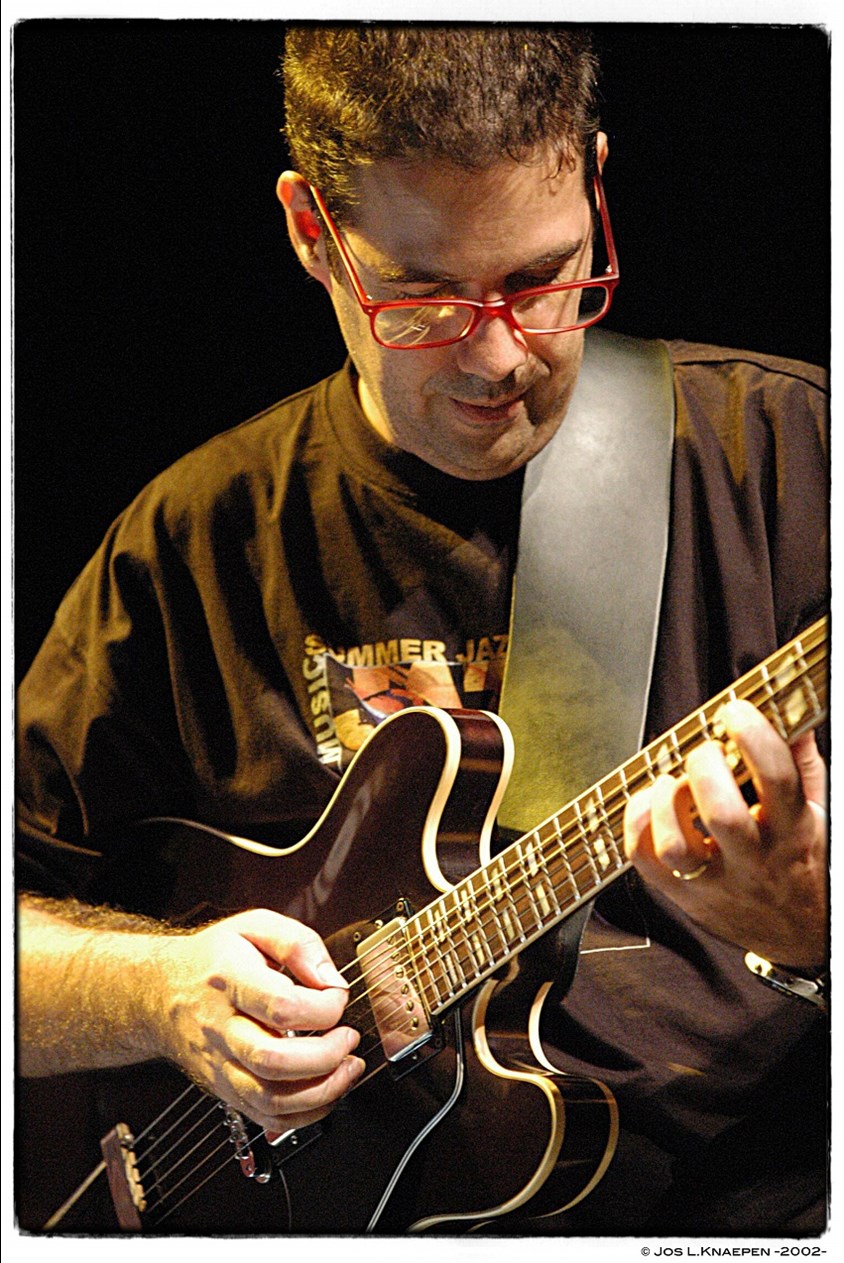 DISCOGRAPHY:

"Taifas" – José Peixoto, Mário Delgado, José Salgueiro;
"Suite da Terra" – Carlos Barretto, Mário Delgado, José Salgueiro;
"Sempre" – Carlos Martins;
"Ad Lib(itum)" – Orquestra Sons da Lusofonia.
"Silêncios" – Carlos Barretto Trio.
Mario Delgado – "Filactera" (Clean Feed)
Carlos Barretto Trio & Louis Sclavis – "Radio Song" (Clean Feed)
Carlos Barretto Quartet (w/ François Corneloup) – "Lokomotiv" (Clean Feed)
Carlos Barretto Lokomotiv – "Labirintos" (Clean Feed)


FRANCOIS CORNELOUP
soprano and baritone saxophones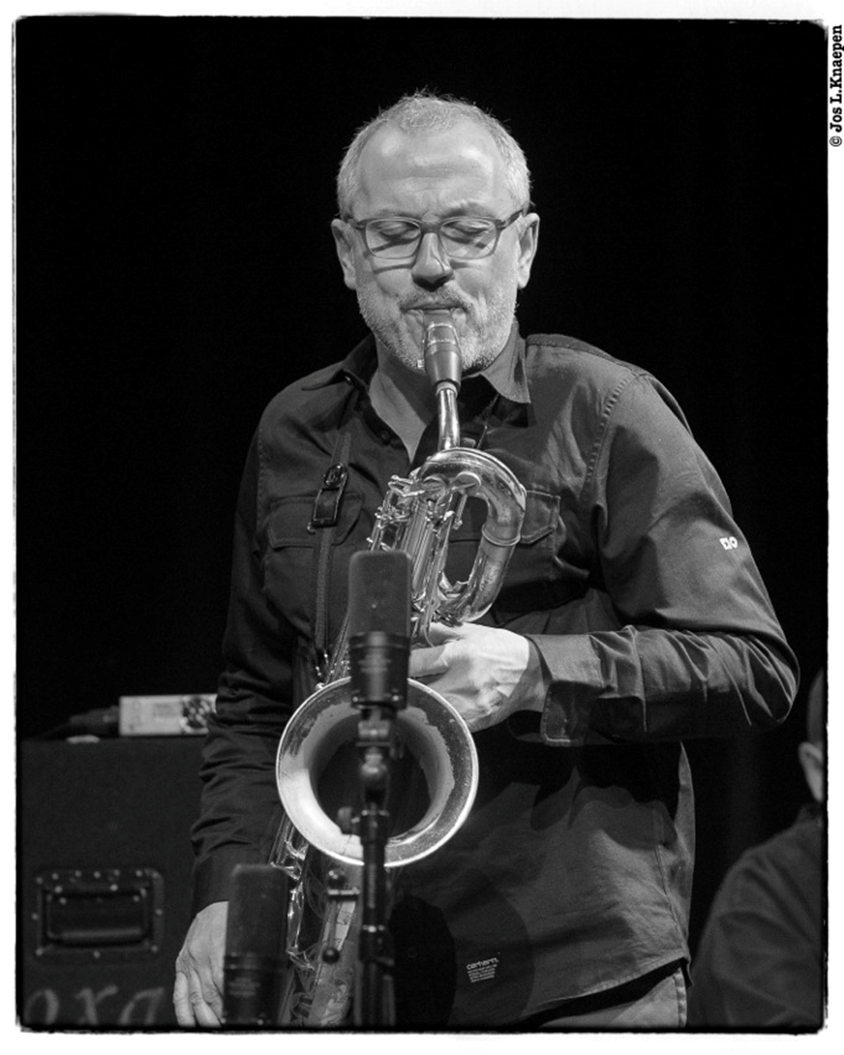 Born on January 14 1963. Self-taught. Started to play in 1979 in improvised music workshops. Led his first quartet in 1986. From 1985 to 1992 played in street parades, dances, concerts. Developed an active interest in the interplay between scenography and music. Toured internationally with Compagnie Lubat (Patrick Auzier, Laure Duthilleul, Bernard Lubat, André Minvielle). In 1990 co-founded the Incidences collective with Manuel Denizet, Michel Godard, Sylvain Kassap, Hélène Labarrière, Jean-Marc Padovani, Dominique Pifarély, Gérard Siracusa, Yves Torchinsky, and Franck Tortiller. In 1995 formed his own quartet with Rémy Chaudagne, Manuel Denizet, and François Raulin. In 1996 formed the François Corneloup Trio with Claude Tchamitchian and Eric Echampard. In 1997, played the Europa Jazz Festival in Le Mans, founded the "Calligraphes" band with Philippe Deschepper, Claude Tchamitchian, François Raulin, Fabrice Charles, Vincent Courtois, and Christophe Marguet. In 1999 the François Corneloup Trio was joined by Yann-Fañch Kemener. In 2000, formed Babel Bal with Médéric Collignon, Eric Echampard, Julien Favreuil, Jean-Louis Pommier, Claude Tchamitchian and Pascal Lamige. In 2001, formed a new quartet with Yves Robert, Marc Ducret and Eric Echampard.

PROJECTS AND EDUCATION:

1993: Couches Festival: the "grand comité" big band. 30 musicians from the local music school and guest artists Jean-François Canape, Manuel Denizet, Renaud Garcia Fons - 1994: direction of the Fanfare Banlieues Bleues (Sevran Carnival) on music by Steve Lacy, Bernard Lubat, David Murray, Michel Portal, Louis Sclavis and his own pieces. Estivales d'Aubervilliers: composition and direction of "Puzzle" with 120 children from the music schools in Aubervilliers and La Courneuve in the company of Jean-Luc Ponthieux - 1995: Festival Jazz en Pays d'Apt: composition and direction of "Déferlante". International Jazz Festival in Nevers: composition and direction of the one-off "Bruit-sonnière" educational project with 50 pupils from the local music schools accompanied by musicians from the François Corneloup Quartet - 1996: Decize (Nièvre): composition and direction of "Des Cliques et les 4" with the municipal brass band of Decize and the François Corneloup Quartet - 1997: "Rencontres pédagogiques", an educational public concert project with the music schools of Le Mans, Sablé and Loué as part of the Le Mans Europa Jazz Festival - 1998: Original work for the music schools of Nîmes and the region for Spring Jazz Festival - 1999: Original work performed with three music schools in Deux-Sèvres (Niort, Parthenay, Thouars) - 2000: Original work with the trio and Jean-Yves Montjauze (p), Claire Bergerault (voc.) at the Carré Bleu (Poitiers)

HAS WORKED WITH:
CURRENTLY: Duo with Sylvain Kassap - Louis Sclavis Quintet (Laurent Dehors, Michel Godard, Yves Robert) - Baritone sax trio with Serge Bertocchi and Daunik Lazro - Trio with François Raulin and Bruno Chevillon - Los incontrolados - OCCASIONAL: Dominique Pifarély - Uzeste music festival - Collectif Zhivaro (Claude Barthélémy, Sylvain Kassap, Didier Levallet, Jacques Mahieux, Gérard Marais, Henri Texier) - PAST: Henri Texier Soñjal Septet (Noël Akchoté, Julien Lourau, Jacques Mahieux, Sébastien Texier, Bojan Zulfikarpasic) - Gérard Marais Quartet Opéra (Vincent Courtois, Youval Micenmacher) - Jacques Mahieux Trio (with Fabrice Devienne on piano) - Sylvain Kassap Octet (Hélène Labarrière, Jean-François Canape, Philippe Deschepper, Norbert Lucarain, Christophe Marguet, Jacques Veillé) - Denis Fournier Quintet (Nabil Khalidi, Jean Luc Ponthieux, Frédéric Tari) - Oeil de Breizh (Bruno Chevillon, Marc Ducret, Guy Le Querrec, Aldo Romano, Louis Sclavis, Henri Texier) - Opéra "Mister Cendron", produced by Michel Rostain, music by Gérard Marais (Michel Arbats, Vincent Courtois, Claudine Ducret, Youval Micenmacher, Sami Simbert) - Claude Tchamitchian's Grand Lousadzak.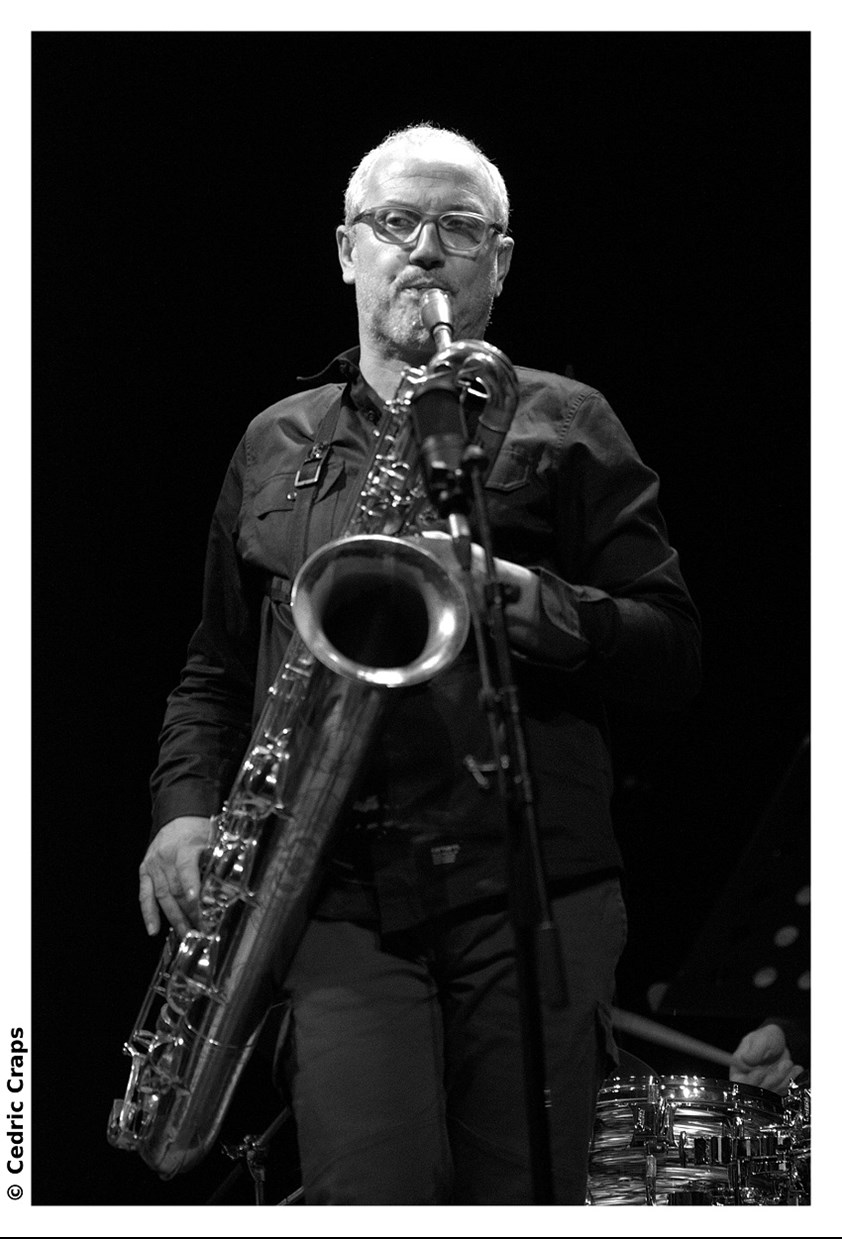 HAS APPEARED WITH:
Beñat Achiary, Noël Akchoté, Patrick Auzier, Jean Jacques Avenel, Claude Barthélémy, Carles Benavente, Han Bennink, Jean-François Canape,Jean-Luc Cappozzo, Xavier Charles, Jean-Louis Chautemps, Bruno Chevillon, Laurent Dehors, Benoît Delbecq, Manuel Denizet, Marc Ducret, Laure Duthilleul, Jacques Di Donato, Glenn Ferris, Renaud Garcia Fons, Michel Godard, Jacques Higelin, Tony Hymas, Sylvain Kassap, Hélène Labarrière, Eric Lareine, Francis Lassus, Guy Le Querrec, Didier Levallet, Julien Lourau, Bernard Lubat, Thierry Madiot, Jacques Mahieux, Gérard Marais, André Minvielle, Eric Montbel, Guilllaume Orti, Stéphane Oliva, Jean-Marc Padovani, Evan Parker, Percussions-Claviers de Lyon Marc Peronne, Dominique Pifarély, Jean-Luc Ponthieux, Michel Portal, Michaël Riessler, Jean Rochard, Paul Rogers, Aldo Romano, Sylvain Roux, Marc Sanders, Louis Sclavis, Gérard Siracusa, Claude Tchamitchian, Henri Texier, Sébastien Texier, Yves Torchinsky, Franck Tortiller, Jacques Veillé, Bojan Zulfikarpasic...
JOSÉ SALGUEIRO
drums/percussion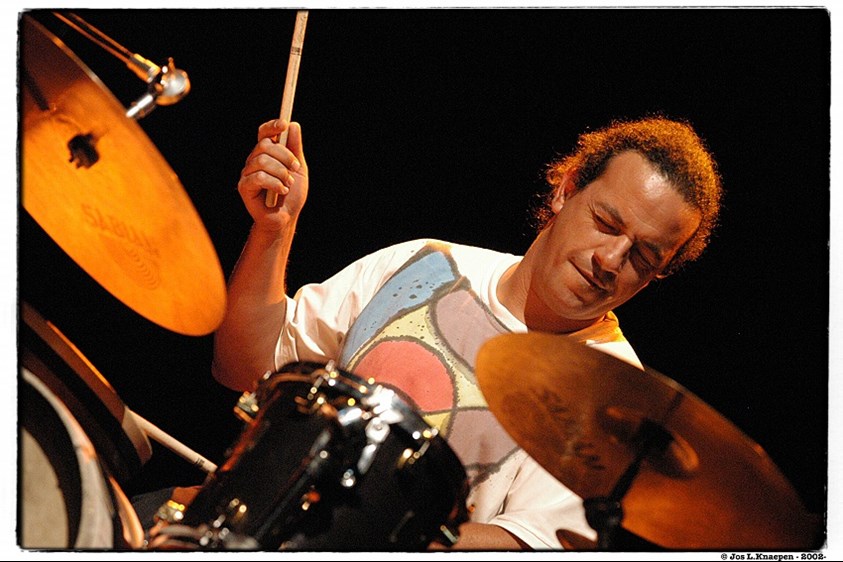 José Salgueiro studied at the Academia dos Amadores de Música, National Conservatory of Lisbon and at Hot Club the de Portugal. In 1988 goes to Barcelona to study theory of improvisation (drums and trumpet) at Tallers de Musics. He studied with Max Roach, Billy Hart, Ron Maclure, David liebman, Richard Beirach, Paul Motian amongst others. He has done his latest international tours with Maria João, Mário Laginha, Carlos Bica, José Peixoto and Carlos Barretto.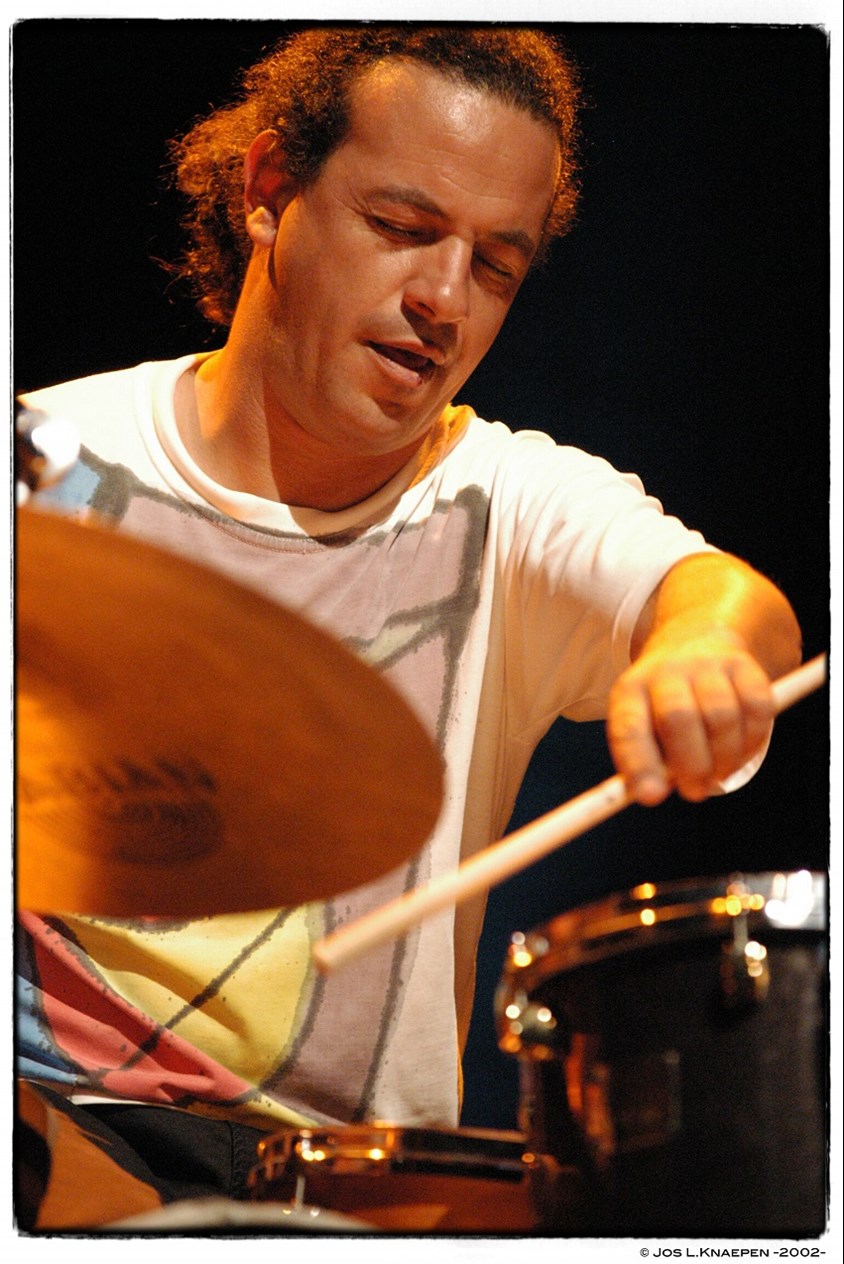 Has participated in projects of Gaiteiros de Lisboa – traditional music, Bernardo Sassetti, Carlos Barretto, João Paulo and Paulo Ribeiro. José Salgueiro is a co-founder of the project Tim Tim por Tim Tum and the producer of several musical works, that include a great difference in areas, such as; pop, jazz, traditional or children's music. After being invited by Expo 98, José conceived the "Adufe" show, which is now being presented nation-wide.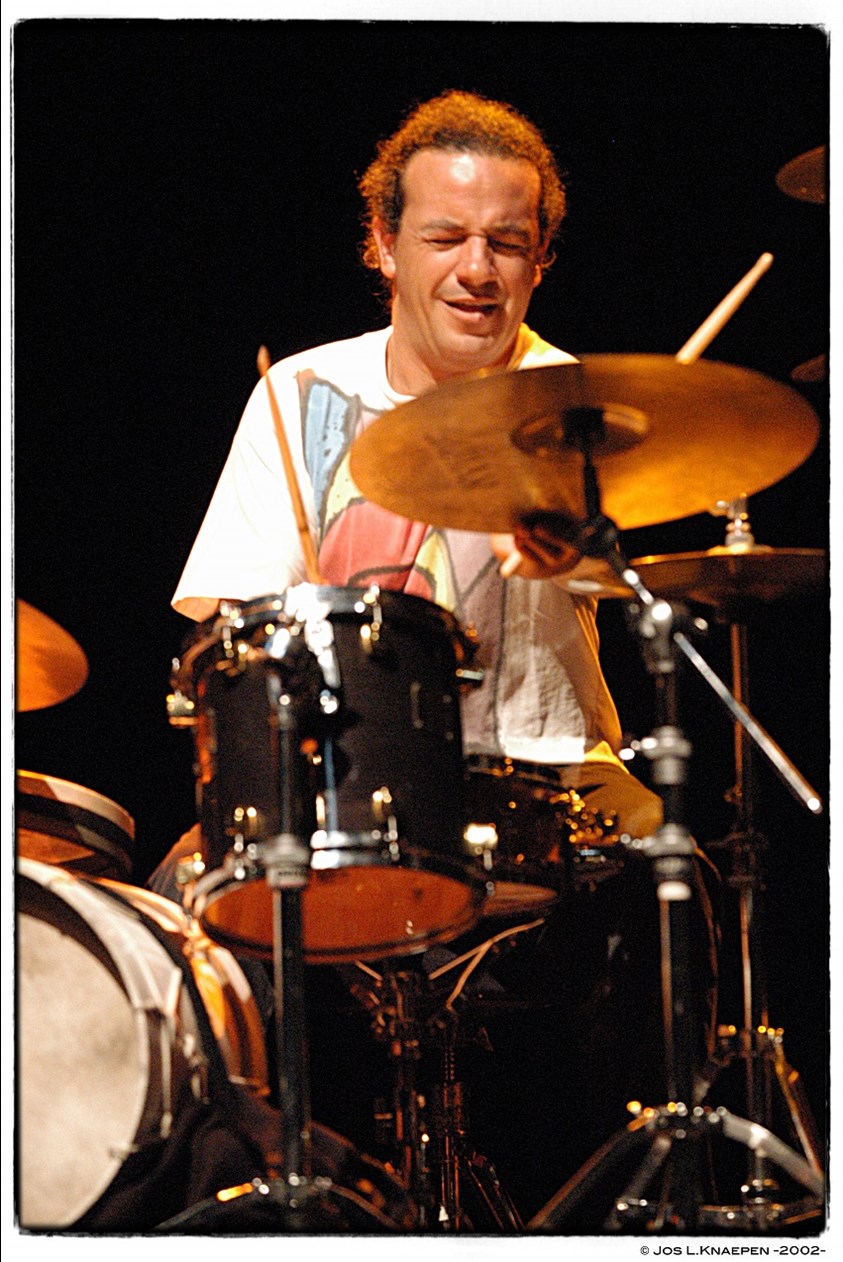 Jazz'halo Music Days 2004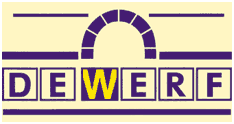 proudly present


VLATKOVICH TRITET
Michael Vlatkovich, trombone, compositions
Jonas Tauber, double bass
Ken Ollis, drums

Concerts:
March 25th, 2004 – Foyer De Spiegel Sint-Niklaas
March 26th, 2004 – De Werf Brugge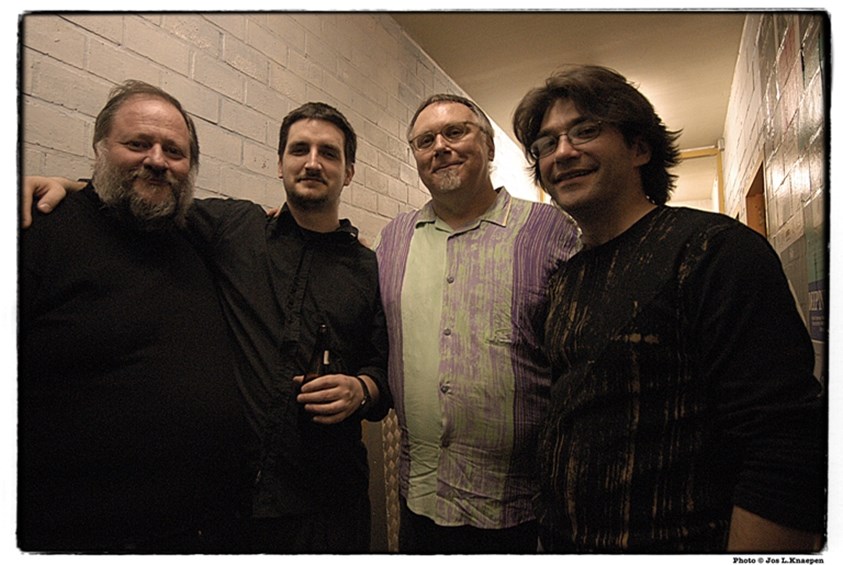 all photos Vlatkovich Tritet © Jos L. Knaepen

MICHAEL VLATKOVICH
trombone, compositions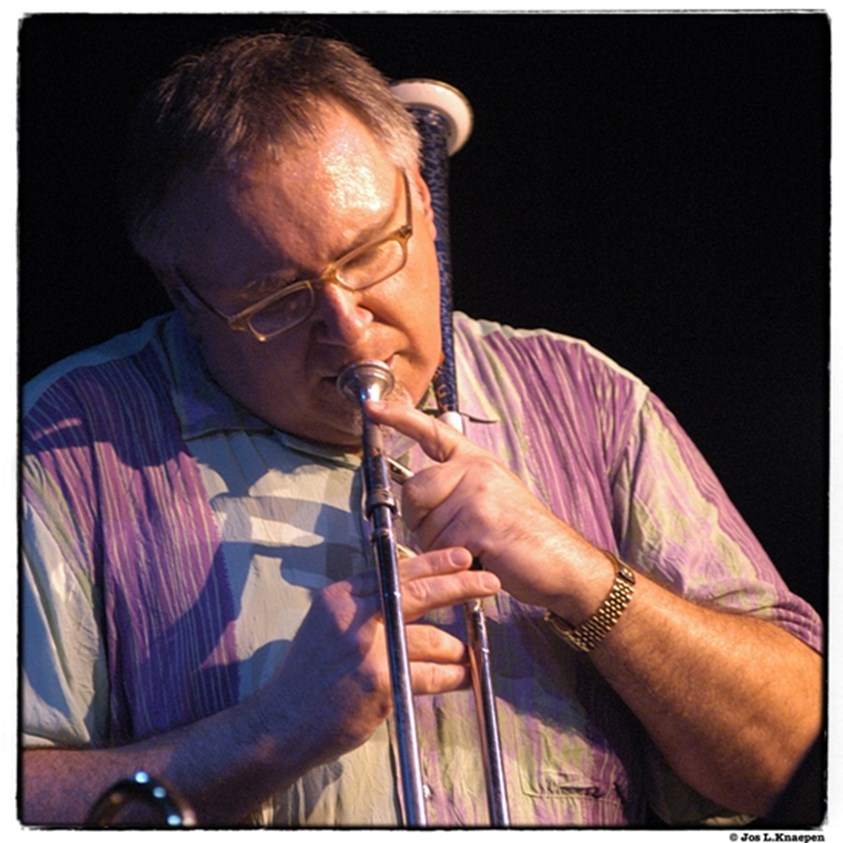 Michael Vlatkovich, trombonist, composer, and arranger, is one of the leading talents among Los Angeles improvisational players. Located on the West Coast since 1973, he is an emotionally charged performer, comfortable in a variety of comfortable jazz and world music styles. Vlatkovich has performed extensively in the United States, Canada, and Europe. His improvisionally free music expresses raw power and beauty in a minimally structured format. Born in St. Louis, Missouri, Vlatkovich began studying music with the school band in the third grade. He distinguished himself in high school and was awarded a music scholarship to attend the St. Louis Institute of Music.
Prior to his education at the Institute, Michael took part in an intensive six week workshop with internationally acclaimed saxophonist Oliver Nelson and guest soloists, Thad Jones, Mel Lewis, Roland Hanna, Ron Carter, and Phil Woods. Among his fellow students were Hamiett Bluiett, Joe Bowie, Julius Hemphill, and Oliver Lake. In addition to leading his own diverse imaginative ensembles, Vlatkovich has performed with a wide array of singers and instrumentalists including Peggy Lee, Brian Setzer, Bryan Adams, Bobby Bradford, Gerry Hemingway, Rob Blakeslee, Rich Halley, among many others.
The trombonist has also performed on sound tracks for a variety of television and film projects including The Mask, Jingle All The Way, and the critically acclaimed John Cassavette's film the Tempest. In 1981, the composer formed Thankyou Records in order to document the truly unique forward thinking musical concepts and ideas of both himself and his music collaborators. (These recordings have received critical acclaim in music publications and periodicals throughout the United States and Europe. Many of them have been selected for the lists of ten best jazz recordings. Most recently the trombonist has been performing with his own ensembles, and co-leading Transvalue with poet Charles Britt. Vlatkovich is also a regular member with the Vinny Golia Large Ensemble, Vinny Golia Quintet and Rob Blakeslee Quartet.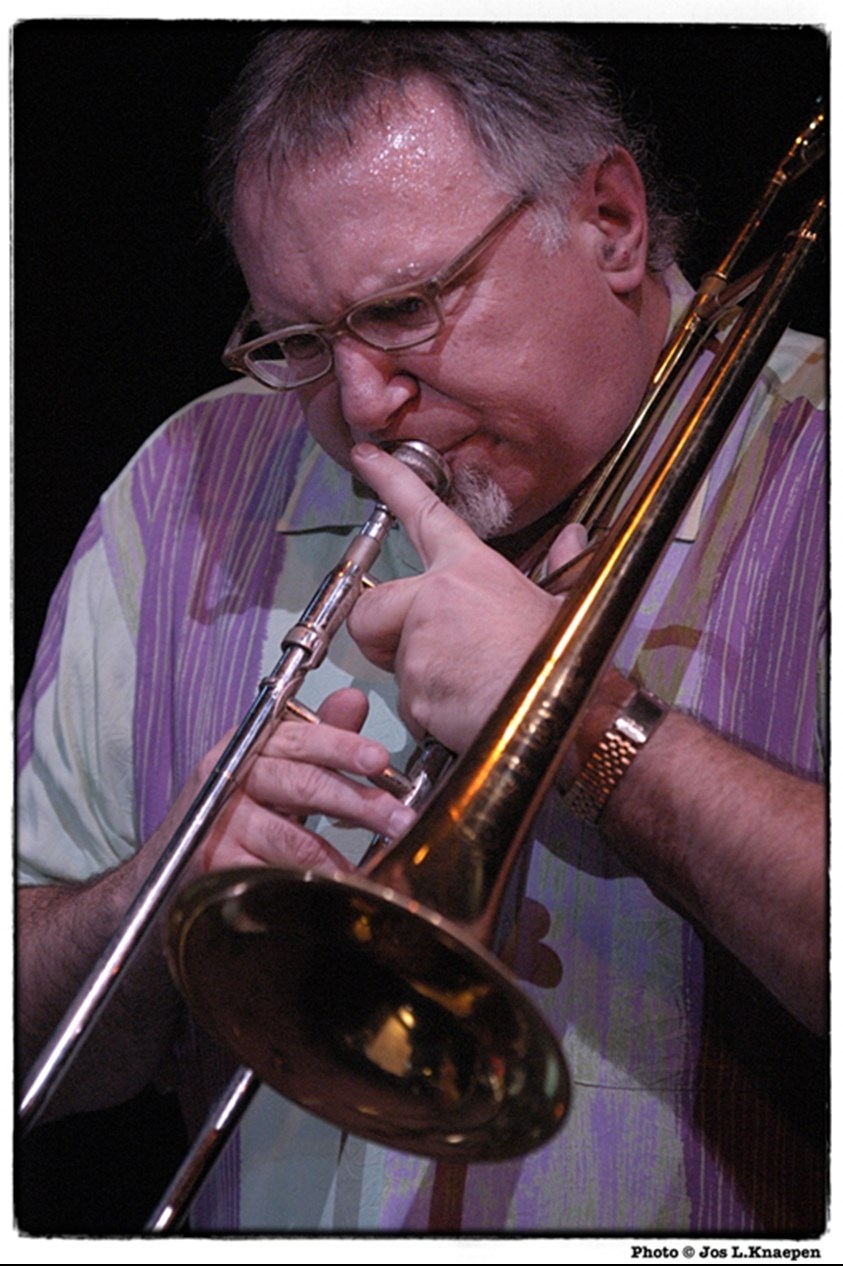 Performance Credits
Rob Blakeslee,Bobby Bradford, Vinny Golia Quintet & Large Ensemble, Rich Halley, Gerry Hemingway, Jeff Kaiser, Peggy Lee, Looney Booms, Johnny Mandel, Bill Mays, Billy Mintz, David Mott, Oingo Boingo, John Rapson, Bobby Rodriguez, Brian Setzer Orchestra, Rory Stuart, Jack Walrath, Tom Walsh and many others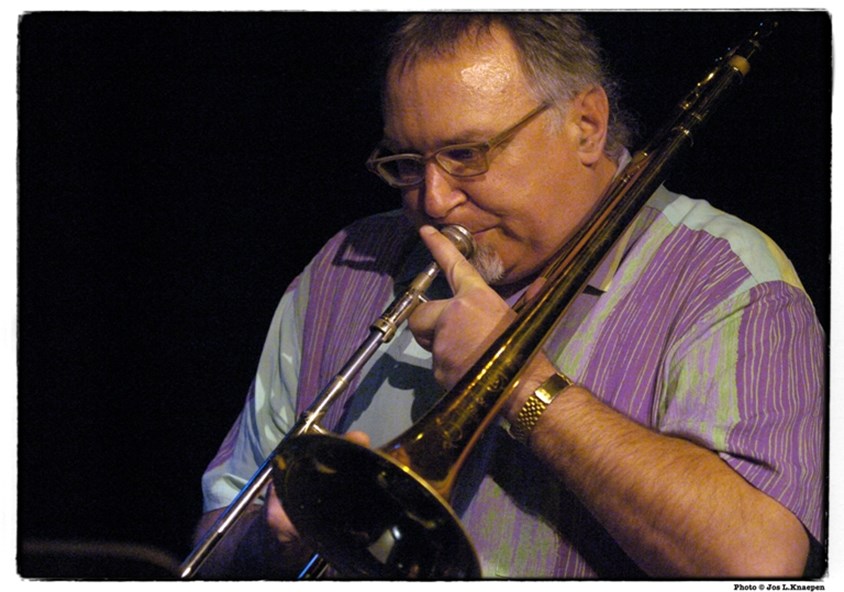 Reviews
"Michael Vlatkovich isn't your average trombonist. He squeaks, soars, and sears and tears sonic pieces of paper much like a saxophonist. Quite simply, and with all due respect to players like Jed Bishop, Joe Fiedler, Masahiko Kono, Steve Swell, and even my all time favorite Roswell Rudd, Vlatkovich is the finest trombonist improvising today. While this music isn't exactly "out there," it is far from the "mainstream." There isn't a "blow out" or antagonistic section on this disc and yet all of the cuts have a smidgen of unpredictability that makes them challenging. In the end, it doesn't matter as this music shines in or outside of any context."
JAZZREVIEW.COM


"A commanding improvisational trombonist, Vlatkovich is also a devisor of challenging structures for his bandmates. Vlatkovich loves using word and numerical games to determine compositional structures. There are seldom "themes" as such but, rather, motifs collectively essayed. Around these guideposts, Vlatkovich leaves lot of room in which soloists can navigate. The raucous assembled horn passages have ancestral ties to early New Orleans jazz and Vlatkovich often writes short, concentrated ensemble bursts that hit like sound grenades."
JAZZIZ


"Michael Vlatkovich is coming to town to blow your mind. Michael Pierre Vlatkovich may not be a household name.... yet he still manages to be one of the most extraordinary improvising trombonists in this country as well as overseas. Also a gifted composer and arranger, Vlatkovich is one of the leading talents among Los Angeles improvisational players. Working from the Left Coast since 1973, he is well known for tireless touring, bringing his music all over the United States, Canada, and Europe. A daring and emotionally charged performer, Vlatkovich takes delight in blending a broad variety of jazz and world music styles into his own brand of engaging and unpredictable music. His approach manages to express a raw power and beauty within a minimally structured format that allows extensive group improvisations to lead the way."
ARTVOICE


"Vlatkovich is an arresting writer who works with many different forms - numerical compositions, tangos, waltzes, big band swingers, and more. He also assembles musicians accomplished enough to interpret his pieces with verve and imagination."
L.A. NEW TIMES


"Trombonist Michael Vlatkovich served up a more animated mix of gutbucket grooves and extended form at his Knitting Factory set...His multi-theme pieces flow in ways that feel right to the ear, so they don't feel like patchwork or even suite-like. They also leave lots of room for broad brush blowing."
CODA


"Maybe its the similarity to the slide whistle, but something about the trombone seems to attract musicians who, despite their amazing virtuosity, still retain a mischievous sense of humor. Vlatkovich and his ensemble play thoughtful, melodic free jazz with a wry air.....a little marvel of joyous, minimalist improvisation - consistently swinging but never confined by time"
SEATTLE WEEKLY


"With its blustery, swaggering and bluesy Mingus -like rag-tag amalgam of structure (including interesting support for soloists) and open-ended improvisation, buoyed by periodic rock rhythm underpinning which, amazingly enough, avoids any concession to fusion or pop, and odd striking percussion textures, it's a sprawling, spirited freewheeling set."
CADENCE


"The band is notable for its unusual instrumentation, encouraging pallet, repertoire of originals, and its good intentions...Vlatkovich's resourceful writing provided a framework fro his gritty, muffled-toned trombone."
LOS ANGELES TIMES


"The Michael Vlatkovich Quartet, specializes in tautly constructed group improvisations that provide lost of nourishing food for musical thought; their combinded sounds swing effortlessly yet solidly. From '20's style gutbucket testifying to '60's like "outside" musings and beyond, most of the passing century's musical innovations are encompassed. Blend in a healthy dose of humor and a bit of underlying irreverence and you've the makings of an enthralling evening."
SANTA FE REPORTER


"Trombonist/composer Michel Vlatkovich has a knack for leaving just the right loose ends loose and weaving others into knots that are almost impossible to unravel. His arrangements are characteristically sparse - sometimes startingly so- but the depths of his imagination are so densely packed with the new and the fresh that listening to Vlatkovich blow is to hear improvisational jazz for the first time, every time. The St. Louis born, musician is considered among the top musical and compositional minds on the Left Coast. That's at least in part because Vlatkovich, is almost entirely fearless when it comes to stretching the limits of jazz well beyond the accepted stratosphere of improvisation. Never timid, shy or subtle, Vlatkovich wrings melodies out of his trombone with brute force, nailing together a wide variety of jazz styles to miscellaneous scraps of world music and jackhammer rhythms. His music is brash, bold and exciting-the way improv ought to be."
THE WEEKLY ALIBI


"The skeletal compositions generate an organized spontaniety that is quite striking because the music is allowed to develop in an atmosphere of considerable freedom"
JAZZ FORUM


"In the spirit of Ornette Coleman, Vlatkovich compositions are often jagged and humorous...Vlatkovich's trombone ranges over as wide a terrain as his tunes, progressing form funky bop to slippery high register pranks to walking bass lines to frog-like croaks. With its blustery, swaggering and bluesy Mingus-like rag tag amalgam of structure(including interesting support for soloists) and open-ended improvisations, buoyed by periodic rock rhythm underpinning which, amazingly enough, avoids any concession to fusion or pop, and odd striking percussion textures, it's a sprawling, spirited, free-wheeling set."
THE NEWS AND OBSERVER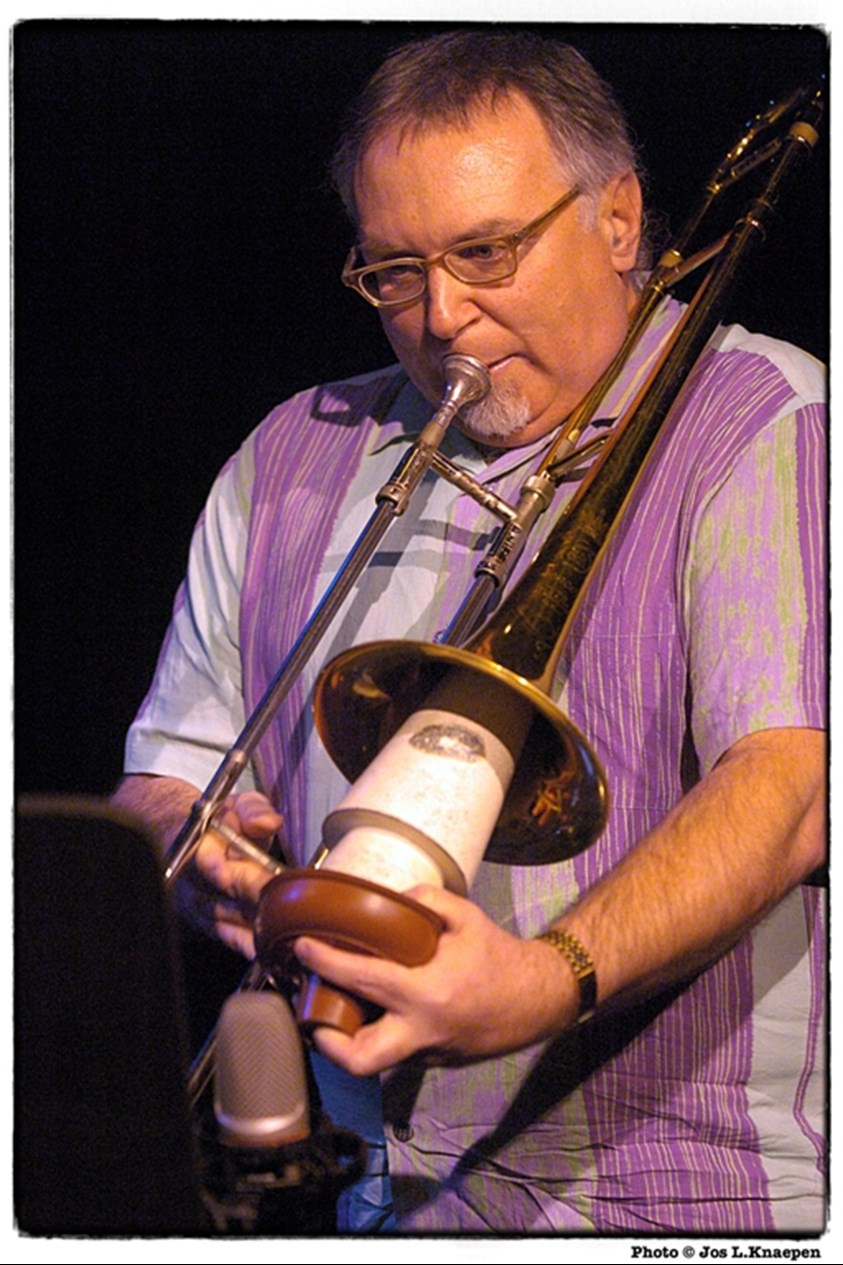 Selected discography

As Leader
ThankYou Records MV010 - No Zee Two Es
ThankYou Records MV009 - Parlor Games
ThankYou Records MV008 – Toronto Live
ThankYou Records MV007 - Why Don1t You See Me?
ThankYou Records MV006 - Collective Thought
ThankYou Records MV003 - 9113ThankYou Records MV002 - The One That Never Stayed
ThankYou Records MV001 - Michael Pierre Vlatkovich

With TRANSVALUE (Chuck Britt)
ThankYou Records MV004 - Transvalue Book 1
ThankYou Records MV005 - Transvalue Book 2

with the Vinny Golia Large Ensemble
Nine Winds NWCD0180 - Portland 1996
Nine Winds NWCD0170 - Tutto Contare
Nine Winds NWCD0150/160 - Commemmoration
Nine Winds NWCD0140 - Decennium Dans Axlan
Nine Winds NWCD0130 - Pilgrimage To Obscurity
Nine Winds NWLP0120 - Facts Of Their Own Lives
Nine Winds NWLP0110 - Compositions For Large Ensemble

with the Vinny Golia Quintet
Nine Winds NWCD0169 - Razor
Nine Winds NWCD0127 - Out For Blood
Jazz'halo TS018/019 – One, Three, Two

With others
Nine Winds NWCD0215 - Rich Halley Live At Beanbenders
Nine Winds NWCD0206 - Jeff Kaiser Music For Double Quartet
Nine Winds NWCD0182 - Mark Weber Obligatos For Terpsichorean Dipsomaniacs
LOUIE019 - Rob Blakeslee Last Minute Gifts
JONAS TAUBER
double bass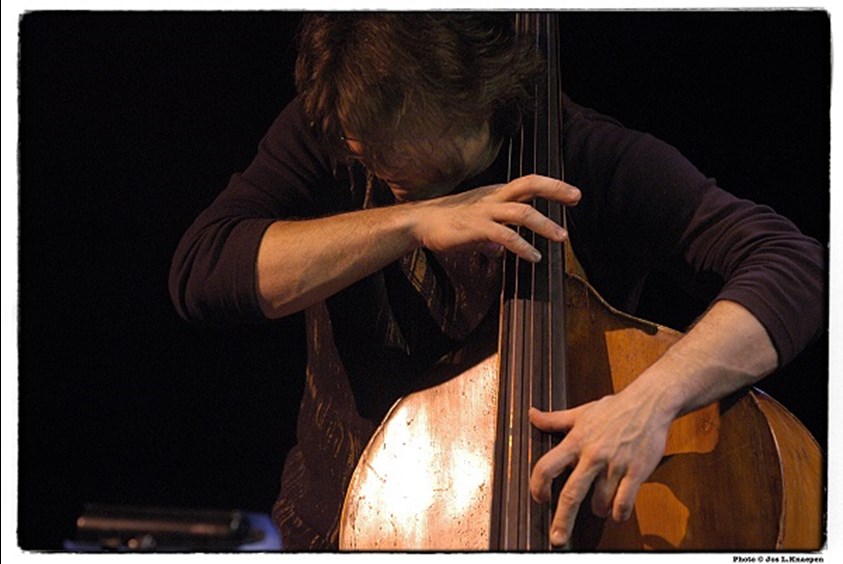 Born Nov. 4th, 1967 in Winterthur, Switzerland, to a musical family, Jonas Tauber studied classical piano and cello, completing a Bachelor of Music in Performance and Literature in Cello at the Eastman School of Music. His career as a cellist included performing as soloist and chamber musician in North and South America, Europe, and the Middle East with Itzhak Perlman, the Apple Hill Chamber Players, North/South Consonance Ensemble (NYC), Philadelphia Virtuosi Chamber Orchestra (Brazil/USA), Manhattan Orchesis (Brazil), Emmanuelle Somer and the Tone Poets (Europe), as well as performing the Elgar, Schumann, and Bloch's Kol Nidrei concertos in Poland and New York.
For the last year, Jonas has toured the United States, Europe, and the Middle East as the bassist for the band Pink Martini, based in Portland, OR. Jonas now lives in Portland with his partner and continues to play double bass in ensembles covering styles from classical to free improvised music, including the Oregon Symphony, Linfield Chamber Orchestra, Freeplex, as well as performing solo upright bass concerts at the Snake & Weasel, the Tugboat, and the Tiki Room at the Jasmine Tree restaurant. Jonas is recording with four different ensembles of his own creation, to be released in 2002, involving small ensemble work in duo or trio format that stresses freely improvised music.
Jonas Tauber makes music with the primary purpose of remaining a human being, this taking him on a musical journey through styles and instruments ranging from classical to open music, from piano and cello to the double bass, where he has landed as the most comfortable place both musically and instrumentally. Presently creating four CD projects to be released through Origin records out of Seattle, he is hoping to perform on a continuous basis with the Open Music Workshop in Seattle, Michael Vlatkovich based in Portland, and ensembles in free improvised music in the states and Europe as they are formed by chance.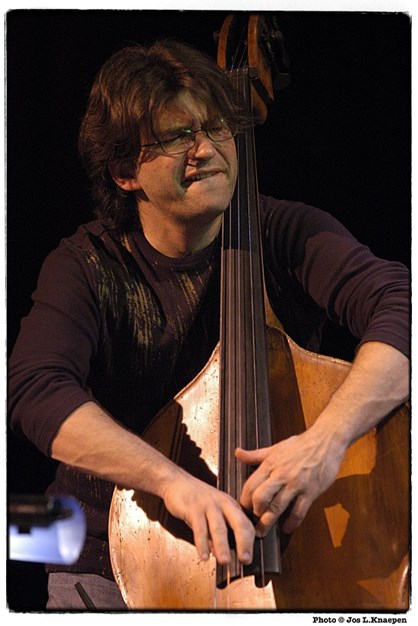 Discography:
Vinny Golia – Feeding Frenzy
John Hollenbeck – Quartet Lucy
Emmanuelle Somer – Search for Peace
Michael Vlatkovich – Tritet
Jonas Tauber/Doug Haning/William Thomas trio – live at Jazz de Opus
During 2001 Jonas Tauber has toured the United States, Europe, and the Middle East as the bassist for the band Pink Martini. When he lived in Portland, OR., Tauber was performing solo bass concerts as well as recording with four different ensembles of his own creation, one was released during 2002 and the other three will be released within this year.

Professional experience
Oregon Symphony Orchestra – section bass, 2001-3
Pink Martini – bass, 2001-3
Linfield College Orchestra – principal bass, 2002

Performances - jazz
Trio Musik – with Billy Mintz, drums, Rob Blakeslee, trumpet, live at Festival of World Music, San Francisco, 2002
Vlatkovich Tritet – with Michael Vlatkovich, composition/trombone
Ken Ollis, drums, various performances, tour EU Mar. 2004
Pink Martini – tours/performances West Coast USA, France, Germany, Switzerland, Italy, Turkey, Greece
Emmanuelle Somer, Search for Peace, tour EU 1998
Daniel Schnyder, Words Within Music, NYC, 1999

Performances – classical chamber music
Perlman Program – summer 2000
Brahms sextet with Itzhak Perlman
Orchesis Manhattan – tour of Brazil, 2000 quartet with violin, clarinet, flute,
performing music composed by living Brazilian composers for our group,
presented in 28 cities all over Brazil for people in
small towns not usually exposed to classical music.
New York Piano Trio – several performances
Duo with pianist Albert Lotto – New York
Guest appearance with Stefan Milenkovich and Adam Neimann – Las Vegas
Tour with Apple Hill Chamber Players – East Coast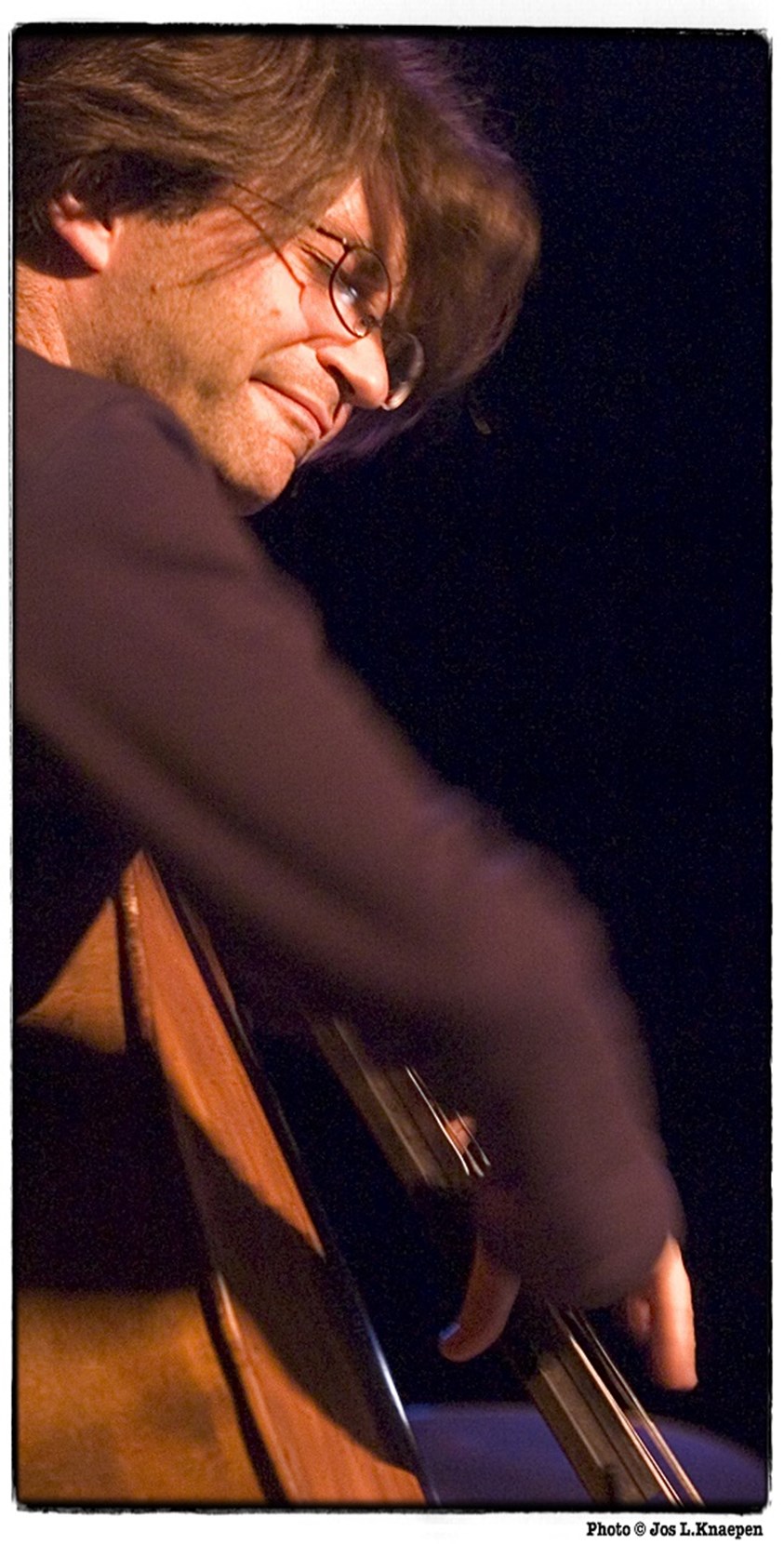 Education
Eastman School of Music – Bachelor of Music, 1990
William Pleeth – private study, London, 1995
Frank Diliberto/Phil Baker –private study, Portland

KEN OLLIS
drums



Ken Ollis is one of Portland's finest drummers. His skills at interpreting songs is unrivaled.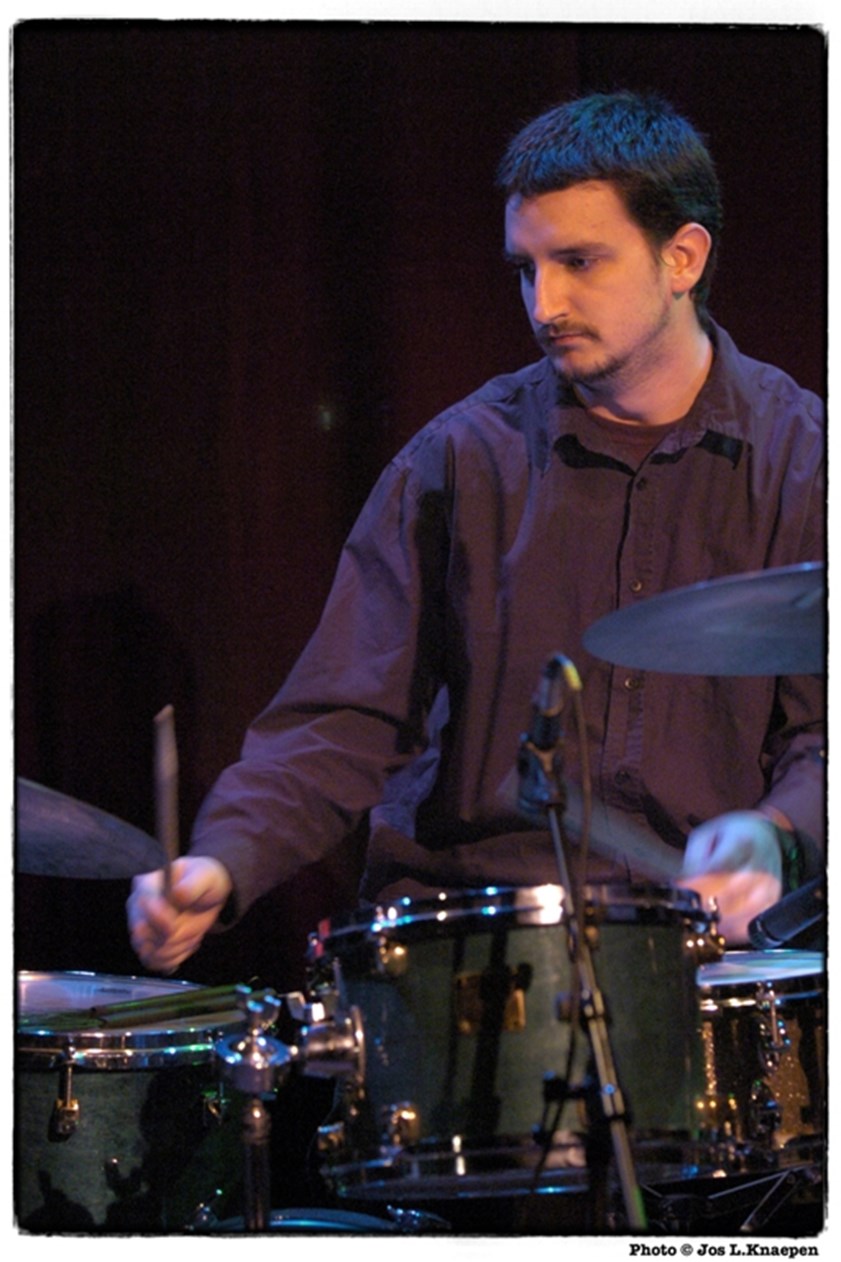 He is an Oregon native with experience in rock, jazz, big band, and a little of everything else in between. He's working with the Michael Vlatkovich Octet, Jonas Tauber Septet, pianist Gaea Schell, pop-groove band Pale Green Pants, The Hotchkiss Trio, The Dave Fleschner Trio, singer/guitarist Jane Wright, pianist Roberta Piket, PSU Jazz Ensemble, …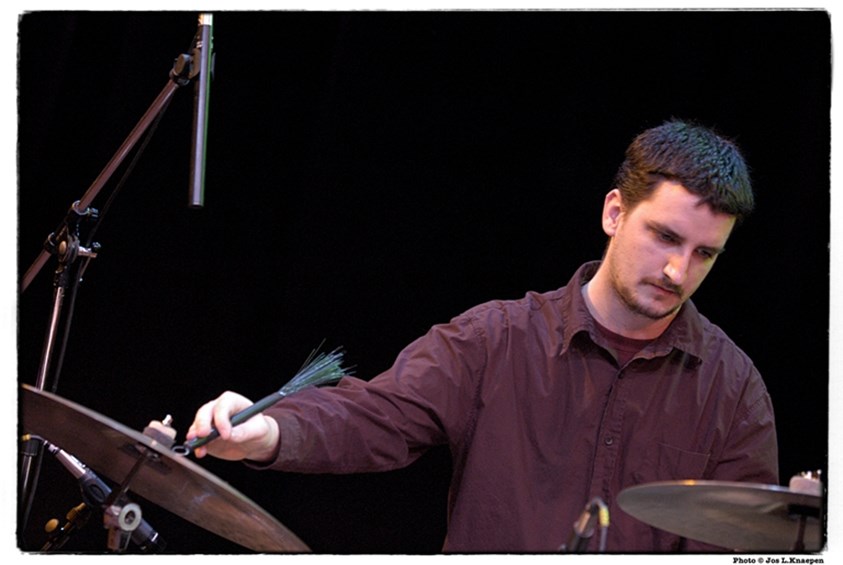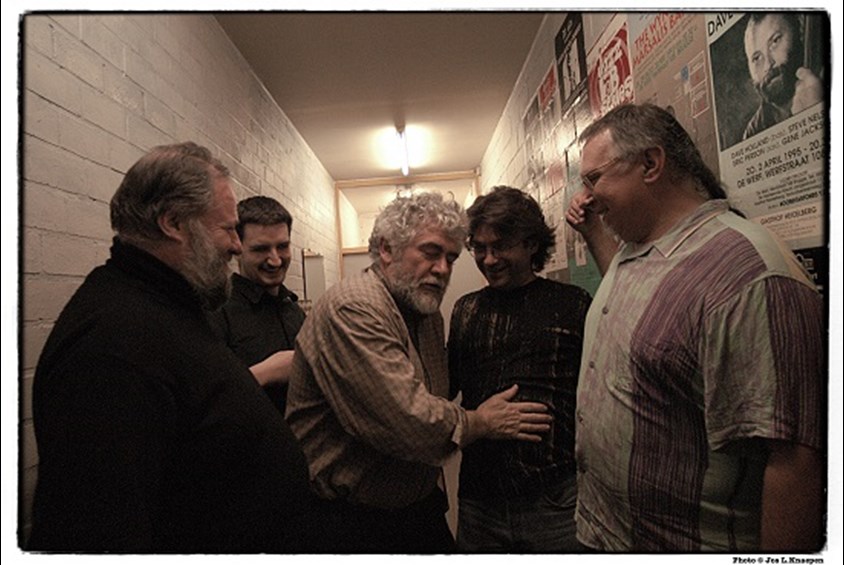 Tritet with Jos Demol & Rik Bevernage
________________________________________________________________________________________________________________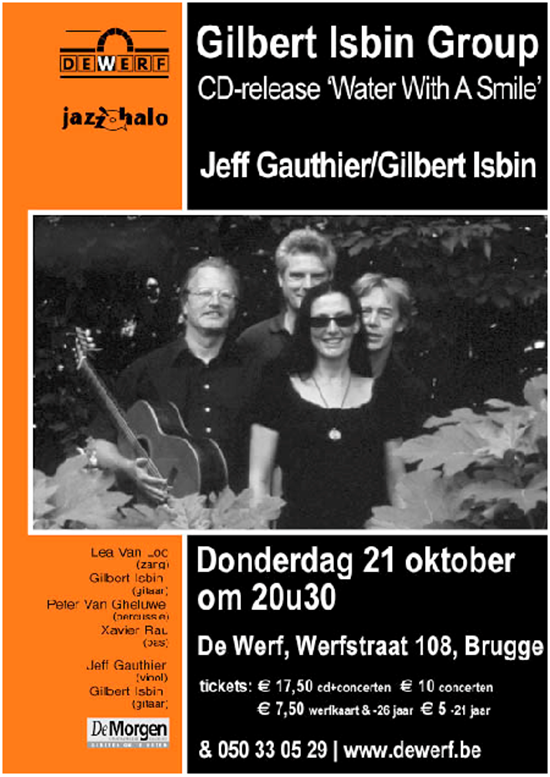 Photos courtesy De Werf Brugge

Release concert CD: "GILBERT ISBIN GROUP - WATER WITH A SMILE"

Gilbert Isbin has acquired notoriety as a jazz improviser but for many years he has been writing songs for his own band, the Gilbert Isbin Group. After having played gigs in small clubs in Europe the time has come to present the band to a larger audience. "Water With A Smile" is the first album with twelve original songs in which Gilbert Isbin proves his great talent as a composer and arranger. Isbin has been impregnated with different types of music: renaissance, baroque and rock, African and Indian rhythms, jazz and contemporary classical music.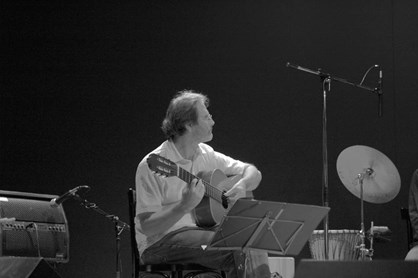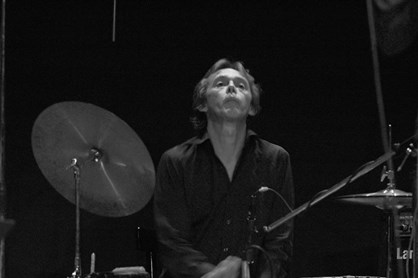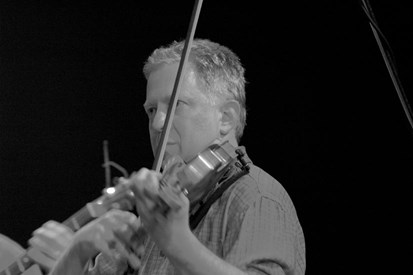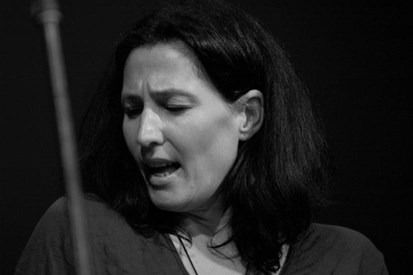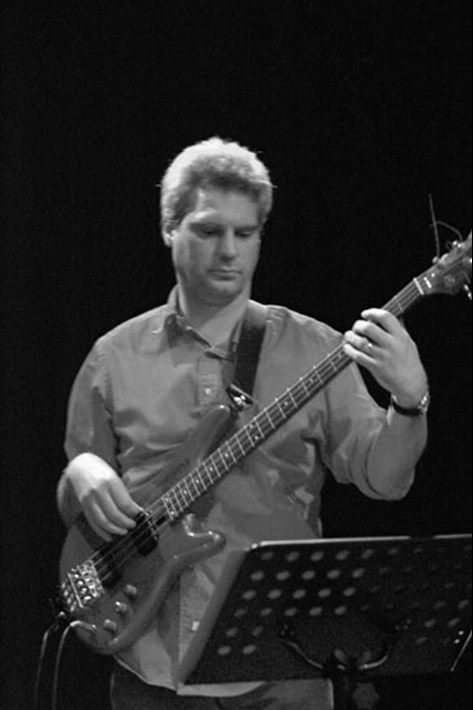 The Gilbert Isbin Group blends colours and sounds of different cultures into refreshing, groovy and dynamic songs with strong melodies. Gilbert Isbin managed to obtain the perfect combination of the confident and flexible voice of Lea Van Loo, the exotic percussion of Peter Van Gheluwe and the solid bass lines of Xavier Rau.
DUO GILBERT ISBIN / JEFF GAUTHIER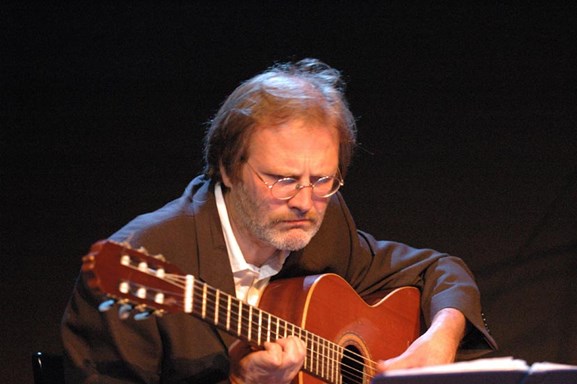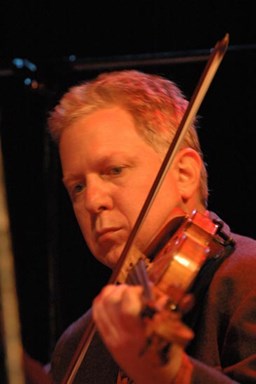 Violinist, composer and producer Jeff Gauthier has worked with a wide range of musicians in a variety of creative contexts in a career that has spanned over 20 years. As an improvising violinist, he has performed and recorded with Yusef Lateef & Adam Rudolph on the album The World At Peace for Meta Records, The Alex Cline Ensemble on albums for ECM & Cryptogramophone, and The Vinny Golia Large Ensemble, Quartetto Stig and the Cline Gauthier Stinson trio, all for Nine Winds Records. His own ensemble, the Jeff Gauthier Goatette has recorded three CDs including Internal Memo and The Present for Nine Winds Records and Mask for Cryptogramophone. Mask was nominated for a 2002 AFIM Indie Award. He has also performed in ensembles with bassist Mark Dresser (The Banquet) and drummer Gregg Bendian (Bone Structure). As a founding member with Nels Cline, Alex Cline and Eric von Essen of the ensemble Quartet Music, a creative presence in Los Angeles for 12 years, Gauthier recorded four albums, received two NEA grants, was a member of the California Arts Council touring roster, and performed twice as soloist with the Milwaukee Symphony.

Recently named a "Rising Star" in the category of Producer in the 2003 Downbeat Critic's Poll, Gauthier has worked with such luminaries as Alan Broadbent, Nels Cline, Mark Dresser, Peter Erskine, Jimmy Rowles, Stacy Rowles, Alan Pasqua, Don Preston and many others recording CDs for Cryptogramophone, Delos and Nine Winds Records.

As a classical violinist Gauthier has performed with the Los Angeles Chamber Orchestra, Los Angeles Music Center Opera, Los Angeles Mozart Orchestra, Long Beach Symphony, the Oregon Bach Festival and the Carmel Bach Festival. He performed on the 2000 Grammy Award winning CD Credo, by Kristoph Penderecki with the Oregon Bach Festival Orchestra and Chorus. He has also performed on countless films and TV shows, including almost every Star Trek film and TV show spin-off known to man.

Gauthier is a graduate of California Institute of the Arts.
Jeff Gauthier, violin
Gilbert Isbin, acoustic guitar



Jazz'halo Music Days 2007
All photography Conference Call by Koen Deleu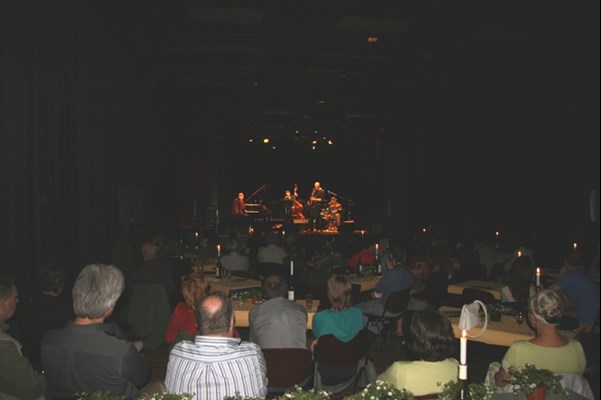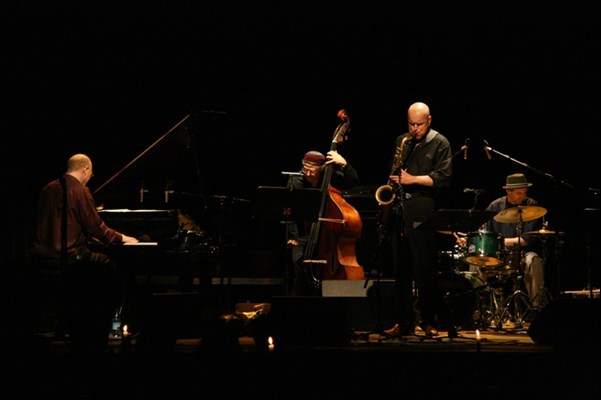 Michael Jefry Stevens, Joe Fonda, Gebhard Ullmann & George Schuller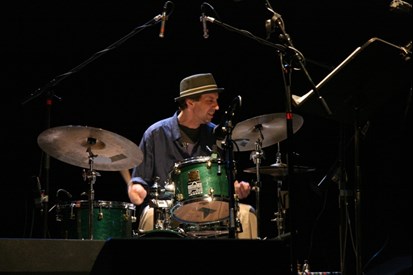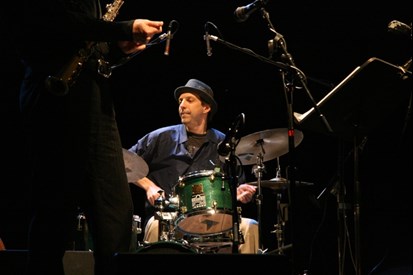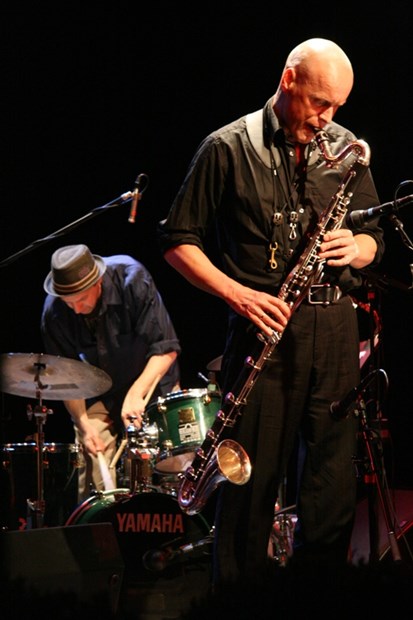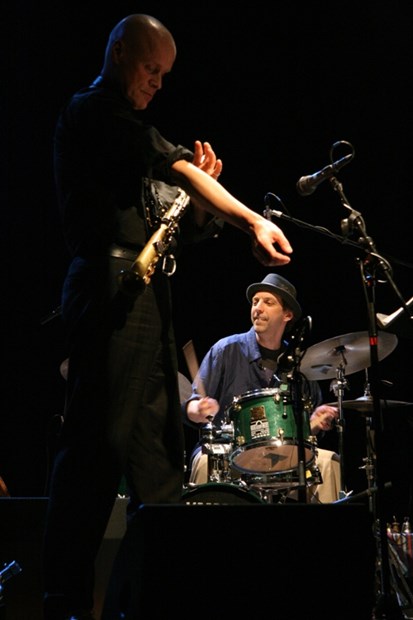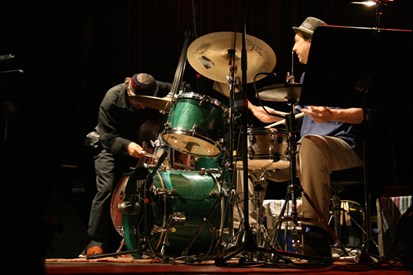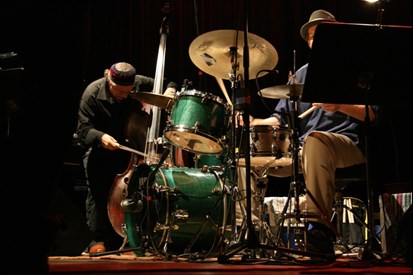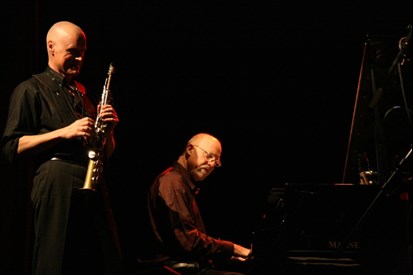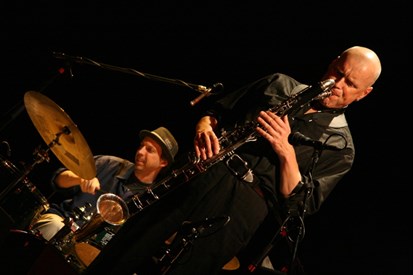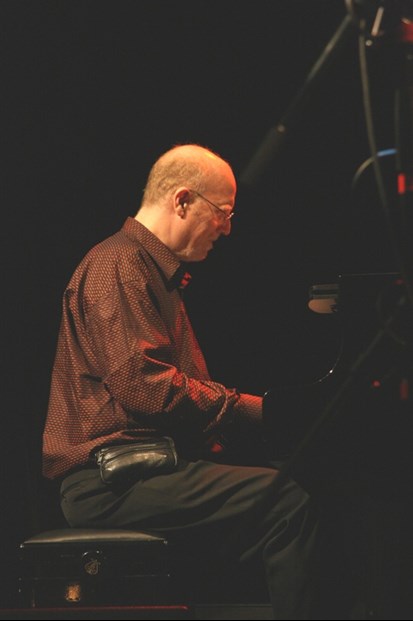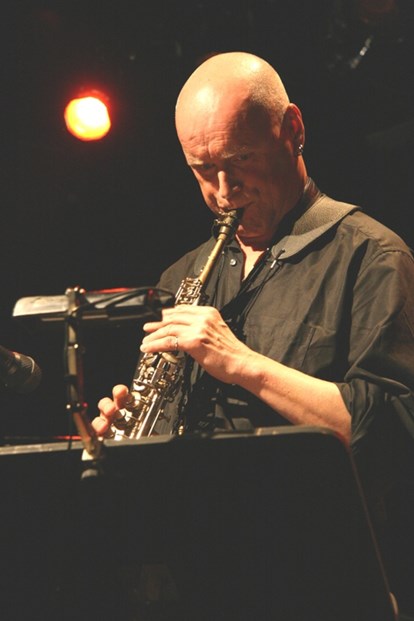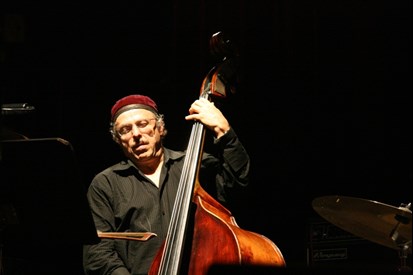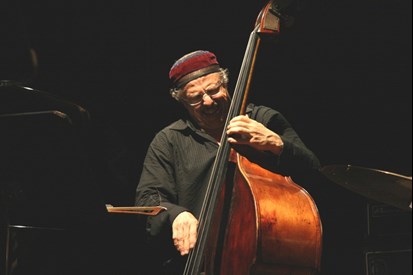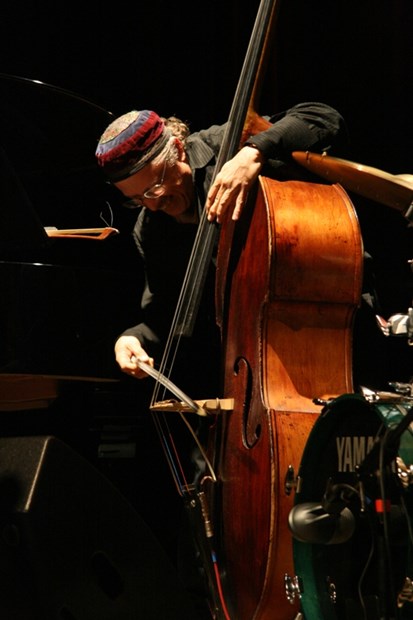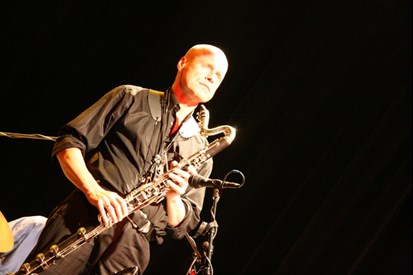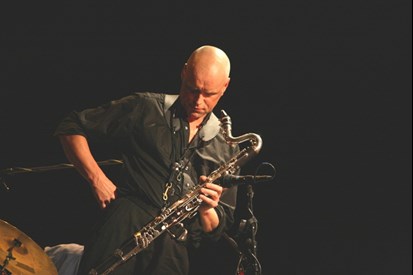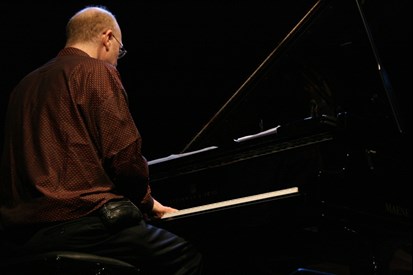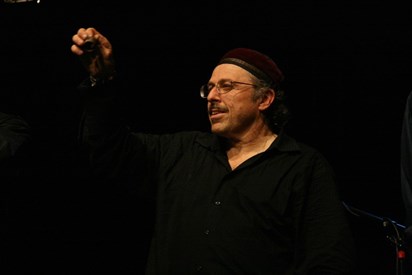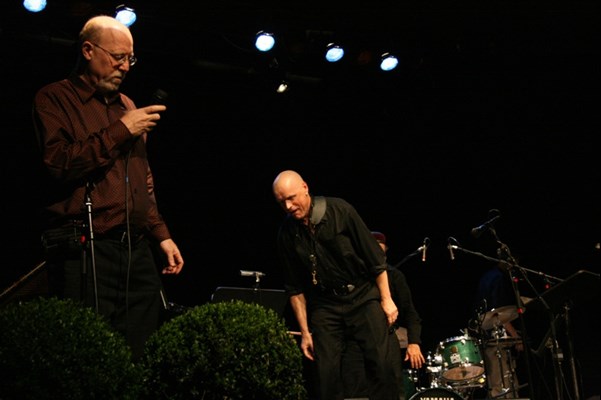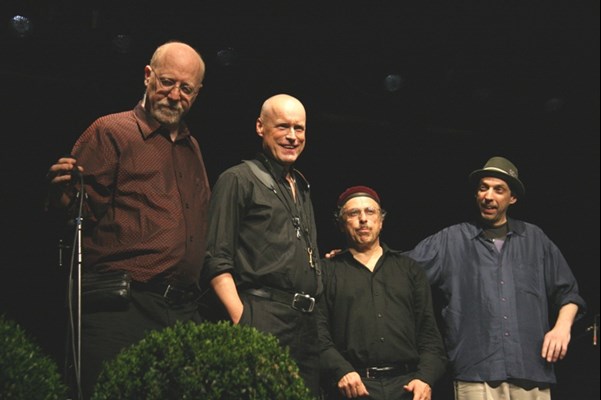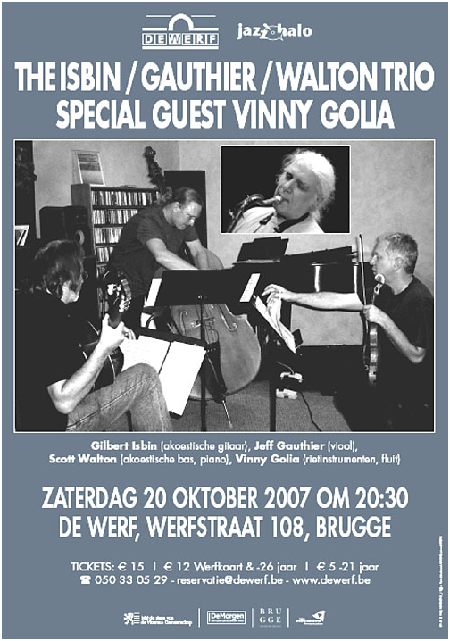 Gilbert Isbin - acoustic guitar
Jeff Gauthier - violin
Scott Walton - double bass, piano
w/ special guest
Vinny Golia - reeds, flutes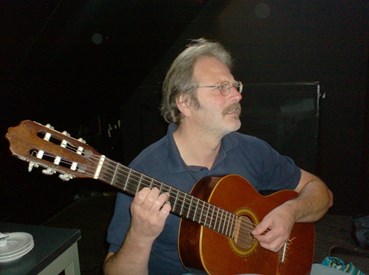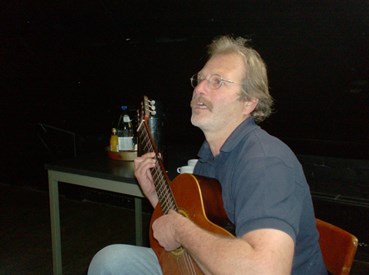 Belgian guitarist Gilbert Isbin's early influences, from classical to folk, jazz, blues, ethnic and freeform music, has ultimately contributed to his now distinctive and refined style. Isbin released thus far 20 acclaimed albums with his own compositions and a CD project with arrangements of Nick Drake songs for solo guitar. He collaborated and performed all over Europe and in the US with a. o. Cameron Brown, Joe Fonda, Scott Walton, Ernst Reijseger, Jan Kuijken, Jeff Gauthier, Michel Godard, Philippe Deschepper, Achim Kirchmair, Jatinder Thakur, Hugh Hopper, Wolfgang Reisinger, John Ruocco, Sandro Di Stefano, Sandor Szabo and Iep Fourier. Gilbert has written music for documentaries and shortfilms and composed scores for solo, duet, trio and quartet guitar settings of which his 'Summer Moon Dance' has been added to the repertoire of the internationally acclaimed Quartetto Chitarristico Italiano. Apart from composing he is also interested in free (melodic) improvisation and open for new projects.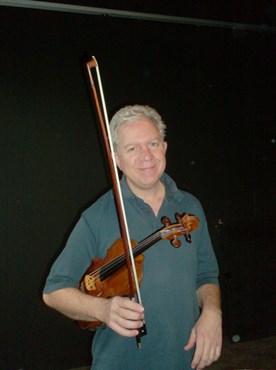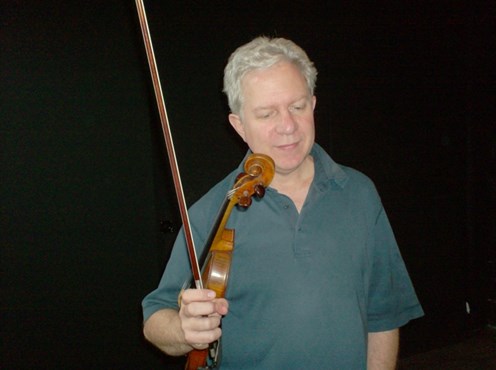 Violinist, composer and producer Jeff Gauthier has worked with many prominent musicians in a variety of creative contexts during a career that spans over 20 years. As an improvising violinist Jeff Gauthier has performed and recorded with Yusef Lateef and Adam Rudolph for Meta Records, The Alex Cline Ensemble for ECM, Nine Winds & Cryptogramophone Records, the Cline/Gauthier/Stinson trio for Cryptogramophone and Nine Winds Records, and The Vinny Golia Large Ensemble and Quartetto Stig for Nine Winds Records. His own ensemble, the Jeff Gauthier Goatette, has recorded three CDs including Internal Memo and The Present for Nine Winds and Mask for Cryptogramophone. Gauthier has also performed in ensembles with bassist Mark Dresser (Banquet) and drummer/percussionist Gregg Bendian (Bone Structure). As a founding member of the seminal ensemble Quartet Music (with Nels Cline, Alex Cline and Eric von Essen) in the late 70s, Gauthier recorded four albums, received two NEA grants, toured with the California Arts Council touring roster, and performed twice as soloist with the Milwaukee Symphony. Gauthier also founded and produced the Inner Ear new music concert series in Los Angeles.
In demand as a producer of jazz and new music recordings, Gauthier has worked with such jazz luminaries as Alan Broadbent, Nels Cline, Mark Dresser, Peter Erskine, Lou Levy, Jimmy Rowles, Stacy Rowles, Alan Pasqua, Don Preston, Theo Saunders and many others, having produced CDs for Cryptogramophone, Jazz'halo, Delos and Nine Winds Records. In a former life as a concert violinist, Jeff Gauthier has performed with the Los Angeles Chamber Orchestra, Los Angeles Music Center Opera, Los Angeles Mozart Orchestra, Long Beach Symphony, the Oregon Bach Festival and the Carmel Bach Festival. Gauthier performed on the 2000 Grammy Award winning CD Credo, by Kristoph Penderecki with the Oregon Bach Festival Orchestra and Chorus. Jeff Gauthier is a graduate of California Institute of the Arts.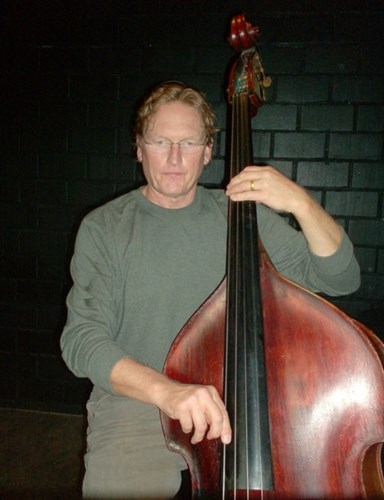 Bassist and pianist Scott Walton's interests cut across musical genres. He has collaborated with poets, dancers, performance artists, filmmakers, and multimedia artists, and is featured on recent CD releases with the Vinny Golia Quintet (One, Three, Two), Cosmologic (Syntaxis), O'Keefe, Stanyek, Walton, Whitehead (Tunnel), and Jeff Kaiser (17 Themes for Ockodektet). Current projects include work with the Vinny Golia Quintet (Vinny Golia, Michael Vlatkovich, Nels Cine and Alex Cline), Cosmologic (Jason Robinson, Michael Dessen, Nathan Hubbard), the Rain Trio (Eric Barber, Alex Cline), and O'Keefe, Stanyek, Walton, Whitehead (Pat O'Keefe, Jason Stanyek, Glen Whitehead). As a pianist Walton has commissioned and premiered works by numerous composers (most recently, Cort Lippe's Music for Piano), has toured the U.S. with the Octagon Ensemble for New Music, and has collaborated in interactive computer and multimedia performances with Vibeke Sorenson in Lemma 2, the latest result of the Global Visual Music project. He prformed an improvisationally inspired interpretation of Charles Ives' Concord Sonata. As a bassist he has also recorded with George Lewis, Bobby Bradford, Anthony Davis, and Carmell Jones, and has performed with a. o. Wadada Leo Smith, John Carter, J.D. Parran, Gerry Hemingway, Quincy Troupe, Ray Anderson, John Abercrombie, Phillip Gelb, Davey Williams, Toshiko Akiyoshi, Clifford Jordan, Al Cohn, Buddy Tate, and Frank Wess. He has recorded on the Soul Note, Nine Winds, Jazz'halo, Circumvention, pfMentum, Koch, Centaur, Albany, and Revelation labels.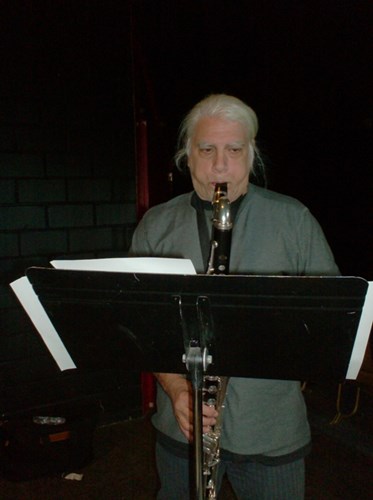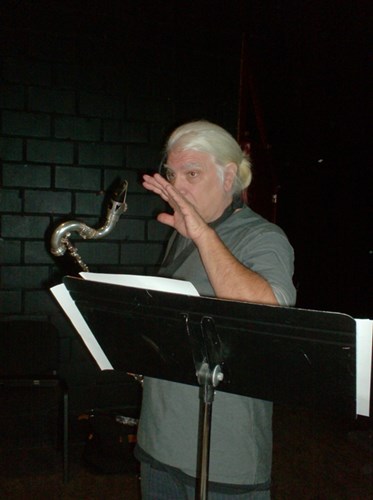 Vinny Golia is a composer who fuses the rich heritage of Jazz, contemporary classical and world music into his own unique compositions. As a bandleader, Golia has presented his music to concert audiences in Europe, Canada, Mexico, Japan and the United States in ensembles varying dramatically in size and instrumentation. Mr. Golia has won numerous awards as a composer, including grants from the National Endowment of the Arts, The Lila Wallace Commissioning Program, The California Arts Council, Meet the Composer, Clausen Foundation of the Arts, Funds for U.S. Artists and the American Composers Forum. In 1982 he created the on-going 37 piece Vinny Golia Large Ensemble to perform his compositions for chamber group and jazz orchestra.
A multi-woodwind performer, Vinny's recordings have been consistently picked by critics and readers of music journals for their yearly "ten best" lists. In 1990 he was the winner of the Jazz Times TDWR award for Bass Saxophone. In 1998 he ranked 1st in the Cadence Magazine Writers & Readers Poll and has continually placed in the Downbeat Critic's Poll for Baritone Saxophone. In 1999 Vinny won the LA Weekly's Award for "Best Jazz Musician". Jazziz Magazine has also named him as one of the 100 people who have influenced the course of Jazz in our Century.
Golia has also contributed original compositions and scores to Ballet and Modern Dance works, video, theatrical productions, and film. As an educator Vinny has lectured on music & painting composition, improvisation, Jazz History, The History of Music in Film, CD & record manufacturing and self-production throughout the United States, Europe and Canada. He currently teaches at California Institute of the Arts. In 1998 Golia was appointed Regent's Lecturer at the University of California at San Diego.
Vinny has been a featured performer with Anthony Braxton, Henry Grimes, John Carter, Bobby Bradford, Joelle Leandre, Leo Smith, Horace Tapscott, John Zorn, Tim Berne, Bertram Turetzky, George Lewis, Barre Phillips, The Rova Saxophone Quartet, Patti Smith, Harry "the Hipster" Gibson, Eugene Chadbourne, Kevin Ayers, Peter Kowald, John Bergamo, George Grüntz Concert Jazz Band, Misha Mengelberg, Han Bennink, Lydia Lunch, Harry Sparnaay Kevin Ayers, and the Los Angeles Philharmonic Orchestra amongst many others.
Instruments: Ab, Eb, Bb, C, A, Alto, Bass, Contra-Alto & Contra-Bass Clarinets, Piccolo, G, C, Alto, & Bass Flutes, Sopranino, Soprano, Tenor, Baritone, & Bass Saxophones, English Horn, Bassoon, Contra-Bassoon, Strich, Taragoto, & various ethnic aero phones.
Vinny Golia has presented his music extensively in the United States, Canada, Mexico, Europe, and Japan, with ensembles varying dramatically in size and instrumentation.