Vijay Iyer - Linda May Han Oh - Tyshawn Sorey – Uneasy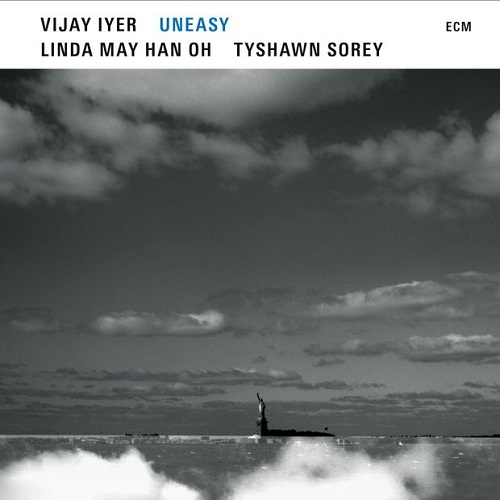 V
ECM
Vijay Iyer ging grasduinen in zijn eigen archief en viste hier acht composities uit die hij aanvulde met eentje van Geri Allen en nog een van Cole Porter. Samen met bassist Linda May Han Oh en drummer Tyshawn Sorey verwerkte hij dit tot een op en top hedendaags repertoire met sterke New York stempel. Het vrijheidsstandbeeld staat niet toevallig op de hoesfoto.
De titeltrack komt van een dansvoorstelling uit 2011 waarvoor Iyer de muziek schreef. Dat was ook het jaar van de 11 september aanslagen. De pianist omschrijft deze cd zelf als een verzameling "uneasy pieces". Van iemand als Iyer, die les geeft in Harvard, wil dat natuurlijk wat zeggen. Het mogen dan oudere nummers of zelfs standards zijn, in de uitwerking van dit onuitgegeven trio klinkt het allemaal heel fris en eigentijds.
Zeventig minuten lang geraak je als luisteraar in de ban van een doorlopende ideeënstroom met tempowissels die afwisselend expliciet dan weer eerder impliciet ingelast worden. 'Touba' (dat Iyer componeerde in gezelschap van hiphopper Mike Ladd) moet het op zijn beurt hebben van een uiterst donkere en bluesy inkleuring. Het uitdeinen naar het einde toe is dan weer typisch een van Iyer zijn handelskenmerken. Scherp in contrast hiermee is de abrupte stop van Geri Allen haar 'Drummer's Song' dat voortdrijft op een repetitief pianothema. 'Uneasy' is een uitgesproken uitlaatklep voor Sorey. In Cole Porter's 'Night And Day' krijgt hij trouwens ook heel wat ruimte en inspraak. Sowieso overheerst overal een intrinsieke dynamiek die meer dan regelmatig choreografische vormen aanneemt ('Configurations'!).
Een cd boordevol contrasten die echter nooit agressief tegenover elkaar geplaatst worden. Ze vullen elkaar eerder aan. Zoals Iyer het zelf verwoordt: "A tribute to both the loud and the quiet, the quick flurry and the slow rise, the hurricane and its eye, the uprising and its steady dream of abolition". Kortom, brandend actueel.
© Georges Tonla Briquet




Musici:
Vijay Iyer: piano
Linda May Han Oh: contrabass
Tyshawn Sorey: drums

www.ecmrecords.com