Veronica Swift - this bitter earth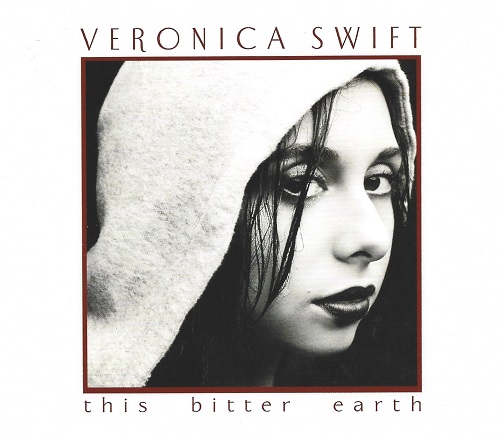 V
Mack Avenue/Newartsint.
Veronica Swift est née dans une famille de musiciens de jazz : une mère, Stéphanie Nakasian, vocaliste et un père pianiste qui a une carrière de sideman plutôt impressionnante : Phil Woods, Freddie Hubbard, Zoot Sims, Archie Shepp, Chet Baker – il est le pianiste de l'album « Blues for a Reason » avec Warne Marsh – ou René Thomas – avec qui il enregistre « Guitar Goove ». Autant dire que dans un tel univers, Veronica Swift a de quoi s'en mettre plein les oreilles. Et elle ne tardera pas à se mettre en évidence aux côtés de son papa puisqu'elle enregistre son premier album à neuf ans ! Ces dernières années, elle enregistre avec Benny Green et tourne avec le Jazz at Lincoln Center Orchestra de Wynton Marsalis. Et la revue Jazz Times la désigne comme meilleure jeune artiste et album vocal de l'année (pour « Confessions ») en 2019.
« This Bitter Earth », composition de Clyde Otis, ouvre l'album sur une note grave montrant d'emblée l'intérêt de la chanteuse pour le côté social et les chansons à texte. Les pièces suivantes démontrent un réel sens de la tradition et du swing avec « How Lovely to be a Woman » et deux compositions de Rodgers-Hammerstein « You've Got to be Carefully Taught » et « Getting to Know You », ce dernier avec son pianiste Emmet Cohen – redoutable de bout en bout - au célesta et un quatuor à cordes accentuant le romantisme du thème avant l'accélération du tempo. Et que dire de « The Man I Love », dépouillé et accompagné par moments en accords par Emmet Cohen, où la voix de Veronica Swift se révèle profonde et sensible.
Outre un riche background musical, la chanteuse a le chic de choisir des chansons peu jouées et qui ont du sens : « You're the Dangerous Type », « He Hit Me (And It Felt like a Kiss) », « Everybody has the Right to be Wrong » ou « Prisoner of Love" ne sont que quelques-unes des découvertes de cet album riche de treize titres. Le trio qui l'accompagne, outre Emmet Cohen, est composé de Yasushi Nakamura à la contrebasse et Bryan Carter aux drums, tous deux impeccables jusque dans le plus petit solo. Aaron Johnson au sax-tenor et à la flûte s'ajoute au trio sur quelques thèmes pour de beaux solos, alors que le guitariste Armand Hirsch intervient en duo avec la chanteuse sur « He Hit Me » de Carole King.
« Sing » d'Amanda Palmer clôt l'album avec tous les musiciens de l'album (Armand Hirsch lyrique sur « He Hit Me » se déchaine à la guitare électrique) et les chœurs de l'école des filles de Charlottesville, ville natale de Veronica. J'avoue avoir craqué du début à la fin sur ce disque dont l'originalité consiste à nous surprendre en surfant sur la tradition.
Un tout bel album vocal.
© Jean-Pierre Goffin

Musiciens:
Emmet Cohen, piano
Armand Hirsch, guitare
Aaron Johnson, flûte
Yasushi Nakamura, basse
Bryan Carter, drums