VEIN - Our Roots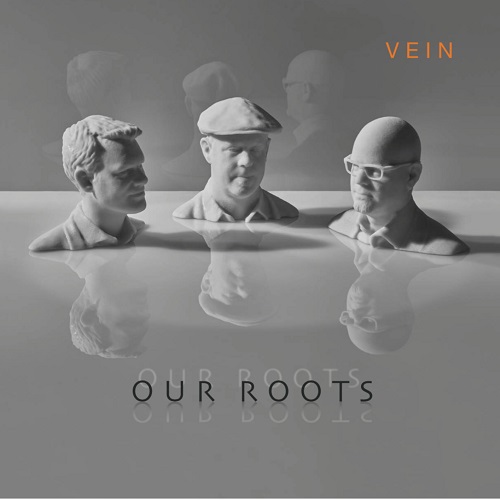 V
https://veintrio.bandcamp.com/
Depuis plus de dix ans, ce trio suisse s'est clairement dédié à ses racines occidentales. « The Chamber Music Effect » en 2016, « VEIN plays Ravel » en 2018 et « Symphonic Bop » en 2019.
Ce quatrième opus ne déroge pas à la règle : Michael Arbenz au piano, Thomas Lähns à la contrebasse et Florian Arbenz à la batterie parcourent leurs racines classiques, une inspiration où on trouve Scriabine, Stravinsky, Bartok, Beethoven, Mozart et Moussorgsky, de grands classiques donc, une liste où seul le nom de Hans Werner Henze ( 1926-2012) nous est peu familier et dont le trio propose une pièce inspirée par son concerto pour contrebasse.
On se plait à relever les références, moins mélodiques que subtilement glissées dans le corps des compositions des frères Arbenz. Ainsi le côté rythmique appuyé de Stravinsky sur « Restless » où on devine « L'Oiseau de Feu ». Ou les majestueux accords d'ouverture de « This is Beat-O-Vein » (sic !) repris à la 5e Symphonie de qui-vous-savez, et dont le beat bien marqué façon « Bad Plus » polissé tranche avec la douceur de l'Aria de Mozart qui suit. « Betting Angel » met en évidence le jeu de contrebasse à l'archet de Thomas Lähns sur le concerto de Henze où on décèle quelques touches humoristiques. Car la musique de VEIN a beau paraître sérieuse, on y sent à tout moment cet esprit de « jeu » propre au jazz avec les effets de surprise, les changements rythmiques, les références à la musique contemporaine, le tout restant d'une lisibilité de tous les instants, comme dans ce vibrant « Pictures of An Exhibition » final.
Si beaucoup de musiciens de jazz s'inspirent aujourd'hui de l'univers classique – et souvent principalement impressionniste – il faut sans doute remonter au pianiste français Jacques Loussier pour retrouver un tel travail régulier sur cette matière, le trio VEIN se démarquant de cet illustre prédécesseur par une modernité et une recherche rythmique de la meilleure… veine.
© Jean-Pierre Goffin
Une collaboration JazzMania / Jazz'halo