Brussels Jazz Orchestra feat. Bert Joris & Enrico Pieranunzi - The Music of Enrico Pieranunzi (Claude Loxhay)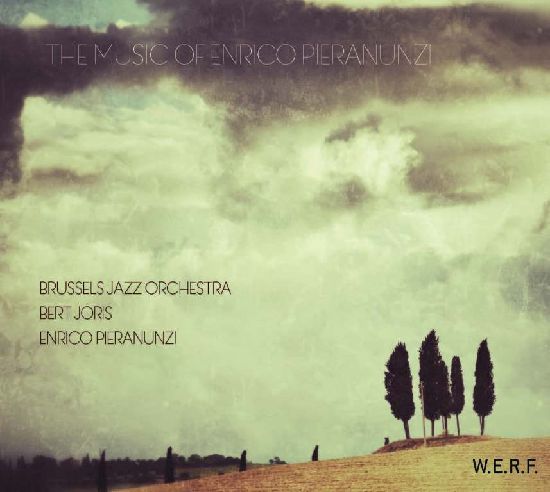 B
W.E.R.F.
En dehors de ses albums en solo, duo ou trio, Enrico Pieranunzi a certes côtoyé pas mal de trompettistes et de saxophonistes mais il n'avait, jusqu'à présent, encore jamais enregistré avec un big band: ce qui rend ce projet du BJO d'autant plus intéressant. Et, pour cela, Frank Vaganée a fait appel à Bert Joris dont on avait déjà pu apprécier les arrangements sur plusieurs albums du BJO: The Music of Bert Joris en 2002, puis Sign and Signatures ainsi que sur cinq thèmes de Ten years ago que le BJO avait enregistré avec Richard Galliano. Ce choix était d'autant plus évident que le pianiste romain connaissait le trompettiste anversois de longue date: pour le label Challenge, il avait gravé avec lui, en 1999, l'album Don't forget the poet dont cinq compositions sont ici reprises.
Si Enrico Pieranunzi n'avait pas encore été tenté par l'expérience du grand orchestre, c'est que, comme il le dit: "Le problème avec les big bands, c'est le volume sonore qu'ils développent, le piano risque d'être étouffé". Rien de pareil ici grâce aux arrangements concoctés par Bert Joris et, particulièrement, grâce à son adresse à utiliser, au maximum, la riche palette sonore du BJO.
Ainsi, sur Persona, à côté des deux ténors, une flûte (Frank Vaganée), une clarinette (Dieter Limbourg), une clarinette basse (Bo van der Werf), des bugles et des trombones avec sourdine créent un véritable écrin pour le piano mélodique du Romain et la trompette lumineuse de l'Anversois: pour reprendre le titre d'un album du trio italien (sur lequel figure déjà With my heart in a song), un vrai "triologue" empathique entre le piano, la trompette et l'orchestre.
On retrouve la même délicatesse sur Fellini Waltz (de l'album Fellini Jazz avec Kenny Werner et Chris Potter), sur Coralie (enregistré avec Enrico Rava, en trio avec Gabriele Mirabassi et Marc Johnson ainsi qu'avec Bert) et sur les deux ballades empruntées à l'album Permutation, enregistré en 2012, avec Scott Colley et Antonio Sanchez. Par contre, sur Newsbreak, les saxophones alto et baryton rejoignent les ténors, trompettes et trombones sur un véritable tempo d'enfer, en complicité avec le piano fougueux de Pieranunzi et le bugle de Bert Joris. Si les solos sont quasi exclusivement pris par le Romain et l'Anversois, on remarquera l'envol du baryton de Bo van der Werf sur It speaks itself.
Comme le démontre cet album, Enrico Pieranunzi n'est pas seulement le champion du lyrisme mélodique mais est capable d'insuffler à l'orchestre, comme à son piano, un swing ravageur.