Billie Davies - Hand in hand in the hand of the moon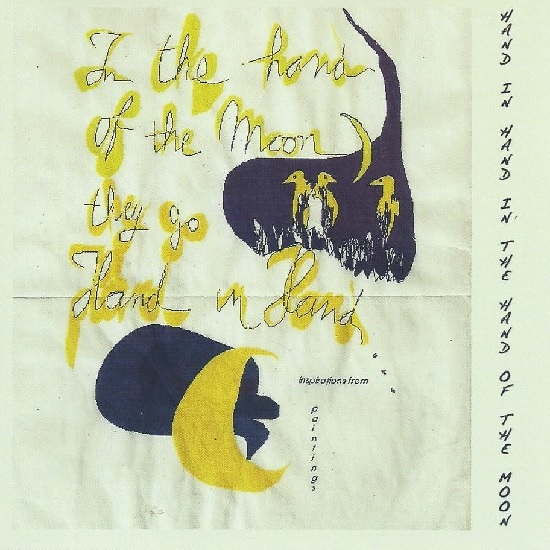 B
Cobra Basement
Après avoir sillonné l'Europe avec sa batterie, Billie Goegebeur, native de Bruges, s'est installée aux Etats-Unis en 1987 et a pris le nom de Billie Davies. Tout en croisant Leroy Vinegar (cb), John Handy (as) et nombre de musiciens de La Nouvelle-Orléans, elle a gardé des liens avec la Belgique, notamment avec le peintre Serge Vandercam.
Né en 1924, Serge Vandercam a rejoint le groupe COBRA en 1949, à l'initiative de Christian Dotremont. Photographe et peintre attiré par l'abstraction et la spontanéité du geste, il a notamment exprimé son "angoisse latente" au travers de "peintures-mots" et du motif obsessionnel de l'oiseau. En 1995, Serge Vandercam et Billie Davies se rencontrent: l'un peint, l'autre improvise à la batterie. Ainsi naît, durant les trois jours de la pleine lune, "une symphonie inspirée par les peintures de Serge Vandercam et la batterie de Billie Davies": "a collaborative work", riche de sept toiles de Vandercam, des "peintures-mots" avec motif d'oiseau et une de Billie Davies, toutes reproduites dans le livret. Mais, par-delà, va naître, 20 ans plus tard, l'envie de créer une véritable suite orchestrale dédiée à ces trois jours de communion durant la pleine lune: "Hand in hand in the hand of the moon", "this music has been inspired by these paintings, a symphony to you and to Thalia" (texte du livret).
Pour ce projet, Billie a fait appel à des amis de La Nouvelle-Orléans: le saxophoniste ténor Alex Blaine qui a côtoyé Dr John comme le pianiste et chanteur Allen Toussaint, le trompettiste Branden Lewis, le tromboniste Evan Oberla, leader du quintet RFG qui a enregistré l'album "May your Vice be Nice" et le contrebassiste Ed Strohsahl.
Après un Prélude de 7 minutes 26 dédié à la seule batterie, s'enchaînent sept séquences inspirées par les toiles de Serge Vandercam: Hand in hand, In the hand of the moon, Listen to the bird, As she tells, The shark in the hand, Tiburon et The bridge.
Sept plages qui laissent une large place à l'improvisation dans les échanges entre les trois souffleurs: dialogue entre trompette et trombone sur fond de saxophone ténor (Hand in hand), intro de contrebasse suivie d'un échange ténor-trompette (In the hand of the moon), solo de trompette sur fond de ténor-trombone (Listen to the bird) ou ténor rageur sur (The shark in the hand). Une musique volontiers tourmentée à l'image des toiles de Vandercam pour se clore sur une séquence davantage apaisée (The bridge).
L'occasion de découvrir une musicienne méconnue en Belgique ("nul n'est prophète en son pays") et d'aborder l'actualité de la scène new-orléanaise, loin des clichés pour touristes.
Claude Loxhay