Ben Sluijs & Erik Vermeulen - Decades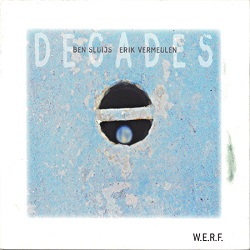 B
W.E.R.F.
Décades est le troisième album du duo Ben Sluijs – Erik Vermeulen, après « Stones » (sorti en 2001 sous le label Jazz Halo, avant d'être repris au catalogue Werf) et « Parity » (Werf 2010).
Mais les deux musiciens se connaissent et s'apprécient depuis bien plus longtemps : le pianiste Erik Vermeulen a d'abord fait partie, avec Piet Verbist (contrebasse) et Eric Thielemans (batterie), du quartet du saxophoniste alto, il a ainsi enregistré, en sa compagnie, les albums « Food For Free » en 1997, « Candy Century » en 1999 et « Seasounds » en 2000, puis il a rejoint le quintet The Unplayables, avec Jeroen van Herzeele (saxophone ténor), Manolo Cabras (contrebasse) et Marek Patrman (batterie) pour « Harmonic Integration » en 2007.
La complicité et l'interactivité entre les deux hommes est évidemment totale : « Certaines rencontres musicales, explique Ben Sluijs, sont exceptionnelles, vouées à s'inscrire dans le temps. Il est bien possible que la complicité qui s'en dégage est de celles qu'on ne croise qu'une fois dans sa vie. » Le premier album du duo ne comprenait que des compositions originales et des improvisations, « Parity » lui s'ouvrait à deux classiques : Con Alma de Gillespie et le standard Sweet And Lovely. Fruit d'une résidence réalisée pendant une semaine au club De Werf, en octobre 2013, et d'un matériel enregistré live entre 2011 et 2013, « Décades » comprend huit compositions originales auxquelles s'ajoutent Light Blue de Monk, Eiderdown de Steve Swallow et deux classiques revisités de manière très personnelle : The Man I Love avec une belle intro de piano et April In Paris avec une longue intro de saxophone alto. Dans les entrelacs cristallins du piano, viennent se lover les volutes volubiles de l'alto : une sonorité diaphane qui s'accommode aussi bien des tempos langoureux (Little Paris, The Man I Love, Eiderdown) que des rythmes saccadés de Monk (Light Blue), toujours au travers d'envolées très lyriques (Call From The Outside). Un bel exemple d'empathie complice qui vaut à nos deux compatriotes d'être repris parmi les albums album « Choc » par le JazzMag de juin !
Claude Loxhay
Cet article a été publié sur jazzaroundmag.com