Bravo Big Band - Another Story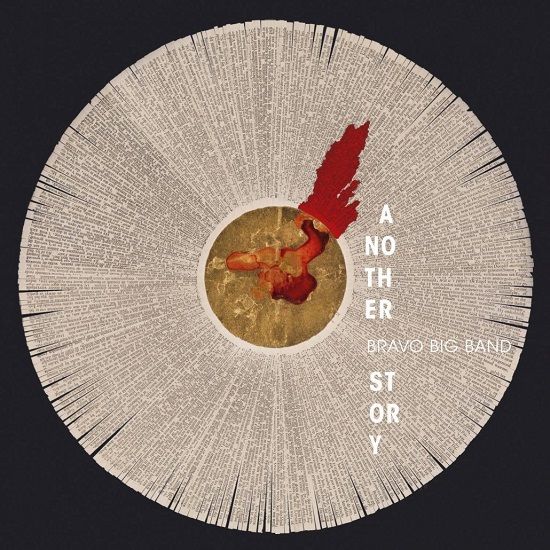 B
Soul Factory Records
Malgré les difficultés inhérentes aux grandes formations (budget, disponibilité des musiciens), de nombreux big bands se sont mis en place en Belgique: le Brussels Jazz Orchestra de Frank Vaganée, le West Music Club de Richard Rousselet, le Belgium Jazz Big Band de Mimi Verderame, le Jazz Station Big Band, le Tuesday Night Orchestra, ou, hors des sentiers battus, la grande formation Mik Mâäk de Laurent Blondiau. Voici le tout dernier, le Bravo Big Band qui a trouvé refuge au sein du club du même nom, comme le BJO au Sounds à ses débuts ou le Jazz Station au club de Saint-Josse.
Avec Another Story, nous voici plongés dans le registre des premiers BJO (albums The September Sessions, Countermove). Ce n'est d'ailleurs pas un hasard si le Bravo a choisi comme ingénieur du son Gyuri Spies, l'un des fidèles collaborateurs du BJO et, parmi les invités occasionnels du big band, on a pu compter sur Frank Vaganée, Lode Mertens ou Pierre Drevet.
Ce Bravo s'inscrit dans la grande tradition du big band classique, avec des sections homogènes et soudées (5 saxophones, 4 trompettes, 4 trombones et rythmique), sans encore de tentative en vue d'élargir la palette sonore (fl, cl, bcl, cor) à l'image de Gil Evans: un swing pur et dur.
Qui retrouve-t-on au sein de cet orchestre: une bande de jeunes loups qui ont étudié en Belgique, aux Pays-Bas voire en France. Ainsi, parmi les saxophonistes, Rob Banken (as) qui a étudié au Lemmens Institut de Louvain, sous la férule de Frank Vaganée; Dieter Vaganée (as), fils de Frank; Bruno Van der Haegen formé aux Conservatoires de Gand et Amsterdam. Parmi, les trompettistes, Thomas Mayade qui a étudié au Conservatoire de Chambéry, avec Pierre Drevet puis à Paris et est arrivé à Bruxelles grâce aux échanges Erasmus ou Daniel Vanderhoydonks, ancien élève du Conservatoire de Maastricht. Parmi les trombonistes, Quinten De Craecker qui a étudié au Conservatoire de Bruxelles avec Lode Mertens et aux Pays-Bas avec Ilya Reingoud ou Bart Van Gorp, élève du Conservatoire de Rotterdam.
Au répertoire, des compositions originales de musiciens de l'orchestre (4 de Thomas Mayade, 1 de Quinten De Craecker, 1 de Matthias Van den Brande, 1 de Bart Van Gorp) mais aussi The wrong side du guitariste Thomas Decock et The genius du saxophoniste scandinave Klas Lindquist. Une série de thèmes gorgés de swing (Shut up and run de Mayade ou Waves of a troubled mind de Matthias Van den Brande) mais aussi des ballades, aux atmosphères plus vaporeuses (Another story de Quinten De Craecker, Missing him de Mayade).
Si l'orchestre brille par son homogénéité, avec un son d'ensemble puissant, il laisse aussi de larges espaces à de talentueux solistes, comme Thomas Mayade (tp), Matthias Van den Brande (ts), Quinten De Craecker (tb), Rob Banken (as), Bruno Van der Haegen (ts), Karel Cuelenaere (p) ou Guillaume Vierset du LG Jazz Collective à la guitare.
Un premier album prometteur, ouvert à de multiples perspectives.
Claude Loxhay
article publié par jazzaroundmag.com