Braskiri - Live at MCO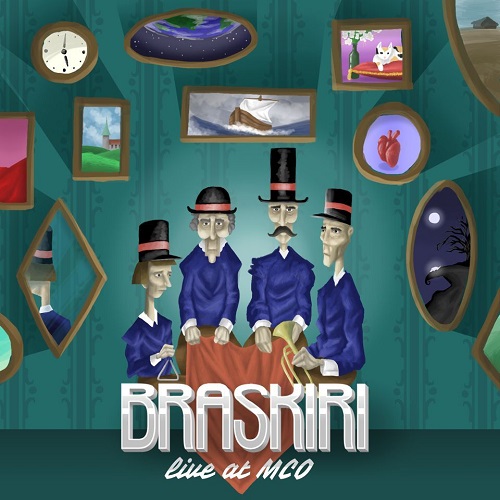 B
Soundliason.com
De Nederlandse trompettist Bert Lochs doet wellicht een belletje rinkelen als we herinneren aan Jazz Hoeilaart 2004 toen de Noor Daniel Herskedal (tuba) met Listen! de wedstrijd won en 'One for Me', een compositie van Bert Lochs door het BJO werd gespeeld. Lochs maakte deel nog uit van het trio met Herskedal en pianist Balthaus. Met Dirk Balthaus kent Lochs een dertigjarige connectie vanuit het Hilversums Conservatorium.
Toen Herskedal in 2014 andere wegen insloeg trok Bert Lochs de Noorse tubaspeler Steffen Granly aan om samen met Balthaus een eigen band Baskiri te vormen, uitgebreid met de Nederlandse klasse drummer Wim Kegel.
Met het debuutalbum 'Killing the Mozzarella' (Berthold Records 2015) was de band in 2016 op North Sea Jazz Festival. En ook de volgende release 'The Couch Principle' (Berthold Records 2018) mocht op veel bijval rekenen.
Toen kwam enigszins onverwacht de vraag voor een derde album door bassist en producer Peter Bjornild van Soundliaison voor een one mike recording in de legendarische studio 2 van het Muziek Centrum van de Omroep in Hilversum. Technicus Frans de Rond werkt daar aan het verfijnen van zijn one mike techniek in deze unieke ruimte. De combinatie MCO Studio 2 en de Josephson C700S microfoon geven natuurlijkheid, diepte en warmte aan het geluid.
Bert Lochs schreef dan ook met dat doel voor ogen in korte tijd een geheel nieuw repertoire. Dat is doordrongen van het dagelijkse leven en maakt het tot zijn meeste persoonlijke album. Een zoon op de rand van volwassenheid, de zuigende werking van de drieklank, een liefdesverklaring en de belevenissen van een iets te dikke huiskat, het is allemaal terug te horen in de acht unieke tracks, die in een liveconcert werden geregistreerd in april 2019.
'Live at MCO' is enkel digitaal als high resolution te downloaden op Soundliaison.com. Op hun site is het album in drie verschillende kwaliteiten te downloaden. Het leuke hoesontwerp is van Lochs zoon Pit Lempens.
Voor het eerst is Bert Lochs naast trompet en bugel te horen op EVI (Electric Valve Instrument). Dat klinkt verbluffend in het meest uitgesponnen 8 minuten verhalende 'The Traveller' en het even schitterende 'Intertwined' dat zich leent voor een ideale filmscore.
Lochs kenmerkende lyrische bugelsound komt helemaal tot zijn recht in de melodische ballads (Love Theme, Into The World) en hij is even scherp en inventief met energieke en virtuoze staaltjes trompetkunst ('The Bermuda Triad', 'Call from the Green Tower'). Pianist Dirk Balthaus speelt daar geraffineerd op in met heel verfijnde harmonische wendingen en Wim Kegel maakt het helemaal af met een vindingrijke improvisatie in ritmiek.
Daarbovenop kleurt tubaïst Steffen Granly nog verder in en neemt onder meer het voortouw in 'Intertwined' en 'The Moonstruck Armadillo', wat telkens orkestraal onderbouwd met Lochs solo een symfonisch meesterwerk is en ergens de maatstaf vormt van de kwaliteiten van dit album. Een buitenbeentje naar stijl is het leuke 'Boogiemans Cat' dat naar sfeer dan ook hoorbaar aanslaat bij het enthousiaste publiek.
Bert Lochs behoort tot de klasse van zielsverwanten (Kenny Wheeler, Tom Harrell, Bert Joris) die we koesteren. Pure toegankelijke jazzklasse! Live wordt het even wachten om Braskiri mee te maken, maar dan belooft het echt wel een aanstekelijk feestconcert!
© Bernard Lefèvre



Musici:
Bert Lochs (trompet, bugel, Evi, composities)
Dirk Balthaus (piano, toypiano)
Steffen Granly (tuba)
Wim Kegel (drums, percussie)