Bram Weijters/Chad McCullough – Pendulum (BL)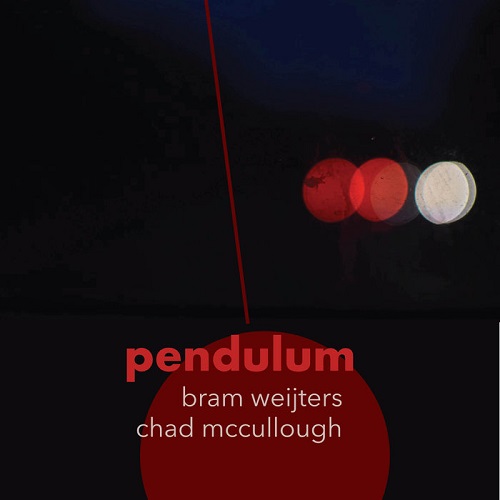 B
Monks and Thieves
Dit is de vijfde opname van pianist Bram Weijters met de Chicagoan trompettist Chad McCullough, waarvan drie in kwartet (Imaginary Sketches – W.E.R.F 2011,  Urban Nightingale – W.E.R.F 2012, Abstract Quantities – W.E.R.F 2015), een vorige in duo (Feather – Monks and Thieves 2017) en nu opnieuw in duo: Pendulum.
Bram Weijters verenigt zijn fascinatie voor het fenomeen tijd met de muzikale inspiratie van Bachs Das wohltemperierte Klavier en de Goldberg Variaties. Zo schreef hij een eigen suite uit die speelt over een tijdspanne van 24 uur met finaal een 25ste deel als afsluiter (Closing).
Een uurwerk telt twee keer 12 uren over een dag en die structuur volgt Bram Weijters over de voor- (a.m.) en namiddag (p.m.) met muzikale thema's die telkens andere wendingen krijgen en wisselende instrumentatie met Bram zowel op piano, Wurlitzer, Rhodes als Moog en Chad anticiperend op trompet en bugel.
De titels weerspiegelen het moment van de dag, van Raindrops over Still Dark in de vroege morgen tot Crackle (7 uur met groovy Rhodes en geagiteerde trompet), en tussendoor herhaalde preludes en intimistisch sfeervolle miniatuurtjes (Suspended Weight, Escapement), tot de middag (Ratchet Wheel, Different Prelude).
De namiddag zet in met The Same Path (swingend), Which Way (verstild aangrijpend), en het intrigerende Crystals. De variaties vervolgen (At Ease, The Same Twelve Notes) en vroegere passages krijgen een herziening: Spiral (Part Two), The Same Waltz (Part Two, Different But The Same. Zo ontstaat er nog een spiegelbeeld van A Different Light (1 a.m.) met A Different Night (11 p.m.). Met het mijmerende Pondering en afsluitende Closing is de cirkel rond en breekt een nieuwe dag aan.
Dit conceptalbum Pendulum is klassiek geïnspireerd maar vrijelijk geïnterpreteerd naar het universum van Bach door het warme, fijn gestemde duo Bram Weijters – Chad McCullough. Hun serene improvisaties op kamerjazz niveau blijven nazinderen.

© Bernard Lefèvre

Musici:
Bram Weijters (piano, Wurlitzer, Rhodes, Moog)
Chad McCullough (trompet)

http://www.bramweijters.com/