Bram De Looze Switch The Stream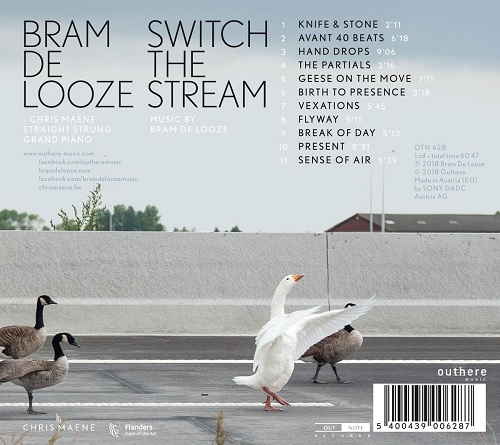 B
OutNote Records (outhere music)
In maart riep Klara pianist Bram De Looze uit tot Jonge Belofte van het jaar 2018. Zijn toetsenspel past eigenlijk wonderwel bij het motto dat deze radio hanteert. Blijf verwonderd. Of je hem aan het werk hoort bij LAB-trio, Antoine Pierre URBEX, Stephane Galland & The Mystery Of Kem of Ben Sluijs Quartet, telkens weet hij te verrassen. Zowel door accenten toe voegen als door de manieren waarop hij ideeën uitwerkt, weet hij te verwonderen. Solo is het niet anders.
Bram De Looze toont zich op de Chris Maene Straight Strung Grand Piano een pianist eerste klasse. Hij paste zich aan de eigenschappen, aan het temperament van de nieuwe, rechtsnarige piano aan – om zich dan te laten gaan. Eerder opgedane ervaringen en uitgeschreven composities hebben geleid tot nieuwe vormen en improvisaties. De pianist bewandelt solo persoonlijke routes die bij klassieke muziek aanleunen en hij vermijdt platgetreden paden. Er is een link met jazztraditie, maar niet erg uitgesproken, zoals ook een vleugje invloed van Jason Moran.
In zijn tekst bij de cd schreef Bram De Looze dat Switch The Stream gaat om de drang naar constante verandering. Bij de cd-voorstelling in De Roma vertelde hij dat zijn stukken elke keer andere gedaanten aannemen als hij ze speelt. Dat kunnen die natuurlijk niet meer op de cd. Toch dwingt dit album bij elke beluistering weer bewondering af.
Verschillende stukken volgen een duidelijk verschillende flow. Sommige blijven bedachtzamer, andere zetten flink vaart. Bij "Vexations" zie ik de vlucht van trekkende ganzen hoog in de lucht. Eenvoud en complexiteit wisselt De Looze heel slim af. Hier speelt iemand die de drang heeft om mechanismen te doorgronden en die toe te passen. Intellect overweegt meermaals op emotie, maar ook gevoeliger stukken krijgen een fascinerende aanpak. De warmste, de liefste compositie zit bijna op het eind en heet "Present" – een geschenk voor zijn vriendin.
Bram De Looze zorgt voor verrijking in het pianolandschap.

Bram De Looze, piano

© Danny De Bock
Artikel verschijnt ook op draaiomjeoren.com