Brad Mehldau – Finding Gabriel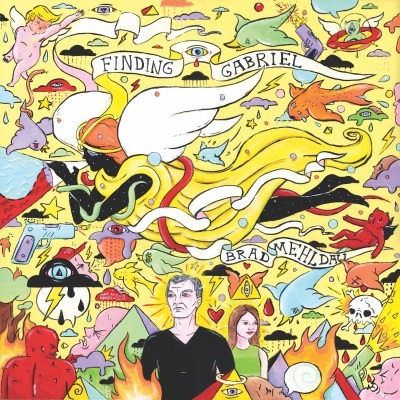 B
Nonesuch
In tijden dat godsdienst vooral geassocieerd wordt met extremisme, komt Brad Mehldau op de proppen met een heel persoonlijke visie van passages uit de Bijbel. Bij (bijna) elke titel hoort een citaat uit het heilige boek. Een ode aan de vrijheid en openheid of hoe de pianist zich nog maar eens opnieuw uitvindt.
Vijf jaar geleden was er 'Mehliana-Taming The Dragon', een nogal verkapte vorm van jazzrock en fusion die niet echt kon overtuigen. Vooral het concert tijdens Gent Jazz rekenen we niet bepaald tot een memorabel moment. Mehldau zocht wederom het gezelschap van Mark Guiliana op maar nodigde tevens een rits gastmuzikanten en vocalisten uit. Meteen een van zijn meest briljante zetten van de laatste jaren.
'Finding Gabriel' opent met een licht golvende pianobeweging voortdrijvend op repetitieve elementen en omfloerst door een klassiek aura. Stilaan rijzen de stemmen op van Becca Stevens en Gabriel Kahane als engelen die hun boodschap komen verkondigen. Een sfeer die heel nauw verwant is met wat Tigran Hamasyan doet op zijn recente platen. Denk tevens aan Góreckis 'Symphony Of Sorrowful Songs'. Tot trompettist Ambrose Akinmusire dit sacrale plaatje opensplit in pure Ibrahim Maalouf-stijl met drummer Guiliana die eveneens zijn duivels loslaat. Een epische intro in cinemascope. Enkel nog de vermelding "the audience is listening" ontbreekt.
In schril contrast hiermee volgt een bucolisch pianodeuntje, haast fladderend als een vlinder in een weide vol lentebloemen. Een solopassage van Mehldau op diverse piano's en toetseninstrumenten waaronder een OB-6 synthesizer (zijn favoriete speeltuig op deze cd). Terug naar de realiteit met 'Striving After Wind' geënt op moderne soundscapes en bleeps. Fender Rhodes en elektronische drums bepalen hier de klankkleur. Alsof Flying Lotus mee in de studio zat. Een van de topmomenten is 'St. Mark Is Howling In The City Of Night' waarin de meest diverse invloeden, stijlen en verwijzingen naadloos in elkaar overvloeien. Imponerend van begin tot einde. Net trouwens als de splinterbom ''The Prophet Is A Fool' met ingelaste politieke boodschap. Verdere referenties die opduiken zijn onder meer Philip Glass, Bach (de naweeën van Mehldaus 'After Bach'?), Bowie, Jean-Michel Jarre en de hele nu-piano beweging. Het leidt tot een spagaat tussen kamermuziek en dance beats en tussen opera en gospel met daarin sjamanistische trekken verweven.
Naast de al eerder vernoemde gastapostelen is er ook de aanwezigheid van onder andere Joel Frahm, Chris Cheek en Kurt Elling. De rol van klankingenieur en mixer John Davis was bepalend voor het eindresultaat. Na verschillende beluisteringen ontdek je nog steeds nieuwe elementen om helemaal door te dringen tot dit gelaagde meesterwerk.
Brad Mehldau levert hiermee nu al een van de beste platen van het jaar af.
© Georges Tonla Briquet



Live
22.09.2019: Brad Mehldau Trio, BOZAR