Black Flower – Future Flora (GTB)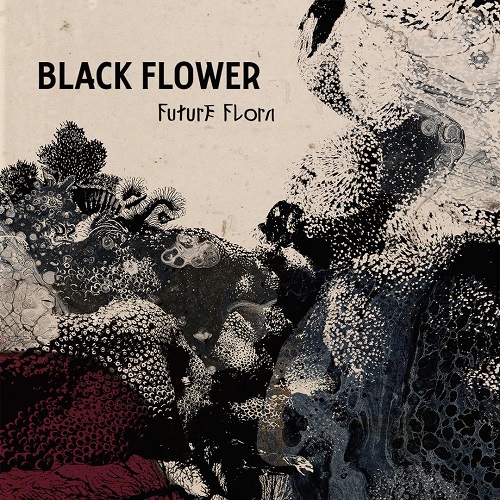 B
Sdban
De goedkoopste touroperator in Vlaanderen richting Ethiopië is sinds 2015 Black Flower dankzij 'Abyssinia Afterlife'. Met 'Ghost Radio' en 'Artifacts' volgden verdere acties. 'Future Flora' is de meest recente deal. Een onwaarschijnlijk aanbod dat ze de volgende weken trouwens persoonlijk voorstellen tijdens een internationale tournee.
'Abyssinia Afterlife' was een eerste kennismaking met het land van Prester John aan de hand van een intrigerende handleiding geschreven door reisleider Nathan Daems. Tijdens de volgende rondreizen, 'Artifacts' maar vooral 'Ghost Radio', week hij af van de grote routes. Het werd een verkenningstocht langs afgelegen oorden waar Westerse invloeden nog geen vat gekregen hadden op de lokale tradities. Heel spiritueel en sjamanistisch allemaal. En dan is er nu een derde luik onder de titel 'Future Flora'. Nathan Daems wist zich opnieuw te omringen met de vaste ploeg, namelijk Jon Birdsong, Wouter Haest, Filip Vandebril en Simon Segers.
Op 'Future Flora' worden de ondertussen trouwe volgelingen getrakteerd op een diep filosofische "stream of consciousness" met als centrale thema's het begrip tijd en het feit dat kleine ideeën kunnen uitgroeien tot revolutionaire bewegingen. Een veel te ruim onderwerp om te behandelen in veertig minuten zou je denken. Daems en C° slagen er echter in heel wat belangrijke aspecten op verhelderende wijze te belichten. Ze openen hiervoor deuren naar andere dimensies en verschuiven moeiteloos tijdsintervallen.
Vanaf de inleiding, 'Early Days Of Space Travel Pt. 2', zit de juiste sfeer erin. Dit is de perfecte soundtrack om je in te leven in de wereld van de eindbestemming. Al snel zijn de eerste symptomen duidelijk. Positieve vibes alom die een gevoel van "laissez-aller" teweegbrengen. Je laat gewillig alle drukte en to do lijstjes achter en zet je geest open voor een les muzikale mindfulness. Net geen drie kwartier later ontwaak je uit een hallucinante beleving met een nieuwe kijk op tijd, ritme, Balkan-dub en Afro-jazz.
Ideaal om 'Riverworld' van Philip José Farmer nog eens te lezen. Ondertussen gaat de reis verder. We zagen hen live aan het werk tijdens de eerste stop in de Botanique. Een concert dat eindigde in party time. Inentingen overbodig, een flinke dosis ruimdenkendheid is wel nodig. Bepaalde flora kunnen daarbij helpen.
© Georges Tonla Briquet


Line up:
Nathan Daems: altsaxofoon, baritonsaxofoon, kaval, ney
Jon Birdsong: kornet
Wouter Haest: toetsen
Filip Vandebril: bas
Simon Segers: drums

Live 2019:
05/05 : Here Comes The Summer, Vlieland (NL)
07/05 : New Morning, Paris (FR)
17/05 : Handelsbeurs, Gent
23/05 : Arenbergschouwburg, Antwerpen
25/05 : Roeselare Jazz, Roeselare
08/06 : Leuven Werledfeest Festival
03/08: Dranouter Festival