Bill Frisell / Petra Haden - Harmony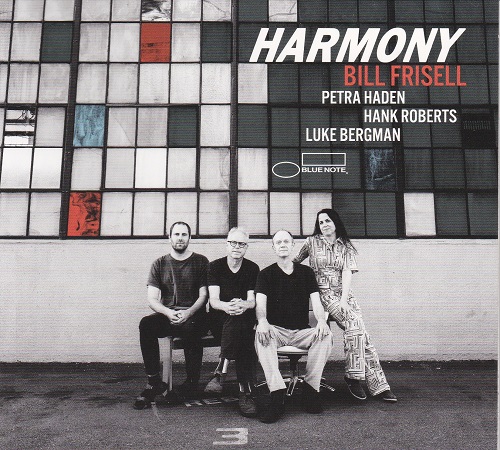 B
Blue Note
A 68 ans, le guitariste n'a pas fini de contribuer largement au répertoire de la Great American Music.
Et ce n'est pas le fait qu'il enregistre pour la première fois de sa carrière sur le label Blue Note qui le fera se couler dans un moule. « Harmony » est un projet commandé par la FreshGrass Foundation pour la Commission de Compositions 2016 et joué pour la première fois au FreshGrass West ! à San Francisco le 12 novembre 2016.
Que des cordes – la guitare baryton de Luke Bergman, le violoncelle de Hank Roberts et Bill Frisell – plus la voix de Petra Haden, fille du contrebassiste et chanteuse, auteure du remarquable « Petra Goes to the Movies » en  2013 et déjà partenaire de Bill Frisell sur « True North » en 2003 et le tout aussi cinématographique « When you Wish upon a Star » en 2016. Une voix translucide, douce et terriblement belle dont on a l'impression qu'elle maintient la musique constamment en suspension, Hank Roberts et Luke Bergman apportant leur soutien vocal sur certains morceaux avec une égale délicatesse.
Le répertoire est principalement de la plume de Bill Frisell, augmenté de quelques standards, l'un issu du jazz – « Lush Life » de Billy Strayhorn – d'autres de la musique populaire américaine – « Where Have All The Flowers Gone ? » de Pete Seeger et « Hard Times » de Stephen Foster –  de la comédie musicale – « On The Street Where You Live », extrait de « My Fair Lady »  - et un traditionnel – « Red River Valley » .
La musique est éthérée, d'une pureté qu'aucune envolée instrumentale ne vient bousculer, c'est parfois beau comme un chant de Noël sans le côté mièvre. Un superbe disque qui ravira les amoureux de Bill Frisell et Petra Haden, qui laissera sur leur fin ceux qui ne jurent que par le trio avec Tony Scherr et Kenny Wollesen.
© Jean-Pierre Goffin