Bill Frisell et Thomas Morgan – Epistrophy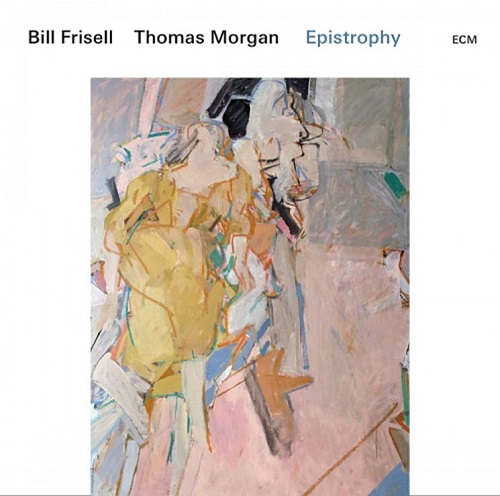 B
ECM/Newartsint
Duo magique!
Le duo du guitariste et du contrebassiste s'est produit durant une semaine au mythique « Village Vanguard » de New York en 2016, concerts dont le label ECM a retiré la quintessence, d'abord sur l'album « Small Town », puis maintenant sur « Epistrophy ».
Un album qui colle parfaitement au répertoire de Frisell reprenant ici quelques classiques américains, mais aussi un brillant échantillon de Thelonious Monk.  Au cœur d'un programme bien à l'image du guitariste, deux pièces de Thelonious Monk, le brillant et subtilement funky « Epistrophy » ainsi que « Pannonica ». Comme il l'avait fait sur « Small Town » avec « Goldfinger », le duo reprend un autre thème d'un James Bond « You Only Live Twice », et fait la part belle à quelques tubes de l'American Songbook comme Red River Valley » ou « Save The Last Dance For Me » qui s'enchaine avec « Wildwood Flower ». 
« Mumbo Jumbo » rappelle le fabuleux trio avec Joe Lovano et Paul Motian.  Deux grands standards complètent ce vibrant hommage à la culture américiane comme Bill Frisell sait bien le faire : « Lush Life » et « In The Wee Small Hours of The Morning ». Dans cet univers propre au guitariste, Thomas Morgan s'insère avec distinction, le partage entre les deux musiciens étant quasi parfait de bout en bout, chaque solo sonnant comme une évidence, une histoire qui coule de source. Et Frisell est une nouvelle fois égal à lui-même parsemant son répertoire de superbes sonorités, voicings élégants et solos décalés.
Dire qu'on a affaire à un des plus grands guitaristes de jazz tout style confondu est banal, mais doit être sans cesse répété !
© Jean-Pierre Goffin