Bill Anschell – Shifting Standards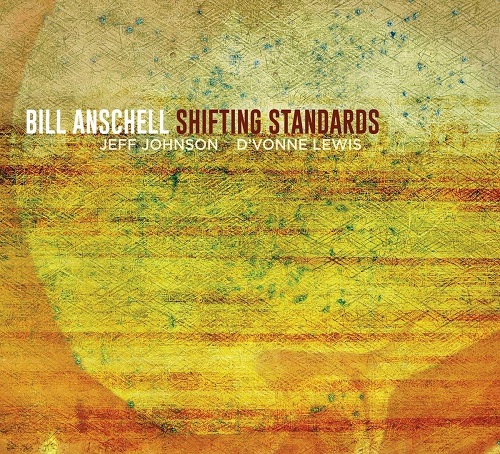 B
Origin
De Amerikaanse pianist Bill Anschell test reeds tien jaar de combinaties uit tussen jazz(standards) en pop in gezelschap van trouwe begeleiders bassist Jeff Johnson (Hal Galper, Bud Shank, Lew Tabackin) en drummer D'Vonne Lewis (Charles Gayle, Wynton Marsalis). De drie hebben een vaste stek in de Tula's Jazz Club (Seattle). Anschell is echter in totaal al drie decennia actief. Voor 'Shifting Standards' beperkt hij zich tot negen klassiekers. Een van de zovele trio's met dergelijk programma maar deze heren doen het met de nodige panache en overtuiging.
Het begint meteen met een heel aparte versie van Gillespie's 'A Night In Tunisia'. De school van Bill Evans maar omkaderd met een uiterst donkere baslijn annex solo, zij het minder expliciet dan de meest gekende bewerkingen. Stilaan evolueert alles tot een uiterst gekarteld verhaal. Sneller herkenbaar zijn 'Bewitched, Bothered And Bewildered' en 'Cheek To Cheek'. Met 'You And The Night And The Music' wordt dieper gegraven naar de verschillende mogelijkheden om af te wijken van de overbekende interpretaties. Gillespie's 'Con Alma' is een andere aanleiding voor een ommetje weg van de meest vertrouwde paden en gaat zo een totaal eigen richting uit. Verder staan nog op het programma 'Some Other Time' (Bernstein), 'Soul Eyes' (Mal Waldron), 'All Of You' (Cole Porter') en Fats Waller zijn 'Jitterbug Waltz' dat tegenwoordig terug erg in is.
'Shifting Standards' is geen wereldschokkende opname maar wie houdt van degelijke clubjazz volgens de regels van de (improvisatie)kunst zal ervan genieten. Het is een van die cd's die je meteen zin geven om naar een concert te gaan. Niet toevallig zat het trio samen in de studio in een enkele ruimte, werd alles ingeblikt op een namiddag en kwamen er nadien geen overdubs aan te pas. Uitstekende reclame voor live jazz.
MUSICI:
Bill Anschell: piano
Jeff Johnson: contrabas
D'Vonne Lewis: drums

© Georges Tonla Briquet