Bex Catherine Romano – La Belle Vie (GTB)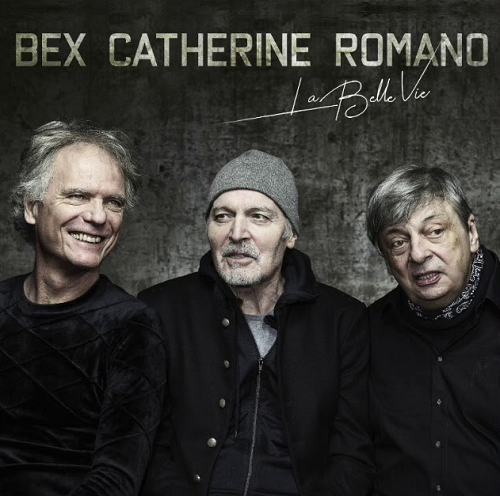 B
Sunset Records
Hun onderlinge vriendschap dateert van meer dan twee decennia geleden. Af en toe kruisten hun muzikale paden zich maar tijd voor een trioplaat was er nooit. Tot nu dus. Luister en geniet mee van het pretentieloze meesterschap van Emmanuel Bex, Philip Catherine en Aldo Romano.
Eerste geruststelling: de muziek is het tegenovergestelde van de donkere hoesfoto. Tweede geruststelling: dit is geen exclusieve reünie van drie grote namen "à l'amércaine" onder het motto "take the money and run" maar een heus vriendenclubje van drie muzikanten die na meer dan twintig jaar een geschikte datum vonden in hun propvolle agenda om samen een podium op te stappen en dit in te blikken. Niet helemaal duidelijk wegens het ontbreken van info op de hoes is dat het om studio en/of live opnames gaat. Enkel na het laatste nummer hoor je wat applaus en de stem van Catherine die de groepsleden voorstelt.
Geen nood, de muziek is om in te kaderen met op het programma drie composities van elk. Onderling respect dus over heel de lijn. Gitaar, Hammond en drums (hoofdzakelijk brushes) vloeien continu naadloos door elkaar. De heren verbuigen de thema's en vullen ze aan zonder mekaar voor schut te zetten. Het lijkt allemaal zo eenvoudig maar dit is enkel grootmeesters van de beheersing gegeven.
Stijlvol en ingetogen anticiperen, volgen en wijzigen ze aan de lopende band. De vederlichte verschuivingen hebben wel steeds een duidelijk effect. Trefwoorden hier zijn sfeer, melodie en de ongrijpbare swing en grooves waarin Philip Catherine grossiert. Vooral dat laatste handelskenmerk verheft het geheel tot een ongelooflijk hoog niveau met als toppers 'Tropisme', 'Letter From My Mother' en 'Tompkins Square' (gepimpt met een portie souljazz).
Bex, Catherine en Romano creëren een warm cocon waarin iedereen met goede smaak welkom is. Een "guilty pleasure" van drie jazzgriots zoals we er nog wel willen horen.

© Georges Tonla Briquet



Musici:
Emmanuel Bex: Hammond
Philip Catherine: gitaar
Aldo Romano: drums


Live
20 april 2019 (Roma)