Bert Joris - Brussels Jazz Orchestra - Smooth Shake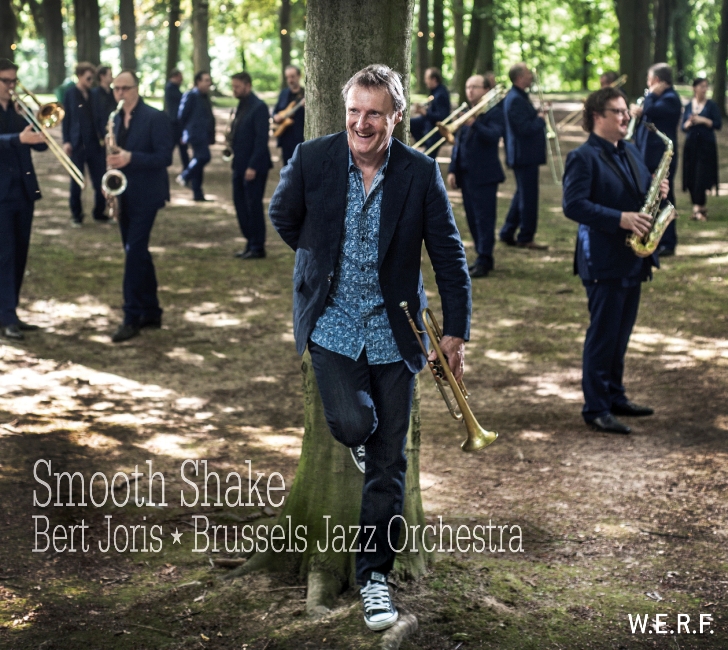 B
W.E.R.F.
Après The Music of Bert Joris en 2002, Dangerous Liaison avec le Royal Flemish Philharmonic en 2006 et Sign and Signatures en 2010, voici le quatrième album auquel Bert Joris participe avec le BJO, en tant que soliste, compositeur et arrangeur. Mais la collaboration du trompettiste ne se limite pas là, il a été aussi soliste pour Meeting Colors du BJO avec Philip Catherine et pour The Music of Enrico Pieranunzi avec le pianiste italien; arrangeur pour Changing Faces avec David Linx et Ten Years ago de Richard Galliano et deux de ses compositions faisaient déjà partie de The September Sessions en 1999. Cette collaboration remonte donc aux premiers temps du big band.
Pas étonnant que le BJO constitue l'écrin idéal pour la sonorité tantôt feutrée, tantôt incisive de la trompette de Bert: un vrai diamant.
Par rapport aux précédents albums, un changement:pour apporter de nouvelles couleurs à l'orchestre, la présence du guitariste Hendrik Braekman, un fidèle du BJO (Guided Dream avec Dave Liebman, A different Porgy and another Bess avec David Linx et Maria Joao). Ecoutez notamment ses solos sur Brussel-Parijs et Mr Dado.
Au répertoire ici, 5 nouvelles compositions originales du trompettiste, une nouvelle version de Mr Dado (hommage à Dado Moroni, le pianiste du quartet de Bert), un arrangement pour grande formation de Only for the honest (titre du dernier album du quartet) et, enfin, ce Brussel - Parijs, écrit pour l'album Coutances par Dre Pallemaerts, autre vieux complice, puisque batteur du quartet. Un beau mélange entre, d'une part, ballades utilisant, avec une grande science, toute la palette sonore de l'orchestre (flûte, clarinette, clarinette basse, trompettes bouchées ou trombone basse) comme ce How could we forget et, d'autre part, tempo enlevé, porté par le groove naturel de l'orchestre.
L'album s'ouvre ainsi sur O.U.T., acronyme de Open Up Tempo, avec un beau solo de Nathalie Loriers. Suivent Smooth Shake sur un inhabituel rythme 7/4 avec solo de Bart Defoort (ts), ensuite deux thèmes avec solo de Kurt Van Herck (Only fot the honest, Brussel-Parijs). Spaces est défini par Joris lui-même comme une "variante spatiale du format blues". Mr Dado s'ouvre sur une belle intro d'alto par Frank Vaganée tandis que, sur Nasty Boy, c'est Dieter limbourg qui prend un solo de saxophone alto. L'album se clôt sur une version plus courte du titre éponyme. Tous les solos de trompettes sont, quant à eux, réservés à Bert Joris en parfaite complicité avec la masse sonore de l'orchestre.
Une nouvelle réussite.

Claude Loxhay
Article publié par jazzaround



Concerts:
BJO - Bert Joris, Flagey, 17 janvier
BJO - solistes syriens, De Singel, 11 janvier.