Bernhard Wiesinger - Notice That Moment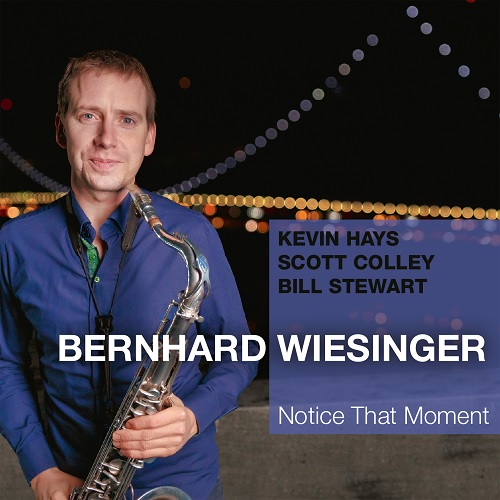 B
Double Moon Records / Newartsinternational
Après son diplôme au Conservatoire de Vienne en saxophone jazz en 2004, Bernhard Wiesinger est parti étudier au Berklee College of Music à Boston (USA) en 2004 et 2005.
En 2008, il est diplômé d'une maîtrise en saxophone de la Conservatory Private University. De retour à Vienne après plusieurs collaborations comme sideman, il enregistre son premier album en leader en 2019, à 39 ans. Et le moins qu'on puisse écrire c'est qu'il a formé un quartet d'exception.
Il fallait oser aller trouver Bill Stewart à la fin d'un concert du Larry Goldings Trio à Vienne, lui proposer une démo puis un enregistrement. Ensuite encore s'adjoindre des partenaires comme Kevin Hays au piano et Fender, et Scott Colley à la contrebasse.
Dès le titre de l'album, on plonge dans une référence iconique : "Notice That Moment" c'est une allusion claire à un fameux thème coltranien – repris dans l'album sous son titre original "Moment's Notice" - mais sans doute aussi à l'importance du moment pour le saxophoniste : un premier album et un line-up qu'on n'a pas tous les jours.
Outre cette référence à Coltrane, on trouve aussi une ballade immortelle "I Fall in Love Too Easily", superbement jouée par l'ensemble du quartet.
Ces deux standards de référence prouvent qu'on ne s'ennuie jamais à l'écoute du saxophoniste et ses propres compositions sont tout aussi prenantes, avec une grosse dose d'influence américaine qui tient non seulement à l'origine de la rythmique, mais aussi au goût prononcé de Wiesinger pour la tradition, "All The Things" est une autre claire référence.
Rien de bien neuf, donc, dans la musique de Bernhard Wiesinger, mais un travail bien fait, inspiré… et peut-être un peu trop respectueux… N'empêche que si ce quartet se pointait dans nos contrées, je ferais à coup sûr le déplacement pour profiter d'une musique aussi bien faite. A suivre.
© Jean-Pierre Goffin