Bernard Santacruz - Tales, Fables and other stories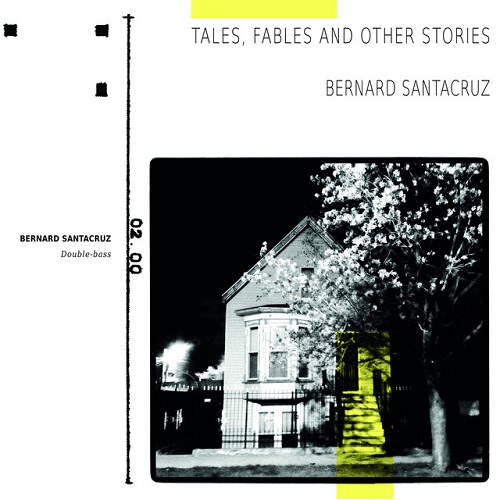 B
Absilone
Bernard Santacruz est une des figures marquantes du free jazz en France.
Après s'être essayé à la basse électrique en autodidacte, Bernard Santacruz est passé à la contrebasse et a étudié au Conservatoire d'Avignon avec le saxophoniste André Jaume puis a suivi des stages avec Charlie Haden et Ron Carter.
Il a souvent joué avec des musiciens américains: Charles Gayle, Charles Tyler, Archie Shepp, John Tchicai. Il a enregistré, avec Franck Lowe, l'album Short Tales.
Il a aussi croisé de grands noms de la scène française: Daunik Lazro (sax), Michel Marre (tp) mais aussi André Jaume (album Jaisalmer) ou Joëlle Léandre et le trompettiste Jean-Luc Cappozzo (Sonic Communion).
En solo, il a enregistré Lenox Avenue.
Le présent album est un enregistrement live réalisé à Rouen, dans la Salle des Nus de l'ancienne école des Beaux Arts, en novembre 2015. L'album comprend trois plages de longueurs très différentes: 26 minutes 49 pour In the joyful whirlwind of the spirit, 11 minutes 45 pour From Missirikoro to Skasso et 5 minutes 40 pour Alta mar.
Berbard Santacruz a l'art d'allier une ligne mélodique élaborée, portée par les pizzicati, à un solide canevas rythmique tissé par un slap vigoureux. Il confronte pizzicati alertes et effets percussifs sur le corps de la contrebasse ou passages à l'archet.
Evidemment un tel enregistrement a ses limites: pour une performance en solo de ce type, rien de tel que d'assister au concert pour voir le musicien en action, découvrir comment, à l'aide d'une technique éprouvée, il parvient réellement à se dédoubler.
© Claude Loxhay