Benoît Delbecq 4 – Gentle Ghosts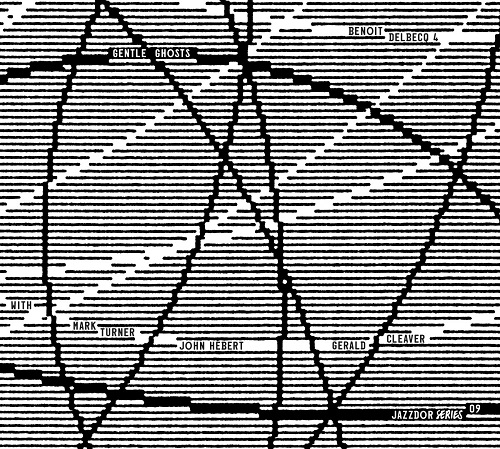 B
Jazzdor
Benoît Delbecq is uiterst productief. Na de recente solo-cd 'The Weight Of Light' is er al meteen een opvolger met zijn Amerikaans kwartet. Parallellen en verschillen duiken op.
Benoît Delbecq is al jaren op verscheidene fronten en in diverse groepen actief. Op 3 september 2019 trok hij nog eens een Parijse studio in met spitsbroeders Mark Turner, John Hébert en Gerald Cleaver. Een supergroep zeg maar, waarvan de oorsprong terug te vinden is in 2003 dankzij een hint van Ethan Iverson die de Franse pianist tipte bij Turner. Een eerste doorstart volgde in 2008 toen Hébert zijn trio oprichtte met Cleaver en Delbecq. Op hun conto staan ondertussen 'Spiritual Lover' (2010) en 'Floodstage' (2014). Het definitieve debuutalbum van de Delbecq 4 kwam er dan in 2018 ('Spots On Stripes').
Zo belanden we vervolgens bij die bewuste derde september in 2019. Evenals voor 'Spots On Stripes' hadden de vier slechts een enkele dag nodig om het nieuwe album in te blikken. Dat ze net een tournee achter de rug hadden, hielp natuurlijk. En net als bij de vorige cd, ook nu weer enkel materiaal van Delbecq. Nieuw is dat de pianist deze keer opteert voor wat hij zelf omschrijft als een "post-radiophonic" aanpak. Concreet betekent dit dat hij "real time" opnamen van elke muzikant gebruikt en bewerkt. Het leidt tot bevreemdende en vooral verrijkende herhalingsmomenten. Voeg daarbij Delbecq zijn interesse voor getallen en architectuur en het wordt duidelijk waarom zijn composities heel eigenzinnig in elkaar steken. De hoestekening (www.helmo.fr) alleen al wijst volledig die richting uit.
Wie de kubistische openingstrack 'Anamorphoses' (ook op 'The Weight Of Light') met Monk-affiniteiten apprecieert, luistert automatisch verder. Dit betekent niet dat het scenario vastligt. De gelaagde structuren krijgen verscheiden vormen waarbij de tempi eveneens wisselen. Het leidt soms tot extreme variaties, beginnend bij pure bebop om vervolgens over te glijden in een filosofische dialoog. Telkens waken Delbecq en zijn kompanen erover dat een narratieve lijn gegarandeerd blijft.
Vier eclectische "ghostbusters" die komaf maken met hapklare jazz. Paroxismen versus ingetogen bespiegelingen geschraagd door een eigen visionair gedachtengoed en een persoonlijke esthetiek.
© Georges Tonla Briquet



Musici:
Benoît Delbecq: piano, electronics
Mark Turner: tenorsaxofoon
John Hébert: bas
Gerald Cleaver: drums

www.jazzdor.com