Benjamin Boone – The Poets Are Gathering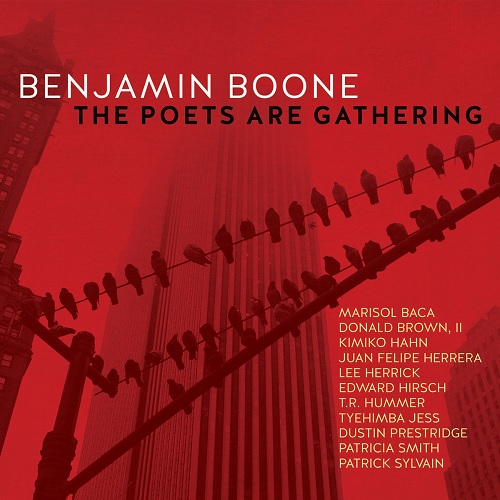 B
Origin
Jazz als vector voor een weerspiegeling van onrecht en onmacht in onze huidige maatschappij, het bestaat nog. Saxofonist, componist en arrangeur Benjamin Boone bewijst het in gezelschap van een reeks dichters en gastmuzikanten waaronder Kenny Werner, Ari Hoenig, Donald Brown en Ben Monder. Aan actuele thema's helaas geen gebrek.
Benjamin Boone is niet aan zijn proefstuk toe waarbij jazz en poëzie elkaar aanvullen. Voor 'The Poetry Of Jazz' strikte hij zelfs Chris Potter, Tom Harrell, Greg Osby en Branford Marsalis. Met de huidige morbide actualiteit in de USA is 'The Poets Are Gathering' wel zijn meest urgent pamflet. Migranten, politiegeweld, racisme en wapenbezit zijn slechts enkele van de onderwerpen die tot wanhoop en onmenselijke situaties drijven en verwoord worden door griots van vandaag. Alle dichters en woordkunstenaars declameren of rappen hun eigen teksten. Met elf in totaal zijn ze: Tyehimba Jess, Patricia Smith, Edward Hirsch, Juan Felipe Herrera, T.R. Hummer, Kimiko Hahn, Patrick Sylvain, Lee Herrick, Dustin Prestridge, Marisol Baca, Donald Brown II.
Ze worden omringd en begeleid door twintig muzikanten die in verschillende combinaties voor de omlijsting zorgen. Dat varieert van een haast teruggetrokken onderlijnen en omkaderen tot spoken triphop, funky jazzsoul, "free style", kosmische Sun Ra uitbarstingen en pure agressie à la Albert Ayler. Hoogtepunt is de bijna twaalf minutenlange titeltrack, een uppercut van jewelste.
'The Poets Are Gathering' weegt zwaar door na beluistering. Een cd als een luisterspel onderverdeeld in zestien hoofdstukken. Een idee voor kortfilms door Spike Lee? Met uitgebreide "liner notes" en verwijzingen naar waar je de teksten kan terugvinden. Zowel voor fans van Linton Kwesi Johnson als James Baldwin, N.W.A. en Run DMC.
Een absolute must, de woorden van Pulitzerprijswinnaar Tyehimba Jess indachtig: "I am a poet murdering silence" ('Against Silence').
© Georges Tonla Briquet