Ben Monder - Day After Day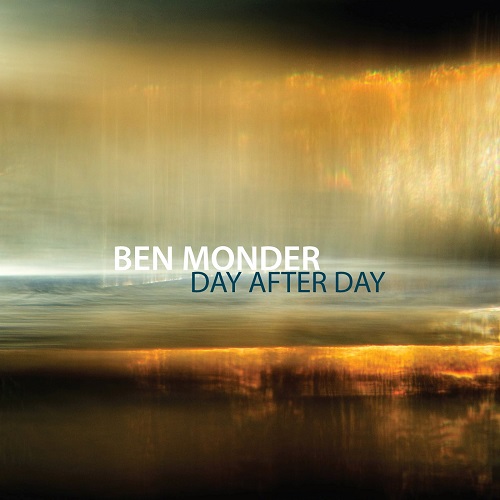 B
Sunnyside Records
Als je weet dat Ben Monder speelde op David Bowie's laatste album Blackstar gaat er wel een lichtje branden. De 57-jarige New Yorkse gitarist liet zich opmerken bij jazzgroten zoals Paul Motian, Maria Schneider, Lee Konitz, George Garzone, Guillermo Klein, Toots Thielemans om enkele te noemen. In dit nieuwe dubbelalbum Day After Day maakte hij een heel opmerkelijke selectie van uitsluitend covers. Daarin bewijst hij zijn eigenzinnige en veelzijdige virtuositeit.
Op de eerste cd brengt Monder solo interpretaties van klassiekers: Dreamsville (Henry Mancini), Emily (Mandel/Mercer), My One And Only Love (Wood/Melin), The Windows Of The World (Bacharach), Never Let Me Go (Livingston/Evans), The Midnight Sun Will Never Set (Quincy Jones) en zelfs een stukje Messiaen (O Sacrum Convivium).
Ben Monder toont zich in deze nummers van zijn gevoelige kant, heel intimistisch en zonder franjes, heel direct en klassiek, bijna fluisterend. Puur akoestische gitaar.
Dan krijgen we met de tweede schijf een meer explorerende en avontuurlijke Monder perfect begeleid door bassist Matt Brewer en drummer Ted Poor. Monder, wisselend op akoestische en elektrische gitaar, gaat voluit voor popcovers van eind jaren zestig/begin jaren 70: Galvaston (Jimmy Webb), Dust (ex-Fleetwood Mac Danny Kirwan), Long Long Long (George Harrison van het Beatles The White Album), The Guitar Man (David Gates – Bread), Only Yesterday (Richard Carpenter - The Carpenters) en Just Like A Woman (Bob Dylan).
Hij pakt deze popklassiekers aan op een herkenbare en toch enigszins vervreemde wijze, daardoor erg verrassend en eigentijds.
Monder komt nog helemaal los als hij James Bonds Goldfinger (John Barry) aanpakt en afrondt met het heavy Day After Day (Pete Ham).
Day After Day is een aangenaam en heel persoonlijk dubbelalbum van meestergitarist Ben Monder. Zijn ongewone poëtische, krachtdadige en ook geheimzinnige benadering voedt de luisteraar met fraaie muzikale horizonten.
Misschien nog even eraan toevoegen dat hij door niemand minder dan James Farber werd bijgestaan in de productie van dit schitterende Day After Day.
En voor wie Ben Monder binnenkort wil meemaken moet zich reppen naar Bozar op 1 mei waar hij opgenomen is in de band van Dan Weiss - Starebaby, met nog Craig Taborn, Matt Mitchell en Trevor Dunn.
© Bernard Lefèvre


Musici:
Ben Monder (elektrische en akoestische gitaar)
Matt Brewer (elektrische en contrabas)
Ted Poor (drums)