Ben Goldberg - Everything Happens To Be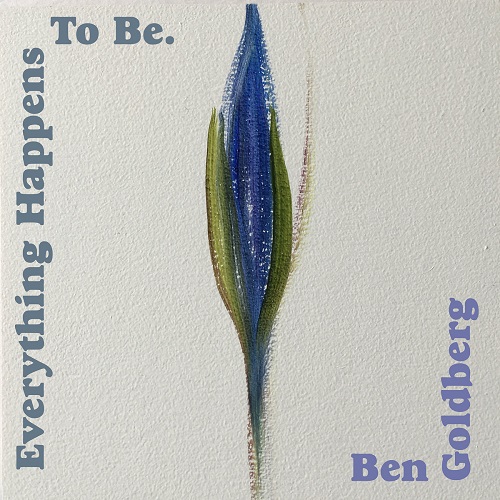 B
BAG Productions, 2021
Warum werden die Kalifornier so selten zu europäischen Festivals eingeladen ? John Carter und Horace Tapscott haben darauf sehr lange warten müssen, Vinny Golia auch. Der Klarinettist Ben Goldberg hofft vielleicht, dass es mit einer New Yorker Band im Rücken klappen wird.
Für sein neues Album "Everything happens to be" hat er wieder Tenorsaxophonist Ellery Eskelin eingeladen, mit dem Goldberg bereits 2013 das Album "Unfold Ordinary Mind" (BAG) aufgenommen hat. Hinzu kommt das Trio Thumbscrew mit Mary Halvorson (Gitarre), Michael Formanek (Bass) und Tomas Fujiwara (Schlagzeug). Goldberg kennt diese Musiker gut: Mit Halvorson und Fujiwara hat er schon im Trio auf der CD "The Outlouds" (Relative Pitch, 2016) zu hören.
In den letzten Jahren vor der COVID-Pandemie hat Goldberg desöfteren Projekte in New York City initiert. Die Studioaufnahmen mit seinem neuen Quintett waren als eine weitere Etappe geplant. Er hat die Stücke der CD "Everything happens to be" weniger für bestimmte Instrumente als für bestimmte Musiker komponiert, sagt Goldberg.
"Eine gute Schallplatte ist wie eine gelungene Party. Man muss die richtigen Leute einladen. Ich wusste, dass diese Musiker nicht nur vom Blatt spielen würden. Deshalb bin ich mit dem Ergebnis auch so zufrieden."
Meine erste Begegnung mit Ben Goldberg war 1995 eine CD mit dem New Klezmer Trio auf dem Tzadik-Label von John Zorn. Der jüdische Blues steht auch Anfang des neuen Albums, wobei Goldbergs Klarinette nicht nur im Mix der Aufnahme zentral steht. Die New Yorker Begleitband beginnt (bewusst?) zurückhaltend. Schlagzeuger Tomas Fujiwara schleicht sich durch sein leises Solo. Ab dem zweiten Stück sorgt die elektrische Gitarre von Mary Halvorson für schärfere Konturen. Längere Noise-Passagen in den improvisierten Teilen bleiben allerdings aus. Die kompositorischen Anleihen reichen von Bach bis Blues und von Ornette Coleman bis zu Louis Armstrong. Für historische Rückblenden setzt Ben Goldberg gerne die höher gestimmte "Eb Albert System Klarinette" ein. Er mag ihren schneidenden Ton im Vergleich mit seiner klassischen Bb-Klarinette.
Muss man diese neue CD von Ben Goldberg haben? Klarinettenfreunde sicherlich. Vom Konzept her scheint Goldberg bei diesem Album nicht genau zu wissen, wo er hin will. Das Album hat viele Höhepunkte, aber keine Richtung. Anhören sollte man sich diese CD aber auf jeden Fall.
© Werner Barth

Line-up:
Mary Halvorson - electric guitar
Ellery Eskelin - tenor saxophone
Michael Formanek - bass
Tomas Fujiwara - drums
Ben Goldberg - clarinets