Bartolo - Six Improvisations for Creafures and Machines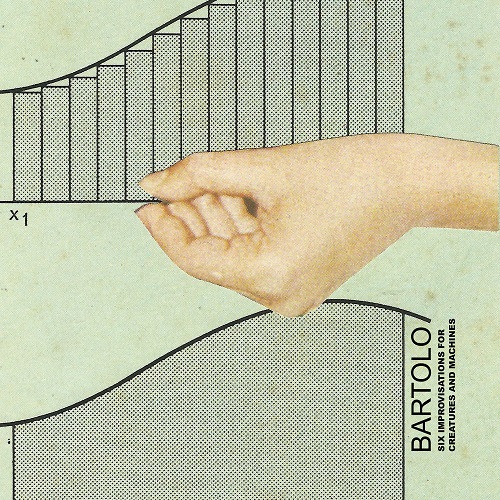 B
Chant Records
Bartolo ist ein in Lissabon beheimateter Gitarrist, Komponist und Klangbildschöpfer. Er hat unter anderem mit Musikem wie Miguel Rio Branco, Damo Suzuki, M. Täkara Paal Nilssen-Love und Thomas Rohrer zusammengearbeitet. Sein zweites Album "Six Improvisations for Creatures and Machines" beinhaltet experimentelle Improvisationen. Eingeschlossen sind dabei Programmierungen nach dem Zufallsprinzip. So entstanden nicht vorhersehbare Harmonien und Rhythmen. Hören wir, was Bartolo selbst zu seinem Werk sagt: "I chose musical parhrers who I have an  affection for and with whom I share a rapport. In one track I play alone, a man-machine duet. In other tracks, I also have a human partner or two to interact with the machine. Analog programming carries an imprecise delicacy where it is difficult to retain absolute precision. There is something human about it, but at the same time it is the very opposite of anything human."
Aufgenommen wurde das Album live im Studio in aller Spontanität und ohne nachträgliche Beimischungen. Die Improvisationen sind nicht, wie man eigentlich erwarten könnte, nummeriert, sondern tragen Titel so ,,Cibernética" (feat. Gabriel Ferrandini), ,,Sthira-Sukha" (feat. Thomas Harres), ,,A1ém Elétrico" (feat. Pedro Sä), ,,Nerves and Wires" (feat. Leo Monteiro, Thiago Oliveira), ,,Zaatari" (feat. Alberto Continentino, Renato Godoy, Jonas Sá) und ,,Mars Mantras".

Ein Brummton, ein Pfeifen, ein Gitarrenbrausen, Schlagwerkklacken, stolpernde Rhythmik, Tick und Tack, Schellenklang, synkopierte Wirbel, verzerrte Gitarrenriffs, Sinusklang und mehr - das ist bei ,,Cibernética" zu vernehmen. Dabei obliegt dem Gitarristen durchaus die musikalische Fahrplangestaltung. Ohne den Drummer Gabriel Ferrandini wäre der Klangrausch jedoch ein wenig fad, mit oder ohne wahrnehmbares Knistern. ,,Sthira- Sukha" vermengt Saitenschwirren, Blechschwirren und Tastenfluss. Die Struktur bildet sich entlang des Synth-Klang, der in einer Endlosschleife gefangen zu sein scheint. Über dieser ergießt sich die Schlagwerknervosität. Beigemischt sind Frequenzverschiebungen, wie sie aus dem Kurzwellen-Radio und den Langwellenfrequenzen bekannt sind. Trifft da ein Synth auf ein gespreiztes Gitarrenspiel? Lang gezogene Saitenvibrationen und dazu noch ein Knarren und Schnarren – das findet sich beim Stück ,,Além Elétrico". Dabei meint man, bisweilen seien Amateurfunker auf der Suche nach einem Gegenüber. Schnurren und dumpfe Synth-Einheiten vermischen sich. Darüber ergießt sich eine angesäuerte Gitarre mit ihren schrägen Saitenäußerungen aus dem Off.

Wilde Trommelwirbel und Saitengewirr sind für "Nerves and Wires" charakteristisch. Zudem setzt der Altsaxofonist Thiago Oliveira seine Klangspuren, einer labyrinthischen Form gleichend. Er belegt den linken Kanal, während Bartolo nebst Drummer den rechten bespielt. Schnurren, Schnarren, Grunzen, Quieken und Lineares des Saxofons treffen auf die verzerrten Verschiebungen der Gitarre, die ein Inferno inszeniert, so scheint es zumindest. Schließlich heißt es: "Mars Mantras": Stimmenwispern trifft auf Pfeiftöne und Morsezeichen. Oszillierende Klangformen machen sich breit und werden von einem Metronomschlag ,,geschnitten". Tick und Tack, Klick und Klack vernehmen wir. Zudem hören wir ein rollendes Brummen und kristalline Klangformen. Der Tinnitus mag sich bei dem einen oder anderen Hörer bemerkbar machen. Tick und Tack - Metronomschlag und kurze Saitenanschnitte: so geht ,,Mars Mantras" seinem Ende entgegen.
© fdp

Informationen
Chant Records
https://chantrecords.com/

Bartolo
https://bart-olo.bandcamp.com/album/six-improvisations-for-creaturesand-machines

Line-up
Bartolo: modular synth programming and guitar on all tracks
Alberto Continentino: double bass on Zaatari
Gabriel Ferrandini: drums on Cibernética
Leo Monteiro: drums on Nerves and Wires
Pedro Sä: guitar on Além Elétrico
Renato Godoy: drums on Zaatari
Thiago Oliveira: alto sax on Nerves and Wires
Thomas Harres: drums on Sthira-Sukha
*Jonas Sä appears as a voice sample on Zaatari