Bart Defoort Quintet - Inner Waves (Claude Loxhay)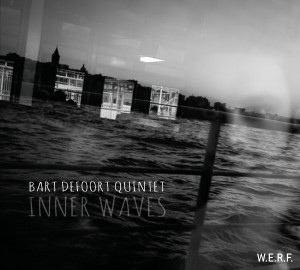 B
W.E.R.F.
Après Moving (en quartet avec Erik Vermeulen au piano), The Lizard Game (avec déjà Hans Van Oost à la guitare) et Short Stories on our Journey (en quintet avec le saxophonsite italien Emanuele Cisi et Ron Van Rossum au piano), voici le quatrième album personnel de Bart Defoort. Pour ce nouvel album WERF, le saxophoniste ténor du Brussels Jazz Orchestra et complice de Diederik Wissels pour l'album Streams a réuni un quintet.
Au piano, Ewout Pierreux, le compagnon de Tutu Puoane (albums Breathe, Ilanga et Bert Joris and Tutu: Live at De Roma) et membre du Tuesday Night Orchestra. A la guitare, Hans Van Oost, l'un des membres de l'équipe réunie par Fabien Degryse pour un Hommage à René Thomas mais aussi membre du quintet de Koen Nys et du trio de Johan Vandendriessche. A la contrebasse, Christophe Devisscher, qui a longtemps fait partie du quartet du vibraphoniste Pascal Schumacher (Bang my Can, Here we gong) et vient d'enregistrer à son nom A Fischeman's Tale, avec Frank Deruyter au saxophone. A la batterie, Tony Vitacolonna, actuel batteur du BJO (The Music of Enrico Pieranunzi, Brel avec David Linx) et fondateur de DelVita avec le tromboniste Peter Delannoye.
Au répertoire, une nouvelle série de compositions originales: huit du leader et Still du guitariste. De longues plages de 6 à 9 minutes qui laissent de larges espaces pour les solos: guitare sur Late Night Drive ou Still, piano sur No more Church et Late Night Drive. Tout au long de l'album, on retrouve la sonorité ronde et chaleureuse du ténor, que ce soit sur tempo rapide (Bright Side, Make that Move, Inner Waves avec ce thème exposé à trois, sax-guitare-batterie, avant que n'interviennent piano et contrebasse), sur des ballades à la mélodie langoureuse (No more Chruch, Too late to tell you, Still) ou sur un mid tempo volontiers bluesy (Late Night Drive, Light red to dark blue, The yearning song avec une intro piano-contrebasse). Du travail d'orfèvre.
Claude Loxhay
Article publié par jazzaroundmag.com



Les concerts:
Jazz à Liège (Brasserei Sauvenière): 12 mai
Brugge, De Werf: 20 mei
Bruxelles, Jazz Station: 25 mai.