Barry Guy - The Blue Shroud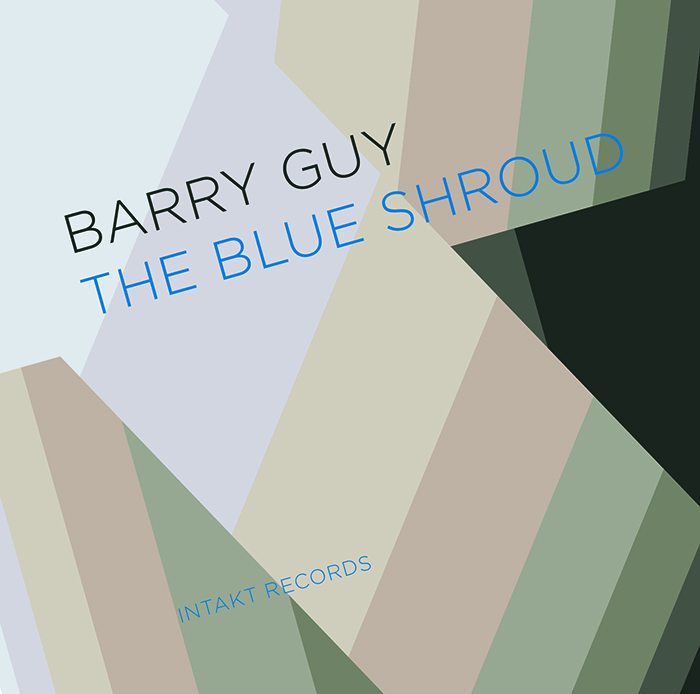 B
Intakt Records
Le contrebassiste Barry Guy est, sans conteste, un des représentants les plus illustres du free jazz et de la musique improvisée « made in England », mais il est aussi un compositeur étonnant distillant des œuvres complexes, tant pour des formations de jazz que des orchestres classiques comme le Hilliard Ensemble.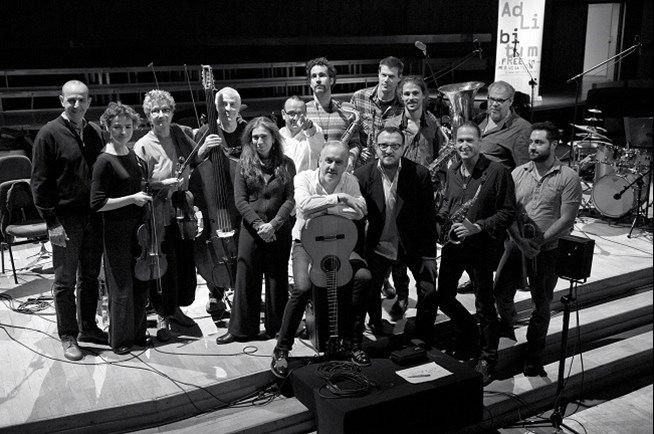 October 2015, Warsaw, Ad Libitum Festival. Photo by Krzysztof Machowina
Fondateur du London Jazz Composers Orchestra, il avait participé au festival Jazz Brugge de 2008, d'une part avec un formidable trio réunissant le pianiste Agustí Fernández et le batteur Ramón López, d'autre part, avec son New Orchestra réunissant un florilège de stars de la musique improvisée : Evan Parker, Mats Gustafsson, Hans Koch, Herb Robertson, Johannes Bauer, Agustí Fernández et Paul Lytton. Un surprenant patchwork réunissant passages écrits sophistiqués (les musiciens les yeux rivés sur leurs partitions) et explosions free solitaires des différents improvisateurs.
Voici comment il était présenté dans la brochure du festival : «De muziek van Barry Guy is een toonbeeld van muzikale grensverkenningen. De oprichter van het London Jazz Composers Orchestra is bekend door zijn veelgeprezen soloconcerten en duoperformances. Ook speelde hij meer dan twaalf jaar bij het gerenommeerde Academy of Ancient Music».
C'est, en partie, cet aspect-là que montre sa suite en 11 mouvements The Blue Shroud présentée au Ad Libitum Festival de Varsovie en octobre 2015., une œuvre de 71 minutes 25 inspirée et dédiée à Guernica.
Voici ce qu'il précise dans le livret : «There are three stands that informed my writting of The Blue Shroud : the bombing in 1937 of the Basque city of Guernica by German Condor Legion pilots at the invitation of Franco, the painting of Pablo Picasso that arose following the event, and in more recent time (2003), a blue drape that was hung over a tapestry reproduction of the Guernica painting in the United Nations building before U.S. Secretary of State Colin Powell delivered his case for invading Irak...»
Barry Guy a composé la musique en collaboration, pour les lyrics, avec la poétesse irlandaise Kerry Hardie, auteur de Symbols of Guernica et en introduisant dans son œuvre des passages de deux sonates de Heinrich Ignaz Franz Biber, un compositeur du 17e siècle né en Bohème et l'Agnus Dei de J.S. Bach.
Pour cette œuvre magistrale, Barry Guy a réuni une formation de 13 musiciens entourant la chanteuse grecque Savina Yannatou qu'il avait déjà croisée pour Attika. Autour de Barry Guy, on retrouve tant des musiciens de formation classique comme son épouse, la violoniste Maya Homburger, avec qui il a enregistré aussi bien Sonata in A Minor de Bach que ses Tales of Enchantmen, la violioniste alto Fanny Paccoud issue du Conservatoire de Strasbourg ou le guitariste Ben Dwyer que des musiciens férus de musique improvisée. Au piano, le fidèle Agustí Fernández ; à la trompette l'Anglais Percy Pursglove ;  au soprano, le Norvégien Torben Snekkestad ; au hautbois et à l'alto, l'Allemand Michael Niesemann du Copenhagen Saxophone Quartet ; au ténor et à la clarinette, le Suédois Per Texas Johansson ; au sax baryton, l'Allemand Julius Gabriel ; au tuba et serpent, le Français Michel Godard  et à la batterie, le Suisse Lucas Niggli et Ramón López.
Le premier mouvement,  Prélude, s'ouvre sur un solo de trompette qui se confronte peu à peu à la masse sonore de l'orchestre. Song 1 débute par une partie de guitare acoustique très « flamenca » sur laquelle vient se lover le chant de Savina Yannatou, en harmonie avec les cordes. Song 3 s'ouvre sur un dialogue entre piano, guitare et cordes sur lequel vient se superposer la voix. Tout au long de l'oeuvre vont ensuite se succéder déchirements free des instruments a vent, ponctués des cris ou couinements de Yannatou (Bull-Mother and Child, Bird, Light  Bearer, Fugitive) et apaisements avec texte récité et cordes (Mystery Sonata IX et X de Biber, Agnus Dei de Bach qui clôt la suite ou ce A blinded bird of hope avec un solo de guitare qui évoque la musique de Joaquin Rodrigo.
Une œuvre riche mais complexe à l'image de son compositeur.
Claude Loxhay

November 2015, Zürich, Unerhört-Festival, Photo by Michelle Ettlin