Barre Phillips - End to End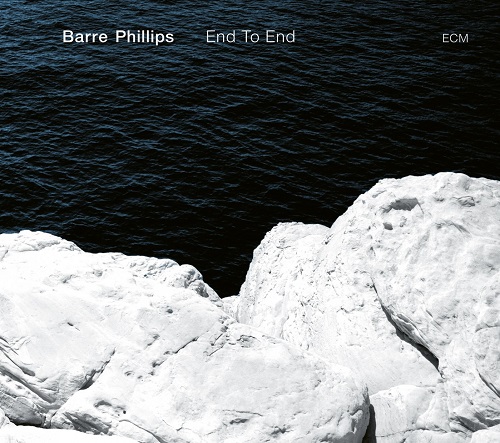 B
ECM, 2018
Soloalbums in jazz zijn liggen meer voor de hand bij pianisten, maar in de werelden van improvisatie die bij jazz aanleunen willen wel meer muzikanten zich onbegeleid manifesteren. Barre Phillips was op dat vlak een pionier. Hij was met een geluidstechnicus in een kerk opnamen gaan maken nadat een vriend had voorgesteld om bijdragen te leveren aan een elektroakoestische compositie. Toen die de resultaten hoorde, wou hij daar niets meer aan toevoegen. Zo ontstond de eerste bas-soloplaat, die in 1968 in Amerika verscheen als Journal Violone. In Engeland kwam ze wat later uit onder de titel Unaccompanied Barre en in Frankrijk als Basse Barre.
Barre Phillips (°1934) speelde begin jaren 1960 o.a. met Eric Dolphy en Jimmy Giuffre. In 1971 improviseerde hij met Dave Holland de plaat Music from Two Basses bij elkaar. Rond die tijd zat hij in The Trio met John Surman en Stu Martin. De volgende decennia speelde hij regelmatig met het London Jazz Composers Orchestra o.l.v. bassist Barry Guy. Hij werkte in de loop der jaren samen met Paul Bley, Evan Parker, Derek Bailey, John Abercrombie en tal van anderen. Tussendoor maakte hij verschillende soloplaten.



End to End nam Barre Phillips op met de idee dat het zijn laatste soloalbum zal zijn. Zijn muzikale reis gaat gewoon verder, maar deze cd geldt als laatste documentatie van zijn soloparcours. Dat wordt hier gepresenteerd als Quest, Inner Door en Outer Window, die elk uit 5 of 4 korte delen bestaan. Vanuit een trefzekere zin voor ritme, melodie en harmonie improviseerde de contrabassist 13 meeslepende delen bij elkaar. De rangschikking die producent Manfred Eicher eraan gaf, maakt er een meeslepend geheel van.
Een beschouwende, enigszins filosoferende insteek kleurt de muziek, die opvalt door de mooie toon die de bassist produceert. Daarbij etaleert hij een fijne zin voor intonatie. Sommige stukken dragen 's mans kennis mee van klassieke muziek, andere klinken doordrongen van rockinvloed. Alle tracks stralen een innemende sereniteit uit, snelle of onrustige komen even goed als rustige, van een vastbesloten krachtige hand. Met strijkstok en met de blote vingers speelt deze muzikant allerlei technieken uit. Dat doet de krasse tachtiger schijnbaar moeiteloos en zonder moeilijkdoenerij.
End to End komt met een goed gevuld booklet als een ultiem werkstuk van een oude wijze.
© Danny De Bock

Musici:
Barre Phillips, contrabas