Baron, De Looze & Verheyen - MiXMONK (CL)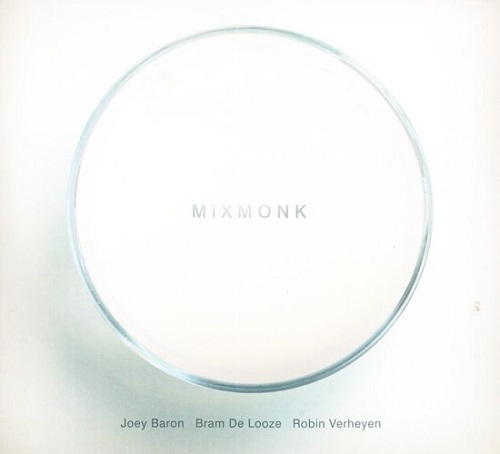 B
Universal
La musique de Monk, de par son art de la dissonance, tient une place à part dans l'histoire du jazz. Elle a été jouée/adaptée par une foule de musiciens: des pianistes bien sûr, comme Ran Blake, Don Pullen ou Misha Mengelberg, mais aussi d'autres instrumentistes, comme Steve Lacy, Paul Motian, Benny Wallace ou le quatuor à cordes Kronos (cfr dossier en plusieurs parties dans Jazz in Time, 1990-91). Cela a encore été le cas, dans les dernières années, avec Monk's Casino (toutes les compositions de Monk en 3 cédés) d'Alexander Von Schlippenbach ou le tout récent Duke & Thelonious de Denis Charolles, avec ses Musiques à Ouïr.
Voici donc un nouvel hommage au génial pianiste et compositeur: un trio américo-belge. A la batterie, Joey Baron qui a fait partie de Masada de John Zorn, avec Dave Douglas; du quartet d'Arthur Blythe (album Down Home) mais aussi côtoyé Bill Frisell comme Enrico Pieranunzi. Il avait déjà collaboré avec des Belges, pour le projet Where is there de la compositrice Myriam Alter, avec Pierre Vaiana au soprano. Son jeu décalé convient à merveille à la musique de Monk et à ce déhanchement rythmique constant.
Aux saxophones ténor et soprano, Robin Verheyen, qui a résidé aux Etats-Unis et a déjà enregistré avec nombre de musiciens américains: Bill Carrothers (albums Painting Space, Starbound), Ralph Alessi, Thomas Morgan, Jeff Davis, soit le N.Y. Quartet (Trinity); Le trompettiste Russ Johnson (A look beyond); Marc Copland, Drew Gress, Billy Hart (When birds leave).
Au piano, Bram De Looze, dont la carrière est en pleine expansion: Urbex d'Antoine Pierre, quartet de Ben Sluijs, KEM de Stéphane Galland, Septych avec le clarinettiste allemand Gebhard Ullmann et, évidemment, le LAB Trio qui a enregistré The Howls are not what they seem, avec les Américains Michael Attias (as) et Christopher Hoffman (cello).
Au  répertoire, cinq compositions de Monk d'époques différentes: Monk's Mood et Aska T de 1947, Bye-Ya de 52, Bobo's Birthday et Ugly Beauty de 67. Mais aussi  des compositions personnelles: trois de Robin Verheyen (MixMonk, The flood, Dance), une de Bram De Looze (Mind Mirror) et une co-écrite (Fifty fifty).
Pas de contrebasse au sein de ce trio, mais un Joey Baron omniprésent et hyperactif, que ce soit sur tempo enlevé, avec un sens aigu des ruptures de rythme chères à Monk (Oska T, Bye-Ya, Ugly Beauty) ou sur tempo apaisé pour souligner, avec un subtil jeu de balais, la beauté mélodique des ballades (Boo Boo's Birtday écrit pour sa fille ou le lyrique Monk's Mood). Au sein d'un même morceau (Dance), il peut passer des baguettes aux balais, ou alors opter pour des mailloches (Ugly beauty). Robin Verheyen passe d'un soprano incisif et voltigeur (Boo Boo's Birthday, Monk's Mood, Mind Mirror, The flood, Dance, Bye-Ya) à un ténor à la sonorité franche, aussi à l'aise dans les tempos énergiques (Oska T, MixMonk) que dans les ballades (Fifty fifty), toujours en accord avec l'envol du piano (belle intro sur Mind Mirror, solo sur Bye-Ya).
On a pu découvrir le trio au Middelheim, on peut dorénavant prolonger ce plaisir sur disque.
© Claude Loxhay
Chronique déjà publié sur jazzaroundmag