BackBack – Deuk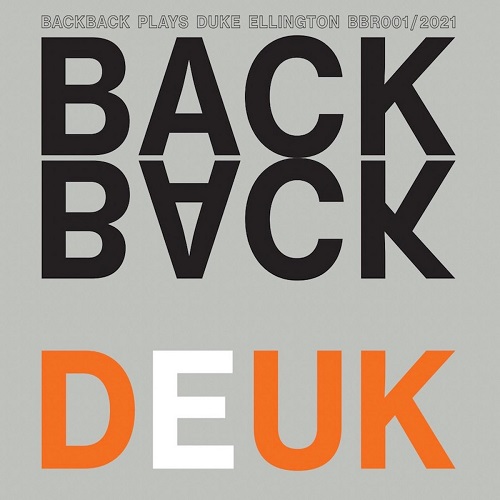 B
BBR
Met dergelijke groepsnaam kon het niet anders of Marc De Maeseneer, Giovanni Barcella en Filip Wauters zouden vroeg of laat uitkomen bij Duke Ellington. Toch werd 'Deuk' geen bewerking van de klassieker 'Back To Back' waar The Duke en Johnny Hodges een "dynamic duo" vormen. Wel twaalf nummers geplukt uit het repertoire van Ellington en met de nodige egards doorgesluisd naar hun eigen wereld.
'Deuk' is een anagram-verwijzing naar The Duke maar meteen ook muziek met een "deuk" in. De originele composities krijgen inderdaad flinke opdoffers en blutsen maar minder stevig dan te verwachten was. Verwonderlijk als je bedenkt dat gitarist Filip Wauters indertijd kluste bij Whodads en Arno. Marc De Maeseneer kennen we van bij uitbundige groepen als El Tattoo Del Tigre en Lady Linn and her Magnificent Seven. En dan is er nog drummer Giovanni Barcella. Als een vuurtoren in de hevigste stormen gidst hij zijn medematen steeds veilig naar de eindbestemming, ook al gebeurt dat wel eens met de nodige verrassingen zoals we weten van bij Moker en het Jeroen Van Herzeele Quartet.
De drie heren vermijden standaard versies en gingen met een grote boog omheen overbekende titels. Het trio koos voor een kleurrijk aanbod als 'La Plus Belle Africaine' (de aanleiding om eventjes duistere broussepaden te verkennen zonder die typische "jungle sound" van Ellington aan te wenden), 'Bonga' (waar we dan wel de knipoog vinden naar de "jungle sound") en het onstuimige 'Brasilliance' (met Zappa-nuances).
Net als op 'Back to Back: Duke Ellington and Johnny Hodges Play The Blues' wordt ruimte gereserveerd voor blues met 'Paris Blues' uit de gelijknamige film met Paul Newman in de rol van trombonist! Heel stijlvol is de versie van 'Reflections in D' met een dandy Wauters die uiteindelijk in 'The Village Of The Virgins' toch een getormendeerde ziel lijkt te bezitten, net trouwens als De Maeseneer. Hun meest onderkoelde kantje komt boven in 'Half The Fun' en 'Bourbon Street Jingling Jollies' (waarin Wauters enkele obscure accolades toevoegt). 'Chinoiserie' is de aanleiding om in de late uurtjes af te zakken naar een jazzclub waar "the real thing" gebeurt. De kans voor het trio om nog eventjes uit de bocht te gaan en afscheid te nemen van de laatste tooghangers.
Voor de gelegenheid werden trombonist Frederik Heirman en Tom Callens uitgenodigd om enkele keren voor een inbreng te zorgen. En dat loont, zoals de (korte) solo intermezzo's van Heirman in 'Such Sweet Thunder' (western meets surf meets film noir) en het latingetinte 'Guitar Amour'.
Verschenen op het gloednieuwe label BBR. Bovenal een mooie illustratie van Ellingtons veelzijdigheid en het sein om diens 'First Time! The Count Meets The Duke', 'Duke Ellington Meets Coleman Hawkins' en natuurlijk 'Money Jungle' (de trio-cd van Ellington met Charles Mingus en Max Roach) nog eens uit de kast te halen.
© Georges Tonla Briquet




Bezetting:
Marc De Maeseneer: bariton-, tenor en sopraansaxofoon
Giovanni Barcella: drums
Filip Wauters: (bariton)gitaar
+
Frederik Heirman: trombone
Tom Callens: klarinet

www.backback.be