3/4 Peace: Ben Sluijs, Christian Mendoza, Brice Soniano - Rainy days on the common land (Claude Loxhay)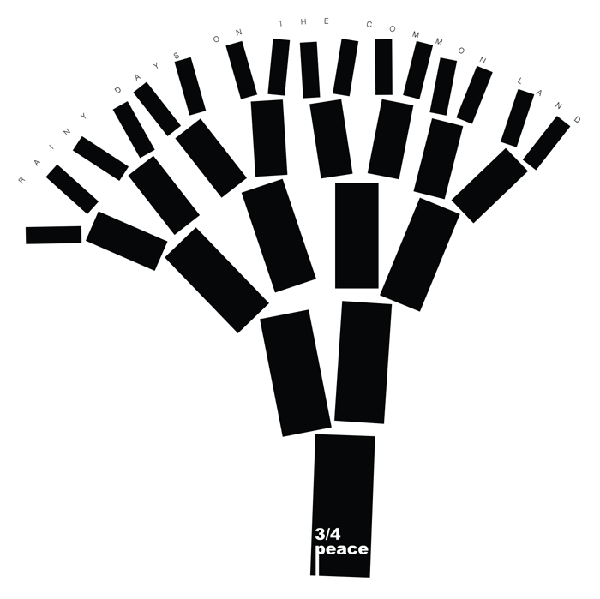 B
El Negocito
Ben Sluijs est l'un de nos meilleurs saxophonistes alto. Après avoir participé à l'Act Big Band de Félix Simtaine, au Brussels Jazz Orchestra et aux débuts d'Octurn, il a formé, dans les années 2000, un quartet très "colemanien" en compagnie de Jeroen Van Herzeele, Manolo Cabras et Mark Patrman (albums "True Nature", "Somewhere in between" puis"Harmonic Integration" en quintet avec Erik Vermeulen). Depuis il s'est tourné vers des formules plus intimistes et une musique plus apaisée: un duo avec Erik Vermeulen ("Stones", "Parity", "Décades") et ce trio 3/4 Peace, en compagnie du pianiste Christian Mendoza et du contrebassiste Brice Soniano, un "triologue" qui rappelle ceux de Jimmy Giuffre, Paul Bley et Steve Swallow ("Emphasis and Flight") et de Lee Konitz, Brad Mehldau et Charlie Haden ("Alone together").
Qui sont ses deux complices?
S'il est né au Pérou, Christian Mendoza a poursuivi ses études aux Conservatoires de Gand puis de Bruxelles, auprès du gotha du piano-jazz belge: Erik Vermeulen, Kris Defoort, Diederik Wissels, Nathalie Loriers. Mais il a aussi suivi différents workshops, notamment avec Bill Carrothers. Il a fait partie de Banjax avec le saxophoniste Erik Bogaerts (album "Osa"), de Gowk avec Joachim Badenhorst et Teun Verbruggen et du Vansina Orchestra ("Morning Forest"), avant de former un quintet en compagnie de Ben Sluijs, Joachim Badenhorst, Brice Soniano et Teun Verbruggen ("Arbr'-En-Ciel" en 2011). De son côté, Brice Soniano fait partie du quartet de Lionel Beuvens, avec le trompettiste finlandais Kalevi Louhivuori comme du sextet "carte blanche" en Gaume avec Guilhem Verger (sax) et Emilie Lesbros (voc).
Après un premier album en 2012, intitulé tout simplement 3/4 Peace, consacré à des compositions originales, à l'exception d'un thème de Carla Bley et d'un classique de Gershwin, voici "Rainy days on the common land": cinq compositions de Ben Sluijs, une de Soniano, une autre de Mendoza et un emprunt au concerto pour violon de Bartok. Voilà qui illustre bien la musique du trio naviguant entre jazz intimiste, musique improvisée et héritage de la musique classique contemporaine.
La pureté et la fluidité de son de l'alto n'est pas sans évoquer Lee Konitz à certains moments (d'où ce Someone like Lee). A la flûte, sur les intros de Constructive Criticism et Flying Circles, le jeu se fait plus nerveux, dans des pièces qui évoquent davantage la musique improvisée contemporaine. Brice Soniano fait preuve d'une grande vélocité dans les pizzicati (Hope) et, sur la mélodie d'ouverture du concerto de Bartok, montre toute sa maîtrise de l'archet. Tout au long de l'album, Christian Mendoza fait preuve d'un doigté délié, prompt aux envolées lyriques, que ce soit sur sa composition Hope ou celles de Ben Sluijs (Still, Cycling).
Une musique tout en  nuances.

Claude Loxhay