Tony Malaby - interview with the saxophonist from New York
I met Tony Malaby before his concert with Tubacello at De Werf Brugge (Feb. 09, 2016).
What was the first Jazz album you listened to or got as a present?
TM: Yeah, I think the first thing that really took me was one of the early Steeplechase Dexter records that I found in a shop and bought it with my allowance. I had heard more kind of Funk Jazz and Rock Jazz from people playing stuff in the neighbourhood like the very commercial Gato Barbieri records. My neighbour washed his car and put it very loud; records like Caliente and this stuff. There was a black family up the street the only black family in a predominantly Mexican neighbourhood. I heard Sonny Stitt for the first time. They had an Art Pepper record. I think it was a kind of hotchpotch of things. In High School I had a wonderful band director who presented me with my first Charlie Parker records and stuff like that.
How important was your upbringing at Tuscon, Arizona and the records you mentioned for your career as a Jazz musician?
TM: I had to discover things by my own. There was not really a scene, a scene of teachers, a scene of musicians. There was no Internet and I am very thankful because I sound unique in a time when everybody sounds the same. I am always on a path of being authentic and really sounding yourself being influenced by everything and inspired. But by the isolation of being there I really was predominantly focused on identity and creating a unique sound. I had the space to have that there and not to have somebody telling you that is shit and that is shit and you have to play it like this. Something was already formed by the time I went to college.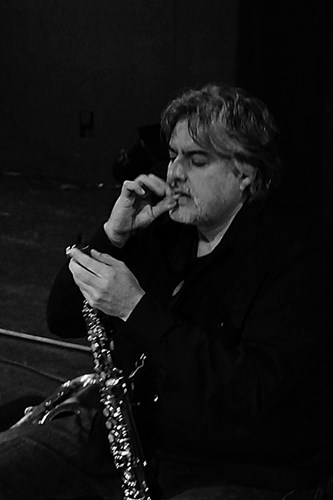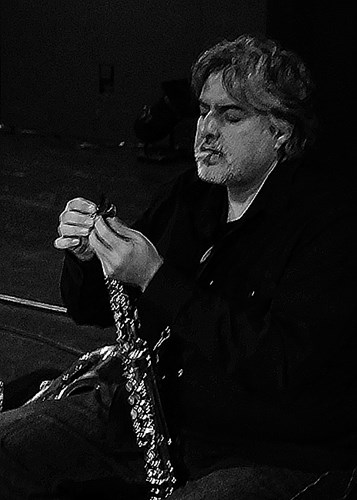 Why did you pick the saxophone as your favourite instrument?
TM: What I said before it was in my neighbourhood a lot like R&B and Soul music. We listened to as kids: Earth, Wind & Fire, Average White Band, Tower of Power … these groups. Lots of saxophone! In the same time I grew up in an Mexican environment and lots of live bands at weddings, any type of receptions, any type of birthday party gatherings and there was always a saxophone player. I was drawn to the vocal quality of the saxophone, the lyrical aspect of it.
Do you think that there are similarities between reeds and the human voice?
TM: Yeah, of course! Saxophone is a very pliable instrument. Early on I tried to sound like flute, I tried to sound like double reed instruments. It lends to that sound of tonal palate.
Do you feel a strong bond between your personality and the instrument you choose to play?
TM: Sure, I consider myself a provocateur and I like to start shit,  you know. I am coming to realising the importance to dissolve into the ensemble and let the music come from the others leading  you. That is something that started happening in my 30s when I moved to New York and was getting involved with Free Jazz and more collective types of playing - I'm just starting to figure this out . I am a big guy, I have a presence and it is very difficult for me to dissolve. I have a big sound and it's very similar to my personality. The saxophone really allows me to express this .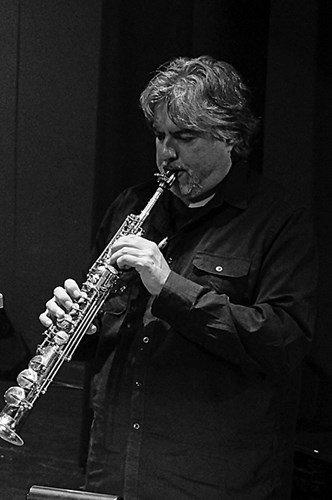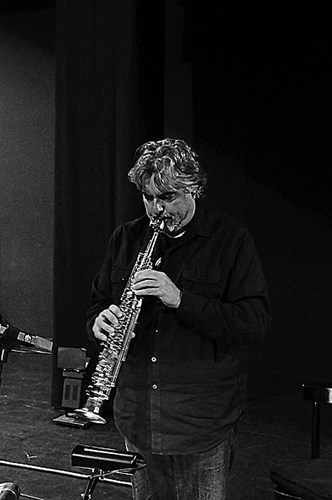 You mentioned Free Jazz and therefore the question about Ornette Coleman's album Free?
TM: It's really important. For me more important than anything else is the melodic sense and the harmonic language especially the records with Charlie Haden. For me poetics is very important more than the stylistic things and the implication of Free. What happened for me is the language that unfolds and it's very poetic. There is a lyricism too and a sense of Blues that really got me.
Do you see any difference between Free Jazz and improvised music? If yes please point out those differences
TM: Sure, I don't consider what I do as Free Jazz. It is really practised and worked out. There is language and vocabulary that I try to establish with all my groups through the composition and through developing the band sound. I don't think control is the word but I try to organise it in a way that flows and makes sense to me. I think too it's trying to avoid a stylistic thing that happen to Free Jazz, especially energy loaded Free Jazz I want to avoid. I think it's not what we have been through to this point. It is still developing and I am trying to be there. When I moved to New York when I was 30 years old and got involved with people like Marc Dresser or Tim Berne it just lit a fire but it's a very organised approach.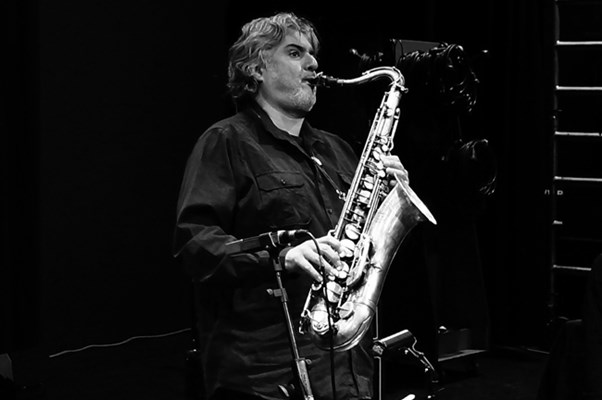 Do you play music on stage for the moment in the moment and how relevant is the spirit of the moment for doing it?
TM: It is different every night. You can't put this in words you know. You really can't and you don't do it any justice when you try it hundred percent or ration to that aspect how you are performing. It is different every night depending on how people responding to your ideas or their ideas. I try to present compositions that are open up in areas to fly or to travel or to escape and find an intelligent way back to close the chapter, great paragraphs and punctuations and to have different strategies with improvisations to open up different doors so it's not the same thing the entire set.
Do you see a difference between Jazz in Europe and Jazz in the USA?
TM: No, at this point no, because of the Internet, Social media, Facebook.
Some European Jazz musicians argue that there is a difference because Jazz in Europe is more rooted and influenced by the tradition of classical music.
TM: I think a few generations ago sure but I don't think that exist anymore. I am playing here and I am playing with two Belgian musicians who swing their asses off  and have an incredible sense of Jazz and I feel inspired.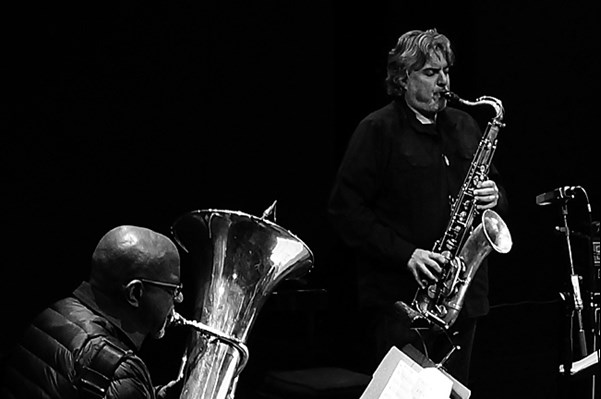 My last question refers to the Trio TubaCello: You picked a tuba and a cello player. A cello taking part in Jazz is quite unique and rare. Why did you leave the ordinary track?
TM: I just really love those instruments. These are two of my favourite instruments. Moving to New York I had the opportunity to play with cellists and tuba players in an improvised context. The mystery with the tuba is for me the incredible way it propels time, the attack and how it feels it is totally different than a double bass. The cello is so similar to the tenor saxophone. There is a range and quality that I have always associated with. I played the alto saxophone until I was 20 and Arthur Blythe became one of my favourite alto players. Bob was in that ensemble; Abdul Wadud was playing cello. There was a thing with those two instruments functioning as a kind of rhythm section that really attracted me and still does. So I met these guys and had the opportunity to do it.
Thanks for the interview.
Interview und Photos: © ferdinand dupuis-panther

Informations

Tony Malaby
http://tonymalaby.net/

Tony Malaby "Dorotea la Cautiva"


Tony Malaby's PALOMA RECIO: "Obambo"


TONY MALABY TUBA TRIO


Tony Malaby's TAMARINDO

Concert review
http://www.jazzhalo.be/reviews/concert-reviews/tony-malaby-s-tubacello-de-werf-brugge-09-02-2016/