Billie G. Davies: a natural talent, a tonal painter of sounds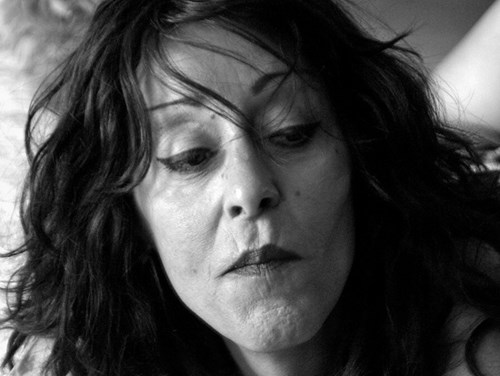 Born in Brugge in 1955, Billie Goegebeur discovered drums thanks to her grandfather Maurice Clybouw. First she played throughout Europe. In 1986, she moved to the US, where she played with Leroy Vinegar (the bass player who recorded with Shelly Manne, Chico Hamilton and Sonny Rollins) or with John Handy (he is well known for his record 'Live at the Monterey Festival' with Mike White on violin) and she could record several albums: 'Cobra Basemento', 'Dreams', 'All about Love', '12 Volt'.
Now she has a new project: ''Hand In Hand In The Hand Of The Moon'' with her Billie Davies Ensemble.
In 2013, All about Jazz said: "Billie Davies is mostly an autodidact whose natural talent, explorative spirit and multifaceted experiences have led to an innovative approach to jazz." The American critic S.V. Aaron adds: "When listening to Davies play, it's easier to think of her not as a drummer but a tonal painter".
A real talent to discover.
Interview by Claude Loxhay
Photos courtesy Billie G. Davies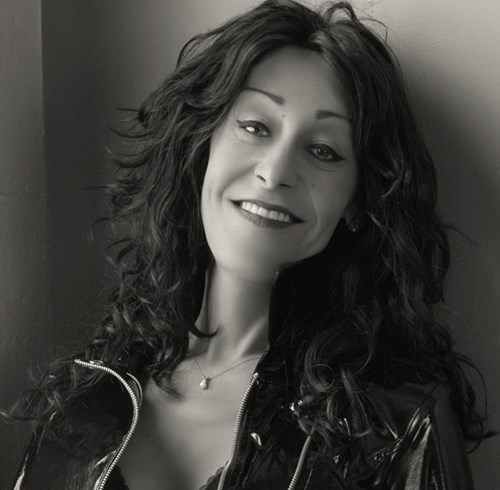 - When did you decide to dedicate yourself to music?
It feels as if I never decided... Music was just always there for me, with me and in me, and I just naturally grew into a jazz musician.
I remember sitting in a high-chair, meaning that I could barely walk yet, surrounded by classical and jazz music through my mother who was a true music appreciator and had a fine ear. I remember my grandfather, one summer, while at his factory party, lifting me off the ground and putting me safe on his shoulders and we walked through the crowd up the stage and he lifted me off his shoulders, put me on the lap of the drummer and made him let me play on those big drums when I was about 3 years of age. I had for a short time music theory classes when I was 5 or 6, piano, but did not like it so I started skipping classes. I sang in choirs with symphonic orchestras, child opera's, directed and choreographed, tried my hand at the guitar, was a DJ, worked in jazz night clubs and helped organize jazz concerts, etc. and by the time I was in my early twenties I was playing the drums and at around 25 I did make a conscious decision and transitioned into a professional musician. Life had let me know my path.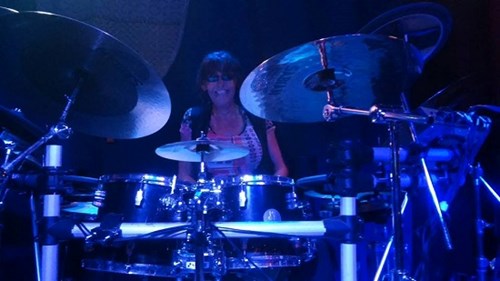 - When and how did you decide to be a drummer?
It must have been around 1980 or so, I remember that it was around the same period that John Lennon died, I get dates and how old I was when things happened quite confused, but suddenly the drums were there, the instrument that made it possible for me to express myself totally, and I also remember that I had this incredible enlightening moment at some point where suddenly life made me realize that I was a drummer, while at that moment "In The Air Tonight" by Phil Collins was playing.
- First you played throughout Europe...
It all seems such a very long time ago, I moved to the US in 1986, I played with many people in Belgium, Holland, France, Germany, Spain, Italy and Greece. In the very beginning I was still discovering that intimidating instrument and played and tried out all styles, I remember that band I played with in Terneuzen, but forgot all names except for Alex, the bass player, and I do remember he played on a white Rickenbacker... we performed mostly local and south Holland. I also played with Pol Pieter Leemans, a painter/musician, and again Alex on bass, the band was called Noedelsch and we performed locally in Blankenberge and Brugge. From my perspective, the journey that started what I am today was my moving to the south of France, and playing in Perpignan and Montpellier at first, later Toulouse, Biaritz, Les Landes... and learning to know Claude Mazet there, a blues guitar player from Brussels whom I stayed friends with until my departure for the US, they were my first days as a jazz drummer, he will always be in my memories... Most of my "12 VOLT" album is about that period in the south of France. It was the start of my jazz.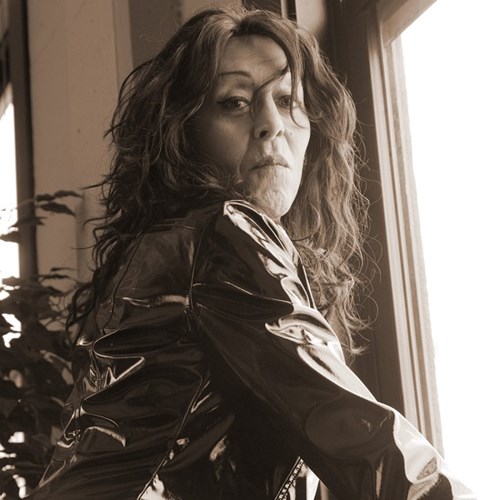 - How did you meet Manitas de Plata?
I was living in Montpellier then, where I was playing all over a lot and Robin, I forgot his last name, an american violin player who had just graduated from Berklee, and I and a German guitar player, we played jazz Manouche in a Caribbean restaurant every week, were invited to a birthday party for his son, he was there, we were introduced, we had a little bit of social talk and drink, and he has ever since left quite an impression on me, and has been a continuous inspiration for me. (She wrote "Meeting Manitas" for the record 12 Volt)
- When you received a grant from Max Roach to come study at Berklee College of Music, why did you decide to stay in Europe?
I was having a lot of fun playing in the South of France where I loved the sun and warmth and the people : and where it was quite affordable to live as a musician at the time and I perceived Boston as a grey and cold place to be and hard to survive. I did not like schools very much and many musicians had told me that if I ever went to a music school they would never want to play with me again... they considered me a natural. So it became an easy decision to make, especially also due to what he wrote to me, "Hearing from your tape, you could learn more fundamental drumming techniques, but I also hear the natural drummer, so my advice is for you not to worry too much about your technical skill, you will develop your own, I can definitely hear that, but just in case that you might want to study in a good program, please accept my invitation in the form of a talent grant to come study at the Berklee College of Music, all you need to worry about is finding a place to live and some money to survive." , I felt confident that I was on the right track... He had confirmed I was a natural.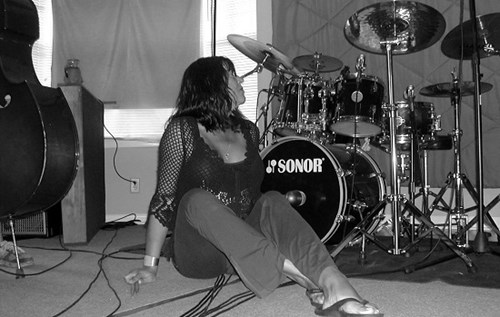 - When did you decide to go to the US?
After I left Greece, winter of 1986. Suddenly I felt I needed to get to that birth place of jazz no matter what.
- Who did you meet first in the USA?
I believe that the first memorable musician I met in the US was Leroy Vinegar. There were others of course, but as always I played with many but do not remember that many names.
- Who are your biggest influences on drums?
Al Foster, Billy Higgins, Billy Hart, Billy Cobham, Jack De Johnette, Ed Thigpen, Peter Erskine and Trilok Gurtu.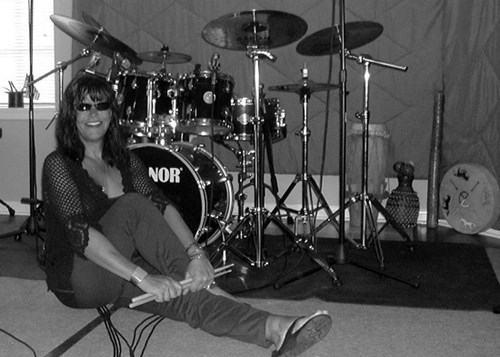 - When did you play with Leroy Vinegarand with John Handy?
I played a few times with Leroy Vinegar in 1987 in Portland, Oregon. I forgot the name of the place.
I played a few with John Handy in 1988-89 in San Francisco, California. There was this bar/restaurant on the corner of California and Sacramento called Rasselas... and I might have played with him at a small little place on Haight Street, forgot that name too, the hood was called lower Fillmore if I am not mistaken, and there were a few little bars there where there was only and truly real jazz to be played and all kinds of jazz cats would come over and sit in.
Memorable personalities... :)
- You did your first albums with Saul Kaye on guitar and Michael Godwin on bass. What was the repertory?
The repertory was original Avant, Free, Improvisational, Experimental. We played on paintings (Serge Vandercam, Edo Murtic) and on concepts and stories (The Man from Tollund painting by Serge Vandercam, poetry by Hugo Claus), no music was ever written down, we followed the Cecil Taylor law and flirted with the boundaries of Classical and Jazz.
- After, you did a record with Tom Bone Ralls on trombone: you played some Coltrane's tunes...
Yes. We did... but only one made it to the "All about Love" album, Naima... and of course there is Afro Blue by Mongo Santamaria of which a Coltrane version exists, which we covered on the album twice.
The album's essence was about the respect and love I had for the energy and spirit of jazz music in its purest form... and expressing that Love for Jazz, that Love for Life and keep it simple.
I wanted to go back in time, find some wonderful classics, and give them a contemporary/improvisational twist... It gave me the greatest pleasure to be able to bring back these particular songs with a new/different perspective to an audience.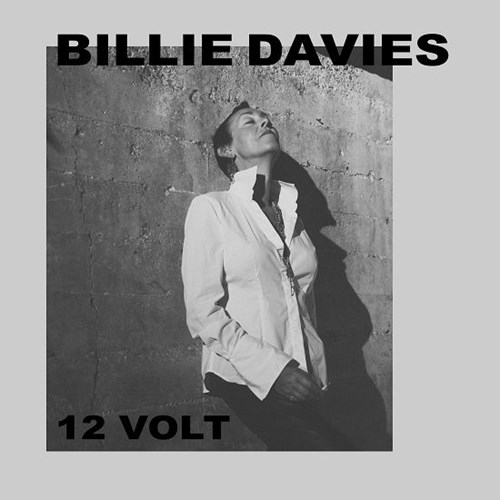 - In 2013, you recorded with Daniel Coffeng on guitar...
I met him in Hollywood when I was busy with "All about Love" and about a year later he became the perfect guitar player for "12 VOLT" with his classical/jazz background and his interest for Avant-Garde.
The whole idea for "12 VOLT" started as Mike, my husband, and I were feeling ready to move away from Hollywood and wanted a return to nature and a little more simplicity. The home/studio in Napa, California seemed the perfect suited place for the "12 VOLT" conception, as it is wine country, as well as being very much similar to some of the wine regions in France, especially the regions around the city of Bordeaux, bordering and into Basque country on the atlantic ocean side, where I also ended up living with the Gypsies and so very close to nature...
From coast to coast in the south of Europe, from Perpignan to Barcelona, from Montpellier to Toulouse and to Biarritz and La Rochelle and then into the Bordeaux region, that is where I lived what felt at the time as the most fulfilling natural bohemian life. I performed and toured with all kinds of musicians.
There was one in particular: Claude Mazet. He's an amazing blues and jazz guitar player who could make it so that everything electric in the RV ran on 12 volt. It is also that country where I ended up living for months with a gypsy clan and ended up having to play for their King's ears only over 2 bottles of wine and Django and no one else allowed in his van, which stirred up a lot of envy and anger with some of the clan members.
It is that bohemian life, that is close to nature, so close that all the music and everything else you do or think becomes a reflection of it. Living all over the south of Europe inspired all the songs on the album "12 VOLT". It's remembering my gypsy life that I still love so so much...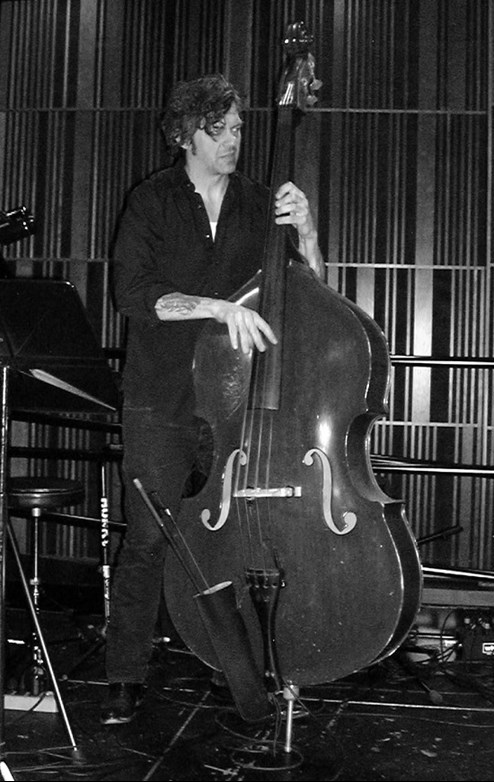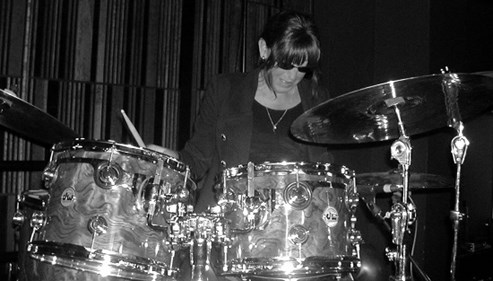 - Can you present your actual Ensemble and your project "Hand In Hand In The Hand Of The Moon"?
The current BILLIE DAVIES Ensemble line-up consists of Alex Blaine on sax, Evan Oberla on trombone, Branden Lewis on trumpet, Ed Strohsahl on bass or Kellen Garcia on bass, and myself on drums.
"Hand In Hand In The Hand Of The Moon" has been on the shelf for twenty years and is now finally in the making. 7 paintings, 7 movements, 1 symphony. An ode to Serge Vandercam. Serge and I started the project in 1995, when he was staying with us in Tiburon, California. It was a full moon, the nightingale behind the house was incessantly singing and after a sleepless night we decided to get in the studio, he painted influenced by what I played on the drums and I played the drums influenced by what I saw appear as his brushstrokes left their mark on the paper. Totally improvisational, instinctive, intuitive, one energy in tune with the full moon... thus the title "Hand In Hand In The Hand Of The Moon".
We have been rehearsing intensively for about a month and the project will be recorded on April 4, 2015 during the full moon, live, all of us in one room communicating our feelings through the use of our instruments, in one take. The first "Hand In Hand In The Hand Of The Moon" performance is scheduled for May 19, 2015 at Open Ears Music at the Blue Nile Balcony Room in New Orleans.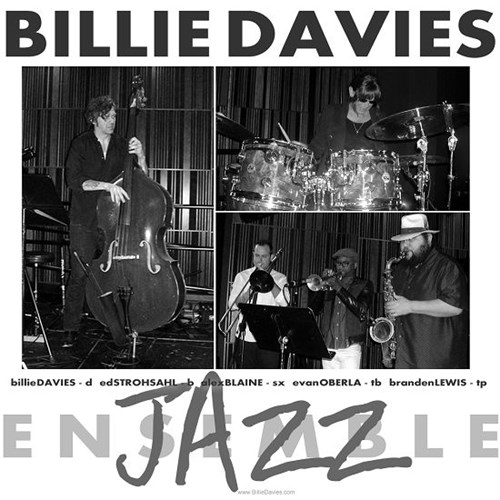 Buy Billie Davies Music: - at CD Baby: www.cdbaby.com/cd/billiedavies
- on iTunes: https://itunes.apple.com/us/artist/billie-davies/id532658143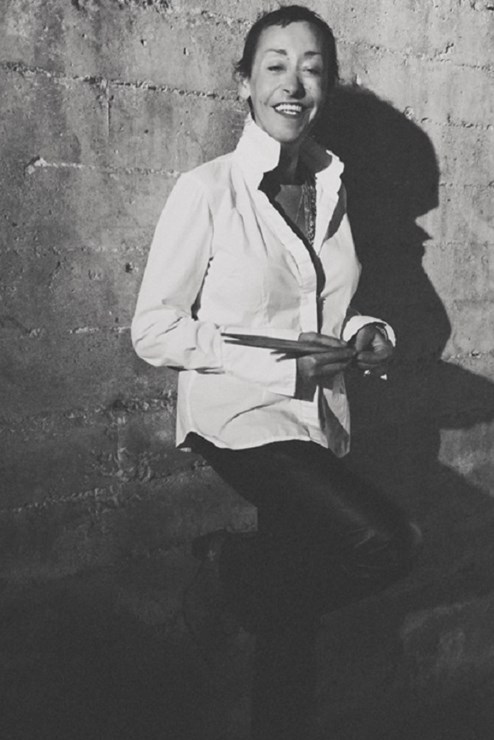 Check out:
http://www.downbeat.com/digitaledition/2016/DB1605/single_page_view/25.html
www.allaboutjazz.com/php/article.php?id=53649