Teun Verbruggen, interview with the Belgian drummer
Teun and I met each other during the Belgian Jazz Meeting 2017. Teun Verbruggen is a very busy and versatile drummer performing with FES as well as with Drifters and with musicians engaged in free improvised music and Post-Free Jazz. He worked as a sideman and leader with musicians such as Paolo Fresu (with Jef Neve trio), Uri Caine (With FES), Erwin Vann, Jean Phillippe Viret, Hilmar Jennson, Ernst Reijseger, Jimi Tenor, Toots Thielemans (with FES), Fred Van Hove, Trevor Dunn, Magic Malik, Shelley Burgon, Andrew d'Angelo, Mark Helias, Giovanni Mirabassi, Edouard Ferlet, Eric Vloeimans, Benny Lackner, Anton Goudsmit, Harmen Fraanje, John Watts (Fischer Z), Mats Eilertsen, Michel Hatzi (Aka Moon), Louis Sclavis (with FES), Peter Hertmans, Nathalie Loriers, Diederik Wissels, David Linx, Bart Defoort, Kris Defoort, Aref Durvesh (Nitin Sawhney), Kevin Armstrong (Iggy Pop), Pierre Vervloesem, Bart De Nolf, Manu Hermia, Sal La Rocca, Erik Vermeulen, Anton Walgraeve, Tom Wolf, Monsoon, Pieter Embrechts, Point Zéro, Cesarius Gadzina, Marco Locurcio, Jacques Pirotton, Steve Houben, Melanie de Biasio, Toine Thys, Nic Thys, Hein van de Geyn, ... Quite an impressive list of bands I would assume. Teun Verbruggen owns his own record label named Rat Records and he is the mastermind behind the project Walter at Anderlecht.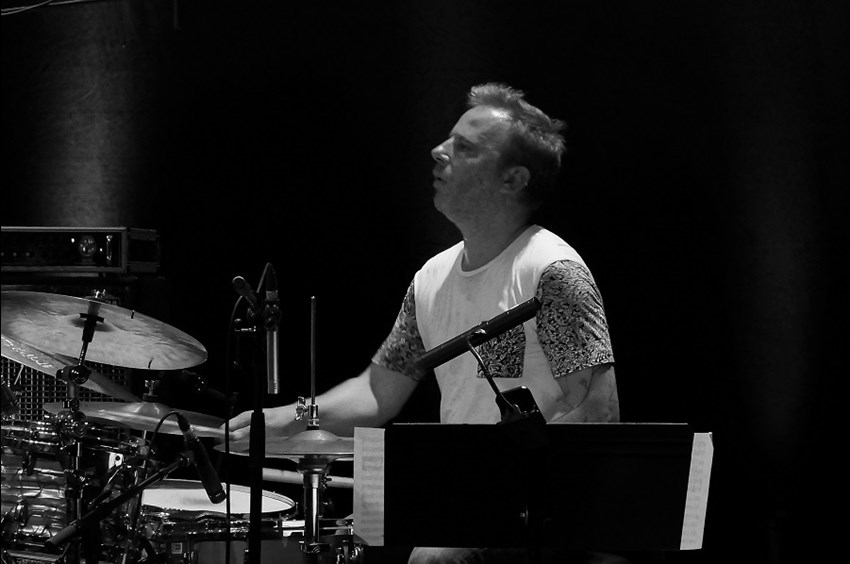 You started at the age of eight to play the drums. Why did you pick the drums?
TV: I don't know. There is something in my earliest memories that I wanted to play the drums. When I was a little kid I remember that I always wanted to be a drummer. I went to a concert of a famous Flemish Rock singer with my parents. I was stuck to the drums. My father took me to the drummer and this guy was really sweet to me. I remember that I was six then. After the encounter with that drummer I joined the music school class for drumming. My father wanted to play drums but never could do it. Maybe he transferred his frustration to me quite secretly. I don't know.
What is the most important role of a drummer in a band?
TV: That is for every drummer quite different. I like to be part of colouring the band and I consider myself as a musician more than as a drummer. I am as well a saxophone player, a bass player and a piano player in the band. I am colouring and sometimes playing by opening sounds and sometimes I am more into rhythm like a drummer. I am shifting and changing. I don't see myself as a basic drummer. I feel more like a painter of sounds. I try to make compositions lively and give them a certain sonority.
Some would regard the drummer as the most powerful band member. He can give directions, slow down the band or force  the tempo, change the tempo, keep the timing. Would you agree or disagree?
TV: There is a famous saying: A good band with a bad drummer sounds bad and a bad band with a good drummer can sound good. That's true in fact. It is partly depending on our instruments that we do have a lot of power in a band. It is nice but you have as well a lot of responsibility. If you are not in top shape considering the drumming it is not nice to listen to the band. A band with a drummer who is really groovy, inspiring and interesting – by the way the drummer is more or less permanently playing – then the drummer has a strong influence referring to the grooves and the sounds.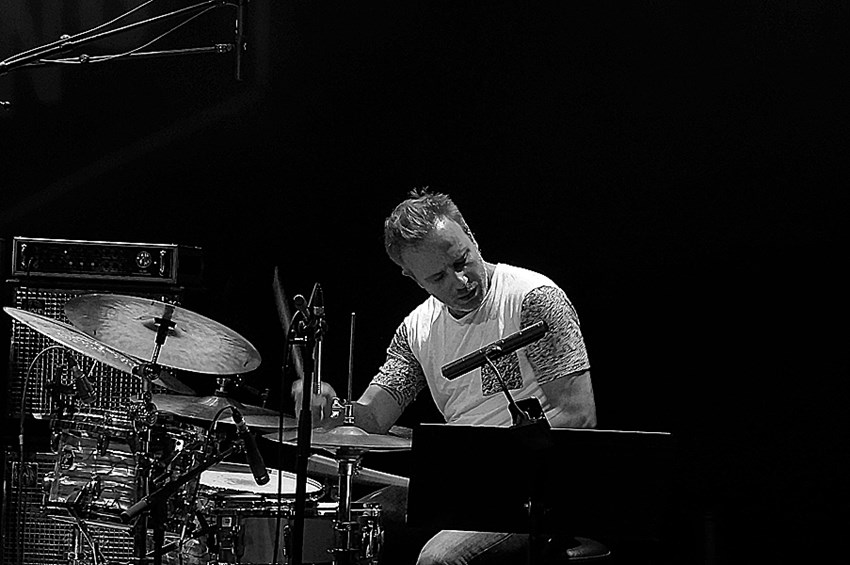 Would you say you are sometimes battling with other band members whilst playing? I mean battling in a sense of teasing and provocations thinking of your live performance with Nicolas Kummert on sax.
TV: Nicolas and I have a special relationship. We do have a lot of energy we share and we are challenging each other most of the time. We know each other so well that we can strongly interact whilst playing. We experience as well moments of soloing together. We go further and further because we enjoy it. It is a battle but in a very positive way and we try to gain but also respect the space from each other in relation to our own performance.
Is it true that you play together for 16 years but you still have a look on scripted lines and notes in front of you? Why is it necessary?
TV: In fact I am mostly not reading the lines. There are one or two scores I have a look at the paper. For instance there are two lines with all the figurations and I have to play a solo. Then there is the tendency to forget one line even so I know it by heart. Mostly I play by heart but there are bands like FES with quite complicated tunes. Then I have to have a look at the written down composition work.
Do you remember the first time you came across Jazz tunes?
TV: Yes, I do. My father is a Jazz fan, better a music lover. As a kid I went with him to a lot of festivals including folk festivals and of course to Jazz Middelheim. Therefore I was able to listen to Max Roach and other well know Jazz musicians. The first time playing Jazz happened at a summer camp when I was 15 years old.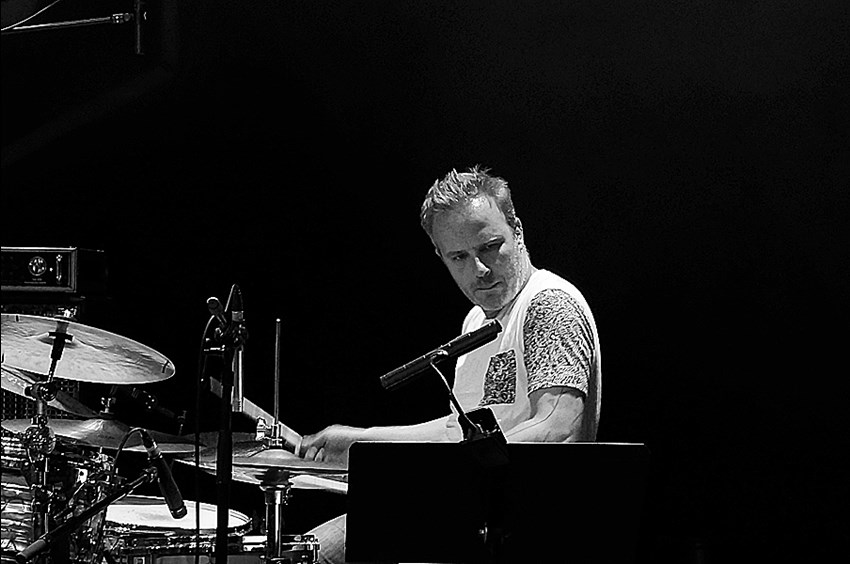 How would you describe the challenge and attraction of Jazz in comparison with other music genres for you?
TV: I am trying to develop a sort of free spirit considering my musical expressions. Jazz gives me the space to evolve as a human being and as an artist. I am always surrounded by other people, by various sounds and can experiment with a lot of stuff. You can do that in pop music, too. Today there exist some intelligent pop music and cross over music. The drummers in pop bands today are quite different to those twenty years ago. Somehow I got hooked up to Jazz.
It seems to me that you are busy with various subgenres of Jazz? Drifter on one hand but the Bureau of Atomic Tourism on the other.
TV: I like to play a variation of music and would be unhappy not to be able to do it. When I can relate to the music and the music shows a strong character I am most happy to explore such music. The super experimental music is not so different to pop music as I see it. I put everything in a musical basket. It is quite challenging to play a variation of music genres. For instance before the show with Drifter I had a duo show with a painter. I played drums and he was painting to my solo performance. It was free impro and I do that a lot.
Why did you start Rat Records as your own label?
TV: I started it when I played together with a good friend of mine, Bruno Vansina. We were playing quite a lot in a trio e.g. together with Joseph Dumoulin. For a certain period of time we played very often in a little bar in Antwerp and we recorded the gigs. I think we recorded 10 or 20 gigs. We released it on self produced CD because there was no record company interested in such music and I wanted to be free without putting to much time into finding a record company willing to publish the recorded music.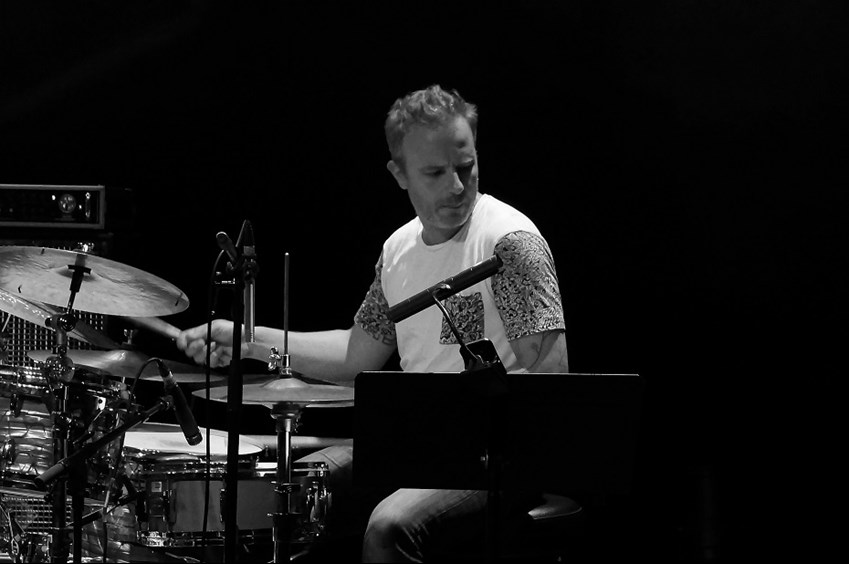 Some of the released records have a sort of scientific connotation and are a bit off the beaten track considering the album names or the band names like Buerau of Atomic Tourism or Department of Entomology.
TV: Sometime I flick for one hour through the net looking for weird names. I write them down and keep now masses of such names. Then I think of what the music or band stands for and select a name out of my list. It is not really serious! I am coming from a family of graphic designers and artists. If you look at the records sleeves most is bullshit. Mostly you see bad taste printed on an album cover. The music is great and the sleeve shows a guy in a supermarket with a sax. Quite often I wonder what the music has to do with the design of the sleeve. Art research beside the music is mostly missing. Think of a Jazz track that is named "Stream Of Unconsciousness". I think, Jesus Christ, please stop that fucking shit. Name it differently and not like everybody does it. Use a fantasy name. When I see the brochures of flyers of Jazz clubs I get depressed. I do not want to take part in that kind of business.
Finally let's talk about Walter your project taking place in Anderlecht. Would you mind to tell me a bit more about the idea behind the project and its intention, please? It is set up in a rather 'rough area' not a posh one like Ixelles.
TV: I did not want to see my art project in a posh neighbourhood. I want to do it in an area that is full of life. In fact Brussels needs a space from musicians for musicians. We need a work space for experimental music and art. It is a space for interaction, for exhibitions, for discussions. I was thinking a bit of Andy Warhol's factory loft in New York. My idea for the project is that it should be a meeting point for people coming together and exchanging art. They should challenge each other to do things. I play experimental music all over the world and most guys I play with argue that there is nothing for that type of scene in Brussels. There is no important club you can play that type of music even so Brussels is the European capital. After starting Rat Records and promoting experimental music I thought Walter is the next essential step.
Thanks for the interview.
Interview/Photos:© ferdinand dupuis-panther
This content is not public commons, neither the interview, review or photos.



Informations
http://www.teunverbruggen.com/


CD reviews
http://www.jazzhalo.be/reviews/cdlp-reviews/o/orchestra-nazionale-della-luna-f-dupuis-panther/
http://www.jazzhalo.be/reviews/cdlp-reviews/t/the-bureau-of-atomic-tourism-second-law-of-thermodynamics/
http://www.jazzhalo.be/reviews/cdlp-reviews/d/drifter-flow/
http://www.jazzhalo.be/reviews/cdlp-reviews/t/too-noisy-fish-fight-eat-sleep/
http://www.jazzhalo.be/reviews/cdlp-reviews/various/the-art-of-trio-new-releases-from-belgium/
http://www.jazzhalo.be/reviews/cdlp-reviews/v/vansina-verbruggen-gudmudsson-st-cecilia-fdp/
http://www.jazzhalo.be/reviews/cdlp-reviews/various/round-up-2017-deel-2/