Zola Quartet - From far and near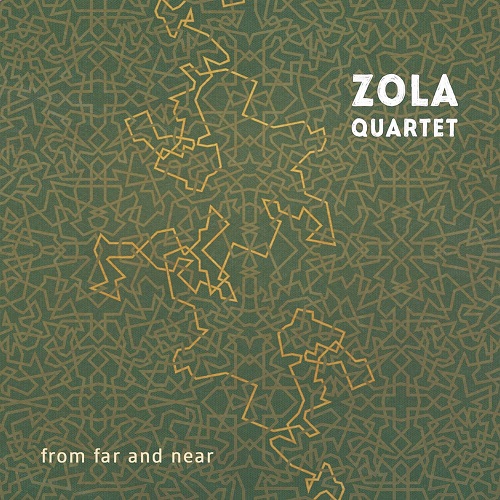 Z
Igloo/Outhere
Né à Séville, l'Andalou Gonzalo Rodriguez est venu poursuivre ses études au Conservatoire de Bruxelles, sous la férule de Peter Hertmans et Fabien Degryse: l'assurance d'un réel ancrage dans la tradition de la guitare jazz. Soutenu par l'opération Ca Balance de la Province de Liège, il a formé le Zola Quartet avec lequel il a enregistré un premier album, en 2014, Where we come from.
Au saxophone soprano, Mathieu Robert  qui fait parie du Harvest Group de Guillaume Vierset (albums Songwriter et Nacimiento Road) et a enregistré, en duo avec le pianiste Mario Ganau, Prima Scena en 2018. A la contrebasse, Nicola Lancerotti qui a fondé le groupe Skin, avec les saxophonistes Jordi Grognard et Daniele Martini. A la batterie, Didier Van Uytvanck. Issu du Conservatoire de Bruxelles (classe de Bruno Castellucci), il a été membre du trio de Thomas Champagne et du quartet du guitariste François Decamp, avec Fred Delplancq au ténor.



Au répertoire, huit compositions originales, certaines inspirées des origines andalouses du leader (El olor del alba), d'autres révélatrices de son attachement à Bruxelles (Rue du Trône) et de son périple (From far and near). La plupart des compositions adoptent un tempo enlevé, "ça balance": Monte; Spicy Lentil; Rue du Trône, avec son intro de contrebasse ou Little silver cup avec intro de guitare.
Sur Bolero, la guitare expose une mélodie dansante sur un tempo alangui avant que la musique ne s'emballe avec l'entrée en jeu du soprano. D'autres plages sont plus nostalgiques: Aurora, El olor del alba, From far and near.
Bref une agréable découverte: Gonzalo Rodriguez fait preuve d'un sérieux bagage technique et  d'une belle sensibilité. Par ailleurs, Mathieu Robert qu'on avait découvert dans un registre assez intimiste en duo avec Mario Ganau ou au sein du Harvest Group, s'exprime souvent ici sur un tempo enlevé avec un soprano voltigeur.
Une belle surprise.
© Claude Loxhay
en partenariat avec