Zela Margossian 5tet - Transition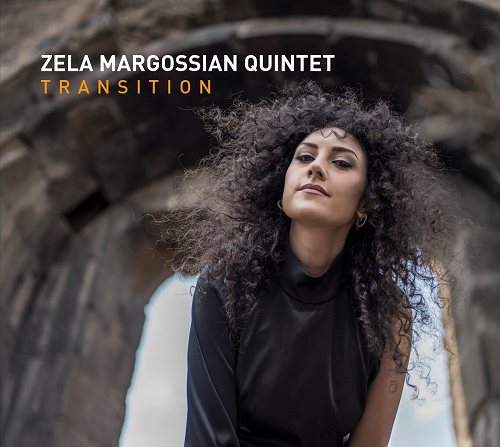 Z
self produced
Die Pianistin Zela Margossian, Bandleaderin des in Sydney beheimateten nach ihr benannten Quintetts, wurde in Beirut geboren und hat armenische Wurzeln. In den Kompositionen und Arrangements der Musik sind Bezüge zur traditionellen armenischen Musik nicht von der Hand zu weisen. Unter anderem hat das Ensemble 2018 am Beirut International Jazz Festival teilgenommen. Zudem war die Band in den vergangenen Jahren auf dem International Women's Jazz Festival zu hören. Mit "Transition" liegt nun das Debütalbum der Band vor. In "Art As Catharsis" ist über dieses Album Folgendes zu lesen: "'Transition' is a richly textured progressive world jazz album with heavy Armenian influences. From start to finish, the songs on the album bear  many hidden traits that make it all the more enjoyable. Margossian's stop-start style of fast, accurate piano, coupled with the quintet's wild  percussion and drumming, soothing clarinet  and double bass are all perfectly complemented by a clean, authentic production style – allowing each instrument to breathe and be appreciated to their fullest."
Die Band besteht aus Zela Margossian (piano), Stuart Vandegraaff (soprano saxophone, clarinet), Jacques Emery (bass), Adem Yilmaz (percussion) und Alexander Inman-Hislop (drum kit). Sie haben gemeinsam unter anderem "Transition", "Ceasefire", "Shounch (Breath/Inhale)", "Artashounch (Exhale)", "Doumé", "Mystic Flute: A Version", "Aleeq (Waves)" und "The Child in Me (alternate take)" eingespielt.

Kaskadierende Tastenklänge treffen bei "Transition" auf gebündelte Basssaitenklänge. Tief gegründet sind die weiteren Basspassagen, die so klingen, als würde das Röhren eines Flusses in einer Klamm eingefangen werden. Gemeinsam sind dann Klarinette und Bass unterwegs. Wie ein wildes Wolkengeschiebe entwickelt sich das melodische Geschehen im Weiteren. Hier und da drängt sich schließlich der Eindruck von folkloristischem Liedgut auf. Sehr dynamisch gestaltet ist "Ceasefire", auch geprägt von den Schlagwerkern und dem Klarinettisten Stuart Vandegraaff. Da schmiegt sich eine Klangwalze an die nächste. Und über aber allem vernimmt man eine triumphierende Klarinette. Klangstrudeln gleichen die Passagen, die Zela Margossian den Tasten des Klaviers entlockt. Dem liegt kein verwässertes Spiel zugrunde, sondern ein solches von energiegeladener Kraft. Man sieht vor dem geistigen Augen einen wilden, mäandrierenden Strom. Doch was hat der Titel, der im Deutschen Waffenstillstand bedeutet, mit der Musik zu tun, die wir hören? Teilweise versinkt der Klarinettist in einen Klageruf und auch in ein wenig Klezmer; aber auch das ist nicht mit "Feuerpause" in Einklang zu bringen.

In "Shounch (Breath/Inhale)" hat zunächst der Bassist das Sagen, ehe dann die Bandleaderin mit Läufen im Diskant für Aufmerksamkeit sorgt. Im Weiteren prägen perkussiver Momente die Musik. Und auch ein zartes Sopransaxofon erhebt im Verlauf des Stücks lautstark seine Stimme, atmet hörbar und in großen Amplituden. Nach dem letzten Atemzug, folgt in "Artashounch (Exhale)" das hörbare Ausatmen, um erneut Luft zu holen und folkloristische Weisen anklingen zu lassen. Die Nähe zur Volksmusik und den Volkstänzen der Balkanregion ist augenfällig. Das liegt vor allem an den Passagen, die dem Sopransaxofonisten geschuldet sind. Beim Wippen mit den Fußspitzen kann man es bei dieser Musik nicht belassen. Im Gegenteil, man ist versucht, aufzuspringen und sich wie ein Derwisch um die eigene Achse zu drehen, vor allem beim wilden Tastenspiel von Zela Margossian.

Auch "Doumé" atmet ein Stück Folklore und zeichnet sich durch starke Rhythmisierung und eine erdige Basslinie aus, die allerdings durch das quirlige Tastenspiel konterkariert wird. Beim Zuhören muss man an den Aufbruch des Frühlings nach einem langen harten Winter denken. Alles sprießt im ersten Grün. Hörenswert ist vor allem das Solo des Perkussionisten. Was spielt er, fragt sich der Zuhörer? Darbuka? Tabla? Rahmentrommel? Wild und entfesselt ist jedenfalls das, was wir hören. Und das setzt sich auch fort, wenn die Pianistin, der Saxofonist und  der Bassist wieder ins musikalische Geschehen eingreifen. Bisweilen muss man auch an türkische und arabische Kunstmusik denken, wenn man den Klangformen nachfolgt. Und was verbirgt sich hinter dem Titel der Komposition?

"Mystic Flute: A Version" wird dominiert von dem Zusammenspiel von Klavier und Klarinette. Dabei sind durchaus Anlehnungen an Klezmer wahrnehmbar. Aber wo ist die Flöte, die da im Titel angekündigt wird?  Zwischen klassischen Mustern und Folklore scheint "The Child in Me (alternate take)" zu changieren. Außerdem ist gewiss auch Singer/Songwriter als Charakterisierung passend, ganz zu schweigen von Minnegesang moderner Machart. Momente von Tanz erleben wir beim Hören. Das ist dem vor Energie sprühenden Spiel von Zela Margossian ebenso zu verdanken wie ihren Mitspielern. Auf alle Fälle scheint in der Musik des Quartetts die Musik Europas sehr präsent. Übrigens, im letzten Stück sind auch noch Flötensequenzen eingebunden worden. Diese klingen dann beinahe wie Hirtengesänge aus dem Vorderen Orient oder dem Balkan. Und wer ist da zu hören? Es ist Metin Yilmaz, der Kaval (Endkantenflöte) spielt.
© ferdinand dupuis-panther

Some lines by Zela Margossian explaining some of the titles of the composition:
1) "Ceasefire": I grew up in Beirut during the long on-off war. I remember the civil war very well. We lived in bunkers during the duration of the civil war and once during the day or once every two days, ceasefire was announced on the radio so that people could go out to buy what they needed or to run urgent errands. The ceasefire announcement jingle/music was similar in intensity to how Ceasefire, my tune, starts. And for us, as children, those two hours of ceasefire meant we could go up on the street and play football or other street games together. Hence, the more jovial music afterwards in the track as for us children, we had a few hours of happiness and freedom on the streets.
2) "Doume": Doume is the percussionist Adem's nickname (which means chubby, but he isn't chubby at all; just an element of irony in there:) and it reflects his jovial character. He is from Turkey and the instrument he solos on in the track is the Darbuka.
3) "Mystic Flute": A Version is the only non-original tune in the album. The original is called A Mystic Flute  and is composed by American-Armenian composer, Alan Hovhaness. The original piece is composed for piano and evokes the melodies of a mystical flute.


https://zelamargossian.bandcamp.com/album/transition
http://www.jazzmusicarchives.com/video/zela-margossian/20722
https://www.zelamargossian.com/quintet