Zbigniew Seifert - Live Recordings 1973 & 1976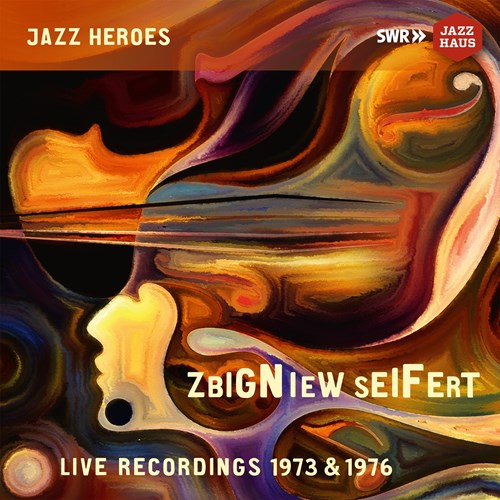 Z
JAZZHAUS
In de reeks Jazz Heroes met archiefmateriaal van SWR JAZZHAUS deze keer opnamen uit begin jaren zeventig van de Poolse violist Zbigniew Seifert. Duo's met Albert Mangelsdorff maar tevens een bonustrack van een kwartier met zijn sextet waarin een zekere Philip Catherine meespeelt.
Dat hij als altsaxofonist bij Tomasz Stańko aan de kost kwam, is slechts een van de rijke details uit het veel te korte leven van Zbigniew Seifert (1946-1979). Het was vooral als violist dat hij naam vestigde in een tijdperk toen fusion aan de orde van de dag was en Jean-Luc Ponty met datzelfde instrument furore maakte in rock- en jazzkringen bij onder meer Frank Zappa en George Duke. Seifert zijn aanpak verschilde in die zin dat hij eerst als saxofonist het werk van Coltrane doorgrondde en het via die inkijk naar de viool transponeerde. Op die manier introduceerde hij een heel eigen esthetiek.
De duo's met trombonist Albert Mangelsdorff zijn van een SWF sessie, gedateerd 23 oktober 1976. Beide heren verleggen de grenzen en beperkingen van hun respectievelijk instrument. Zo ontspint zich hier een vrije dialoog boordevol impressies. Geen cerebrale of kunstmatige doordenkertjes maar muziek die spontaan ontstond op het moment zelf en toch heel begrijpelijk en toegankelijk overkomt. Gedurende veertig minuten krijg je als luisteraar het voorrecht dit hier te (her)beleven.
De track met Seifert zijn sextet ('Angel Wings', Philip Catherine) is afkomstig van de New Jazz Meeting in Baden-Baden en dateert van drie jaar eerder (6 december 1973). Mahavishnu Orchestra, Return To Forever en Weather Report lieten al volop jazz en rock samensmelten. Philip Catherine bracht rond die tijd 'Stream', 'September Man' en 'Twin House' uit en was te horen op de plaat van Jean-Luc Ponty en Stéphane Grappelli. Say no more. Duizelingwekkend vuurwerk van de eerste tot de laatste noot.
De serie Jazz Heroes blijft alsmaar verbazen. Kijk er de catalogus op na. Begin alvast met het reeds verschenen materiaal van Michel Petrucciani ('One Night In Karlsruhe') en Maria Schneider ('Maria Schneider & SWR Big Band'). De knappe hoezen weerspiegelen perfect de onconventionele inhoud.
© Georges Tonla Briquet



Bezetting:
Zbigniew Seifert: viool
Albert Mangelsdorff: trombone
+
Zbigniew Seifert: viool
Dave McRea: piano
Jasper van 't Hof: toetsen
Peter Trunk: bas
Philip Catherine: gitaar
John Marshall: drums

https://www.naxos.com/catalogue/item.asp?item_code=JAH-479
https://www.naxos.com/labels/swrjazzhaus-cd.htm