Under The Surface - Trinity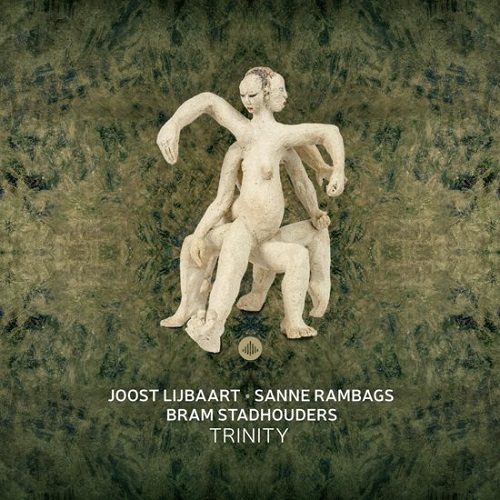 U
Challenge
Na het verbluffende debuutalbum van het trio Lijbaart/Rambags/Stadhouders, 'Under the Surface', heeft het drietal heel veel gespeeld, en de albumtitel als groepsnaam aangenomen.
Dat is een goed idee, want de suggestie dat het hier om drie individualisten zou gaan, is iets waar de drie zich verre van houden. De nieuwe plaat heet niet voor niets 'Trinity' ('Drie-eenheid'). In de vele concerten en tournees in binnen- en buitenland heeft het muzikale procedé van zeer intuïtief (vrij) improviseren kunnen rijpen. Het maakt de nieuwe cd tot een rijke luisterervaring, waarin ruimte is voor etherische sferen (vaak aan het begin van de tracks, die in de loop van 2018 live werden opgenomen), maar ook langzaam aanzwellende climaxen. Dat laatste gebeurt bijvoorbeeld in de openingstrack, 'La Loba – part one', maar ook in 'Calling up the spirits', waar slagwerker Joost Lijbaart na verloop van tijd een soort tribaal ritme inzet en het nummer tot een tranceachtig ritueel omtovert.
Zangeres Sanne Rambags, misschien wel het grootste vocale talent van haar generatie, haalt haar muzikale materiaal uit heel andere bronnen dan de Amerikaanse jazztraditie. We horen invloeden uit diverse windstreken, waarbij de folk uit de Keltische wereld en de Sami-traditie een prominente rol innemen. Gitarist Bram Stadhouders zet met zijn smaakvolle elektronica soundscapes neer die soms de wolken bieden om op weg te zweven, maar ook met fel neergezette gitaarstreken om weer terug op aarde keren.
Under the Surface vertelt verhalen zonder vast omlijnde plot, en liedjes met ongrijpbare melodieën, soms in een niet bestaande taal. Het maakt 'Trinity' tot een rijke plaat die het best gedijt in een geconcentreerde luisterhouding. Gewoon kopen, die cd, en geen trackjes luisteren op Spotify of iTunes, dus. Koptelefoon op en in zijn geheel over je heen laten komen.

© Herman te Loo






Musici:
Sanne Rambags (stem)
Bram Stadhouders (gitaar, charrango)
Joost Lijbaart (drums, percussie)