Uli Gutscher Quintett: Abendrot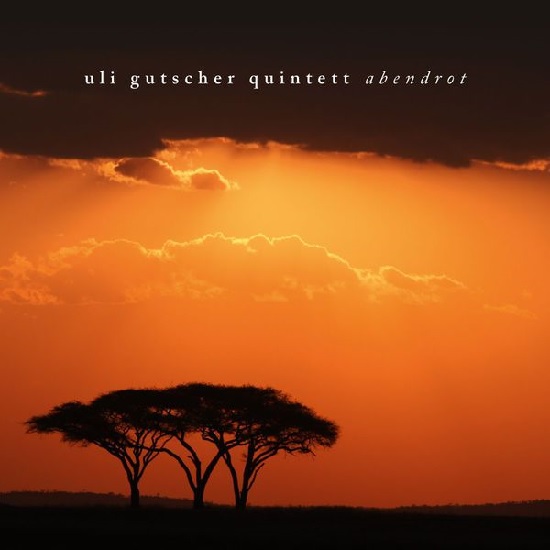 U
Mons Records, MR 874 574
Piano und Posaune im Jazz, das sind die beiden Leidenschaften von Uli Gutscher, der an der Musikhochschule Stuttgart klassische Musik mit Leistungsfach Klavier studiert. Zeitgleich entbrannte das Feuer des Jazz in Uli Gutscher, und er wurde Posaunist in der SDR-Big-Band unter Erwin Lehn. In etwa zeitgleich gründete er seine erste eigene Band, das Uli Gutscher Quintett. Mit dem Album "Abendrot" liegt nun aktuell das zweite Album des Uli Gutscher Quintett vor, das zusammen mit den langjährigen Musikerfreunden Werner Acker (Gitarre), Tilman Jäger (Piano), Thomas Krisch (Kontrabass) und Herbert Wachter (Schlagzeug) eingespielt wurde. "Eigentlich ist dieses Album längst überfällig, so oft wurden wir von unserem Publikum nach einer neuen CD gefragt", so Uli Gutscher, "und als dann der Anruf von unserem Schlagzeuger kam, im Artes Tonstudio in Esslingen stehe seit Neuestem ein wunderbarer Steinway-Flügel, hat sich ganz schnell eines zum anderen gefügt! Zu den ersten Aufnahmen für das Album trafen wir uns nur als Klavier-Trio, so sind "Song for Marlene", "You Don`t Know What Love Is" und "Guten Abend, gut`Nacht" entstanden."
Nur in Europa ist wohl denkbar, dass ein Jazzalbum auch auf eine Komposition aus dem Kanon der klassischen Musik zurückgreift. In diesem Fall ist es Johannes Brahms, dessen bekanntes romantisches Lied Uli Gutscher neu vertont hat. "Trombone-groove and ballads" – so lautet der Untertitel des Albums, das neben der genannten Brahms-Komposition noch zwei Jazz-Standards, so "You Don't Know What Love is" und "You'd Be So Nice To Come Home" (Cole Porter) enthält, aber ansonsten Kompositionen von Uli Gutscher.
Gitarre und Bass führen uns in den "Trombone Blues" ein, Dann aber kommt der Maestro am Blechbläser Uli Gutscher und lehrt uns, was funky, funky, funky bedeutet, obgleich er ja den Blues spielt. Klackklackklack – so klingt das verhalten gespielte Schlagzeug dazu. Auch hohe Töne versteht es Uli Gutscher, der Posaune zu entlocken. Auf die Vorgaben von Gutscher antwortet der Gitarrist Werner Acker auf seine Weise, fröhlich und beschwingt sowie ohne Einsatz von irgendwelchen Effekten. Blues braucht ja nicht stets eine verzerrte E-Gitarre, oder? Weiter geht der Staffelstab an Tilman Jäger, der seine Finger auf die schwarzen und Weisen Tasten niedergehen lässt. Mit viel Drive ist sein Spiel ausgestattet. Das Schema der Komposition ist sehr durchschaubar. Verkopfte Themen sind nicht das Ding des Quintetts um Uli Gutscher.
Der Enkeltochter Noa hat Gutscher das zweite Stück des aktuellen Albums gewidmet. In A-Moll erklingt der ein wenig getragene "Waltz For Noa". Dabei werden die Hörfarben von Posaune und Klavier bestimmt. Gut vorstellbar ist es, dass man bei diesem Stück auch einen Singer/Songwriter mit der passenden Lyrik hätte beauftragen können. Vom Charakter her ist dieses Stück durchaus in die Kategorie Storytelling einzusortieren.
Nach einer Einführung heißt es dann "Shuffle-Bone". Also los, die müden Knochen ausgeschüttelt und mal in Bewegung kommen. Dabei hilft es auch, dass hier und da ein Anklang an Rock 'n Roll wahrzunehmen ist, vor allem wenn Werner Acker in die Saiten greift. Vom Charakter sehr lyrisch ist "Abendrot", ein Stück, dass sehr gut auch zum Brahm'schen "Guten Abend, gut'n Nacht" passt, dem letzten Stück auf dem vorliegenden Album. Die musikalische Einleitung des Abendrots übernimmt der Pianist, ehe sich dann Gitarre und Posaune des Themas widmen. Dabei klingt die Posaune so, als läge sie in der Hand eines Türmers, der zu abendlicher Stunde von seinem Turm eine wohlklingende Weise in den Abendhimmel schmettert. Folgt man dem Stück bis zum letzten Klang, so kann man sich sehr gut vorstellen, wie der Tag zur Neige geht und nach der Dämmerung mit dem Abendrot die Nacht einbricht. "I got Rhythm" von Gershwin lieferte für "Pentabone" die Harmoniefolgen, und das ist auch deutlich zu Beginn herauszuhören. Vor allem aber überzeugt dieses Stück durch die Paardialoge zwischen Klavier und Drums sowie Drums und Posaune. Dabei erscheint die Posaune leicht gehetzt zu sein. Na ja, auch das ist Rhythmus, oder? Nach dem "Song for Marlene" heißt es "Cool and Hot", wobei man hier und da schon meint, Nat and Cannonball Adderley hätten sich in das Quintett eingeschlichen. Auch ein bisschen Monk verspürt man, wenn Tilman Jäger flink seine Hände auf die Tasten legt: Plonk. Einen sehr schönen Ausklang findet das Album mit dem Lied von Brahms zur guten Nacht.
Press Release Mons Records
Uli Gutscher is with complete justification known as a jack of all trades in German jazz. While studying classical music with a focus on piano performance at the State University of Music and the Performing Arts Stuttgart, he fell in love with jazz and played as a trombonist in the SDR Big Band under Erwin Lehn. Around the same time he founded his first band, the Uli Gutscher Quartet. In addition to his tremendous enthusiasm and love of interpretation, he found ample space there for his gifts in composition and arrangement. Since then, he has been active as a creative mastermind and virtuoso musician in numerous ensembles in a variety of styles. He has worked at home and abroad with renowned artists such as Joe Gallardo, Bobby Burgess, Benny Powell, Jiggs Whigham, Dusko Goykovich, Peter Herbolzheimer and Chaka Khan, to name but a few. On top of that, he has also passed on his passion for music to young professionals by lecturing in jazz trombone, harmony, ensemble conducting and jazz piano at the University of Music in Stuttgart. And now with Abendrot, he presents the Uli Gutscher Quintet's second album, along with his longtime musical partners Werner Acker (guitar), Tilman Jäger (piano), Thomas Krisch (double bass) and Herbert Wachter (drums). "Actually, this album is long overdue. We were asked by our audience so many times for a new CD" said Uli Gutscher, "and then when the call from our drummer came that a wonderful Steinway grand piano was waiting in the Artes recording studio in Esslingen, things quickly came together! On the first recordings for the album, we met as a piano trio only, which is how 'Song for Marlene', 'You Don't Know What Love Is' and 'Guten Abend, gut`Nacht' came about. It's how I managed to fulfill my wish to appear as a pianist on this very personal production." With his work as a sensitive and powerful trombonist, as an interpretive piano virtuoso, and as a creatively complex composer and arranger, Uli Gutscher's reputation as a true all-rounder in his field is more than justified on Abendrot. The subtitle "Trombone-groove and ballads" was given to the album by Gutscher himself. In addition to groove-accented pieces like 'Trombone Blues', the secret hit 'Shuffle-Bone' or the new recording of 'Cool and Hot' (a development on the already well-known piece, here with outstandingly colourful instrumentation), the ballads and ballad-like compositions such as 'Waltz For Noa' or 'Abendrot' are well emphasized on this CD. Each one of the pieces has a very personal connection with Uli Gutscher's life, and they could almost be read as a musical diary. Take 'Song for Marlene' for example, which holds a special position on the CD, just to give away one personal detail: "I composed this as a solo piano piece for the christening of my granddaughter, Marlene. The trio version with Thomas Krisch's wonderful bass solo was created in the studio. While composing 'Song for Marlene', I consciously thought about the piece being performed in a church. In the "classical" sense, it is a romantic piano composition which is not part of the quintet's repertoire." Up tempo numbers like "Pentabone", which is based on the harmonic progression of George Gershwin's "I Got Rhythm" and starts with a virtuoso piano solo by Tilman Jäger that culminates in a furious drum solo by Herbert Wachter, offer a powerful and groovy counterweight. Any hint of melancholy here is quickly nipped in the bud. With the album Abendrot, the Uli Gutscher Quintet have successfully proved that having intoxicating grooves with brilliant and humorously refined interpretations on the one hand, and compositionally profound and technically demanding music on the other, is in no way a contradiction!
Text: © ferdinand dupuis-panther
Informationen
Label
Mons Records LC 06458
www.monsrecords.de
Musiker
Uli Gutscher
www.uligutscher.de