Portico Quartet / Hania Rani - Nest / With, Besides, Against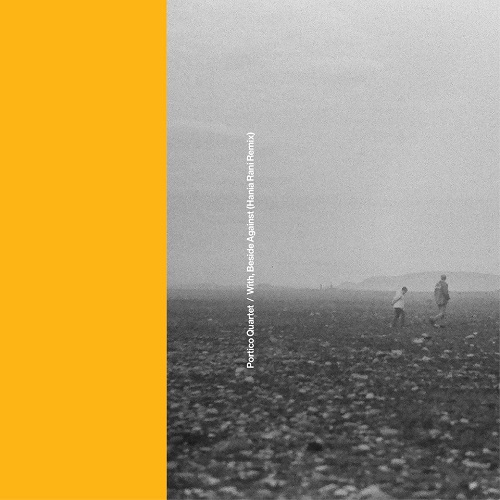 P
Gondwana Records
Vorliegend ist eine Einspielung, die der Zusammenarbeit zwischen der aus Warschau stammenden und nunmehr in Berlin lebenden polnischen Pianistin und Komponistin  Hania Rani und den Ostlondoner Minimalisten namens Portico Quartet, bestehend aus dem Saxofonisten und Keyboarder Jack Willie, dem Schlagzeuger Keir Vine und Pianisten Duncan Bellamy und dem Kontrabassisten Milo Fitzpatrick, geschuldet ist.
Die Kooperation geht auf ein Konzert namens Gondwana 10 im Roundhouse im October 2018 zurück, auf dem Rani ihr Debüt in Großbritannien gab. Die Idee war simpel: Jeder der Beteiligten bearbeitete ein Stück des anderen, sodass eine Art Remix entstand. Der erste Track der Veröffentlichung ist  Hania Ranis "Nest (Portico Quartet remix)", entliehen Ranis Album "Home" . Dazu im O-Ton Jack Wyllie : "We've been fans of Hania since her first album album "Esja", so it was a pleasure to get to work with her. Our remix took fragments of her voice and piano, and from that we extrapolated and composed an almost entirely new piece of music. The result was (hopefully) that her sound world became another instrument in the band…".

Elektronische Klangschauer gehen auf den Zuhörer nieder, so der erste Höreindruck. Man könnte auch an eine Flut von Sternschnuppen denken, die am nächtlichen Himmel vorbeiziehen, wenn man ein Bild für die Musik sucht, die man hört. Ist da nicht ein Rhodes mit im Spiel, das klangliche Kurven mit unterschiedlichen Amplituden zeichnet? Harte Rhythmik durchzieht das Stück, das ansonsten durchaus einem Klangmosaik mit unterschiedlichen Färbungen gleicht. Müsste man expressionistische Seestücke, die ja von Farbexplosionen leben, in ein Klangbild bringen, dann wäre die Musik vom Portico Quartet genau das Richtige. Übrigens, das Quartett ist wohl unterdessen nur noch ein Trio, nachdem der Hangspieler Keir Vine nach Informationen des Rezensenten nicht mehr Teil des Ensembles ist.

Und Hania Rani hat ein Stück vom Portico Quartet namens "With, Besides, Against (Hania Rani remix)" bearbeitet, dabei als Klangfarben das Klavier und die Stimme hinzufügend. Dazu Hania Rani: "The idea for this one little rework took me a couple of months! I chose the track With, Beside, Against, which is a beautiful peaceful and broad piece of music with an energetic movement in the middle part. I tried to add a vocal line to it, reminding me of one of Portico's tracks called "Steeple's" from their album released back in 2011. The result turned out to be satisfying. I felt it worked really nicely, matching the music in a natural way."
Bei Hania Ranis Adaptation vermischen sich Klangstrukturen der weißen und schwarzen Tasten mit elektronischem Nebel, der teilweise aus dem Off kommt. Ganz wesentlich ist für die Musik auch das Element Gesangsstimme. Dabei muss man hier und da auch an New Age und Singer/Songwriter denken. Es wäre allerdings völlig falsch, in der Charakterisierung davon zu reden, Hania Rani würde einen Lobgesang auf Enya anstimmen. Der Gesang wird überdies begleitet von Synthesizer-Sinuskurven und punktuellen Pianosetzungen, die teilweise im Off vergehen. Der Eindruck von Sphärischem drängt sich ab und an auf. Kontemplation scheint das Gebot der Stunde. In diesen wirren Zeiten der Pandemie regt die Musik auch an, einen Moment des Innehaltens zu genießen.
© ferdinand dupuis-panther

Information



https://haniarani.bandcamp.com/album/home
http://haniarani.com

https://porticoquartet.com

https://www.gondwanarecords.com