Pascal Schumacher - Left Tokyo Right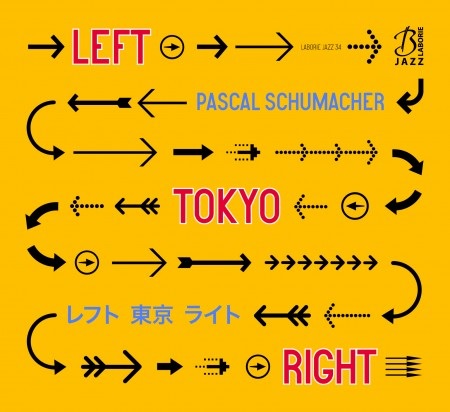 P
Laborie Jazz - Socadisc
Diplômé du Conservatoire de Luxembourg, où il a eu notamment comme professeur Guy Cabay, Pascal Schumacher est assurément l'un des meilleurs vibraphonistes européens. Début des années 2000, il a fondé un quartet acoustique avec trois vrais complices belges: Jef Neve au piano, Christophe Devisscher à la contrebasse et Teun Verbruggen à la batterie, un quartet avec lequel il a remporté le Premier Prix au Tremplin Jazz d'Avignon en 2004 et le Django d'Or en 2005.
Pour le label Igloo, le vibraphoniste luxembourgeois a enregistré successivement "Change of the moon" en 2004, "Personal Legend" en 2006 et "Silbergrau" en 2007. Aux côtés de rares classiques (Summertime ou You and the night and the music), le répertoire était original et se partageait entre les quatre complices: un subtil équilibre entre le charme des mélodies et la vigueur du rythme, entre un héritage classique et un ancrage jazz très marqué.
En 2006, Jens Düppe, batteur de Cologne, succède à Teun Verbruggen et, en 2008, le Munichois Franz von Chossy, diplômé du Conservatoire d'Amsterdam, remplace Jef Neve, pour les albums "Here we gong" (2009) et "Bang we can" (2011), désormais produits par le label allemand Enja. L'homogénéité du quartet est restée intacte mais, personnellement, je trouve que l'inspiration ne se renouvelle pas vraiment, les thèmes aux circonvolutions répétitives se multiplient dans une certaine monotonie.
Avec ce "Left Tokyo Right" constitué de compositions originales, si l'on excepte Lilia de Milton Nascimento et Merry Christmas Mr Lawrence de Ryuichi Sakamoto, Pascal Schumacher renouvelle complètement son inspiration: il donne à sa formation des accents électriques et élargit considérablement sa palette sonore. Au piano, Franz von Chossy ajoute quelques touches de Fender Rhodes, Jens Düppe est toujours à la batterie mais aussi au Nambu-Tekki (récipient en acier) et Pol Belardi succède à Christophe Devisscher à la basse électrique. Enfin, le quartet accueille différents invités: à la harpe, Aliénor Mancip, issue du Conservatoire de Tours; à la flûte, Magic Malik, bien connu pour ses XP et ses collaborations avec Aka Moon comme Octurn; au saxophone ténor et à la clarinette, Sylvain Rifflet, membre du Gros Cube d'Alban Darche, du Jazzoo Project de Ricardo del Fra et leader d'un excellent quintet avec la trompettiste Airelle Besson ("Rocking Chair" en 2007) et, enfin, le Finlandais Verneri Pohjola, un prodige de la trompette qu'on a pu découvrir au festival Jazz Brugge en 2014 et qui a enregistré, avec le pianiste Aki Rissanen les albums "Aurora" (2009) et "Bullhorn" (2015).
Si plusieurs thèmes sont joués en quartet, mais avec des moirures électriques (Nambu-Tekki, Decoy, Merry Christmas Mr Lawrence, Matcha Desire), la présence des invités permet d'élargir la palette sonore de façon quasi illimitée: duo intimiste flûte-vibraphone sur Lilia; Fender, flûte et voix sur Wabi-Sabi; saxophone et trompette sur Ichigaya; harpe, flûte, trompette sur Sakura San; flûte et clarinette sur Left Tokyo Right. Les mélodies restent chatoyantes mais ne sont plus portées par les seuls vibraphone et piano: en parfait orchestrateur, Pascal Schumacher multiplie les alliances sonores avec bonheur donnant d'autant plus de couleurs à sa musique.

Claude Loxhay

Article publié par jazzaround