Paul Heller Trio: TRIO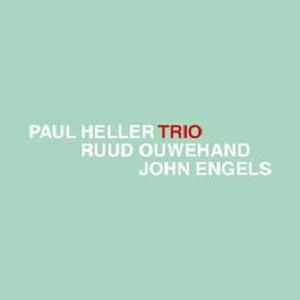 P
Mons Records, MR 874573
Understatement beweist der Kölner Saxofonist und Komponist Paul Heller mit seinem neuen Album: Zartgrün ist das Cover. In Versalien liest man die Namen der Bandmitglieder – Weiß auf Grün - und in Rot das Wort "Trio". Das ist nicht nur Understatement, sondern gar Minimalismus.
Der Tenorsaxofonist der renommierten WDR Big Band in Köln präsentiert sich mit Ruud Ouwehand (Bass) und John Engels (Drums) in intimer Trio-Besetzung. Der Bassist und der Drummer sind namhafte Vertreter der niederländischen Szene: Ruud Ouwehand ist ein feinfühliger Bassist, der nicht allein ein solides Fundament liefert, sondern auch die Wege für eine lebendige Interaktion aller Beteiligten ebnet. John Engels, der dieses Jahr seinen 80. Geburtstag feiern darf, zählt seit Jahrzehnten zu den renommiertesten Vertretern seines Fachs. Viele bekannte Jazzmusiker wie Ben Webster oder Chet Baker schätzten sein punktgenaues und ideenreiches Schlagzeugspiel. "Engels hat einen Drive, einen Sound, Lebendigkeit und eine wahnsinnige Spontanität, die absolut einzigartig ist. Ruud Ouwehand ist ein fantastischer Bassist, der sich mit John Engels blind versteht und auch mit einer beeindruckenden Reihe Musiker zusammengearbeitet hat, z. B. mit Ferdinand Povel, Chet Baker oder Archie Shepp." Das sind Worte der Hochachtung, die Paul Heller für seine Mitstreiter findet. Überwiegend spielte das Trio Jazzstandards ein, ob "What Is This Thing Called Love" oder "It Could Happen To You". Paul Heller steuerte zu den acht Aufnahmen des Albums "Tot Ziens" und "Amsterdam" bei. Dass diese Titel entstanden, ist wohl auch dem Ort geschuldet, an dem man sich für die Aufnahmen traf: in John Engels Probenkeller in dessen Haus in Amsterdam. "Dadurch ist eine ganz besondere intime und persönliche Stimmung entstanden, die man glaube ich auch sehr gut in den Aufnahmen hören kann. Und der Toningenieur Stefan Deistler hat einen fantastischen Job gemacht, die Musik so natürlich und lebendig in dieser speziellen Umgebung aufzunehmen." So äußerte sich Paul Heller zum Resultat der einmaligen Aufnahmen.
Mit einer Komposition des serbischen Pianisten und Komponisten Borislav Bora Roković, der 2006 in Köln verstarb, macht Paul Heller das Album auf. "Just Another Lullabye" erklingt. Wieso eröffnet man ein Album mit einem Kinderlied und dann eines von einem serbischen Pianisten? Dazu hätte man schon gerne mehr erfahren, aber das Album enthält leider kein Booklet, in dem man derartige Informationen hätte finden können. Stilistisch kann man den Song als Post-Bop charakterisieren. Keine Frage, das Tenorsaxofon von Paul Heller führt die Regie, aber das ist bei der Besetzung des Trios auch kein Wunder. Gut geeignet scheint die Nummer als Filmmusik mit Szenen spielender Kinder im Hinterhof, ob bei Hopse oder Himmel und Hölle, wohnt doch der Komposition auch etwas Sprunghafte inne. Nur im Jazz aus Europa scheint es denkbar, eine Volksweise, in diesem Fall das finnische Volksstück "Akselin Ja Elinan", verjazzt einzuspielen. Finnischer Tango ist in aller Munde, Volksweise weniger. Nein, eine der traditionellen skandinavischen Polkas hören wir nicht. Im Jazzgewand ist die Volksweise zudem nur zu erahnen, bei der auch der Bass mal ganz und gar die Aufmerksamkeit des Zuhörers genießen kann. Stellenweise elegisch nimmt sich der Song aus und man denkt unwillkürlich an lange dunkle Winter, vielleicht noch an die Schneeschmelze, aber weniger an Midsommernacht.
Überaus flott und im Kontrast zu dem Original von Cole Porter kommt Hellers Interpretation von "What Is This Thing Called Love" daher. Das Stück hat Drive, gewiss, und lässt Cole Porter völlig vergessen. Adaptationen von Standards sind m. E. nur dann eine Bereicherung, wenn sie das Original nur als Projektionsfläche wählen und ansonsten den freien Geist des Jazz walten lassen. Das gelingt Paul Heller mit seinen Saxofonphrasierungen in ganz unnachahmlicher Art und Weise. Ganz gemächlich hingegen zeigt sich "It Could Happen to You", ein Standard, der von Jimmy van Heusden stammt und im Filmmusical "And the Angels Sing" vorkommt. Das hat zur Popularisierung dieses Songs wesentlich beigetragen, der von Heller und Co. ganz im Stil von Bebop vorgetragen wird.
Zum Schluss hört man auf dem Album zwei Kompositionen von Heller, "Amsterdam" und "Toet Ziens". Widmet man sich "Amsterdam", so deutet musikalisch nichts auf eine besondere Affinität zu der Stadt der Grachten hin. Der Titel hätte auch anders gewählt werden können. Assoziationen zu einer Fahrt im offenen Cabrio durch die Straßen Berlins scheinen ebenso naheliegend oder fern wie im Vergleich dazu die einer Radtour durch die Hauptstadt der Niederlande. Eins steht jedoch fest: Der Tenorsaxofonpart von Paul Heller zeugt von Bewegung, von Hin und Her, von Unruhe und einem gewissen Maß von Aufgeregtheit. Eher das Gegenteil strahlt der Bass in den Händen von Ruud Ouwehand aus: Gelassenheit, Verweilen, stilles Genießen, auch wenn hier und da der Tieftöner in hochtönige Wallungen gerät. All das passt gut auf ein musikalisches Sittengemälde einer Großstadt. "Bis dann" ist das Abschiedslied auf dem Album. Oh, jetzt ist mal das Schlagzeug für einen Moment im Fokus. Doch hektisch mischt sich das Saxofon ein, braust auf, scheint Alarm zu signalisieren und entspannt sich dann auch nach und nach. Doch das sind nur Momentaufnahmen, ehe Paul Heller in ein sehr dynamisches Spiel verfällt. Der Abschied scheint mit allerlei anderem verbunden zu sein, das zu klären ist. So ist jedenfalls der Eindruck, wenn man "Tot Ziens" auf sich wirken lässt.
Press Release By Mons Records
With his new album, the Cologne-based saxophonist and composer Paul Heller proves his nerve when it comes to reduction. The cover is a shade of green over which nothing more than the names of the three musicians and the album title appear in plain, capital letters: TRIO. While Heller is usually to be heard in a quartet, or of course in a bigger line-up as the tenor saxophonist of the renowned WDR Big Band in Cologne, this time he presents himself within an intimate trio. For this project, he has picked out two well-known representatives from the Dutch scene. Ruud Ouwehand is a sensitive bass player, who not only provides a solid foundation, but also smooths the way for the lively interactions of all involved. John Engels, who celebrates his 80th birthday this year, has for decades been counted among the most renowned in his field. Many well-known jazz musicians, such as Ben Webster or Chet Baker, appreciate and value his precise and imaginative drumming. John Engels' circle of admirers also includes Paul Heller, who has worked with him repeatedly in the past. Heller, suitably thrilled, commented on the musicians on his new trio album: "Engels has a drive, a sound, a liveliness and an insane spontaneity which is completely unique. Ruud Ouwehand is a fantastic bass player who totally understands John Engels, and who has also worked with an impressive line-up of musicians, for example, Ferdinand Povel, Chet Baker and Archie Shepp." Paul Heller was also guided by the idea of simplicity in the selection of the pieces. Alongside some classic jazz standards are two original compositions by Heller, as well as a few exotic numbers. As an example, Heller chose a Finnish folk song that he had got to know several years earlier on a production with the WDR Big Band. What all the pieces have in common is their "simple" musical structure. This is because Heller wanted to avoid having to rehearse overly complicated, newly written music. Instead, all of their energy was to be directly invested into the tunes' expression. And where could such a personal project be better realized than in a private atmosphere? For Paul Heller, it was clear from the first moment onwards that an anonymous studio somewhere was out of the question. So, they met in John Engels rehearsal room in his house in Amsterdam. Even though the basement was only a few square meters in size and was crammed to the ceiling with records, musical instruments and posters, it offered the ideal habitat for their venture. "In this way a very special, intimate and personal mood was created, which I think can be easily heard on the recordings. And the sound engineer Stefan Deistler has done a fantastic job in recording the music so naturally and lively in this special environment." Through this closeness, every tone from the three musicians could be directly breathed in and processed, without any loss in transmission. And this closeness, warmth and intensity can be heard on all of the eight pieces on Paul Heller's new trio album.
Text © ferdinand dupuis-panther
Informationen
Label
Mons Records – LC06458
www.monsrecords.de
Musiker
Paul Heller
http://www.paul-heller.com/