Pablo Held: The trio meets John Scofield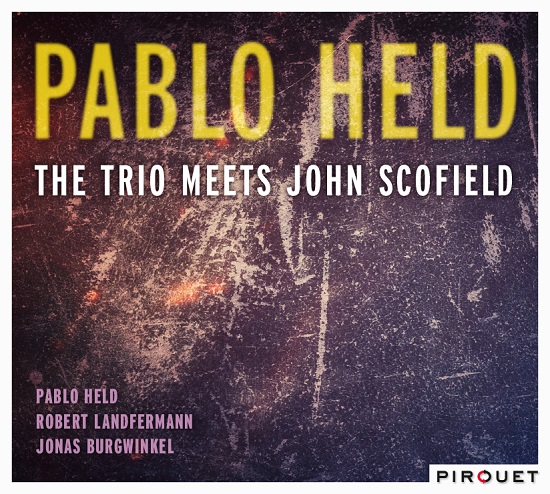 P
Pirouet Records
ECM, Enja ou Act ne sont pas les seuls labels allemands sur le marché du disque de jazz, il faut aussi compter sur Pirouet Records, le label munichois avec deux axes principaux d'orientation.
D'une part, des musiciens américains confirmés, de l'autre, des talents émergents germaniques. Petit retour en arrière. Du côté américain, plusieurs pianistes: Bill Carrothers (albums A night at the Village Vanguard, avec Nicolas Thys et Dré Pallemaerts, Castaways ou Family Life), Kevin Hays (Variations), Marc Copland (Some more love songs). Du côté européen, le bassiste et violoncelliste Henning Sieverts (Symmthree avec le tromboniste Nils Wogram), les saxophonistes Christian Weidner (Dream Boogie) et Anna Weber (Percussive Mechanics) ou le compositeur Jürgen Friedrich (Monosuite for string orchestra and improvisers).
Avec The trio meets John Scofield, les deux tendances se trouvent réunies: d'une part, le compagnon de route de Miles, Joe Lovano ou Herbie Hancock; de l'autre, un jeune pianiste allemand de 27 ans. Né dans une famille de musiciens (son père comme sa mère jouent du piano), Pablo Held a fait preuve d'un talent précoce, remportant son premier prix à 12 ans. Après des études au Conservatoire de Cologne, il a joué avec le WDR Big Band, Dave Liebman, les trompettistes Eric Vloeimans et Manfred Schoof.
Avec Robert Landfermann à la contrebasse et Jonas Burgwinkel à la batterie, il a gravé plusieurs albums en trio (Forest of oblivion, Music, Trio Live) mais a aussi enregistré avec le saxophoniste Sebastian Gille (Glow et Anthem) comme avec le trompettiste Bastian Stein (Diegesis). Quand on lui a proposé de choisir un invité pour un concert au Philharmonic de Cologne, il a tout de suite pensé à John Scofield. Le guitariste américain s'est montré immédiatement coopérant: "He continually sent us letters with notes for the pieces of his that we wanted to play, and at the rehearsal, we saw that he had already intensively worked our pieces. The concert was an amazing experience, something I'll never forget."
Pour ce concert, John Scofield a choisi deux thèmes assez intimistes de Pablo Held: Cameo et Nocturne. Pablo Held, de son côté, a choisi sa composition Imaginary time au tempo énergique, Marcie, une ballade poétique de la chanteuse Joni Mitchell et deux compositions de John Scofield que le quartet enchaîne ici avec vigueur: Kubric et Camp out. Pablo Held démontre qu'il s'inscrit résolument dans la grande tradition du piano trio, de Bill Evans à Bill Carrothers; tandis que John Scofield, loin des albums groovy avec Medeski, Martin & Wood, revient à un style beaucoup plus classique, comme à l'époque de l'album Live gravé pour Enja avec Richie Beirach. La longueur des plages, de 15 à 18 minutes pour certaines, montre que chacun a pu s'exprimer ad libitum dans une réelle complicité.
Claude Loxhay