Pinheiro / Ineke / Cavalli - Turn Out The Stars/The music of Bill Evans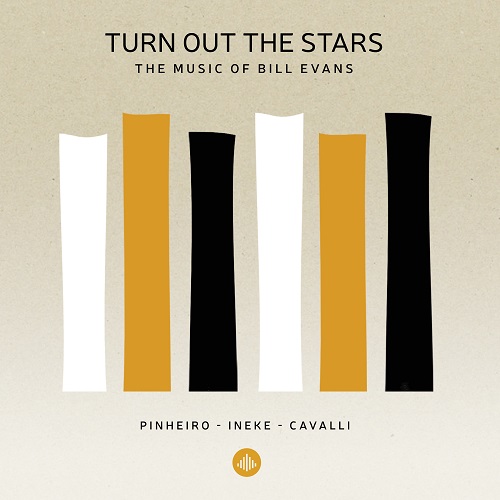 P
Challenge Records/Newartsint.
"Inspiré par la musique du pianiste Bill Evans, le trio explore ici de nouvelles facettes de sa musique" nous annonce le texte du livret.
L'évidence vient d'abord du  line-up : pas de pianiste ici, mais bien un guitariste : Ricardo Pinheiro est portugais, a étudié au fameux Berklee College of Music de Boston et a déjà derrière lui quelques collaborations impressionnantes. Avec Dave Liebman, Mario Laginha et la rythmique Ineke/Cavalli pour l'album « Is Seeing Believing ? » ou déjà avec la même équipe « Triplicity » : le batteur Eric Ineke, septuagénaire hyper-actif depuis les années '60 avec tous les meilleurs Américains tournant en Europe (n'en citons que quelques-uns : Johnny Griffin, Dexter Gordon, Dizzy Gillespie, Hank Mobley…) et le contrebassiste italien Massimo Cavalli installé au Portugal qui a collaboré avec Jean-Pierre Como, Antonio Farao ou Benoit Sourisse.
Pour respecter les couleurs de la musique de Bill Evans, il fallait un musicien à la technique sans faille, à la sensibilité à fleur de peau et au sens de l'improvisation affuté. Et Ricardo Pinheiro a tout cela à la fois. Sept titres du pianiste (dont l'enchainement subtil entre « Turn out the Stars » et « Time Remembered »), le sensuel « You Must Believe in Spring » de Michel Legrand et en clôture le tendre « Some Other Time » de Leonard Bernstein forment un paysage parfait de la période romantique de Bill Evans.
Le jeu proche de l'acoustique et d'une chaleur constante du guitariste offre à la musique de Bill Evans un écrin idéal, fidèle à l'esprit du pianiste, un contexte dans lequel se fondent à merveille ses partenaires, le batteur Eric Ineke particulièrement démontre combien si il a travaillé avec les meilleurs hardboppers, il peut être d'une finesse et d'un  grand lyrisme  pour cette musique très intérieure.
Les amateurs de Bill Evans adoreront cette relecture de « Peri's Scope », « Very Early », « Interplay » et « Waltz for Debby ».
© Jean-Pierre Goffin